In my opinion, a good flight is one which goes up and down when and where it's supposed to – after that, everything is extra. The last decades saw the growth of giant air travel corporations, and big budget airlines.  As air travel has taken a turn from novel and luxury to du jour and economy, those legacy liners still exist but they're constantly smacking heads against low cost airlines and a hybrid of the two.
Sure, at first glance, many of those ultra low cost carriers (LCCs) look like they're a bargain deal. The basic price might be less, but what about everything else? Sometimes, that price really is too good to be true, and what your grandmother always told you is true, "You get what you pay for." Will they really save you more money or do they offer a greater headache than you first believed? While it's true, the gap between those big airlines and super low cost carriers has narrowed, there's still more work to be done.
In today's travel world, we all have choices. In 2017, the budget airlines have pushed the legacy guys to be better.  The option of that no frills flying metal tube still exists, or one you can fly in comfort, with all the bells and whistles. While all airlines are governed by the same bodies and safety is not one of the extras you're ever paying for, there's a wide range of what your ticket price includes. If you're willing to strategically plan your journey to find the best flight deals, pack accordingly, and are interested in knowing exactly what you're paying for – then those ultra low cost options might be for you. Measure the convenience, what ifs, cost, hassles, and headaches against the extras, and choose wisely.
I got rid of my airline specific credit card and turned towards one that gave me miles applicable to multiple airlines. I signed up for a range of rewards programs so if I happen to accrue points, great, if not, no worries. While I don't necessarily need those mega corporate guys, nor do I have any specific allegiance to any one carrier, I'm not the biggest fan of the hassles that often accompany the no frills establishments. I'm a 'meet me in the middle' kind of traveler. There are times that the corporate giants fit the bill, but for the most part, the hybrid airlines best fit my travel needs.
Know Your Preferences
In today's world, we choose ride-share over standard taxis, and home rentals over traditional hotels, so it makes sense that many might choose boutique airlines over corporate giants. Keep in mind your own needs, fears, as well as which desires might be negotiable and you'll be able to choose the best airline for your travel adventures.
Identify your preferences by considering the following:
Length of travel including layover time (non-stop vs. how many connections are acceptable)
Amenities onboard
Paying for extras of your choice or all inclusive tickets
Cost
Loyalty rewards
Lounge access
Partner alliances
Global connectivity
Know Your Options
Dreaming up a trip, you research accordingly and are ready to book your flight.
Do you head directly to third-party websites for your cost comparison, or do you go directly to the airline?
Are you a call ahead to book, or show up at the airport and see what's available, type of traveler?
Are you willing to wing it when it comes to amenities, or do you want your luxury thrown in?
Business travelers could be looking for an entirely different experience than leisure travelers, or perhaps frequency of travel or cost of the ticket are determining factors. Know what's available and make the choice that's right for you.
Packing: This is Super Important
How you pack can add hundreds of dollars to your trip, or save you the equivalent. If you are traveling on a legacy airline with perks, two free checked bags with your ticket, and you don't mind wasting time and effort moving those bags, then fine: Pack twelve pairs of shoes, your winter parka and the kitchen sink. Enjoy.
But, if you're looking to save money on your ticket, which means a low cost or hybrid carrier, then how you pack is the single biggest money saver of your air travel experience.
Airlines are cracking down on what can be carried on board, and are reducing the dimensions, as well as the font of their fine print, to make extra money by nailing you at the gate with a $100 carry on fee that you didn't expect. Yes, really. Some airlines will actually hit you with a hundred bucks before you board if your bag exceeds their dimensions or weight by the tiniest bit. Actually reading the fine print is super important.
Investing in luggage that suits the way you travel is also key. If you are flying old school airlines with very standard carry on sizes, then a bag like the Outbreaker 45 is perfect, because it will always be free as a carry on, you'll never have to waste time at the baggage carousel and they aren't going to lose it during your Houston connection.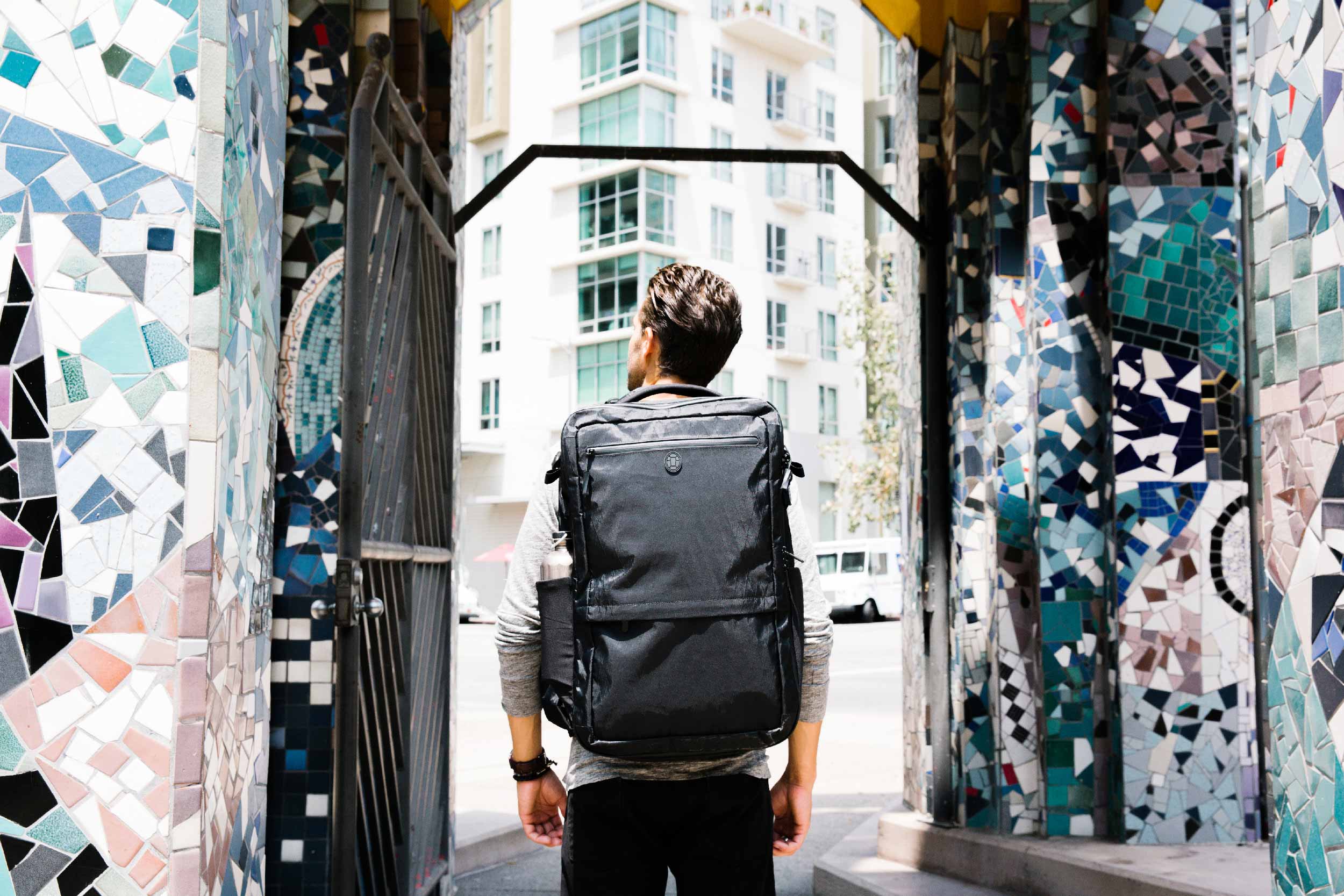 However, if you're flying a budget airline, the Outbreaker 35 is the smarter buy because its slightly smaller size will ensure that you aren't surprised by draconian, or suspiciously changed, carry on dimensions at the gate. You'll breeze on with a perfectly sized bag and you won't be out the big bucks at the last minute. Add the daypack for your personal item, holding your computer and in flight necessities, and you've got the perfect combo for anywhere you want to go, even on a budget airline.  Always be sure to double check your particular carrier's carry on baggage policies and dimensions before you fly.
Of course even the legacy airlines are creating sneaky ways to increase revenue through baggage fees. The basic economy fares on United now preclude a reasonable carry on and instead limit the traveler to a tiny personal item. Happily, the Outbreaker duffle fits even those dimensions perfectly and, with a set of packing cubes for organization, is more than enough for a trip of even a couple of weeks in length.
Saving money on budget airlines is won or lost in the packing game. Perfect your packing strategies, invest in the right bags for the job, and save hundreds of dollars in no time; perhaps on your first trip!
Legacy Airlines
These are the giant corporations you've heard of your entire life. In the US, these are companies like American, United and Delta. Legacy carriers have a long history of reliability, professionalism, comfort, and service. They offer non-stop service to and from urban hubs along with smaller cities, provide tickets to various overseas destinations, and work with a network of partner airlines to establish global connections that get travelers seamlessly from here to there. Those global networks are what provide for larger scale process, improved baggage service, and airport lounge access.
Most flights allow for multi-service cabins and most international travel has no fees for checked baggage. Most are still utilizing a zone-based awards redemption process with limited access for those who don't book directly from the company. These rewards are great for business travelers and do offer perks like elite upgrades and greater luggage allowance, but not as great for those looking to save a buck.
In the wake of budget friendly and ultra low cost airlines, these giants are beginning to offer no frills, lower fare options in order to compete.
Benefits of Legacy Carriers
If you've ever flown from Honolulu to Chicago on a Delta flight in first class, with a seat that lays flat so that you can sleep, I don't need to break this down for you.
If you're interested in comfort and reliability of service, the following are among the benefits:
Large scale customer service department
When flights are cancelled, the partner network kicks in
Flights to more destinations
Multiple classes of seating on most flights
Greater frequency of flights
Tickets for missed flights due to connection delays are usually honored
Fewer hidden fees
Flights to and from main airports
Credit cards for reward points are available and many major bank cards also offer perks
Drawbacks of Legacy Carriers
There are drawbacks; more all the time, it seems. As the legacy airlines feel the pinch of the up and coming budget and hybrid airlines their age is beginning to show and they're beginning to cut corners to keep up with the upstarts.
The downsides are becoming more evident:
The big corporate machine
Difficulty connecting with millennial travelers
Newer to the world of social media
Far more benefits for business travelers than there are for economy fare fans
Increasingly, service is not that much better than budget carriers
Often times you feel more like a number than a person
Rules seem to change on a dime
There are still extra fees thrown in
Constant mergers and acquisitions affect ever-changing reward programs
Cost is constantly rising
Carrier Options
American Airlines: Part of the One World Alliance global network, recent mergers continue to grow this airline magnate.
United Airlines: Still a major player, but growing complaints and recent difficulties (both in the real world and the digital one) have lessened their hold on the market.
Delta Airlines: Part of the Star Alliance partner network, this airline has a major foothold in the national market.
Low Cost Carriers
Ultra low cost carriers (LCC) are often newcomers to the air travel scene. Companies like Spirit, Frontier, Allegiant and even newer ones hopping across the pond like Norwegian and Wow provide a base fare only, leaving everything else as an additional option. They 'unbundle' the services that those legacy guys include in their base prices.
For those super-budget conscious travelers who want to know that with their ticket they'll get on the flight and that might be all they'll get, these are options.
The extra fees are for things like priority boarding, checking in, baggage allowance, food and drink, extra leg room, in-flight entertainment, sleeping amenities (like pillows and blankets), and seat preference. To save more money on baggage, you might even consider layering and wearing most of the clothes you'd like to take with you in lieu of trying to pack them. This way you save the cash for a checked a bag, or the cost of placing one in the overhead compartment space.
Benefits of Low Cost Carriers
If the cost of travel is a big deal for you, and if you are willing to pack your sense of humor and be flexible, there are some great deals to be had on LCCs. Your seats may not recline, food is unlikely to be offered, and the fine print will be copious, but hey, you'll get there for a fraction of the cost, right?
Some of the benefits include:
All costs are transparent and 'unbundled'
Sign up for emails to be offered some deals
Choose the extras that matter to you
Pay for what you want and only for the services you will use
Sometimes, booking your ticket at the airport is even cheaper than online
Low one-way ticket options can be a huge win
Drawbacks of Low Cost Carriers
If you've read the reviews of Spirit online, been shocked when your Frontier seat didn't even recline six inches, or gone hungry on a budget airline, you have a sense of the drawbacks.
The not so great aspects of LCC travel include:
Flights are often to secondary airports that may be further from your destination
Often no loyalty programs
Often a fee to book the ticket online
Limited (if any) options for food and drink
Limited customer service
Minimal access to lounges
Ticket prices could fluctuate due to time
Have to book through website of airline and ticket issuing is not always available
Checked luggage connections are not always guaranteed (you'll have to pick it up and put it on a belt again)
More baggage restrictions
Rarely can you choose your seat; if it's possible, you'll pay for it
Only one personal item – check with the carrier for specific dimensions but they must all fit under the seat in front of you (remember each carrier's rules are different)
Carrier Options
Check out this guide to flying shitty airlines to make sure you cover all of your bases.
Hybrid Airlines
Hybrid airlines are a blend of the service of legacy airlines with lower cost options competitive with LCCs. Companies like Southwest (the company that pioneered budget air travel in the USA) Jet Blue, Sun Country and even Alaska Airlines are among the list of hybrid carriers.
Believing that their passengers are interested in a bit more comfort and service than the ultra low cost basic carriers offer, these airlines specialize in better pricing than legacy airlines with slightly better amenities than those LCCs. Improved services may include free WIFI on board, entertainment amenities, better for-purchase food options and greater sensitivity to customer needs (like allergies, or medical conditions.) Expanding offerings for budget conscious travelers looking for a bit more comfort and with premium class products, such as Jet Blue's new Mint class, they're also able to tap into those business class or first class preferred leisure and business travelers searching for a better deal.
Hybrid airlines also offer their own credit cards and their point system is one of a revenue based awards structure. The more perks they offer, like elite status, tsa pre-check, and greater lounge access, the more people are going to wind up choosing them as their regular carriers.
Benefits of Hybrid Airlines
For many travelers, hybrid airlines represent the "sweet spot" between the high dollar tickets of legacy airlines and the inconvenience of LCCs. Hybrid airlines will get you there, with good service, reasonable amenities, and minimal discomfort.
Some of the benefits include:
Low cost one-way ticket options are available
Ticket price is often still less than the legacy airlines
Superior customer service
Some perks of the big budget carriers without the attitude
Some are offering miles through partner alliances with larger carrier networks
Many are able to be booked on third party sites
Extra consideration provided to customers with allergies, medical needs, or differing abilities
Drawbacks of Hybrid Airlines
There are some drawbacks to being stuck in the middle. While the legacy carriers are going to draw travelers looking for those higher cost tickets and the comfort they buy, and the LCCs are going to pick up the travel cheapskates, the hybrid carriers need to prove the value of the middle ground.
Some of the negatives include:
Some might not have the global reach of legacy carriers
Not all destinations are covered
Cost can still be prohibitive
Extra fees may still apply
Carrier options
TL;DR
Options in air travel are expanding. None of us want to be forced to take the most expensive option and we love the idea of choice. Airline travel is no longer only for the rich and powerful – there's something for every style of wanderer, from super budget, to truly luxurious, and a wide middle ground.
You've probably heard that cheap airlines suck, and they often do: Read the fine print
Do your research to find good discount alternatives for your next trip
Know your own travel preferences and let them inform your purchase
Hybrid airlines are often the sweet spot of comfort and value
Regardless of airline, travel carry on to save money and improve your experience
Know your travel options
When in doubt – always travel with snacks!
Want more like this?
Get weekly gear reviews, travel hacks, and packing tips sent straight to your inbox. As an added bonus, we'll send you a carry on packing list right away.