Why Your Travel Backpack Must Have a Hip Belt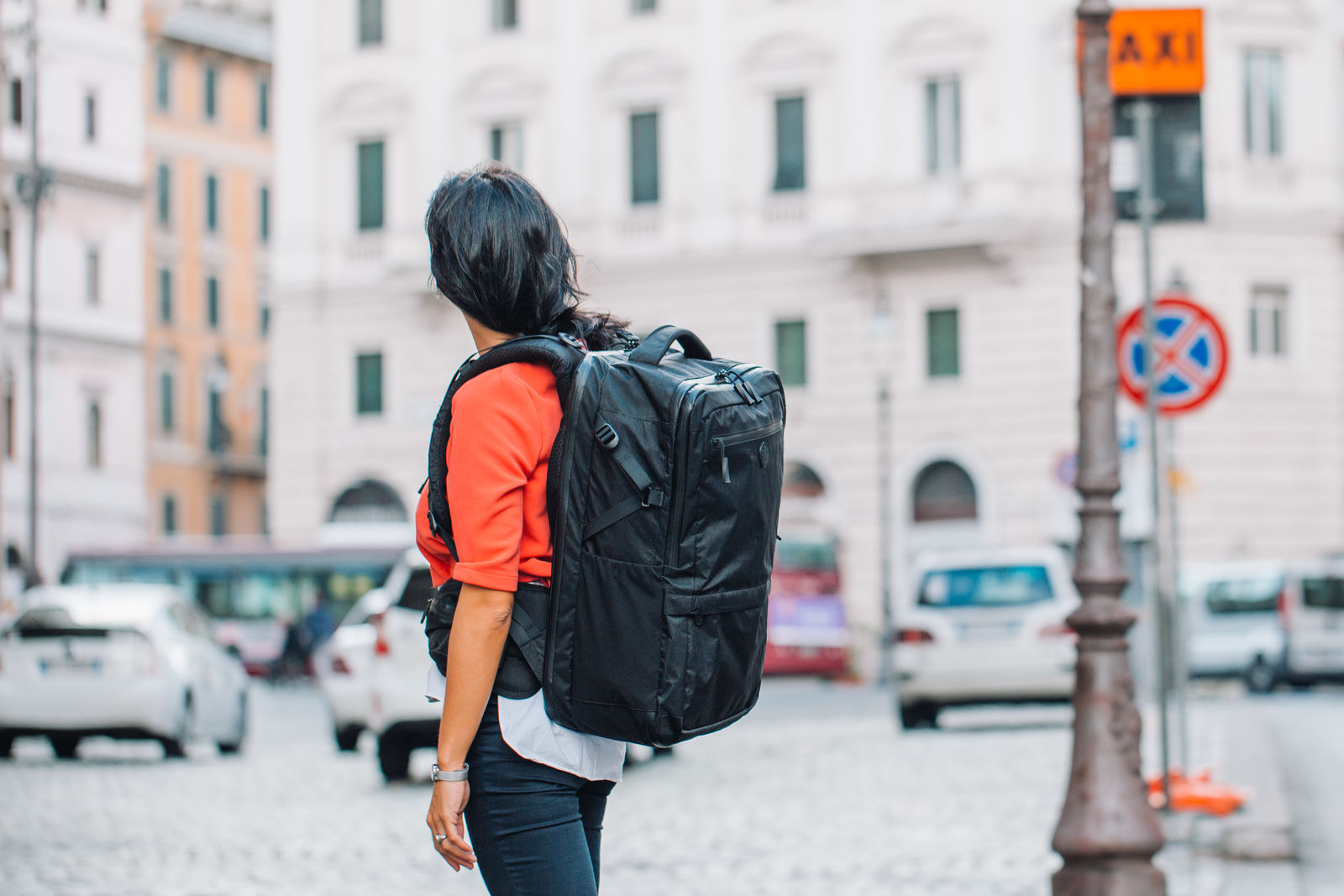 Remember in high school when everyone wore their backpacks by a single shoulder strap? We were all too cool to wear two straps. One strap was plenty to carry a bunch of heavy books on your small frame… right?
Oh, teenagers. Thankfully, we all grew up and started caring about our bodies.
Except for one thing…
I still see travelers with their backpack's hip belt dangling around their legs. Their overworked shoulders sag under the weight of their backpack. They dismiss the hip strap on their bag as inconvenient or unflattering.
A good hip belt is a requirement for a comfortable travel backpack.
Airlines allow carry on backpacks up to 22 pounds (10 kg). Twenty-two pounds is a lot of weight to put on your shoulders. Imagine carrying that around while you try to navigate a new city. Even a small load becomes a burden when you're lost, confused, frustrated, and on foot.
All of Tortuga's travel backpacks have hip belts. We feel strongly that this is the right design. This article will explore why hip straps are so important that we include them on all of our large packs. We do not include belts on our smaller, personal-item-sized bags. I'll explain the reasoning for both decisions later in this article.
Now, let's save your shoulders. If you already know why you need a hip belt, you can skip ahead to the section on how to fit your backpack's belt for maximum comfort.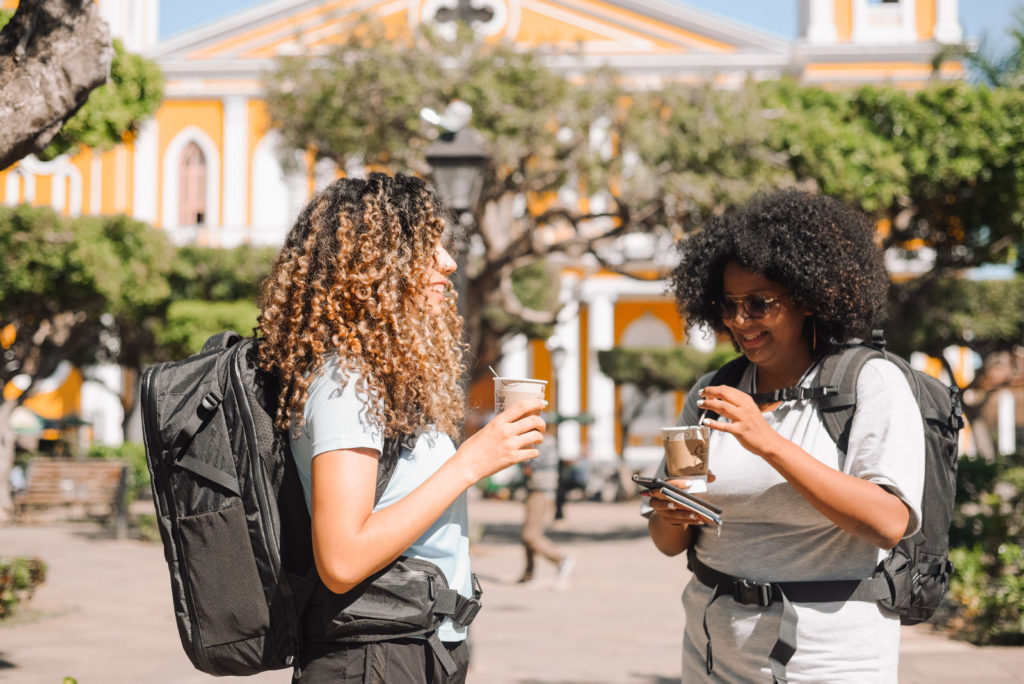 Why Your Backpack Needs a Hip Belt
Let's set travel gear aside for a moment. Take a look at hiking backpacks, which are often larger and heavier than travel bags.
Every hiking backpack has an advanced suspension system including a padded, weight-bearing hip belt.
Large hiking packs are heavy. They don't have to conform to airline weight limits. They have to carry camping equipment and food, not just clothes. Outdoor companies are experts at making huge, heavy bags feel light enough to carry over many miles and days.
The most important part of the suspension system on these bags is the hip belt. This strap is meant to transfer your pack's weight from your shoulders to your hips.
A hip belt can carry 60-80% of your pack's weight, according to Outdoor Gear Lab. Your chest and shoulders will do the rest.
Would your shoulders feel better if your pack felt 80% lighter? I thought so.
With this number in mind, not using your hip belt seems ridiculous.
Our friend Travis at Extra Pack of Peanuts covered this topic in a podcast episode on choosing the right backpack.
At the max carry on weight of 22 pounds, a hip belt could take 17.6 pounds of weight off of your shoulders. All you have to do is buckle the belt.
Transferring your pack's weight from your shoulders to your hips lets your stronger leg muscles—not your weaker shoulder muscles—do the heavy lifting.
We built our travel backpacks to maximize carry on space. All of these bags are big and hold a lot of stuff. They get heavy. A hip belt is a necessary feature.
We included a hip belt on our original list of "must haves" when we designed our first backpack in 2009 and haven't taken it off the list since then. A full-sized carry on backpack is too heavy to carry on just your shoulders.
If you disagree, just detach the belt. All Tortuga hip belts are removable.
Our smaller laptop backpacks do not have a hip belt. At 25-27L, these bags are smaller and lighter—even when packed—than full-sized travel backpacks. You don't pack your laptop backpack or personal item as full as your travel backpack or wear it around all day. A hip strap doesn't offer enough advantages to be worth the extra weight and cost on smaller bags.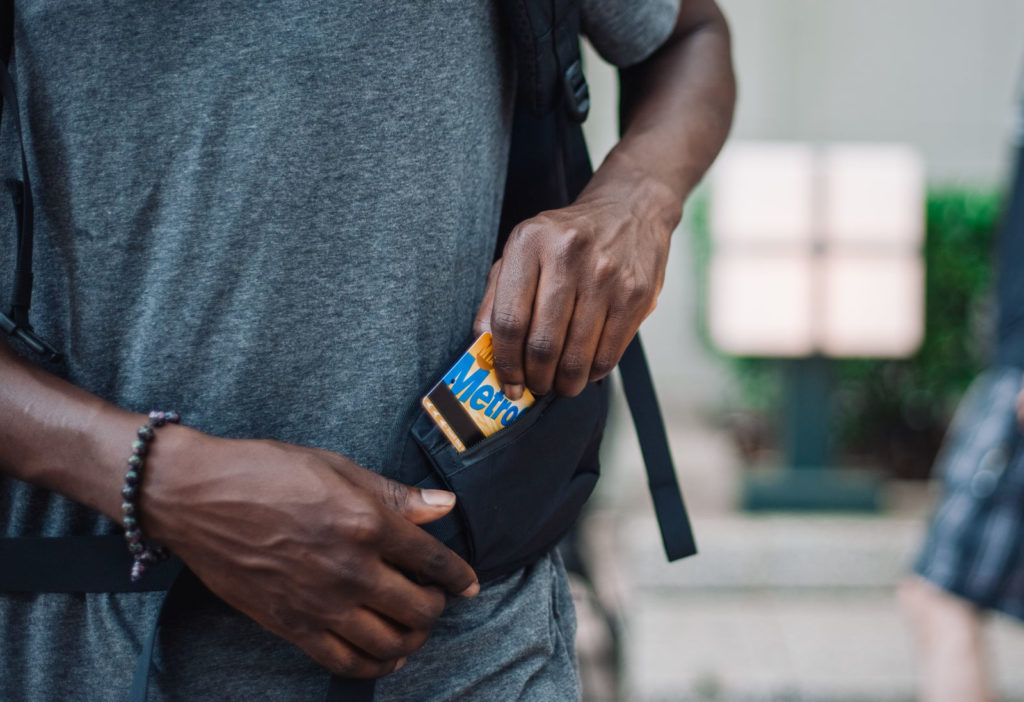 What Makes a Good Hip Belt
When shopping for travel backpacks, make sure to look closely at the hip belt on the bag that you like. Some bags claim to have a hip belt, but the belt is only a flimsy piece of webbing.
Webbing straps do not transfer any weight. Those straps only hold your bag against your body. They are for stability, not carrying any weight.
A travel backpack must have a padded, weight-bearing hip belt. Otherwise, the strap won't do anything. Don't be misled by deceptive marketing and poor design of a key feature.
A wider hip belt is good because it will distribute your bag's weight over a wider area of your body instead of digging into your waist and hips. However, a hip belt can also be too big. Make sure not to buy one that overwhelms your midsection.
When shopping for a travel backpack, we recommend a hip belt that:
Is 2″ wide or larger
Has soft foam for comfort
Has pockets for storage
Uses high-quality webbing and buckles
Is included with your backpack
To the last bullet, make sure that your backpack includes a hip belt. Some companies leave off this necessary feature and make you buy the belt separately. They try to make their prices look lower then force you to upgrade to avoid the pain and discomfort of carrying your bag without a hip strap. We disagree with this strategy. Our job is to make travel easier, not to copy the airlines' deceptive pricing tricks.
Now that we've covered why you need a hip belt and our hip belt design decisions, let's discuss how to adjust one for maximum comfort.
How to Fit Your Hip Belt
Your hip belt won't do anything if your bag doesn't fit correctly. Just buckling the strap isn't enough.
Let's cover how to fit and adjust your pack, including the hip belt.
Measure Your Torso
To measure your torso, ask a friend for help. All you need is a soft tape measurer.
Tilt your head forward to find your C7 vertebra, the one that sticks out at the base of your neck.
Find the top of your hip bones, also known as your iliac crest. Place your hands flat with your fingers pointing forward and thumbs pointing backward. Your hands will form a "shelf" that your backpack will rest on.
Have a friend measure the distance from your C7 vertebra to the top of your hip bones.
That distance is your torso length. You can use that length to buy the right backpack for you. Backpacks with hip belts will include sizing information, whether the bag is one-size-fits-all, small/medium/large, or fully adjustable.
A backpack that is too short or too tall for your torso will be uncomfortable and won't transfer the bag's weight correctly. The hip belt must sit on your hips. Otherwise, you won't get the full benefit of your suspension system.
Now that you've measured your torso and found a backpack in your size, you can load up your bag for a test pack and get the perfect fit.
Adjust Your Backpack's Fit
Remember that you are adjusting the hip belt. You r hips and legs are doing the work. This is not a waist belt. Your waist can't carry anything.
The hip belt should rest on the top of your hip bones. Depending on the height of your hip belt, the buckle should be roughly on top of your belly button.
Start there then adjust the position and fit until it is comfortable.
Hip belts can carry up to 80% of your pack's weight. When you've adjusted the belt correctly, you'll know it. The weight will move off of your shoulders. You'll feel the weight on your hips. The shoulder straps will be carrying some weight but will mostly be holding the pack against your body.
The feeling is like magic. If you aren't sure, you don't have it right. This sounds crazy to people who have never used a hip belt before. When you get it right for the first time, you'll have the same "aha" moment that I did. Welcome to the Hip Belt Fan Club.
Now that you know why hip belts matter and what to look for in a hip belt, you can start searching for the perfect travel backpack for you.