Airline rules for personal items are not as clear as the rules for carry on luggage. Many airlines don't publish rules for personal items. The airlines that do have rules don't agree on the size of personal items that they allow.
As a result, people abuse the implicit rules.
Most airlines allow you to bring one carry on and one personal item in the cabin when flying. Depending on the airline and the length of your trip, one of the backpacks from the Outbreaker Collection is the perfect choice for your carry on bag.
In this article, we'll clarify:
What you can bring as a personal item
How big your personal item can be
We'll cover what's generally acceptable since rules vary. 
What Personal Items Can You Take on Airlines?
The TSA's website says that you are allowed "one personal item such as a laptop computer, purse, small backpack, briefcase, or camera case."
Different airlines deem different items acceptable, but the intention is the same. Here are example personal items from a handful of airlines:
Air Asia: "1 x laptop in its carrier with its accessories or 1 x handbag (male / female)"
American Airlines: "purse, briefcase, laptop bag OR a similar item such as a tote"
Delta: "1 purse, briefcase, camera bag or diaper bag; or 1 laptop computer (computers cannot be checked); or 1 item of a similar or smaller size to those listed above"
Emirates: "a handbag or laptop bag"
Lufthansa: "a woman's handbag, a laptop case or shoulder bag"
Virgin America: "a handbag or pocketbook, coat or wrap, umbrella or walking stick, camera or binoculars, briefcase or laptop computer case, infant bag, infant/child safety seat used to transport the infant/child"
The spirit of the rules is that your personal item should be a small bag like a daypack, laptop bag, purse, camera bag, or tote. The Outbreaker daypack fits most personal item requirements nicely, and is foldable so that it packs down easily into your other luggage when you aren't using it.
For your personal item, think bag, not luggage. Here's how Air New Zealand differentiates between cabin baggage and a personal item:
(Source: Air New Zealand)
Most airlines will allow certain small items in addition to your carry on and personal item. For example, you can usually bring:
Coat, jacket, or hat
Umbrella
Pillow or blanket
Book or newspaper
Food or drinks purchased after clearing security
FAA-approved safety seat, stroller, and diaper bag for lap or ticketed child
Assistive devices for passengers such as wheelchairs, walkers, canes, crutches, braces, portable oxygen concentrators, and CPAP machines
Duty-free merchandise
A foot rug (3′ x 2′ maximum) for use during prayer
Pet carrier
In most cases, the above items do not count as a carry on or as a personal item.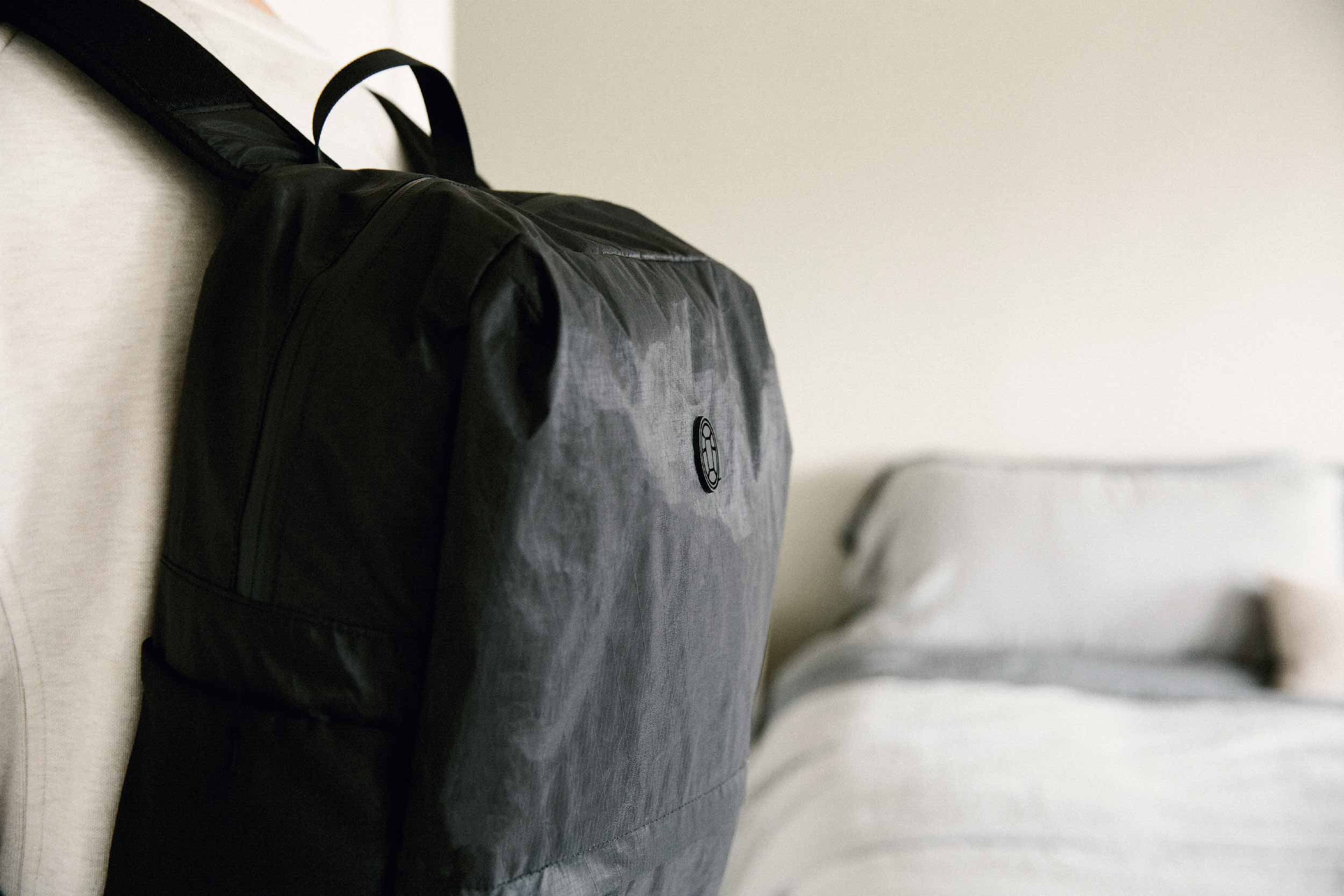 Personal Item Size
Just as the rules vary for the type of items you can bring, so do the rules for the size of those items.
The rule of thumb is that your personal item should fit under the seat in front of you.
The personal item allowance is not an excuse to bring a second carry on bag. I've seen many people do this and use two spots in the overhead bin.
Don't be a jerk. Other people need to use the overhead bin space too.
The "under the seat" guideline seems simple enough. But, how much space is under that seat? As a tall person with big feet, the space feels pretty small to me.
Not all airlines provide size guidelines for personal items. The ones that do have different rules.
Carry on luggage sizing rules also vary. However, keeping your carry on within 45 linear inches (22 x 14 x 9″) will work on most airlines.
Unfortunately, no consensus exists for the size of personal items. Let's look at a few airlines that publish size guidelines:
Air Canada: 17 x 13 x 6″
American: 36 total inches (length + width + height)
Spirit: 16 x 14 x 12″
United: 17 x 10 x 9″
Lufthansa: 15 x 12 x 4″ (approximate, converted from cm)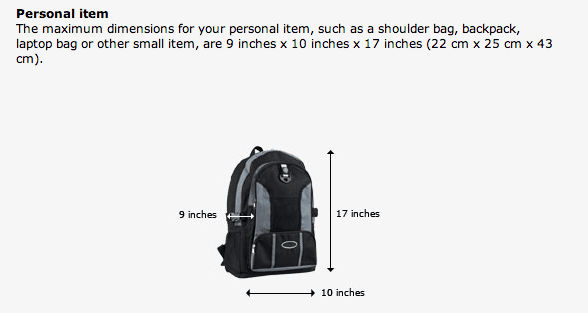 (Source: United Airlines)
The numbers aren't even close. Spirit Airlines allows personal items to be 3 times as deep as the personal items allowed by Lufthansa.
Many major airlines, including Air New Zealand, Emirates, Qantas, and Singapore Airlines don't publish any specific dimensions for personal items.
The rules, when they even exist, are inconsistent. Always check with your airline before flying. 
As with carry on luggage, the more discreet your personal item is, the less likely it is to draw the attention of the gate agent. Keep it inconspicuous. 
Personal items are best kept to purses, slim laptop or messenger bags, or tote bags.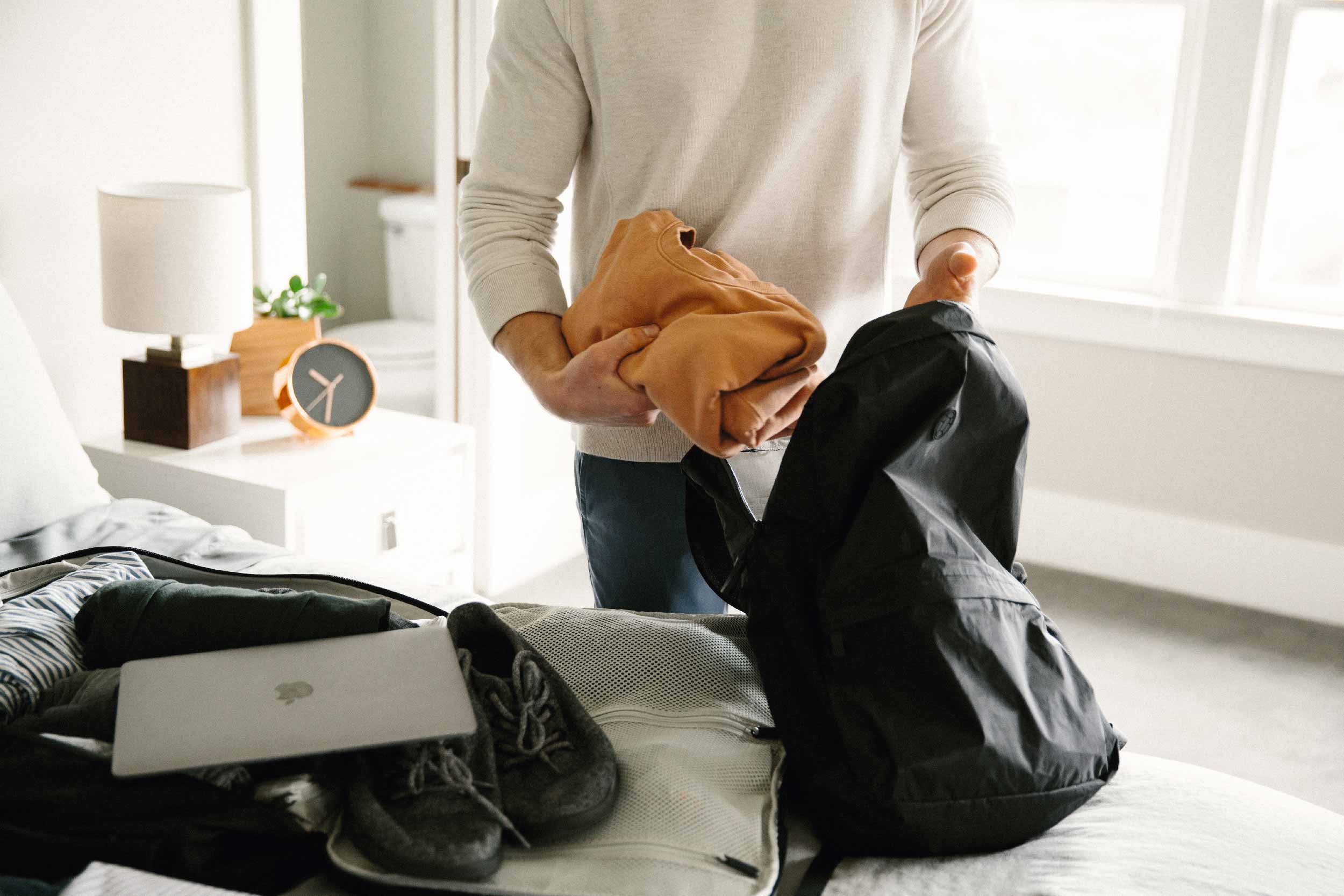 Can You Carry a Backpack as a Personal Item?
If you want to carry a backpack as a personal item, use a slim laptop backpack or an unstructured, packable daypack. A small duffle is a good alternative if you don't need to carry your computer in your personal item.
Store your personal item under the seat in front of you or on top of your carry on in the overhead bin. Do not use a second spot in the overhead compartment.
As always, your best bet is to pack as light as possible. Don't give your airline a reason to single you out.
Want more like this?
Get weekly gear reviews, travel hacks, and packing tips sent straight to your inbox. We'll send you a carry on packing list right away.