The Best Airports in the World
Make your airport layovers part of the adventure rather than an afterthought. From Singapore to Portland, these are the coolest airports in the world.
The coolest airports in the world can be found across continents and travel styles. Though airports might not be the sexiest destinations on the planet, they can still have a lot to offer a world traveler—especially if you're strategic in your long layover airport selections. If you're flying carry-on only, these airports can be perfect little stops for frequent travelers, or to break up a longer trip.
8 Coolest Airports in the World
Toronto Pearson International Airport
Canada's busiest airport, Toronto Pearson International (YYZ), handled a whopping 49.5 million passengers in 2018 alone. Well managed lines and ample space meant it was no surprise that it's been awarded the Best Large Airport in North America for two years in a row (we'll see what 2020 brings!).
Classic layover activities are all on offer here—delicious food (we suggest trying Jewish soul food at Caplansky's Deli), gorgeous lounges, duty-free shops, and even a 10 minute manicure. If you're feeling antsy, Goodlife Fitness has a huge workout facility that charges ~$17 CAD for a day pass.
Pro-Tip: If you've got four hours or more between flights, you can hop on the UP Express train and be right in the center of downtown Toronto in twenty five minutes. The direct link between Terminal 1 and Union Station make it super easy to get out and explore the city on a longer layover.
Singapore Changi Airport
If you thought an airport with a single garden is awesome, then Singapore Changi Airport—home to several gardens—will blow your mind. What's on offer? An indoor orchid garden. A rooftop cactus garden. A butterfly garden boasting hundreds of our little fluttering friends. Open air gardens. Water lily ponds. The list goes on!
After you're zen'd out from all of your garden wanderings, there's still a ton to do. Add your photo to the Social Tree (upload your selfies onto 64 giant screens), take a dip in the rooftop pool in Terminal 1, or catch a free movie at the full-sized theater between Terminals 2 and 3. Wind down your epic layover with a traditional tea ceremony (and dim sum) at TungLok Tea House. No wonder SIN has been awarded the World's Best Airport from Skytrax 10 times!
Pro tip: Spend $10 almost anywhere in the airport and you earn a free ride down the 40ft Changi slide!
Hong Kong International Airport
Though landing in HKG amid neighboring islands is already a delight for the eyes, a ton of fun awaits you for your extended layover in Hong Kong. The giant foodie city might have to await your next visit, but you can still get a taste inside the airport—bao, shu mai, and twice-fried pork (char siu) should all be on the menu! As home to Skytrax's Best Airport for Dining award in 2019, you'd be doing yourself a disservice by not getting your chopsticks on.
What else can you do? Make like the locals and SHOP. Top brands like Burberry, Calvin Klein, and Gucci all sparkle with their duty-free, "come hither eyes" (and can still fit in your backpack). But if shopping isn't your thing, try playing simulated sports games at i-Sports or finding solace in the in-airport museum, the Aviation Discovery Center. It focuses on local flight history, so you can board your next flight leg a little smarter.
Pro-tip: Citizens of 53 countries can stay for three days in Hong Kong without applying for a full visa. Take advantage of this long stay layover and get a taste of city life!
Munich Airport
While Singapore Changi boasts the most gardens, it doesn't have a biergarten, and that's where Munich's ""Airbräu" shines! Ask for a tall pour of the airport's own home-brew, created with strict adherence to the Purity Decree of 1516. It features Hofbräuhaus yeast and local hops. Top it off with a giant pretzel. Prost!
A nation of car lovers, it's no surprise that you can design your dream car—and take it for a virtual spin—at the myAudi sphere between Terminals 1 and 2.
If that pint made you a little drowsy, try catching some ZzzZz's in a Napcab sleeping pods.
Pro tip: Plan your layover in MUC around Christmastime. It hosts the longest-lasting winter market in Europe, featuring nearly 50 stands, a huge skating rink, dozens of real Christmas trees, and plenty of glühwein.
Tokyo Narita International Airport
Don't be surprised when that giant bowl of ramen you just inhaled makes you feel groggy—and like you need a nap. If you've always been intrigued by capsule hotels, you can experience staying in one without leaving the airport! Put that food baby to rest when you book a capsule with Nine Hours hourly or for the entire night.
Want a glimpse of Japanese culture? Check out one of NRT's many performances, workshops, and demonstrations on offer in the airport. You can find the full schedule here.
Freshen up for your next flight by buying moisturizing face masks from popular Japanese, Chinese, and Korean skin care lines sold at one of the many airport pharmacies. And yes, you do want to splurge on those cute snacks from that kitschy shop.
Pro tip: Buy multiple flavors of kit-kats and host a mid-flight candy party for yourself. Some of the matcha flavors are surprisingly bitter!
Or: Plan a 12 hour layover at Tokyo Narita, like our editor, Jenn, did. Take the train into the city and explore on your own, or, book a 12 hour layover tour.
Hamad International Airport
As the sole international airport in Qatar, DOH has more regional than national competition—and it puts up a fight. At times, it feels more like a high-end shopping mall than a typical airport, boasting brands like Coach, Michael Kors, and POLO.
Work up your appetite at the Vitality Wellbeing & Fitness Centre then get your mezza on with Arabic sample platters. Zaatar hummus, fresh pita, fattoush, and baba ghanouj go down well with traditional tea (served in adorable tulip glasses). Top it off with dried dates, figs, and marcona almonds. You're set to jet set!
Pro-tip: Feeling exhausted from your trip? Spend your layover at the Vitality Wellbeing & Fitness Center, where you can take a shower, workout, swim in the heated pool, or hydro-therapy tub. Check in to the airport hotel (for as little as five hours) for free access.
Jorge Chavez International Airport in Lima
Get your llama on in South America's Best Airport (2019)! A layover in LIM means prime time to purchase gorgeous wardrobe additions from Sol Alpaca. Since there's only a 30 minute window for free WiFi use, you'll want to fill your time wandering the terminals and trying the many local chocolates on offer. Don't spoil your dinner, though—Prado's Chicken and a couple of Inca Colas will do the body right.
If you want to risk leaving the airport for a few hours, you'll be immediately rewarded at Costa del Sol, the lovely four star airport hotel. If you're dying for some spa, sauna, or pool time, this is your spot.
Pro-tip: Manicures, pedicures, facials, massages and other express services are available on the first floor on the landside at Spa Express. Treat yo' self.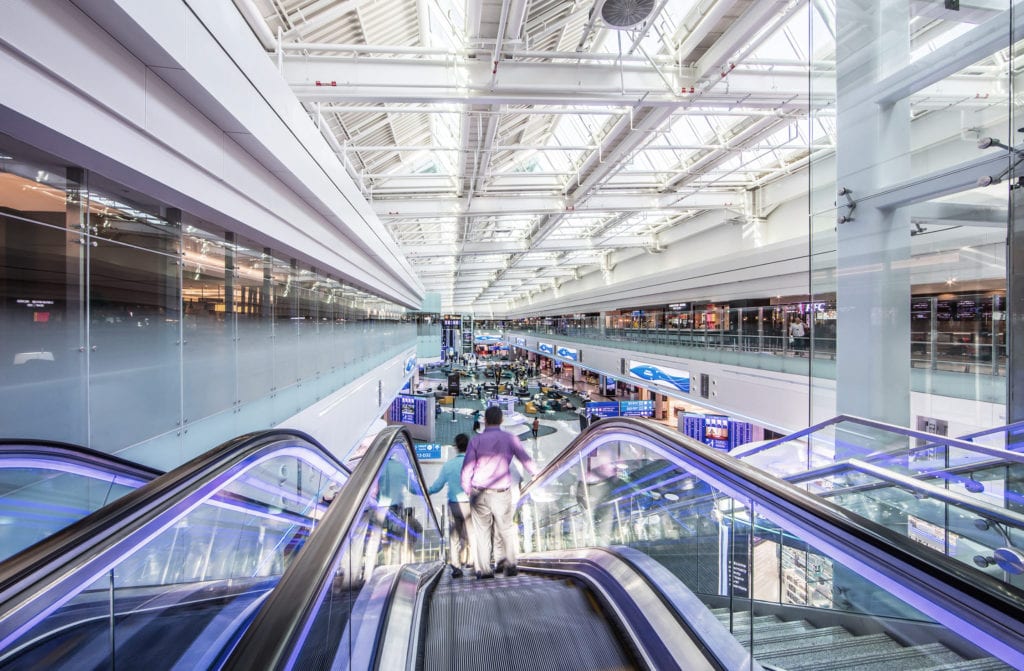 Dubai International Airport
Dubai International Airport is one of the coolest—and busiest—airports in the world. It hosted 88.2 million passengers in 2017 alone, flying over 100 airlines to 250+ destinations globally. What can you do with a few hours to kill in DXB? Sample myriad world cuisines, shop for local goods (those dried dates aren't going to eat themselves), or stock up on luxury items—your only *real* duty is to shop duty-free!
Prefer to pamper yourself? Wander the indoor zen garden or freshen up in one of the free showers. If you need a break from all the airport madness, there's a snooze cube waiting with your name on it.
Pro-tip: It's not uncommon, when arriving from the west, to land in Dubai in the middle of the night off of a long haul flight, exhausted. Do yourself a favor and check into the Dubai International Hotel right in the airport. Their service is excellent and a concierge will meet you at your arrival gate. It's the perfect mid-trip refresher.
Coolest Airports in the USA
Not all of the cool airports are international! Here are some of the best the USA has to offer.
Portland International Airport
The Portland airport is a gateway to all things trendy and cool—and you don't even need to leave the airport to get a taste of Portland's unique brand of weird. In fact, the PDX carpet alone has become a hipster icon.
If you have a few hours to kill on a layover, sipping a hot cup of 'joe from local roaster Stumptown Coffee, taking photos of your shoes with that totally 80s carpet, and watching free short films in its tiny 17-seat movie theater should be your top priorities.
Minneapolis-St. Paul Airport
Rent a movie from one of the many in-airport kiosks, then have your food delivered directly to your boarding gate thanks to the AtYourGate app. If you're not in the mood to get too-comfy, then a wander down "Food Truck Row" will treat you right. This Terminal 1-Lindbergh alley provides tasty cuisine from three local eateries—Red Cow (burgers, breakfast), Salty Tart (hand-made pastries, lighter fare), and the Holy Land (Mediterranean). NOM.
Austin-Bergstrom International Airport
If chilling out with delicious Tex-Mex while listening to live country music sounds like the perfect layover for you, then you'll absolutely want to check out Austin-Bergstrom International Airport, one of the coolest airports in the world. Catch local musicians at one of the many venues Monday through Friday, and since you're feeling so inspired, you'll probably want to wander the art in the Barbara Jordan terminal, too.
Yes—you do have room in your Outbreaker for that adorable pair of genuine leather cowboy boots!