Best External Battery Packs & Portable Chargers: An In-Depth Review
The Tortuga Promise
At Tortuga, our mission is to make travel easier. Our advice and recommendations are based on years of travel experience. We only recommend products that we use on our own travels.
Travel bans be damned—portable devices are part of the way we travel. You need an external battery pack these days.
Odds are your carry on bag is just one merino shirt, some jorts, two pairs of travel underwear, and a rat's nest of cables, cases, gizmos, and, of course, chargers and power banks. Whether you're a freelancer, a writer, travel videographer, a digital nomad, or a rising travel Instagram star, your bag includes at least one smartphone, laptop, camera, GoPro, iPad, or Kindle—and the cables that come along with them.
The point is, we travel with a lot of tech, so a good external battery pack has increasingly become a must-have for today's modern carry on traveler.
But which is the best portable charger? Which one packs the most charge for the price (or the weight)?
Evaluating your next portable battery charger isn't rocket science. We looked at charging times, charging speed, charging capacity (mAh), weight, durability, water-resistance, multi-functionality (is the battery charger also a flashlight, for instance), and of course price to bring you our comprehensive list of the best external battery chargers for your next off the grid adventure.
Get amped (see what I did there?)
External battery packs are just part of the way we travel. Whether you're a digital nomad, a freelancer on the go, or an Instagram superstar, keep one of these portable battery packs in your bag and be prepared for anything.
Luggage with Built-in Battery Packs
If you're a bag geek at all, you've been watching the trend toward "smart luggage" and bags with built-in battery packs.
On the surface this does seem smart, doesn't it? Especially if you've ever spent your airport layover jockeying for a position at the one plugin at your terminal instead of sipping a bloody mary at the airport bar. The ease and convenience of a piece of carry on luggage that is also your juice box is alluring.
Until you actually think about it.
The names of the game in carry on travel are size and weight, right? Certain dimensions within which all bags must fit and a certain amount of weight that is allowable. The weight restrictions vary between 12.5 lbs to unlimited, averaging around 25 lbs. So, if your bag weighs about a third to half of your allowable carry on weight before you even pack it, that's kind of a problem.
A quick search of carry on smart luggage turns up a number of Indiegogo and Kickstarter campaign babies that look sexy at first blush. Until you read the stats and consider the implications. Away is over seven pounds. Bluesmart tops nine. And of course, they're both wheeled luggage, which we already know could ruin your trip.
The offerings with battery packs in the backpack category aren't meant as actual luggage. They're actually daypacks. Here's the thing about a daypack: You have to carry it. A lot. With stuff in it. Why would you begin with an empty bag that is heavy?
The Outbreaker Daypack weighs 1.1 lbs. The lightest contender among the leaders with a built-in charger is double the weight of our bag, the heaviest tips the scales at nearly five times that weight.
So you could carry the heavy RAVPower 26,800 mAh beast that weighs just over a pound and still be lighter than the lightest "smart backpack." Oh, and of course you'd have the option of NOT carrying it. That's an important detail. I don't know about you, but I don't want to be forced to carry extra weight built into my bag.
Of course, the other factor that no one talks about is that these battery packs become obsolete in no time flat. Remember what you were carrying for external power two years ago? How 'bout five? That's what I thought. How long do you expect your luggage to last? I want mine to last at least a decade. So, yeah. That's a problem, isn't it?
Here's the thing: When a piece of luggage tries to do too many things, it ends up doing nothing well. Choose the best possible luggage for urban travel (because that's what you're doing) and then choose the best possible battery pack for your needs and budget. No need to spend a fortune. Then, upgrade when it makes sense.
Now that we've agreed not to buy smart luggage, here are the best options.
The Best External Battery Packs
Hands down, the most important metric when it comes to choosing an external battery pack is mAh (milli-Ampere-hours). Without getting too technical, the mAh is the amount of time your device can run under a certain current. The higher the mAh, the longer your battery will last. To give you a quick frame of reference here's a chart showing the mAh of the most common smartphones.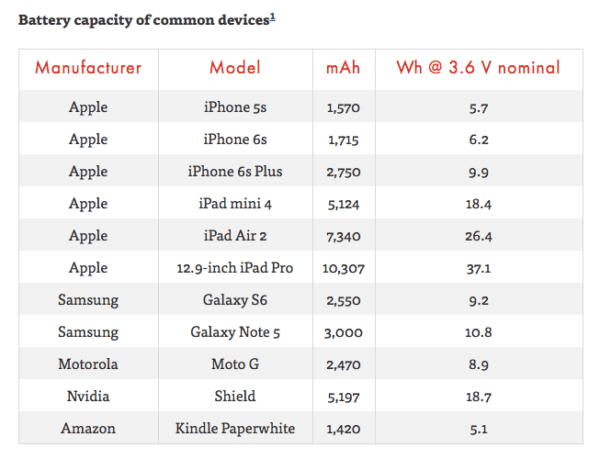 If you have an iPhone 6s (1715 mAh), any battery pack over 2000 mAh will give you at least one full recharge. Easy peasy.
There are a ton of other factors like discharge speed (1A vs 1.5 A or even 2A), but this isn't a super techy review. I focus on capacity, functionality, and how you're going to use these battery packs on the road. If you want to geek out on charging specs and features, read this deep dive into battery pack tech and specs from The Wirecutter. Those guys know their stuff.
Now that you have some idea what you're working with, let's dive into some of the best portable chargers and external battery packs on the market and see which ones are best for your hiking trip, everyday use, European vacation, and life on the road as a working digital nomad.
Most Powerful Portable Battery Chargers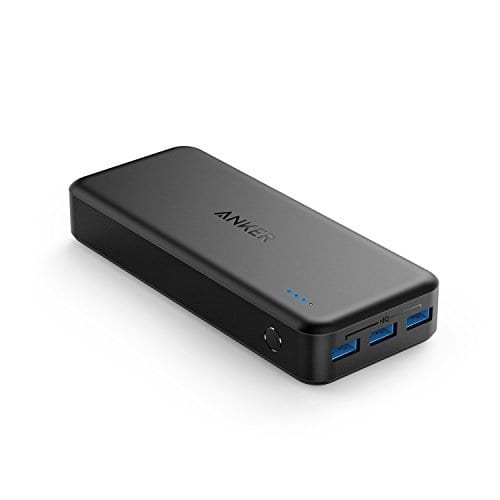 One of the most powerful pocket chargers available under $50, the Anker Power Core is a solid purchase for any tech-heavy traveler or digital nomad that needs to get work DONE.
At 13 oz. it's at the top end of pocket portability, but the dual 2A outputs guarantee a fast charge. One of the best battery packs for your buck from one of the most trusted names in external battery packs in the industry.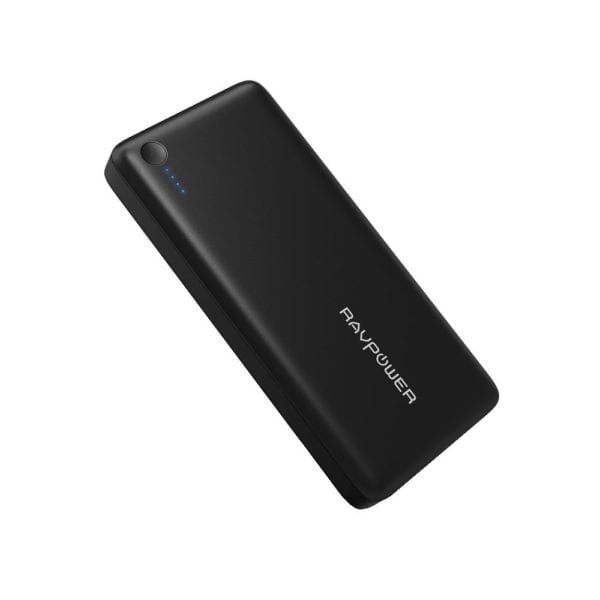 This external battery is a straight-up workhorse. Fully loaded with 3 USB outputs, including a 2.4A port (that's super fast), this is the go-to digital nomad external battery pack.
This battery can charge in sleep mode, carry a full charge for nine days, and charge multiple devices at once. It weighs in at just over a pound, but it's great for heavy users on the go to fully charge their tech and carry on with their adventures.
Another tank-like option for heavy users on the go, this Baseus big-boy features 3 charging ports and weighs in at a hefty 1.5 lbs but features 3A output via USB C. This might be a good choice for gamers or heavy computer users on the go, but we're hesitant to give it our top mark because of its weight and because we're less familiar with its brand.
Best Budget Portable Battery Charger
The best budget chargers also tend to be the lightest chargers, so I don't want to double up this category. However, the Poweradd EnergyCell 5000 is worth mentioning for the price tag alone.
One input, one output, one charge. Portability, simplicity, and a full charge are way more than you should expect from a $10 external battery charger, but there you are.
This little guy delivers just what you need when you need it. Perfect for weekend trips, long flights, or just keeping in your bag for emergencies.
And, as battery tech has gotten better, the mAh of these "lipstick" chargers has doubled in recent years.
We're not going to put it in two sections—that'd be cheating—but please know that at only 99 grams, the POWERADD EnergyCell 5000 belongs in the list of the lightest USB external battery chargers, too.

Lightest USB External Battery Chargers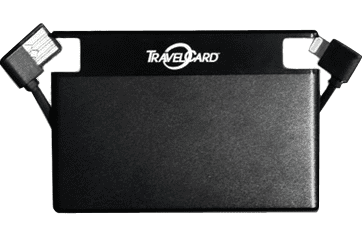 This modern marvel is only 5mm thick and weighs less than 2 oz. Even better, it's got the charging cable built into the battery!
Seriously, this is the ultimate get-out-of-jail-free battery charger. Perfect for business travelers and digital nomads, you can toss this in your wallet or that little zipper of your day bag and forget about it until you need it.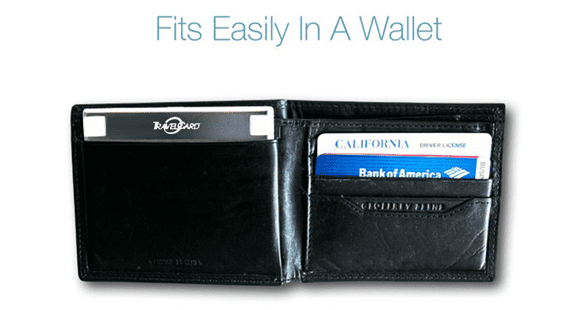 While 1500 mAh isn't a ton of charge, it's enough when you need a little boost. Plus, features like "pass-through charging" (you can charge the battery pack and a phone at the same time), make this cheap, light, extremely travel-friendly external battery pack a fantastic choice for frequent travelers.
The handsize design is worth the price alone, however, it's worth noting any charger that delivers 10000 mAh for just $34.
This portable charger is jam-packed with features like 3.0A output (that's fast charging) and a digital display to see how much charge you have left. Everything about this charger is thoughtfully designed, perfect for a traveler like you.
Most Rugged Portable Battery Chargers
The NOVOO is waterproof, dustproof, and has a portable flashlight. How much better does it get than that?
If you're going to a rainy or windy place where you'll spend some time off the grid, we recommend this tough fellow. It even includes a textured grip that makes it easier to hold onto in the rain.
This waterproof portable unit features both USB C and A, and it recharges full of juice in under 4 hours.

Most Versatile Portable Battery Chargers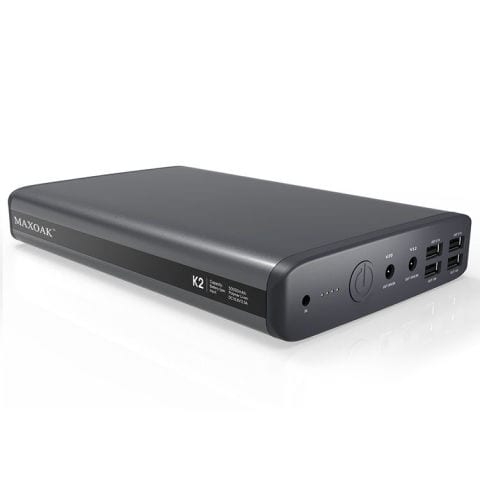 In the immortal words of Mr. Samuel L. Jackson, "Hold onto your butts." This beast of an external battery pack has everything. Literally.
Featuring six output ports:
20V/3A for laptops
12V/2.5A for digital cameras
(2) 5V/2.1A
(2) 5V/1A for most smart phones, iPad, tablet and more USB-charged devices
Be a hero and charge every single device in the entire hostel. At once. The K2 battery pack also recharges in 6-8 hours, so you can juice back up overnight.
This is an extremely portable battery charging option, but it's honestly not that crazy for professional digital nomads going off the grid for a while—especially for the price.
50000 mAh is absolutely top of the charging curve, and the ability to charge a laptop on a portable charger is a big deal (check to make sure your laptop is compatible). The whole rig weighs less than 3 lbs, which is right on the edge of actual portability, so I doubt I'd ever use this beast, but it's nice to know it's out there.
Maybe if I was organizing a music festival, or working at the Christmas tree stand again this year.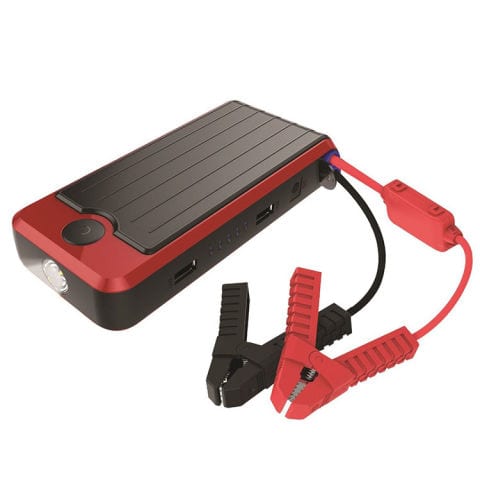 This surprisingly versatile portable battery charger is the perfect emergency charging gear for your next car camping weekend. The 120,00 mAh capacity is enough to charge your phone or GoPro many times over, but the clamps and jumper cables actually make this one of the few portable batteries that can recharge your most important device—your car .
Equipped with a LED powerful flashlight, a strobe light, and even an SOS light sequence, this is the ultimate car camping/emergency charging battery. Seriously, one charge holds enough power to jump-start your car 30 times. A digital display even shows how much charge you have left. Chuck this in the glove box and sleep a little easier on your next road trip. It really does "power all."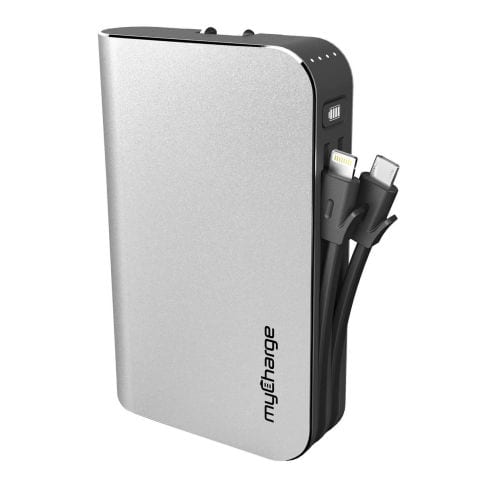 This little portable charger is the swiss army knife of external battery packs. The built-in Lightning and micro USB cables are nice (you don't have to carry those tangly bastards), but the really slick feature is the built-in wall prongs right on the battery.
This interesting design of this portable battery pack means that don't have to daisy chain a million adaptors, chargers, and cables together. You just plug and charge.
Best External Battery Phone Case
I was never a huge fan of external battery phone cases until I drove across India in a rickshaw. My buddy Jarrod slapped a Mophie Juice Pack on his iPhone 7, and it might have been the star of the trip.
We abused his phone. We bumped tunes off it all day while we drove. We used it for GPS, maps, and directions. We booked accommodation on it, kept in touch with others via WhatsApp, and shot a ton of photos and videos on it throughout the day. Oh yeah, and Jarrod "worked" on it or whatever.
That single external battery phone case powered our trip. No matter how much we used it, we never ran out of battery. It got to the point where I almost expected my phone to keep up with this supercharged beast.
The Mophie case adds 27 hours of battery life to the iPhone (more than you need), and even allows for wireless charging (if you're fancy). The phone case does make your phone a bit heavier (3.5 oz.), but the added battery life is insane, and you get used to the solidity of your phone.
Bottom line: if you're only bringing an external battery pack to charge your phone, cut out the middleman and get a battery case.