The Best Men's and Women's Fanny Packs for Travel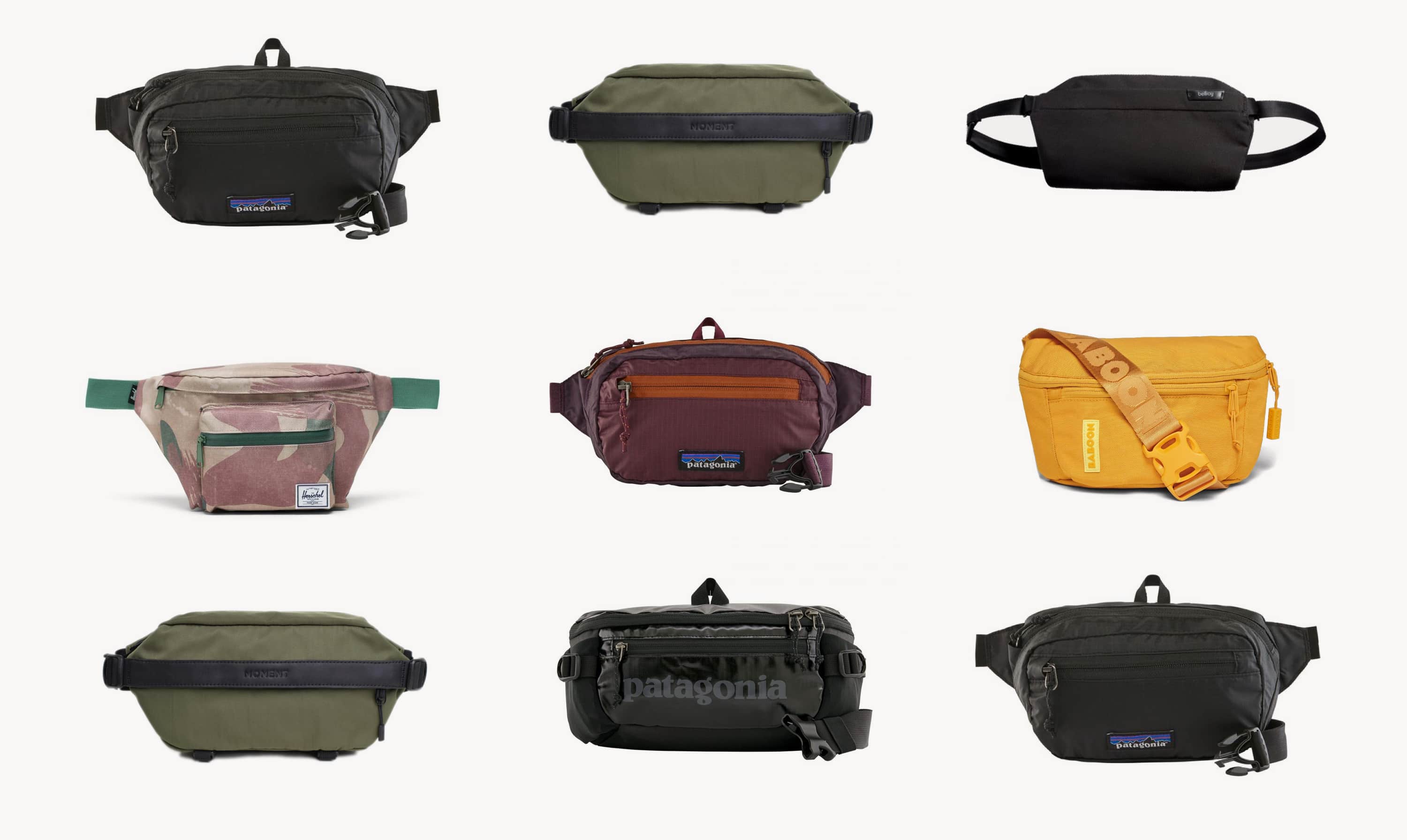 Fanny packs go by many names. Waist bags, bum bags, hip packs, slings, or crossbody bags. Whatever you call them, these bags are back and a must-have for travelers.
Like a purse, a fanny pack carries all the small stuff you need for a day of sightseeing like your keys, external battery, and lip balm. With a few exceptions—noted below—most fanny packs don't carry a water bottle and aren't large enough to pack extra layers of clothes. If you want a bag to carry a water bottle and a jacket, size up to a daypack. For all the smaller stuff, a fanny pack is a great option.
In this guide, you'll find the best fanny packs for every type of travel including men's and women's picks plus stylish, lightweight, waterproof, and anti-theft options.
Tortuga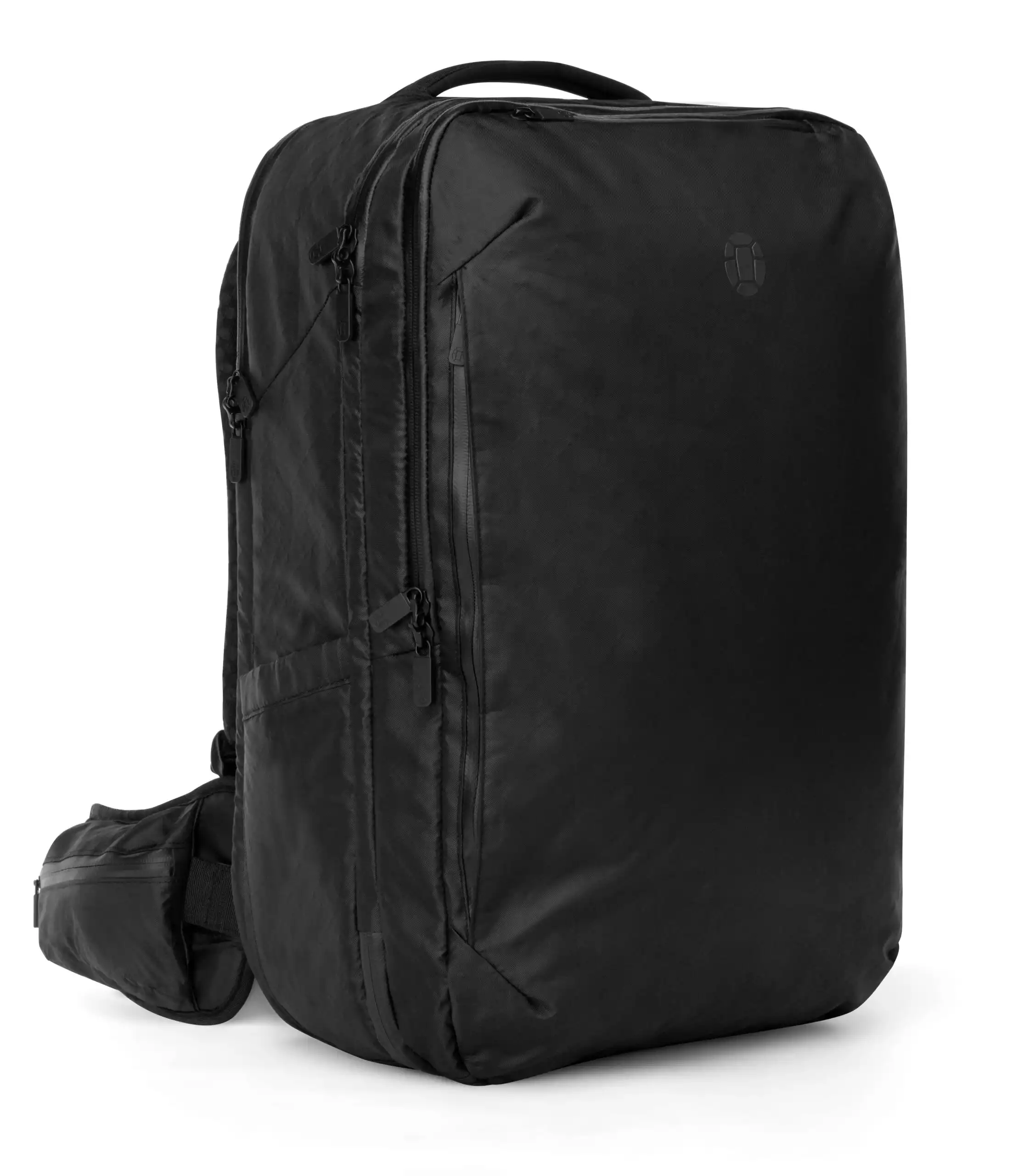 Fanny Pack Testing Notes
I've been a travel writer with Tortuga—and a few other travel brands—for the past six years. Before that I was a bartender, surf instructor, copywriter, and long-haul travel specialist with nearly 20 years of travel experience in over 40 countries.
To help you find the absolute best waist pack, I tested the heck out of 15 leading fanny packs over the past few months. I put them through the wringer at home in New York City and during my around-the-world-trip across Europe, Southeast Asia, and Australia, and New Zealand. I wanted to see just how durable and useful a fanny pack could be.
What We Looked At
Price: You don't need to spend $100 for a great fanny pack. Or even $50.
Durability: Can the pack and zippers take a beating day after day?
Water-Resistance: How does the bag handle a light drizzle or a wet boating day trip?
Style: Do I actually want to wear this in public?
Size: How does it fit and what can fit inside? Also, what's the right size for a travel fanny pack?
Portability: How well does the fanny pack travel, both in use and in my backpack?
Organization: Does the fanny pack have enough pockets to keep everything where I want it during the day?
Comfort: How does it feel to wear fully-loaded all day?
To be transparent, some of these fanny packs were significantly more useful and functional than others, so I tested them for longer. I reward success with more scrutiny, which you'll see in the full reviews below.
Also, I understand that some of these bags may fit me (6'1", 170 pounds) great but may rub you the wrong way. Find one that suits your size, needs, and style and hold it close. The right fanny pack is a game-changer.
Ultralight Black Hole® Mini Hip Pack 1L
Quite simply the best everyday carry (EDC) fanny pack in an ultralight form factor that works for practically any situation.
Whom It's For
Minimalists, urban travelers, fashionable flashpackers, and just about everyone with stuff.
I hate that I like this fanny pack so much. But I do.
I got the Patagonia 1L Ultralight Black Hole Mini to use as a day bag in town during a long-distance thru-hike in Spain called the Camino de Santiago. Just something to keep my phone, wallet, and keys organized in my hiking bag and handy when I changed out of my hiking clothes to head into town.
Cut to seven months later, and I've been using this little bag almost daily across Europe and Southeast Asia. It's become a staple of my daily prep, and I can't seem to stop using it.
Don't buy this fanny pack if you don't want to become a fanny pack person. Because once you experience the ease of tossing your phone, wallet, keys, earbuds, passport, loose change, eye mask, and maybe even a snack into this deceptively large fanny pack, you're never going back to pockets again.
Pros
1L is all you need: I routinely pack the main pocket with a passport, iPhone, and DJI Osmo Pocket Camera. The front pocket holds my wallet, earbuds, change, and assorted candy and snacks.
Just enough organization: The main pocket does it all while the smaller front pocket is perfect for the little stuff, like change, earbuds, or even a front pocket wallet.
Water resistance: This fanny pack can't handle a sustained downpour, but it's more than rugged enough to shrug off a drizzle or even a few good minutes of rain.
Super durable: The rugged ripstop nylon hasn't even started to fade or fray after seven months of brutal daily use.
The price: For less than $30, you get a do-it-all minimalist day bag, flight bag, and hiking bag you can proudly carry anywhere.
Surprisingly hip: The color options and two-tone style makes this fanny pack something you'll want to wear even in chic European destinations. I went with maroon, blue, and red.
Cons
Not great for larger items: The width tops out at around most smartphone lengths. If you have a particularly large phone, you might fumble to get it in and out of the main pocket.
Only for minimalists: I use the fanny pack in sling mode (over one shoulder) as my day bag but don't often need things like a jacket or guide book. If you pack a lot, go with something bigger like a daypack.
No water bottle pocket: If you absolutely have to carry a water bottle, this fanny pack might not be for you. I clip my Vapur .7L collapsible water bottle onto the strap, and it works like a charm.
Not 100% waterproof: This is not a dry bag. While it performs well in most weather, don't trust it with sensitive electronics during a downpour.
Bottom Line
My favorite fanny pack on this list is also the cheapest. The daily use I've gotten from the Patagonia Black Hole has far surpassed the measly price tag. This is a durable, stylish, do-everything fanny pack that works for urban exploring, trail running, or just as a trusty travel day companion to keep all of your most important items safe and close at hand.
Heck, there's even a hidden "secret" zipper compartment in the main pocket for keeping credit cards or cash safely stowed away from your other stuff.
I love to load this up with my camera, phone, wallet, passport, and earbuds and toss it in the tray at security at the airport. No more fumbling in my pockets for loose items or wondering if everything is safe. Everything is right where I need it, even when I board the plane.
Herschel Seventeen Hip Pack
The classic fanny pack look and feel, elevated with signature Herschel style and more than enough room for all your stuff.
Whom It's For
Anyone looking for a larger day bag style sling.
Let's be clear here: fanny packs are gender neutral. Every fanny pack on this list can be worn by anyone. Heck, my girlfriend also sports a teal Patagonia Black Hole Mini as one of her favorite day bags.
The fit, feel, and style of most bum bags translates to just about everyone. However, some fanny pack options are slightly more targeted towards female travelers. One of the best we've found is the Herschel Seventeen Hip Pack.
Pros
Elevated style: Yes, this looks like a fanny pack, but it's a cool one.
Waterproof zipper front pocket: Keep your phone safe and dry.
Color options: Match this fanny pack with your favorite outfit or go ghost protocol with a matte black pack. Herschel's color options ensure you won't get stuck with pink because it's "for women."
Cons
The size: This could be a pro for you, but the Seventeen is pretty big. It's basically a sling/purse. That might be great for some, but too much for others.
No water bottle pocket: The pack is big enough to keep a small water bottle inside, but you might get your stuff wet.
No internal organization: The main pocket can get cluttered with too much stuff and not enough separation.
Bottom Line
The Seventeen Hip Pack is stylish, durable, and great for all-day wear. But it's also a bit bigger than I prefer, making it basically a full-time crossbody sling. That's not a deal breaker for anyone who's used to carrying a purse or shoulder bag, just worth pointing out.
Also, the missing internal organization in the main pocket might be frustrating if you carry a lot of smaller items. And remember, you can always downsize to the Fifteen Hip Pack, but you'll lose the waterproof front zipper compartment if you go with a smaller fanny pack.
All-in-all this hip pack is a great transitional day bag/purse/fanny pack, especially if you're already used to carrying a bag every day. Upgrade your clutch or downsize your daypack to experience hands-free travel in a package you'll rock with confidence anywhere.
Moment Fanny Sling
Designed by photographers for photographers. Packed with organization and scratch-proof pockets in a waterproof package that will get you out the door and shooting without the hassle of a bulky daypack.
Whom It's For
Photographers, minimalists, urban travelers, and digital nomads.
I love the Moment Fanny Sling pack because it's all about functionality. Designed as an everyday carry for mobile photographers, the Moment team packed this bag with features that just plain work.
Pros
Thoughtful organization: The main pocket is full of slots and sleeves to keep your cards, lenses, or whatever else you need organized and ready to go.
Waterproof zippers: One of the only truly "weatherproof" fanny packs on the market, so you can trust your stuff won't get ruined if it's raining.
Secret back pocket: I'm a sucker for secret pockets. The small "passport" pocket on the back is comfy and clever.
Compression straps: Like the Bellroy Sling, the built-in compression straps keep the fanny sling close to your body when you're on the move.
Cons
Over organized: I dig the internal organization, but if you want to carry larger items it can be a bit too much for some people.
Mainly for camera gear: This is a photography sling disguised as a fanny pack.
No water bottle pocket: Like many fanny packs on this list, it won't keep you hydrated.
Bottom Line
Honestly, this bag might have won the top spot in this guide if we'd had more time with it. It's a great weather-proof fanny pack that's cleverly divided, packed with mobile tech-friendly features like scratch resistant lens pockets, and it's nearly half the price of the Bellroy sling with a lot of the same look and features.
The Moment Fanny Sling is a clear winner for most travelers, but if you're planning to "do it for the gram," this is your go-to travel fanny pack.
Patagonia Black Hole Waist Pack 5L
Small enough for a trail run yet packed with enough space and rugged features to destroy your next day hike.
Whom It's For
Hikers, plain and simple. We know you wouldn't travel with a hiking backpack, but you might travel with a hip pack that goes from travel to the trail.
The big brother to the Black Hole Mini, the 5L Black Hole Waist Pack has every feature you could ask for in a lumbar pack.
It's just the right size to fit snacks, emergency supplies, and a change of clothes for a long hike without being awkwardly big in other situations. The waterproof finish is sufficient for most weather, and the pocket design, while basic, is perfect for loading up for the trail.
I like Patagonia fanny packs and would recommend the 5L Black Hole for day hikes, especially if you're not a fan of hiking backpacks for shorter treks.
Pros
Water bottle pockets: Finally, a fanny pack that can handle a decent size water bottle. The elastic pockets expand to fit many water bottle sizes, and shrink away when not in use.
Lumbar pack design: This is definitely not a sling. Designed to be loaded up and worn at the waist, the compression straps and comfortable padding make this a hiker's dream.
Simple, spacious pockets: One main pocket and one front pocket. You're good to go.
Price: $59 is a great price for a hiking accessory you can wear for years.
Cons
Not 100% waterproof: Nothing sucks more than getting stuck on the trail in a downpour. While more waterproof than many packs, it's still not dry bag level protection.
No added functionality: I like that this bag is streamlined but would appreciate a few attachment points on the front for paracord or lights.
A great hiking lumbar pack is hard to find. But the Patagonia Waist Pack is the right size, shape, and design for just about any day hike. Well worth the modest investment if you want to keep your pack light without sacrificing much functionality on your next trailhead.
Bellroy Sling
This fanny pack (ok, "sling") looks good enough to wear to a black tie dinner yet performs like a beast with more than enough room for absolutely everything you need during the day (and night).
Whom It's For
Minimalists, urban explorers, and people that think they're too cool for fanny packs.
Without a doubt, the coolest fanny pack on this list is the 7L Sling from Bellroy. Technically a "crossbody sling" this 7L pack still looks and feels like a fanny pack to me, and honestly, most everyone carries their fanny pack as a sling anyway.
That's a subtle but important shift from smaller fanny packs. The added weight of a fully-packed seven liter bag isn't comfortable to carry in the front. Remember, a fanny pack only helps keep your stuff safe from thieves and pickpockets if you wear it in front. The clever shoulder strap design works like a kind of compression strap to keep the weight close to your body for easier carry on overloaded days.
You can load this bag up with a bunch of stuff and wear it like a messenger bag, but I liked it best when it was in fanny pack mode.
Pros
It looks great: This bag just looks hip as hell. The colors, the style, the sling. You'll want to wear this bag, and you will be asked questions about it. Prepare to make an entrance.
It's rugged: Like many fanny packs on this list, the Bellroy is made with recycled polyester so it's durable and moderately water-resistant.
Big enough for your stuff: Unlike my favorite fanny pack, The Black Hole Mini, the Bellroy sling is… well… a sling. It's big enough for larger items. You can fit a small water bottle, full size Moleskine notebook, and other larger items easily in this 7L sling.
Front pocket and key clip: The strongest part of this sling is the front pocket. The larger front pocket helps keep your phone away from the stuff that might scratch it while still managing to make everything a blind grab away. No more fumbling in a dark purse or never-ending day bag for your stuff.
Cons
The price: This is a great sling, but there's no getting around the price tag. At $100, this is the most expensive fanny pack on our list. It might not be in your budget, despite the great design.
It's big: The ability to hulk out to 7L is great, when you need it. However, 7L day in and day out can be a pain. The compression style strap helps keep this sling close to your body, but it's not going to make your stuff less heavy.
It's not a fanny pack: This is a sling dressed as a fanny pack. It's designed to be worn as a crossbody bag and, and you don't want to wear this one around your waist.
Bottom Line
I managed to fit a journal, pens, Bluetooth keyboard, sandwich, phone, wallet, keys, earbuds, change, passport, water bottle, and battery pack in the Bellroy.
I didn't care much for the gimmicks like the magnetic clasp on the front for quick on/off access, but the sunglasses pocket in the main compartment was surprisingly handy, especially in Southeast Asia. I scratched up a few pairs of sunnies before testing this bag.
The Bellroy Sling is the most expensive fanny pack on this list at $99, but if you're in the need of ultra-stylish performance in a sleek city-friendly package, it's worth the investment. The front pocket is fantastic for keeping your keys, wallet, and phone organized and ready to go, and the spacious main compartment can hold a shocking amount of stuff.
Baboon to the Moon Fannypack
Ready for festivals, crowded subway cars, packed city streets, and anywhere you might take your valuables.
Whom It's For
Minimalists, urban travelers, commuters, and festivalgoers.
Most fanny packs are anti-theft bags thanks to their design. You typically wear them in front of your body on your chest or waist. Today most travelers wear fanny packs like a sling bag over one shoulder. That situates the bag squarely on your chest just below your line of sight, a tough place for thieves to reach without you noticing.
However, some people really like to over-prepare. And that's cool. For the nervous road warriors out there, the Baboon to the Moon Fannypack is a great theft-proof sling bag. Wear it all day at festivals, on crowded public transit, or just walking tours through your favorite crime-riddled city.
Pros
Ballistic nylon: About as close to slash-proof as you can get in such a small, lightweight package. No one is going to be able to open this thing or tear it off your body without you noticing.
Big secret pocket: I'm all about the hidden body pocket. Pressed up against you, this is the best place to keep your passport or emergency money safe and sound. The pocket runs the length of the bag unlike other unusable stash pockets.
Mesh organization: Internal organization keeps everything where you want it so you can open it with confidence and get what you need quickly.
Cons
Bright colors: I love the design choices here, but one of the cardinal rules of theft-proofing your stuff is to be low key. This bag is bright, flashy, and might attract a little too much attention.
No water bottle: No designated water bottle storage on board.
Tortuga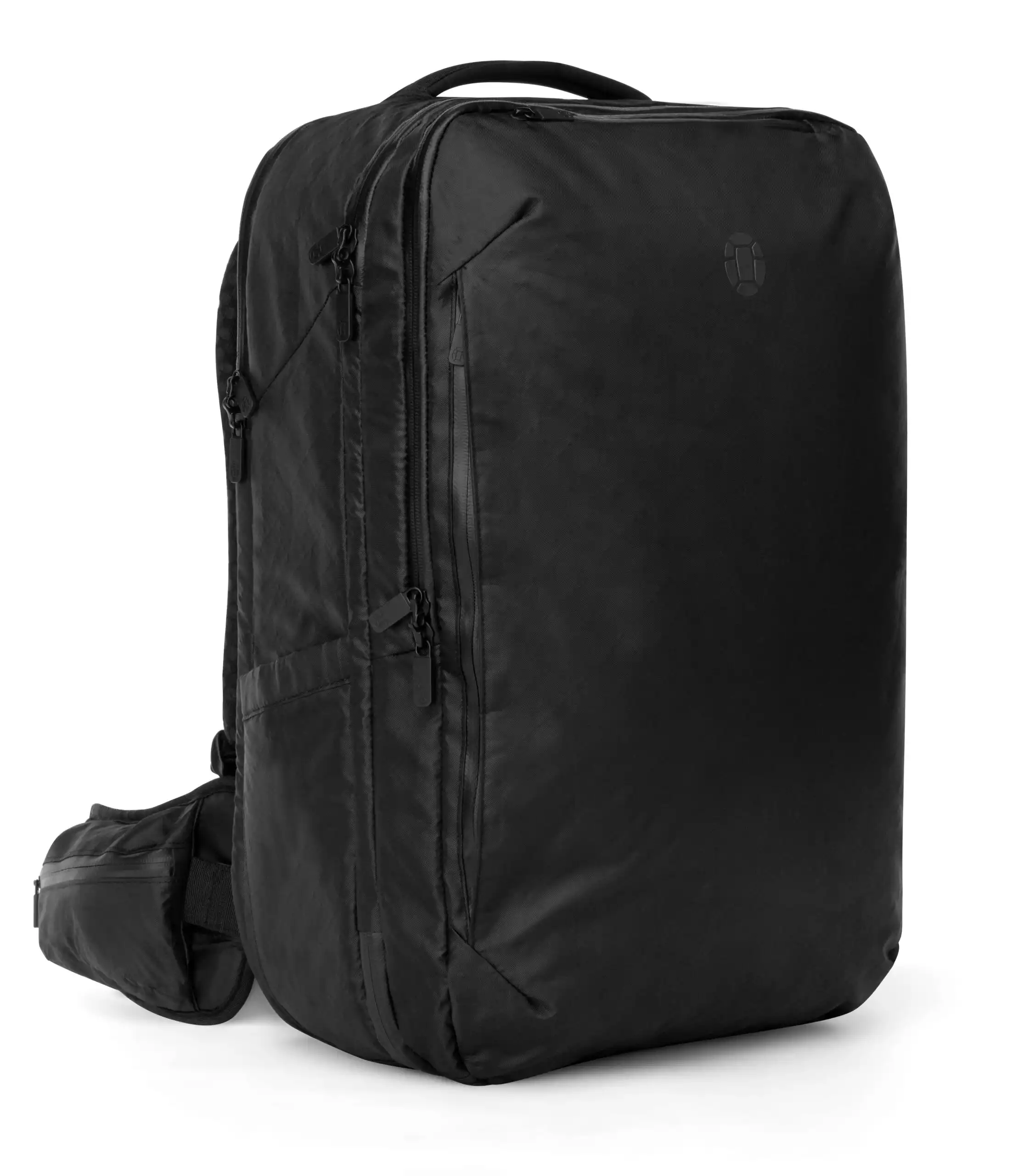 Bottom Line
The simple grab-and-go style front pocket is great for holding frequently used items. However, the large hidden rear pocket is my favorite feature on this bum bag because it's actually large enough to use.
Unlike other stash pockets, this one runs the length of the bag, meaning you can fit a passport, money, and other valuables here to keep them safe. A safety feature is only useful if you use it. You'll use this one.
The strap is also one of the most comfortable I tried thanks to the reinforced design. It's wide enough to comfortably wear as a sling, and at 3L you don't need a compression strap feature unless you're transporting gold bars in this thing.
All around, the Baboon Fannypack is a great fanny pack for keeping your stuff safe on the go. Perfect for festivals, bike commuters, and walking tour enthusiasts. I just plain like this fanny pack and appreciate the clever built-in features that incidentally make it great for keeping dirty thieves away from my sweet sweet stuff.