This guide to Spain complied by Jennifer Sutherland-Miller & Jessie Beck, is part of a series of country-by-country focused resources addressing accommodations and transportation. You'll find some overlap with the posts for other countries within the region. We've separated them by country because that's what our readers are looking for. Feel free to skim past the parts that don't suit you or seem redundant. Let us know if you've got insider knowledge to add!
Spain is a country filled with the romance of old Europe. The faded glory of this colonial power still whispers to visitors from beneath Castillian arches and through the forest paths of the Galician countryside. Whether you're coming for the bustle of Barcelona, the bulls that run the streets of many towns in addition the famous Pamplona, or the parochial gravitas of the Camino de Santiago, a path that predates the Catholic heritage it's famous for, you won't leave Spain without falling in love.
Prepare to be wooed by the food, the diversity between regions, the friendly and outgoing Spaniards, and the rich history, culture and art of this sun drenched country. Spain is the one country on the planet that I credit with changing my life, inside and out.
If you're planning a trip to Spain, then this guide is for you; we've got everything you need for finding the best places to stay in Spain and Spain transportation covered:
Table of Contents
Hotels $100+ per Night

There are some truly spectacular luxury hotels in Spain. Imagine castles and sea side retreats. Stay in a monastery or an old fort. Or, enjoy the classiest, five star chic Barcelona has to offer.
Four Seasons: The best of the best, one of the most highly rated hotel chains in the world. If you're looking for all-out luxury, this is it.
Ritz Carlton: Another top-rated hotel chain. Fantastic luxury in the heart of Europe's most beautiful cities.
Fairmont: Luxury hotels, but a bit less pricey than the above. Comfort is guaranteed.
Park Hyatt: Classic luxury, familiar to all those who like to travel in style. Located in several destinations around Europe.
Radisson Blu: Hotels with a modern vibe, Radisson Blu is moderately priced and boasts 182 unique hotels in Europe.
Novotel: A comfortable stay in convenient locations around the continent. 290 hotels in Europe.
JW Marriott Luxury Hotels: All the comforts of home, in every major European city.
Small Luxury Hotels: Just like the name says. They've got a number of listings in Spain. Private luxury. Good stuff here.
Johansens: With 24 listings, both on the mainland and in the Spanish islands of the Mediterranean, you'll find something special here. Luxury meets romance.
Hotels Under $100 per Night
Finding budget hotels in Spain is not hard if you know where to look. Your best bet is to do some research ahead of time. Depending on where you're going, book your hotel at least two days in advance, more in high season.
To save a buck, sacrifice proximity to city centers for a more modest hotel nearer the outskirts of town. City transit tends to be affordable, so you're better off taking the subway in than you are spending extra money on being two blocks closer to the Sagrada Familia.
Don't forget to use air miles to get the best deals!
iescape: A personal favorite for finding Spain accommodation. Lists boutique hotels as well as your average hotel room.
Sherman's Travel: A go-to site for more than just hotel deals. Book flights, car rentals, and more; as well as finding a great room.
Expedia: Prone to give you classier accommodation options than you might typically find for under $100, Expedia will not always give you the best deal, but you're more likely to end up in a comfortable room.
Travelocity: One of the top hotel booking sites out there. Travelocity is great for its reviews. If a hotel is listed with them, it's passed their inspection and you know you're getting a clean, comfortable room.
Hotels: An offshoot of Expedia, Hotels.com is good for finding big hotel chains or local favorites for a low price.
Hotels Combined: One of the most popular booking sites for European hotels, with thousands of options and set up to be easy to navigate. Hotels Combined makes researching easy.
Ibis: Ibis hotels convey the feeling of luxury while not breaking the bank. By far, some of the nicest "cheap" hotels you can find in Europe.
EuroCheapo: Made specifically to help you find budget European hotels, including Spain, of course. Read reviews, find deals, and reserve a room in any of the most popular cities.
EuroBookings: Over 160,000 hotels in thousands of locations across Europe, catering to all price ranges.
Venere: Book hotels, apartments, and B&Bs across Europe, including Spain. Unlike many other booking sites, Venere focuses primarily on Europe.
Agoda: A tried and true travel booking website used by thousands of travelers. Sure to get you a good deal on the lodging you're looking for. You pay in advance on Agoda, accumulate points towards free stays, and if you end up with a terrible place, they'll refund your money for unused nights.
Boutique Hotels

Boutique hotels in Spain don't have to be expensive, and staying in one could be one of the highlights of your trip. If you're looking for a local, hip, place to stay, this is a good place to start.
iescape: Lists at least a few boutique hotels in each European country, offering the best deals first.
Mr & Mrs Smith: Catering to honeymooners in particular, this site locates the best boutique and luxury hotels in Europe, rating them for you, as well.
Great Small Hotels: With over 2150 European boutique hotels listed, you're sure to find a place to stay here. However, it may be harder to sort the best rooms from the just "ok."
Secretplaces: A magical, handpicked collection of the best hole-in-the-wall hotels around Europe. Your best bet for finding the hotel of your dreams.
Slow-Chic: "Travel slow. Stay chic," is their motto. You're going to love this collection of 8 handpicked secret places in Spain.
Chic Retreats: 47 boutique hideaways in Spain. Check these out, they are some delightful little places.
Design Hotels: A range of charming to chic hotels across Spain and the rest of Europe. Fifteen are listed for this country.
Boutique Spain: From Spanish palaces to stone wine caves and cottages, there are some really lovely offerings listed on this site. Dig around a little bit.
Boutique Hotels Spain: Would you like to stay in a bio-sphere reserve, or a convent? Some truly unique and boutique options here.
Vacation Rentals
Staying in one area for the majority of your vacation? You may want to consider renting a home instead of camping out in the cheapest hotel room you can find. Chances are, you'll be able to find a vacation rental that perfectly suits your needs, and may even be cheaper, in the long run, than staying in a hotel.
Most vacation rentals in Spain average from $50-150 a night, and come fully furnished with all the essentials. Save a great deal on food by cooking from the comfort of your own home-away-from-home.
VRBO: Find owners of vacation rentals around Spain and the rest of Europe, get connected, and set up a stay.
HomeAway: One of the best vacation rental websites out there. Search according to your price range, stay in your dream home for a week or two… or more!
Airbnb: Rent a house, or rent just one room in your host's home. A great way to get to know locals and travel economically. For more on this, read this post about Airbnb alternatives.
9flats: With over 1200  apartment rentals available in Barcelona alone. A fantastic local resource for finding European rentals for a fair price.
OwnerDirect: Apartments all over Spain. All pro-checked and approved.
Wimdu: Another European based rental website, with a great deal of local expertise. Claims to be Europe's "biggest portal for city apartments."
Perfect Places: Loads of options in Spain. Perhaps one will be your perfect place.
Green Pearls: I just recently found this resource, specializing in "ethical touring and unforgettable experiences," this is a listing of green and eco-friendly vacation rentals. There is only one listing in Spain, but it appears to live up to it's name: Utopia.
Housesitting

If you have a beautiful home, you may be able to swap it with another family's for an ultra-cheap vacation. Or, pay a membership fee to a housesitting website and stay without swapping. Be sure to make your housing arrangements well in advance of your trip.
Luxury Housesitting: For the best of the best. The houses listed here are beautiful. Plus, membership for homeowners is free.
Housesit Match: Very highly rated and used by thousands. An easy, doable way to housesit in Europe, numerous listings for Spain.
Sabbatical Homes: Homes for rental, exchange, or sitting. $45 listing fee.
HouseCarers: A wide range of listings in Spain to suit all needs. $50 fee for house sitters.
Trusted Housesitters: This site has extensive profiles of both home owners and sitters to help ensure a good match. We've used this one twice and both times have had fantastic experiences. This site caters specifically to pet owners and lovers; pet sitting is often part of the equation.
HouseM8: House sitters and pet care takers are solicited through this site. Register as a carer or as a home owner.
Nomador: Yet another housesitting match site where you can register as either an owner or a house sitter. House sits available in Spain.
Camping & RV
Camping is a wonderful way to explore the Spanish countryside. Get in touch with local culture, meet new people, and discover off-the-beaten path destinations by staying where locals are staying on their holidays.
Unlike in North America, campgrounds in Europe are often located within walking distance of towns, or public transportation routes in major cities. Also, most campgrounds in Spain will offer cabin accommodations, complete with sheets on the bed, so tents are not required.
The only downside to camping is that you're at the mercy of the seasons and will likely end up traveling during the more touristed months.
Camping Europe: The official European camping guide. Everything you need to know about camping in Europe.
EuroCampings: Europe's largest campsite search engine, with 9902 annually inspected campsites.
RV Camping Europe: An amateur's guide to RVing Europe. Best campsites, RV rentals, tips and tricks, and destinations.
Cool Camping: The coolest camping guide out there for Spain and the rest of Europe. Read reviews, check out pictures, and book your stay in advance.
Camping Info: This site is an aggregate of camping options in Spain and beyond.
Camping Spain: Not a sexy website, but a useful one. Spain is broken down into regions with resources listed accordingly.
Glamping Hub: You want to camp but sleeping on the ground is not your thing? This is a great listing of upscale "camping" experiences, from yurts to tree houses, and sometimes a villa with a pool. This is the way to "rough it" in Spain.
Unusual Accommodations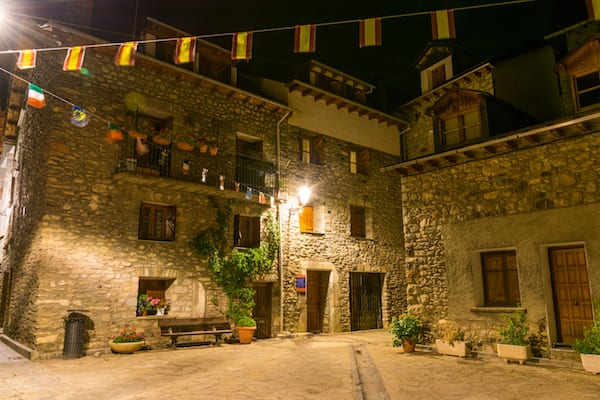 The weird, the fantastic, and the unbelievable. Here are some of the most interesting accommodation options in Spain.
Castle and Palace Hotels: Ever dreamed of sleeping like royalty in an actual castle? Here's your chance.
Quirky Accom: As the name indicates, this is a site full of listings of quirky accommodations, some of which are in Spain. These are fun.
10 Unique Hotels in Spain: These are definitely unique: a wooden caravan home, a bull ring, transparent bubble rooms for star gazing and a place with lava floors and glass walls. Check it out.
Paradores of Spain: Paradores are hotels made out of historic buildings, from castles and monasteries to mill buildings. They're dotted all over the country and are always a unique way to stay.
Hostels
Hostels are a very popular way to stay while in Europe, especially among young people. If you're willing to sacrifice your comfort and embrace a sense of adventure, hostels are the cheapest way to go. Just don't expect to be pampered along the way! These are every backpacker's go-to booking sites for the Spain and hostels in Europe.
It is worth noting that some hostels have age caps, on the upper and lower ends. Be sure to ask when you book.
HostelWorld: The biggest hostel site out there, with thousands of recorded and rated hostels for you to choose from.
Hostels: They don't get extra points for creativity, but hey, it's your basic hostel booking site. What more can you ask?
Savvy Backpacker: One of the best guides to hosteling Europe I've seen.
EuropeanHostels: This site specializes in Europe, unlike the others, meaning that it may have more in-depth information on a region than some of the bigger hostel sites out there.
HostelBookers: A personal favorite for easily finding and booking hostels anywhere in Europe, not just the UK.
Flights & Airports

Flying into Spain, whether from mainland Europe or North America, is going to land you in a major city. If you're coming from North America and you're flying from the east coast, check out Leon, or Barcelona as an alternative to Madrid.
If your time is limited, then there are inexpensive flights between the major cities in Spain and the rest of Europe. You'll often find them at rock bottom prices through the budget airlines. Do not expect any amenities and expect to be nickle and dimed to death. Traveling with only a carry on bag will save you loads.
RyanAir: The worst kept secret of budget travel in Europe, RyanAir is a discount UK airline that flies, mostly, just within Europe. Yes, they're ridiculously cheap (I once bought a flight for 1 Pound), but they'll try and find ways to charge you for everything imaginable, and they don't always fly to major airports. So, if this is your first experience with them, err, pack light.
RyanAir Alternatives: However, there are some good alternatives that service Spain, including EastJet and Iberia. Also check into Vueling.
Iberia: This is the biggest Spanish airline with affordable flights within the country and around Europe.
FlyCheapo: FlyCheapo will help you figure out which budget airlines go from one destination to another, so you can get even more specific with those RyanAir alternatives.
SleepingInAirports: And, because Ryanair and other cheap-o flights are notorious for having terrible connection times and not being the most convenient, SleepingInAirports.net will give you tips on where and how to sleep in the airport you're currently stuck in — stuff like "They'll kick you out of Terminal 2 but Terminal 1 is open all night and there are some benches without arms by the cafe."
Edreams: A European version of Kayak that will include most budget airlines in your search. I usually run it in conjunction with Kayak or Priceline.
Airports Spain: Looking for information about any of the 37 airports in Spain? This page has your info.
Busing Around Spain
Taking the bus between cities and towns is a picturesque and economical way to get around Spain. There are several options for bus lines and some of them offer passes to further reduce the cost and increase flexibility. Even if you don't have a pass, don't hesitate to book tickets, even last minute! Last summer, when I was headed to Spain, from Canada, the most economical option was to fly to Portugal and take a bus to Spain. Who knew?
Busbud: This is a great post listing the five things you should know about bus travel in Spain, including a comprehensive list of bus companies, types of tickets and buses, availability of wifi. Read this first.
EuroLines: A central website for booking buses throughout the continent.
EuroLines: A central website for booking buses throughout the continent. They also have a pass similar to the Eurorail pass.
Movelia: Getting around Spain by bus is often easier and cheaper than the trains. Movelia will help you find routes, prices, and book tickets.
Alsa: One of the major bus lines with routes almost everywhere you want to go in Spain.
Spain by Train

In Spain, transportation by train is common and affordable. There are routes to many of the secondary towns.
Renfe: The official website of the Spanish rail system.
RailEurope: RailEurope will be most travelers' first stop when looking for train tickets. Yes, it's good to check these, but do note that local websites will often provide lower fares and discounts that American run RailEurope will not.
Seat61: British run Seat61 is a great resource for finding discounts on train rides across Spain, and the rest of Europe, as well as advice on how to get around (affordably!) using the rail system.
Lastminute: RailEurope and Seat61 both have discounts on rail lines listed, but Lastminute is another website to check for last minute details for rail travel. It also lists last minute deals on airfares.
Compartemesa – In Spain, you get discounts for booking a whole block of four seats for you and your three friends. But, if you're not traveling with that many people, Compartemesa will help you find other solo, duo, or trio groups going in your same direction so you can team up and snag the discount!
Car Shares & Hitchhiking in Spain
Have you considered ride sharing while you're in Spain? Particularly within urban areas, and sometimes between towns, a ride share can be a great way to meet interesting people and save money too. If you aren't ready for standing alongside the road and hitchhiking, old school, these sites will help you find a reputable ride.
Carpooling: This UK based website will help you find a car share (kind of like Craigslist's car share feature) throughout France and the rest of Europe.
HitchWiki: Hitchwiki, the "hitchhikers guide to hitchhiking" is an incredible database of tips for hitchhikers — from where to stand are if you're trying to get a ride out of Barcelona, to tips on which roads are the best or worst to find rides. I personally used it to hitchhike throughout Europe and the tips are both updated constantly and super helpful.
Bla Bla Car: France based BlaBlaCar (formerly Covoiturage) does the same as Carpooling.co.uk and sets you up with drivers so you can share a ride to wherever you're going.
GumTree: Gumtree is super similar to Craigslist, and — like Craigslist — will set you up with car shares around Europe… just in case you didn't find any on Carpooling.
Carpool World: Register. Contact. Carpool. Free to register, this is the page specific to Spain.
Car Rentals in Spain

Most of the bigger car rental agencies operate in Spain, and honestly Kayak, Priceline, or whatever you generally use to book car rentals will do the trick. However, if you're renting a car for more than 21 days, you may want to consider a "buy back car lease." Although they're not always a cheap way to travel, the two resources below will help you start your search to find out if this is the best way to travel for you:
It may also be required, by some car agencies, for North Americans to have an International Driver's Permit. This is easily procured through AAA and is valid for one year. Be sure to double check this with your rental agency when you book your rental.
Getting Around Spain by Boat
You can arrive by ferry to Spain at several ports. Common routes are between the Spanish islands, to the UK and back, as well as across the narrow strait to Morocco. The rivers of Spain are an often overlooked way to travel. Tours are readily available across a range of budgets.
Direct Ferries: "Direct Ferries features the widest selection of ferry routes giving you flexibility and choice as well as access to the best ferry deals around."
PO Ferries: The largest fleet in Europe, running between Britain and the mainland as well as Ireland.
Ferries Spain: Listing routes, timetables and tickets for purchase.
River Voyages: Cruise a Spanish river by comfortable barge, it's a spectacular way to travel.
Bicycling Around Spain

I've bicycled most of Europe, but not Spain. It's still on my list. Cycling is a passion for many of the Spanish and you'll find lots of day trippers and serious travelers alike on bikes. You can even cycle the Camino de Santiago instead of walking it!
Bicycle Touring Spain: A listing of tours you can join with your bicycle (or rent one!)
EuroVelo: Traveling with your bike around Europe? EuroVelo will give you suggested routes for long distance cycling — though, that seems to be about all it does. Check out my post on how to pack your bike for travel if you're traveling this way.
Cycling in Spain- 10 Best Routes: I love bicycling has put out this list, with attached route maps. Some good inspiration if you're still undecided as to which part of the country to cycle.
Cycling the Camino de Santiago: Rent bikes, or bring your own. Walk part of the Camino and then hire bikes for only the long flat of the meseta. There are a range of options. This is a spectacular journey, by foot or on wheels.
TL;DR
A classic tourist destination in Europe, Spain has a lot to offer travelers. From five-star luxury resorts to unique tree house hotels, vacation rentals, or camping experiences, there's something for every budget and traveler. Before traveling:
Do your research
Figure out how far in advance you'll need to book your stay
Choose the accommodation style that fits your needs
Branch out and stay somewhere special, or unique
Rent a car, or meet locals through a car share. Take the bus and train; they're economical and efficient. Brave the boats, between the islands or along the picturesque rivers. Bicycle somewhere, even if it's only a day ride.
Image: Arka (unsplash)
Want more like this?
Get weekly gear reviews, travel hacks, and packing tips sent straight to your inbox. We'll send you a carry on packing list right away.