Best Stylish Boots for Winter Travel
The Tortuga Promise
At Tortuga, our mission is to make travel easier. Our advice and recommendations are based on years of travel experience. We only recommend products that we use on our own travels.
When choosing winter boots for travel, choose a pair that's versatile, TSA friendly, and of course, stylish.
When the temperatures drop, you need hardy boots to keep your feet dry and warm.
That's true when you're at home, but it's especially true when you're traveling in winter. Because who knows what lies around the next corner? All you know is, your boots need to be able to perform their two duties: to keep your feet 1) dry and 2) warm.
And if they are comfortable and get you through TSA easily — skipping the long minutes unlacing and re-lacing boots — well, that's a win-win situation.
Here's your list for best stylish winter boots for travel.
Slip-On: TSA Friendly Winter Boots
These iconic, flat boots have a bit of stretch so they pop on and off your foot smoothly. Making TSA a hassle-free process.
Sleek looking Chelsea boots with a bit of stretch so they pop on and off your foot smoothly. Ahem, hello easy and quick TSA security check. The thick tread is a winter weather bonus.
Best Winter Boots for Men
Let me list the ways I love these boots: water-resistant leather uppers, extremely tough, repairable, high resistance soles with a meaty tread.
With a handy side zip you'll be through TSA in seconds flat because you won't be wasting valuable time untying and re-tying endless laces.
This boot is destined to be your go-to for winter functions from work to personal travel. With sleek water-resistant premium leather and an outsole designed for urban environments, these boots look good with jeans or slacks.
Best of all, the footbed has three layers of varying densities so your feet are well cushioned. Perfect for tromping on long urban adventures in cold weather.

Lightweight, waterproof,and armed with a meaty tread, these boots are ready for your next winter adventure. Because they were designed for hiking, they are made for long walks in treacherous conditions. Which is perfect for winter urban travel.

Best Winter Boots for Women
If you're looking for a dressy — and comfortable — pair of boots for your next winter trip, Taylor, our marketing manager at Tortuga, recommends a low-heeled ankle boot.
"They go with everything," she says. "They're comfortable enough to wear on a plane and (usually) professional enough for a conference."
These classy ankle boots are perfect. Plus, they're waterproof. So if you're headed somewhere that loves its rain clouds — ahem, Seattle or London — these snazzy beauties are for you.
Need a pair of boots you don't mind beating up and that are ready for anything?
Grab these combat boots with their lace-up fronts and easy-to-slip-off zippered sides. Yup, TSA security line will be a breeze.
Plus, they're comfy thanks to a cushioned insole.
This pair has my name written all over them. My feet are constantly cold while traveling. Over many flights, I've found that lightweight motorcycle-inspired boots are the way to go for warm toesies.
Thanks to the leather, they're warm when needed. Thanks to the short boot height, they're easy to pull on and off, with good arch support and decent tread. Wear lighter or Merino wool socks with boots to prevent overheating.
Word of caution: break in leather boots before your trip, otherwise pack a boatload of bandaids.
Stylish, comfortable winter boots? Nope, that wasn't a typo.
Check out these waterproof, leather boots with their 3" wedge that lends an air of femme fatale sexiness to winter.
Sammy in Salt Lake City says: "They fit perfectly and are so comfortable. The tread is fantastic, especially in wet weather and the leather is easy to clean and durable. They are pretty warm and comfortable enough to wear all day. I love the wedge heel, it gives me a little butt lift and looks professional for work but casual enough for a night out."
Best Snow Boots for Winter Travel
I own these stylish, very comfortable boots. Thanks to their nonslip soles and waterproof leather (with seam-sealed waterproof construction), these are my go-to snow boots. I never worry about slipping on ice or frozen toes. Oh, did I mention they look cute, too?

These ready-to-go-anywhere boots score a whopping 4.5 out of 5-stars based on 10,000+ reviews on Amazon. Waterproof leather uppers with seam-sealed waterproof construction, these boots are made for cold, wet conditions. And Timberland has a reputation for going the distance.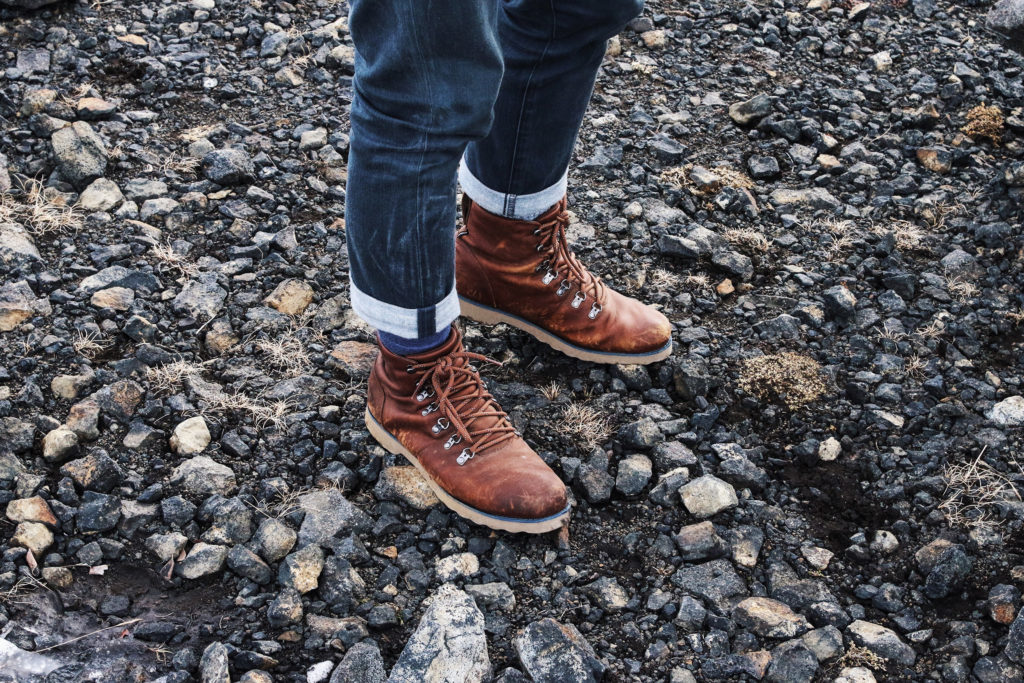 Best Winter Walking Shoes
Sometimes, you need a good shoe for walking in winter conditions when you leave the boots behind. These are the shoes you've been waiting for.
With Trekstausa's Ice Lock technology on the soles, you won't slip in icy or snowy roads. Thanks to the Gore-Tex fabric, your feet stay dry from water and allow sweat to escape. So your feet really stay dry.
Waterproof hiking shoes with breathable mesh and Vibram soles to keep you from slipping on icy roads.
Add in an Ortho-Lite footbed for extra support and long-lasting comfort, and well — you've got a winning combo for a winter walking shoe.
TL;DR
Best winter boots for men:
Best winter boots for women: