The Tortuga Promise
At Tortuga, our mission is to make travel easier. Our advice and recommendations are based on years of travel experience. We only recommend products that we use on our own travels.
I stared at the pile of jackets on my bed.
Trevor, my husband, sighed. "It's time for bed. Just pick one."
I threw up my hands, paced the room a little, fingered one jacket and another. See, I hate being cold and wet when I'm traveling. Actually, let me amend that statement. I hate being cold. If I'm semi-warm, being wet is tolerable and maybe even enjoyable.
Not cold.
Tortuga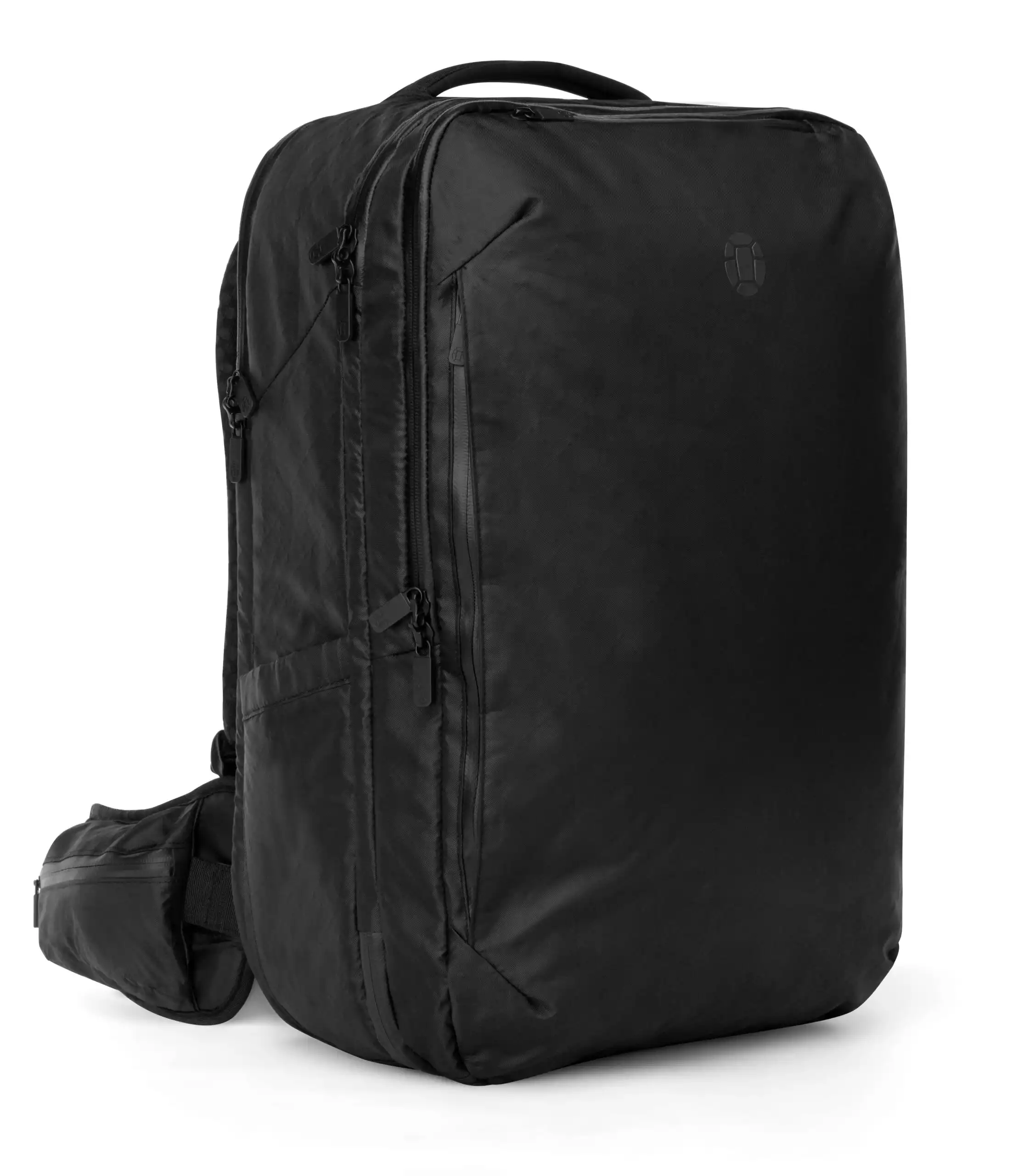 Which means picking the right jacket for travel is tricky. Like walking into a casino with a dim notion of how to play blackjack and betting your life savings.
At least that's how it feels to me. So when I find the right jacket for the right weather situation, I'm the lucky winner with gold coins raining down on my head, dancing like Psy in the Gangnam Style music video.
Here's a lineup of the best travel jackets for both the men and ladies to feel comfortable when cold weather strikes at your destination.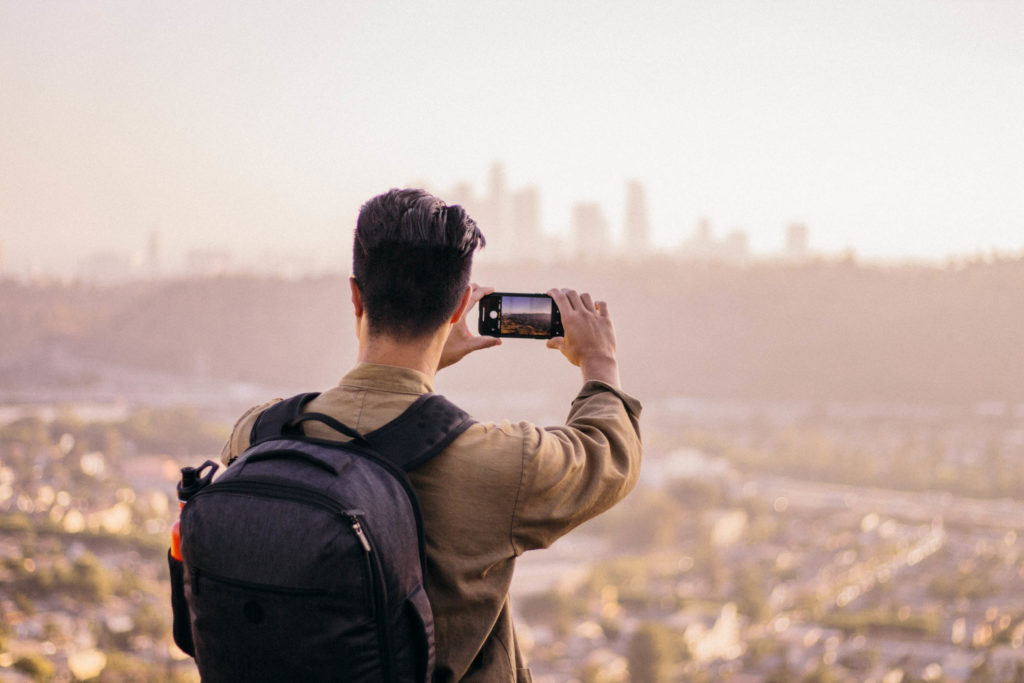 The Best Lightweight Jackets for Travel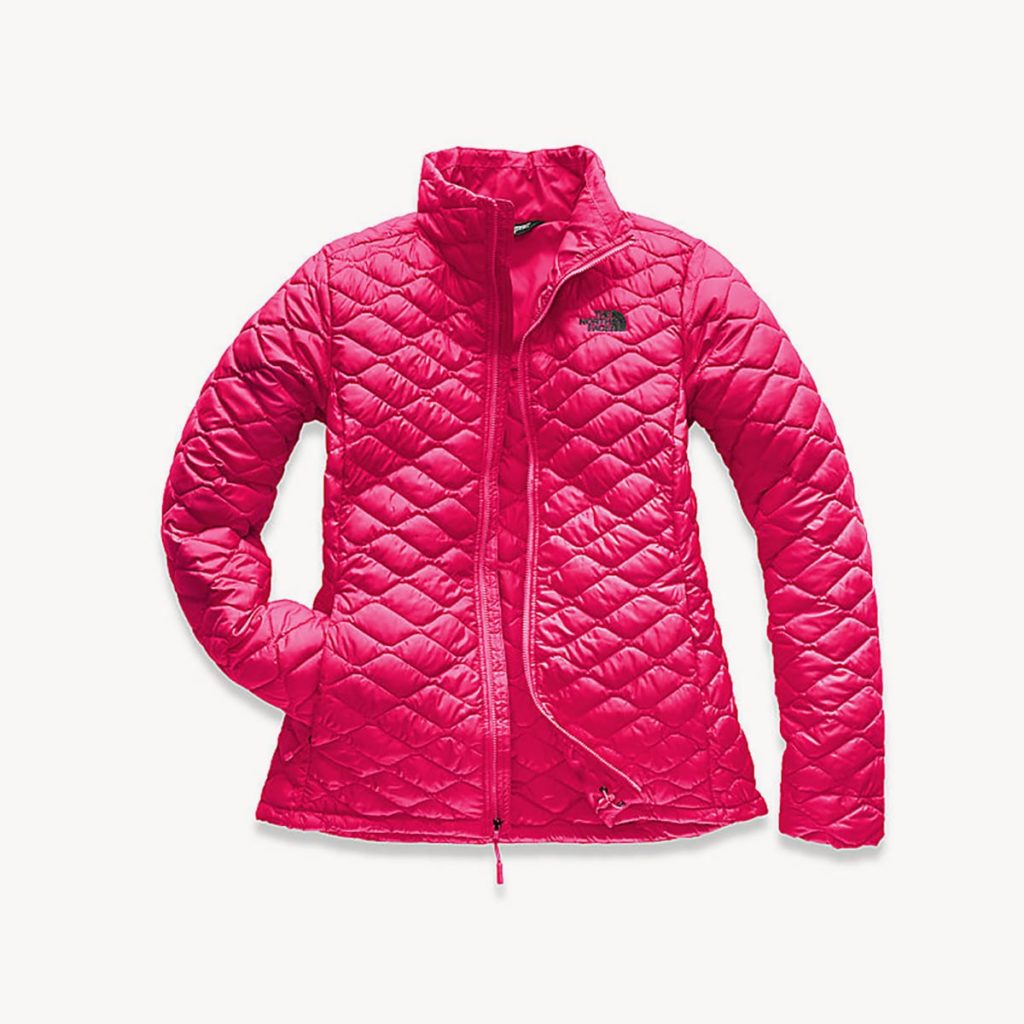 With wind protection and the ability to compress into a tiny ball yet keep you toasty-warm, this jacket might be your new travel BFF. Oh, and it's water and wind resistant.
Thanks to its slim fit, you won't look like an overstuffed marshmallow. But inside, you might feel as warm and cozy as a fire-toasted one.
One reviewer on Amazon raves: "This is the perfect travel jacket for multiple weather conditions. It is probably not for Arctic weather, but works great for layering and easy roll up and shove into a backpack or even purse. I bought it for a two week trip to South Africa, wherein I was first in Paris for a few days, next on safari, Johannesburg and then Cape Town. It went easily from chilly mornings to being able to roll it up and pack it away for warmer afternoons. Also easy to tie around waist."
Another reviewer agrees: "This jacket is unbelievably warm… and great for touring a in cold city like New York. I was warm outside while walking and sightseeing… when I came indoors, this tiny little miracle folded up and went in my purse!"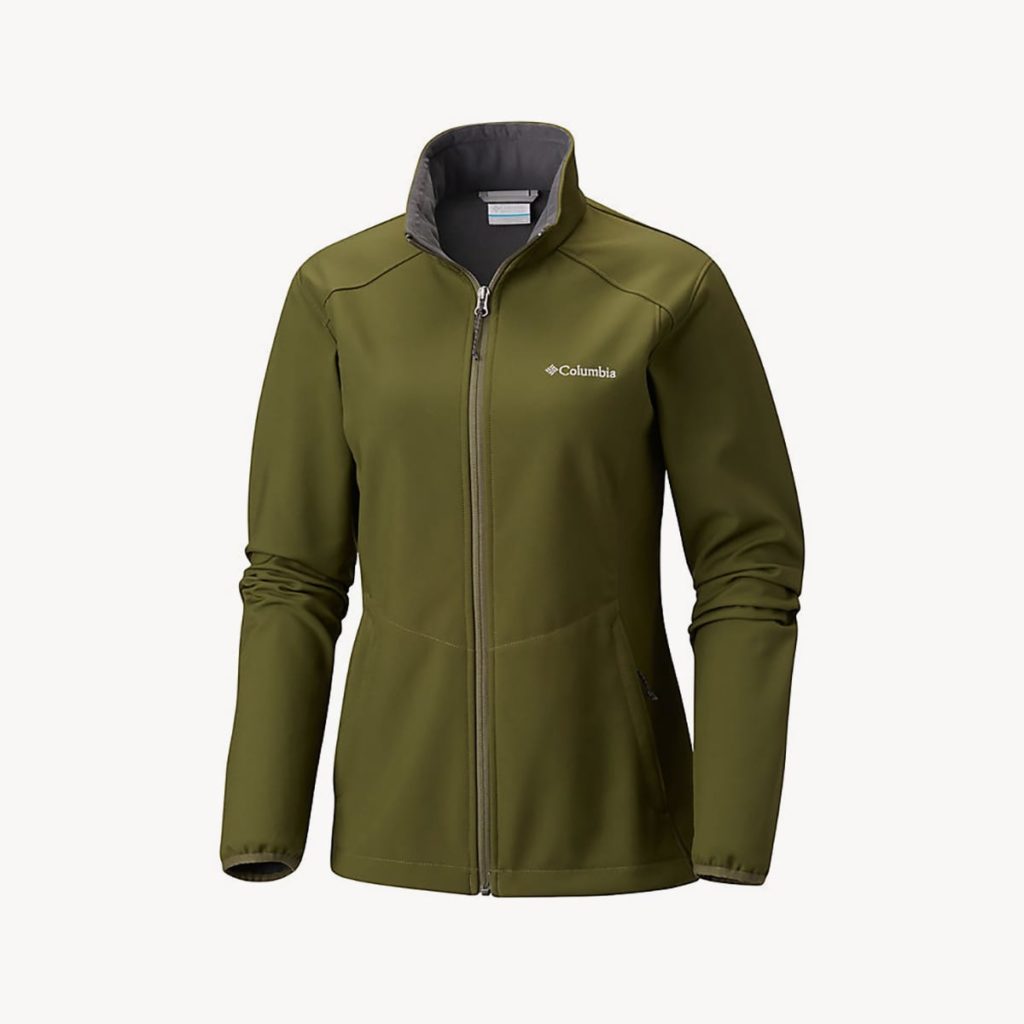 I've always envied my husband's black UnderArmour jacket that he bought 10+ years ago. A lightweight soft shell that's wind and water resistant, he's carried that jacket on almost every trip and it's never let him down. If only it came in women's sizes.
This jacket reminds me strongly of his. Only with more feminine lines. And made by a different company. This soft shell, warm jacket could be your next "weather looks overcast and rainy, probably bring a jacket" coat for the next 10 years. Just saying.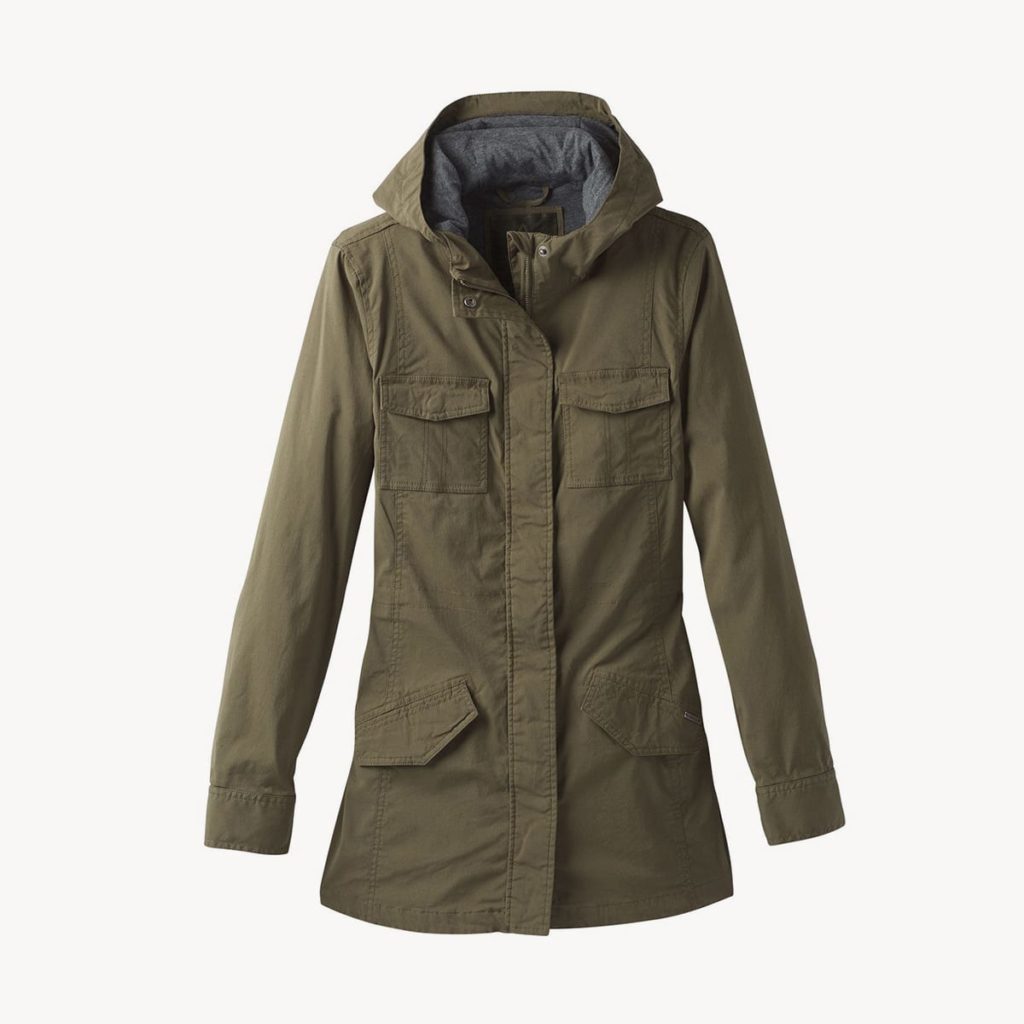 This jacket is ready for anything you throw its way. Seriously.
With an organic cotton-nylon blend stretch canvas shell, it can handle whatever your trip throws down. Rain? No problem. Snow? Bring it. Brisk wind? Let's do this. Sudden change in the weather? Got you covered.
Thanks to an attached hood, you'll ward off any chillier-than-yesterday breezes without trouble. Did I mention it even looks adventure-ready with safari-style pockets?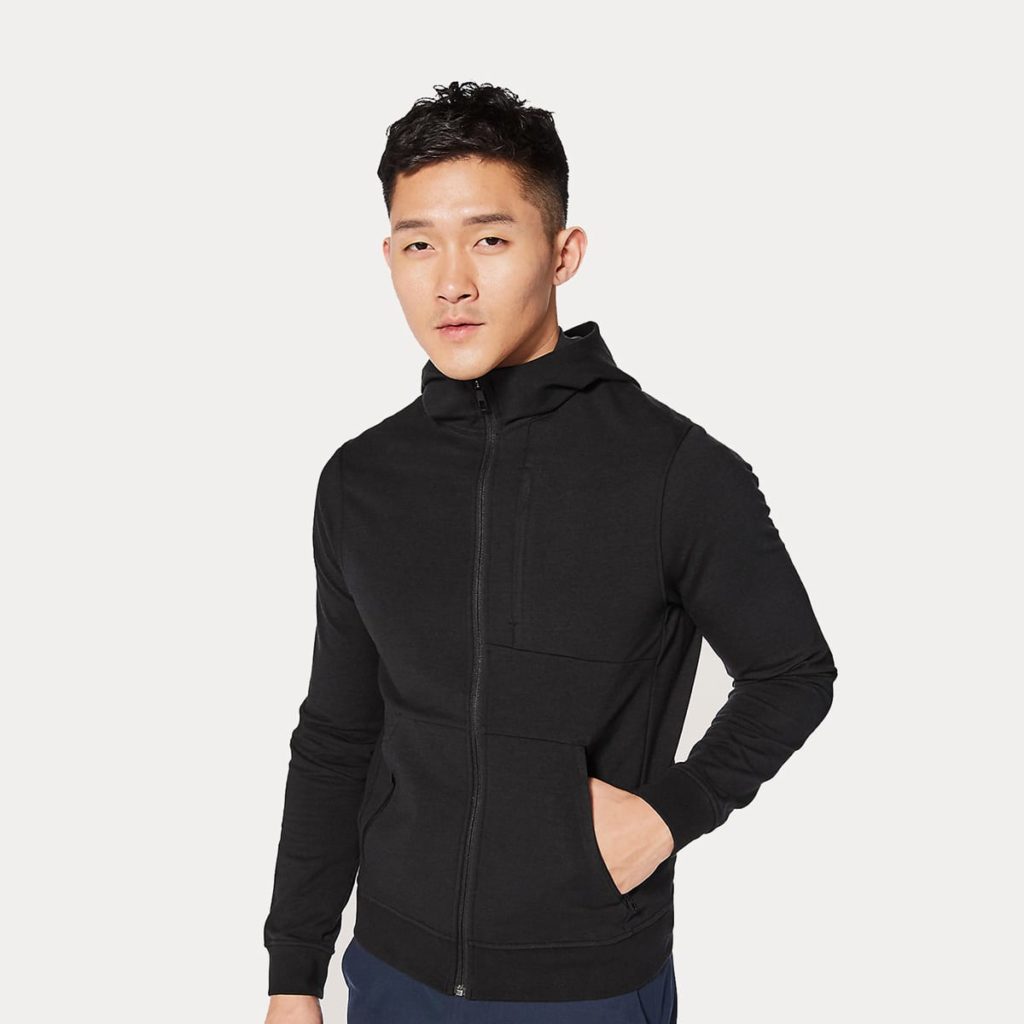 Jeremy, co-founder of Tortuga, recommends a Lululemon hoodie like this one. He says, "They're super comfortable for flights and tend to have an abundance of sleek pockets that are either zippered or have snaps. They last forever and dress up or down. All of mine have been in black."
This particular hoodie boasts Lycra fabric so your jacket doesn't go saggy and hidden pockets for your smartphone and coins. All the better to travel without looking like a tourist.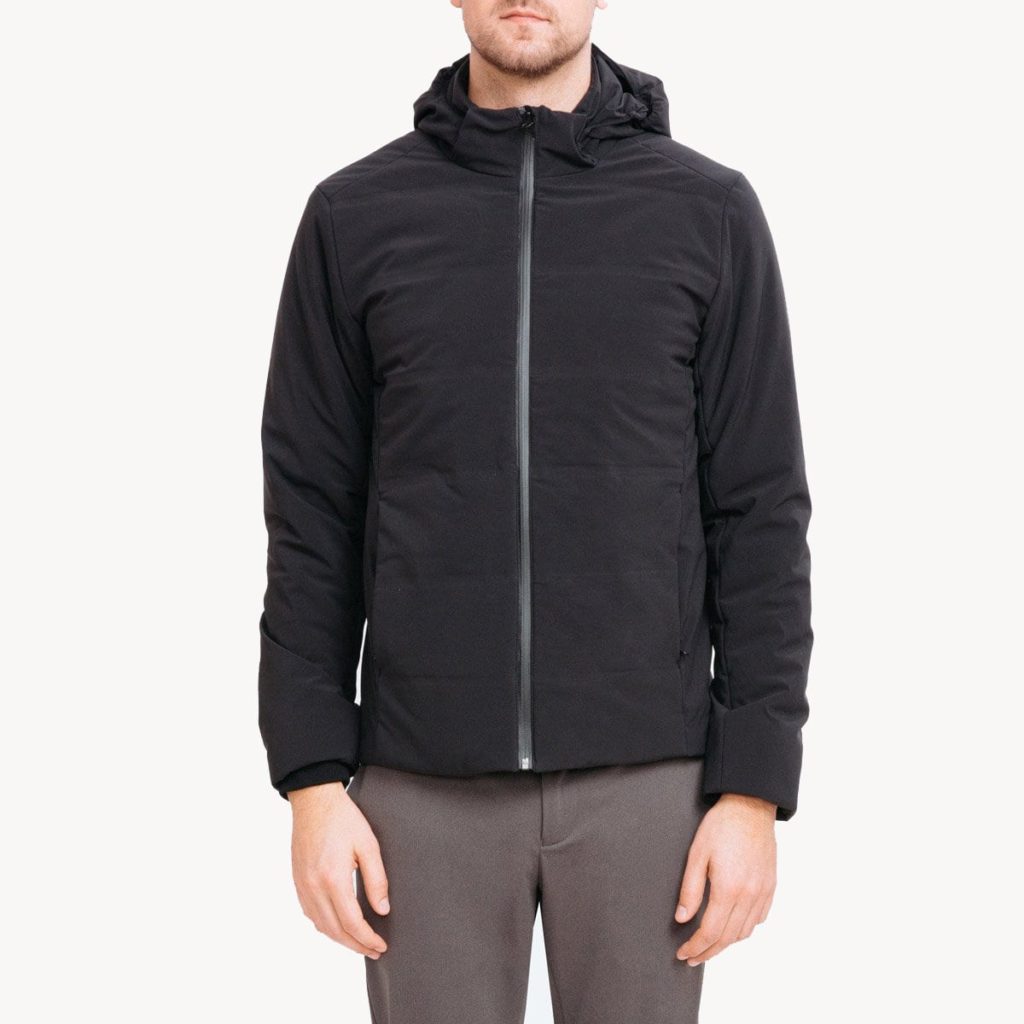 Ministry of Supply Intelligent Heated Jacket: Men and Women ($495)
This smart jacket "uses artificial intelligence to learn your preferences, and automatically heats to your optimal temperature" according to their website. Ok, you have my attention.
With your smartphone app, you control the jacket's thermostat. Thanks to its ability to repel wind, snow, water, and odors, this jacket is primed to be your travel buddy on every trip.
Patrick, designer at Tortuga, says: "I've worn it in a full range of temperatures from 60F to 15F. It takes some time to heat up enough for temperatures that low, but it's definitely doable."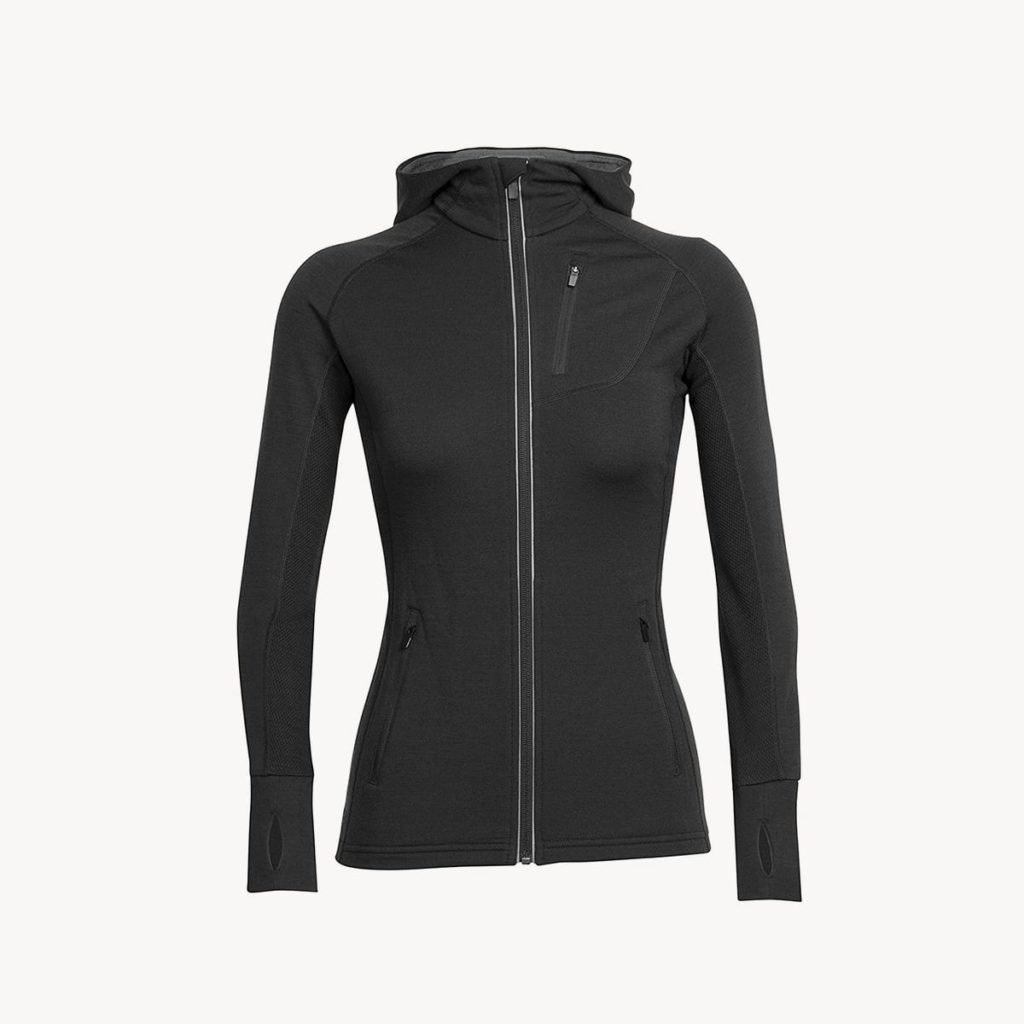 Don't let the word hoodie fool you. This is a women's jacket that can hold its own.
Reflective details, breathable fabric, warm midweight merino wool, and a fitted hood. Yup, this jacket checks all the correct boxes for a travel-ready summer jacket to fend off cool English nights or those Scottish moor winds (romantic in theory, chilly in practice, a no-go for long-haul traveling).
Even better, because of merino's natural odor resistance, you'll smell as sweet as the day you set off. Oh thank goodness.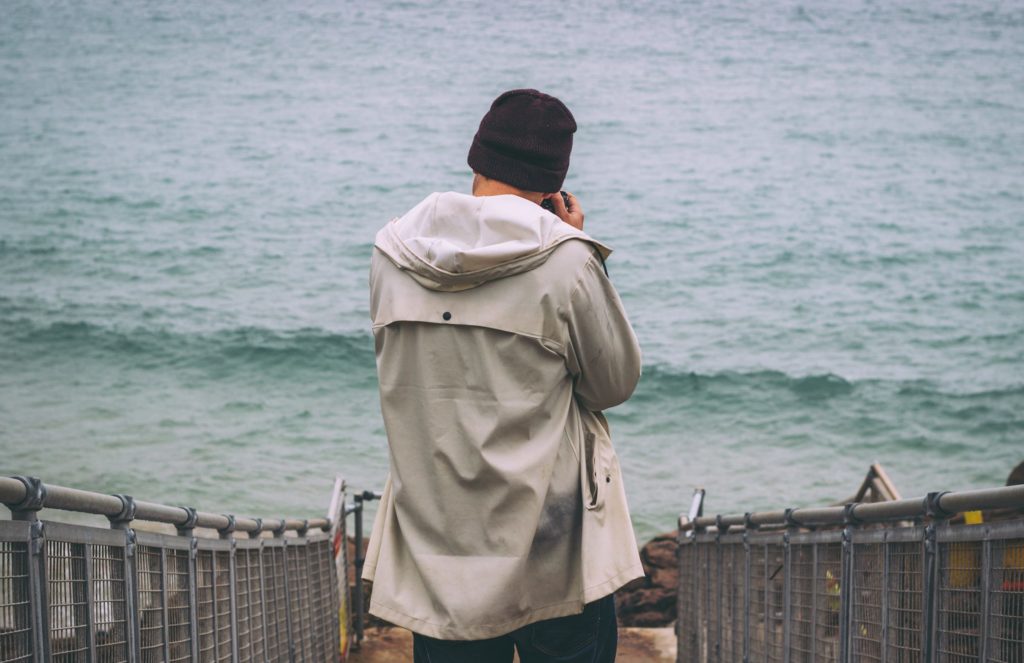 The Best Rain Jackets for Travel
When you say "waterproof travel jacket" or, more simply, "rain jacket", you mean a shell. Shells have been a crucial part of winter packing forever, and while the outer layer shell hasn't changed much in the past 20 years, there are still some pretty great options.
Going somewhere rainy and need seriously waterproof travel jacket? Stacey has you covered in this article.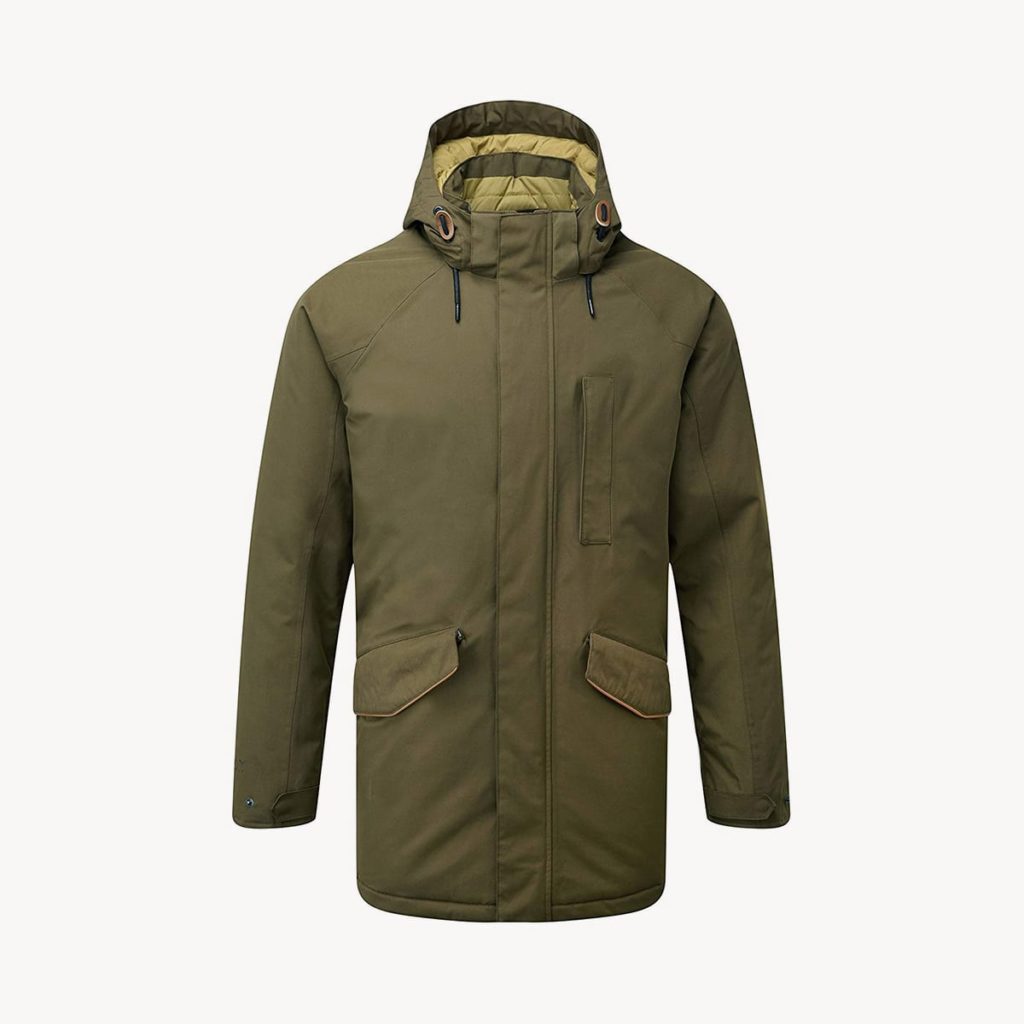 The Craghopper NatGeo 250 travel jacket was designed for adventurous photographers and journalists. If this jacket can live up to the rigorous field test of NatGeo employees, it can handle whatever adventure you have in mind.
Featuring "Aqua Dry" and "Thermo Air+" waterproofing and breathability, as well as a pocket with built in RFID shielding technology (not really necessary), this jacket is for the pros.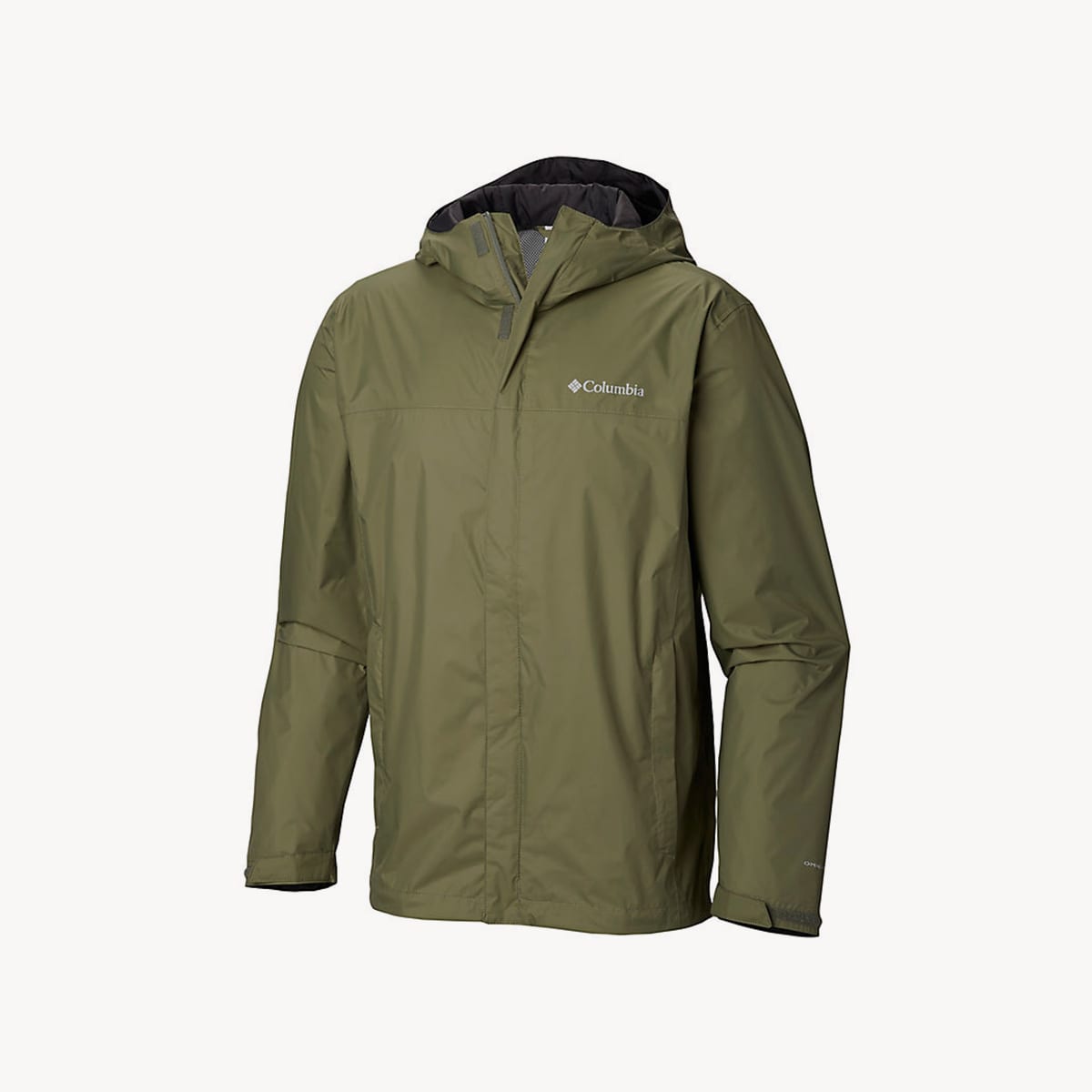 The Columbia Watertight II windbreaker is definitely the lightest travel jacket on the list, and easily my personal favorite. A slim, carry on friendly top layer, this travel jacket simply performs. It keeps you warm, dry, and doesn't weigh you down. What else are you looking for?
I packed this rain coat for my 800km hike across Spain on the Camino de Santiago this past October. When every ounce counts, you want a jacket that's worth it, and the Watertight performed beautifully. This jacket stuffs into its own pocket (easy to pack), and it kept me dry in several downpours in the high altitude of the Pyrenees.
Elastic on the cuffs, waistband, and even the trim of the hood kept the wind and wet off my skin and locked in my body heat.
The color options are stylish enough to wear in town without any tourist shame, and while this jacket doesn't have any insulation to speak of (it's super thin), the jacket kept me warm without overheating thanks to the breathability. Worth packing as a great top layer for wind, rain, and chilly mornings and evenings, and when you just don't have any room for a bulky winter coat–even a "travel jacket."
Pro Tip: If your jacket doesn't pack into a stuff pocket, save space by rolling it into a tight cylinder and wrap a thick rubber band around it to keep it bundled in the bottom of your bag until you need it.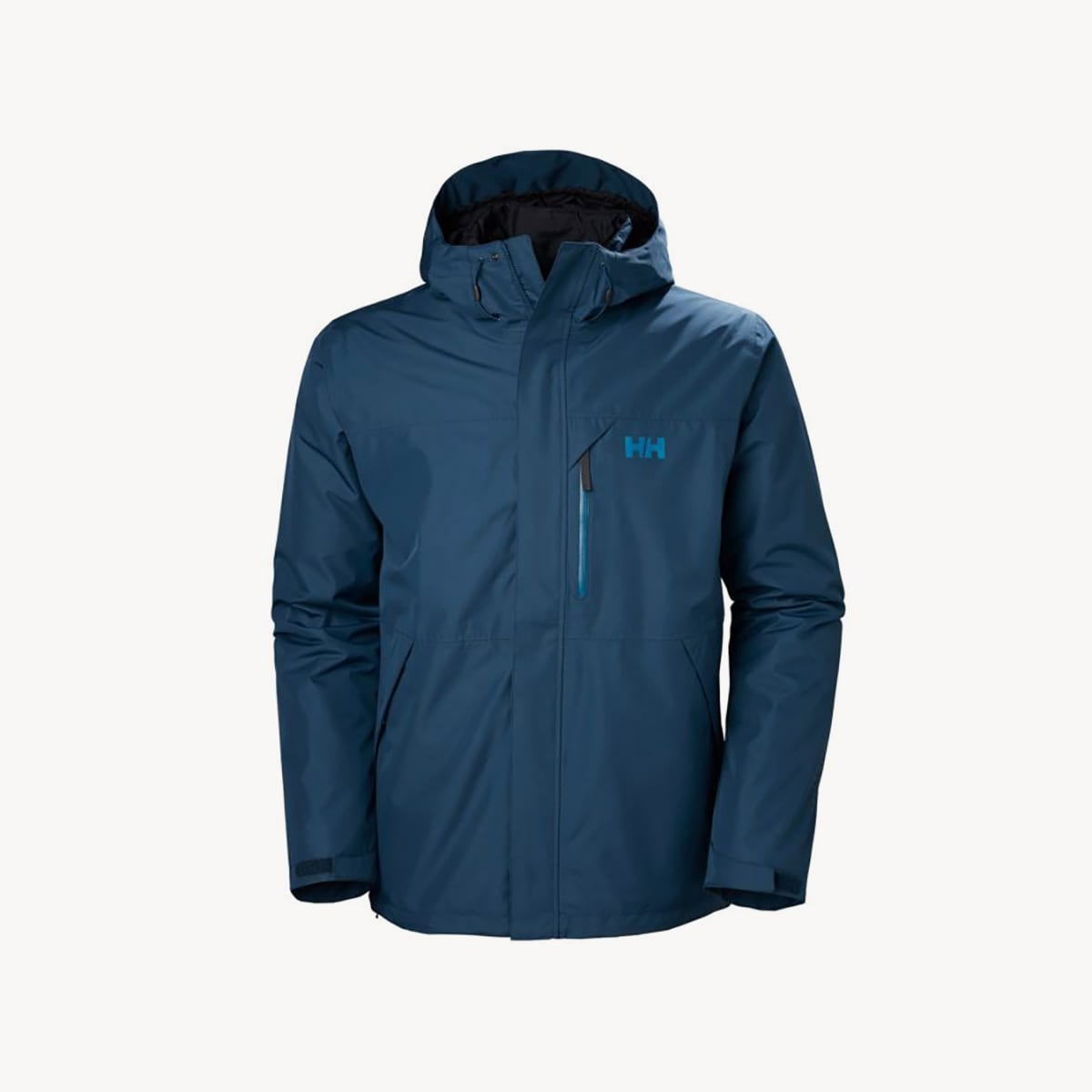 I love the flexibility of a 3-in-1 travel jacket, but so often the insulated layer/outer shell combo is more like a 3-in-none than a candidate for the best travel jacket. Not so with the Helly Hansen Squamish jacket.
The insulated layer is great for keeping you warm around the bonfire or a chilly clear night out without the added protection of the outer shell. Just zip it off and you're good to go.
Bonus: It doesn't look like the "inside" of a jacket, so that's good.
The outer shell layer is perfect all by itself for a fall hike with rain in the forecast. Fully seam sealed so it's wind and waterproof, the jacket features nice touches like a storm flap on the front zipper pocket, and waterproof pockets for your phone, as well as adjustable cuffs (super important). If you wear both layers together, take solace in the fact that you can adapt to warmer temps or sunny weather as the day changes.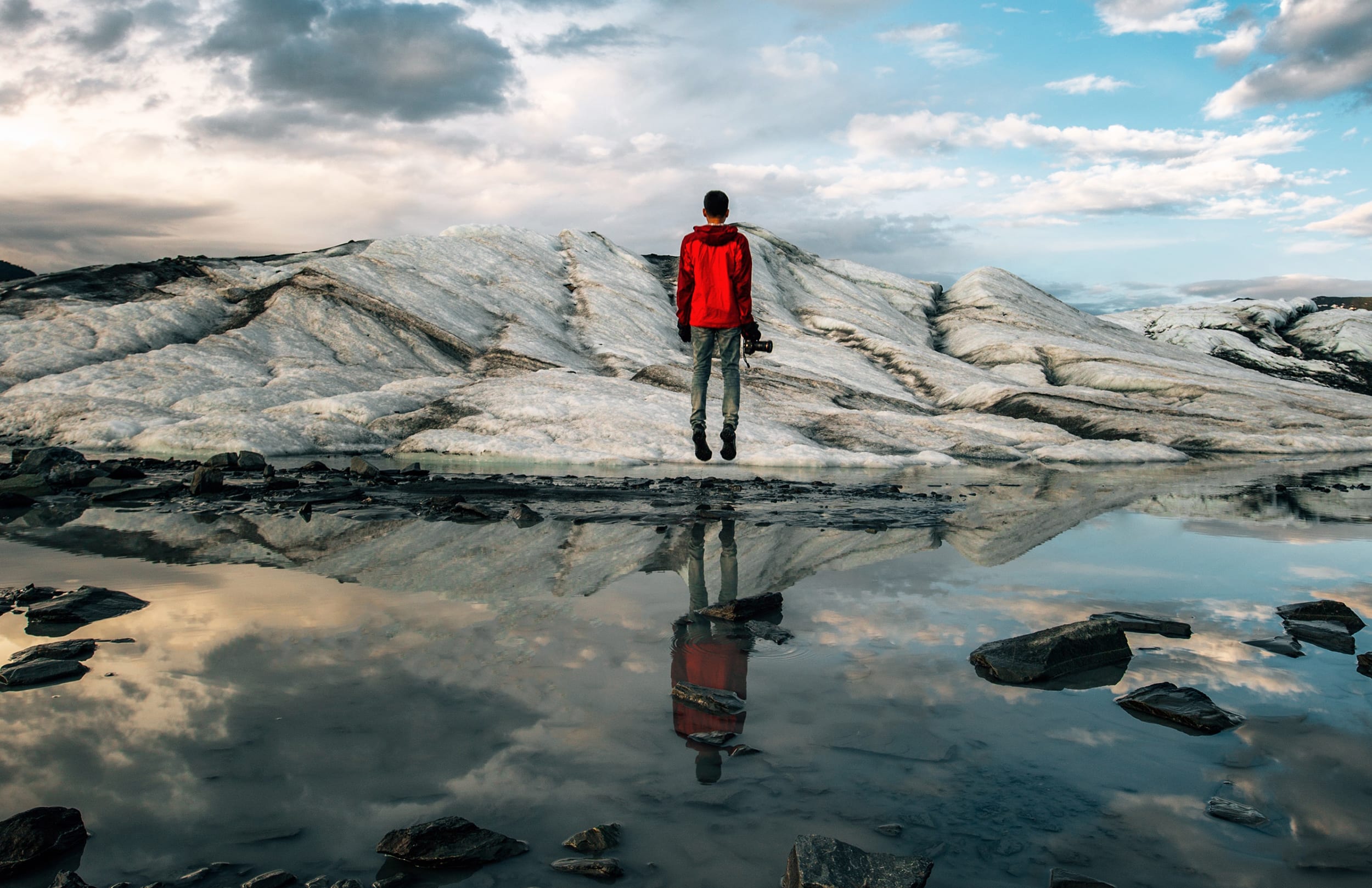 The Best Winter Jackets for Travel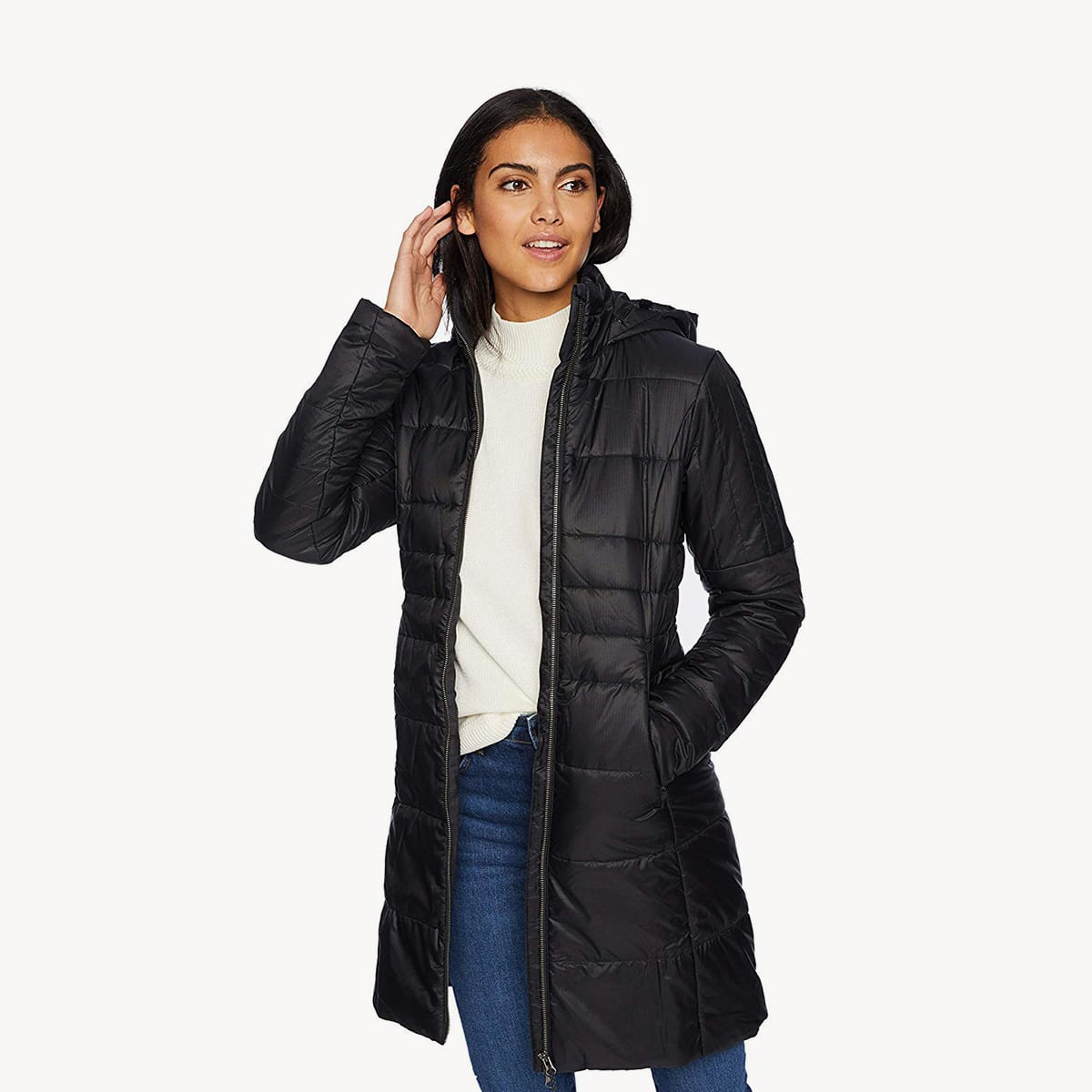 This full-length jacket is lined with New Zealand merino wool to keep you warm. The jacket's outside is treated with DWR, so sleet or snow slides right off. Reviewers recommend buying a size larger than needed.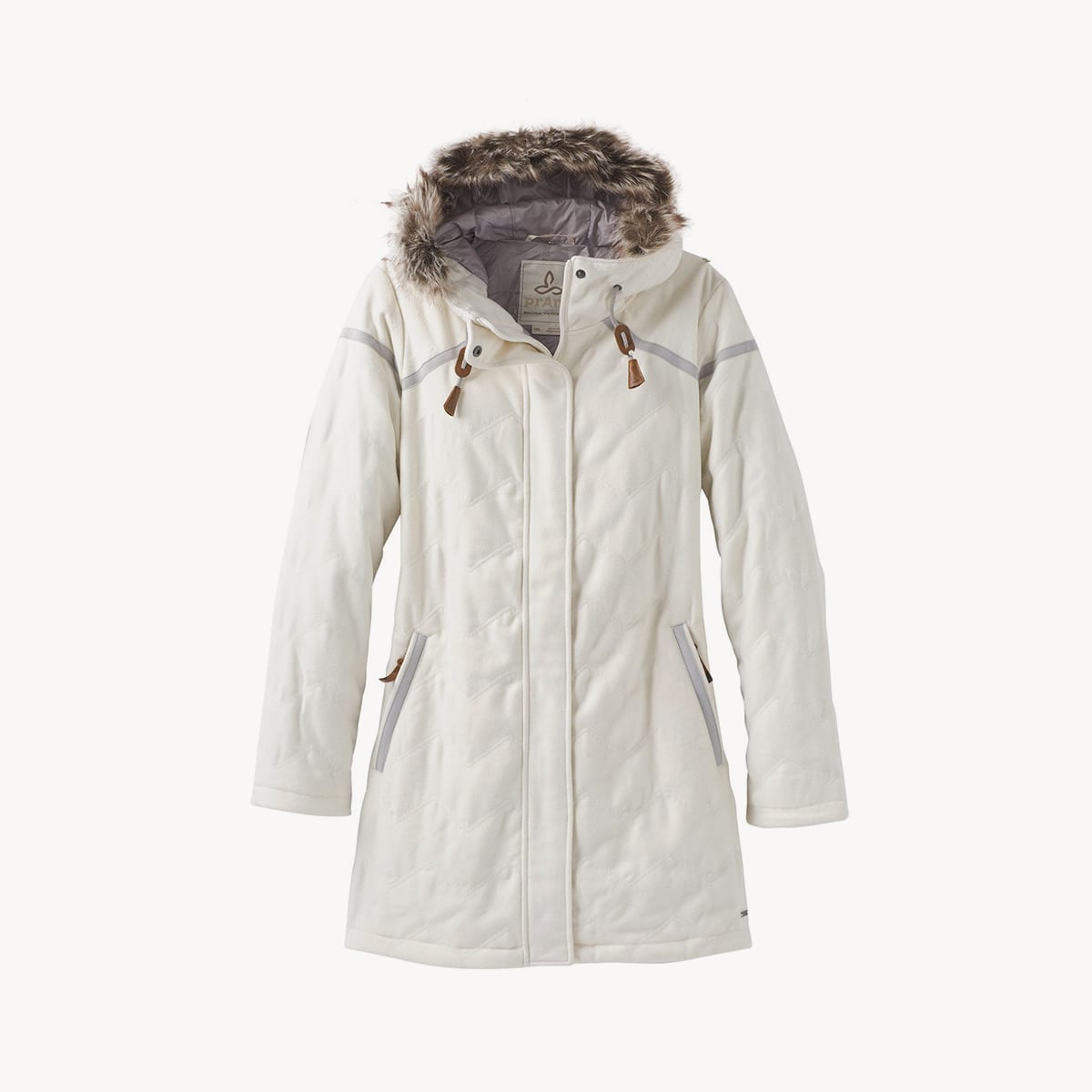 This long, insulated jacket comes with a removable faux fur hood detail. Plus, it's made from a recycled wool blend, so you can feel good about saving the planet.
Tortuga writer Meg just took this jacket on a winter trip to notoriously chilly Chicago. She says, "I love that it's longer (covers your butt!) and it's super warm without being too bulky or making me feel like that kid that can't put his arms down in a Christmas Story."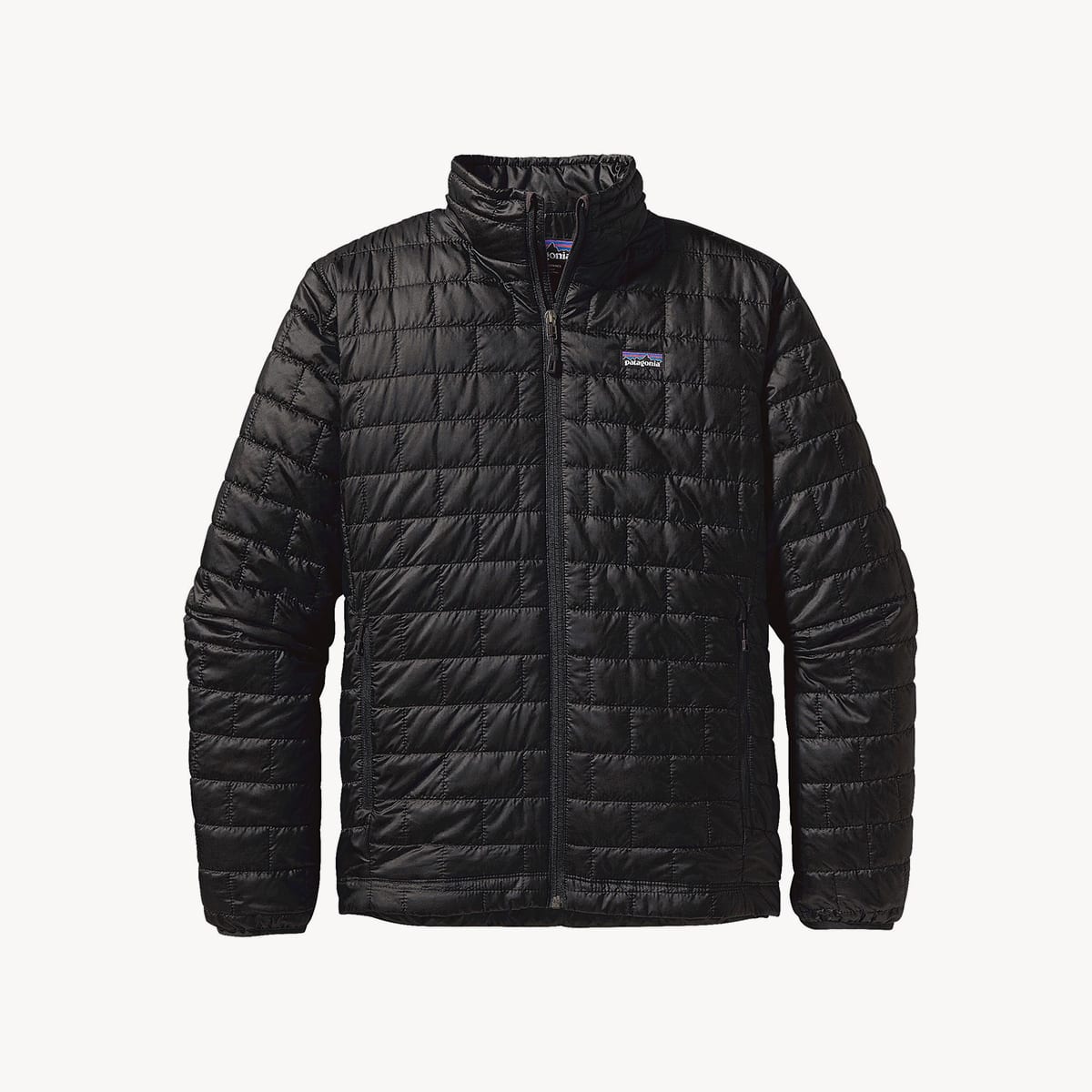 If you want to take your winter jacket to the limit, the even slimmer Patagonia Nano Puff travel jacket is the way to go.
Insanely lightweight while still being warm, this jacket is windproof, water-resistant (DWR treated), and will maintain up to 96% of its warmth rating even when wet.
Not bad for a jacket you can crumple up in your fist.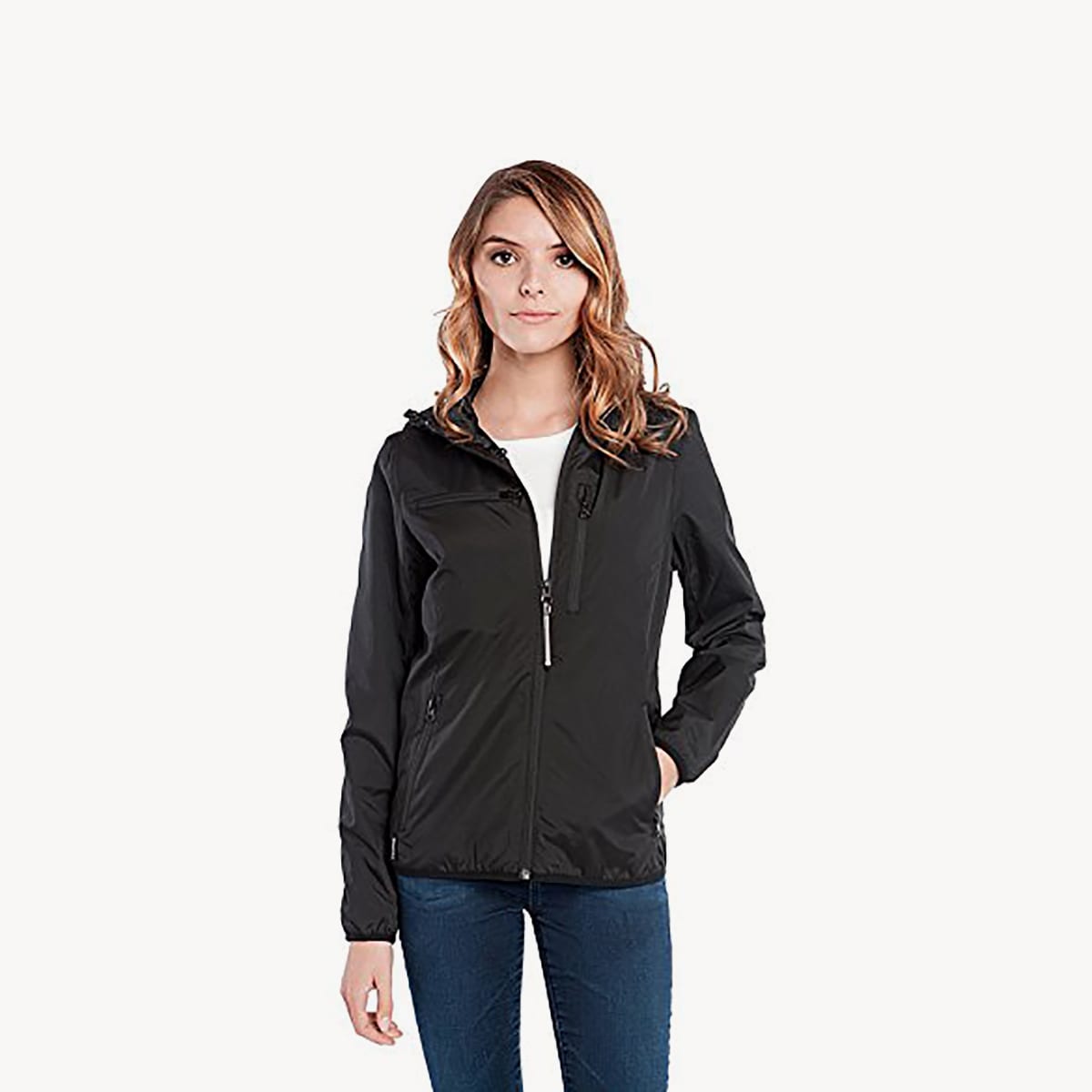 Baubax Men's and Women's Windbreaker 2.0 ($178)
The BauBax Windbreaker is part of a full line of outerwear launched after the record breaking success of the BauBax sweatshirt on Kickstarter.
The windbreaker features all the same gizmos and gadgets–like a built-in inflatable neck pillow, eye mask, gloves, iPad pocket, stylus (it's in the zipper), water-resistant phone pocket, double lined hand warmer pockets, passport pocket, and more.
If you want to squeeze every ounce of functionality out of your travel jacket, look no further.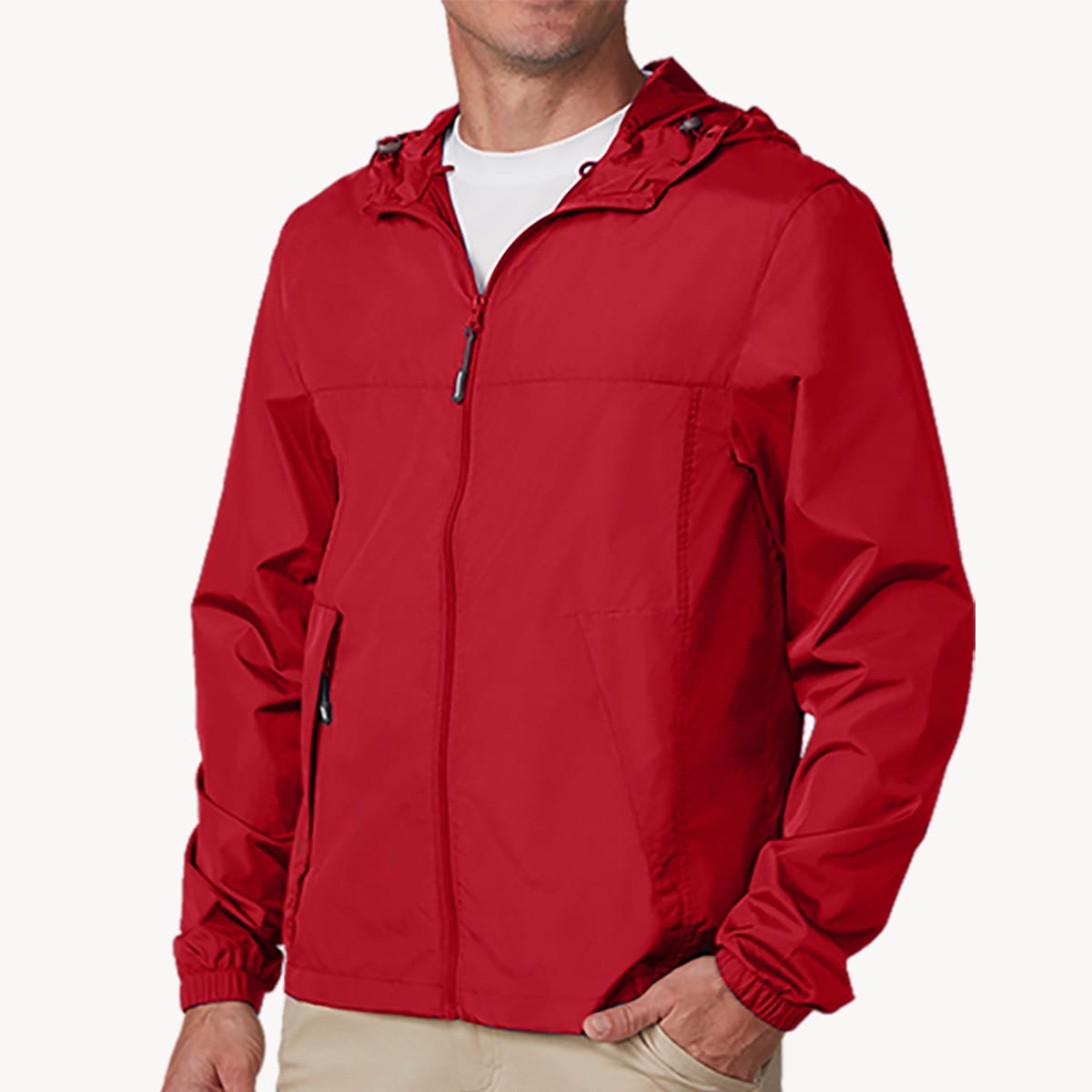 Equipped with 13 pockets for on the go digital nomads, the ScotteVest Pack Jacket is a tech friendly beast.
In addition to the standard two zippered pockets this jacket has two chest pockets, an extendable key holder, sunglasses pocket, passport pocket, iPad pocket, phone pocket (with headphone cable access) and the "weight management system" to keep everything in place and balanced so you don't bulge and sag like a tourist. However, the best pocket might be the back pocket. You can stuff the Pack Jacket in and it's a handy case.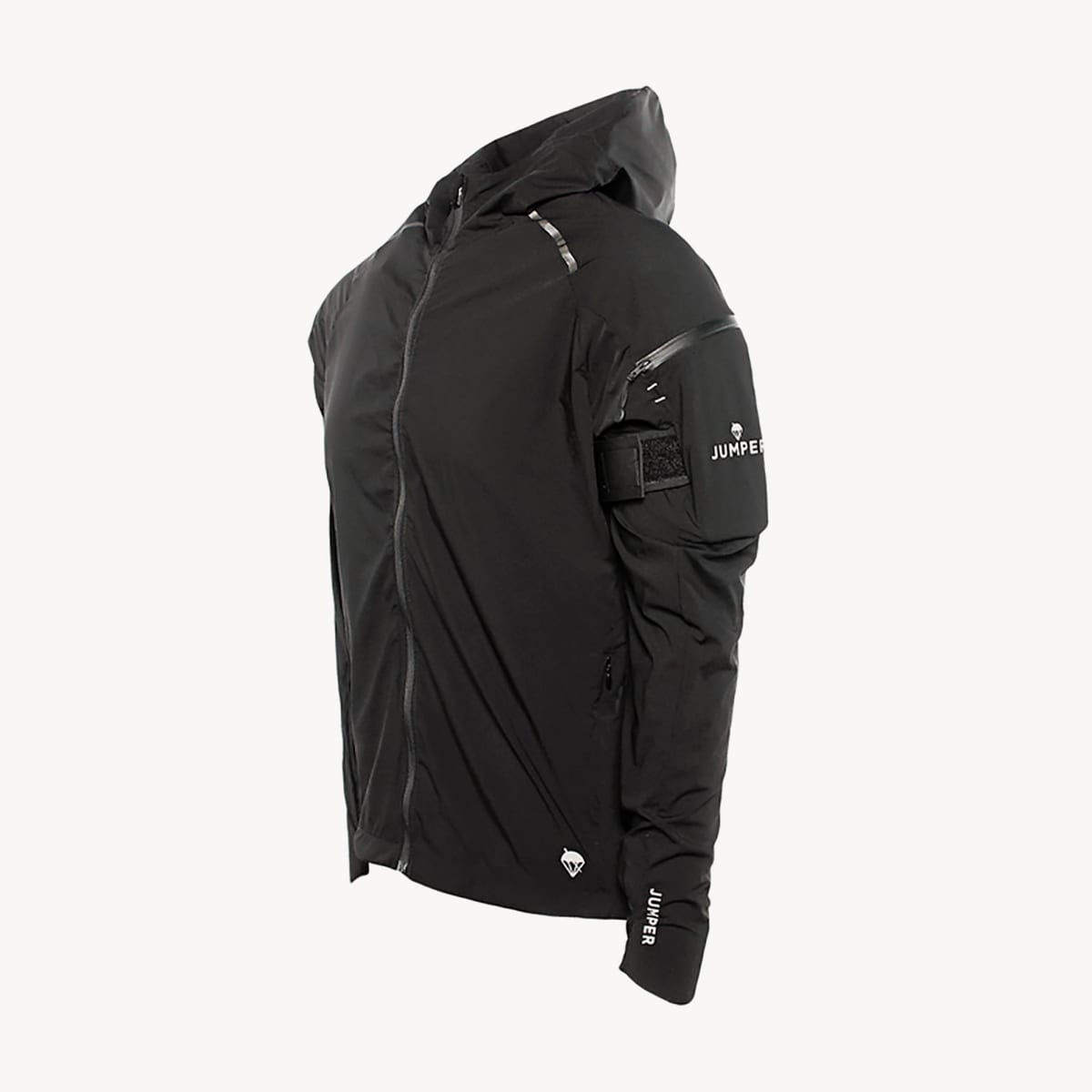 Designed by a former Army Ranger, this jacket is built for active travel at any destination.
Featuring a water-resistant, super lightweight, stretchable "ninja" fabric weave, breathable back vents, contoured hood, reflective strips, and adjustable cuffs and hem. The action jacket is designed to be tailor fitted to your body so you forget you're wearing it.
However, the coolest part has to be the phone pocket. The seam sealed zipper and adjustable tension strap keep your phone dry and snug against your arm. No more bouncing around on that morning jog, or sprint through the airport terminal.
Perfect for listening to your favorite tunes, staying dry on a hike, or throwing over your insulated layers, this travel jacket packs down into an attached pocket and "weighs less than a banana."
Seriously. This might become your new favorite travel jacket.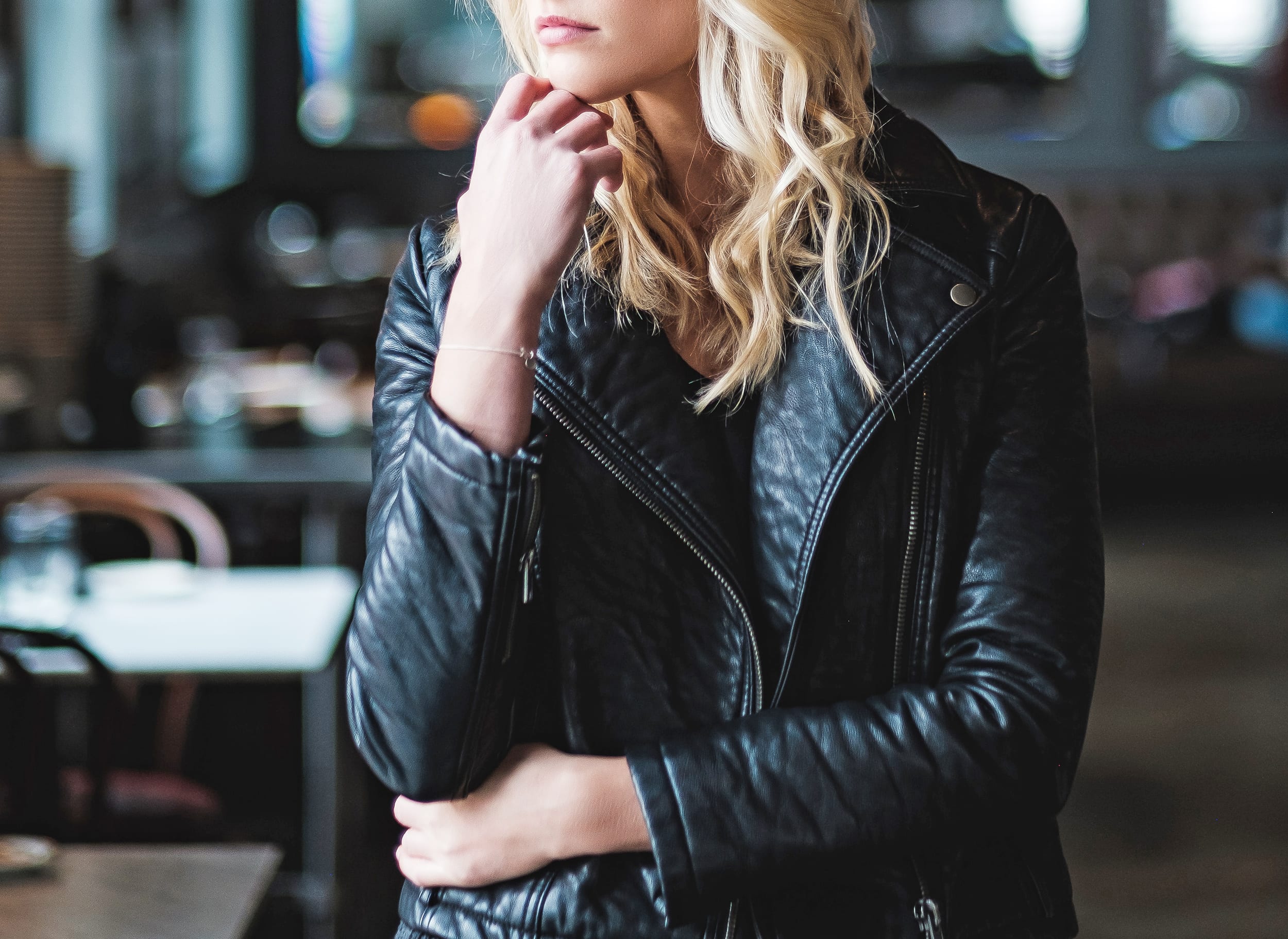 Best Fashionable Jackets For Travel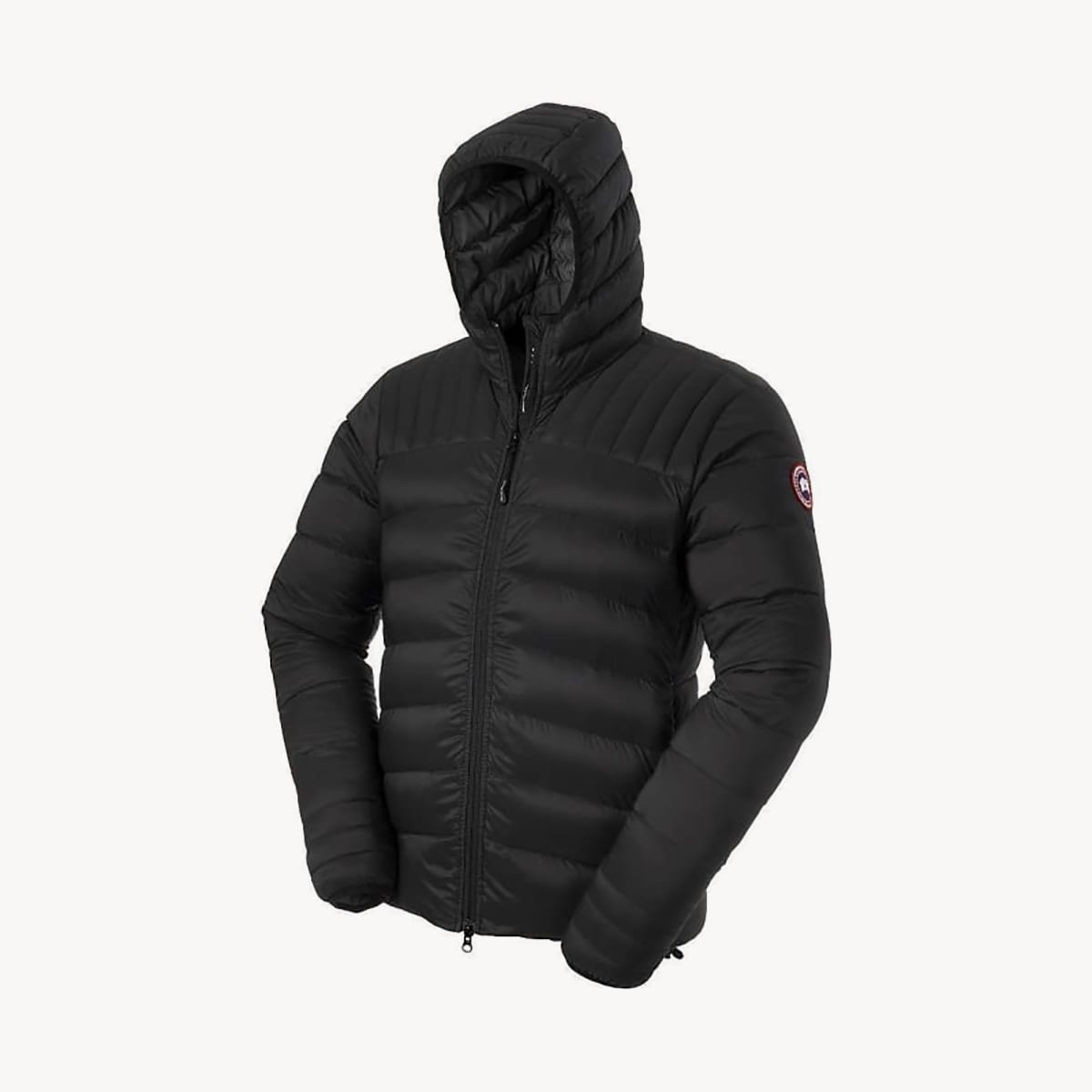 I know, I know. Canada Goose is super expensive and you're totally "that traveler" when you wear one, but I'd be remiss if I didn't mention these top of the line travel jackets.
The Brooklvale Hoody is a lighter, leaner jacket than the flagship parka, and the versatility really comes through.
This jacket looks great, but really is built for winter.
The quilting and patented duck down means this jacket is rated for -15C (that's icy), and the "Veraflex" fabric means you can wear it in practically any environment. Even better, the Brookvale hoody packs down into its own stuff pocket for increased packability. Expensive, but worth it.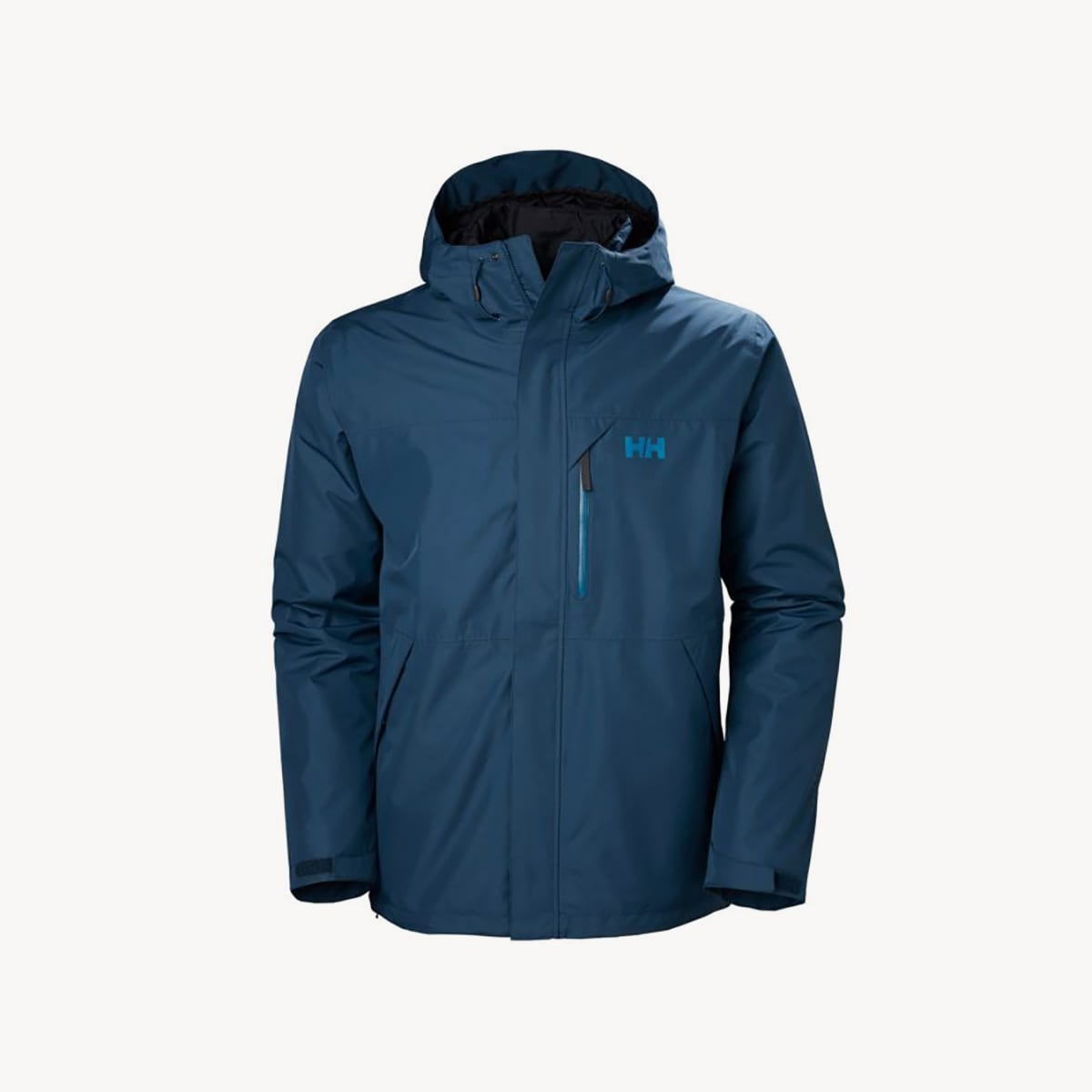 A modern twist on the classic bomber look, if you're not weathering any major storms, this is the jacket for looking good in winter.
Made from a stretchy, breathable fabric filled with warm, "diamond quilted Primaloft Silver insulation" (so fancy), the Strafe Drifter Jacket is a premium lightweight stylish travel jacket.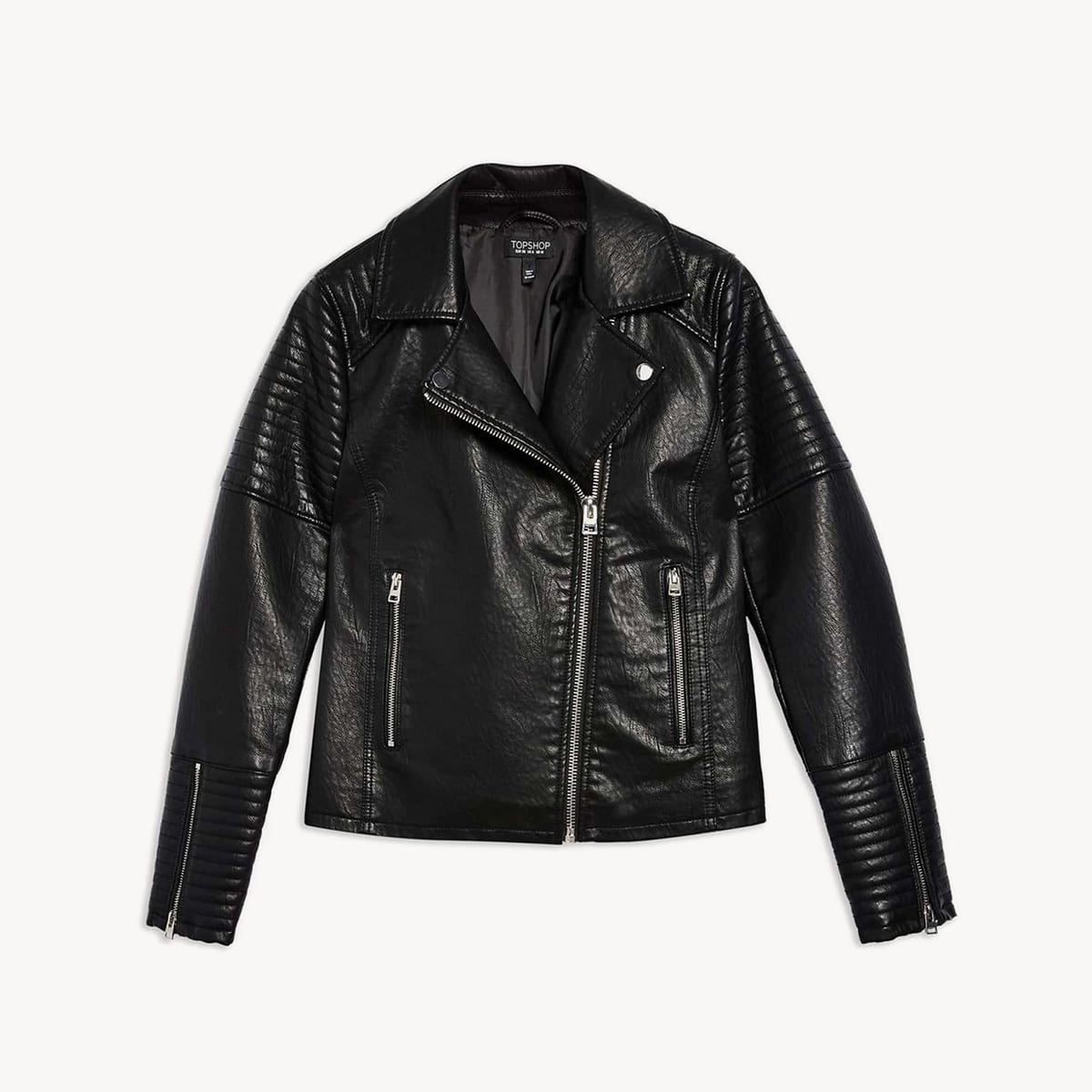 I'd be amiss—and Tom Cruise would be sorely disappointed in me—if I didn't add in a black leather bomber jacket to this list.
Want to look BA and fashionable? Want to look dangerous, mysterious, and charming?
A black leather bomber jacket gives you all that, plus warmth and decent wind-blocking abilities. But really, if you just want to drape yourself in bad boy allure, that's cool, too.
That's the main reason why I bought one.
Pro-tip: This bad boy does NOT pack down, and doesn't apologize either.
Tortuga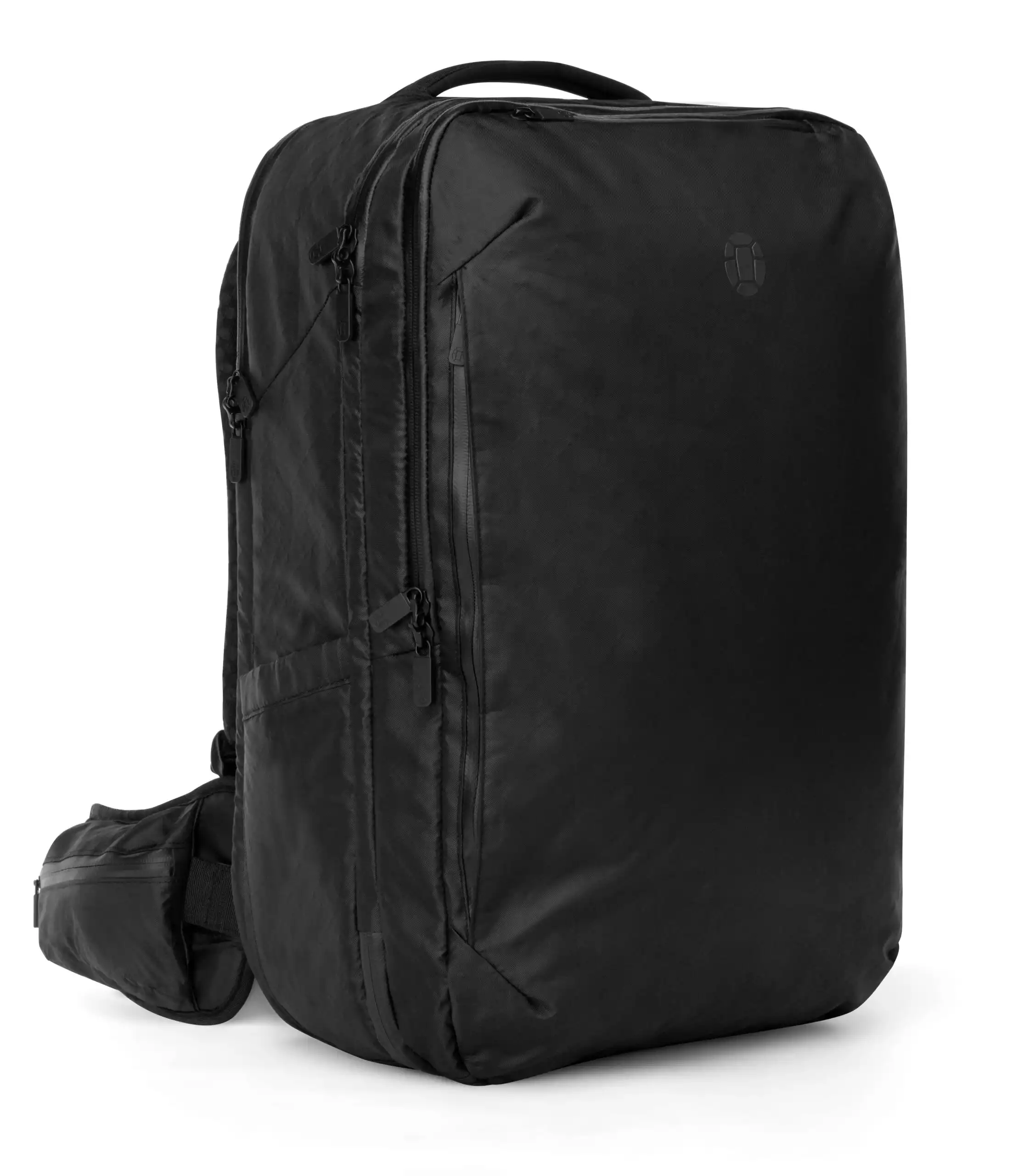 TL;DR
A travel jacket can make or break your trip. No joke. One time in Boston, the constant rain was so bad, I walked into a store and bought a raincoat. Who cares what the price was. Just no more rain ruining my day.
That's the benefit of a great jacket: to keep you dry and warm so you enjoy the sights you traveled so far to see.
The best all-around lightweight jacket is either: