When it comes to travel, we're all the same—we each put our pants on one leg at a time. Some of us just have far better travel pants than others, and that makes a big difference. A huge difference actually.
When you travel in a carry on bag, you only travel with two, maybe three pairs of pants or shorts. Weekend getaways and short work trips are even more spartan. Yet the pants you wear when traveling matter a lot, because if they're not functional enough to keep up with airport security, comfortable enough for the long flight, and durable enough to handle life on the road, no polar-inspired fleece or fancy portable battery charger is going to make your travel comfortable.
You've gotta have good pants.
Travel Pants Checklist: Lightweight, Comfortable, Wrinkle-Resistant
A good pair of travel pants has three basic features—they're lightweight, wrinkle-resistant, and comfortable. That's it. If all you can find in your budget is a pair of pants that packs well, feels good, and fits right, congratulations. If however, you're willing to spend a few more bucks for a truly great pair of travel pants, keep your eyes open for features like deep pockets (you won't lose anything on the bus), a designated passport pocket (it's handier than you think), pickpocket proof pockets, zippered pockets (noticing a theme here?), and stain resistant or quick dry material.
Again, comfort, fit, and lightweight material are the most important, but everyone's travel needs are different. So to help you pack the absolute best pair of travel pants I looked at some of the best new and established travel brands (and retailers) for travel pants and based my review on the following six criteria:
Fit — How do they feel on you? Is the sizing right?
Comfort — Are they comfortable?
Style — Will you actually wear these pants? Can you wear them on the trail and to a nice dinner?
Packability — Are your travel pants wrinkle-resistant? Are they lightweight?
Toughness — Do your travel pants stain easily? Will they rip or tear on the trail?
Features — Is your passport going to fall out when you sit down?
We know that "great travel pants" means different things to everyone. Some travelers need to look smart for work on the road. Others want a pair of travel pants that can take a beating for weeks on end. Still others just want a pair of comfortable travel pants for the flight with a few pockets to keep their important stuff safe while they explore Rome. Below is a list of our favorite travel pants. Pack any of these travel pants, and travel like a boss.

The Bluffworks tailored fit chinos might be the best pair of pants I've ever worn—travel pants or otherwise. While a little more pricey than your average pair of jeans, they're actually pretty affordable in the travel pants sphere, and honestly worth every penny. These pants feel great, pack down to practically nothing, look awesome, take a beating, and fit the way you want them to. 10 out of 10.
If the price tag is a little high, just remember that quality gear pays for itself over time. When you invest in a great pair of travel pants you can pack less, wear them more, and you don't have to replace your pants as often. When you travel as much as I do, a great pair of travel pants that will perform well after being pulled out of my Outbreaker travel backpack is worth every penny. I love these pants.
Fit
I'm a relatively stylish guy (shut up, I am), so fit is incredibly important, especially when your wardrobe consists of two options for 6 weeks (or 6 months!). The Bluffworks tailored fit chinos lived up to their name and actually fit really well.
I wear a 32x32, and they fit like all my other off the rack pants. What's even more important is that you don't have to wear a belt to keep them at your waist, even when your pockets are full. And they don't pinch or cinch at your waist, even if you put on a few pounds on your Tuscan holiday. No one's judging you. Bluffworks features a number of sizing options, so you can find the perfect fit, but go with a slightly snugger fit than you wear at home to make sure they don't sag or slough off. These chinos are also available in regular fit if a tailored fit isn't your thing.
Comfort
The soft wrinkle-resistant fabric in these pants and additional stretch material make these pants a comfy, cozy fit. They handle heat and cold equally well, and stood up to the elements in India, which is really saying something. I felt like I wasn't wearing "travel pants" during the trip, which is about the best endorsement you can give a pair of travel pants.
Style
These pants just plain look good—nothing like the typical "travel pants" you'd expect. Seriously, despite having high tech travel features like security pockets (awesome by the way), and wrinkle-resistant material, there's not a knee-length zipper in sight. You'd never be able to tell these stylish fitted pants are travel pants, and that's the way I like it. I even cuffed the pants while walking around India this last trip, and they looked dope as hell. They come in Charcoal, Khaki, Stone, Steel Blue, Harvest Gold so you can style them with anything else you pack.
Packability
I was surprised by the sheer lightness of these pants. They weigh next to nothing, roll down to nothing, and won't wrinkle in your bag. These came out of my Outbreaker travel backpack looking fresh, even in India. Absolutely killed it.
Toughness
I put these travel pants through the wringer on a 3-week Rickshaw Race across India, and they came out looking great. I wore them during the 22-hour flight and they handled all the spills and sleeping contortions I threw at them. Dirt wasn't a problem, dust bounced off, stains weren't an issue, and nothing tore or frayed. These travel pants might be bulletproof.
Author's Note: Please don't shoot bullets at these pants, especially if you're wearing them. I was just trying to make a point. Pants can't stop bullets.
Features
The pants are quick drying, breathable, wrinkle-resistant, soft, stretchy, and packed with travel features like interior zippered security pockets (front and back), and a reasonable pocket-depth—which is way more important than you think. When you sit down and contort yourself in a ball for a 12-hour bus ride, nothing is going to fall out of your pockets. That's happened in the past and it's the worst.
Conclusion
These travel pants are amazing. I will wear them here in New York in my daily life, which is saying something. They're comfy, durable, stylish, and packed with features. I'd wear these to happy hour with work colleagues, rock climbing in the park (I already have), or biking around the city. Awesome travel pants.
Seriously, these pants are amazing. Perfect for the boardroom or the bouldering wall, the sleek silhouette and durability ensure that you can wear these on the go and still look professional.

Before you say anything, this is not just a list of Chino pants. The stretch fit jeans are also fantastic travel pants, but they don't pack quite as small or as light as the chinos, so I had to include the best of the best here.
Fit
Thanks to the stretch material, these slim fit pants fit great. You really only have to worry about your waist size while picking out the pants (every pair of pants is the same length—34"), so just make sure the waist is what you want. I cuff my pants (#hipster), but if that's not for you, Uniqlo does on-site hemming for free.
Comfort
These are ultra stretch pants. What more do I need to say? They don't ride up in the crotch the way other slim fit pants do, and after a few washes these pants get so soft you'll feel like you're swaddled in merino.
Style

Again, style is totally up to you—some people like looking like an REI catalogue come to life—but I enjoy the way these pants seamlessly (see what I did there?) fit into city life on the road. Not every trip includes hiking a mountain, but even when it does, you're probably gonna grab a few beers at the local watering hole afterwards to celebrate. Why not look slick as heck with pants that actually fit?
Uniqlo features a few color options from khaki, black, blue, and even white (don't pick white travel pants) and tons of other fit options—from regular to relaxed fit and even jogger pants—so find the stretchy travel pants of your dreams, my friend. They're out there.
Packability
Packing is where the budget nature of these pants starts to become apparent. They don't handle rolling quite as well as their travel pants counterparts, and might wrinkle a little bit. It's nothing to worry about, but they aren't space age material. If looking pressed and fresh is a concern, these might not be the pants for you.
Toughness
Again, the material is a nylon blend for maximum stretch, so while these pants can take a few twists and turns (nailed it), they might not be the best pants for the trail. Snags and tears can happen to these pants. Designed with movement in mind, these pants are definitely suited for city travel.
Features
Aside from the stretchy fabric and comfy fit, these pants don't come with any other travel features. The pockets are angled (not parallel to the waistline), so they're not as secure as Bluffworks travel pants or Betabrand travel pants, but I've worn these pants for years and haven't lost anything out of the pockets.
As far as off the rack, budget travel pants go, Uniqlo is a fantastic place to find a second pair of travel pants that you can comfortably wear just about anywhere. Grab one or two pairs in some flashy colors and rest assured that you won't look like a dork on your next trip to Europe.

Adventure Traveler Features from ClothingArts on Vimeo.
If zippers are your thing, and features galore are what make travel pants pop, then look no further than Clothing Arts' Pickpocket proof adventure travel pants. These travel pants hang their reputation on their Fort Knox pickpocket proof features like redundant zippered security pockets and slash proof material, these pants are essentially a swiss bank account for your gear.
Fit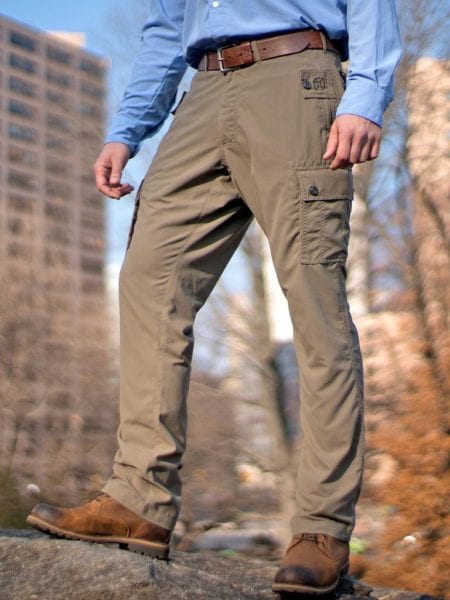 The fit is definitely looser and less stylish than travel pants from Betabrand, Bluffworks, and Uniqlo, but that's totally fine. The waistline is extremely comfortable and you don't need a belt thanks to the two adjustable button fly straps on either side of the waist. Simply button the enclosures one notch tighter and you can keep your pants up on your hips—even if the pockets are stuffed with souvenirs.
The more I wore these pants, the more I enjoyed the casual fit. Fit preference really depends on what kind of trip you're taking. Would I pack these for a week long trip to Paris? Honestly, probably not. Will I pack these for the Camino de Santiago this fall? Absolutely.
The relaxed fit is its own kind of comfort, and while not as dashing a silhouette as something more tapered or fitting, these are travel pants. They're not designed for the runway.
Comfort
Surprisingly comfortable for a pair of pants that features so many zippers and buttons, I found the pants a welcome change of pace from my more fitted pants back home. The pre-washed breathable fabric was a delight, and the diamond gusseted crotch left plenty of room for movement and flexibility.
Style

Again, these are not the most stylish travel pants on the market, but that's not why you're wearing them. They look a million times better than hiking pants, and the wealth of features and hidden pockets are exactly that—hidden. I dare you to find all 11 zippered pockets. If style really is a concern, Clothing Arts has a more sleek pickpocket proof business travel pants ($99) without the cargo pockets and extra velcro pockets.
Packability
Surprisingly lightweight (22 oz.) for such a feature packed pair of slacks, the Adventure Travel Pants roll into a ball without wrinkling and keep coming back for more. Carry on packing approved.
Toughness
These pants can take anything you can throw at them. They're Teflon shielded for water and stain resistance and even slash proof for the ultimate security. That tough material means they can handle scuffs, snags, and scrapes on the trail as well as the daily wear and tear of travel.

Features
These pants are designed for rugged adventure travel. Tough, quick drying material, a comfortable fit, wrinkle-resistance, and more security pockets than anyone needs ensure that your valuables will remain at your side at all times. If you're a gear nut or just trying to stay safe and organized on the road, these are the pants for you.
If the name didn't give it away, these are some tough ass travel pants. Inspired by tactical pants, the Tru Spec line of travel pants are designed to take a beating.
Features & Durability
Every aspect of these pants is about functionality and durability from the Teflon coated fabric that resists stains and water, to the reinforced knees and articulated seams for mobility and strength. The cargo pockets on the sides are flush with the pant leg for a streamlined look (I didn't even realize I had cargo pockets for a while!) and they even feature a smaller internal pocket within the cargo pocket for keeping tools handy and organized.
Fit, Comfort, & Style
The waistband is comfortable and fits well, but also features a unique silicon lining that works as a "shirt stay" to keep your shirt or base layer from coming untucked. That provides a comfortable fit that locks in body heat on cold hikes and locks out moisture in rough weather, which is a surprisingly nice feature.
Tru Specs Vector pants are heavier than other casual travel pants or hiking pants, but that's because they're designed for the elements. If you want a more lightweight version, the Tru Spec Ascent features a mechanical stretch polyester cotton blend for a lighter yet durable hiking pant.
Budget Travel Pants That Can Take a Beating
If you're hitting the trail or looking for the next level in durability for the elements, the Tru Spec line of travel pants for men and women is a great, incredibly affordable place to start your search. Seriously, these pants are less than $50. That's the most badass thing about them.
Travel Pants: Honorable Mention
Betabrand features a host of travel pants, from wrinkle-resistant linen travel pants ($106) to executive travel sweats ($106), but their best travel pants are still the flagship travel pants.
The wrinkle-resistant, insanely lightweight fabric is the selling feature of these travel pants. They come with all the bells and whistles of other travel pants—zippered passport pocket, gusseted crotch, and a two-way stretch nylon weave—and they do it in a ridiculously lightweight package.
These pants are a little looser than I typically prefer, but that's just me. Definitely a contender for best business travel pants, Betabrand features a host of stylish options for wowing the boardroom after your 10-hour flight.
TL;DR
Travel pants have to fit well, pack light, and take a beating. No matter what your style, needs, or taste, the best travel pants are the pair that you want to wear day in and day out. Find the right pair, and you're one step closer to the perfect carry on packing list.
Look for wrinkle-resistant stretch blend material with nylon or spandex
Gusseted crotches are kind of awesome
Teflon coating is great for water and stain resistance, but makes your pants a little less fashionable (your call)
Interior zippered passport pockets are amazing for peace of mind on long flights and bus rides
A waistband that fits right is really all you need. Get your fit right!