Sometimes, well, you just need to shake things up a little.
Isn't that why you love to travel?
This time I'm not talking about travel destinations. Rather I'm talking about your travel wardrobe. Specifically, packing some skirts instead of the usual roundup of jeans, shorts, and travel pants.
If you're ready to change it up — or you already love traveling with a skirt — here are the best travel skirts for women.
The Best Travel Skirt With Pockets
A chic A-line black knee-length skirt that has enough hidden features to, well, blow up your skirt.
We're talking all the goodies, like:
Sewn-in shorts with a 5" inseam, so you're never worried about indecent exposure
Stretchy performance poly-spandex blend: keeps its shape, resists wrinkles, moisture-wicking and quick-drying
Zip-close phone pocket at the back waistband
More hidden pockets along the waistband's interior that are big enough to fit a passport and credit card
And two exterior pockets for close-at-hand items like keys
Heck yeah, that's what a girl likes in a skirt.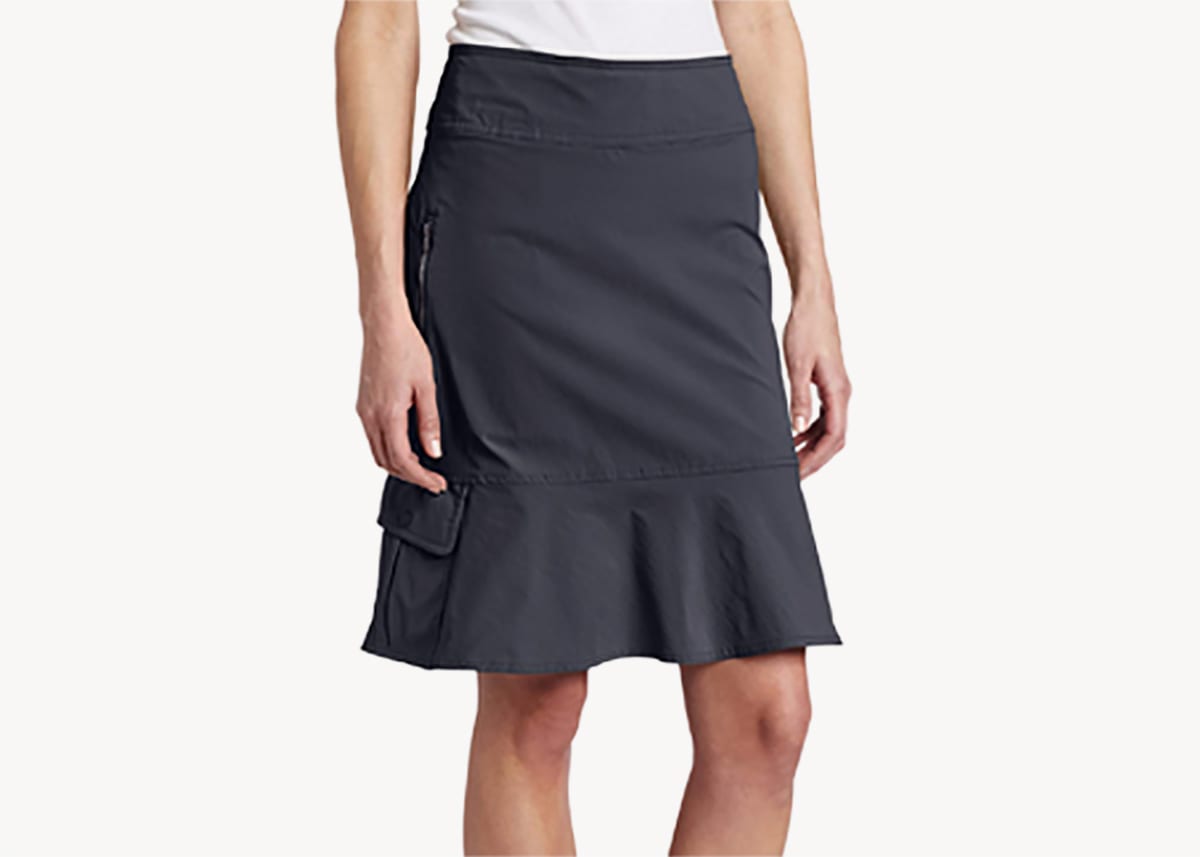 With this wrinkle-resistant skirt, you also get the enviable feature of two pockets.
One is a zippered pocket on your hip. The second is a cargo-style pocket on the hem of the skirt. The fabric is stretchy, so it moves with your body. Thanks to the cute flair around the hem, it moves easily from day to evening with some heels and nice jewelry.
Amazon's picky reviewers rated this skirt 4.5 out of 5 stars based on 500+ customer reviews.
One reviewer said, "I just finished a three week trip to Cambodia with this skirt. It packed very well, did not need to be ironed, could be easily hand washed and dried very quickly. I climbed around temple ruins in them but I also wore it to meetings, out to dinner, etc. Three years later and I still love these skirts! They look like they did when I bought them. All the positives I said about them in my earlier review still apply."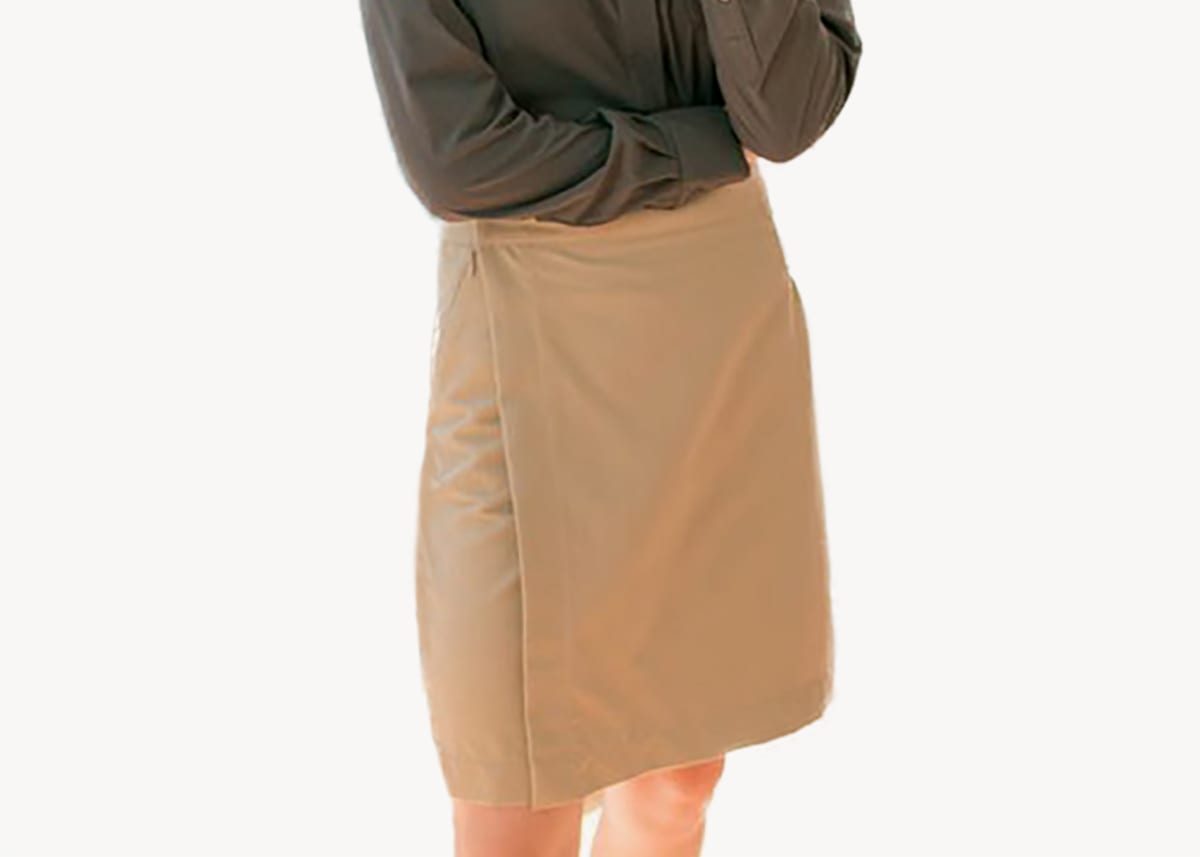 Caroline at Smarter Travel reviewed this skirt. She rated it a 10/10. Here's her breakdown: 
"Finally, a clothing company that understands that women want pockets too! This wrap skirt is easy to pack (and tough to wrinkle), and it has five pick-pocket proof pockets to keep everything secure. The knee-length is long enough to work for most destinations, and the fabric has UPF 50 protection to keep you covered. The fabric looks like a normal skirt but it repels water and other liquids to help prevent stains.
Durability: 10/10. The nylon fabric is heavy duty and will repel stains (and protect you from the sun), plus it's quick-drying in case you wear it as a beach cover-up or wash it in the hotel sink… very flattering, and would work for the office as well as travel!"
Best (Almost) Knee-Length Travel Skirts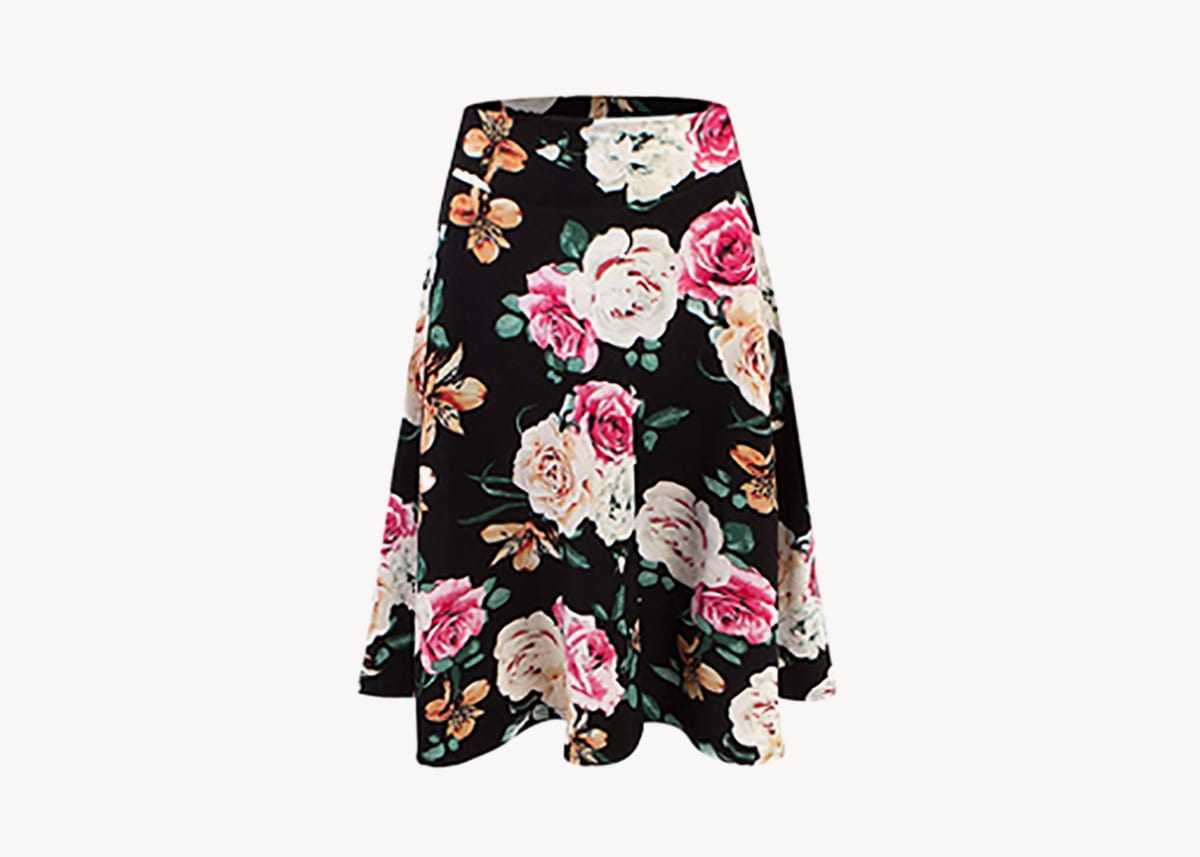 This A-line skirt has 4 out of 5 stars on Amazon based on 500+ reviews. It comes in 40 different colors so you're sure to find one that suits you.
As one reviewer says, "The fabric has a nice fall and movement. The waist band is comfortable and lies flat under a blouse or sweater. The fabric resists wrinkles, making it nice for anyone who travels. I'm ordering another color."
Another reviewer raves, "Super cute skirt! It's just a bit long for my taste, im 5'8″ and its past my knees. It's a rich red color and the fabric is thick enough to be modest, yet drapes around your curves enough to be sexy. Now stop reading reviews and order this skirt!"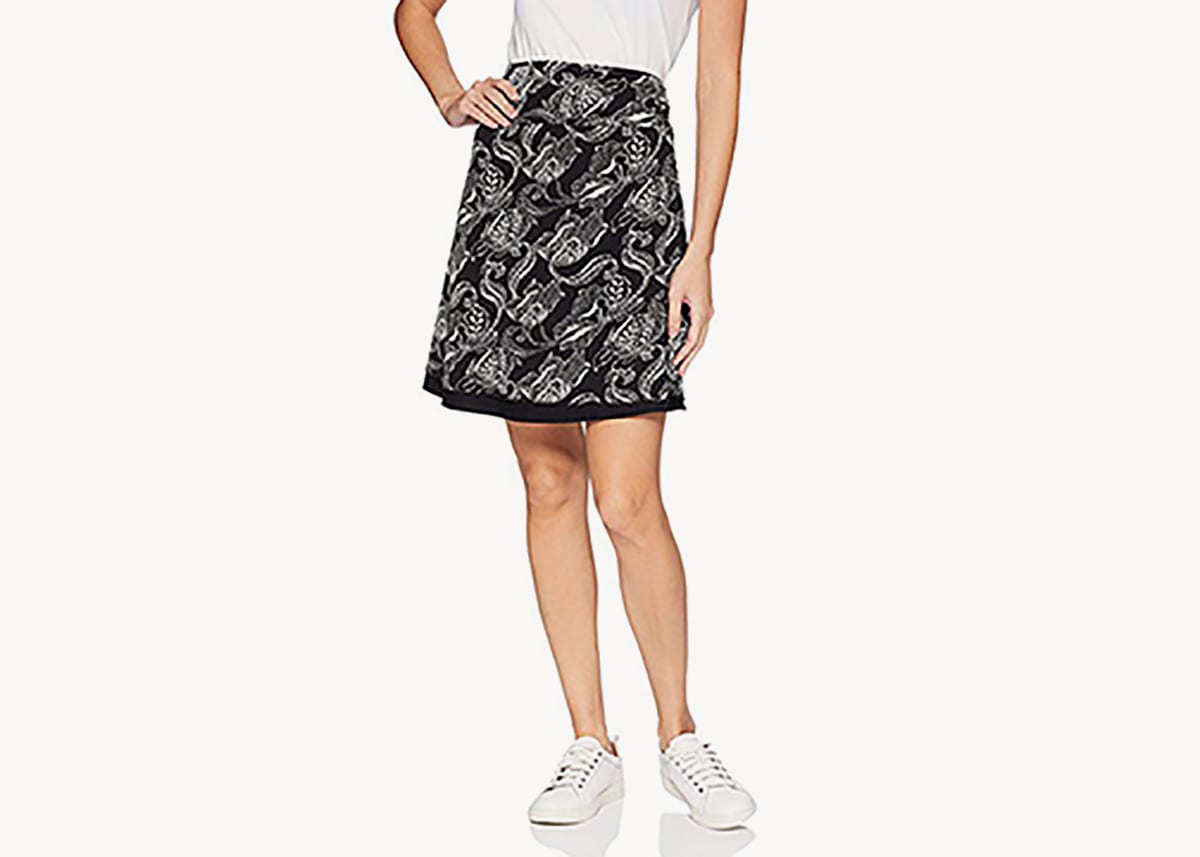 Kimberly and Elizabeth of Go Green Travel Green swear by this reversible skirt. They say:
"They are awesome. They are so versatile and easy to wear… A key component for a travel skirt is to have a forgiving waist. I don't want to have to squash into a skirt after eating at restaurants all week! These are elastic and don't look dowdy or frumpy. They are great travel skirts to wear with dressier sandals at night. The overall material has a nice stretch to it without being overly fitted. I've washed (on cold) and dried them with no issues. I also liked that that there aren't any tags on these skirts. So you can easily wear them on both sides."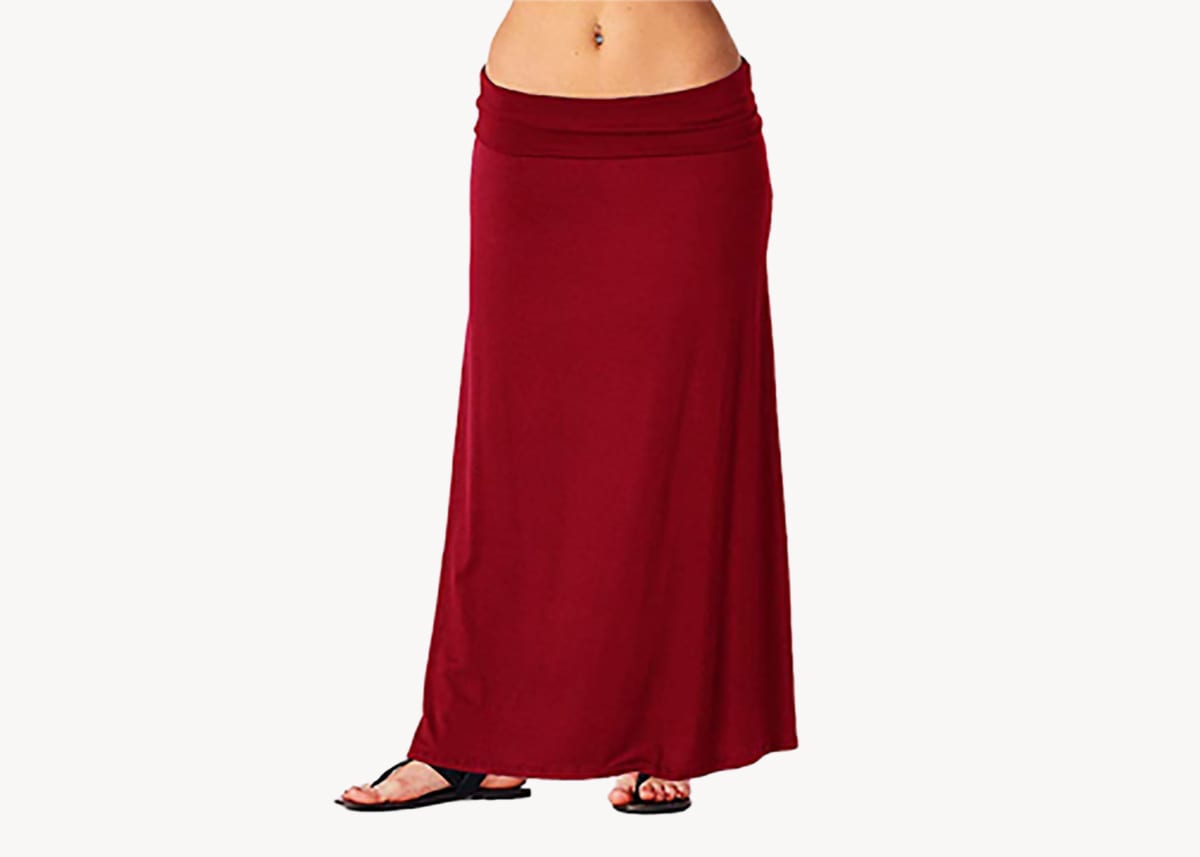 Wear a flattering maxi skirt in those countries where showing your knees and legs is frowned upon. This flowing maxi skirt has you covered.
Reviewers on Amazon rave about the skirt's material that "breathes, but it covers you up, meaning it is not sheer at all."
Bonus: A wallet-friendly price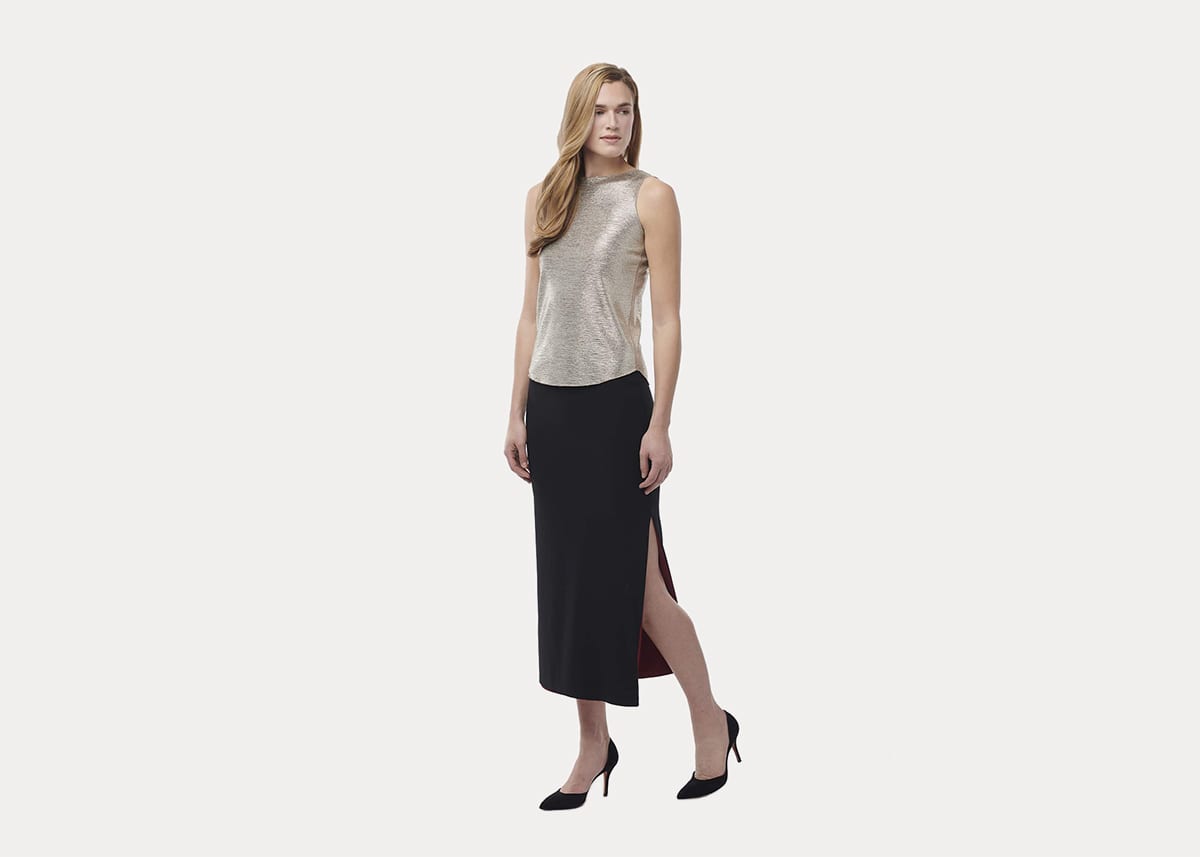 Snag a spandex jersey knit skirt that is reversible. So, you get two skirts for the price of one. Thanks to its quick-drying capabilities, this skirt keeps you cool.
Oh — and perhaps the best part — is this store is based in Canada, so if you're American, you get an automatic (roughly) 25% discount thanks to the exchange rate.
Best Multi-Use & Quick Dry Travel Skirts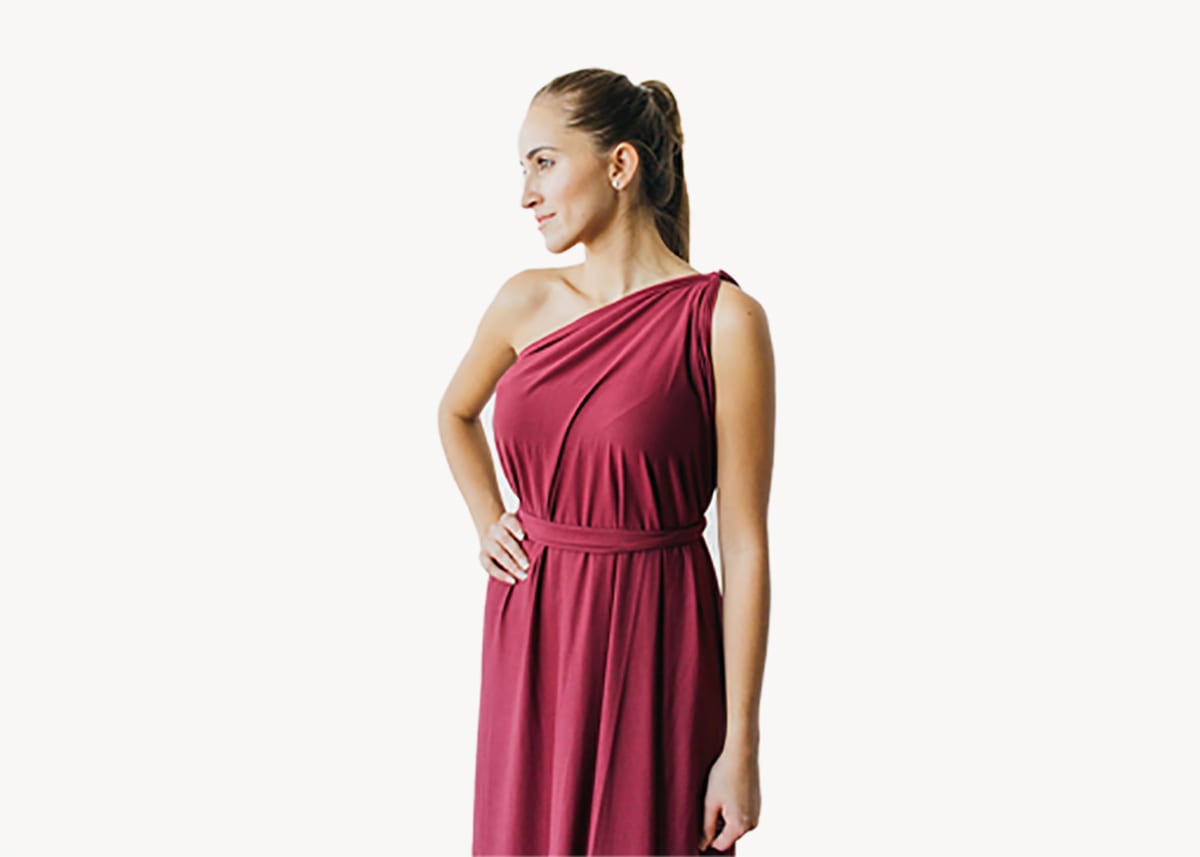 One garment, 8 different ways to wear it — this dress is a must-have for a cute, summer capsule wardrobe. It rates 4.5 out of 5 stars, according to 120+ reviews.
And it's perfect for traveling as this reviewer raves, "I am loving my Chrysalis Cardi! It has come in handy many times when traveling. I wear it as a scarf during the day and convert it to a cape or wrap at night when it is cold. It dresses up and down very nicely. The material is soft and breathable. I have tried out the dresses at home and they look very flattering – I'm looking forward to warmer weather so I can wear those styles!"
This dress has popped up again and again in my research for versatile capsule wardrobe clothes. So much so that I'm considering buying one for myself.
As one reviewer said, "Very easy to use after some practice. I used it as a scarf, jacket, dress and skirt in my two weeks trip."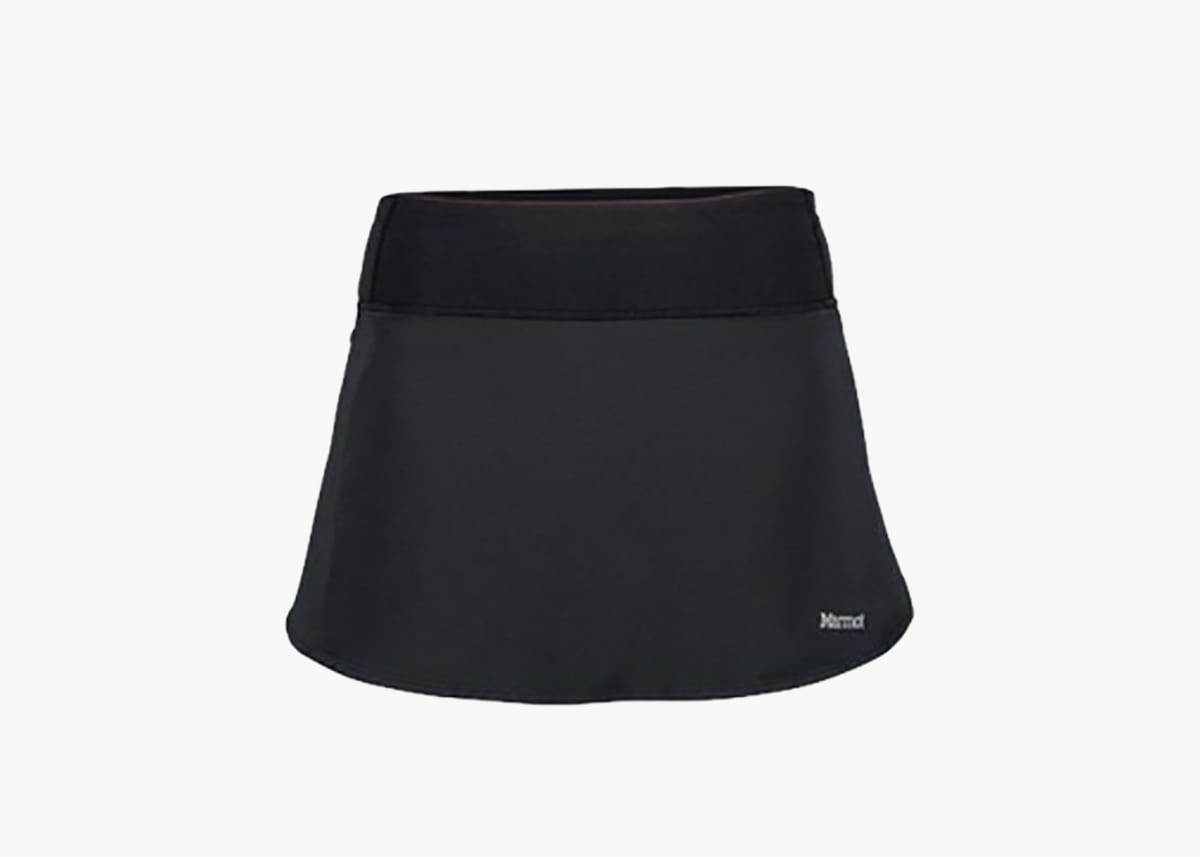 Jackie at The Budget Minded Traveler adores this skort. She says:
"It's comfortable, quick-drying, has a secret pocket at the small of the back (big enough for money, keys, credit cards, etc.), it's black (it doesn't get dirty!), it looks good dressed up or down, and, it doesn't matter if the wind is blowing because there are spandex shorts under it. It's always ready for a hike, run, soccer game, day at the beach, and more
It's mostly polyester with a mid-thigh hitting, 4-inch short, 14-inch skirt. The shorts are not so tight that they leave impressions on your legs, so they may ride up slightly while running, depending on the size of your thighs. It has one pocket (non-zipper) in the back for money or keys. It has a 30 UPF rating to block sun on your thighs
What is it good for?(Umm… what is it NOT good for? I do everything in my skirt.)"
TL;DR
Shake things up a little by packing a skirt. Pick from one of these best travel skirts:
Want more like this?
Get weekly gear reviews, travel hacks, and packing tips sent straight to your inbox. As an added bonus, we'll send you a carry on packing list right away.