For great travel sunglasses, you want quality sunglasses with polarized and UV protected lenses that are styling.
"Grab your sunglasses and hit the road."
My sunglasses are the second item I grab before I head out the door, slipping them into my daypack or onto my face, for any adventure from a grocery store run to a thousand-mile trip. They give me effortless cool and the jealousy-inducing superpower of hiding my thoughts. 
What's the first item?
Ah, now you're getting cheeky. 
Six Must-Haves for Travel Sunglasses
Quality
Did the lens fall out after only a week of owning them? Useless sunglasses.
When you're traveling, quality trumps quantity. Of course, you'll be paying more for quality. But let me tell you — as a hardcore convert from the cheap-is-better camp to the I'll-pay-for-long-lasting gear team — you'll recoup your upfront costs in the years to come, and your frustration will be minimized.
A $150+ pair of quality sunglasses that last will actually save you money over shelling out $20 three times a year for 7 years to replace cheapo sunglasses that break, crumple, and pop out lenses for the fun of it. (For you numbers geeks, you'll be saving roughly $270.)
Case in point: I've had my Oakley Inmate sunglasses for 7+ years. Still see through lenses? Check. Frames look good? Check. Money well spent? Check. 
That's quality, baby. 
UV protection
Too much UV exposure has been associated with many long-term eye issues.
The most well-known issue is cataracts. Over years of exposure, UV rays damage the lens inside your eye, making it cloudy as the proteins unravel and tangle (which is what creates cataracts). Surgery is needed to remove those cataracts. Consider your sunglasses preventative medicine.
If that's not a great case for UV protection in your sunglasses, you've got the short-term problems like photokeratitus (aka snow blindness). This condition occurs when light reflects from snow or water, giving your eyes a super dose of UV causing "sunburn." 
Look for sunglasses that block 99% or 100% of all UV light. UV absorption up to 400nm equals 100% UV absorption. 
(Ahem, the first item I grab when heading out the door is my wallet.) 
Coverage
Know why the Kardashians don over-sized sunglasses?  There are reasons besides hiding under-eye bags, or saving them from looking like startled rabbits in the paparazzi's camera flashes.
Those big shades prevent eye wrinkles from forming.
The more eye area your sunglasses cover, the more protection they give your delicate skin around the eye area.
Plus, the larger glasses provide extra UV protection by blocking rays that come in from the side. Meaning you squint and frown less, minimizing potential wrinkles and frown lines.
Wrap-around sunglasses do a great job of blocking the sun's rays from coming in on the sides.
Unless you're Leo DiCaprio and obtaining some deep, attractive frown lines between the eyes was was exactly what your career needed to pivot from dreamboat to complex anti-hero. (Exhibit A: Blood Diamond movie.) If that's your goal, skip the glasses and age like a professional.
Style
Do you like the look of your travel sunglasses? You'll be taking lots of pictures with those bad boys on.
Do they make you think of exploring Mayan ruins, sipping caipirinhas on the Brazilian beach, or that road trip you took down to the Grand Canyon?
Make sure your travel sunglasses fit your personality. And your face shape. Here's how to find your face shape and the right sunglasses for it.
Polarized Lenses
Light usually scatters in all directions. When it's reflected from flat surfaces, light tends to become polarized. Meaning it travels in a more uniform (usually horizontal) direction.
This direction creates glare, reducing your visibility. Usually, you'll find lots of glare on roadways or water.
Polarized lenses have a special filter that blocks this type of reflected light, so you can see again without squinting. That way you'll avoid eye health issues like redness, irritation, fatigue, and headaches.
Quality — My husband wears the Oakley Gascan and has for the past 8 years. He treats his glasses nicer than me (I throw 'em into my bag willy-nilly) and his glasses still look nearly new. 
Oakley has a killer warranty that covers any manufacturer defects. (It doesn't cover scratched lenses.) I've sent my glasses in to get the rubber on the stems replaced. For free. 
UV Protection — Check. 
Coverage — Gascan features a semi-wrap-around style, effectively protecting your eyes from UV rays. 
Style — Time for the honest truth: Gascan sunglasses are manly. Rugged. And I'm not just sayin' that because my husband wears them. 
In other words, if you're a dude, these travel sunglasses are great. 
If you're a lady, you'll want more feminine travel sunglasses like these Oakley Feedback or Pulse. 
Polarized Lenses — Yes. 
Quality — Let me count the ways these sunglasses smoothly navigate a rough trip: triple-layer scratch protection, super-tough yet flexible frame, lifetime guarantee (no matter if you break them or they break).
SunGod calls their sunglasses' tough 'n' flexible frame "adventureproof." Which Melissa at A Broken Backpack agrees with: 
"I do think they are the best sunglasses for backpackers as they are pretty resistant, cool and they are the best sunglasses for travel adventures! I drop them all the time, they still look amazing (and there's no scratches!)."
UV Protection — 100% UV protected for any weather or environment condition: road, trails, water, snow. 
Coverage — Full coverage
Style — Classic Wayfarer style a la James Dean (and every hunky actor you've lusted after)
Polarized Lenses — Yes
Quality — Let me quote Johnny's review: 
"I bought these glasses [Justin Classic] over a year ago, and let me tell ya a story regarding why these are the best bang for your buck. One time I was working on my car and I took my glasses off as I looked under the hood. Mistakenly, I put the glasses under the hood as well! As I finished up, I simply closed the hood on my sunglasses! In disbelief, I opened the hood to my Justin's with zero scratches/dents etc. Every now and again my glasses will fall off my hat off my head and hit the ground and have YET to obtain any sight of mistreatment." 
UV Protection — Yes
Coverage — Good. 
Style — You can't get more baller than Ray-Bans. And both of these styles are super flattering. 
Polarized Lenses — Yes, if you select that option. (Both these sunglasses are available in non-polarized, hence, cheaper, versions.)
Quality —  With crystal lenses and manufacturing in Italy, Ray Ban are crafted to last. 
UV Protection — Yup. 
Coverage — Their slightly oversized style covers the tops and bottoms of your eyes. Sunlight sneaks in at the sides. If you're in a situation where there is lots of reflecting sunlight — like on the water — you might be squinting. 
Style — Hands down, these are sexy glasses.
Check out Audrey Hepburn in Breakfast at Tiffany's. 
Or James Dean driving a car, smoking and looking so cool. 
Bonus: Wayfarers flatter most any face shape. Seriously. 
Polarized Lenses — Check. 
Best Travel Sunglasses Runner Up
Smith Colson ($153)
Outside Online named the Smith Colson sunglasses as one of their best sunglasses of 2016.  
"They're crossover performers up to rec-level athletics and acceptable for the street. This pair is better than acceptable, with squared-off lenses and general elegance that doesn't seem so wrappish. Springy arms hang onto your head, sticky rubber is artfully concealed at the nose and temples, and the optics are great for action, rendering the world sharp and vivid. Polarized bronze synthetic lenses feature Smith's ChromaPop+ tech to punch up color. Design-wise, the Colson comes across as old-school—a comfort to some, meh to others."
Best Travel Sunglasses for Driving
Travel sunglasses need to stand up to any situation. Including the long hours and abuse during  the Rickshaw Run that you'll inflict on your travel sunglasses 
The Wirecutter named Maui Jim sunglasses as The Best Sunglasses For Your Road Trip.
These "sunglasses had the clearest lenses—with no perceptible distortion—on the lightest frames we tested, weighing a barely there 20.4 grams. I've never encountered sunglasses that I can wear for hours on end without somehow hurting my nose, ears, or both, but during my trip I had a few afternoons where, despite five-plus hours of driving with them on, I had completely forgotten I was even wearing the Maui Jims.
The clarity of the lenses was a surprise as well. They're so clear that it's borderline unsettling the first moment you try them on. Thanks to their exceptional clarity and polarization, everything, including the scenery around you and the road ahead, looks sharper with these lenses on."
As for what specific model of Maui Jim sunglasses?
"I suggest looking through the offerings on the Maui Jim website and reading the fit descriptions to find something that matches your aesthetic sensibilities. Unlike other companies that go only by lens size, Maui Jim lists face shape as part of its fit guidelines." 
Quality — Amy, one reviewer says, "For a very reasonable price, we were blown away with the quality of the lens… The glasses are lightweight, stylish and comfortable for all day wear."
Plus, you get lifetime replacements. Meaning if you break your sunglasses, KZ Gear replaces them for a $20 fee. This also applies if you totally lose your sunglasses. 
And these sunglasses float. Making them perfect for water or beach-based travel. 
UV Protection — No
Coverage — Pick from a small, medium or large frame-size when ordering, so you get the best coverage. 
Style — The wayfarer-styled frames keep you classy.  
Polarized — Yes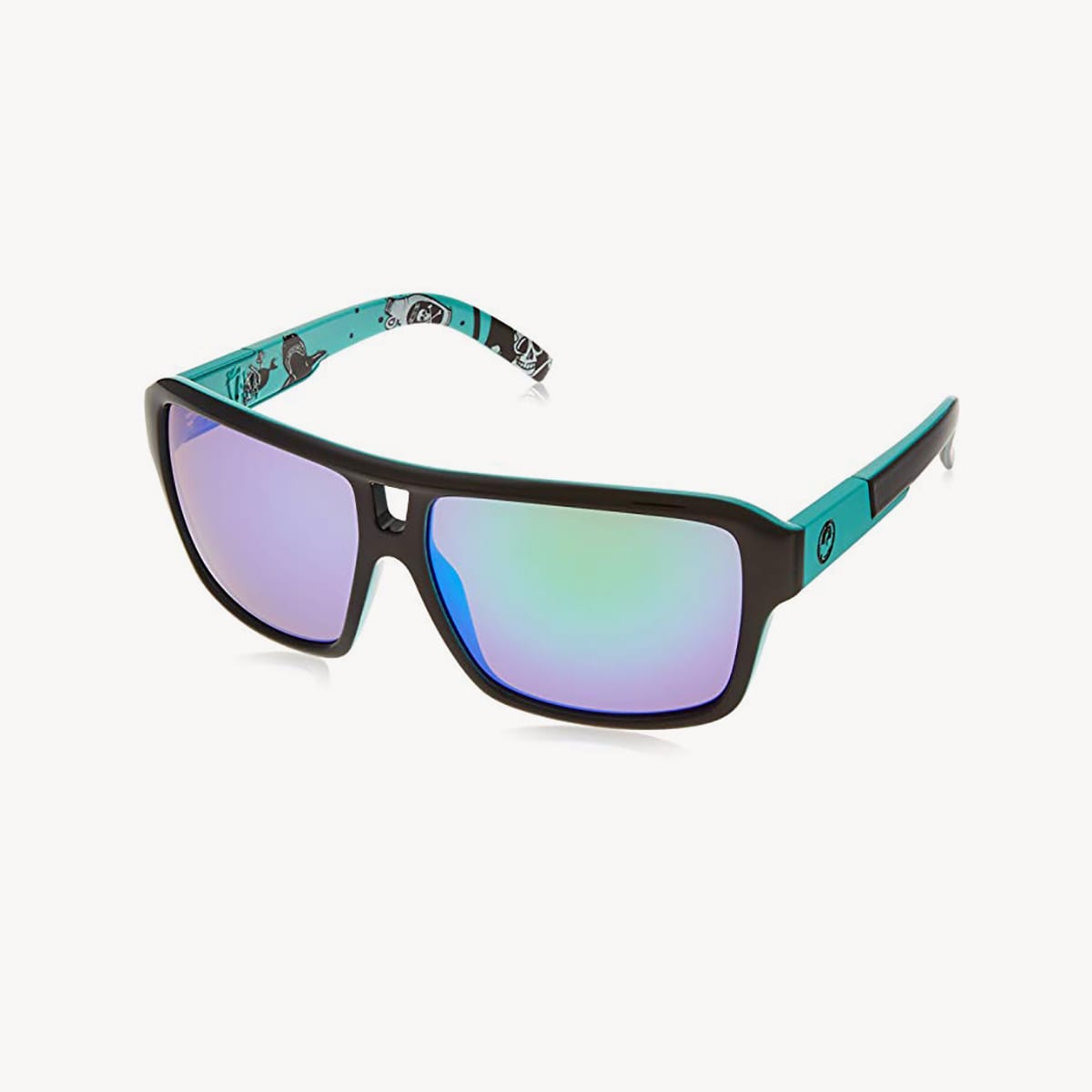 Quality — Impact-resistance lenses, lightweight and flexible. Sounds great, but the big question is: how tough are they? 
Well, the nylon frame is crafted with "Injection Molded Grilamid Frame," according to their website. I'm not quite sure what that means, but what I do know is: these sunglasses were made by Will Howard: a dude who loved surfing, snowboarding, and riding dirt bikes. 
And today, tough snowboarders, skiers, surfers, and motocross riders doing serious shit wear Dragon sunglasses. 
Ergo: these sunglasses are tough. 
UV Protection — Yes
Coverage — Oversized with a touch of wrap-around styling keeps the sun out of your eyes. 
Style — Wanna make a statement? These are your sunglasses
Polarized — No
TL;DR
For great travel sunglasses, you want quality sunglasses with polarized and UV protected lenses that are styling. 
Fellas, check out:
Oakley Gascans: lightweight with excellent coverage and polarized lenses

Dragon Jam: for extra razzle-dazzle in a tough frame

KZ Gear The Superior: floatable and budget-friendly
Women, check out:
Oakley Pulse: sexy oval shape gives great side-eye coverage

SunGods Classic 3: the sunglasses a Baywatch babe (who travels the world) wears #justsaying

Ray-Ban Erika: classic Wayfarer styling with a feminine touch
Want more like this?
Get weekly gear reviews, travel hacks, and packing tips sent straight to your inbox. As an added bonus, we'll send you a carry on packing list right away.