Why We Don't Do Black Friday Sales
The Tortuga Promise
At Tortuga, our mission is to make travel easier. Our advice and recommendations are based on years of travel experience. We only recommend products that we use on our own travels.
Note: The Tortuga store will be shoppable on Black Friday, but the Tortuga team will be taking the day off. If you have questions or need help with your order, we'll reply on Monday.
Black Friday is a few days away. Cyber Monday is three days later. We won't be having a sale on either day. Not this year. Not next year.
Despite the flood of emails that you'll get on Friday, 99% of the "deals" aren't worth it.
So, no, we won't be creating the illusion of savings to trick you into buying on a specific day of the year.
According to the National Retail Federation, the holiday season can represent as much as 30 percent of annual sales for some companies. Why? Because those brands have become addicted to discounting. They've trained people to only buy when they have sales, and Black Friday is their biggest sale.
At Tortuga, we would rather build a sustainable business that makes money year-round so that we can keep building great luggage for you.
Tortuga
Building for the Long Haul
Our goal has always been to build evergreen products that are worth buying at full price at any time of the year. We don't want to be on the treadmill of constantly introducing new products every season—or made-up season—to convince people to buy stuff they don't need just because it's new.
Traditional wisdom says that brands need high-end products with planned obsolescence and many low-end products in order to increase customer lifetime value.
If your backpack becomes obsolete quickly, you have a bad backpack. Like you, we get attached to our luggage. I don't want to upgrade my backpack every year either.
When we launched the Travel Backpack, we heard from many customers who were excited about the new bag but were still using a previous model of Tortuga backpack. They liked the Travel Backpack but had no reason to upgrade. So they didn't. That's a good thing.
If you buy a Tortuga backpack and are happy with it, we're happy. We did our jobs. If we take care of you, the customer, our revenue will take care of itself. Either you'll upgrade when you actually need a new bag or will buy another product or accessory that you need or will tell your friends about Tortuga.
You should only buy a new bag if you need it for a trip and have the money for it. Not only because it's new or is on sale.
You don't have to be a minimalist to believe that less is more. We believe in buying fewer—but higher-quality—things. Go spend the rest of your money on experiences like traveling.
The Downsides of Discounting
Today, we're talking about Black Friday sales, but this mindset applies to all sales.
Businesses are too dependent on sales to move inventory, and we—as consumers—have become addicted to them. Department stores are some of the worst offenders. Do they even sell anything at full price? If they do, you already know better than to ever pay for it.
Bed, Bath, and Beyond is perpetually 20% off if you have the coupon that they mail to everyone every week. That means that everything in the store is marked up 20%.
We agree with Kevin's post on why Mizzen + Main doesn't discount. Let's stop playing games and have an honest conversation about what stuff costs and why you should buy it.
Here's an honest number: we spend 123% more making an Travel Backpack than we did making its predecessor, the V2 Tortuga Backpack. But you only pay 50% more.
Selling our bags online, directly to you, keeps our costs down. As a direct-to-consumer brand, Tortuga can make technical packs with the best components on the market. If we had to sell our bags at retail, they would cost twice as much. We don't have to depend on parasitic business models that destroy brands by constantly discounting them.
Tortuga
A Day to Skip Work-Life Integration
The most important business reason that we don't do Black Friday sales is the human side of the business.
I didn't fully appreciate this until Taylor, our former Marketing Director, explained what a typical Black Friday looked like at her old job working with retail clients:
8:00 PM, Thanksgiving: Say goodbye to family. I need a good night's sleep before tomorrow.
9:00 PM, Thanksgiving: Check and respond to emails. Make sure there are no last-minute changes.
10:00 PM, Thanksgiving: Triple-check all ads, email campaigns, and social posts. I've scheduled everything already. Right now, I'm just making sure everything's set to go live at the right time. If it doesn't, it's a six-figure problem and it's my fault.
3:00 AM, Black Friday: Ad campaigns are scheduled to turn on. My alarm goes off. I roll out of bed, blearily open my laptop, and check everything one more time. I check every campaign's settings and click every. single. ad. to make sure the links are correct and that tracking works.
3:45 AM, Black Friday: Go back to bed.
6:00 AM, Black Friday: Second alarm goes off. I rush to my laptop and open Google Analytics. I see how revenue looks thus far. I compare actual results to my forecasts.
7:00 AM, Black Friday: Get ready for work. Drive into the office.
8:00 AM – ?? PM, Black Friday: I'm on call, so to speak, at work. I'm required to be in the office in case something doesn't go well, and we need to spring into action. Sometimes, Black Friday was a relatively chill day of refreshing Google Analytics, adjusting bids and budgets, and monitoring social media. Other times, it was a day of stress and anxiety and frustration. The latter happened when revenue was lower than the client's goals. I try not to think about those times.
The weekend and Monday were more of the same.
As the co-founder of Tortuga, I want our team to relax and enjoy their holiday weekend. We'll be closed on Thanksgiving and Black Friday because we should be enjoying a four-day weekend. So should you. None of us should be rushing back to work on Friday for the most stressful day of the year.
Most years, I'd prefer to spend Friday lying around in my sweatpants and eating leftovers, not refreshing our sales numbers.
Here's how Taylor plans to spend her Black Friday, in contrast to the schedule above.
?? AM, Black Friday: Wake up without an alarm.
Walk to Dad's kitchen. Ask if there's leftover pie.
Make espresso. Eat pie for breakfast.
Go hiking with Dad.
Eat more leftovers. Maybe exclusively pie.
A Better Way
There is a better way. If you want to give for a purpose, not just spend money on more junk, check out Giving Tuesday a charitable counter-balance to Black Friday.
I was also impressed by REI's Opt Outside program. Instead of a sale, REI closed its online store and asked people to go outside that day.
Since most of the "deals" aren't really deals, you aren't missing anything by skipping Black Friday. Go spend the day with your family, out in nature, or both. Any business or charity that will take your money on Friday will take it next week.
If someone on your list needs a travel backpack or maybe a Tortuga gift card, all of our products will be available for the entire holiday season.
Related Articles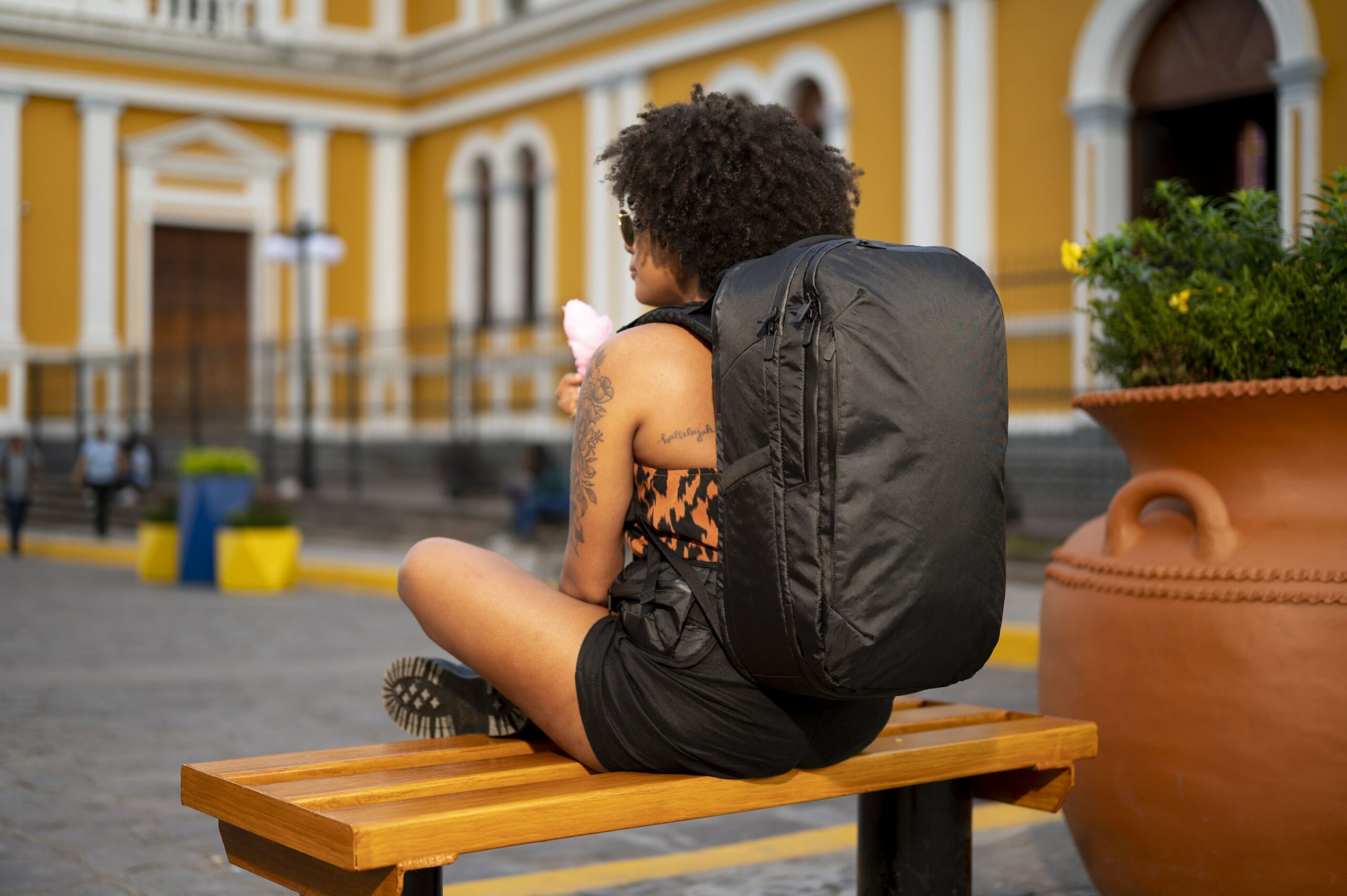 40L: Max International Carry On
Shop Now