How to Choose a Business Travel Backpack
The Tortuga Promise
At Tortuga, our mission is to make travel easier. Our advice and recommendations are based on years of travel experience. We only recommend products that we use on our own travels.
Business travel isn't for the faint of heart. Traveling for business includes all of the usual hassles of travel—like security lines, long flights, and packing—but is for work, not play.
A travel backpack should make your trip easier and more convenient. Travel is complicated enough. Your bag should be an asset, not a liability.
Most business travelers use a wheeled suitcase. Why would you carry a backpack when you're headed to an office, not a hostel?
Two reasons:
You need your laptop but don't want to carry a second bag.
You plan on including personal travel during your business trip and need luggage that can handle both. (More on this later.)
If that sounds like how you travel, then a travel backpack may be right for you. Now, what should you look for in a bag for work travel?
Your business travel backpack must be carry-on-sized, have a padded laptop compartment, look appropriate at the office, and also work for leisure travel.
Tortuga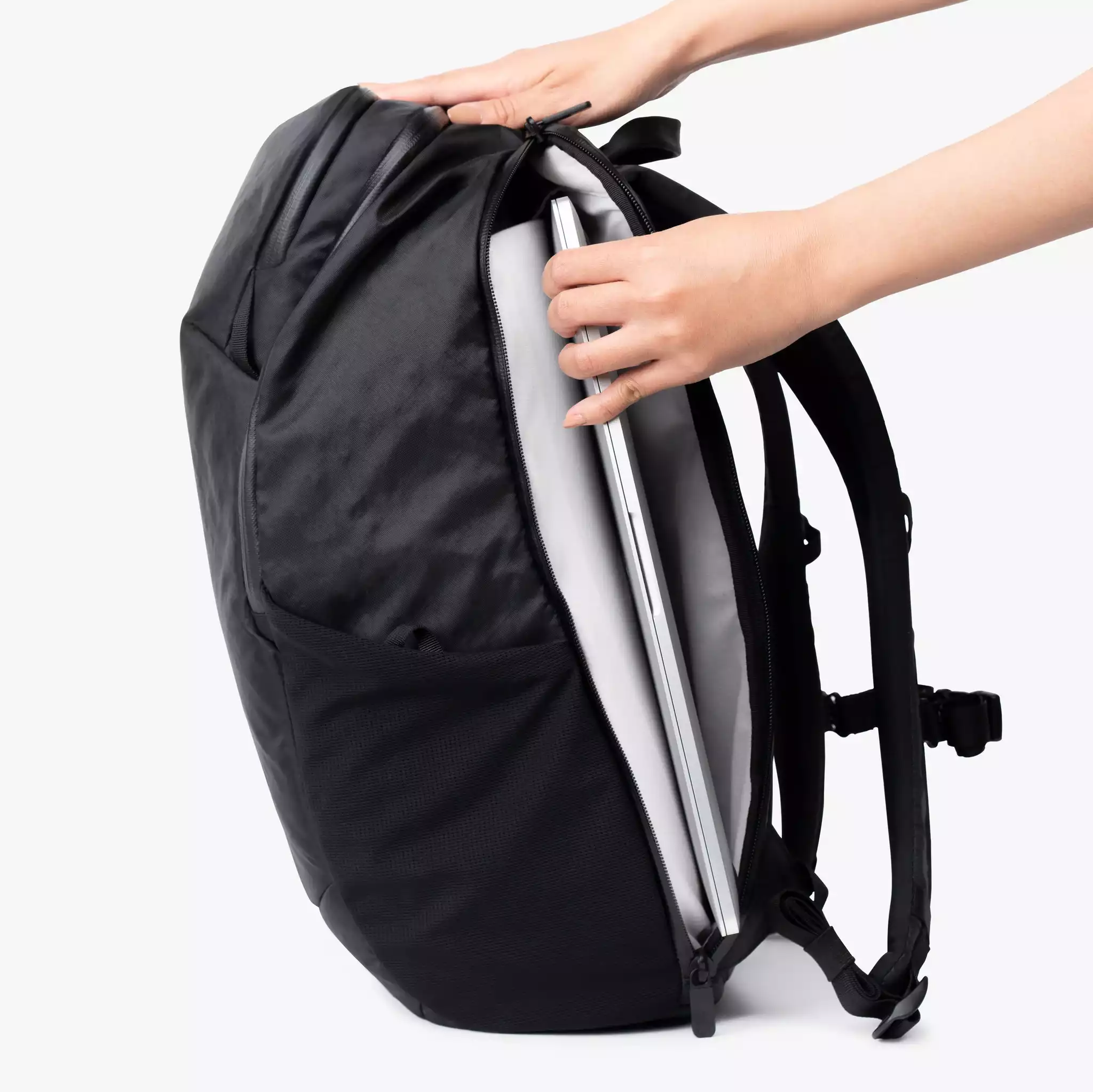 Carry-On-Sized
A recent American Express survey asked business travelers for their number one business travel tip. The most common answer was to "travel carry on only."
Anyone who has traveled extensively knows that checking a bag is for chumps. If you're traveling for business, your company will probably pay your baggage fees, which is helpful because checking a bag can cost $50 or more per round-trip flight.
But fees aren't the only reason to pack light. Traveling with only a carry on simplifies your travel. You will have less stuff to carry, you can move through security lines and airports faster, and you never have to worry about what happened to your luggage.
If you're on a business trip, you can't risk having your airline lose or misroute your luggage. Keep your business backpack in your hands and inside the plane where you can keep it safe.
Backpacks, unlike carry-on-sized suitcases, are rarely gate checked. On full flights, gate agents may ask travelers to check their luggage at the gate, even if their luggage is carry-on-sized.
The agents only single out people with wheeled suitcases. Travelers with backpacks or duffel bags are usually ignored. I've traveled with a backpack on overbooked holiday flights and have never been asked to gate check my bag.
Laptop Compartment
If you can go on a business trip without a laptop or a tablet, I'm jealous. The rest of us need a secure place to store our computers.
Carrying a second laptop bag, along with a backpack, is difficult. Your backpack must do double duty by carrying your laptop and your clothes. If you're carrying a backpack, it must have a padded laptop compartment that you can access without opening the rest of your bag.
Business Casual
Functionality is first. But a business backpack shouldn't look out of place in a work environment.
A simple, black bag without any eye-catching colors or noisy fabrics is appropriate for any context, including business travel. Avoid large logos and bright colors. Your bag should look like an (over-sized) work bag, not a hiking pack that you carried to the office. Think "low-profile."
Let your work, not your bag, stand out.
From Business Travel to Leisure Travel
[T]wo-thirds of U.S. business travelers surveyed say they have extended a business trip in order to take a personal vacation in the past year.
Most travelers need luggage that can transition from business to personal travel and hold up on longer trips.
Luckily, on a personal vacation, your needs are very similar to what we've already discussed. You need a backpack that is carry-on-sized so that you can travel light and affordably.
For business or pleasure, you need a bag that packs like a suitcase. Large backpacks are usually top-loading and designed for hiking, not traveling. These bags are a nightmare to pack and unpack. They leave your clothes wrinkled and disorganized.
Choose a front-loading backpack to get the best features of suitcases and backpacks in one piece of luggage. A front-loading backpack uses a clamshell-style opening, just like a suitcase, so that you can reach anything in your bag. This style of backpack packs like a suitcase so that you can stay organized and (relatively) wrinkle-free.
Tortuga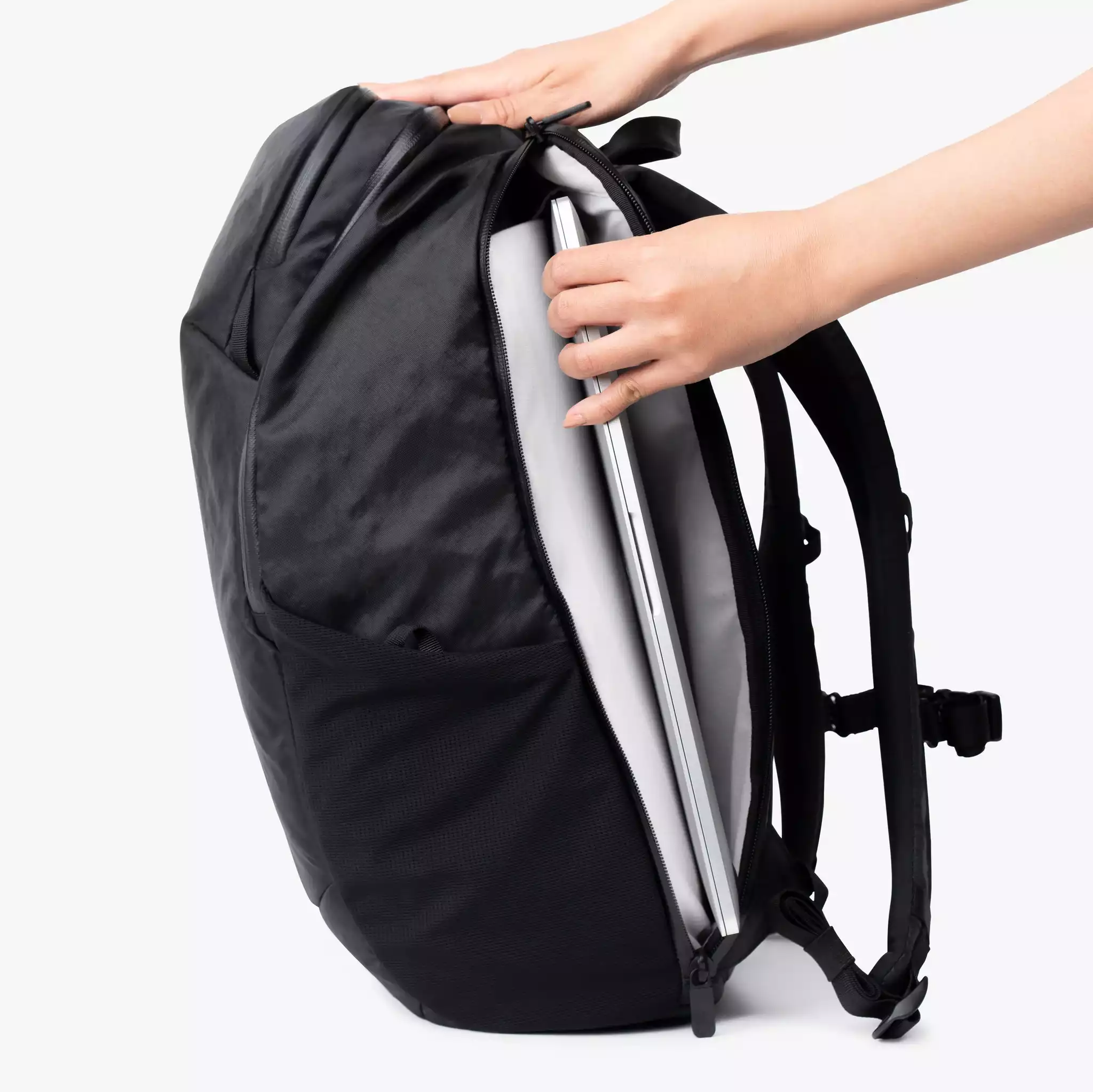 Best Business Travel Backpack
A well-designed travel backpack is carry-on-sized, loads from the front (not the top), and has a laptop compartment. For business travel, make sure your bag also looks work appropriate.
We designed the Travel Backpack with all of these features (and more) after being unable to find the perfect luggage for a backpacking trip to Europe. Although we didn't originally intend the Travel Backpack for business travel, we've found it to work well on business trips too. I've carried the Travel Backpack on team retreats in Europe, conferences in the US, and on sourcing trips to China and Vietnam.