The Best Gear for Business Travelers
The Tortuga Promise
At Tortuga, our mission is to make travel easier. Our advice and recommendations are based on years of travel experience. We only recommend products that we use on our own travels.
Knowing the little hacks to make a travel day flow more smoothly, or your time in a hotel in a strange city feel more like home, makes a big difference in how enjoyable business travel can be.
Last year, 457.2 million domestic business trips were taken in the United States. Over the three years, that number is predicted to rise to 471.1 million trips.
That's a lot of jetting around on business. Also, a lot of practice in efficient packing.
When you're traveling for business, time is of the essence. Eventually, you'll hone your travel routine down to an exact science. This fine-tuning happens for all parts of your business travel, including what business travel gear to pack.
Light and Fleet = Smooth and Efficient Business Trip
Bringing just what you need and cutting out the extra stuff is a fine balance to achieve. Extra baggage weighs you down when you're catching a late-night Uber to your hotel, running for a tight flight connection, or unpacking a large bag at your hotel.
Wondering what business travel gear is best for your next business trip? We asked business travel veterans for their picks:
Choosing a Bag
Frequent business travelers know the time-savings in carrying on versus checking a bag. It means the difference between catching an Uber downtown to lead a meeting, versus waiting endlessly at the baggage claim for your suitcase — the last one to emerge from the airplane's depths.
You Need a Backpack Designed for a Laptop
If you're traveling for business, you need a designated business backpack for your laptop. The Setout Duo includes a Laptop Backpack, but if you're traveling with rolling luggage, it's even more important to add the right kind of bag to accommodate your office setup.
Choosing Headphones
This section is easy. Get yourself a pair of…
Choosing a Laptop or Tablet for Business Travel
Best Travel Keyboards
Getting work done on the go can be a pain if you don't have the right setup. Sometimes all you need to do is bang out a few emails or drafts at the coffee shop or on a short flight. Booting up your laptop for a quick work session is fine, but you can also get a surprising amount of work done on your phone with the right Bluetooth travel keyboard.
Just connect to your phone or tablet and you'll be floored by how much you can get done with a full-size keyboard. You might even be able to leave the laptop at home. Even if you're addicted to your laptop, a good travel keyboard can help you set up a mobile workstation with a dedicated monitor or even a laptop on an ergonomic stand so you don't hurt your neck and wrists staring at a poorly positioned laptop.
No matter how you work on the go, these lightweight portable travel keyboards will quickly become a staple of your remote office setup.
Portable Power
You've boarded your plane, pulled out your laptop for some uninterrupted working time… only to find your battery drained and laptop dead. This scenario is where a portable power device sweeps in and saves your day.
Best USB Chargers and USB Hubs for Travel
USB hubs and travel wall chargers are one of the most asked about pieces of travel gear—and for good reason. Your device is only useful if it's charged and ready to go. So here are some of the best options for keeping multiple devices charged while traveling.
Men's Business Clothing
The best way to make sure you can pack light, look great, and be prepared to transition from business to casual on the road is to develop a capsule wardrobe. A few, carefully chosen, items that serve multiple purposes and layer well are the key to simplifying your business travel wardrobe.
Business Travel Shirts
A nice merino wool t-shirt is a great casual staple for taking meetings and taking on the town. They don't wrinkle, and honestly, paired with Bluffworks travel chinos or another pair of travel pants, you'll still look professional even without a collar.
Spring for shirts that:
Jared likes higher-end Tommy Hilfiger shirts as they aren't prone to wrinkling or shrinking. Plus, they're a good quality, last a long time, and look good in a business or casual setting.
Mike recommends versatile shirts that can be used with a suit and jeans, such as oxford shirts.
Above all: Avoid using the hotel's iron if you can. Many irons have rust built up inside.
Great non-wrinkle shirt brands:
Business Travel Pants
Wouldn't it be great to have a pair of sweatpants that everyone mistook for dress pants? Not to wear to the meeting, mind you, but for the evening at the hotel bar?
BetaBrand Dress Pant Sweatpants ($48) are those pants. "At first glance they appear to be a sharp pair of chinos or wool trousers. But upon closer inspection, you notice that they are made out of sweatpant fabric ("French terry"), which is soft, warm, and stretchy," says Chris McGinnis of TravelSkills
The key feature for business travel pants is wrinkle resistance. You want to be able to pull those bad boys out of your bag, throw them on, and be standing at the front of a room giving your presentation looking polished without wrangling the hotel iron and broken board.
Try these on for size:
These ultra stylish, rugged travel pants are disguised as something you could wear to the office. The slimmer fit is perfect for exploring chic cities, yet the durable stretchy nylon blend is designed for hiking and climbing. The true, do everything pants.
The original travel chinos (and the new stretchy Ascender version) are one of Tortuga writer, Shawn Forno's favorite go-to travel pants for long haul trips.
I'm currently on a one-year Around The World trip, and the Bluffworks Ascender Travel Chinos are literally the only pants in my backpack. The interior zipper pockets keep my stuff safe, they're stretchy enough to rock climb in, and still somehow fancy enough for the occasional meeting or co-working space day. They're my only pants for an entire year.
Best Business Travel Clothing for Women
Layering Shirts
Best Women's Business Clothing: Collared Shirt
Best Women's Business Travel Clothing: Blouses
Best Women's Business Travel Clothing: Blazer
Best Women's Clothing for Business Travel: Pants
Perfect Business Shoes for Travel
Perfect Little Black Dress for Business Travel
Workout on the Road
Hotels have gyms for a reason. Many business travelers use them. Pack some sweat-wicking shorts and shirt, and athletic shoes to take advantage of the hotel gym.
Hotels With the Best Gyms:
Body Weight Workout
Break a sweat in your room with a body weight workout. Check out this one recommended by Entrepreneur . Or this workout developed by Shape Magazine for ladies who travel.
Men, check out this cardio body-weight workout or this body-weight one by Men's Health.
Yoga Workout
When you want a good workout to stretch out the kinks from a long flight, go with yoga. Borrow a mat from your hotel's gym or lay a bath towel down on the floor for your yoga space.
Catch live yoga class recordings with Yogaia. (Or barre, core, or Pilates classes.)
Pilates Workout
Cassie from Blogilates is taking the world by storm. Her upbeat attitude and killer playlist makes your Pilates workout fly by. Check out her YouTube vidoes to spotlight a specific body part or do a full-body workout, like this one.
Resistance Bands Workout
Think of these slender elastic bands as a weight-lifting session in a carry on.
Fit Simplify's resistance bands come in five resistance levels. A workout guide is included with the bands, and extensive workouts are available online. Best part is these bands are slightly bigger than a deck of cards, so they take up barely any room in your bag. And they pack a punch on the workout scale.
Frequent Business Travel Tools
TSA PreCheck
If you fly domestically, get TSA PreCheck to access a speedier security line where you don't have to shed shoes or belt. Keep your liquids and laptop in your bag.
Welcome to security, oh, we're done already? Fabulous. That's what TSA PreCheck looks like.
"While I don't recommend this for all travelers, I've consistently started arriving to the airport 20 minutes later when I'm flying an airline that participates in this program with absolutely no stress," says Stephanie Wu of Travel + Leisure.
Mike agrees: "Get TSA PreCheck so you can breeze through security, but be willing to take the regular lane if the PreCheck lane is backed up. If the wait is half the time, it's worth it to take out your laptop and take off your shoes."
Cost: $85
Global Entry
Global Entry has all those benefits above from TSA PreCheck. Plus, you skip filling out blue customs forms or long waits in line at customs when flying internationally.
Your life is fleeting time, so live more with Global Entry. (Sounds like a tagline, but that's the truth.)
Cost: $100 (includes TSA PreCheck)
Good Headphones
Jared's tip is easy: Get yourself Bose noise-cancelling headphones. Seriously.
Business Travel Loyalty Programs
A good business traveler joins a specific loyalty program for hotel and flight and stays with that program, letting their loyalty points rack up. Typically, a company will have an agreement with a specific loyalty program or status-match offers for its employees. Travel hacking your business travel could mean vacation travel for free later.
Virgin America Elevate
US News just ranked Virgin America as #5 on its best airlines loyalty programs. Now that Virgin joined forces with Alaska Airlines — US News' #1 choice — your airline options just opened wide up.
With both programs, US News likes how easily you can earn a free flight, airline quality, and award flight availability. Meaning that the more paid flights you fly, the more quickly your miles stack up.
National Car Emerald Club
The ads starring Patrick Warburton are true. Conquer the wait at the car rental line with National Car Emerald Club.
Jared says, "Walk past the counter, pick any car you want and drive off. Its the quickest, easiest, and prevents you from getting a minivan. I like the Cameros and Challengers. The points tend to add up very quickly for free car rentals."
American Airlines
American Airlines is a favorite airline among business travelers, now that United has lowered it's bar on quality and standards with Sub-Par Economy Tickets. Um, excuse me, I mean United's Basic Economy fare.
Mike says, "With airlines, they're really all the same: You won't get upgraded unless you're on an unpopular flight or have super-ultra-diamond status. That said, I like that American Airlines' program uses vouchers for upgrades on >500 mile flights, rather than automatic, so that you have a better shot if you're lower-tier."
Marriott
Marriott is a beloved hotel among business travelers. At Springhill Suites or Residence Inn under the Marriott umbrella, kick back with extra space and kitchen amenities like microwave, mini-fridge, or fully equipped kitchen.
Mike says, "For hotels, I liked Marriott because you have access to lounges at mid-tier versus needing higher tiers like at other hotel brands."
And now that Marriott has joined forced with SPG hotels, your status is worth more — at both hotels.
Best Travel Credit Card
Chase Sapphire Reserve
This credit card is made for frequent, business travelers. We're talking about no international fees, points add up quickly, trip insurance, extended warranties, auto coverage for rental cars. For every $1 spent on travel and dining expenses, you get 3 points back, meaning your points add up quickly.
Oh, and you get free Priority Pass membership, and Executive Emerald Club level for National Car. Downside is the hefty annual fee of $450.
Chase Sapphire Preferred
NerdWallet listed Chase Sapphire Preferred with its 2 points on every $1 spent on travel and dining expenses, and no foreign transaction fees — plus great travel insurance — makes this card a winner for a small annual fee of $95.
Other top mentions were United MileagePlus Visa and Southwest Visa.
Travel Apps
Keep track of those miles and hotel points you're racking up with this AwardWallet. Finally, see all your points and miles from travel loyalty programs in one place.
One app for all your travel needs and reservations. This app comes in two versions: free and pro.
Pro version features real-time flight alerts, including which gate your plane is departing from, and find out when a better seat is available on your flight. This app keeps you organized, no matter how tight you are on time. Speaking from personal experience, it makes you look like an airline god.
Order a car and know the exact fare ahead of time. Need I say more? Uber is your new best friend for business travel.
Track your flight with a live tracking map, flight delay notifications, and airport delays. Or just use the site to see when Harrison Ford makes aviator news as he pilots his plane.
Mike says, "This app is great for watching your flights and getting info on the planes (so you can look up the seating chart)."
App for your fav hotel and frequent flyer airline
Jared says, "It's a lot better to know what gate you're going to without having to look at a departure board. If your flight changes or if there is a delay, you'll get a notification sometimes before the gate announces it."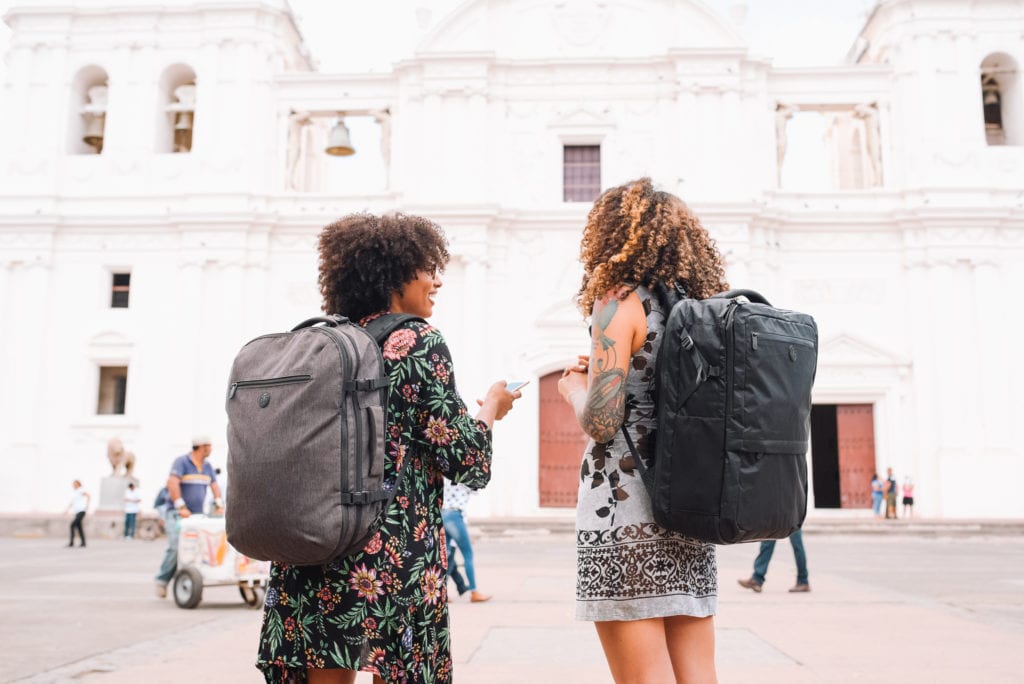 Business Travel Tips
Knowing the little hacks to make a travel day flow more smoothly, or your time in a hotel in a strange city feel more like home, makes a big difference in how enjoyable business travel can be. In addition to choosing the right gear, experienced business travelers recommend the following:
Flight Tips
With thousands of miles of butt-in-a-plane-seat, business travelers excel at the fine art of flight travel.
Here are their best tips:
Get Airline Status
"Collect your points and get status or sign up for a credit card that gives you status," says Jared who works at a large banking risk management company. He traveled about 60,000 miles in 2016.
"Status allows for priority boarding, upgraded seats. If flights are delayed, you tend to get better service on a dedicated phone line with a smaller wait time."
Be Prepared
When booking your flight, be aware of what days you're flying.
"I feel that picking your flight time and day of the week you're flying is important," says Kris. "Avoiding Mondays and Thursdays or Fridays, and flying later in the afternoons, will get you the best flights because the business travelers tend to fly those days the most."
Window or aisle seat is an ongoing debate for travelers. Whichever one you prefer — I like the window, thanks — a good seat makes all the difference on a flight. With your airline status, you'll have the option to pick your seat.
"Get status and maintain it," says Mike, an economist who traveled frequently at his last job with Deloitte. "So you can board first and ensure overhead space, keeping space open for your legs under the seat in front of you. On long flights, sit in the exit row so you have lots of room. On shorter flights, sit as close to the front of the plane as possible so you can get off first."
Next, pack the essentials for your flight.
Kris brings:
Eye mask
Noise canceling headphones
Inflatable neck pillow to avoid uncomfortable neck cramps
Don't forget to have your electronics charged before boarding to squeeze in some extra working time.
If You Check a Bag…
Pack a small personal item with all your essentials, in case your checked bag is misplaced.
Jennifer Deane, who traveled for her last job at EMSI, recommends stocking this small carry on — like a briefcase or daypack — with your laptop, snacks, contact case and/or glasses, phone chargers, makeup, and any medications. In the event your checked bag doesn't arrive at your destination, you'll be a-okay.
Hotel Tips
When you spend a lot of time on business trips, your hotel room is your home away from home.
Get the Hotel App
Many hotels have smartphone apps, and these apps are a must-have business travel gear.
"Get the app on your phone, make check-in a lot quicker and easier," says Jared. "I stay at Marriotts whenever possible. Once you get status with them, you have your own check-in line. So you can bypass everyone else."
Prep the Night Before
Kris says, "Getting everything ready the night before is a godsend for me. Sometimes, I'm not able to do this. But when I can, I try to steam all of my clothes, setup my bathroom items as soon as I get in my room. This is a time-saver for the mornings when you're running late. Plus, you get to sleep in a little longer."
Ah, Hotel Status
Sense a theme for business travelers? Attaining status with loyalty programs. Get status and maintain it so you get room upgrades. Or have the spine-tingling power to select your own room.
Mike says, "If you're staying in a big city with tall, narrow elevators (like NYC) and you don't get an upgrade (or don't care) to have a high floor/view room, request a lower floor so you're not dependent on old, slow elevators. If you're dependent on them, you may be waiting 10 minutes for a ride down/up during busy times."
Small Details
These are the small things that make a hotel stay more pleasant.
For Rachel Garcia, marketing manager at infoedge LLC and founder of Leafy Tamale, her small details are early check-in and late check-out.
"This gives yourself time. Take advantage of the hotel amenities that are free. Commit to a hotel brand and stay consistently at it so you earn points and can utilize these for perks and discounts."
For Jennifer, it's about a relaxing view at the end of a long day.
"Make sure you're not booked on the ground floor. A nice view can be super relaxing after a hard day, especially if it's relatively close to something touristy or relaxing you can do in your free time like a river walk or a sushi bar."
Travel Day Strategies
Dressing well, for comfort and style on a travel day, as well as packing your sense of humor are two keys to a smooth travel day. Think ahead and plan for the details.
Look Your Best
Borrow a page from the celebrity's playbook is Mike's tip.
"Dress up when you travel, not just to not wrinkle your suit, but because you'll look good and people will treat you better. Seriously, a suit jacket with nice jeans makes you look like an important person. Even if it's not as comfortable as sweats. The suit jacket's inside pockets are way more convenient for putting stuff in than your pant pockets while sitting down on a flight."
Keep Your Cool
After 145,000+ miles of travel in two years, Kris is pragmatic: "Don't get frustrated with air travel! Things happen, planes get delayed. Don't lose your cool. Be friendly with everyone when you travel. Traveling can bring out the worst in all of us. A little bit of kindness will go a long way,"
Gate Agents = Your New Friend
Mike's approach is more hands-on.
"If you have a tight connection, you can ask the gate agent at the departing flight before the tight connection to put you on a backup flight in case you miss your connection. You will have to check into the backup flight if you miss your flight. Typically, you can do that on your mobile app or with the gate agent at the connecting airport."
Keep Vital Items Close
If you checked your bag, Jennifer recommends bringing a small overnight bag in your carry on. "In case, your flight is cancelled or delayed so you don't have to sleep in a weird hotel, naked, with your day-old contacts."
Select your business travel gear wisely to make your next business trip a raging success. Our recommendations are:
What is your best business travel gear recommendation?