Caribbean Packing List: A Vacation Packing Checklist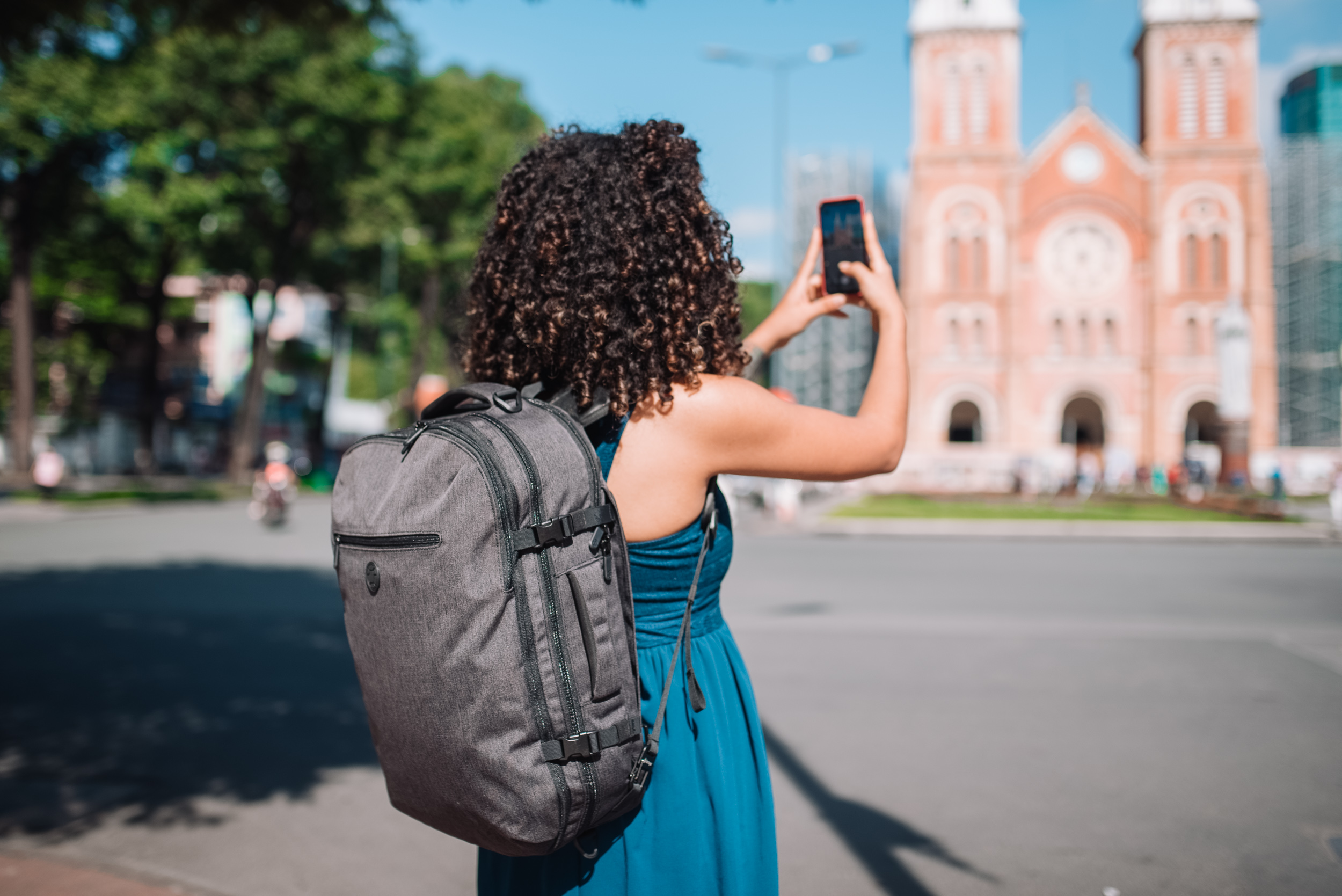 You've chosen your destination, updated your passport and you're ready to go – now what? If packing feels overwhelming, don't worry; we've got you covered.
I grew up in New York. As soon as Labor Day hit I was planning my winter escapes which often took me to the islands in the Caribbean Sea for glistening blue water, a much needed winter hit of vitamin D, friendly people, delicious food and miles and miles of sand beneath my very pale toes. The minute I arrived I felt a weight lift, my blood pressure slowed and my mood lightened – the medicine of the Caribbean had worked its magic once again.
Vacation Packing Checklist for the Caribbean
Clothing is not optional, but how much you take with you is. Put your minimalist hat on to pack your bag and know that you can always do laundry mid-trip if you need to. Consider packing a capsule wardrobe with times of coordinating colors that are lightweight, and quick dry. Add a couple of carefully chosen accessories to add flexibility and flare to your wardrobe. Pack for a blend of outdoor activities, beach days, and evenings out. In the Caribbean, comfort and casual are key.
Here's what to pack:
Pack it all in a 35 L travel backpack for ease of carry on your travel days. Go with a 45 L, the maximum size allowed for carry-on on most flights, if you want to be sure you have a little extra room to bring some souvenirs home too.
Toiletries to Pack for the Caribbean
Remember these things when you are packing toiletries for the Caribbean:
Less is more
You can buy everything you need there
If you're flying, every item must be 3.4 oz (100ml) or less and fit inside your quart sized plastic zip top bag
Choose eco-friendly and reef safe items if you're going to be in the water.
Here's what to pack (or buy) for the Caribbean:
Small package of tissues
Small package of baby wipes
Shampoo/conditioner
Toothpaste/toothbrush
Shaving needs
Contact lens/solution
Hair products/accessories
Bug spray
Baby powder/cornstarch (for easy sand removal)
Aloe
Pack a First-Aid Kit for the Caribbean
When my Caribbean holidays took place in December or February, I was bound to have some sort of winter bronchial something going on in my lungs. Often my first aid kit contained throat lozenges, allergy everything and there was a pack of tissues in every available space I could find.
If you take prescription meds, pack them (and a copy of your prescription). If you're prone to stomach issues, get your over the counter favorites and throw them in. If you're the type of traveler who no matter how hard you try to stay away, you come in every night covered with mosquito bites, carry some anti-itch cream No one wants to be ill on their holiday but, if minor illness strikes, you can whip out your pre-planned pack and save the day.
Your own personal medication essentials plus EpiPen if necessary
A copy of your prescriptions
Over the counter items: Imodium, Benadryl
Allergy meds, asthma inhalers, eye drops, and mask if necessary
Hand sanitizer
Anti-itch cream for bug bites
Bandaids, neosporin
Mints to aid digestion and upset stomach
Essential oils/travel diffuser for wellness regimen
Pain reliever
After-sun gel/aloe
Safety pins and tweezers
Ace bandage
Electrolyte tablets/oral rehydration sachets
Having that small first aid kit with you can help in emergencies. Remember to stay hydrated, get your share of vitamin D, and be sure to give your body the rest it needs.
What to Pack for a Flight to the Caribbean
When you're packing your personal item for your flight, make sure to include all of your travel day necessities. Pack them into the daypack you'll use for the rest of your trip and get them organized well before you're standing in the aisle of the aircraft. Don't be that person who's holding up the whole boarding process.
Here's what to pack in a personal item:
Wallet & ID
Passport/visas/travel documents
Change of clothes – including swimsuit (especially if you're checking luggage)
Medications
Gum or mints
Lip balm
Unscented antibacterial wipes
Empty reusable water bottle
Scarf, pashmina, travel towel or travel blanket
Make-up
Toothbrush
Tissues/handkerchief
Smartphone & charger
Portable battery pack & connectors
Camera & lens, charger and accessories
Lacrosse, tennis ball or any other therapeutic equipment necessary for in-flight muscle release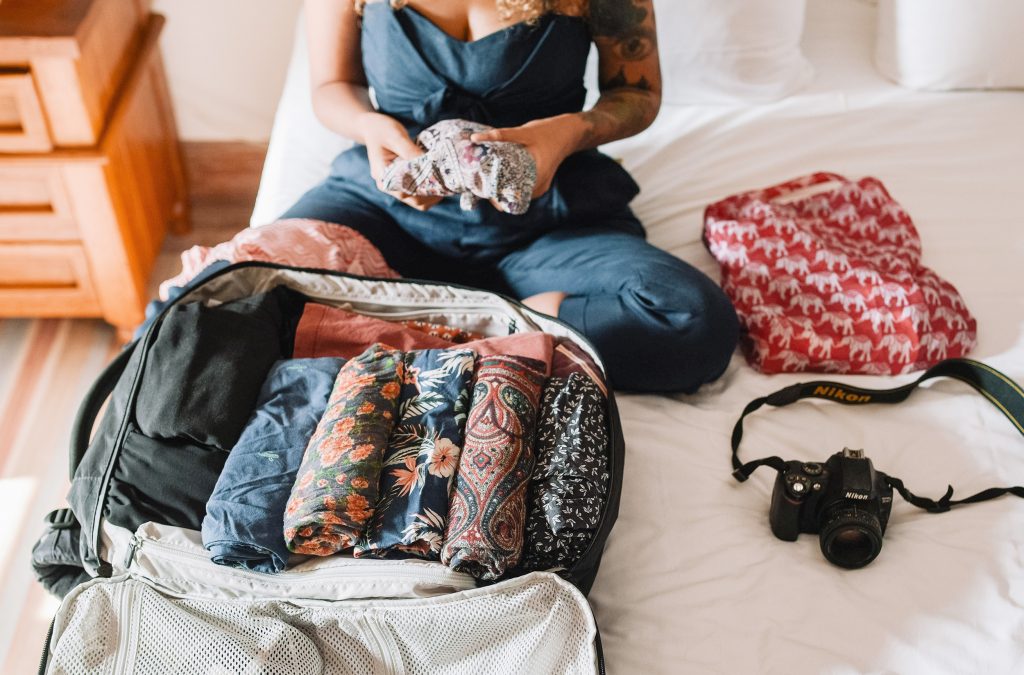 Extras to Pack for the Caribbean
Somehow or another, you've managed to get all of your must haves into your bag and there's still some extra room. Do you leave it empty with the thought of souvenirs or local purchases? Or, do you decide that those extra goodies that might make that weekend trip to Havana all that more enjoyable get to come along for the journey?
If you've got some extra space you might consider packing:

Rain jacket, poncho or travel size umbrella (especially if visiting during the rainy season
Travel journal and writing implements
Books/magazines/Coloring books/colored pencils
Travel pillow, ear plugs and eye mask
Extra layers
Money belt or small travel wallet
A book
Each individual has their own needs. I always pack a couple of books, a yoga magazine, and a travel yoga mat. My friend Kaity isn't leaving home without her favorite lightweight scarves. My hiking friends are bringing their own collapsible trekking poles and my boardwalk buddies aren't going anywhere without their surfboards – to each their own.
These extra goodies make our travels as unique as our own stories. These are the things you can totally manage without but having them there makes the journey that much sweeter.
Tech to Pack for the Caribbean
In short: Less is more. If you can do without it, do without it. Give yourself the gift of a totally unplugged beach vacation if you can. If not, think carefully about what you really need and keep it to a bare minimum.
Phone & charger
Laptop & charger
Converters or adapters (if necessary)
E-reader or tablet & charger
Camera, charger & memory cards
Headphones & chargers
If you're working on your trip, you'll probably need to bring a little more tech than if this is truly vacation. However you're managing your work/play balancing act, be sure to breathe, enjoy and make the most out of all of your Caribbean adventures.
Some Caribbean Islands to Explore
What to Pack for a Caribbean Cruise
I've cruised to the Caribbean a few times – once with family, the second on my first 'solo' travel journey, and another with friends. The people were always friendly, the crew awesome and the entertainment, well, entertaining.
Some people take a cruise because they like the ease of stopping many places without having to pack and unpack in a new hotel room each night. Others choose a cruise because it's the easiest way to ensure a worry free vacation; all the bases are covered. Or, perhaps the concept of literally being in the center of the foamy waves is the best thing you can possibly think of. Whatever the reason, cruising can be a great way to see the Caribbean.
When Choosing a Cruise Think About the Details:
Choose your travel company as well as the individual ship
Check out the destinations and available optional excursions
Read reviews: some ships are geared more towards groups, singles or families
Follow a few cruise gurus and blogs for extra expert advice
Whenever possible, book the excursions you really want ahead of time
Always ask for discounts (you never know what rewards are available unless you ask)
If you have any food allergies, call ahead to be sure your needs can be met
Keep your valuables on your person or in the available safe at all times
Know the generic names of your medications and carry your prescriptions
Remember to tip the staff at the end of your journey
Consider packing a formal outfit for evenings on the ship
Pack for motion sickness: bring sea bands or ginger chews
Choosing an All-Inclusive Caribbean Resort
I can proudly say that I have enjoyed each all-inclusive I've tried. Whether it was the giant of Club Med (like in Turks and Caicos and Martinique) or those lesser known local ones (like in the Dominican Republic). There is something for everyone. Don't feel obligated to do it all; it's your vacation.
Not all all-inclusives are the same; a little bit of research is required to find yours
Check reviews and read the fine print before booking
If you have any food allergies, call ahead to be sure your needs can be met
Check out available activities in advance and book any necessary ones upon arrival
Remember to tip the staff at the end of your journey
Be prepared to join things; you never know who you'll meet over on the next lounge chair
Learn a new skill – give those lessons you've been yearning for a try
What to Do & When to Go to the Caribbean
The Caribbean is calling… you must go! You feel it in your bones, you've been dreaming of it forever and you've finally booked the ticket. Now the logistics take over, research begins and packing takes shape – what on earth do you do first?
Research the Options
Are you looking to relax on white sandy beaches or is cave exploration your thing? Are you aiming for your dive certification or does sailing the seas sound more your speed? Want to spend some time rejuvenating alone or does an all-inclusive call your soul?
Safety, Weather & High Season in the Caribbean
Although we'd like to think the only necessary details are whether a passport is up to date and the procurement of travel insurance, there are a few other tidbits of information to check into before choosing your destination and heading off to enjoy the awaiting Caribbean sunshine.
Check with the CDC or WHO
Mosquito borne illnesses are an issue in much of the Caribbean. Pack bug spray but also check to make sure you don't need something more substantial. Be sure your vaccinations and meds are up to date before you land.
Extreme weather events happen more often these days. Sure, some you can't prepare for, but knowing when hurricane season is, and whether your probable destination is often affected by it, is something you CAN control. Be sure to purchase travel insurance.
People who live in cold climates flock the Caribbean during the winter. Check the island of your choice and their peak season for travel before you book. You can save some money by booking during shoulder seasons, which often still have great weather.
Think About Safety
Hurricanes happen, recovery is long-lasting, and safety should always be a consideration Get a bit of knowledge on each island's current situation before booking. Wherever you end up exploring, be sure you know how to get help if necessary.