As long as everything fits in a carry on, you're good. Right? Not necessarily.
Everyone knows about carry on size limits. But airlines have carry on weight limits too.
You can easily overstuff a carry-on-sized bag. The weight of a laptop, book, and an extra pair of shoes adds up quickly.
Airlines' carry on weight rules vary even more than their size rules do. Air China allows carry on bags up to 11 lbs, while Frontier Airlines allows bags up to 35 lbs. Always check with your airline before flying.
The most common weight limits are 15 lbs (6.8 kg), 18 lbs (8 kg), or 22 lbs (10kg). Aim for 15 lbs.
If you can pack light, do it.
Packing light is hard. Let's discuss some of our favorite strategies for keeping the weight of your carry on within airline limits.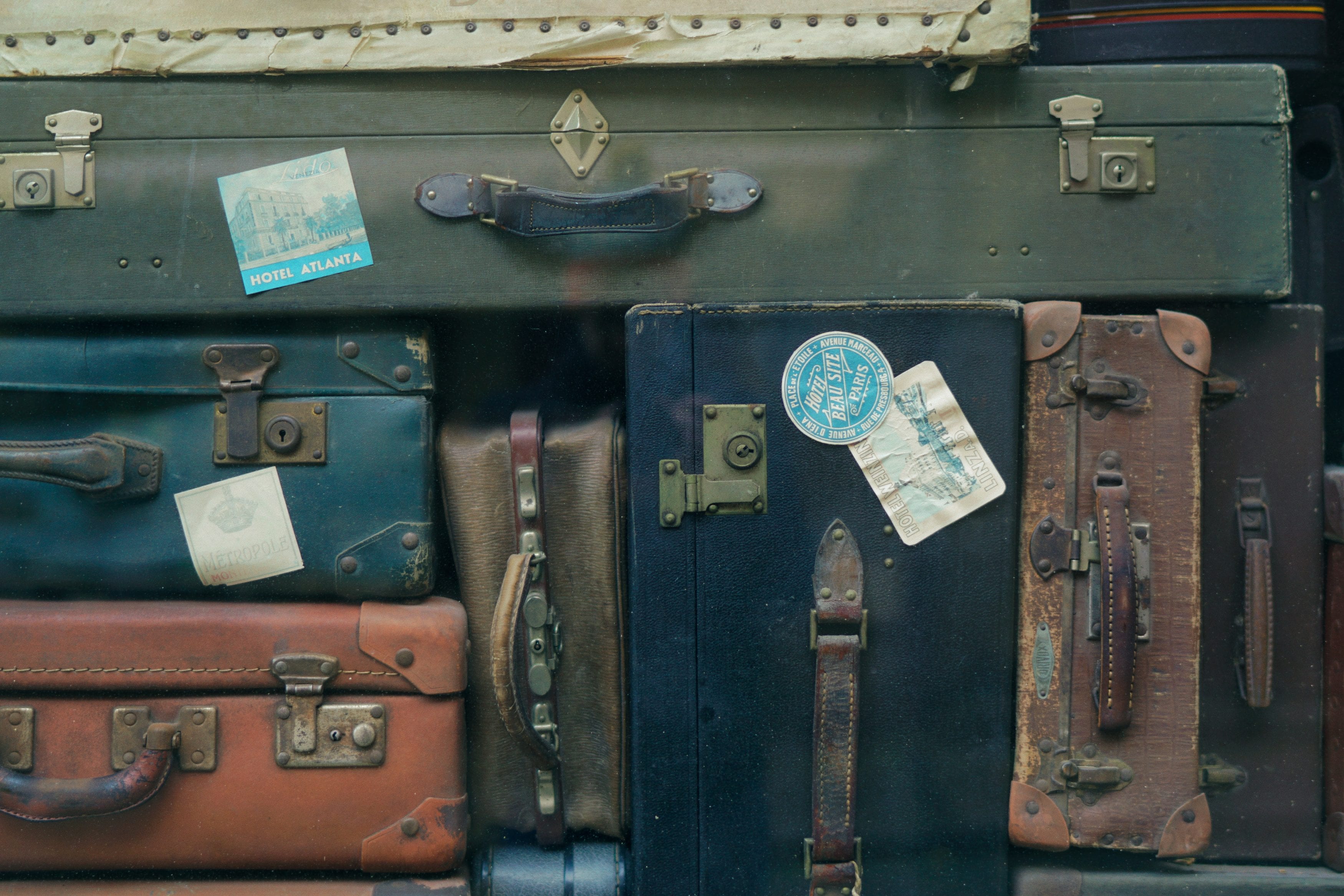 Airline Carry On Weight Limits
Carry on weight limits (and dimensions) vary by airline and sometimes change without warning. Be sure to check the baggage restrictions for your specific airline before you fly. This is particularly important if you are flying a budget airline or booking a discount ticket through a major airline.
European Airlines
Weight limits for carry on luggage vary greatly on European airlines. When you look at their websites, they're likely to list the weights in kilograms. Here they're converted to pounds.
British Airways: 51 lbs
Lufthansa: 17.6 lbs
Air France: 12 lbs
KLM: 12: lbs
Ryan Air: 22 lbs
Iceland Air: 22 lbs
WOW Air: 26 lbs
Vueling: 22 lbs
Eurowings: 17.6 lbs
 Aer Lingus: 22 lbs
Iberia: 51 lbs
Norweigian: 22 lbs
North American Airlines
If you're flying a North Amerian airline and you choose to book one of the discounted budget or super economy fares, pay attention to the change in baggage allowance. That's often where they get you at the last minute and slap you with an unexpected (and high) baggage fee at the gate.
American: none stated
Delta: none domestically
United: none stated
Air Canada: 22 lbs
West Jet: "Light enough to lift into overhead bin"
Jet Blue: none stated
Southwest: none stated
Alaska: none stated
Aero Mexico: 22 lbs
Spirit Airlines: 40 lbs
Continental: none stated
Hawaiian: 25 lbs
Notice something about North American airlines? Most of them don't have a specific weight limit for carry on luggage. As long as you can lift it into the overhead bin, you're fine. But, what they do have is a size limit. Those vary too, but the standard is 45 linear inches, which breaks down to bag dimensions that are 22 x 14 x 9in.
Be sure to check with your individual airline and don't make assumptions! Assumptions get expensive.
Get a Luggage Scale
Buy a scale so that you aren't playing luggage roulette. Show up to the airport knowing exactly how much your luggage weighs. Don't wait for the ticketing agent to tell you it's overweight and must be checked.
With a luggage scale, you can weigh your bag as you're packing so you know if you need to make any changes.
I use a $20 Balanzza digital luggage scale. This scale is more expensive but also more accurate than the cheap, analog scales.
Buying the scale is cheaper than checking a bag once. It will more than pay for itself every time you fly.
That is a great return on investment.
Carry Lightweight Luggage
Don't forget your backpack's weight. Before you pack anything, you're already carrying a few pounds.
Carry a bag that weighs 20% or less of your airline's weight limit. Look for travel backpacks that weigh 3.0-5.1 pounds at the most. Lighter is better as long as you aren't sacrificing quality and durability.
This rule will exclude most wheeled suitcases and backpacks. The plastic wheels and handles use up too much of your weight allowance.
Wheeled, hybrid backpacks are lighter than suitcases but still weigh 4.5-8.5 lbs (2-4 kg).
You would be wasting 20-40% of your carry on weight allowance just on your bag. Good luck packing it for more than a day or two without tipping the scales.
Wear Your Heaviest Clothes
If it's heavy, wear it. Don't pack it.
Wear your heaviest clothes onto the plane, even if you aren't cold. Wear your coat then stash it in the overhead bin. If you pack your coat, it counts against your weight allowance. If you wear your coat, it doesn't.
As Brooke told women trying to pack light: wear it all at check in.
The same rule applies to shoes. Wear the heaviest pair of shoes that you're bringing.
Wear your boots, pack your sandals.
Depending on where you're traveling from and to, you might look silly all bundled up on the plane. Don't worry, most people dress for a flight like they're going to a sleepover. You won't look as bad as they do.
Leave It Behind
You'll find that some absolute must haves are easier to buy when you land than to carry with you. Toiletries fall into this category. You can find all the basics that you need at your destination.
On longer trips, you don't need to pack extra socks and underwear. Just find a local laundromat or wash-and-fold. Washing clothes is cheaper than checking luggage.
I had a week's worth of clothes laundered for me in notoriously expensive Hong Kong. The price: $3.87. Or you could spend $25 to check a bag and lug around more clothes. Your call.
Read our post on what not to pack for how to downsize your electronics and other examples of what to leave behind.
Swap Out Heavy Items for Lighter Ones
Reducing weight doesn't always have to mean subtracting gear. You can also substitute lighter alternatives.
Take a second look at your packing list.
What can you swap out for a lighter-weight alternative?
Swap out a book for a Kindle. (Confession: I still carry physical books.)
If you won't be working, swap out your laptop for a tablet or smartphone.
You should already be wearing your heaviest shoes like boots of sneakers. If you're packing a second pair, bring the lightest ones you have.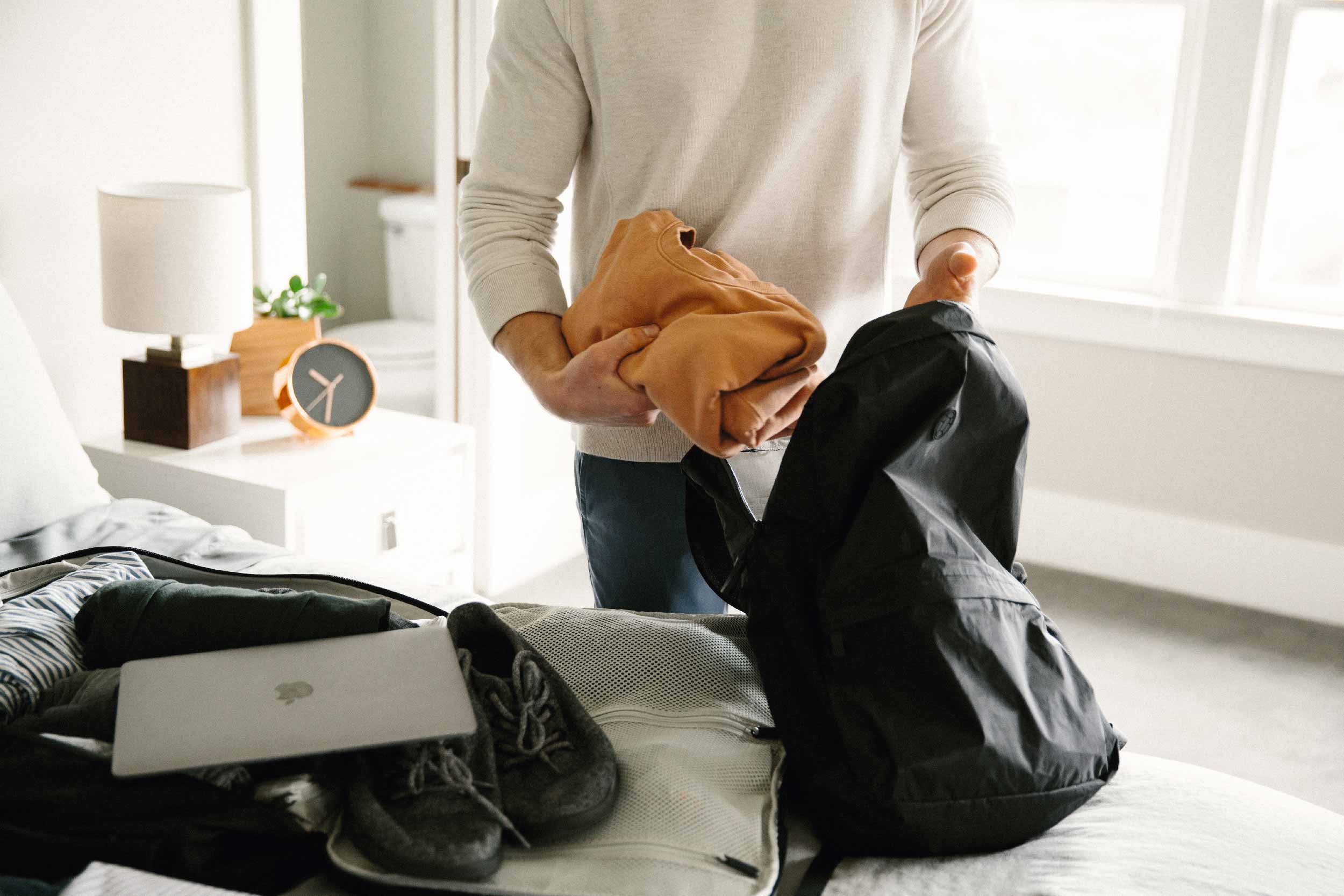 Distribute Weight in Your Personal Item 
Most airlines don't publish specific rules for personal items, the extra bag that you're allowed to carry onto a plane. The most common guideline is that your personal item should fit under the seat in front of you.
Your personal item should be a purse, messenger bag, laptop bag, or small daypack. Think "bag" or "pack," not "luggage."
Pack your personal item to your advantage. Pack your heavy electronics or books there to keep the weight of your main pack down. Use your main bag for your comparatively light clothes and toiletries.
The ticketing and gate agents probably won't weigh your personal item. Use it to do your heavy lifting.
For more details, read our guide to personal items.
TL;DR
Buy a luggage scale so that you know how much your luggage weighs while you're packing. Make sure that your luggage itself is light. The heaviest items on your packing list should be swapped out for lighter ones, worn onto the plane, packed in your personal item, or left behind altogether.
How else do you lighten your load to keep the airlines happy? Share your advice in the comments.
Want more like this?
Get weekly gear reviews, travel hacks, and packing tips sent straight to your inbox. As an added bonus, we'll send you a carry on packing list right away.