Your Guide to Carry On Weight Limits (and How Not to Exceed Them)
The Tortuga Promise
At Tortuga, our mission is to make travel easier. Our advice and recommendations are based on years of travel experience. We only recommend products that we use on our own travels.
As long as everything fits in a carry on, you're good. Right? Not necessarily.
Everyone knows about carry on size limits. But airlines have carry on weight limits too.
You can easily overstuff a carry-on-sized bag. The weight of a laptop, book, and an extra pair of shoes adds up quickly.
Airlines' carry on weight rules vary even more than their size rules do. Air China only allows carry on bags up to 11 lb, while British Airways and Aeroflot allow bags up to 51 lb.
The most common weight limits are 15 lb (6.8 kg), 18 lb (8 kg), and 22 lb (10kg), but you should always check with your airline before flying.
In this article, we'll outline the carry on weight limits by airline and then give some advice on packing lighter. The goal is to bring everything you need in a travel backpack while still being able to carry it comfortably.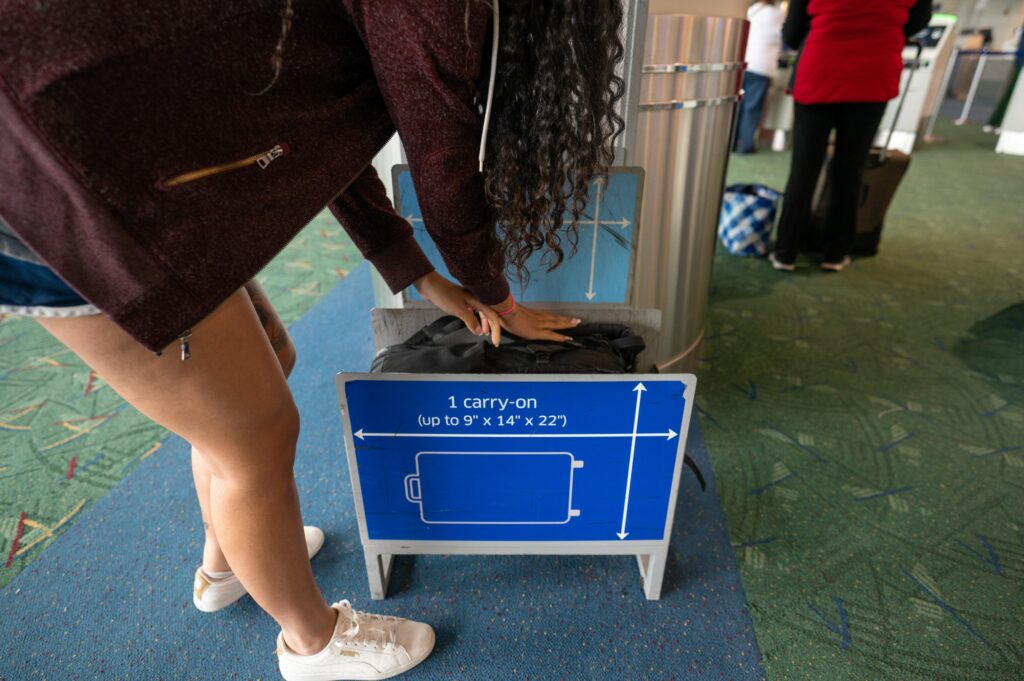 Carry On Luggage Size Guides
First, the basics. Your carry on luggage is the main bag that you bring onto the plane and store in the overhead bin. You may have also heard it called hand luggage or cabin luggage, especially in Europe. Most people carry a suitcase, backpack, or duffel bag as their carry on luggage. Size limits vary by airline and region so check the size guide below before flying.
A personal item is the secondary bag that you bring onto the plane and store under the seat in front of you. Personal items include purses, laptop bags, messenger bags, totes, or anything else that can fit comfortably in the space under the seat. The rules for personal item sizes are even more confusing than those for carry ons, so use the size guide below for reference. Note that most airlines don't specify weight limits for personal items, so we won't be covering those in this post.
Tortuga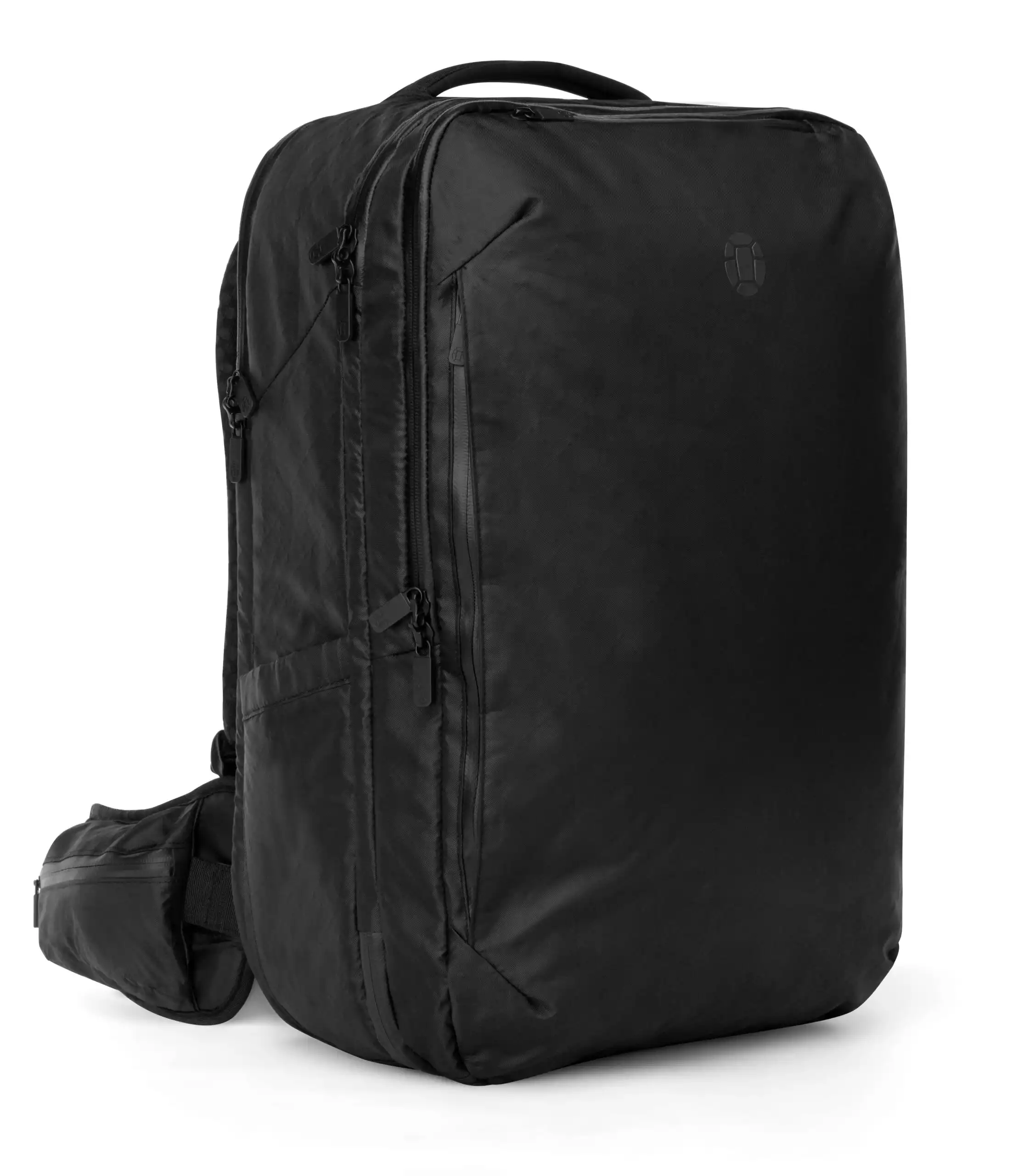 The Best Carry-On-Sized Backpack
The Travel Backpack by Tortuga was designed with airline carry on limits in mind. You'll find it in two sizes: 40L to max out the US carry on limits and 30L to max out the international limits.
Whether you pack light or load it up, you'll be able to carry an Travel Backpack comfortably. The height-adjustable shoulder straps adjust to your body for the perfect fit. The padded straps and weight-bearing hip belt take 80% of the weight off of your shoulders and onto your hips. This allows you to carry your bag with your stronger leg muscles and avoid any back, neck, or shoulder pain.
Carry On Luggage Weight Limit by Airline
Carry on weight limits vary by airline and sometimes change without warning. Be sure to check the baggage restrictions for your specific airline before you fly. This is particularly important if you fly a budget airline or book a discount ticket through a major airline.
If you're flying a North American airline and you choose to book a low-cost, basic economy fare, pay attention to the change in baggage allowance. That's often where they get you at the last minute and slap you with an unexpected (and high) baggage fee at the gate.
American Carry On Luggage Weight Limit
¹ "[I]ncludes one piece of carry-on baggage and one personal item weighing a maximum of 10 kg (22 lb) between them (except on domestic flights)"
² "Singapore, Singapore – Changi International Airport (SIN) carry-on should not exceed 15 lbs. (7 kg); Beijing, China – Beijing Capital International Airport (PEK) Civil Aviation Administration of China (CAAC) requires that domestic hand carry bags should not exceed 10 kg. Individual carrier rules apply for international flights. Shanghai, China – Pudong International Airport (PVG) carry-on should not exceed 22lbs. (10 kg)"
Tortuga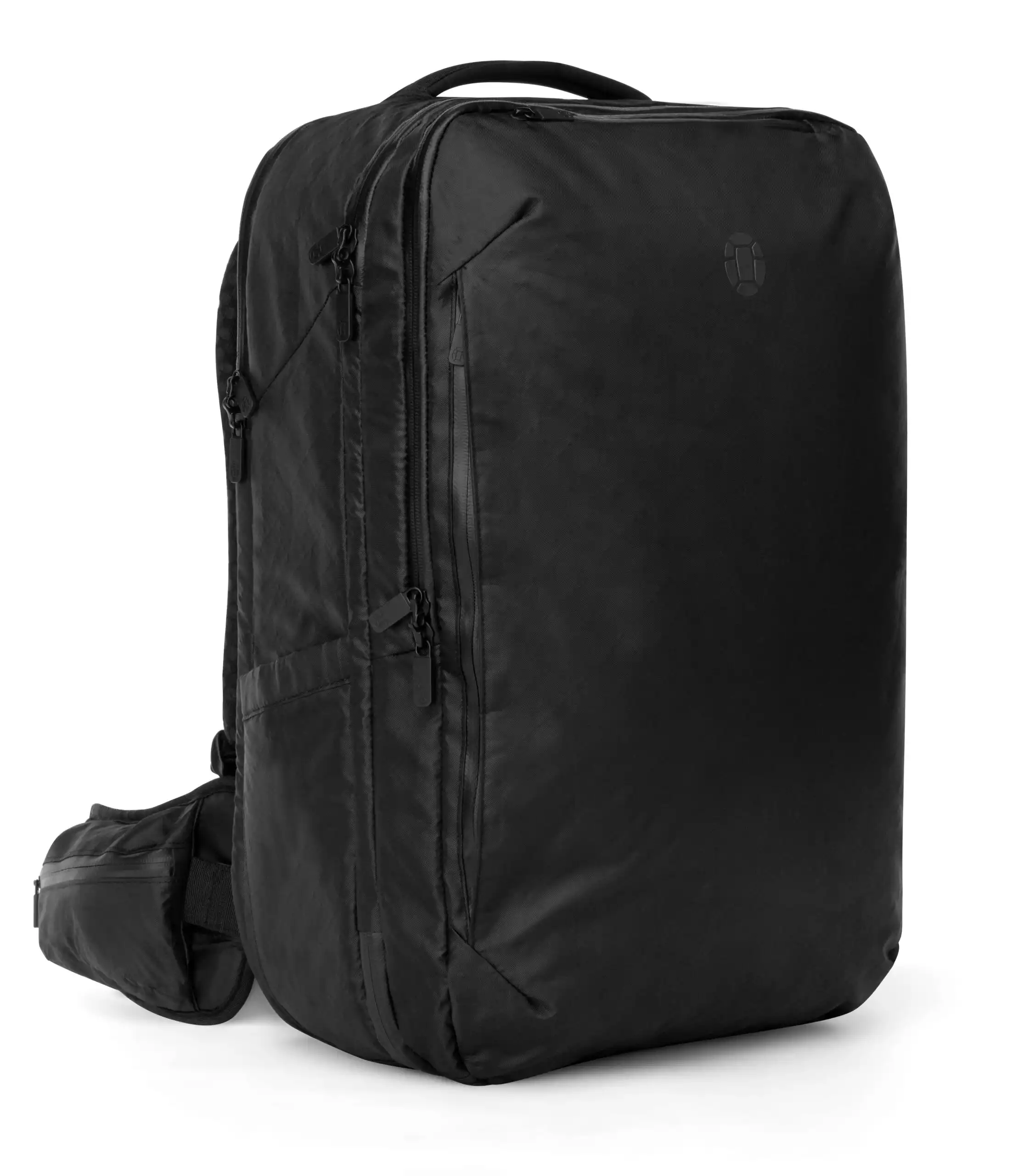 European Carry On Luggage Weight Limit
¹ The weight limit is for the combined weight of a carry on plus a personal item.
Asian Pacific Carry On Luggage Weight Limit
¹ The weight limit is for the combined weight of a carry on plus a personal item.
Middle Eastern Carry On Luggage Weight Limit
Worldwide Carry On Luggage Weight Limit
| | | |
| --- | --- | --- |
| Type | Carry On Weight (lb) | Carry On Weight (kg) |
| Minimum | 11 lb | 5 kg |
| Maximum | 51 lb | 23 kg |
| Median | 18 lb | 8 kg |
| Mode (most common) | 22 lb | 7 kg |
How to Stay Within Carry On Luggage Weight Limits
Carry Lightweight Luggage
Don't forget your backpack's weight. Before you pack anything, you're already carrying a few pounds.
Start by carrying a bag that weighs 20% or less of your airline's weight limit. Look for travel backpacks that weigh 4.4 lb at the most. That's 20% of the common 22 lb weight limit. Lighter is better as long as you aren't sacrificing quality, durability, or comfort.
This rule will exclude most wheeled suitcases and wheeled backpacks. The plastic wheels and handles use up too much of your weight allowance.
Wheeled, hybrid backpacks are lighter than suitcases but still weigh 4.5-8.5 lb (2-4 kg).
You would be wasting 20-40% of your carry on weight allowance just on your bag. Good luck packing it for more than a day or two without tipping the scales.
Get a Luggage Scale
Buy a scale so that you aren't playing luggage roulette. Show up to the airport knowing exactly how much your luggage weighs. Don't wait for the ticketing agent to tell you it's overweight and has to be checked.
With a luggage scale, you can weigh your bag as you're packing so you know if you need to make any changes.
I use a $20 Balanzza digital luggage scale so that I can accurately weigh our backpack samples during product development. But any cheap luggage scale on Amazon should work well enough for most travelers.
Buying the scale is cheaper than checking a bag once. It will more than pay for itself every time you fly.
That's a great return on investment.
Wear Your Heaviest Clothes
If it's heavy, wear it. Don't pack it.
Wear your heaviest clothes onto the plane, even if you aren't cold. Wear your coat then stash it in the overhead bin. If you pack your coat, it counts against your weight allowance. If you wear your coat, it doesn't.
The same rule applies to shoes. Wear the heaviest pair of shoes that you're bringing.
Wear your boots; pack your sandals.
Depending on where you're traveling from and to, you might look silly all bundled up on the plane. Don't worry. Most people dress for their flight like they're going to a sleepover. No one will notice what you're wearing.
Leave It Behind
You'll find that some absolute must-haves are easier to buy when you land than to carry with you. Toiletries, for example. You can find all the basics that you need at your destination.
You don't need to pack extra socks and underwear on longer trips. Find a local laundromat or wash-and-fold, or use a sink or bath tub. Washing clothes is cheaper than checking luggage.
I had a week's worth of clothes laundered for me in notoriously expensive Hong Kong. The price: $3.87. Or you could spend $25 to check a bag and lug around more clothes. Your call.
Swap Out Heavy Items for Lighter Ones
Reducing weight doesn't always have to mean subtracting gear. You can also substitute lighter alternatives.
Take a second look at your packing list.
What can you swap out for a lighter-weight alternative?
Swap out a book for a Kindle.
Swap out your laptop for a tablet. Or a smartphone. Or nothing.
You should already be wearing your heaviest shoes, like boots or sneakers. If you're packing a second pair, bring the lightest ones you have.
Distribute Weight in Your Personal Item
Your personal item should be a purse, messenger bag, laptop bag, or small daypack. Think "bag" or "pack," not "luggage."
Most airlines don't publish weight limits for personal items. So load it up.
Pack your personal item to your advantage. Pack your heavy electronics or books in your personal item to keep the weight of your carry on down. Use your main bag for your lighter clothes and toiletries.
The ticketing and gate agents probably won't weigh your personal item. So take advantage of it for your particularly heavy items.
Tortuga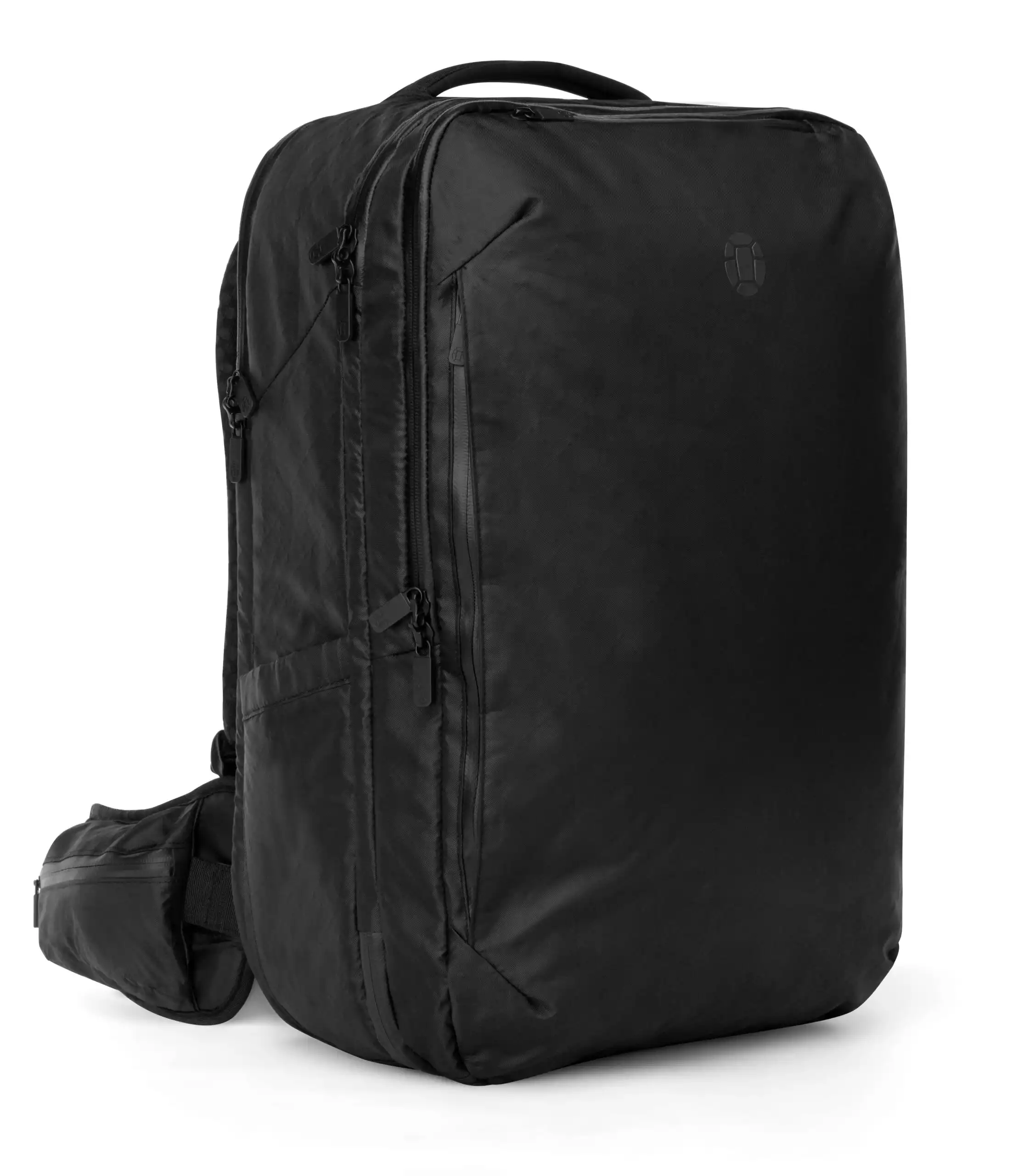 Conclusion
Check your airline's carry on weight limits before you fly. Most likely, you'll be able to carry 15-22 lb. Choose a travel backpack that weighs 20% or less of that limit so that you'll have 80% of the limit for your stuff. When you start packing, remember to wear your heaviest stuff or put it in your personal item. Then swap out or leave behind anything else heavy.