What to Pack for China: A Packing List by Season and Region
The Tortuga Promise
At Tortuga, our mission is to make travel easier. Our advice and recommendations are based on years of travel experience. We only recommend products that we use on our own travels.
You, my friend, are lucky. Why? Not only because you're clearly planning for a grand adventure in China (one of the world's most interesting and rapidly developing countries), but also because you're on the right side of sweat-wicking technology's prevalence in our everyday lives.
Seriously.
The seasons are drastic across China, and a wise traveler knows to be prepared for any curve ball (or snowfall) mother nature throws their way. It doesn't take a modern-day Confucius to figure out what to pack for China. Here's everything you need to know to start the adventure from the moment you begin to pack your bags.
Basic China Packing List
No matter your preferred dumpling flavor, season of travel, or Chinese destination, you'll want to start with the right luggage.
Travel Backpack
A travel backpack is the perfect type of luggage for travel in China as it allows for maximum flexibility across a wide range of modes of travel and terrain.
The Outbreaker Backpack is a fully-featured backpack for organized travelers. With lots of pockets and compartments, there is a place for everything you need. The adjustable height harness and waterproof sailcloth construction make this bag a comfortable carry that's ready for anything your travels throw at you.
The Essentials
Passport copies
Other form of ID, such as a driver's license
Guidebook
ATM/credit cards
Emergency cash
Inflatable neck pillow + ear plugs (Optional)
A durable pair of chopsticks (Optional)
Electronics
Plug adaptor
Convertor (for hair appliances)
Alarm clock — your cell phone, a watch, or an actual bedside clock will do
All necessary chargers
A digital camera that can take good photos at night (Optional)
Portable recharger (Optional)
An iPhone loaded with an offline Translator App, currency converter, phrasebook, copies of passport and travel docs, insurance card, contact info for friends, etc.
An iPad loaded with books, magazines, games, movies, etc.
Be sure to read our tip on electronics below to ensure you can scale the "Great Firewall" of China — aka the difficulties in accessing some of your favorite websites.
Clothing
Pack sweat-wicking materials whenever possible and remember that quick dry fabrics are your friends. You'll find washers, but rarely driers in China and, depending on the climate, getting things dry can be a challenge.
Pants – 3 pairs of comfortable bottoms, one dressier
Shorts – 1-2 pairs
Short sleeve shirts – 3-5
Long sleeve Shirt – 1-2 casual or dress shirts
One "nice" outfit
Fleece jacket or hoodie
Underwear – 3-4 pairs, ideally travel underwear
Socks – 4-6 pairs
Jackets – 2 jackets, one fleece and one wind breaker/rain jacket
Sun-blocking hat
Shoes
At a bare minimum, one pair of good walking shoes is a must. If these can do double duty, great. If not, then consider the following options depending on when and where you are visiting China.
An adventure sandal, such as Chacos or Keens
A comfortable, casual shoe
Flip flops for showers
Waterproof winter boots
Daypack
Most people choose a daypack without considering what they really need. Don't do that. Think about how you'll use your daypack and what you will carry. Do you need something to protect your computer between your hotel and a cafe or co-working space? Or are you simply out for a day of sightseeing and local adventures?
If you'll be carrying a laptop and sensitive electronics, then invest in a more robust daypack, like the Outbreaker Daypack. With a built in computer sleeve, nestled close to your back, and padded shoulder straps this bag is made to carry a little more weight and protect what matters most on your day trip.
Toiletries
Try to keep the toiletries you pack to a minimum and go with dry options (which are more TSA friendly) as often as possible. Remember that you can get almost everything you need in China, unless you are brand specific or have special needs for your hair or skin type.
Shampoo and conditioner (the ones found in China are often specifically formulated for dark hair)
Toothbrush & Toothpaste
Razor
Deodorant (hard to find in China)
Emergency kleenex/tissue
Medication (i.e. ibuprofen, pepto, imodium, sleeping pills, jet lag pills, prescriptions, etc.)
Soap
Packing for China in Winter
If you are researching a winter travel to China packing list, you've popped by the right place. Between blazing Lunar New Year fireworks, freshly roasted chestnuts, and steaming bowls of hot pot, your snowy travels are still bound to be hot, hot, hot!
Northern China
The north might be colder than what you're used to, but it does have one great thing going for it: central heating. Since you probably won't spend all of your time in your adorable tea-house hostel (visiting the Great Wall during a snowfall, anyone?), here are some extra items to stow away in your backpack.

Adjust the basic packing list above like this for winter:
A double layer jacket: The inner fleece plus outer water-resistant jacket combo is hard to beat
A reusable water bottle that can hold heat: the Chinese loooove hot water and you will too; throw in some green tea leaves to really sip like the locals
Omit all shorts
Reduce short sleeve shirts to two for layering
Add a pair of long underwear pants and tops
Add two sweaters
Add two long sleeve shirts
Make sure socks are wool blend
Omit sandals and add boots
Omit wind breaker or rain jacket in favor of a winter jacket
Add winter hat, gloves, and scarf
All other clothes and shoes should stay the same. The key to packing for cold weather is layers.
Southern China
Lucky for you, winters in southern China retain mild temperatures. Snow is quite rare, but temperatures can still dip in the mornings and evenings. To that end, we recommend you pair your panda snuggles with the following edits to your packing list:
Add one sweater
Add an extra long sleeve shirt
Remove sandals
Pack a light hat, scarf, and gloves
Bring one pair of wool socks
All other clothes and shoes should stay the same.
Western China
Winters in Xinjiang and Tibet are long, with average temperatures hovering between 0-10°F. But don't worry, butter tea and the stunning mountain vistas more than make up for the shivers.
Make the following adjustments to your packing list for winter in Western China:
Remove all summer gear: No shorts, sandals, or tank tops
Add one or two sweat-wicking or wool long sleeve shirts and pants (long underwear or otherwise)
Add some serious snow boots with good grip: The kind you get at REI or an equivalent store
Bring more sunscreen and sunglasses with legit UV protection
Add a warm jacket, ideally down instead of a synthetic blend; hoods recommended
Add two sweaters
Add waterproof pants: This extra layer can prove helpful if you're hiking in deep snow
Add winter hat, gloves, and scarf
All other clothes and shoes should stay the same.
Packing for China in Spring
While it might seem that umbrella-salespeople magically appear out of thin air at the initial downpour, you can't always count on 'em. Instead, bookmark this page of spring packing tips for China and make your trip prep easy as yi, er, san.
Northern China
Curious for what to pack for China in April? Don't worry, you won't need to remember a broom for Tomb Sweeping Day.
Make the following adjustments to the basic China packing list for spring in the north:
Add one pair of long underwear
Add a fleece: The perfect outer layer whether you're exploring the hutongs or riding the night train to Xi'an
Add a face mask: Many cities across northern China experience dust storms from the spring winds sweeping across the Gobi Desert
Add a light hat, scarf, and gloves
All other clothes and shoes should stay the same.
Southern China
You must be eating your oranges and chestnuts because the original suggested China packing list above will suffice for your springtime trip to Southern China.
Western China
Spring in western China is very dry, but subject to strong winds. Since your altitude doesn't shift with the seasons, the presence of strong UV rays remain an important consideration.
Make these changes to the basic packing list for western China:
Add UV protective sunglasses
Add a thin jacket or sweater
Add a face mask: Though west of the Gobi, this desert area is still subject to sweeping wind storms as the temperatures rise
Add a light hat, scarf, and gloves
Remove sandals
All other clothes and shoes should stay the same.
Packing for China in Summer
If you love green bean ice cream as much as I do, you're going to love this packing list for China in summer!
Northern China
Summers in China are hot, sticky, and humid. You might get out of the shower and feel like you never really dry off for the rest of the day. Even still, there are many wonderful sights to experience and enjoy with those extended daylight hours.
Adjust your basic packing list as follows for the north in summer:
Add a small, portable umbrella: Keep this on your person at all times, as it could rain cats and (pekingese) dogs suddenly and without warning
Omit one pair of pants and add two shorts
Add baby powder: The potential to chafe with the heat and damp is no joke and no one likes sore thighs or underarms
Omit one long sleeve shirt and add two short sleeve, sweat-wicking shirts
All other clothes and shoes should stay the same.
Southern China
Men, prepare to don your best Beijing Bikini. During summer, southern China is inundated by monsoon rains sweeping in from both the Indian and Pacific oceans. It's hot. It's wet. It's humid. As such, make sure your packing list for China in summer includes:
A heavy-duty umbrella
Add baby powder
Adventure sandals: Or trade them in for other waterproof shoes
A quick-dry towel: You'll appreciate it when (the inevitable) time comes to wipe the sweat off your brow
Omit one pair of pants and add two shorts
Add two short sleeve shirts
Remove all but one preferred long sleeve option
All other clothes and shoes should stay the same.
Western China
The land of extremes never rests. Thanks to its steppe, semi-arid climate (and its proximity to Central Asia), the lowlands of western China get HOT in the summer — we're talking 100°F+ temps. However, this is the most popular time to visit, and if you take respite in the higher mountain passes, you can still have an overall pleasant experience in Urumqi, Kashgar, Lhasa, and beyond.

Adjust your basic packing list to include the following:
Those shades: UV-protective only
Add baby powder: Especially if you like to wear skirts
Add one pair of shorts
Add one-two short sleeve shirts
Remove one-two long sleeve shirt options
All other clothes and shoes should stay the same.
Packing for China in Autumn
Hooray! We've crossed the dragon boat race finish line, spotted tigers in Liaoning, and eaten cotton candy while strolling along West Lake. Time to prepare for the Moon Festival and my favorite time of the year to visit China. Here's what to pack for China in September and beyond:
Northern China
Autumn is brief in the north. As the leaves shift and swirl, here are the necessary adjustments to the basic packing list:
A thermal jacket: It's best to just bypass the summer ? winter transition with a warmer jacket to prep you for colder temps
Light hat, gloves, and scarf
Add one-two pairs of wool socks
Add a fleece
Pants a size larger; just in case you fall in love with/eat too many Autumn Festival mooncakes like I tend to do
All other clothes and shoes should stay the same.
Southern China
In case you're heading to southern China in late fall, here are our ideas for what to pack for China in October. Be sure to squeeze everything on the above suggested China packing list into your backpack, but make the following adjustments:
A warm jacket: Thermal isn't necessary, but it's better to beat the cold when you can
A pair of wool socks
Omit the adventure sandals
All other clothes and shoes should stay the same.
Western China
As fast as that thermometer zipped to three digits in the summer, Western China just as quickly plummets in the autumn. Here's what to add to our China packing list for fall in Xinjiang and Tibet:
Add UV protective sunglasses
Add a thick jacket or sweater
Add a winter hat, scarf, and gloves
Remove sandals and all warm weather gear
All other clothes and shoes should stay the same.
General Tips: What to Pack for China
Whether you seek the jagged crags of Tiger Leaping Gorge, the depths of Heavenly Lake, a serene boat ride in elegant Suzhou, or the energy of Shanghai's most exclusive nightclubs, keep these tips handy as you craft your China packing list.
Tip #1: Cover Up
To be fair, the Chinese locals do not stake a claim to modesty for their reasoning behind showing so little skin. In Chinese culture, lighter skin is considered more beautiful, so many Chinese men and women are conscious of their exposure to the sun. Sometimes this means long pants on hot days, and sometimes it simply means walking around with an umbrella (even when there's no rain). To fit in more seamlessly with the locals, opt out of tanning.
Major metropolises like Beijing, Shanghai, Xi'an, and Hong Kong are very fashionable and westernized when it comes to dress. However, you should still plan to leave your short-shorts and revealing tops back home. Keep this tip in mind even moreso if you are traveling to inner-China or the countryside.
Tip #2: Dryers Are Rare
While washing machines can easily be found, the same cannot be said for driers. Instead of waiting around for those final drips to dry, preempt the battle by investing in clothing made of sweat wicking and quick dry materials (like nylon and polyester instead of cotton).
Tip #3: Hit the (Digital) Ground Running
The Great Firewall of China is no joke; wise-travelers know to download a VPN prior to entering the country. You can find different versions of apps and proxy maskers, both paid and free, with a quick Google search. Downloading these outside of China is easier than from within, so be sure to tack this on your pre-departure packing list.
Another checklist item prior to arrival might be to download Weixin, or WeChat. The de facto text-message-turned-life-assistant-app-that-you-didn't-know-you-could-live without-and-now-you-can't, WeChat is the easiest way to make (and keep) new pengyou (friends) once you're traveling in China.
If you're not fluent in Mandarin, fill your smart phone device with translation apps, as well as offline maps or city guides. These can (SERIOUSLY) help in a pinch and make downtime on your short train ride from Shanghai to idyllic Suzhou both productive and entertaining.
Tip #4: Don't Expect Central Heat
Central heating does not exist outside of Northern China. While temperatures in Shanghai and further south might be more mild compared to the North, China's southern region does not benefit from housing that is equipped with central heating. Be sure to pack warm pajamas or, instead, make like the locals and snuggle at night with a hot water bottle. If you're traveling outside of summer, special considerations must be made to pack and prepare for the inevitable chill.
Wait to Buy in China
The perks of a hearty workforce mean cheap consumer goods for the budget-conscious traveler. Here are some items you can wait to buy until you enter China.
Toilet paper: You'll want to keep a healthy supply of toilet paper with you at all times, as most toilets are not regularly serviced or equipped
A SIM card: If your phone is unlocked, you can easily purchase a "pay-as-you-go" SIM card from newspaper stands, convenience stores, or the airport.
Your train tickets: Train tickets are typically only released 10 days prior to travel; instead of paying exorbitant upfront fees to secure your spot, ask your hostel or hotel to help coordinate purchases after you've arrived
A hot water bottle: The Chinese were carrying water bottles before it was cool; you can find an array of inexpensive options quickly and easily in China
Items such as suitcases, backpacks, shoes, scarves, hats, and more are also easily acquired. However, keep in mind that these aren't always reliable in quality, and that size availability in China can be tough for a big-boned westerner. I'll never forget when the sales person at the market shouted across the way: "Friend, do you have the LARGEST SIZE POSSIBLE in shoes?!"
Mind you, I'm a size eight in the USA. Not that large, people! But even my small American friends eat a slice of humble pie when purchasing tops in China, as they are usually a size L or XL.
What to Buy Before Traveling to China
Well, for one, your visa is a necessary pre-departure purchase. If possible, get a multiple entry visa for the max allotted days (typically 90 for U.S. citizens). Budget for this as it can run you more than $100USD.
As mentioned previously — but to stress the point so that you can make all of your friends jealous of your epic adventures — buy your VPN prior to travel. The Great Firewall can be notoriously difficult to scale, so do yourself a favor and coordinate it prior to your arrival.
If you have a weak stomach, I recommend purchasing some emergency supplies of digestive medication to add to your first aid kit before crossing the Pacific. This can range from homeopathic solutions like Arsenicum to good ol' Imodium. Consider also packing oils/tablets such as DigestZen for those less-than-serious-but-still-uncomfortable stomach knots.
Buy any fancy-materials or name brand items in advance. If you love having high-quality gear, I recommend purchasing it back home instead of relying on scarce availability in China. Not only can it be hard to come by outside of the major cities like Beijing and Shanghai, but it's also generally more expensive.
While you could make your way to an electronics market first thing, we reckon this detour will be a bummer when all you really want is to eat some pipin' hot xiaolongbao. Instead, buy your converter and adaptors ahead of time. You'll be rocking 100% charge in no time.
Special Tips for the Ladies
Women travelers can find the majority of their feminine hygiene products in China; however, be warned that they may look a little different than you're used to. For instance, pads tend to be thicker and lack wings. If you should need to re-stock while there, here's a handy list of Chinese terms for female products:
Wèish ng hù diàn — pads
Mián qiú — tampon
Guàn x? — douche
Shì hòu bì yùn yào — morning after pill
Bìyùn tào — condoms
Jíe zhì sh?ng yù — a general term for birth control
Qi?okèlì — chocolate
If you feel uncomfortable leaving your supply of these items up to chance, we recommend making an action plan with your doctor to meet your needs. Further, you might consider purchasing a Diva Cup in advance of your travels to forego the need (and the accompanying waste!) from using tampons and pads.
We also want to reiterate our previous point about modesty in dress while traveling in China. Observe the local styles to find what kinds of outfits meet that sweet spot of comfort, fashion, and respect.
The Regions of China
China is anything but small. Shaped like a rooster, China's beak to its tail feathers traverse over 13,000 miles of varied terrain and climates. Generally speaking, the north experiences four extreme seasons — cold and dry in the winter, hot and humid in the summer, with a nice reprieve for springtime and autumn. China's south, with a subtropical climate, experiences mild winters and muggy summers. Inland or western China, such as Tibet and the Xinjiang plateau, experience much lower temperatures year round (due in large part to its dramatic mountain landscape and elevation).
From tropical to alpine, if your plan is to set foot in multiple regions of China, it is important that you pack for a variety of extremely diverse climates. We'd hate for you to show up at the Harbin ice festival with only one pair of flimsy flip flops after your cruise down the Yangtze River.
This packing list has you covered through every season and region of China. Feel free to click through to the section that applies to your trip, specifically.
TL;DR
Choose the right travel backpack so that you have enough space for your clothes and any souvenirs you'll want to bring home with you.
Despite its worldly charms, China remains intimate and cultural, as it still retains a fascinating mix of East and West. Many cities in China have grown from modest port villages to some of the world's largest banking and financial centers. Other areas maintain their old world charm and historic elegance. China is vibrant, manic, opulent at times — proud, humble, and ambitious. Visiting the Middle Kingdom is a great first step in familiarizing yourself with Chinese culture as a humble traveler.
Adjust our basic China packing list by season and you'll be good to go.
Whether by taking in a scenic view of the historic riverside Bund or exploring the imperial gardens, China will not be soon forgotten.
Related Articles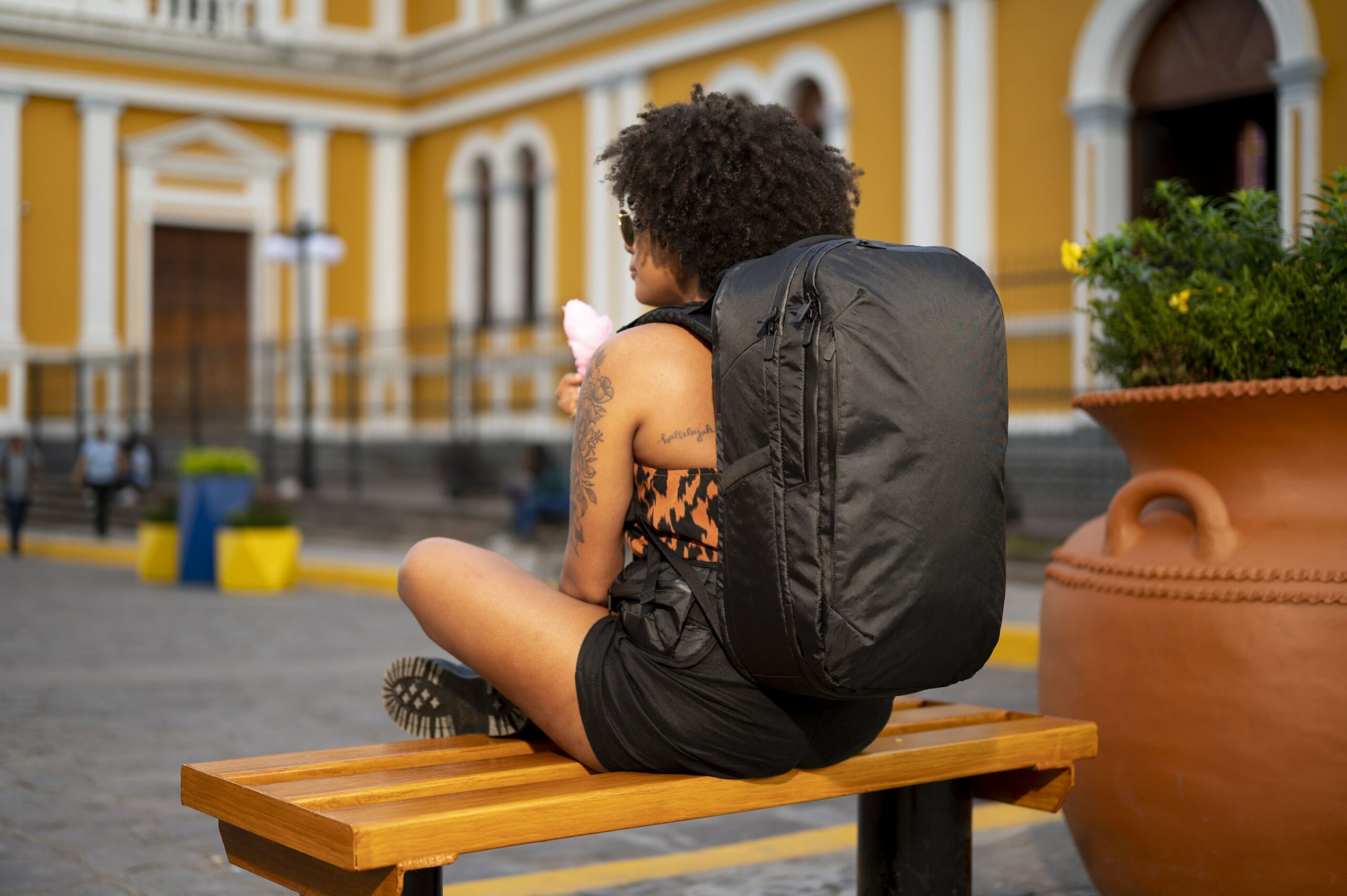 40L: Max International Carry On
Shop Now