If you've never experienced it, Christmas in Europe is downright magical, and European Christmas markets are undoubtedly the driving force of the Christmas spirit. Steeped in centuries of holiday traditions, these epicenters of good cheer feature hundreds of vendors selling everything from regional handicrafts, to local delicacies and sweets, warm wine (it's amazing), hot cocoa, and so many wacky and interesting gifts for friends and family back home that you'll need another travel backpack.
Give yourself the greatest gift of all this Christmas season and get your butt to Europe for some of the most festive, interesting, and downright jolly Christmas markets in the world. Here's the lowdown on some of our favorite European Christmas markets with the highlights, history, and the best times to visit. Enjoy, and Happy Holidays!
The 12 Best European Christmas Markets
Vienna, Austria: Classical Christmas Cheer
Honestly, it doesn't get more Christmassy (yes, that's a word), than Vienna. An already picturesque European capital transforms into a postcard-worthy winter wonderland for the holidays, with hundreds of stalls selling gifts, glühwein (hot mulled wine), some pretty boozy punch, and all the fresh-baked goodies you can eat at one of the handful of Christkindlmarkts around town. The best Christmas market in town is the Viennese Christmas market in front of City Hall.
Vienna's first Christmas market was held in 1298—that's when people rode horses, used swords, and lived in frickin' castles—and while a lot has changed since that first ancient holiday celebration, the echoes of tradition are still there. While the stalls and vendors are fantastic, the Christmas market in Vienna is about a lot more than just shopping for gifts and stuffing your face with sweets.
After you wander the maze buying the perfect souvenirs, ice skate on Rathausplatz (or finally learn how to curl), go to the Snow Globe Museum (heck yeah). Later, take in one of the dozens of Christmas concerts held in churches all over the city. Vienna is famous for its classical music scene, chamber groups, and refined aesthetic. You'll be hard pressed to find a better time to enjoy the culture that defines one of the most Europe's most gorgeous cities. Vienna truly shines under the soft electric lights and warm glow of the holiday season, although that might just be the glühwein talking.
Salzburg, Austria: The Hills are Alive with Christmas
If Vienna somehow wasn't enough for you, culture seekers should head three hours west to the German border for Christmas in the hills of Salzburg. The Christmas market at the Hohensalzburg Fortress highlights the rich musical past of this lyrical city. Both the birthplace of Mozart (nice), and the  setting for The Sound of Music, Salzburg rings in the season with Christmas music pretty much everywhere.
According to the Salzburg Christmas market site, some of the more popular events include "choral singing in front of the Cathedral, "Turmblasen" (wind instruments) on Residenz Square every Saturday, the Nativity in Residenz Courtyard, and much more." One of the cooler "much more" things to see is the massive Advent Calendar at the Hellbrunn market, and sled rides with actual reindeer.
Nuremberg, Germany: Little City, Big Christmas Market
If you want a glimpse of a traditional German Christmas market, look no further than Nuremberg's Christkindlesmarkt. The 180+ wooden stalls selling traditional food—sausages and mulled wine, of course—attracts nearly 2 million visitors each year.
This Bavarian gem features beautiful stalls peppered around the city's medieval squares (the Christmas market actually gives out awards for the best decorated Christmas stands). Highlights include: a wooden Ferris wheel, the "Nuremberg Plum People"—mini figures made from, you guessed it, prunes—and lebkuchen (local gingerbread). Get excited.
Copenhagen, Denmark: Christmas in a Theme Park
What do you get when you combine an amusement park with Christmas? Answer: The best Christmas market in Denmark. If you've ever been to Copenhagen, you already know about the famous Tivoli Gardens, but Tivoli is at its peak during the holiday season. One of the only Christmas markets with an admission fee (bummer), Christmas in Tivoli is worth every penny.
Carousels, rides and theme park fun mingle with stalls selling gifts and food, and (weird) music from the elf themed Tivoli Boys Guards Christmas Band. If you have kids, take them to Over in Pixieville for a glimpse of real reindeer and (convincing) elves making toys. The Tivoli Christmas market is an interesting twist on the holiday season. 
If you have more time in Copenhagen stroll along the waterfront in Nyhavn to see lovely decorations and step into the weird (slightly irreverent) Christiania Christmas Market. It's unlike any other Christmas market you've ever been to.
Catch the fireworks in Tivoli (December 25-27) or time your visit with the annual Lucia procession on December 13th, complete with 100 girls passing through the gardens carrying candles and singing to mark St. Lucia's Day.
The Best Traditional European Christmas Markets
Nothing will get you into the Christmas spirit like a traditional German Christmas market. Luckily, there are a ton to choose from. Case in point: the Striezelmarkt Christmas market in Dresden. This christmas market has been an uninterrupted holiday tradition since 1434. That's before Columbus was even born, you guys. Wrap your heads around that.
Dresden, Germany: Christmas Since 1434
Germany's oldest Christmas market features the classics you'd expect—shopping, holiday decorations, toys and regional handicrafts in the baroque city center. Try the sweet Dresden Christstollen, (German Christmas cake), and "dwarf" your friends' crappy Christmas Instagram pics with a few selfies at the world's tallest Christmas pyramid, massive Christmas-themed carousel, or the world's biggest nutcracker (insert captions at your own risk). However, the highlight of the Dresden Christmas market has to be the fruit cake. You heard me.
Locals are so proud of their traditional 4-ton Christmas fruit cake (that's 8,000 pounds of re-gifting), that they have a parade for it. Lead by a local girl, called the Stollenmädchen, or "Fruitcake Maiden," (aka "the greatest band name ever"), this massive Christmas treat parades through the streets, eventually settling in the market. Visit Dresden's Christmas market and stuff your face from a fruitcake the size of a sedan at a holiday market centuries older than America, because both of those things are amazing.
Leipzig, Germany: Germany's Second Oldest Christmas Market
If you're too hip for all the hype of Germany's oldest Christmas market, head to Leipzig for Germany's second oldest Christmas market. Founded in 1458, a whole four years after Dresden's, this Christmas market (also located in the medieval city-center) features 250+ stalls crammed with Christmas cheer without any of that "oldest Christmas market in Germany" hype to dampen your Christmas vibe.
Highlights of the Leipzig Christmas Market include: a "Fairytale Forest," (for the kids), the world's largest freestanding Advent Calendar (take that, Salzburg).
Stuttgart, Germany: German Christmas Words are Awesome
Compared to Dresden, the Stuttgart Christmas Market, might seem brand spanking new, but it's been around since 1692. Located on cobblestones in front of a freaking castle, the Christmas market in Stuttgart is about as authentic as it gets.
They've got a nativity scene (with real animals for the kids), and a pretty solid lineup of outdoor and indoor concerts. Order a slice of the Black Forest gateau (say it with me: "Schwarzwälderkirschtorte") or scare the crap out of your friends back home with a handmade wooden puppet. Seriously. Woah.
This year it's happening between November 29 to December 23, 2017.
Strasbourg, France: French Twist on a German Christmas Market
Home to the oldest Christmas market in France, this German border town (seeing a theme) offers a distinctly French twist to the traditional European Christmas market. Set up in front of an imposing Gothic cathedral, hundreds of wooden stalls sell Christmas gifts and French specialties like delicate cookies and vin chaud (mulled wine) while people ice skate and sing French carols. Worth a visit any time of year, but especially during Christmas.
Author's Note: If you only take one thing away from this article, I hope it's the ability to say "mulled wine" in several different languages.
Best Hidden European Christmas Markets
While it's exciting to visit massive glittering Christmas markets like the ones in Dresden, Nuremberg, Vienna, and Tivoli Gardens, sometimes it's nice to get away from the bustling crowds at slightly lesser known Christmas markets. Here are some hidden gems to visit on your next winter romp to Europe.
Zagreb, Croatia: Voted Europe's Best Christmas Market
Twice voted "Europe's Best Christmas Market," visiting the capital of Croatia is a sure-fire way to have a unique and merry Christmas. Centered around Zagreb's main square—Ban Josip Jelacic and nearby Zrinjevac Park—during Advent (the four weeks before Christmas Day), locals and tourists turn the town into a raucous web of dances and song on every street corner and plaza.
Rovaniemi, Lapland: Visit Santa's Hometown
Want to visit Santa at the North Pole, but can't quite organize an Arctic exploration? The Christmas market at Rovaniemi in Lapland is the next best thing. This winter wonderland filled with twinkling Christmas trees, snowy vistas, and ethereal ice sculptures, has many peoples' vote for the most Christmassy place on Earth.
Take your Christmas game to the next level by crossing the Arctic Circle (seriously) and visiting Santa himself at the ideally named Santa Claus Village. After you open all your presents, stick around and enjoy an insane variety of winter sports (including reindeer and husky rides), snowmobiling, and maybe even catch the Northern Lights if you're lucky.
Barcelona, Spain: Christmas Poop
The words "Christmas market" don't usually make you think of Spain, but the Fiera de Santa Llucia, in Barcelona, might just change your mind. Operating since 1786, the 300+ stalls and vendors and… unique Catalan Christmas traditions are a great way to bring some European culture to your Christmas back home.
Kate Mckinnon from SNL discovered the brilliant genius of a Catalan Christmas when she discovered the Caga Tió or "Christmas Poop Log" firsthand. Basically, you stuff this wooden pinata with food during the lead up to Christmas until Christmas Day when you beat it with a stick and ask for gifts. The log makes an appearance on December 8th. I'm in.
If Caga Tio is a bit much for you, just enjoy the parades and massive cribs they build to celebrate the nativity. However, keep your eyes peeled for one more scatalogical Spanish Christmas character. Look for the caganer or "crapper." This little piece of Spanish Christmas cheer squats with his pants around his ankles in bare-assed welcome of the coming season. Please, please buy one for your Christmas tree. You'll be glad you did.
December 8 is Caga Tio time.
Andorra: Europe's Hidden Christmas Wonderland
If you're looking for a really off the grid Christmas experience, Andorra is the place for you. Never heard of Andorra? Don't worry—it's tiny. Nestled in the Pyrenees on the border with France and Spain, this tiny country celebrates Christmas with its own unique mix of local food, artisanal crafts, and one of the most intimate St. Lucia festivals you'll find in Europe. Located directly north of Barcelona, an Andorran Christmas is truly one of the most interesting ways to celebrate the holiday season.
St. Lucia Festival: December 13
St. Gallen, Switzerland: Booze and Cheese
Skip the crowds at Christmas markets in Zurich, St Moritz, and Bern, and head to St. Gallen for the real Swiss Christmas. The smaller stalls amidst the Baroque cathedral add to the real town feel of the market in the historic city-center, but the best part of a Swiss Christmas market (or "Swiss-Criss-Mo" as I'm now calling them) is the food.
Stuff your face on raclette (melted Swiss cheese and delicious bread), bratwurst, and of course mulled wine. If you're not a foodie, you can still geek out on the largest tree in Switzerland and the hundreds of suspended stars that light city streets.
Brussels, Belgium: Equal Parts Christmas Market & Winter Festival
Brussels' relatively new Christmas market "Winter Wonders" (founded in 2002) might seem modern when compared to Strasbourg or Dresden, but that's kind of the draw. Plaisir d'hiver (that's how you say "Winter Wonders" in fancy talk), is a sprawling market that covers an entire mile long area across the Bourse, Place de la Monnaie, Grand Place, Place Sainte Catherine and Marche aux Poissons. The 240 stalls selling delicious Belgian beer, Belgian chocolate, and Belgian waffles (as well as gifts, but whatever), toboggan slopes, ice skating, and a massive light up Ferris wheel make Winter Wonders more of a festival than a Christmas market.
The best part: This Christmas market runs until the New Year.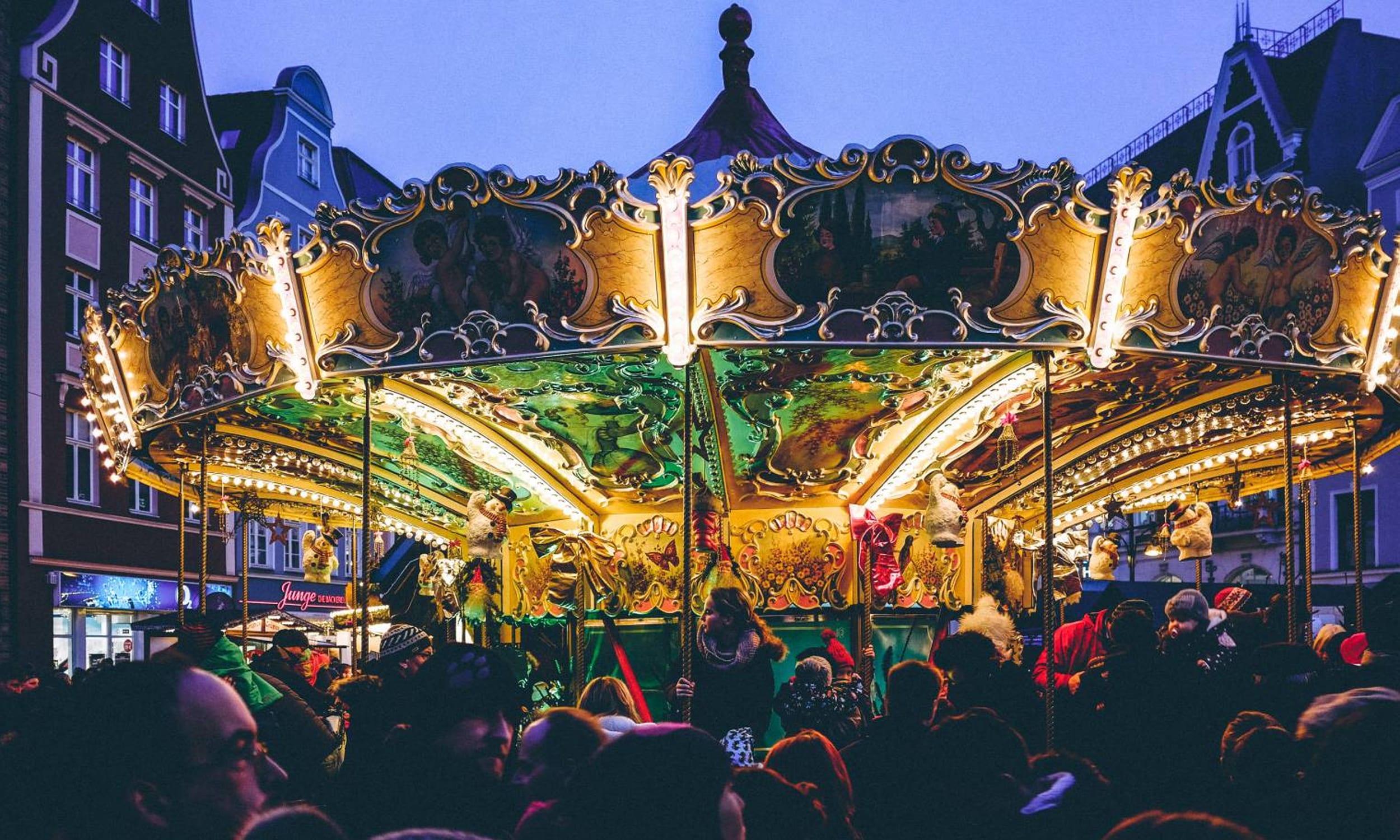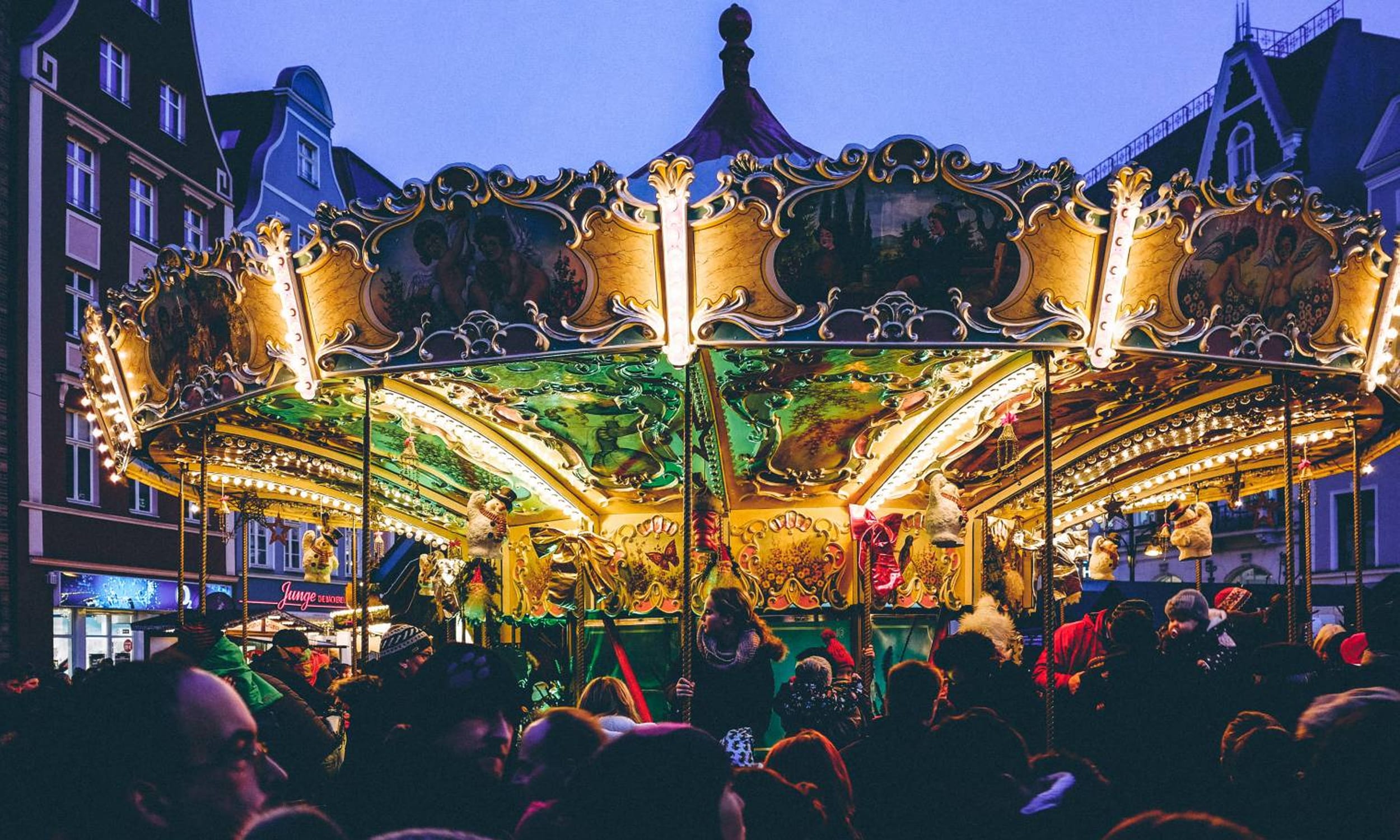 When to Visit Christmas Markets in Europe
In the US, the Christmas season typically starts the second you finish the Thanksgiving turkey and goes until Christmas Day. Our holidays are all Black Friday sales, Cyber Monday deals, and shopping, shopping, shopping. However, in Europe "Christmas" isn't about December 25th, instead the focus is on the dozens of regional holidays, saint's days, festivals, and traditions scattered across neighboring countries.
The two biggest differences between US Christmas calendars and European calendars are the strict adherence to the celebration of Advent—the four Sundays before Christmas Eve—and the "extension" of the holiday til the Epiphany on January 6th. In between those two dates you'll find all the festivals and holidays you can handle. Here's a handy guide to some of the best Christmas festivals in Europe, as well as when and where to visit each.
European Christmas Season: Advent vs. Epiphany
Advent — Four Sundays before Christmas Eve (December 3rd, 2017)
Traditionally European Christmas markets have set up shop on the Friday before Advent (Dec 1, 2017). However, commercialism (it's not just an American holiday tradition) and the massive growth of Christmas markets (with millions of visitors each year), has pushed the start date of many of these markets to the end of November. Plan accordingly. But, no matter how much the beginning of these markets stretches back into November, almost all of the traditional Christmas markets have a hard end date on December 23rd or December 24th.
Christmas Eve is the main event of the holiday season, especially in Germany and Austria (home to some of the best Christmas markets in Europe). Midnight Mass, complete with decorating the tree and cooking a massive dinner, is the big finale, so unless you're looking for an "Epiphany market" try to get to these winter festivals before Christmas.
The Epiphany — December 25 – January 6
If you've ever sung the "Twelve Days of Christmas" song, (FIVE GOOOOOOOOOLDEN RINGS!) you're actually singing about the Epiphany, not Christmas. Stretching from December 25 to January 6, the Epiphany celebrates not the birth of Christ, but the gifts of the Magi (the three wise men), which, when you think about it, actually makes way more sense. A lot of Christmas festivals run until January 6, and then it's lights out, goodbye, and good luck dealing with the harsh cold European winter now devoid of hope.
Popular European Christmas Festivals
If you have some wiggle room when planning your European Christmas vacation, try to visit a Christmas market during one of the local festivals. It's just more fun that way. European Christmas festivals range from the quaint to the downright confusing, but there's no better way to catch the spirit of Christmas than by watching the locals dance to songs you don't know, pass around gifts you don't understand, and celebrate the longest night of the year with traditions that stretch back centuries.
Here are some of the best Christmas festival traditions from around Europe:
Feast of St. Nicholas — December 6
Celebrating St. Nicholas, Santa Claus, or Sinterklaas, this holiday has a lot of divergent traditions and even celebration dates. Typically celebrated on December 6th in Western Europe (the Dutch party on Dec 5th), and December 19th in Eastern Europe, this festival celebrates St. Nicholas—the bringer of gifts. Traditions vary widely depending on where you celebrate this holiday, so check out exactly what the norms are for your region, keeping in mind that some of the more controversial Christmas practices are rapidly changing.
St. Lucia Festival — December 13
From Barcelona to Norway, the beautiful light festival of St. Lucia is celebrated on December 13th at Christmas markets and festivals across Europe. Santa Lucia, the "Queen of Lights" celebrates the feast day of this 4th century Sicilian Saint, but you don't have to be a devout Catholic to enjoy this ethereal holiday tradition in cities all over the continent.
Lucia guided wayward Christians toward safety wearing a wreath of candles on her head, and in the earliest celebrations in Sweden, a young woman would go from farm to farm, dressed in a white gown with a red sash wearing a crown of lingonberry twigs with blazing candles and a torch. Oh, and she'd give people baked goods. You can see how it got associated (*cough* stolen *cough*) with Christmas and the Santa Claus story.
Today, Santa Lucia Day is a big deal in Scandinavian countries, but also as far south as Barcelona, which has been celebrating St. Lucia since 1786. Keep your eyes peeled for procession of girls led by one dressed as the "Lussibrud," wearing a white robe and a crown of lights. If you're lucky, the girls might even give you a Lussekattor (saffron bun) or another sweet treat.
Le Reveillon de Noël the Christmas Eve Feast — December 24
Reveillon ("awakening" in French) is a spiritual (and edible!) wake-up call. If you're lucky enough to get an invitation to a Reveillon, get pumped. This multi-course affair lasts for hours, with each French region bringing the best of their local cuisine to the table. Parisians enjoy fresh raw oysters, the Alsace region, foie gras. Brittany serves buckwheat cakes and sour cream, and in Provence "people share a special Christmas bread." However, the main event is dessert.
The finale is a cake called Bûche de Noël (Yule Log). This rolled sponge cake is covered with chocolate buttercream frosting, cocoa-dusted meringue, and almonds, then sprinkled with powdered-sugar snow. Yum.
Things to Watch for at European Christmas Markets
The local food, hot mulled wine, and awesome gifts are what make European Christmas markets great, but the weird stuff—the strange local customs and traditions—are what make visiting European Christmas markets awesome. Keep your eyes peeled for these awesome "Christmas" traditions.
Rome sells "kindly Christmas witches," buy a Christmas demon in Salzburg, Copenhagen revels in mischievous pixies, and as I mentioned above, the Catalan region of Spain has a poop log. Must haves.
TL;DR
Christmas in Europe is wonderfully different than the holiday season in the US. Find the perfect (strange) regional gift for friends and family, stuff your face with delicious local foods, and learn how to say "hot mulled wine, please" in whatever language you need before you go. From 4-ton fruit cakes to traditional poop logs, Christmas in Europe is something everyone should experience firsthand.
European Christmas markets start in late November and run through Advent (Dec 3rd – Dec 24)

Epiphany (the 12 Days of Christmas after Dec 25th) is typically celebrated in Eastern Europe

The St. Lucia Festival of lights (Dec 13) is a landmark holiday across Europe with parades and traditional baked goods

Lean into local oddities like Caga Tio, Christmas witches, and massive Christmas pyramids; it's just more fun that way
Want more like this?
Get weekly travel hacks and packing tips sent straight to your inbox. As an added bonus, we'll send you a carry on packing list right away.