I like conferences. A lot.
Show me an event center packed with enthusiastic like-minded people wearing name tags and I'm there.
For novice conference attendees packing for a conference—in a carry on—presents a challenge. How do you look professional in such a small amount of space? It's easier than you think.
Below I've created the ultimate conference packing template—full of must-haves and things you should leave at home. Follow it and you'll be a networking machine and an industry standout in no time.
Start with the Right Bag
A conference is no place for your neon hiking daypack. You need a smart looking backpack that fits the scene.
If you're traveling to the conference with a suitcase or duffle, the Outbreaker Laptop Backpack is the ideal conference bag for you and doubles as the perfect personal item. It has a dedicated TSA-friendly laptop compartment so you can breeze through security and then send out a few emails while you're waiting to board. It has a spacious main compartment that can fit 1-2 days of clothes and is a great place to stick all the swag you pick up during the conference. It has an organized place for all your pens, a tablet, and e-reader or journal.
If you're traveling to the conference with a carry on backpack, the Outbreaker Daypack has you covered. The Outbreaker Daypack packs flat in your carry on when not in use, but it has enough structure so that it doesn't look like a lumpy mess like your hiking daypack will. It has a laptop sleeve close to your back and plenty of space for your conference swag and some snacks. Plus a quick access pocket for small items like pens and business cards.
Clothes: Dress to Impress
Unless you're actually going to a ComicCon, it's best to leave the X-Men t-shirt at home. Business casual—shirt, no tie / blouse, skirt—is best, with one normal outfit for the flights both ways.
Men:

1 Button-up shirt for each day of the conference

Ladies:

One professional blouse for each day

Men:

1 Pair of slacks, pants, or nice jeans for every 2 days of the conference

Ladies:

1 skirt or slack for every 2 days

1 and only one pair of comfortable, professional shoes

3 Pairs of underwear

2 Pairs of socks

3 Undershirts/tank tops

1 Light sweater or blazer

Leave at Home:
Ties, especially that bolo tie. Even Elon doesn't wear a tie! Ties are way too formal. They make you look stiff and unapproachable, not professional. It's the weekend; dress for the room. Exception: Sweet bow ties.
Toiletries: Don't Smell Like "That Guy"
Your hygiene and appearance matter, but at conferences, it's twice as important to make a great first impression. Steal a few pages from the Dapper Dude packing list to bring your corporate A-game, because nothing shuts down a meet and greet faster than B.O. or spinach in your teeth:
Deodorant Stick

Toothbrush

Tooth paste

Mouthwash – a 3 oz bottle easily fits in your day bag, and is essential after that early mid-day coffee

Those disposable floss sword things – floss after lunch

Solid Cologne

– you'll smell like the woods (in a good way), plus carry on friendly.
Leave At Home:
Shampoo and Soap. They're both at your hotel, and the little bottles make you feel like a giant. So that's fun.
Technology: Less is More
Unless you're at a Luddite convention, you'll bring some everyday tech. The key here is to not go overboard. A laptop is great if you have to actually work during the conference. If not, consider leaving it at home for the weekend and bring a tablet or even just your smartphone and a notepad. Less is always more when you have to carry it around all day.
Smartphone

(duh)

Charger-

I prefer a

multi-usb charger

. It will make you friends in a

hurry

Portable USB charger-

The experts over at

Wirecutter

gave the

Ankor 2nd Gen Astro 6400

their top spot.

Car Charger-

Again, bring a

dual outlet charger

. They usually cost about $5 and can mean the difference between your phone dying and getting lost in Minnesota or making it to the convention center on time. Best $5 I ever spent.

Laptop + Charger or iPad/tablet-

Great for reading between events and organizing your notes into the cloud for later
Leave at Home:
Bulky laptop. It sends the wrong impression, and honestly, you're not gonna use it. Let those emails pile up until Monday.
Conference-y Stuff: Old-School is Still King
Smartphones have changed the way people network, but conferences by their very nature demand that you go a little old school. Even the best event centers don't always have available outlets to charge your devices, the wi-fi can get patchy, and often you only have a matter of seconds to get a someone's contact info or pitch your next big idea—a screen that won't load is an instant deal breaker. Make sure you pack enough analog gear to get you through:
Moleskin Notebook

– It's professional to take notes during key speakers. I've personally struck up a handful of conversations with people after a speaker finishes, simply because they noticed me taking notes and wanted to clarify a specific point they thought they'd remember but they didn't. "I'll email it to you" is a guaranteed way to get a valuable conversation started.

3+ Pens

– Bring extra pens. People always need to borrow them, and you'll be a hero. Oh what's that, Ice? Yeah, that loud cracking sound was you being BROKEN.

Sharpie

– Always. Bring. A. Sharpie. You can write your email on your name tag or lanyard ID and save yourself the awkward spelling conversation. You can write a joke on your name tag and get a few laughs. You can correct your (often) misspelled name. If you bump into your favorite author you can get an autograph. Sharpies are

always

useful.

A Watch

– It's tacky to pull your phone out every five minutes to check the time. Be discrete. Wear a watch.

Business Cards

– Personally, I think business cards are passé. That's why I freaked out when I saw designer Mike Burton's simple solution:

customized 3/4″ inspection stamps

. When people ask for my info, I just stamp

my logo

and contact info on the closest beer coaster, one of their business cards, or the back of their hand. It's memorable.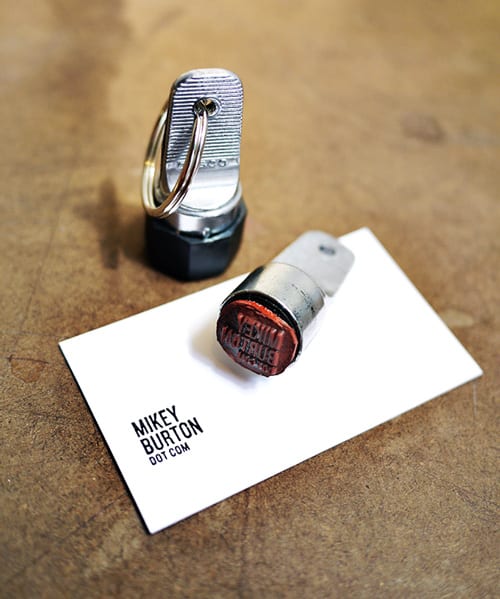 Leave at Home:
That bad attitude. Be positive and friendly and you'll build relationships that will take your career to the next level.
TL;DR
Conferences are supposed to be fun—even the boring ones can be a blast if you pack the right stuff.
Choose a smart looking backpack for daily use like the Outbreaker Laptop Backpack or the Outbreaker Daypack
Leave room in your carry on to bring home material from the conference
Bring a notebook & extra pens
Mouthwash after coffee
Ditch the tie: Business Casual is the new hotness
Let me know what you wear to conferences, and if you did attend ComicCon this year, by all means tweet me a pic of what you cosplayed as. Especially if it's Deadpool.
Want more like this?
Get weekly gear reviews, travel hacks, and packing tips sent straight to your inbox. As an added bonus, we'll send you a carry on packing list right away.