Costa Rica Packing List: What to Wear in Costa Rica
The Tortuga Promise
At Tortuga, our mission is to make travel easier. Our advice and recommendations are based on years of travel experience. We only recommend products that we use on our own travels.
Costa Rica is the ultimate destination for ambitious travelers. With sunny beaches, fascinating wildlife, and active volcanoes all within driving distance, you can bounce between lounging, hiking, and heart-stopping thrills on a single trip.
The only downside to all this variety? Knowing what to pack.
Costa Rica might be small, but the landscape is incredibly diverse. The jungles are hot and humid, while the cloud forest is wet and chilly. Soaking in Arenal's hot springs requires a different outfit than zip lining high above Monteverde, which requires different gear than surfing in Tamarindo or sloth-spotting in Manuel Antonio National Park.
Don't start calculating excess baggage fees just yet: with a little planning, you can fit everything you need to explore every inch of Costa Rica in a carry on.
Below, we'll explain everything you need to know about packing for Costa Rica. Read on to get one step closer to that pura vida lifestyle.
Tortuga
The Best Travel Backpack for Costa Rica
Costa Rica is not a place you want to be dragging around a heavy suitcase. Tortuga's carry-on-sized Travel Backpack was made for trips like this.
The Travel Backpack's adjustable, padded straps and hip belt keep you comfortable while bouncing between destinations. Unlike a messy top-loading hiking pack, the Travel Backpack's front-loading design lets you find what you need fast when you reach your next stop. The travel backpack also features durable, waterproof fabric that will protect your stuff from Costa Rica's rain and humidity.
Bring a smaller daypack for stashing your rain jacket, wallet, and so forth on hikes and trips to the beach.
Costa Rica Packing Guide
Packing for Costa Rica depends less on when you're going and more on what you plan to do while you're there. Most tourists don't spend much time in the big cities, so active clothing is a must.
Rainy season lasts from May to November in many parts of the country, but this is also when the landscape is at its greenest and prices dip.
Costa Rica has so many microclimates that you can find sun somewhere any time of year. In fact, summer is in full swing on the Caribbean coast at the height of the rainy season throughout the rest of the country.
Unless you'll be sticking to a single, isolated region for your entire trip (which we don't recommend), pack for a mix of rain, sun, hot days, and chilly nights.
Wear Comfortable Clothing in Performance Fabrics
Costa Rica is known for its natural beauty and adrenaline-fueled adventures, but you don't need to raid REI. You'll be fine with gym shorts and moisture-wicking t-shirts or tank tops.
Stick to lightweight, quick-drying fabrics and odor-resistant merino wool. You might be swinging through a jungle, jumping in a waterfall, and sampling local craft beers all in the same day, and these activities are more fun when you're not stuck in a soggy, smelly t-shirt.
Packing light usually means planning to wear the same clothes again and again, but we don't recommend that in Costa Rica. Because you'll sweat through clothes quickly, bring a few extra t-shirts and undergarments and have a game plan to defunk your stuff.
Better yet, take advantage of your hotel's laundry service. Many accommodations offer a quick turnaround to keep up with guests' sweaty adventures.
I also appreciated setting aside one casual outfit to change into at night. You won't get any side-eye for wearing athletic gear out for drinks but will feel better putting on something clean.
Bring One Warm Outfit for Higher Elevations
Costa Rica is a mountainous country, and temperatures shift dramatically between elevations. Pack one pair of pants or leggings, a long-sleeved shirt, and a light jacket if you'll be visiting any high-altitude attractions like Cerro Chirripo.
Warm clothes are also necessary for zip-lining. It gets cold and windy while soaring above the treetops.
Pack Shoes That Can Get Wet
Bring two pairs of comfortable shoes that you can be active in. That way, you'll be able to give each a chance to air out between wears.
Barring any intense, multi-day treks, you won't need bulky hiking boots. Trail runners have grippy soles that make them great for walking on dirt, mud, and unpaved roads.
Regular running shoes are also totally fine but note that whatever you bring will get dirty. Costa Rica isn't the place for fresh white kicks.
Pack a pair of sandals for the beach and lounging around the hot springs. Consider Keens, Tevas, Chacos, or another sandal that secures to your foot if you'll be doing anything more strenuous than sipping guaro by the pool. You don't want a shoe to fly off while ziplining, and flip flops are asking for a twisted ankle on the steep steps to the famous Fortuna Waterfall.
Some attractions, including the spectacular Mistico Hanging Bridges, require closed-toe shoes.
If you want to step above the typical backpacker chic, bring a pair of less technical-looking sandals, flats, boat shoes, etc. for walking around town.
Tortuga
Rain Gear Is a Must
Don't be disappointed when you check the forecast ahead of time and see rain clouds. It rains nearly every day in many parts of Costa Rica, but the clouds tend to move out quickly.
Bring a lightweight, hooded rain jacket that's easy to stuff into a daypack or purse once the rain inevitably clears. Avoid bulky trench coats and heavy hard shells, which will leave you sweating.
Baseball caps are also great in the rain since the brim helps keep water out of your face.
Skip the umbrella, which will get in the way on hikes and group outings. If you get caught in the rain, embrace it. Remember, rain is what makes the landscape so lush.
Don't Forget Your Swimsuit and Towel
You'll need at least one swimsuit to take advantage of the country's beaches and thermal resorts. If you'll be spending your whole trip next to the water, bring two. Intense humidity means swimsuits don't always dry between wears.
Avoid anything stringy or strapless, which won't work while whitewater rafting or jumping into rivers.
Many hotels prohibit the use of in-room towels at the beach, so plan to rent a towel or pack your own. Microfiber travel towels take up very little space and dry fast, making them perfect for impromptu dips in waterfalls and natural hot springs.
There Will Be Bugs
Appreciating Costa Rica's incredible biodiversity doesn't extend to appreciating its infamous mosquitos. Pack a travel-sized bottle of bug spray or wipes. Insect repellent is slightly more expensive to buy in-country but readily available if you run out.
Also, bring a small tube of anti-itch ointment for the inevitable pest that breaks through your DEET shield.
Don't forget some sweat and water-resistant sunscreen. If you burn easily, a small tube of aloe vera will come in handy as well.
Most accommodations provide basic toiletries like shampoo, body wash, and soap. The public bathrooms I encountered were also universally clean and well-maintained, but keep hand sanitizer and a small pack of tissues or roll of toilet paper in your daypack.
Electronics
Costa Rica uses the same outlets as the U.S., so you don't need converters to charge your phone and camera.
Toss a portable charger in your pocket that's perfect for long, adventure-filled days away from your hotel.
If you don't have a waterproof camera, a waterproof phone sleeve is great for taking photos in waterfalls and hot springs.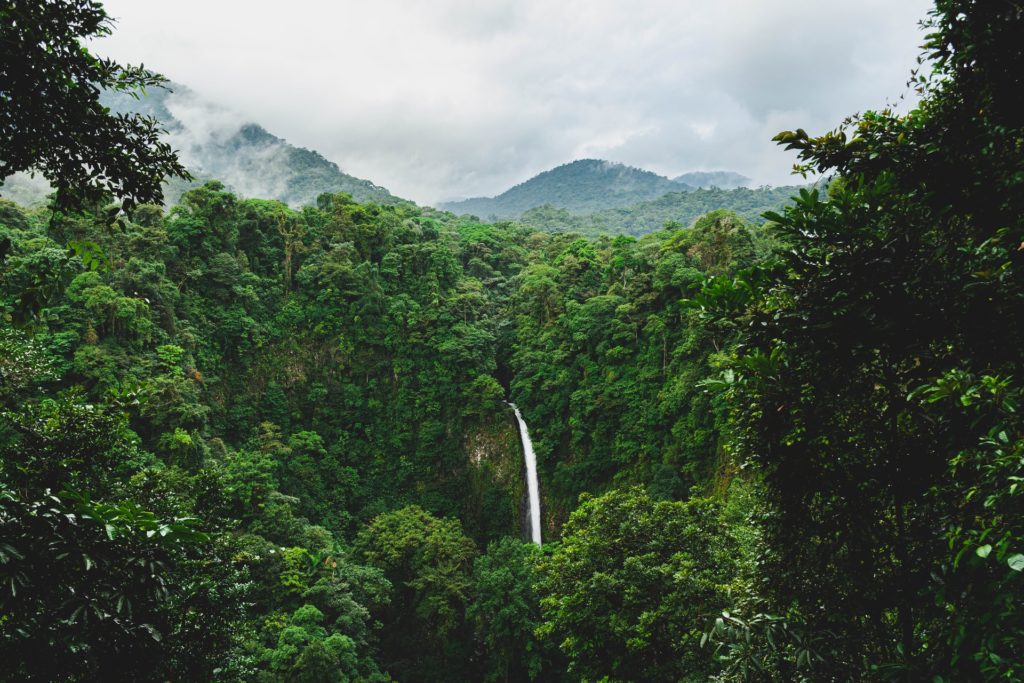 Costa Rica Packing List
This list will work for a week in Costa Rica across all of its landscapes and microclimates.
Clothing
3-4 lightweight t-shirts in performance fabrics
2-3 athletic bottoms
2 bras (including 1 sports bra)
Lightweight, hooded rain jacket
1-2 swimsuits
Sarong or other cover up for beaches and hot springs
Lightweight sweatshirt or sweater (for chilly nights at higher elevations; wear this on the plane)
Baseball cap
Sunglasses
Shoes
1 pair of sneakers, trail runners, or other lightweight walking shoes
1 pair of sturdy sandals like Keens, Tevas, Chacos, or Birkenstocks
Optional: 1 pair of boat shoes, flats, loafers, or "nice" (as in, non-athletic) sandals for walking around town
Extras
Travel-sized bug spray or insect repellent wipes
Travel-sized deodorant
Travel-sized sunscreen
Anti-itch cream
Lightweight travel towel
Daypack for hikes and trips to the beach
Water bottle (the tap water is fine to drink in many parts of the country)
Waterproof passport/credit card case (to keep your documents protected should you get caught in a sudden downpour)
What Not to Pack for Costa Rica
The following don't deserve precious space in your carry on:
High heels or any uncomfortable shoes, which you absolutely will not wear.
Hair straighteners and curling irons can't compete with the humidity.
Terry cloth towels, which are bulky and take forever to dry.
Trench Coats or heavy insulated jackets are overkill for the weather.
Conclusion
Costa Rica has something for every kind of traveler. Remember to fill your carry on with comfy activewear, shoes that can get wet, and a lightweight rain jacket, and you'll be ready to tackle whatever adventures this amazing country tosses your way.