Forget big luggage, daypacks are the new best bag for weekend travel. Using a daypack as your weekend bag means you'll pack lighter, blend in better, waste less time, and be free to roam without the burden of stuff.
Earlier this month, my boyfriend and I spent four days in Portland on a long weekend getaway. Normally, I'd reach for a small weekender bag I bought for trips like this — but not for this one. This time, I wanted to challenge myself and see how light I could really pack.
Now, whenever friends of mine ask me how they can pack lighter, I tell them, "Get a smaller bag." So, I took my own advice and switched out my weekender for the Outbreaker Daypack. It turns out, that was all I needed.
If you're up for the challenge as well, let me share why daypacks are actually the best bag for weekend travel, and how to fit a weekend's worth of stuff into one.
Which Daypack Should Pack for a Weekend?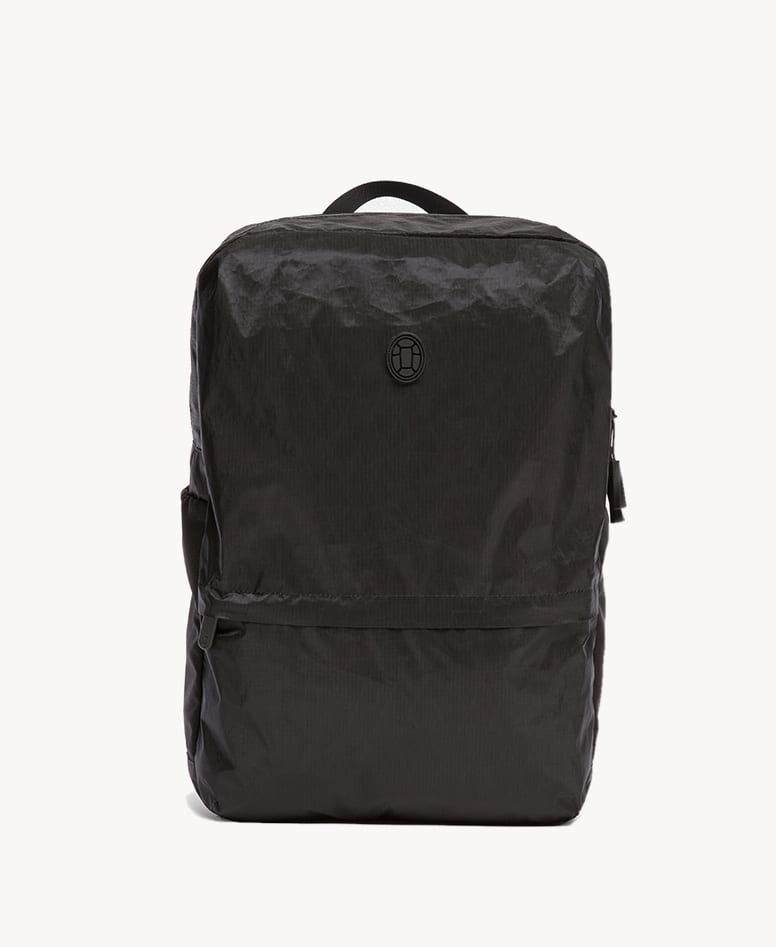 Outbreaker Daypack ($99)
The Outbreaker Daypack was designed to be light and simple. That makes it perfect for a weekend trip. At just over 1 pound, the daypack will never weigh you down. The laptop sleeve and front, quick-access pocket are all you need to stay organized.
You'll never have to worry about the weather. The waterproof sailcloth and water-resistant zippers will protect your computer even in the rain. No matter where your weekend trip takes you and what the weather throws at you, this daypack will handle it.
Outbreaker Laptop Backpack ($225)
The Outbreaker Laptop Backpack is a pro-level daypack that will blend right in. With plenty of pockets, ultra-cushy shoulder straps, and premium weather resistance, keep your laptop, tablet, cords, and everything organized for your weekend trip.
Pack your laptop. Don't worry about the weather, with the waterproof sailcloth construction. There's plenty of room for just enough clothing to make your weekend getaway perfect.
Daypack vs. Weekender Bag
Let's tackle the first questions: Why would you want to use a daypack instead of a weekender bag anyway? What makes a daypack the best bag for weekend travel?
1. Essentials Only
The reason why I love the "get a smaller bag" packing tip is because it forces you to really think about what you're bringing. You have to be thoughtful about which items you pack, choose items with multiple uses, and stay simple with your packing approach.
For weekend travel, you may be tempted to pack an extra outfit — just in case — or be lazy and throw the whole bottle of shampoo in your bag just because you have the space. In reality, you don't really need this stuff. With a daypack, you have to decide which items you really need, versus the ones you just want to bring, and throw temptation into your 'no' pile.
2. Freedom = Spontaneity
On that note, there's just something freeing about having less stuff on you. With only a daypack, it's easier to take a couple extra hours getting from the train station to your hotel because you passed a cafe, museum, or park that caught your eye.
In short, the more stuff you have (even if it's "only" a weekender) the more you plan your day around where to put that stuff.
3. Fewer "Just in Case" Items
I love traveling with no plans, but when I'm going away for only a couple of days I tend to have more of an itinerary (or at least a "to eat" list). I'm also more aware of the weather, and I'm less likely to travel too far from my intended destination.
This means, I have less need for those "just in case" items — so why make space for them?
4. Public Transportation is Easier
You have no more stuff than any other commuter, so getting on a train or bus is a cinch. Also, if too many people have stuffed their coats in the overhead compartments of your flight, you won't be the one forced to check your bag.
5. You're Incognito
Some people don't care if they stand out as a tourist, but if you do, having less luggage makes it less obvious. Person with a suitcase: obviously not from here. Person with a backpack: who knows?
6. Less Time Wasted
Especially if you're doing a mini-road trip and visiting a couple of different spots during your weekend trip, you won't want to waste any minute of your short getaway! Having a smaller bag means less stuff to keep track of, unpack, and repack.
7. Don't Pack a Daypack
At the risk of sounding obvious, if you pack everything in your daypack, there's no need to pack an extra bag for exploring around town in your luggage. Just take everything out of your bag and you're ready to explore!
Ladies' Tip: Bringing a backpack to dinner isn't the classiest. To avoid packing a purse, consider a wallet clutch that can double as your money holder and going out bag.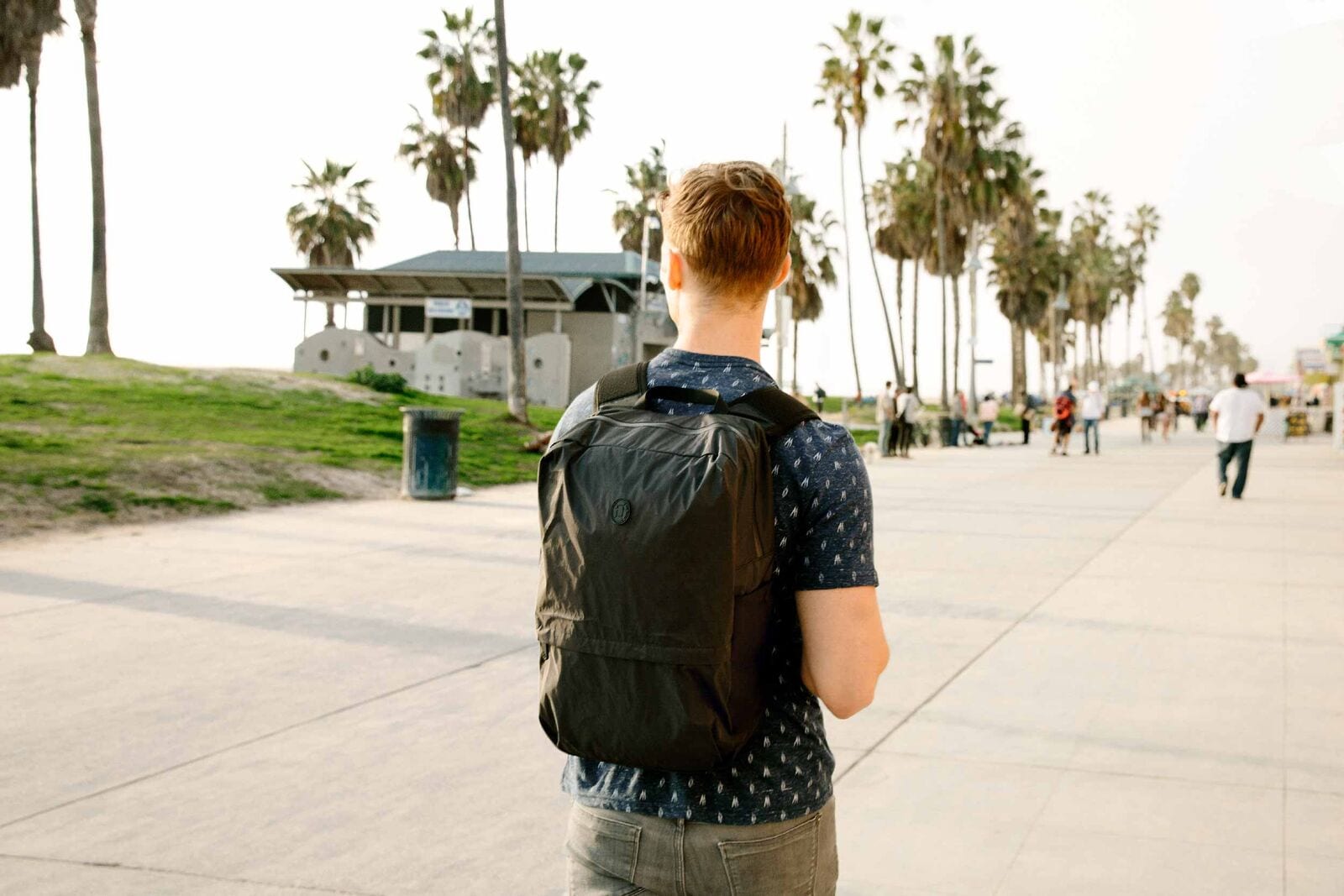 How to Pack a Daypack for Weekend Travel
Shannon has already written up an excellent packing list for weekend getaways. She wisely suggests to start with your shoes and pants, build the rest of your outfits off that, and then pack exactly what you want to wear.
However, if you're packing for weekend travel in a daypack rather than a slightly larger bag, here are a few daypack specific tips to help make it all fit:
1. Lots of Pockets
Choose a bag with lots of pockets. The Outbreaker Laptop Backpack has the most organizational pockets. If you don't need to take your laptop, then the Outbreaker Daypack will provide a flexible packing space and is equally great for short trips.
Whichever bag you choose, multiple pockets will help you stay better organized.
2. Organize Your Clothes
If you carelessly stuff everything into your daypack, it'll be harder to find certain things — especially since a daypack doesn't open the way a duffle bag would. Personally, I like to roll my clothes and pack them standing up, from side to side in a packing cube. Then, I'll put a small packing cube with my underwear in it and a toiletries bag on top. This way, nothing's lost at the bottom.
All other small essentials, like keys, wallet, phone, and my foldable water bottle go in the small zipper pouch. Airplane snacks get shoved in to the water bottle pockets, within easy reach.
3. Split Shareable Items
If you're traveling with friends, this is generally a good rule of thumb, it becomes even more important if you have less space to spare. Rather than doubling up, divvy up the things you're willing share, like toothpaste, sunscreen, hand lotion, shampoo, conditioner, and chargers.
4. Pack Last Minute
I know this sounds counterintuitive, but if you're only going away for a weekend, you've got one huge packing advantage over other trips: you can look at the weather for your entire trip.
Save packing until a day or two before you leave, so the weather predictions are more accurate and you can pack accordingly. For example, do you really need to pack that umbrella? Or are you gambling on the weatherman's sunny-and-a-ten-percent-chance-of-rain forecast? Packing last minute will help you keep it to the essentials.
Get a Free Carry on Packing List
Join our email list for more packing tips and gear guides.
When you sign up, we'll send you a free carry on packing list to get started.