How to Choose a Digital Nomad Backpack
The Tortuga Promise
At Tortuga, our mission is to make travel easier. Our advice and recommendations are based on years of travel experience. We only recommend products that we use on our own travels.
As a digital nomad, you need luggage that blends travel and work. Your bag is your house, or at least your closet and your office.
The suitcases most vacationers drag around won't work for you. Your gear has to work for the way that you live.
Carry Your Whole Life
Your packing list doesn't stop at one week's worth of resort wear. You have to pack your whole life.
A digital nomad backpack should carry the essentials for life on the road as well as the tools to do your job.
Pack the necessities—the things you cannot live without and would replace immediately if you lost them—in your travel backpack. Make sure your backpack qualifies as a carry on so that you can travel light. Don't check your bag and hand over all of your worldly possessions to an airline.
Your backpack should be big enough to carry everything you need, but small enough to stay agile.
You should be able to pack the following in your nomad backpack:
Capsule wardrobe: tops, bottoms, socks, and underwear
Office: computer, laptop stand, chargers, mouse and keyboard, and headphones
Documents: passport, visa, paper copies of everything
Extras: entertainment on the plane, things that keep you comfortable on the road
Tortuga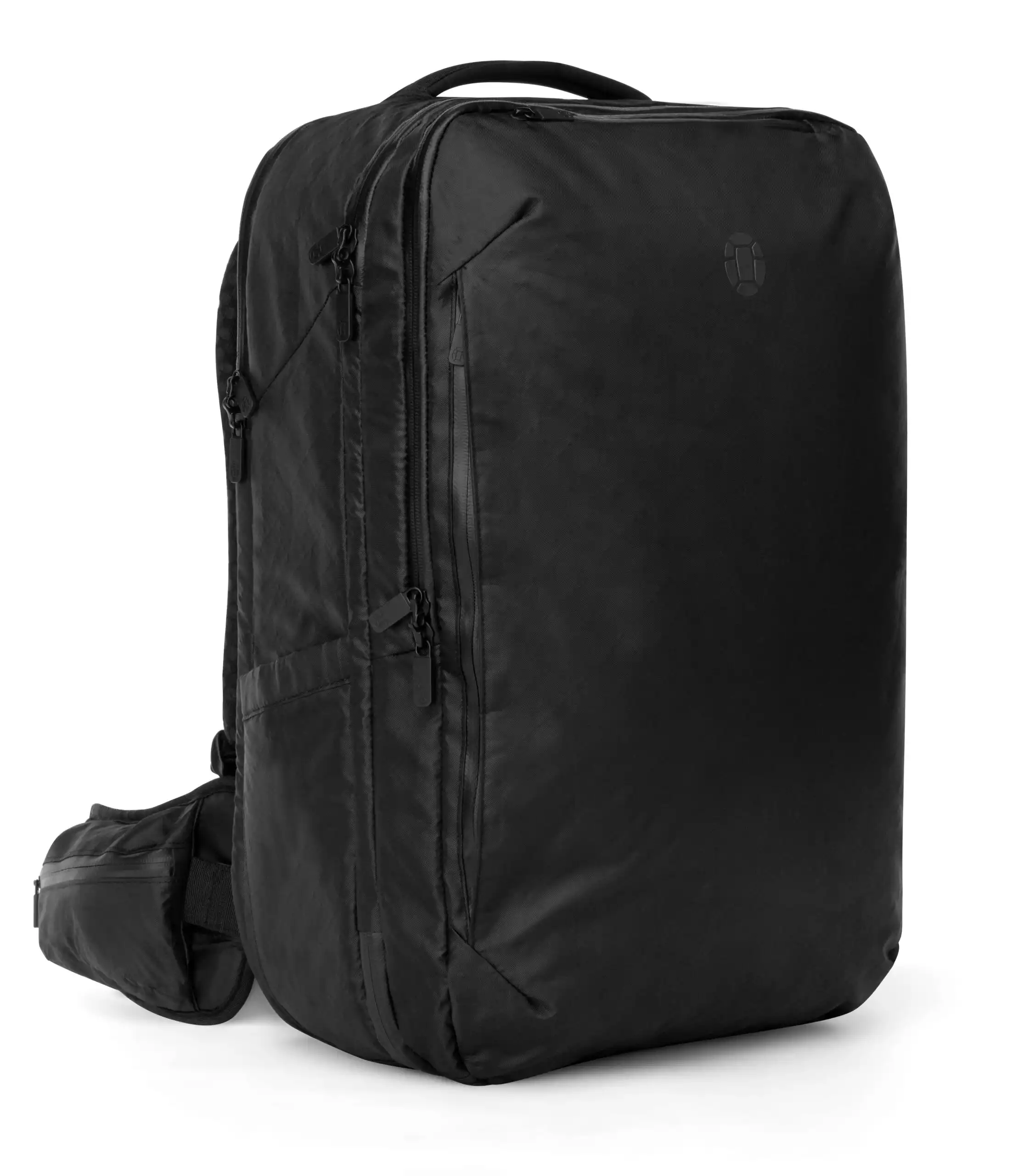 Travel Backpack + Laptop Backpack
The best backpack for digital nomads doesn't just carry clothes. Your backpack also has to carry your electronics. Whether you plan to work from your Airbnb, a cafe, or a local coworking space, you'll need a second bag—a personal item—to use as your daily work bag. Your travel backpack will be too big to carry around town with just a computer and a few accessories in it plus you don't want to have to unpack all of your clothes just to go get some work done.
The lightweight solution is a packable daypack with a laptop sleeve. When you're in transit, you can pack it away inside your main luggage. When you arrive at your destination, unpack the daypack, put your computer and peripherals inside, and get to work.
Built for a Nomadic Life on the Road
You're bound to be in a few stressful situations as a digital nomad. Some of those situations are tough to plan for like getting stranded mid-layover because of a cancelled flight. You can, however, avoid a luggage-based emergency by choosing the right bag.
Make sure to choose a weather-resistant backpack, not necessarily a waterproof backpack, as you'll undoubtedly find yourself lost in the middle of a drizzling city or stuck on a tuk-tuk in the rain at some point.
Waterproof sailcloth is the best backpack fabric for weather resistance. Sailcloth was originally developed for the sails of racing boats. The fabric is durable and has a waterproof layer so that rain won't soak through. You don't need to buy, or carry around, and extra rain cover. The sailcloth has you covered without adding any extra weight to your load.
Nobody wants to replace their bag because of a broken zipper or a ripped strap while on the other side of the world, so choosing a durable backpack is crucial. Look for best-in-class YKK zippers and Duraflex buckles.
You should be able to travel indefinitely without worrying if your bag can keep up with you.
Best Digital Nomad Backpack
Carry everything you need for life as a digital nomad in the Travel Backpack. Carry your clothes in the main compartment and your electronics in the back.
Read what your fellow nomads are saying about their Travel Backpacks:
"This bag is SO comfy and fits an unbelievable amount of my crap—seriously, like a Mary Poppins bag."

Samantha L.
"Amazing backpack that I overstuff for a 6 month trip through 21 countries."

Jeff W.
Learn more about the Travel Backpack and how it can be your nomad bag for life on the road.