Don't be surprised if the next digital nomad you encounter has their sights set on Southeast Asia. This region is super popular those who work on their own terms—maybe it has something to do with the low cost of living, the incredible communities, the fascinating cultures, and it's (semi) reliable internet speeds. Throw in a couple of adorable monkeys and hot noodles flavored with lemongrass and you've got yourself an absolute "duh."
You've probably already read our guide to regional budget airlines in Southeast Asia and our low-down on Chiang Mai as a digital nomad destination. Maybe you've even bookmarked our list of what not to pack for Southeast Asia—you know, to refer to in the future when you're finally filling your Homebase pack.
This time we're tackling where to work and what to actually bring (versus what you can get there!), here's the latest insight on the landscape of Southeast Asia for today's digital nomads.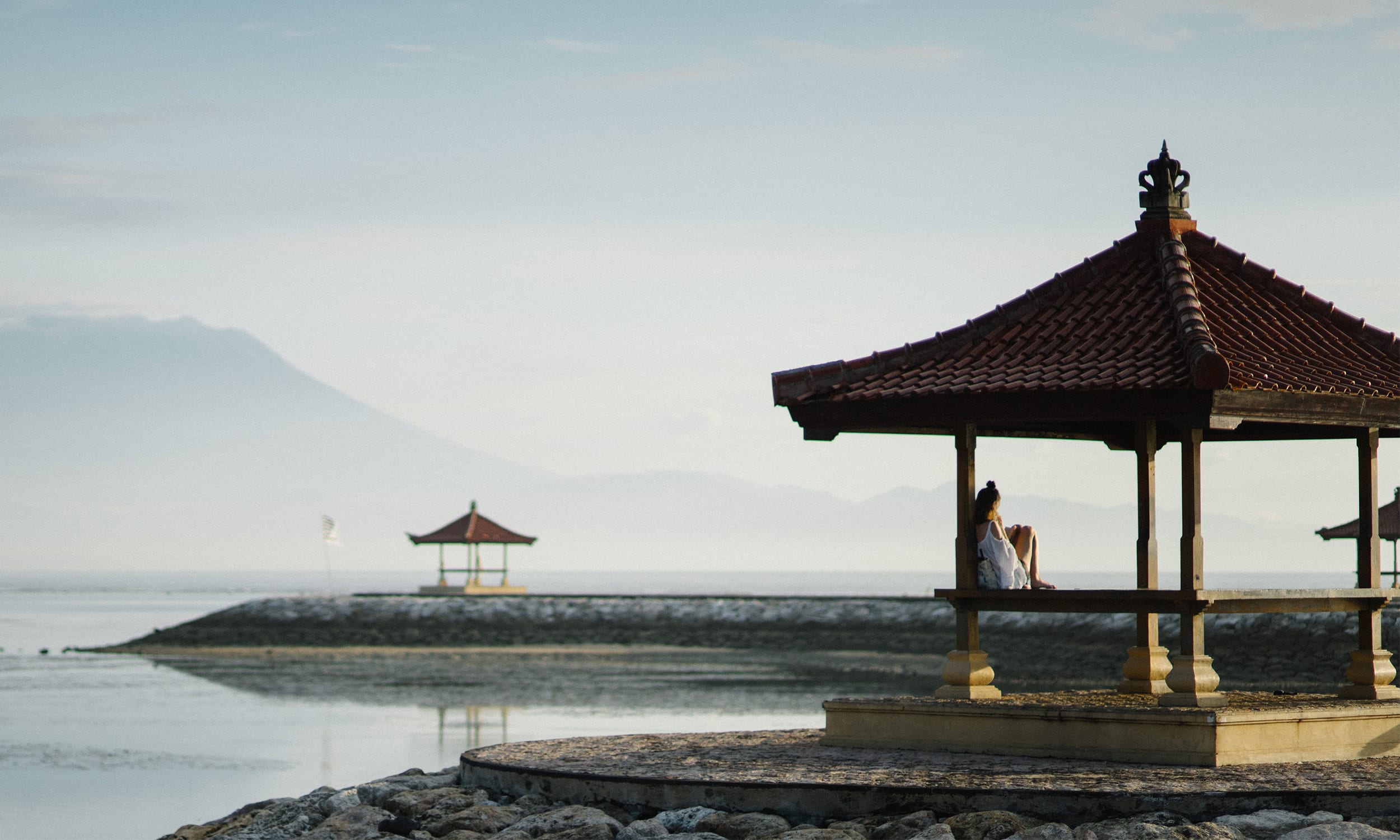 Best Countries for Digital Nomads in Southeast Asia
Which are the best countries for digital nomads in Southeast Asia? Great question. To help you zero in on the right country for you, let's talk about four major factors that influence a digital nomad's quality of life abroad: internet speed, accessibility, cost of living, and community.
Vietnam
Much more than karst mountain studded bays, hidden Buddhist temples, and delicately wrapped spring rolls, Vietnam is an intriguing Southeast Asian destination for the digital nomad life—after all, they say that the only risk in working and traveling in Vietnam is wanting to stay. Rough around the edges, but beautiful to its core, Vietnam is for anyone craving something a little different. But how does it stack up against other heavy hitters in the region?
Internet Speed
The internet speed in Vietnam for digital nomads isn't awesome, but it is more reliable in the bigger cities. Expect ~5mbps in most locations, or set up your homebase in Ho Chi Minh City, with averages 10 mbps.
Visas & Entry Requirements*
Vietnam visa regulations for digital nomads are straightforward. If you plan on staying in Vietnam for longer than 15 days, be sure to apply for your visa in advance—there are one month or three month multi-entry visas. Apply directly at your local Vietnamese embassy or online at VOA Vietnam. From there, you'll be given an approval letter, which you'll need to bring with you when you enter the country. You'll also need the completed immigration form, the visa fee (we recommend paying in US dollars), and two passport photos.
Pro tip: if you want to rent a house, you'll need a minimum three month visa.
Cost of Living
Get ready to live like a baller and make millions! At the time of writing, the exchange rate is roughly 22,000 Dong (VND) for $1 (USD). So, the first time you hit an ATM in Vietnam, you're a millionaire! Let all of your dreams of starring in a rap video come true. Apartment rent will usually run you between $300-$500 USD, and a piping hot bowl of pho for less than $3 USD (this goes great with Bia Hoi, a local beer, for $0.25 USD).
Don't forget to buy your own motorbike (foreigners are not allowed to rent cars or bikes without a driver) to scoot around like the locals for around $200-$300 USD. Expect to live comfortably for less than $800 USD monthly in most locations.
Community
Vietnam is on the rise as a digital nomad alternative to oft-chosen Thailand. Cities like Hoi An and Ho Chi Minh City have well-established DN communities with regular meetups and support, but you might like the simple life in smaller cities like Da Lat, and Da Nang. The community here is enthusiastic and growing rapidly, though is still working out the kinks and logistics for remote workers en masse.
Get in on this thriving digital action while you can!
After kayaking all day in Halong Bay until your arms feel like (rice) noodles, publishing triple-digit-insta-likes photos of colorful lanterns, and admiring the uniquely French and Chinese elements of its energetic cities, you will be thoroughly enamored with the digital nomad lifestyle in Vietnam.
Cambodia
It may not be at the top of your list, but Cambodia is bursting with life, culture, and history. The country can be charmingly baffling at times, but once you've set off into this wild, wonderful world, homebase in tow, you won't look back.
Make sure your Cambodia digital nomad bucket list includes paddle boarding the Praek Tuek Chhu river amidst the Elephant Mountains and traditional fishing villages, crawling the Cu Chi tunnels, and sunbathing on the sparkling beaches of Koh Rong and Koh Thmei. But since you're also there to work (not just play!), here's what you need to know to figure out if you can do your job well here.
Internet Speed 
I'm not gonna lie—the internet connectivity of Cambodia is nothing to brag about. At an average of 3-4 mbps, Cambodia is better as a short-term stop during slow work periods than it is as a long term base. If you're working with heavy files, or videos that have to be up and downloaded, take their media magic elsewhere.
Visas & Entry Requirements*
While you can get your 30-day tourist visa ("T visa") on arrival ($30 USD), it's better to apply for an electron, or eVisa, in advance. It'll cost you $10 more, but it saves you time at the border (note that it's only accepted at Siem Reap, Phnom Penh, Cham Yaem, Poipet, and Bavet) and pages in your passport.
Don't mix up an eVisa with the "E Class" visa, though—this is a special version of the T visa. Though the E Class visa costs $5 USD more, you can extend it by 30 days indefinitely.
Cost of Living
Cambodia's cost of living is similar to Vietnam's. The "hotspots" of Phnom Penh and Siem Riep will be at the higher end of the scale. You'll still be able to live very well for under $1000 a month.  Be prepared, though, for extra costs up-front: most apartment rentals will ask for one month's rent plus one or two months' deposit in advance. Phnom Penh boasts the highest apartment costs, but they still run less than $300 USD.
Stick to street food for your meals (they'll still cost you twice as much as neighboring countries, between $4-$6), and be sure to budget $1 USD for every meal to cover the cost of two coconut fruit shakes (one as an appetizer, one as dessert).
Pro tip: internet costs in Cambodia are high, ~$70 USD per month. Consider using your smartphone as a hotspot because data plans, on the flip side, can be quite cheap. You can use US dollars or Cambodian Riel (KHR) as a currency here.
Community
There are amazing coworking spaces here that are already poppin'. Siem Reap, specifically, is home to two: Angkor Hub has reliable internet access (and cheap, tasty lunch options to boot), and 1961—though a little more expensive, this hip space doubles as an art gallery. Talk about inspiration! Also check out Impact Hub and Emerald Hub in the capital. The expat community of Cambodia loves bouncing between well-equipped and caffeinated cafes, swapping tips for the best tuk-tuk drivers, and planning weekend romps to the south.
Johm riab sua and a warm welcome to the digital nomad community in Cambodia! The lotus fields—and your newfound kickass project management skills—await.
Thailand
Lying at the crossroads of modernity and tradition, in Thailand you can experience something new every single day. From the towering Luang Prabang summits, to insanely bedazzled temples, historical communities, digital nomad friendly visa laws, and piping hot massaman curry are just a few of the reasons Thailand is one of the best places to nomad in Southeast Asia. And that's not including the incredible energy of your soon-to-be-neighbors — there will never be a dull moment when working in Thailand. Let's unpack what makes this country great an "on your terms" lifestyle.
Internet Speed
Some Thai cities—like Bangkok, Chiang Mai, Phuket, and Ko Samui—have internet speed averages that range from 15 mbps to upwards of 40! However, if you only packed swimsuits into your Homebase duffle and want to opt for island living, expect more than just your pace of life to be slow—internet speeds barely reach double digits in many locations.
Visas & Entry Requirements*
If you'd like to stay in Thailand for more than 30 days (the time allotted with the Free Tourist Entry Pass upon arrival by air or land), grab $40 USD and apply for the 60-day Tourist Visa in-person at a Thai embassy, in advance. You can extend your visa for 30-days once at any Thai Immigration Office.
You may have heard about the so-called digital nomad visa that was announced in 2017. As of February 1 it became available to apply for. We'll see how it goes as people start applying for it, but at first blush it looks like it won't be as much help to digital nomads as they hype indicated. Get the low down on the new SMART Visa for Thailand here.

Pro Tip: border runs in Thailand can be tricky, but the general census is that flying in and out is seen as less of an issue than traveling overland. The official rule is that you can only exit/re-enter the country via land or water twice in a calendar year, whereas flying has no limits. Consider mastering Thai in a language school or attempting Nirvana with Buddhist monks by seeking an Education (ED) visa—good for 12 months for students.
Cost of Living
The average expenses of a digital nomad in Thailand will vary widely—Bangkok can run you more than $1200 a month at the time of writing, while some remote island locations can cost you less than $500. Popular Digital nomad-haven, Chiang Mai, runs less than a grand on average.
In short: research your little heart out and calculate your projected expenses before you settle in. The current exchange rate is that $1 USD is approximately 32 Thai baht.
Community
Thailand is credited with helping define modern digital nomadism. Just Google "Coworking Spaces Thailand" and your screen will light up with over a hundred hubs, all alluding to the incredible network of folks who also reject the typical 9-5 and love to collaborate and share ideas.
The well developed digital nomad scene has its share of pros and cons: reliable internet and supportive community—yes, but increasing costs and over-popularity might be detracting from the digital action for newcomers.
You can digital nomad amidst coffee farms, national parks, waterfalls, canyons, glorious festivals, all while exploring the intricacies of Thai culture. Come for the papaya salad, stay for the incredible lifestyle.
Indonesia
Indonesia is an aspiring digital nomad's dream. From the massive modernity of Jakarta to a land of creaking wooden pagodas, the hum of the mangrove, rolling grasslands, fiery cuisine and equally passionate locals, there is plenty to be discovered in this oft-overlooked archipelago. Whether you're keeping up with colleagues on Slack or eyeing a new street food to munch on, becoming a digital nomad in Indonesia has lots of options. Here's how it sizes up compared to other attractive regional destinations.
Internet Speed
Digital nomads in Bali will happily tap-tap-tap away at their laptops to the tune of 15+ mbps internet speed. Other locations aren't so lucky—sometimes not even exceeding 1 mbps on average! Remember that Indonesia is made up of over 18,300 islands; some well connected, others remote. Do your research in advance and balance your adventures with your connectivity.
Visas & Entry Requirements*
If you plan to spend less than a month in Indonesia, you can live here visa-free for 30 days (with no possibilities of extensions). However, if you have a feeling you might not get your fill of orchids and acai bowls in a month, get the 30-day Tourist Visa upon arrival ($35 USD)—this can be extended for another month at immigration offices within Indonesia. This process (which costs an additional $25 USD) can take up to a week and requires photocopies of your passport and proof of exit, like an outbound plane ticket.
If you're the planning-ahead type, consider applying for a Social/Cultural visa or an Educational Visa—these can only be obtained out of country, and require a valid reasoning for your application. Keep in mind these visas are single entry, and allow you an initial stay of 60 days in Bali, followed by four possible extensions for 30 days at a time.
Cost of Living
The popular locations—Canggu, Jakarta, Ubud—will all run you $1000+ on average monthly. More off the beaten path locations can cost as little as a few hundred dollars monthly.
As a 90%+ Muslim country, alcohol can be hard to come by, and is heavily taxed. Don't be surprised if the cost of your beer in Indonesia could cover the cost of 2-3 in Vietnam. Delicious coffee flows plentifully and cheaply (unless you opt for kopi luwak, the most expensive beans in the world), and if you can live off Nasi Goreng (fried rice) like I did, you'll be very happy with your overall food costs.
Community
The digital nomad community in Indonesia doesn't really fit in a box, as it varies widely across its many islands. Jakarta is very different from Ubud, though both have well-established communities, coworking spaces, and meet ups. Outer-lying islands might have fewer digital nomads, but tighter support groups. Let's just say the flavors are abundant—both on the plate and off.
Indonesia might not be known for the glitz and glam of shiny Bangkok or the old world charm of Hoi An, but for some digital nomads, it's best of both.
Malaysia
Where in the world can you spot a mosque, a Hindu temple, a Buddhist temple, and a colony of orangutans in the same country? Your next digital nomad destination, Malaysia, that's where! Famed for its butterflies and soursop—not to mention indomitable spirit and unique cultural mishmash, working in Malaysia will have you feeling all warm and gooey inside, like a fresh murtabak, in no time. Be sure to pack a sarong in travel backpack before you the hit the beaches; here's what you need to know to kick butt on—and off—the clock in Malaysia.
Internet Speed
Pausing to take a deep breath of the fresh salty air while waiting for your uploads and downloads is a small price to pay for average internet connectivity speeds in Malaysia. Expect speeds averaging from 2-8 mbps, with capital city Kuala Lumpur's internet clocking in around 5 mbps.
Visas & Entry Requirements*
Malaysia makes it super easy for digital nomads to get in, get settled, and stay awhile. In fact, many nationalities are eligible for the "Social Visit Pass," which can be granted in 14, 30, or 90 day increments. Exit and re-enter the country twice per year—even overland—with no penalty. Given its proximity to Singapore and Thailand in West Malaysia and Brunei and Indonesia in East Malaysia, your options for border crossings are pretty convenient (and fun!).
Cost of Living
Most digital nomads in Malaysia can get away with living a comfortable, healthy lifestyle for less than $1000 on average monthly. Cities like Malacca and Ipoh will have the highest costs, with KL coming in a close third. Apartment rents range from $300-$500 USD monthly, but you'll more than make up for the cost in your street food savings. Just wait until dishes like roti canai, nasi gorang, satay, and tea terik become mainstays in your diet. Though a more progressive Muslim country, alcohol will still cost you, a Tiger beer (from neighboring Singapore) will cost you about a $1.50 USD. At the time of writing, one Malaysian Ringgit (MYR) is about .25 USD.
Community
Malaysia hasn't yet hit its stride as a digital nomad destination, but some betting it's the next big thing. With many coworking spaces—including one dubbed "The Success Factory"—entrepreneurs and creatives are starting to arrive in droves.
More cultural sensitivity is required of the expat community here, including modest dress and discreet alcohol consumption. There are plenty of folks to lean on as you face unexpected challenges, not to mention plenty of world class (and underrated) beaches for when the time-zone-meeting-math gets too overwhelming.
Try to squeeze an extra pair of pants into your backpack because they'll likely get "Wow'd!" off when you live here…
*We highly recommend that you review each individual country's labor and immigration visa laws prior to booking your travels to ensure full understanding of current regulations.
Other Digital Nomad Destinations in Southeast Asia
Outside of the top five most popular countries in Southeast Asia, there are some fantastic hidden gems for digital nomads willing to get off the beaten path. 
Singapore
The thing about Singapore is that it's expensive. But the internet connectivity is great and the amenities are second-to-none in the region. Foreigners here tend to live the more-established "expat life" rather than the digital nomad one (read: personal drivers, handsome salary packages, private residences).
You can get a visa on arrival for 30-90 days for most nationalities.
Myanmar
Visas in Myanmar aren't as hard to get as they once were, and are available online or in-person. They'll cost you $50-$70 USD and will allow you to stay for 28-70 days. Myanmar is a common regional vacation for digital nomads rather than a homebase, though you can find decent free wifi here and the culture is incredible.
LGBTIQ+ readers should know that this country isn't exactly a place famous for its openness towards non-binary gender/sexuality identities.
Brunei
Even harder than figuring out how to pronounce "Bandar Seri Begawan"—the capital city—is figuring out how to sustain a budget life here. While life in Brunei is on the upper end ($1200+ USD per month), there are plenty of free things to do to keep you occupied. The digital nomad community is very small here, with no dedicated coworking spaces.
On the bright side, visas are free and can last from 30-90 days easily.
The Philippines
Though beautiful and varied—with the fewest language barriers in the region—the Philippines just isn't great for digital nomads. It can be expensive, "brown outs" are common (internet outages), and many there don't always feel safe. Check the State Department webiste for regional breakdowns on safety, because there's not a one size fits all answer for the Philippines, and it changes often.
Nomads can stay here for 30 days visa free (easily coordinated upon arrival) and can extend their stay in the Philippines for another 60 days by visiting a Philippine Embassy in-country. 
This country makes a great short term digital nomad destination as a stopover, going or coming, from Southeast Asia.
Laos
Laos is inexpensive and has a great culture, but it's internet speeds range in the 1-2 mbps. Laos can be a nice alternative to Thailand, especially if you love the terrain and climate, but don't love overcrowded coffee shops or same old small talk at networking events. You'll find the connectivity better in the north, where the expats and digital nomads tend to congregate, than you will south of Pakse.
Obtain your 60 day tourist visa in advance at a Laotian embassy or simply get one during arrival for 30 days; extensions are easy to coordinate (and affordable—sometimes $2-$4 USD!). Laos is home to the waterfalls that are GOOD for chasing! 
Digital Nomad Capsule Wardrobe for Southeast Asia
If you haven't jumped on the digital nomad capsule wardrobe train just yet, now's your chance. What are your must-pack items versus the ones you should ditch in advance (because they're easy to come by while on the ground)? Southeast Asia is well equipped to meet most of your needs if you plan ahead. Let's dive in:
Real Talk on Digital Nomad Life & Packing
One of the main reasons Southeast Asia is so incredibly attractive to the mobile workforce is the low cost of living and budget-friendly lifestyle. This reality extends beyond your meals and your accommodations—this includes the ease of travel from place to place, too. You're not just going to sit on your laptop all day, right? Right!
Budget airlines are the secret sauce to affordable, exotic short-term vacations, but they still come at a price. That price is usually wrapped up in hidden fees or luggage taxes, which is why it is imperative that you become an expert at packing lightly for travel with your capsule wardrobe for Southeast Asia. And that starts with having the right equipment.
You need a backpack for work and life, one that will stick by your side both when you exceed your metrics goals and when you need a weekend getaway to see river dolphins in Cambodia. 
The Setout collection is all you need as a digtial nomad. Literally.
The travel backpack, for men or women, paired with the Laptop backpack (both carry on sized, don't worry!) is the perfect combo to fit everything you need, from clothing to office gear, to rock digital nomadism in Southeast Asia. Even in monsoon; they're made of water resistant fabric.
What to Buy in Advance
Though many of your favorite brands have made their ways to the major cities in Southeast Asia, it is true that you can't find everything here. Especially for tall or big-footed folks, it's important that you plan to pack extra just in case you can't get to Bangkok or Singapore to replace your essentials very quickly.
Clothes**
Outerwear
Footwear**
Toiletries
**Note: for our tall or larger framed friends, we recommend packing 1-2 extras of clothing and shoe essentials just in case. Replacing them in larger sizes will require a trip to a major city and a tourist mall.
What to Buy on the Ground
Save the weight in transit and stock up on these essentials after you're abroad. They're readily available—sometimes quite inexpensively—and will help sustain your digital nomad life.
Keep in mind
When travel becomes synonymous with living, packing can feel overwhelming. Breathe easy knowing you won't be stranded for most items in Southeast Asia. Be flexible and bring whatever "must-have's" that are specific to you, even if they don't necessarily fit on this list. Be thrifty and light, but don't sacrifice your needs—especially if that means less productivity on the road. There are a lot of differences between a two week trip and the digital nomad lifestyle. How you pack is one of them.
TL;DR
These countries in Southeast Asia are some fo the best for digital nomads:
Thailand

has the most well-established community and amenities for digital nomads. It's incredibly popular and connected.

Vietnam

comes in second—it's not as easy as Thailand, but is making a name for itself in the DN community here. The pho obsession is real and the internet connectivity improving.

Malaysia

is great for digital nomads. Their resources might not be as flashy or modern as Singapore—or as developed as Thailand or Vietnam—but the community here has it's own irresistible rhythm.

Indonesia's suitability varies considerably from its established digital nomad communities in Bali or Jakarta to more far-flung destinations. Over all, it's affordable, but not the easiest place to set up your homebase.
Cambodia

is up-and-coming, but a lot of work. Be prepared for higher costs than it's neighbors and fewer conveniences.
Pack light to really soar. Like a freshly plucked pineapple, the time for becoming a digital nomad in Southeast Asia is ripe. Join the movement rather than watching from the sidelines. 
Want more like this?
Get weekly gear reviews, travel hacks, and packing tips sent straight to your inbox. As an added bonus, we'll send you a carry on packing list right away.