How to Become a Digital Nomad
"Digital nomads are individuals that leverage wireless digital technologies to perform their work duties, and more generally conduct their lifestyle in a nomadic manner. Such workers typically work remotely… to accomplish tasks and goals that used to traditionally take place in a single stationary workplace."
–Definition via Wikipedia
Digital nomadism has gone from fringe concept, to buzz word, to viable lifestyle choice across a range of industries. The team at Tortuga Backpacks, runs the company while traveling for weeks or months at a time. All we need is a fast, reliable WiFi connection.
Perhaps you're considering taking the plunge. Or maybe you're already a digital nomad but you're looking for a little help in smoothing out your process, from packing to working remotely.
Keep reading for tips on all of the basics, from getting started to traveling for free; and of course, what to pack.
Getting Started as a Digital Nomad
While every digital nomad has a different "origin story," most start out on their own, or via an organized group program. If you're just getting started as a digital nomad then consider the following.
A group program might be for you if:
You're looking for an organized, all-inclusive international experience from a week to a year in length

You're looking for community and an environment in which to develop professionally, make friends, and ease into the digital nomad lifestyle

You have a steady or fixed income

You value community, simplicity, and collaboration
However, some digital nomads may struggle with the fixed schedule, social overstimulation, and lack of flexibility.
Starting solo might be for you if:
You prefer taking planning into your own hands

You value flexibility in schedule, privacy, and the independence to explore at your own pace

You are seeking to stretch your budget further
However, solo digital nomads may also deal with loneliness, a research-heavy planning phase, and a reduced community support system.
There is no "right" way to take the digital nomad leap; your choice depends on personal preferences, work suitability, and personal goals.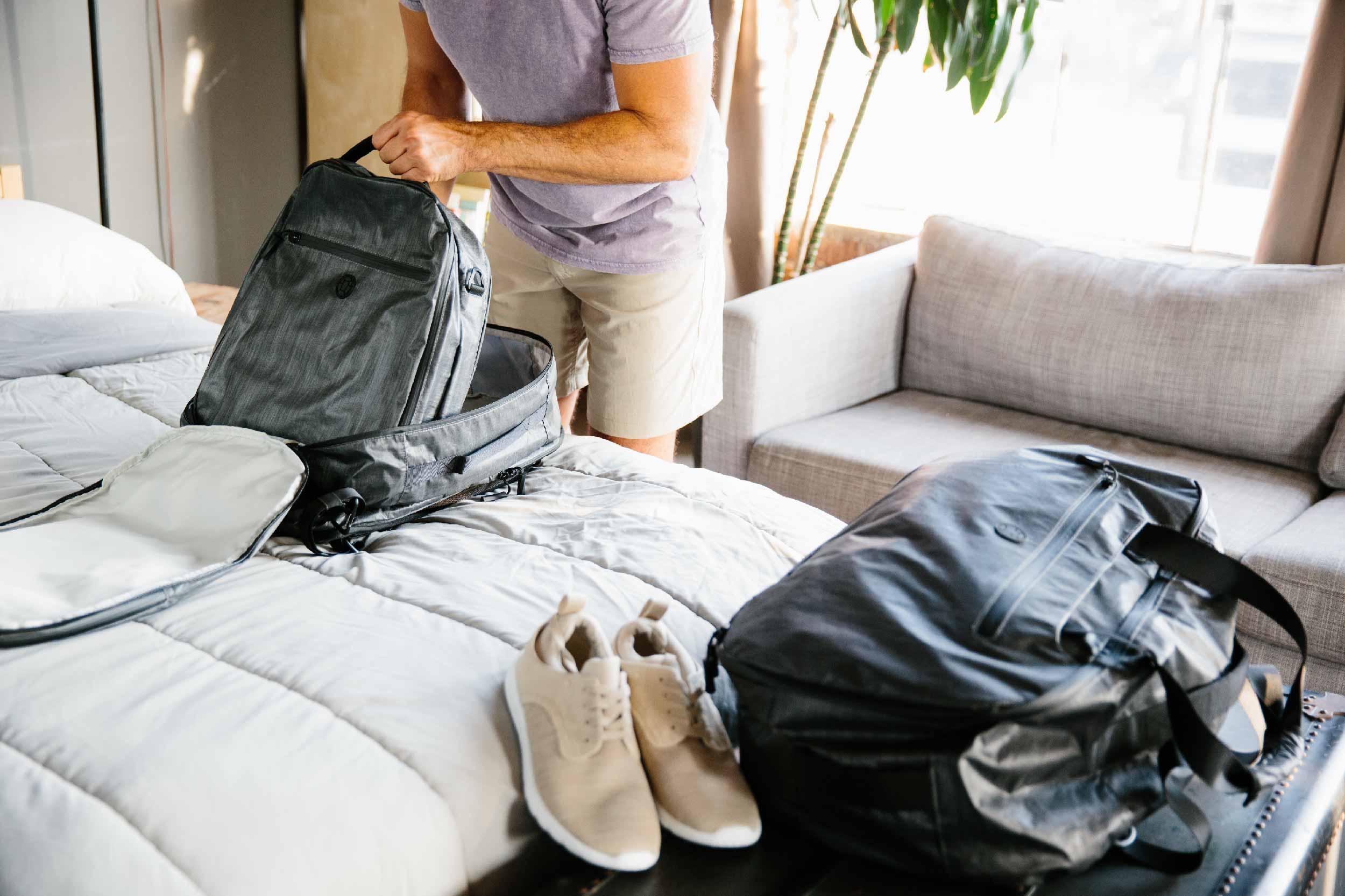 Packing for Digital Nomads
What do you pack when you travel as a digital nomad?
For digital nomads trying to craft the perfect packing list, a lot of what you bring will be very personal to you, your lifestyle, and your line of work.
Clothes
For clothes, digital nomads — who are usually longer term travelers as well — should still stick to the seven day rule. I'll often allow myself a couple of extra pairs of undies and one nicer outfit when I'm on the road for months at a time, however, since I want to feel like myself (even if I'm working outside of my comfort zone).
A capsule wardrobe is the digital nomad's best friend. There is no need to sacrifice fashion on the road. Start with what you have. Add a few key pieces.
Cover all of your bases with The Definitive Carry on Packing List, don't leave anything behind. The RTW Packing List will help you pack for any and all climate but still keep it to one, carry on sized, bag.
Electronics & Gear
Electronics are, perhaps, the biggest consideration and the most carefully selected items that remote workers will bring with them. As a digital nomad, you may be traveling with more electronics than others. Most digital nomads consider these the basics:
Laptop + case

Mouse

Smartphone

External battery

Universal adaptor, like the

Loop

all-in-one.

Headphones

Chargers

External hard drive, or thumb drive (there are

thumb drives with up to 1TB of space

, but I was fine with 32GB in between Dropbox uploads)

A lock to keep it all safe in your bag or hostel locker
Check out the Digital Nomad's Buying Guide for all the stuff you need for your work set up on the road. Here are 8 (Other) Travel Gear Blogs You Should Be Reading as well.
Lifestyle Items
Bring the items that make you happy, since, even when you're thousands of miles from home, you're not on vacation. This is your life, and you'll want the things that make you you.
Maybe that's your coffee press, or your running gear. Perhaps it's a tablecloth, or a particular mug.
You're living life on the road, not just on vacation. It's okay to pack the things that make anywhere home.
Here's more on what NOT to pack.
Pack your essentials in the travel backpack, then buy a laptop backpack for your daily work bag. Once you're set up at a new home base, use the laptop backpack as your carry on for short side trips, there's room for a change of clothes in addition to your office gear.
Working Remotely
The only gear you really need for a portable office is your phone, computer, and an internet connection. Everything else lubricates the digital nomad experience, but won't make you a success. Find a way to streamline your office gear as much as possible while making the little obstacles—charging, wifi, storage—as easy to overcome as you can. When it's easy to get work done, you'll make more money and have the time to enjoy your "crazy" life on the road.
Here are some resources to help:
If you don't want to be an entrepreneur, you can find a remote job. Work part-time or full-time depending on your travel schedule.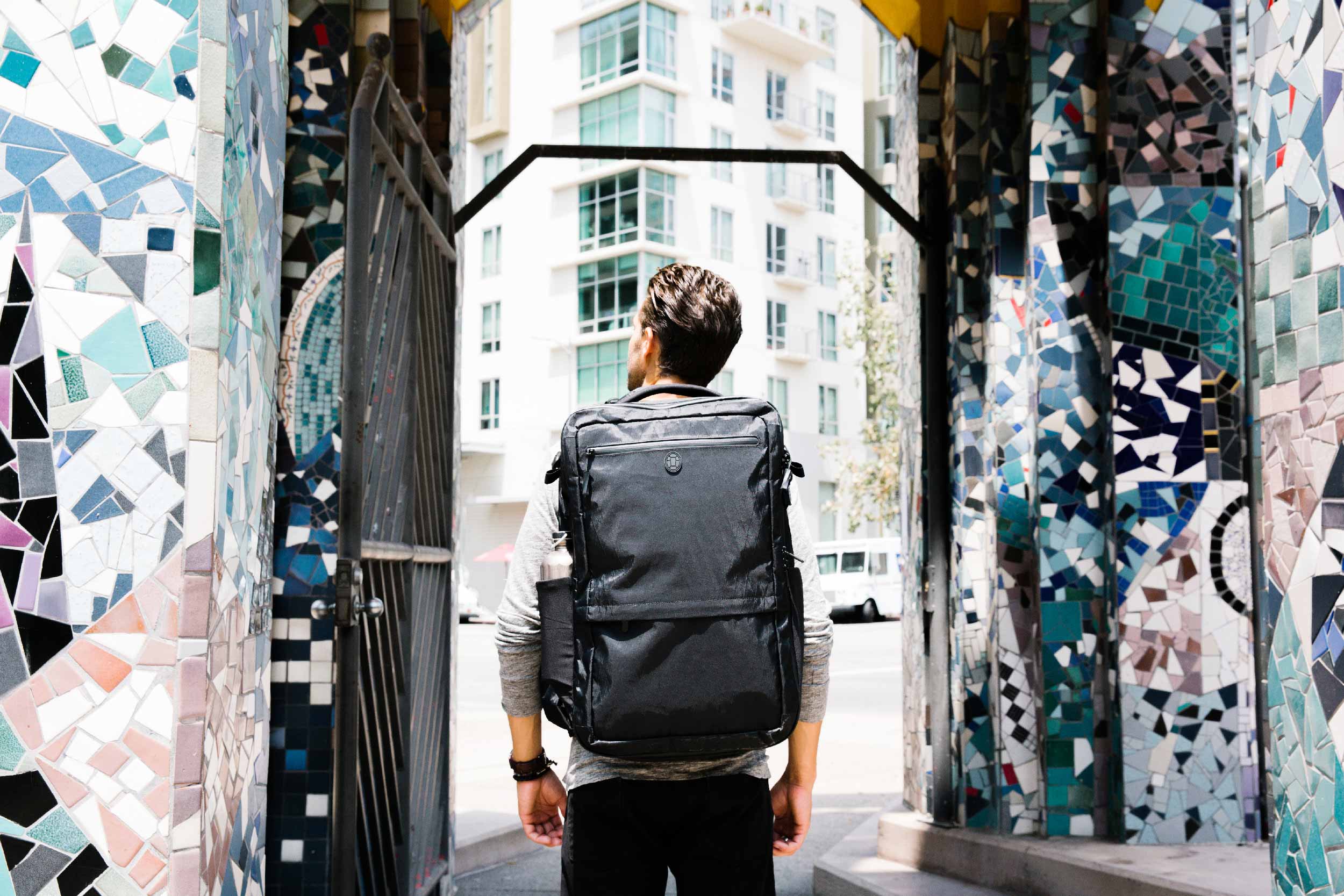 Traveling Hacking
Travel hacking is a superb, low-expense way to see the world. Many digital nomads leverage the points programs of airlines and hotels to travel for free, or close to it. Spending dozens or hundreds of hours per month managing your frequent flyer miles and points isn't necessary.
Figure out your travel goals and which credit card bonuses help you accomplish that goal.
Use a spreadsheet to track your spending.
Start here with the travel hacking basics. Then read more about how to maximize and manage your points.
More Digital Nomad Resources
There are lots of resources out there for digital nomads. We think remote work is the way of the future, if you are wondering about that, read more about why we work remotely. Maybe, for you it's about work-life integration and creating life on your terms; we agree.
If so, perhaps these resources will help:
Want more like this?
Get weekly gear reviews, travel hacks, and packing tips sent straight to your inbox. As an added bonus, we'll send you a carry on packing list right away.