Is a Duffle Bag a Personal Item?
The Tortuga Promise
At Tortuga, our mission is to make travel easier. Our advice and recommendations are based on years of travel experience. We only recommend products that we use on our own travels.
Most major airlines allow you to bring one carry on and one personal item in the cabin with you. If you plan ahead, you can use that personal item as "overflow" from your carry on and avoid baggage fees.
What's allowed onboard as your personal item varies by airline. Every airline has its own rules about personal items. In this article, I'll cover what's generally allowed as a personal item, whether a duffle bag falls under that allowance, and what to pack in your personal item.
Tortuga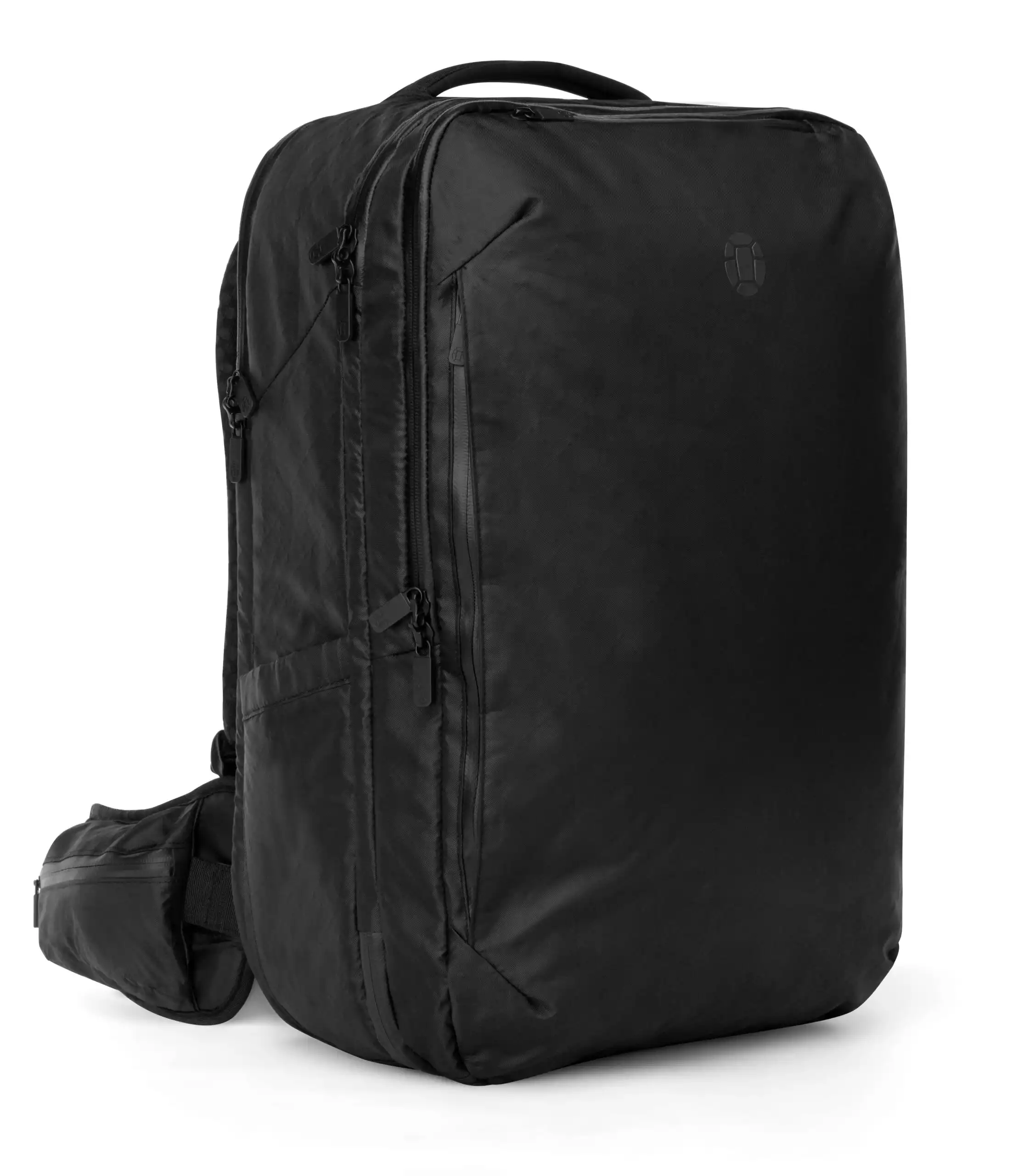 What is a Personal Item?
The TSA no longer publishes a definition for personal items.
The general rule for personal items is simple: the bag must fit under the seat in front of you. When comparing a carry on vs a personal item, remember that the carry on goes in the overhead bin and the personal item goes under the seat.
Airlines have different definitions of what that personal item looks like. Here are some examples:
American Airlines: "One carry-on bag and one personal item (purse, briefcase, laptop bag)."
Delta: "One carry-on bag and one personal item (purse, briefcase, laptop bag) per passenger."
Emirates: "One briefcase plus either one handbag or one garment bag."
Cathay Pacific Airways: "One small item aboard the aircraft fit under the seat in the front: small handbags, laptop bags, small backpacks, camera bags, briefcases."
United Airlines: "Shoulder bag, purse, laptop bag or other small item."
Qantas: "One small personal item such as a handbag, laptop computer in slim bag, overcoat, small camera, a reasonable amount of reading material or a small amount of duty free goods (where permitted)."
The main theme of the airlines' rules is that a personal item is a small bag, like a duffle bag, daypack, purse, tote, or laptop bag that fits under the seat in front of you.
A small duffle bag fits in the spirit of this rule.
In addition to a personal item and carry on, most airlines will also let you bring the following onboard:
Coat, jacket, or hat
Umbrella
Pillow or blanket
Book or newspaper
Food or drinks purchased after clearing security
FAA-approved safety seat, stroller, and diaper bag for lap or ticketed child
Assistive devices for passengers such as wheelchairs, walkers, canes, crutches, braces, portable oxygen concentrators, and CPAP machines
Duty-free merchandise
A foot rug for use during prayer
Pet carrier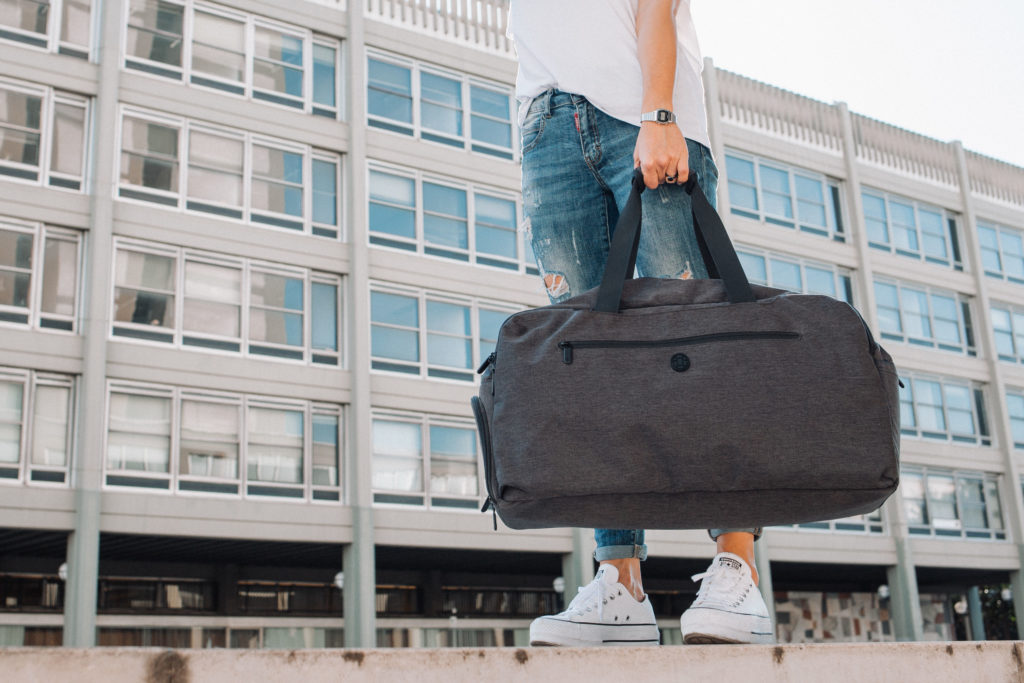 Personal Item Sizes
This is where it gets tricky. Check with the airline you're flying with because the allowed size for a personal item varies.
For every airline, your personal item must be small enough to fit under the seat in front of you.
Here are the personal item dimensions for a handful of airlines:
American Airlines: "Your personal item must fit under the seat in front of you. Dimensions should not exceed 18 x 14 x 8 inches (45 x 35 x 20 cm )."
British Airways: "Maximum size of the handbag/laptop bag is now 40cm x 30cm x 15cm (16in x 12in x 6in)."
Cathay Pacific: "Maximum dimensions of 15cm x 30cm x 40cm (6in x 12in x 16in)."
United: "9 inches x 10 inches x 17 inches (22 cm x 25 cm x 43 cm)."
Look for your airline on our Personal Item Size Cheat Sheet, but always check for the latest rules directly on your airline's website before flying.
Personal Items in Basic Economy
On the new Basic Economy tickets offered by United and American Airlines, your personal item is the only luggage you're allowed to bring on board the plane.
Per United, "Everyone else who brings a full-sized carry-on bag to the gate will be required to check their bag and pay the applicable checked bag fee plus a $25 gate handling charge."
In this case, bringing a small duffle is a smart choice for personal-item-only travel. Duffles are good options for a few changes of clothes plus your toiletry bag.
If you pack light, you'll be able to pack for your trip in one bag: your personal item.
Tortuga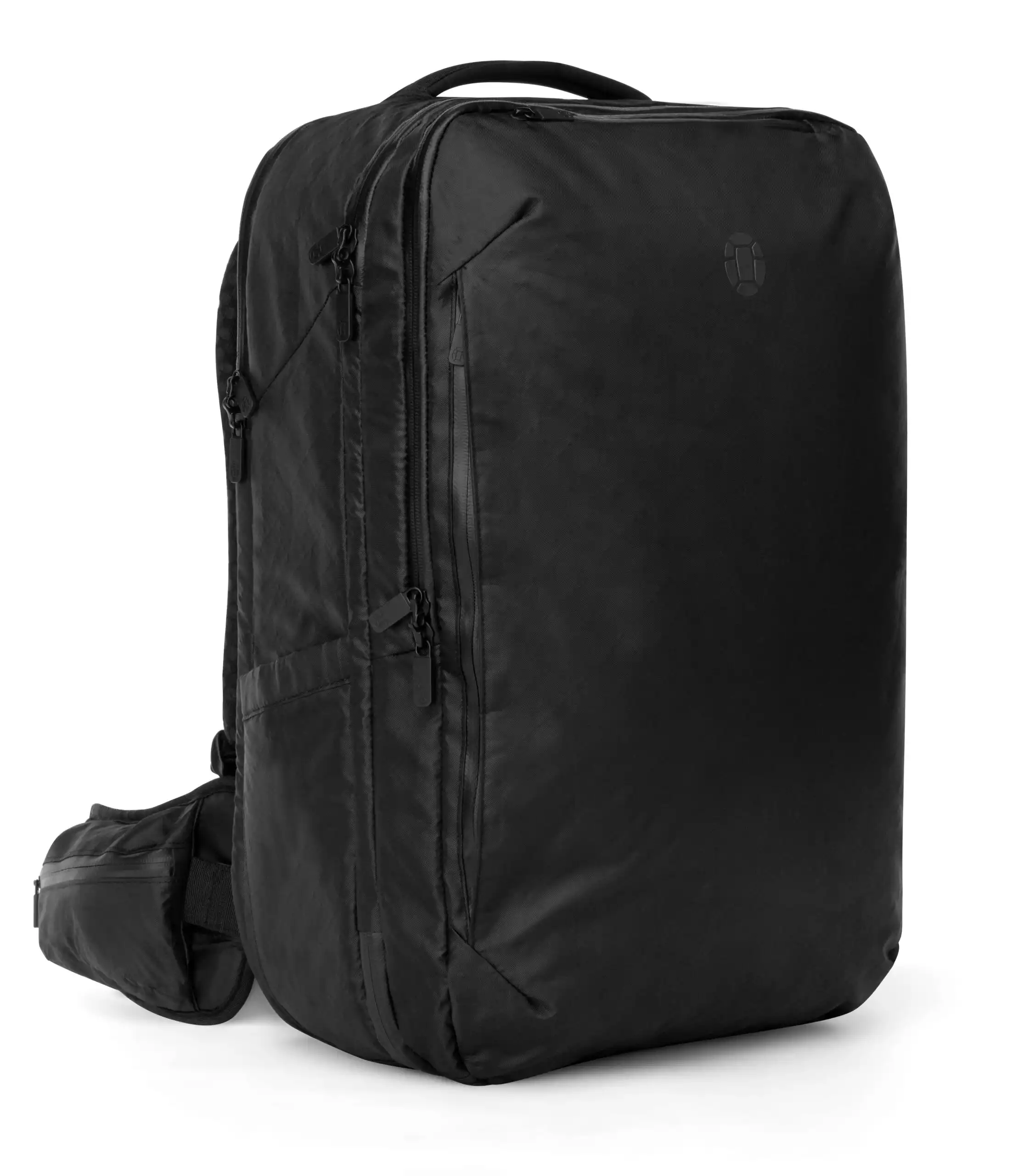 Does a Duffle Bag Count as a Personal Item?
The short answer is yes. A duffle bag can count as a personal item.
However, a duffle bag isn't the most common type of personal item. Briefcases, handbags, and small backpacks are more popular formats for personal items.
Consider a duffle bag if your airline's personal item allowance is similar in two dimensions and longer in the third dimension. For example, RyanAir allows personal items up to 16 x 10 x 8″ (40 x 25 x 20 cm). Whether your duffle has a circular end or a square end, the two dimensions of the "end cap" tend to be similar. The third dimension—the length of the bag—is usually longer than the other two dimensions.
Depending on the size and look of your bag, be prepared that airline employees might single out your duffle because it's not a "normal" personal item.
Keep the size of your duffle within the airline's personal item dimensions and make sure the duffle will fit below the seat in front of you.
Duffle Bag Personal Item Packing List
You've decided to pack a carry on plus a duffle as your personal item. Use your personal item for your in-flight essentials, entertainment, and an extra layer of clothing.
Medical necessities
Sweater or jacket for chilly flights
Snacks
3-1-1 toiletry bag
Book, headphones, and other in-flight entertainment
If you travel with a small duffle that fits comfortably under the seat in front of you, your duffle will be allowed onboard as a personal item. Use your duffle as overflow from your carry on or as your one bag if you're traveling on a Basic Economy ticket.