eBags Mother Lode vs Tortuga Travel Backpack
The Tortuga Promise
At Tortuga, our mission is to make travel easier. Our advice and recommendations are based on years of travel experience. We only recommend products that we use on our own travels.
Ergonomic Hip Belt
The hip belt is an essential part of any travel backpack.
However, the TLS Weekender's waist belt is inadequate. It's constructed from nothing but narrow webbing (the material straps are built from) to keep the pack closer to your body. Its poor construction means that it might uncomfortably dig into your midsection.
A hip belt should be padded so that it transfers your pack's weight from your shoulders to your hips. Using a padded hip belt will make your bag feel lighter and reduce the strain on your neck, shoulders, and back.
Without a proper hip belt, you would have to carry the entire weight of the TLS Weekender on your shoulders.
Here's what Steve H. had to say about the TLS Weekender which he tested (and returned) before buying a travel backpack from Tortuga instead:
Uncomfortable with a heavy load. Straps dug into my shoulders and waist belt was too wimpy to be of any use in transferring the load to my hips.
The Tortuga Travel Backpack features a padded hip belt (below) to reduce the strain on your shoulders by allowing you to transfer your pack's weight to your hips. The belt also includes pockets for your travel documents, money, and tickets.
Convenient Pockets
The TLS Weekender also lacks pockets that you can reach while wearing your bag. There are no pockets on the sides of the bag, or on the waist belt.
When you carry a Tortuga Travel Backpack, you have four pockets within arm's reach: two on the waist belt and two more on the bag (one on each side).
You can use the side pockets to store a map, guidebook, water bottle, or umbrella. The hip belt pockets are great for holding your passport, tickets, spare change, and boarding passes.
When going through airport security, I move everything from my pants' pockets into the Tortuga Travel Backpack's waist belt pockets. Then, after I've cleared security, I transfer everything back into my pants' pockets.
When you're on-the-move, you need your ID, money, and travel documents within reach. Here, the Tortuga Travel Backpack excels while the TLS Weekender disappoints.
Checkpoint Unfriendly
The TSA allows travelers to leave their laptops inside their bags through security, if the bag is designed with a separate, lie-flat laptop compartment. If you're carrying a Tortuga Travel Backpack from Tortuga, you'll be able to breeze through security like the pro traveler you are by leaving your laptop inside your bag.
eBags missed this detail. Their customers still have to take their laptops out of their backpacks in a security line.
Who Makes Your Backpack?
Tortuga is a small company 100% focused on making travel backpacks. That's all we make. We make everything that we sell. Tortuga was founded by Fred Perrotta and Jeremy Michael Cohen, two childhood friends. We couldn't find the perfect travel backpack, so we made it ourselves.
Our flagship product is the Tortuga Travel Backpack, a carry-on-sized backpack that is both comfortable and convenient. Learn more about the Tortuga Travel Backpack here.
Note: This page does not include any images of eBags' products because the company has asked us to take them down.
Related Articles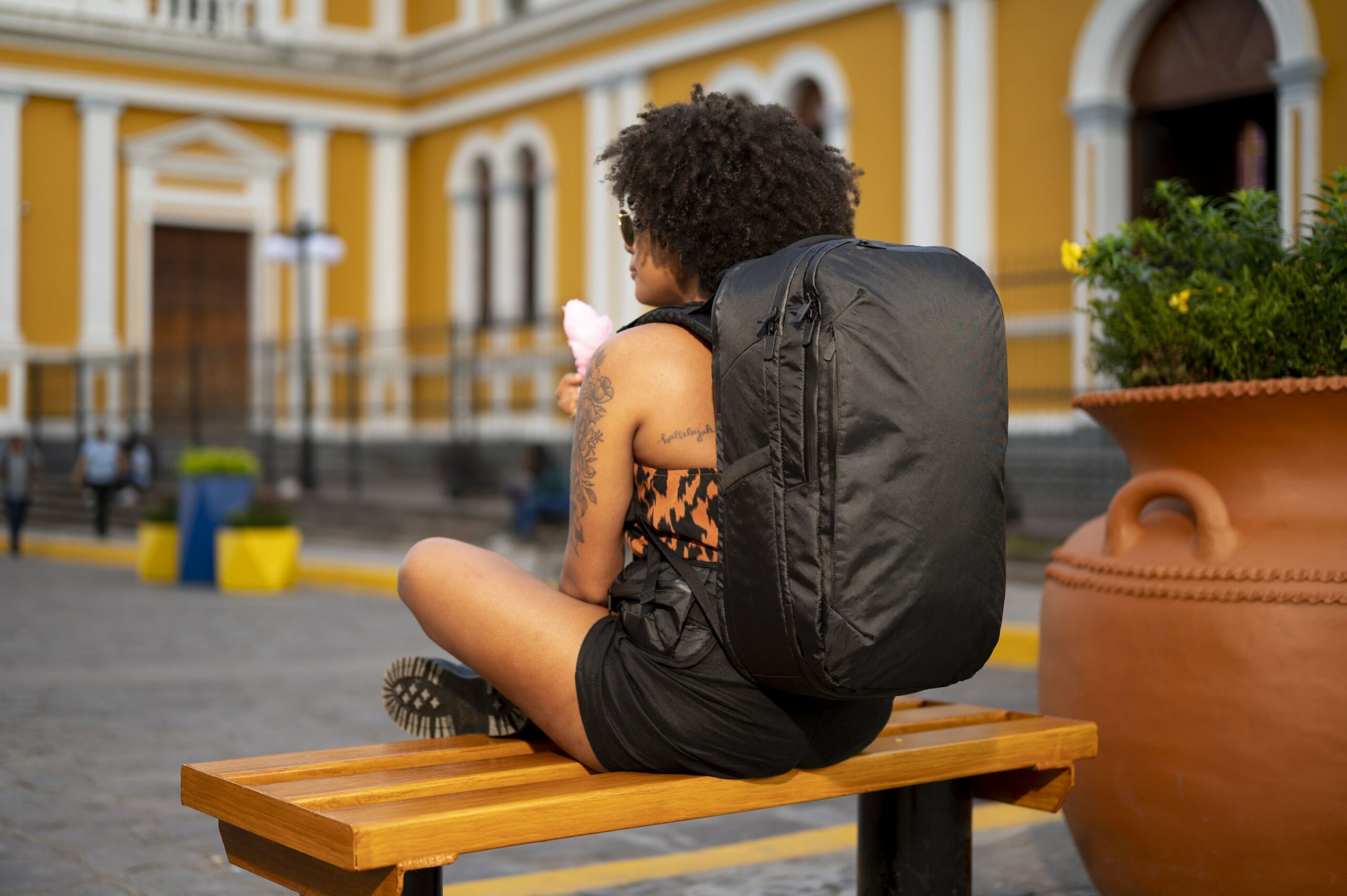 40L: Max International Carry On
Shop Now