This post is part of our
Travel Product Review
series. At Tortuga Backpacks, we love to find the perfect tool for the job. We couldn't find the perfect travel backpack, so we created it. When we find other great products, we like to let you know about them with a review. The following review was unpaid and unsolicited. It reflects the opinion of its author only and is based on his/her own experiences.
17 countries. 6 weeks. One pair of underwear.
This boast is the tagline for ExOfficio Men's Give-N-Go Boxers. Only taking one pair is ambitious—and perhaps too daring for some. However, that itinerary is doable with only two pairs. Believe it. 
You don't need a dozen pairs of boxer briefs or boxers. You just need to pack the right pairs to keep up with your itinerary. 
Plus, honestly, what are you smuggling that you couldn't fit a second pair of underwear in your bag?
We've all seen nouveau riche tourists dressed head to toe in the latest from REI, but lots of technical travel clothing has high price tags without matching benefits. All you get is marketing hype. 
Not ExOfficio.
These boxers are the real deal. You don't need to pay more for great underwear. Instead, ExOfficio gives you underwear that's worth the value, offering great features for the money and performance that keeps up with you all day long. 
Don't believe you could travel the world with only two pairs of underwear? ExOfficio will change the way you think about boxers, traveling light, and staying comfortable on the road. All it takes is a few well-designed boxers to take a smarter approach to packing. 
To prove the point, I took ExOfficio at their word and gave it a try. This review is based on an extensive field test. Maybe not one pair of underwear for six weeks, but 16-hour flights were involved. 
Here's what I found after giving ExOfficio a test run on some of my longest trips.
[Ladies, you can check out a review of ExOfficio's women's underwear by former guest blogger Brooke Schoenman on Her Packing List.]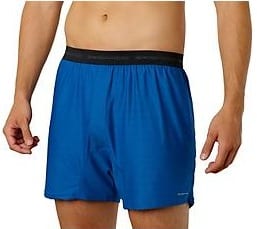 Biggest Benefit: Staying Dry and Odor Free
When you shop for travel underwear, you want your underwear to do three things: 
Stay dry

Prevent odor

Keep you comfortable
At Tortuga, we know that every detail matters, especially when you travel light. ExOfficio boxers were made with detail in mind. 
The Give-N-Go boxers are lightweight and quite comfortable. When you get the right size, these boxers fix nicely. They're lightweight, breathable, and comfortable without feeling too roomy (a common complaint for boxer brief fans). 
Picture the last time you traveled with cotton underwear. After a while, you just felt weighed down. Give-N-Go boxers are made primarily with nylon, so you don't need to worry about sweat down there. 
They have three technical advantages:
Quick-Drying:

Because they are made primarily of nylon, these boxers dry much faster than typical cotton underwear. Since they can dry overnight (or faster), you need less pairs for your trip. You could even travel with only two pairs if you're willing to hand wash the used pair every night.

Moisture-Wicking:

Let's skip the gory details and just say ExOfficio boxers will keep you dry in the most important areas far more effectively than cotton underwear. Once you switch to nylon fabric, you'll never go back. 

Odor Resistant:

Even the most hygienic of us are not always at our freshest while traveling for months on end. ExOfficio boxers are treated with an Aegis Microbe Shield to control odor-causing bacteria, which your roommates at the hostel will greatly appreciate.
Field Test
Underwear is a personal subject. If you wear the wrong pair, you know immediately. At Tortuga, we like finding the perfect tool for the job. For us, that means testing the tool in action and performance that lasts well beyond the first day. 
When discussing such a delicate subject, the best evidence of quality is reliance on the product. I've used Ex-Officio while backpacking across Europe and as my official in-flight boxers of choice.
As a certified Ex-Officio fanboy, I now own four pairs of boxers, which, in addition to regular use, are my default travel underwear. They're also my ideal all-around underwear, offering equal comfort and performance whether they're fresh out of the wash or on the road for a few days. 
Put it this way: 16-hour flights can be very demanding, but ExOfficio has never let me down. The Give-N-Go boxers are the most effective precaution against sweat in awkward places. 
I also liked that ExOfficio offers functional boxers for sport or for long trips. When you have an active day, these boxers will keep you feeling light and comfortable. When you have a long day of travel, they'll help you feel more like a human.
Final Verdict
Pros:
ExOfficio men's underwear offers three pros:
Dry quickly

Prevent moisture and odor

Are comfortable and lightweight
Conveniently, these are also the areas travelers are most concerned with in regards to underwear. 
Cons:
Expensive at $25/pair but are worth it and can be found cheaper on

Amazon
Bottom Line
ExOfficio Give-N-Go Boxers are the ideal travel underwear because of their ability to keep you fresh and to dry overnight. The material is breathable and lightweight for travel so you always feel your best. 
These boxers keep you comfortable all day long, performing well as sport underwear or for long-haul travel. They perform even after hours on the road. 
Can you pack one pair of underwear for your whole trip? If it's ExOfficio underwear, absolutely!
For those who aren't up to that level of daring, ExOfficio still allows you to pack light and only travel with what matters most. Instead of just getting the job done, ExOfficio gets the job done right. 
If you're ready to pack smarter, add ExOfficio to your packing list.
(Photos: ExOfficio)