Best Flight Search Engines For Every Type of Trip
What's the most expensive part of your trip? 
That's easy. Flights. 
As an experienced traveler, you know the value of flight deals. You also know the struggle of trying to find cheap flights. Flying different airlines may give you cheap airfare, but it also means different rules (and baggage fees) on every flight. Flexible dates lower the price, but some travel dates, like weddings, can't be changed.
If you're going to spend time finding a good deal, start with your flights. Flight prices are the most expensive part of travel, so they offer the biggest opportunity for savings. The trick is knowing how to find the best flight deals—and mastering the art of navigating a booking site. 
One way to save money is by using frequent flyer miles and points for free flights. Check out The Points Guy's Beginner's Guide to learn how to use credit cards and other tricks to build up your miles balance. But for travelers who need a great price even if they don't have points, learning your way around booking sites is your secret weapon.
In this guide, we'll share our favorite flight search engines for finding the best flights, saving money, and booking complex trips. Whether you need round-trip or one-way tickets, red-eye flight times or a coordinated waltz through a list of airports at the right moment, these sights make it easy to fly with economy fares.
Editor's Choice: Hipmunk
Hipmunk leapfrogged its competition when it debuted with a simple user interface and smart ranking system. Instead of having to wade through hundreds of nearly identical flights, Hipmunk cuts through the noise for you.
Hipmunk displays your flight results visually by time, stops, and airline. You will only see unique options instead of dozens of entries with the same departing flight. Hipmunk hides all of the similar but worse prices. You only compare prices for the best flights, not every possible one.
The big flight search sites, like Kayak, still show you every flight option. Hipmunk intelligently simplifies your choices and makes it easy to spot the best price. 
Hipmunk's other huge advantage is how they rank your flight options. Most sites rank flights solely by price. Hipmunk uses a score they call "Agony" which is a combination of "price, flight duration, and number of stopovers." 
If the cheapest flight has a layover and a direct flight is available for a few extra dollars, you'll see the direct flight ranked first. Other sites would bury this one below every cheaper option. This is a site built around the lived experience and real value of air fares. 
Read our detailed Hipmunk review here.
For the Cheapest Flights: Skyscanner
After establishing a baseline of flight options and prices with Hipmunk, I cross-reference the results with Skyscanner. I can usually save $20 or more with Skyscanner, just enough to make a search there worthwhile.
You may not have heard of Skyscanner, but it's the #1 flight search site in Europe. Read more about Skyscanner in our post "3 Under-the-Radar Flight Search Sites You Should Be Using (But Probably Aren't)."
For Flexible Itineraries: Adioso
Looking for inspiration? Willing to go anywhere? Try Adioso.
On Adioso, you don't have to choose specific cities and dates. Search the way you would talk and leave your search as open-ended as you like. This makes it one of the easiest booking sites for multi-city itineraries—and one of the most flexible. 
You can do searches like "San Francisco to Costa Rica next month returning 13 to 14 days later" or "New York to South America in December for 10 days."
If you do a broad search like the latter, Adioso will show you beautiful visual results with prices for each destination. 
Searching this way is great for longer trips where you're looking for a cheap entry point to a region or when you're looking to explore a new area and don't care where you start. This makes it a great choice for budget travelers with a footloose and fancy-free mindset toward discovering new place. 
Read more in our step-by-step guide to using Adioso.
For Complex Trips: Flightfox
Ambitious travelers should use Flightfox to find the best itineraries for complex and RTW trips. If you're taking a multi-stop trip or visiting a less-common destination, Flightfox could save you a lot of money.
Flightfox isn't a traditional flight search engine. You can't even search on the site.
Instead, you describe where and how you want to travel. Then Flightfox matches you with a flight hacking expert who can find and help you book the best itinerary for you.
By paying for Flightfox's experts' help (from $29), you can save hundreds or thousands on your itinerary. In one case study, Flightfox's experts booked a business class trip from Sydney to Montreal to Lima to Sydney at Christmas for just $2,700.
I used Flightfox to book a trip from San Francisco to Ho Chi Minh City, then from Hanoi to Hong Kong and back to San Francisco. The whole trip cost $65, including Flightfox's fee. It's an intelligent way to do hacker fares.
Best Flight Search App: Skyscanner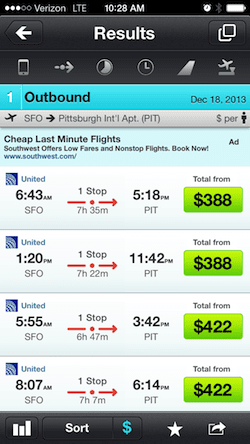 Since flight bookings aren't usually urgent or made last-minute, having an app might not be necessary.
However, if you don't have computer access, prefer your smartphone or tablet, or are booking while traveling, an app could be useful. An app makes it easier to book directly from your phone while identifying the lowest price. 
Our choice is Skyscanner. The Skyscanner apps are available for every platform and pack in a ton of options without an overwhelming or clunky interface. Once you master the icons within the app, you'll have endless search options and filters just a tap away.
You might not think that you need a flight search app, but, if you're a spontaneous traveler, you'll want Skyscanner in your travel toolkit. You never know when the right flight deal might hit, but with Skyscanner, you're always ready to book it. 
For more flight search tips and travel advice, sign up for our email newsletter below.
Spam is the worst, so we won't send you any.