Not every trip is as simple as Point A to Point B on two exact dates. Sometimes your plans are wide open. Sometimes you have a complex itinerary and need help not overpaying for every leg of your trip.
At times like these, Priceline, Kayak, and Hipmunk aren't much help.
Let's take a look at three more tools to add to your arsenal. If you're familiar with the paradox of choice, you know that more options aren't necessarily more helpful. More options can make the choice harder. That's why this list is so short. For each site, I'll also outline when and why to use each site.
For When You're Flexible: Adioso
How many times have you said something like, "Let's go to South America this winter!"
If you love to travel, you probably just want to go. The destination isn't important. Going somewhere is.
Try Adioso, which lets you search by natural language instead of by checking options. You don't need an exact destination or dates to find flights on Adioso.
To mimic the example above, I searched for "SFO to South America in December." Adioso showed me results for a range of destinations from Panama City, Panama ($241) to Santiago, Chile ($1,175) all on one screen.
$346 one way to Bogota? Not bad!
Choosing a specific destination will show you prices by date of departure, sort options for best, cheapest, or fastest flights, and the specific itineraries that you can book.
How else can you search on Adioso? Use the search field and results page filters to search…
By destination:
City
Country
Region (e.g., Southeast Asia)
Continent
Anywhere
By departure date:
Specific date
Today
Tomorrow
This week
Next week
This month
Next month
Early/Mid/Late/All of any month
By return date:
None (one way)
Specific date
For 2 to 3 days
For 7 to 10 days
For 2 weeks
For a month
If you're confused about how to use Adioso, check out their Academy with step-by-step directions and screenshots to walk you through your first search and booking.
Adioso is a great way to lose track of a few hours daydreaming about the trips you could take. I apologize in advance for the rabbit hole that you're about to go down searching for flights.
Let us know what deals you find on Adioso in the comments.
For When Your Trip is Complicated: Flightfox
How much would you pay to have an expert travel hacker plan your flights for you? That's the question behind Flightfox's model.
You don't even have to search for flights. Just describe your itinerary, then work one-on-one with a flight hacking expert.
Flightfox's handpicked flight hackers are like modern travel agents.
Just having someone research flights for you is worth the price. But it gets better. Flightfox's experts can save you hundreds or even thousands of dollars depending on the complexity of your trip. The more stops and specific requests, the more they can help you.
Flightfox highlights a few case studies on their homepage including $2,700 for a business class trip from Sydney to Montreal to Lima to Sydney at Christmas. I paid more than half of that for a roundtrip flight from San Francisco to Sydney in 2010.
The first time I used Flightfox, I booked a trip from San Francisco to Vietnam to Hong Kong for just $65. Flightfox expert Matt helped me find the best award flights to take advantage of my airline miles.
Flightfox is ideal for trips with multiple stops or to less common destinations. You won't save much on a New York to Boston flight but can find huge savings on RTW or other complicated trips.
Do you have any big upcoming trips that Flightfox could help you plan?
For the Absolute Cheapest Flights: Skyscanner
Lately, I've been finding the cheapest flights on Skyscanner. Despite being the top flight search engine in Europe, Skyscanner isn't as well known in the States.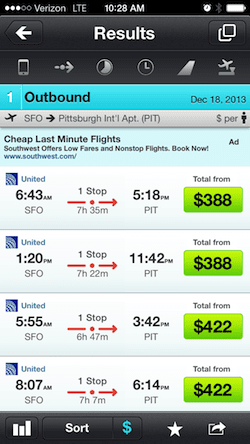 Hipmunk is my usual starting point for flights because I can quickly get a baseline price and see how much more I'll need to pay for a nonstop flight. Then I do the same search on Skyscanner to see if their partnerships can save me any money. Skyscanner often saves me $20 or more. Just enough to make a search there worthwhile.
Skyscanner is growing like crazy and just raised a large, undisclosed amount of venture capital. The company's future is bright.
Skyscanner also has a very good mobile app. The app isn't as simple as some of the last-minute hotel booking apps because flight-booking is more complicated. The Skyscanner app packs in a ton of search and filtering options without being overwhelming.
Booking a flight isn't as urgent as booking a last-minute hotel room. You may not need a flight-booking app at all. However, if you'll be booking while traveling or won't have access to a computer, the Skyscanner app is the best flight search app I've found.
Do you use apps for flight search? Let us know your favorite in the comments.
2 More to Keep an Eye On
Two other flight search sites have recently come to my attention. I'll mention each briefly and write more in the future once I've used them.
Rui Bom, the co-founder of 30K recently contacted me on LinkedIn. 30K's flight search results are unique because they also show how many frequent flyer miles you will earn on the flight. This idea is perfect for mile junkies and travel hackers.
The 30K homepage outlines a situation where the cheapest flight also awards the fewest points. In the example, paying $70 more would earn you twice the miles and premiere gold status. The site has a bright future but only works with Air France/KLM, Delta, Lufthansa, and United frequent flyer programs so far.
Routehappy uses a variation of Hipmunk's "Agony" score to rate flights. Instead of basing the score on just the price and layovers, Routehappy incorporates user ratings and data on legroom, screens, power outlets, and WiFi. Think of it like the middle ground between SeatGuru and Hipmunk.
In the future, I would love to see all three combined to show me exactly which flight and seat to book rather than having to cross-reference multiple sites to book one flight.
Your Turn
Have you used any of the above sites? Let us know how they've worked for you in the comments.
We'd also like to hear about your favorite flight search sites so that we can put together a comprehensive guide. Share away!
Want more like this?
Get weekly gear reviews, travel hacks, and packing tips sent straight to your inbox. As an added bonus, we'll send you a carry on packing list right away.