Front-Loader Backpacks vs Top-Loader Backpacks for Travel
The Tortuga Promise
At Tortuga, our mission is to make travel easier. Our advice and recommendations are based on years of travel experience. We only recommend products that we use on our own travels.
You landed. You checked in. You (finally) put your bag down.
Now you're ready to explore. But first you need to grab one thing from your backpack.
Can you find it? Or is your bag a jumbled mess?
If your bag is a mess, it might be a top-loader that packs from the top.
Most backpacks—including the big hiking bags used by "backpackers"—are top-loading. Top loaders may be popular, but they aren't the right type of bag for traveling. A front-loading travel backpack is the solution.
The Problem with Top-Loader Backpacks
Top-loading is fine for small school or work backpacks or for hiking packs. They work fine if you're not carrying much.
However, backpacks larger than 25L don't work as well if they're top-loading. Bigger bags are hard to organize because you can only open the bag and see your stuff at the top. Finding a specific item is hard because you can't see everything all at once. In a top-loader bag, everything is packed vertically. If you need a shirt in the middle of your bag, you have to unpack half of your stuff, grab the shirt, then repack your whole bag.
Packing a top-loading backpack is like packing a garbage bag.
Do you want to unpack and repack your bag every time you need something? No. You want to pack it once—before your trip—and not think about it again until you're home.
Why are Front-Loader Backpacks Better for Travel?
A front-loading backpack works like a suitcase. A panel—or the entire front of the bag—opens from right to left like a suitcase or a book. With this larger opening, you can see your entire packing space. You can pack, organize, and repack everything before you leave.
When you're on the road and you open your bag, you can see all of your stuff at once. Grab what you need without moving anything else around.
Unlike top-loading backpacks, panel-loading bags can also have interior compression straps or a mesh "lid" like a suitcase. These straps help keep everything in place and allow for a more comfortable carry. By keeping your stuff condensed and close to your back—the "bottom" of the bag when it's lying down—you'll have less back and shoulder strain. Your bag should be packed high and tight to your back for maximum comfort.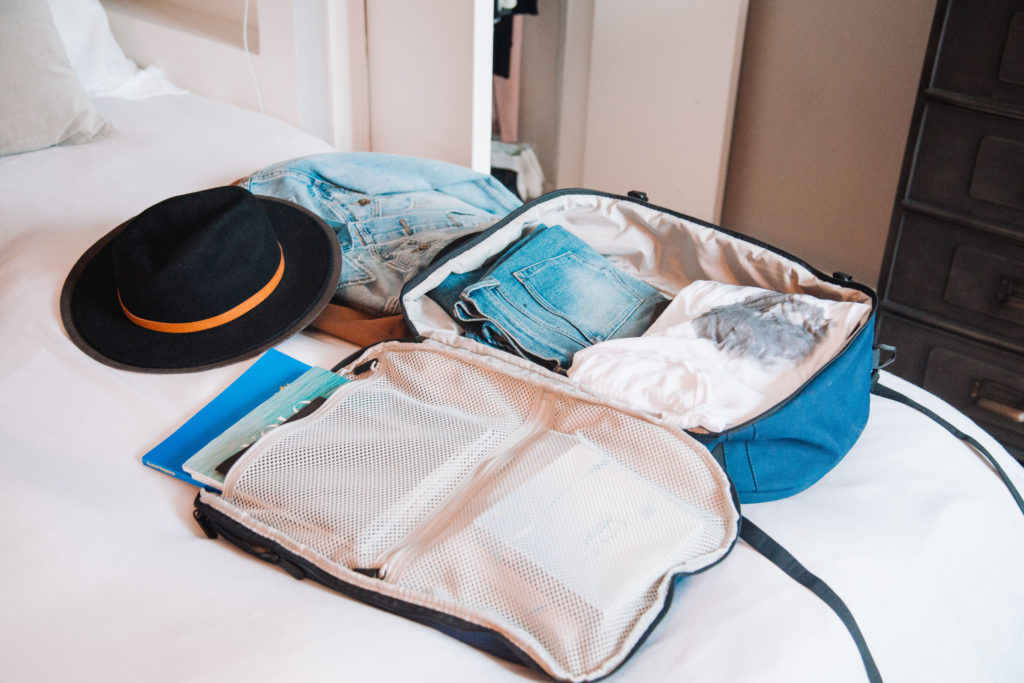 The Bottom Line
Front-loader travel backpacks are superior to top-loader backpacks because they're easier to pack, to keep organized, and to carry comfortably.
When I went on my first backpacking trip to Europe in 2009, I used a big, top-loading hiking bag because that's what I saw other backpackers carrying. But they were wrong. And I was wrong to copy them. Every morning when I got dressed, I had to dump out half of my bag to find clean clothes. Everything I unpacked was strewn around my hostel dorm room. Making a mess of your small, shared space isn't a great way to make friends. On that trip, I learned every day why a front-loading backpack would be better than my top-loader.
When we got back from that trip, we started Tortuga with that one simple idea: a comfortable backpack that opened from the front, like a suitcase.
We couldn't find the perfect travel backpack; so we made it.
The Outbreaker Backpack is the front-loading, carry on backpack that we wish we had on our first big backpacking trip to Europe. I hope you won't repeat my mistake.