What to Pack for Your Trip to Greece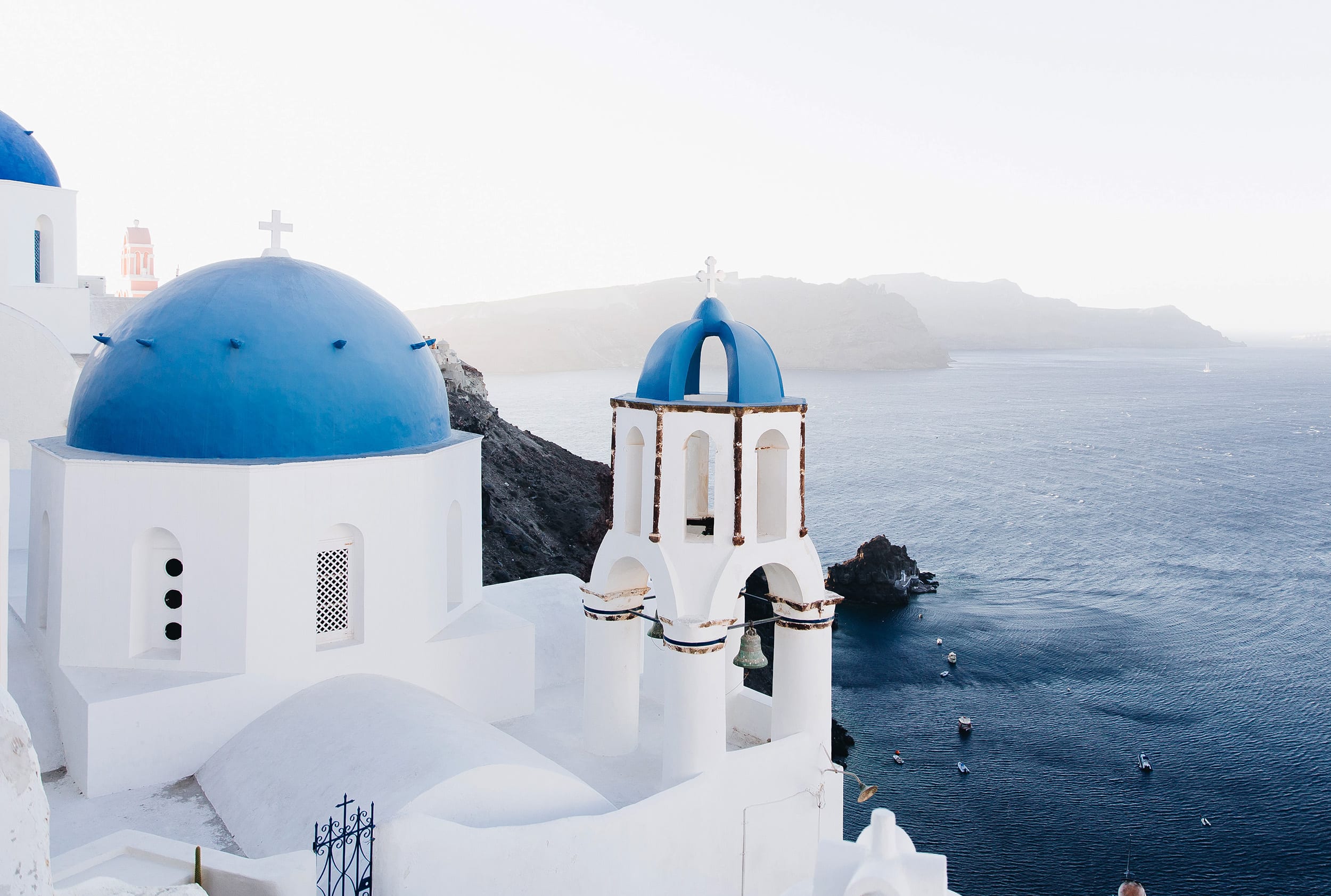 The vibe in Greece is casual and laid back. Aim for a blend of classy and low key, lightweight and easygoing, functional and travel friendly.
Known for democracy, mythology, the Olympics, and some of the greatest thinkers of all time, Greece invites visitors to explore a world where ancient meets modern, urban blends with island, the bluest waters meet the whitest stones and where spanakopita is ever present. Nestled amidst the Mediterranean, Ionian, Adriatic and Aegean Seas, Greece, with her indomitable spirit and culture, bridges East and West. Whether you're headed to explore the history of democracy in Athens, hitting the islands for some relaxation, checking out the archeological mecca of Delphi or drinking some ouzo at the country's hippest cocktail spots – Greece is bound to hook you.
On my first trip to Greece, we hopped a ferry to Corfu (stayed at that famed hostel, The Pink Palace) and after a few idyllic island days of sun, sand and sea, made our way (via train) to Athens. I can still see the local kids we pushed on the playground swings, can still remember the moment (amidst sweltering temperatures) that we reached the top of the Acropolis and can still close my eyes and be on that island hostel balcony taking in the sunset over the bluest water I had ever seen.
Regardless of where you're headed to in Greece, your adventure begins before you take off. Dream up your most exciting trip, research city and island excursions, decide on your mode of travel transport, then, figure out what to pack!
Pack the Essentials for Greece
Whenever you set off on a trip of a lifetime, there are a few things you can't forget. These are those all important items to keep in the bag that never leaves your side. Documentation, identity paperwork, and medications; they are often the hardest and most annoying details to replace.
No matter what else you pack, don't forget these:
Wallet: With ID, passport, cash and cards
Travel documents: Including travel insurance and visa documents if you need them
Medications: Daily, necessary, and allergy – carry extras, copies of prescriptions and generic names of medicines
Make an extra copy of the front page of your passport and your credit cards in case of loss.
Keep a copy of your important documents, insurance paperwork, and prescriptions in at least two places: On your phone, and accessible in the cloud. A paper copy is a great idea for backup, but sore the copies in a different place than your originals.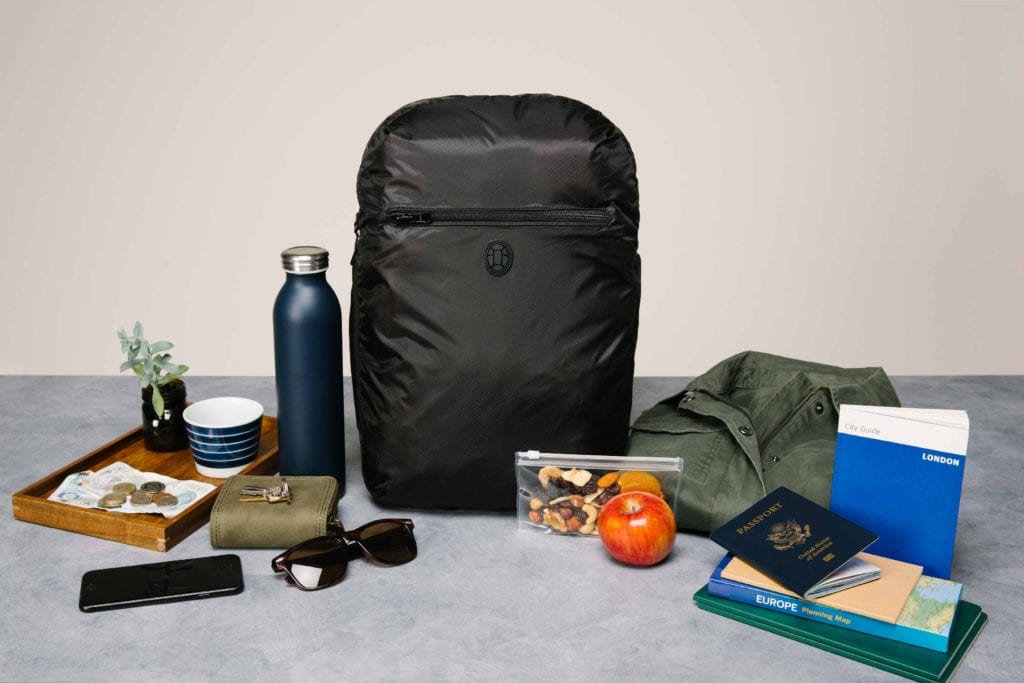 Personal Item for Greece: Keep it Close
Whether you're flying to Greece or arriving by land or sea, you'll want to pack a personal item: that daypack that keeps your necessities for a day of travel or exploration within reach. If choosing to check a bag, be even more intentional when packing that personal item. Better yet, pack lighter in a carry-on-sized travel backpack and avoid the hassle of checked (or lost!) luggage.
What to Pack in a Personal Item or Daypack
Mini first aid kit (including sea/motion sickness tablets)
Liquids bag (follow 3:1:1 rule from TSA guidelines)
Change of clothes (extra underwear)
Sunscreen, bugspray, mosquito anti-itch ointment (travel sized)
Headphones/earbuds of choice
Gum/mints
Sunglasses
Lip balm, unscented lotion
Antibacterial or baby wipes
Fuzzy socks or flip-flops (for the flight or long transit days)
Scarf, pashmina, sarong or travel blanket
Feminine hygiene products (especially if you prefer a particular type)
Contact lenses & travel size solution, or glasses
Tissues
Remember to include the essentials: wallet, passport, travel docs and meds
Buy Toiletries in Greece
Unless you are brand specific, you'll be able to find everything you need in Greece. But, it's okay to pack your few favorites in small containers, fling them in your bag and get your Greece on! If you do pack toiletries, choose items that do double duty and pack lighter.
Tissues in small packs for easy travel access
Baby wipes
Soap
Shampoo/conditioner (think plastic free and dry options)
Toothpaste/toothbrush
Shaving requirements
Contact lens supplies
Sanitary products of choice (especially if you use a particular brand)
Makeup
Hair products/accessories
Insect repellent
Baby powder (for sand removal when heading for cocktails straight from the beach)
Deodorant
If arriving by air, be sure to double check the TSA 3-1-1 rule. Also, keep in mind, less is almost always more. Travel lighter. Buy what you can in Greece, or decant home products into reusable containers rather than buying disposable plastic travel-sized products. Lighten your load and your impact on the planet at the same time!
Traveling Tech for Greece
In today's world, travel and tech go together like Forrest Gump's 'peas and carrots.' It's seemingly impossible to fully divest ourselves of all that tech, but we can pare down and choose items that do double duty. Can you leave the heavy laptop at home? Try!
E-reader & chargers
Adapters/converters (Greece uses the 'Euro' plug)
Smartphone, headphones, chargers
Camera, memory cards, connecting cables, chargers
Portable charger/power bank
If necessary: laptop computer/tablet, chargers
Portable flash drive to back up photos and important documents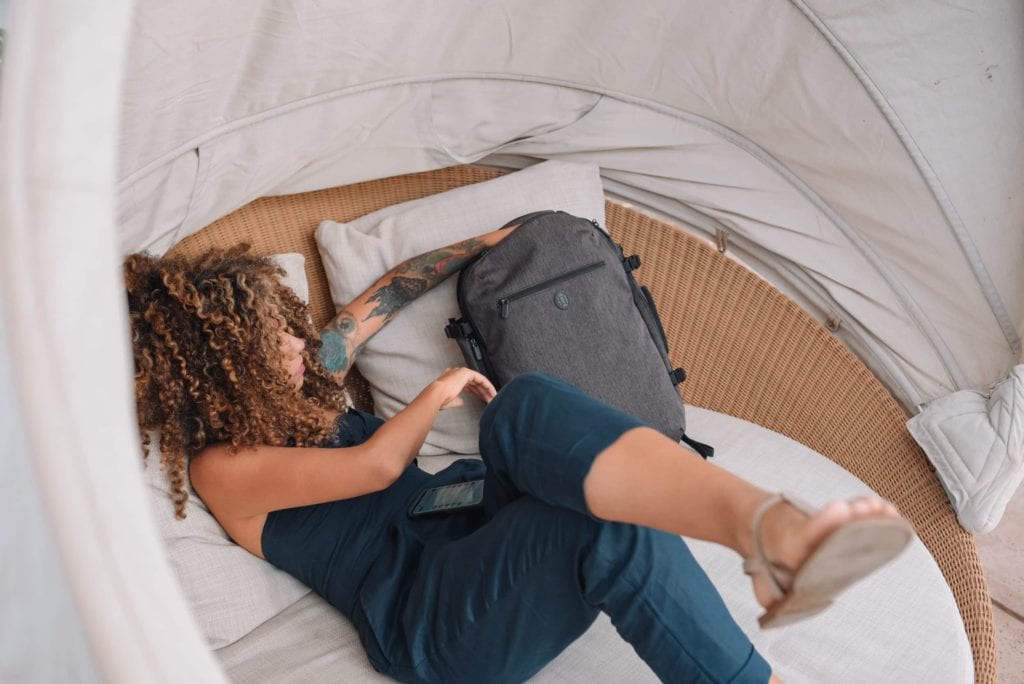 What to Pack for Greece: Clothing
The vibe in Greece is casual and laid back. Aim for a blend of classy and low key, lightweight and easygoing, functional and travel friendly. You're likely to go from mountains to sea, and city to rural during your time in Greece, so remember that layers are your friends. Durable sandals or solid walking shoes are a must. Sunglasses, a light blazer and scarf can pull together any outfit.
Here's what to pack for Greece:
3-5 pairs of socks
4-7 pairs underwear
2 bras
3 short sleeve or tank tops
1 long sleeve top
1-2 skirts or sun dresses
1-2 pair casual pants, shorts, capris, leggings or skirts
1 pair jeans
1 pair flip-flops
1 pair comfortable non-slip walking shoes
1 pair nicer shoes for evenings out
1 pair pajamas or athleisure clothes that do double duty
1 set workout or hiking gear
1 Lightweight sweater or jacket
1 swimsuit
Packing Tips:
Many of the hotels, restaurants, and cruise ship casinos require jackets for men at night and a slightly more upscale ensemble (including shoes with straps) for women – take activities into consideration when packing.
If you're traveling to the islands or beaches, consider water shoes to keep your toes safe from coral and slippery, rocky outcrops in the sea
Blend in by avoiding "travel clothing" or t-shirts with culturally specific slogans or symbols that scream "tourist." If you're visiting cultural or religious sites, pack a scarf for your shoulders and at least knee length bottoms out of respect.
How to Pack for Greek Islands and Cruises
If you're headed to the Greek islands, pack relaxed, neutrals, whites and blues to fit into the island lifestyle.
If you're packing for a cruise, you might want to add some formal wear for fancier evenings on the ship.
Consider adding:
Formal dress for evenings out
An evening jacket or blazer
Extra beach outfit including a coverup or sarong
Cardigan, shawl, or pashmina for those chilly island, air-conditioned, or on deck evenings
More than one bathing suit
Beach tote bag (or a daypack that does double duty)
A wet/dry bag
Wide-brimmed hat
Rash guard or sun protecting clothing
Small handbag for evenings out
Long sleeve loose button down shirt
Linen, loose fitting, lightweight pants
Sundress (mini/maxi)
Natural sea bands, ginger tablets or other over the counter preventative motion sickness meds
Greek Island & Cruise Tips:
Most popular time to cruise the Greek islands is July and August
Party time on the islands means jam-packed beaches, larger tour groups at historical sites, longer lines and hotter temperatures
Be sure to bring a hat, sunglasses, sunscreen, and bug spray
Keep a water bottle with you and stay hydrated
What to Pack for Greece in Spring & Summer
Let's face it, while the cities, country-sides and island retreats are always open; the majority of travelers flock to Greece during the summer season. Most are willing to brave the crowds and handle the lines in order to be there when the skies are blue, the waters warm and the sun shines bright. If you're looking to ditch the peak craziness, consider heading to your Mediterranean destination in the shoulder season of mid-April through early June or even spending time later in September when school heads back in session and the temperatures drop with the arrival of autumn air.
Check the specific regions to which you're traveling; although temperatures will differ from cities to to coastal regions, for the most part:
What to Pack for Greece in Spring
Spring in Greece falls between March, April, and early May. Temperatures range around 55-65 degrees Fahrenheit. Mild rainstorms and chillier temperatures are a possibility.
For spring in Greece add:
Close-toed shoes
A scarf for cool days
What to Pack for Greece in Summer
Summer in Greece ranges from late May through the end of August. Expect temperatures to range between 75-90 degrees Fahrenheit; islands can have dry heat and cooler evening breezes while inland locations can be severely muggy and hit well over 100 degrees Fahrenheit.
For summer in Greece add:
Wide brimmed hat
Sunscreen & bug spray
An extra swimsuit
A lightweight layer
One extra pair of shoes or flip flops
Accessories & Extras to Pack for Greece
Your shiny new shades, that wide-brimmed Pinterest-friendly hat and a couple of bold colored necklaces can shift your outfit from day to evening wear in a flash. Whether you're hitting the Mykonos party scene, reading the perfect book on the coast of Crete, or keeping the sun at bay on your Athenian excursion, making room for a few accessories can be worth it!
Sunscreen, pack it or buy it, but don't forget it
Hat, for both sun and rain
Socks for the plane and comfy evenings in
Sunglasses
Rain jacket, poncho, or travel size umbrella
Daypack
Travel journal and pens
Books or magazines
Money belt or small travel handbag
Eco-friendly water bottle
Travel pillow
Earbuds (especially if sleep or noise control is a premium for you)
Packing Tips for Greece
Less is almost always more. If you're wondering if you'll need it, you probably won't. Err on the side of packing less and packing lighter. Up your packing game with the following tips:
Packing cubes to keep everything organized
Use contact lens cases or old pill bottles to hold small size items like jewelry or toiletries
Think about which clothes to roll and which to fold to save space
Use your space wisely pack small items inside shoes and clip essentials to the outside of your bag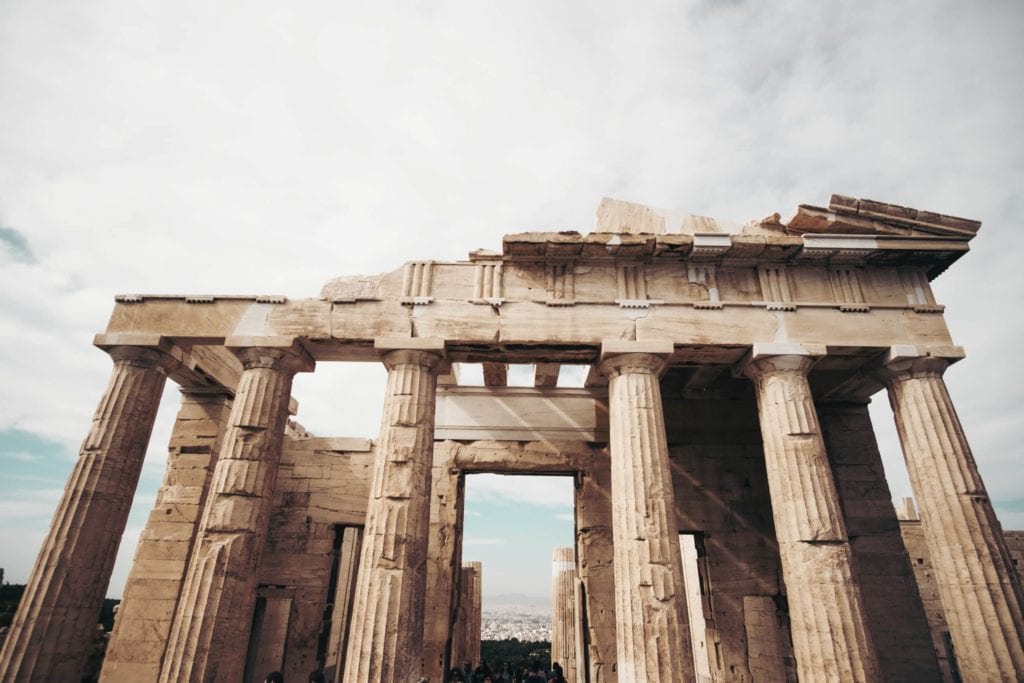 Places to Go in Greece
Greece is jam packed with historical sites, epic scenery, and deep mythology. Follow your heart wherever it may lead – whether it takes you to UNESCO heritage sites like the Parthenon, cobblestone streets of the islands, or countryside cafes to share stories with locals. Here are some places not to miss:
In Greece old world and new collide. Whether you're off to experience the colors of Corfu, the peaks of the Acropolis, the ruins of Delphi or the magic of Santorini sunsets – Greece doesn't disappoint.
When packing for Greece, remember:
Pack light and buy what you can locally
For the islands – casual and comfortable beach attire is a must
Comfortable, sturdy footwear is non-negotiable
If visiting during peak season, book accommodations early and be prepared for crowds
Always remember the absolute necessities: travel documents, insurance & sunscreen