One of the best parts of living in and visiting the Bay Area is the close proximity of so many beautiful, natural spots to explore. Whether you live in the area, or are just dropping by, definitely make an effort to pop the bare essentials into a daypack, hop on a bike, or a car, and hostel hop around San Francisco's North Bay.
As a San Francisco transplant, the North Bay has become one of my favorite spots for a quick getaway out of the city. Although the North Bay's best destinations — the Marin Headlands, Mount Tam, Point Reyes, Tomales Bay, Stinson Beach — are all within an hour and a half drive (or, a few hours by bike), they feel like a world away.
So, to kick off the summer, my boyfriend Jon and I packed up our bikes to explore the area via Hostelling International USA's two North Bay hostels: HI Marin Headlands and HI Point Reyes.
As an East Coast native who has had to adjust to California's quickly-changing climates, nailing that packing list took a little thought. So, what should you pack for a weekend trip to San Francisco's North Bay? Read on for my packing list below: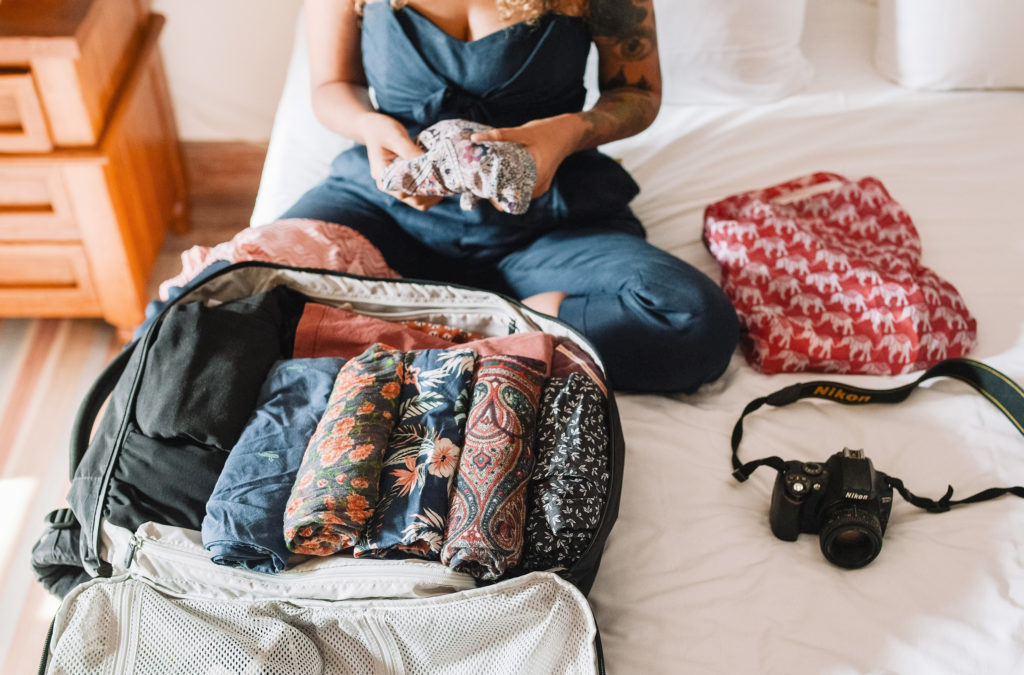 What to Pack: Marin Headlands, Mount Tam, and Stinson Beach
HI Marin Headlands is located just a few miles north of the Golden Gate Bridge and south of Sausalito. Even so, it's surrounded by a grove of Eucalyptus trees just down the road from a quiet little beach and lighthouse. All in all, it's accessible from San Francisco and a good stop over point before a hike on Mount Tamalpais (Mount Tam) or day at Stinson Beach, but it feels remote.
The location made it super easy to hop on our bikes after work on Friday before dinner. Along the way, we caught beautiful glimpses of the city covered in fog, and even made a pit stop by the beach for a quick break.
For dinner, we went to Sausalito — the closest spot for groceries, restaurants, and entertainment. Though we tried a so-so sushi place this time around, hands down the best spot to try in Sausalito is Fish, a restaurant specializing in, well, fresh fish.
A windbreaker — the bridge, and the surrounding areas, get super windy. Rain isn't as much of a problem, but on foggy days it can be drizzly inside the Redwoods.
Sneakers — for taking advantage of all the nearby hikes.
Flip flops — for post-hike beach and hostel lounging.
Bike gear — if you're bringing your bike / planning on touring the area. Really, the North Bay is super bike-friendly and fun to explore by bike (and bikers get a small discount at HI Point Reyes). However, it's not for the inexperienced. It gets hilly out there, y'all.
A nice-ish outfit — you don't have to get too dressed up to dine out in Sausalito — flip flops are fine. However, you may want to look somewhat put together. They don't call it California casual for no reason, right?
A swimsuit and towel… maybe — it's often too cold to swim in the Pacific, or even to sit on the beach in shorts. But, bring one just in case.
A warm jacket — it gets cold at night in this area, no matter the time of year.
A daypack — for longer hikes. I personally packed the Setout packable daypack, since it packed down in our bike saddle bags easily (seriously — all professional relationships aside, it was the best bag in my closet for the job).
Cliff bars — for all those hikes, bike rides, and active exploring you'll be doing!
What to Pack: Point Reyes and Tomales Bay
From HI Marin Headlands up to Point Reyes, we were looking at a smooth 40-mile ride up the coastal highway. It's a spectacular route — no matter your mode of transportation — and one of the most dramatic coast lines I've ever seen. There are also a ton of hikes and cute little towns along the way to stop in on.
For us, we ended up taking an impromptu hike (with our bikes in tow…) in Samuel P. Taylor State Park and stopped for lunch in Stinson Beach. If you're set on taking a dip in the ocean at any point, Stinson Beach and Muir Woods Beach are two great options. Stinson is the larger of the two (and has more dining options), but Muir Woods is just as nice (and right next to a hotel/restaurant that will let you sip beers on their front lawn).
We ended our day in Olema, a small town just south of Point Reyes with an amazing fine-dining restaurant, Sir Star at the Olema. For more budget friendly options, Point Reyes has several cafes and a small town diner, The Pine Cone Diner (with awesome biscuits and gravy), but Sir Star at the Olema is worth the splurge. Finally, we turned the bend and climbed our last mountain to get to HI Point Reyes.
Although I expected to lose cell phone reception, I wasn't totally prepared for how off the grid the hostel would be — there's absolutely no wifi or cell phone reception. Just a quaint garden (with a resident bunny) cozy living rooms, and groups of hostelers quietly relaxing over tea and novels.
The next day, we biked through Point Reyes (for those diner biscuits, naturally) then up to Tomales Bay Oyster Company — because hey, what would a trip to Point Reyes be without a pit stop for some oysters? The area is famous for them, and the crowds arrive in droves to shuck oysters on the weekend in Tomales Bay — usually after working up an appetite biking, hiking, or kayaking in the bay.
If you plan to head up to the Point Reyes, definitely bring everything I mentioned in the Marin Headlands packing list plus:
A good book or cards — for an evening spent off the grid. HI Point Reyes has a good stockpile of games and a library, however, if you'd rather save the packing space.
Your oyster shucker — you can borrow one at Tomales Bay Oyster Company (after leaving a deposit), but you'll want to save your cash for actually buying oysters, right?
Food — HI Point Reyes is several miles from town. Make sure you buy food for dinner/breakfast/any meal you plan on cooking while at the hostel before arriving. Bikers, especially, should make sure to grab food before heading up the road — the hill from Olema to the hostel are pretty steep, and not worth repeating twice in one day.
Sunscreen — even if the Headlands are foggy, it may disperse north of Stinson Beach, making the region often sunnier and hotter than more southern parts of Marin Headlands; though sometimes not.
Your favorite sporting equipment — are you a hiker? Biker? Surfer? Kayaker? Bring whatever it is you need to do your favorite sport — this area is full of opportunities to be active in nature.
Cash — there's an ATM in Point Reyes Station, and most spots take cards, but others are cash only (like Tomales Bay Oyster Company)
Get a Free Carry on Packing List
Join our email list for more packing tips and gear guides.
When you sign up, we'll send you a free carry on packing list to get started.