How to Pack a Carry On for Any Trip
The Tortuga Promise
At Tortuga, our mission is to make travel easier. Our advice and recommendations are based on years of travel experience. We only recommend products that we use on our own travels.
If you're new to travel, packing a carry on bag can be tricky. What should and can you pack into it? How do you keep from packing too much without forgetting anything essential? What sized bag should you use in the first place? If these questions are familiar, you're in luck: let's take a look at how to pack a carry on.
You can check a bag if you need more space, but, from my experience, the hassle of checked luggage isn't worth it. With all the hidden fees, stress over lost bags, and waiting around at baggage claim, you're better off learning how to pack like a minimalist, hone down your stuff to a carry on, and keep control of your things through the entirety of your journey.
Tortuga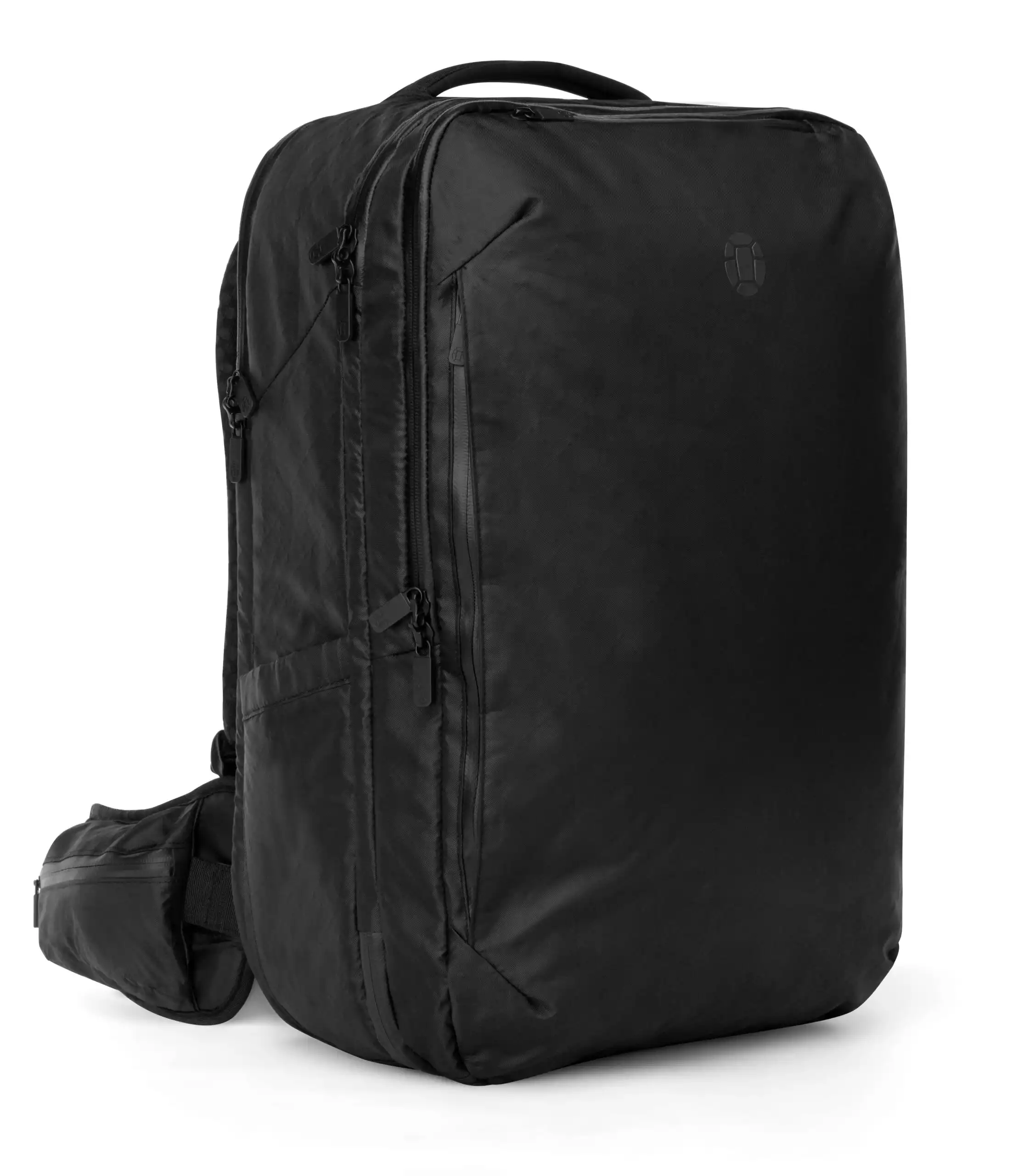 The Best Carry On Bag
The first question you probably have is, what's the best carry on bag? Based on my travel experience, nothing beats the Tortuga Travel Backpack. It stands out for several reasons.
First, no other bag—including a suitcase—allows you to fit so much into the space afforded by airline carry on restrictions. The Travel Backpack makes every square inch packable with superior organization.
Second, it's well-padded with a fully adjustable harness. All of this adds up to unrivaled comfort, which is essential whether you're racing between airport gates or wandering around your destination looking for your Airbnb.
Finally, its resilient design and tough, waterproof sailcloth exterior not only keeps all your things better protected but means that the bag itself is built to last. Over the past five years, I've shouldered my Travel Backpack through hundreds of trips and thousands of miles, and it's still in outstanding condition.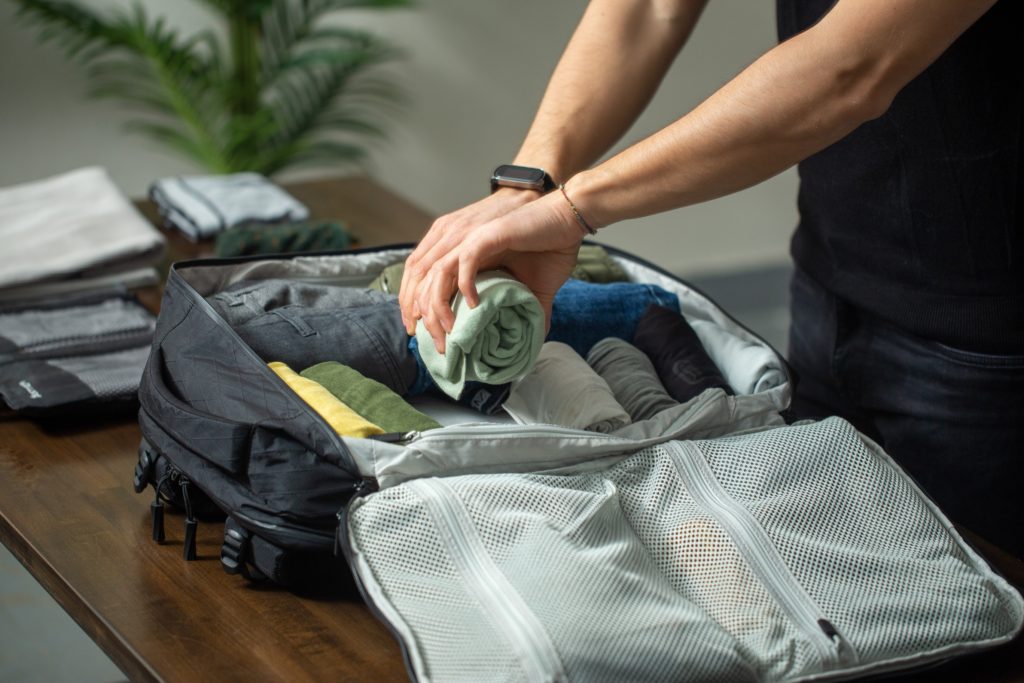 Carry On Packing Tips
Pack for fewer days than you'll be traveling.
You might think you need fresh clothes for every day of your weeklong trip, but the reality is that you really only need clothing for four or five days. You'll end up rewearing certain items, and can always hand wash laundry when necessary. You can always find a laundromat, which can turn a week's worth of clothes into two.
Keep your clothing simple, versatile, and matchable.
Instead of packing a different outfit for each day, pack a handful of items that can be combined in different ways to achieve different outfits. In other words, build a capsule wardrobe that will always look great in any situation.
Pare down the pairs of shoes.
Forget about carrying a pair of shoes for every situation. Think in terms of versatility. A nice pair of sneakers, especially if they're black, can double as walking shoes and look fine at dinner. If you do need a pair of something fancy, keep it to one. Skip heavy boots unless you absolutely need them (and wear them on the plan instead of packing them in your bag), and find the lightest pair of flip-flops possible.
Create your packing list in advance.
By making your packing list two or three days in advance, you give yourself a chance to mull over anything that you've forgotten or don't actually need.
Pack in advance.
Last-minute packing is the equivalent of grocery shopping while hungry. You're going to throw in all sorts of things you don't want or need and you're going to forget things you shouldn't have.
Forget about the "just in case" items.
There are literally an endless number of things you could pack "just in case." From my experience, you'll never use any of them. A beard trimmer, for example, might seem like something you'll need, but unless your beard grows unusually fast you can probably wait until your return home for a buzz.
Use packing cubes for organization.
Packing cubes are great for keeping everything organized and maximizing space. Roll up each clothing item carefully, then pack like items in separate cubes.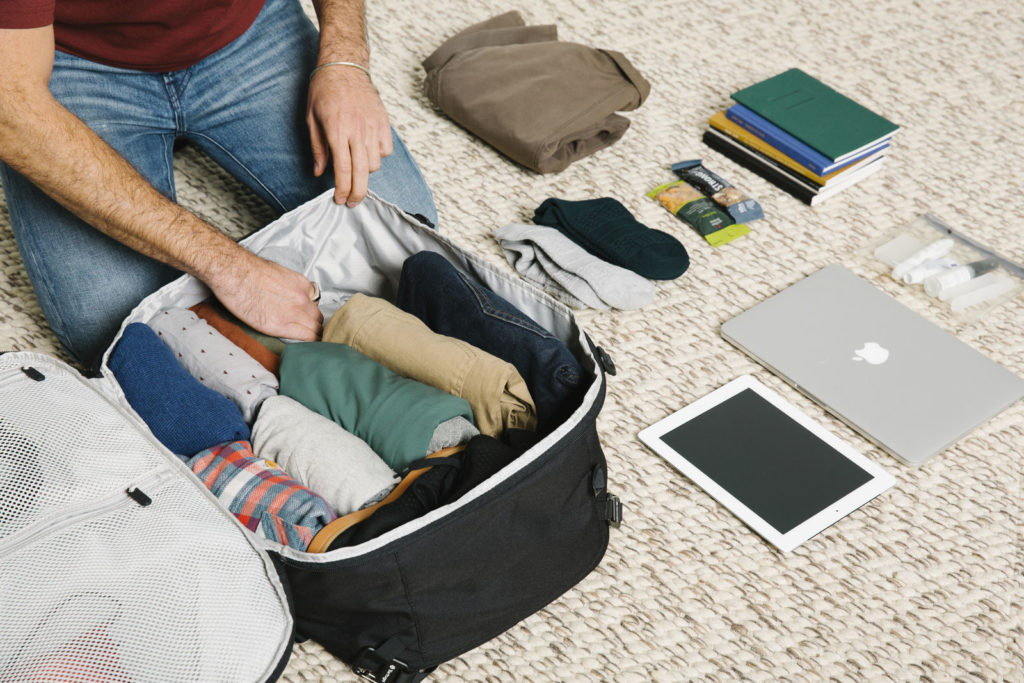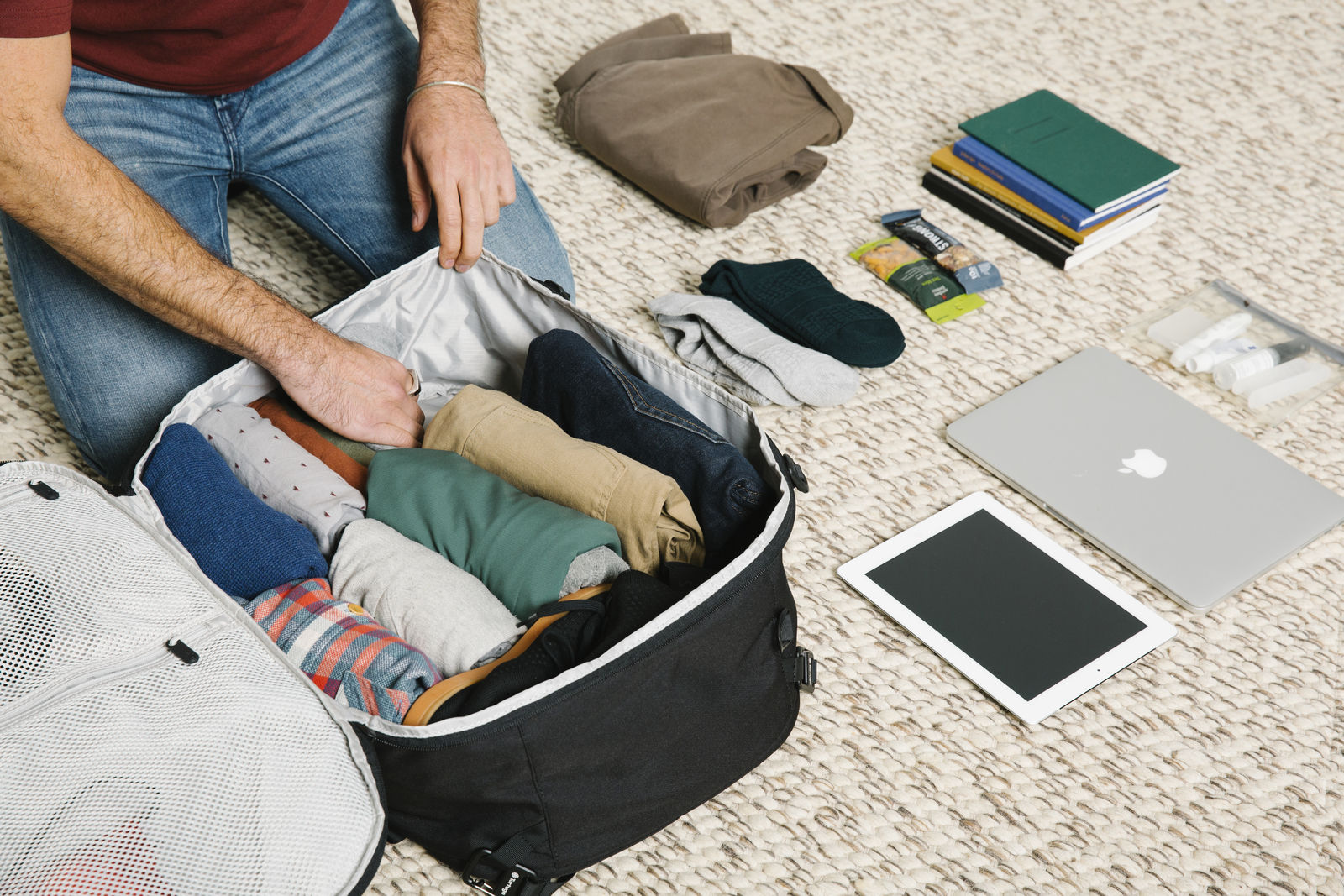 How to Pack a Carry On for a Weekend
Weekends are the easiest trip length to pack for. Here it's all about simplicity. Absolutely no "just in case" items allowed.
Wear
1 pair of underwear
1 pair of socks
1 set of accessories (hat, gloves, scarf)
1 bra
Pack
2 tops
1 pair of pajamas
3 pairs of underwear
1-3 pairs of socks (if needed)
1 extra pair of shoes (if needed)
Accessories (hat, scarf, jewelry)
Bathing suit (optional)
Extra bra (optional)
Toiletries
You're not going to need anything but the basics for a weekend jaunt. Keep your toiletries down to a minimum, and ideally rely on the hotel soaps and shampoos.
Toothbrush
Toothpaste
Sunscreen
Chapstick
Comb/brush
Lotion (if needed)
Razor (if needed)
Basic makeup (if needed)
Soap (if not provided by your accommodations)
Shampoo and conditioner OR dry shampoo
Electronics & Other Essentials
Here again, it's all about minimalism. Only take what you're absolutely sure you'll use. This might include:
Phone
Chargers
Passport / ID
Headphones
Travel umbrella (if there's rain in the forecast)
Kindle or book (optional)
Camera and extra battery (if you have one)
External battery (optional)
Laptop (optional)
Tortuga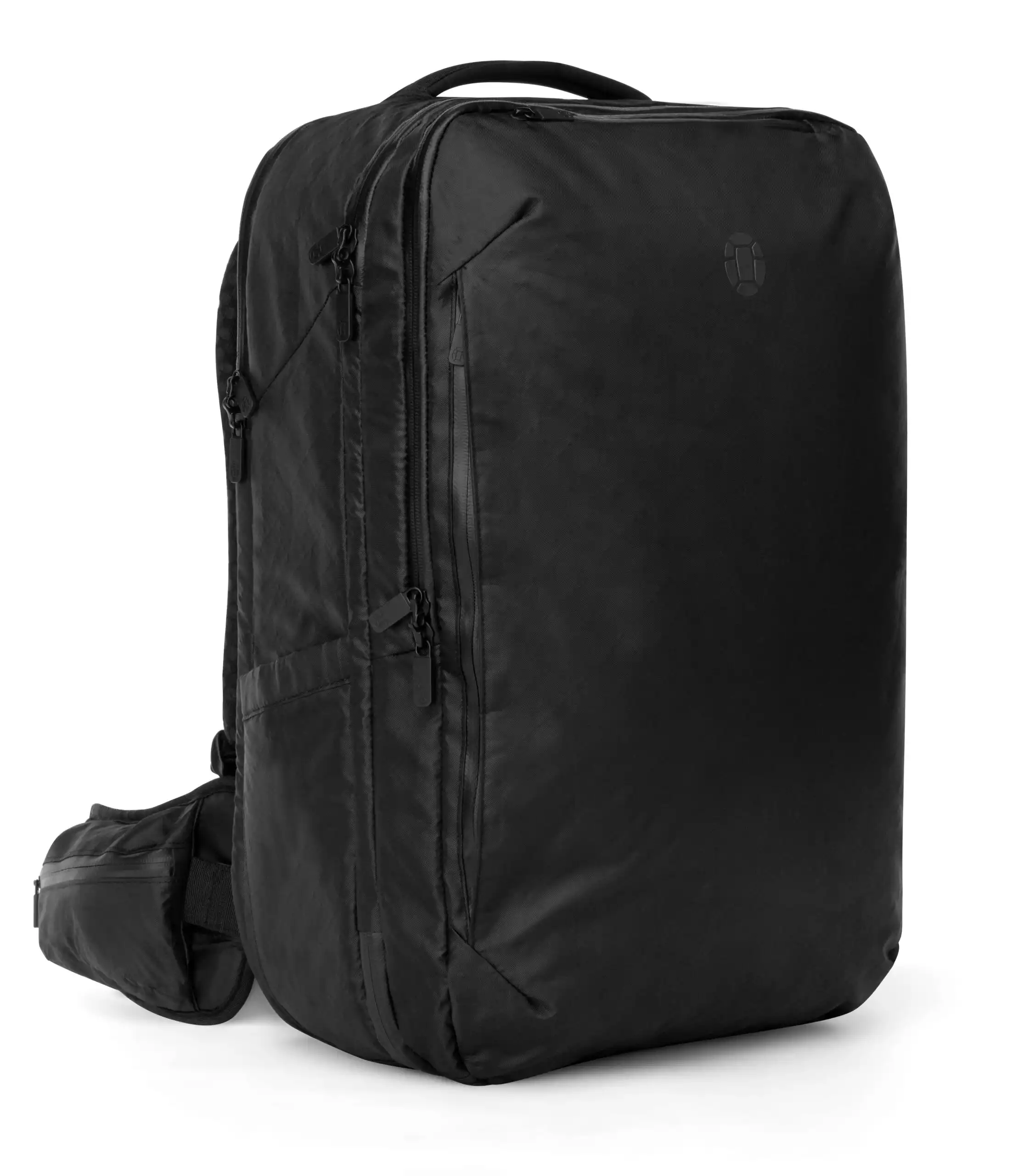 How to Pack a Carry On for a Week
For all practical purposes, your packing list for a week versus a weekend isn't going to be all that different. The biggest difference involves the clothes you'll bring. Expand the packing list above to include:
4-5 tops
1 pair of pajamas
5-6 pairs of underwear
5-6 pairs of socks
1 extra pair of shoes (if needed)
Accessories (hat, scarf, jewelry)
Bathing suit (optional)
Extra bra (if needed)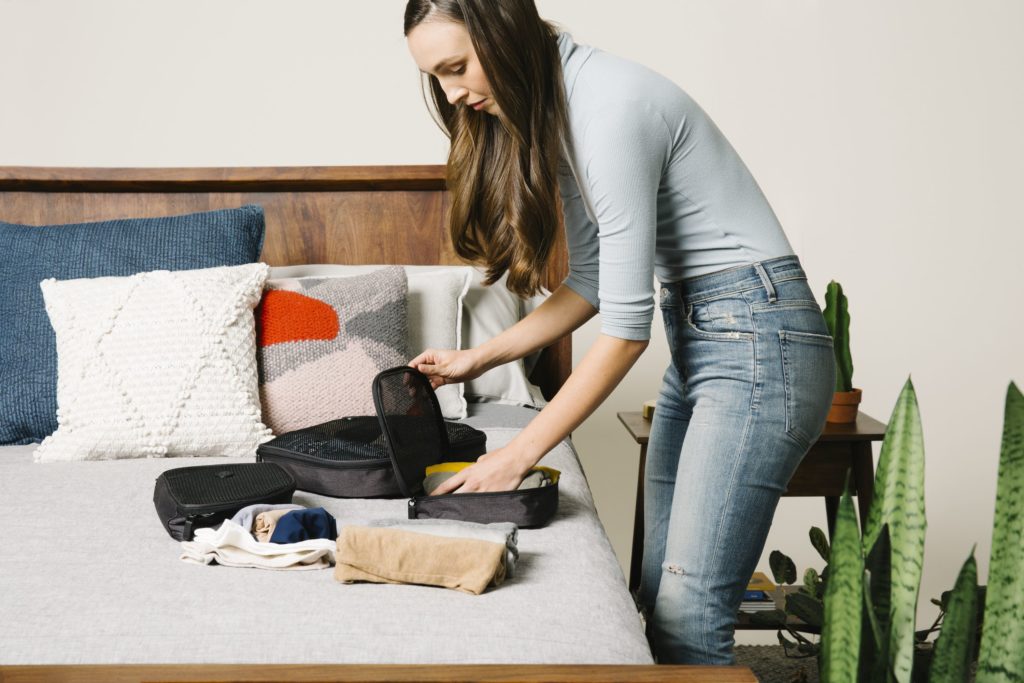 How to Pack a Carry On for 2 Weeks
If you'll be out and about for ten days to two weeks, you won't need to make too many adjustments to your clothing list. Throw in a couple more pairs of socks and underwear, but beyond that, you'll have to do laundry at some point. Hand wash in your sink, use the hotel service, or find a laundromat. In any case, the real change for trips of this length is that you'll want more of the "just in case" items:
Laundry detergent strips
Shorts, PJs, or something to wear while doing laundry
Extra medication
Travel sewing kit (optional but can come in handy)
Conclusion
In the end, packing a carry on is all about two key factors: planning ahead and minimizing what you bring along. Perfecting your packing technique can take a bit of trial and error, but with the Tortuga Travel Backpack you'll have plenty of organizational features to help keep everything in its place.
Related Articles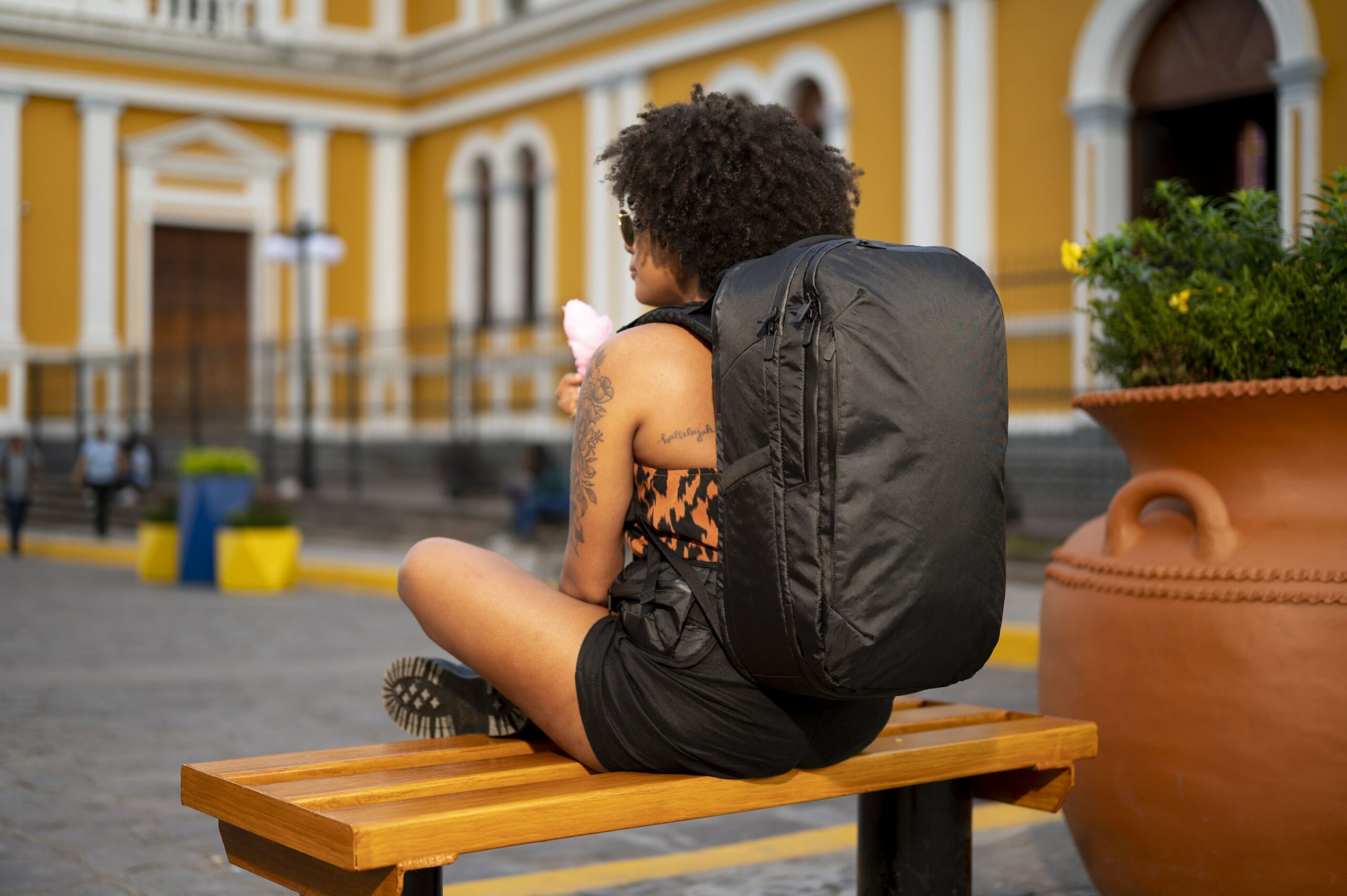 40L: Max International Carry On
Shop Now