You're getting ready for your next big trip, but this time, it's going to be different. This time, you're not going to check a bag. You're going to learn how to pack a carry on, avoid the checked baggage fees, and still be prepared for every adventure.
The only problem is… you're not quite sure where to start.
Fear not — I've been through this process. When I first started traveling, I had a 60-liter backpack. I always checked it. Next up: a 45-liter bag that I almost never checked. With it, I could easily pack a carry on for a week, 10 days, a month, or more (in fact, I used it to pack for my entire Peace Corps service). More recently, I went even smaller, turning in my well-worn 45-liter for either a smaller backpack, a duffle bag, or a daypack — depending on the trip.
If you're tired of your luggage weighing you down and want to become a carry on only traveler, follow these steps so you'll never have to check a bag again
Get a Smaller Bag
We always feel compelled to fill our bags — no matter how big or small — so if your bag is smaller, you'll pack less.
Start here and get a smaller bag than what you usually use, while still being carry on sized, even when fully expanded. If you have an expandable bag, try to force yourself not to expand it until you're on your way home.
The Outbreaker, which comes in 45 or 35 liters, is more than big enough to fit all of your stuff, even for an extended trip. The thoughtful design coupled with built in organization will make packing lighter easier than you thought. The harness system with a padded waist strap and load adjusters will make your carry experience easier than you expected when switching from a roller bag to a carry on sized backpack.
Pack for Fewer Days than You'll be Traveling
If I'm traveling for three days, I pack for two. If I'm traveling for five, I pack for three. If I'm traveling for a week, I pack for five. Anything over a week — ten days, two weeks, a month — I just pack for a week.
Not only does this make packing less overwhelming on long trips, but it helps you avoid packing items you never end up using. In general, what we think we need for seven days isn't actually what we need.
Note: The one item that gets a pass is undies. If I'm traveling for less than eight days, I bring a pair for every day. If I'm traveling for more, I'll handwash them in the morning while I shower — it's super quick and easy once you get the hang of it.
Keep Clothing Simple, Versatile, and Mix-and-Match
There's no need to go the zip-off cargo pants route (after all, you still want to look good in that Instagram shot, right?) but keep your travel clothing simple, versatile, and mix-and-matchable.
When I was a heavier packer, I often found myself throwing in an extra pair of pants just because "they're the only ones that'll match this shirt" or "otherwise I won't have anything to hike in." Not only did that weigh down my bag, but it limited the number of outfits I could spin up with my travel wardrobe.
Once I started packing within a limited color palette, and choosing clothes I could wear for multiple different occasions, this stopped happening. Even so, I still like to "treat myself" to one top, dress, or accessory that breaks up my otherwise monochromatic travel style.
Shoes: Aim for 2-3 Pairs
"Shoes are always the thing that end up taking up space in my bag," a coworker and frequent traveler recently confessed. My guess? She's not the only one.
As with clothing, you'll want to choose versatile, easy to mix and match shoes. Avoid shoes that only go with one outfit in your bag, or that you'll only end up using once.
Heels are especially heavy. If you have to bring them, pack only one pair. For most trips, I go for some combination of sneakers, ankle boots OR flats, and sandals OR flats. For example, sneakers and ankle boots for a trip to Seattle. Sneakers, flats, and sandals for a trip to Hawaii.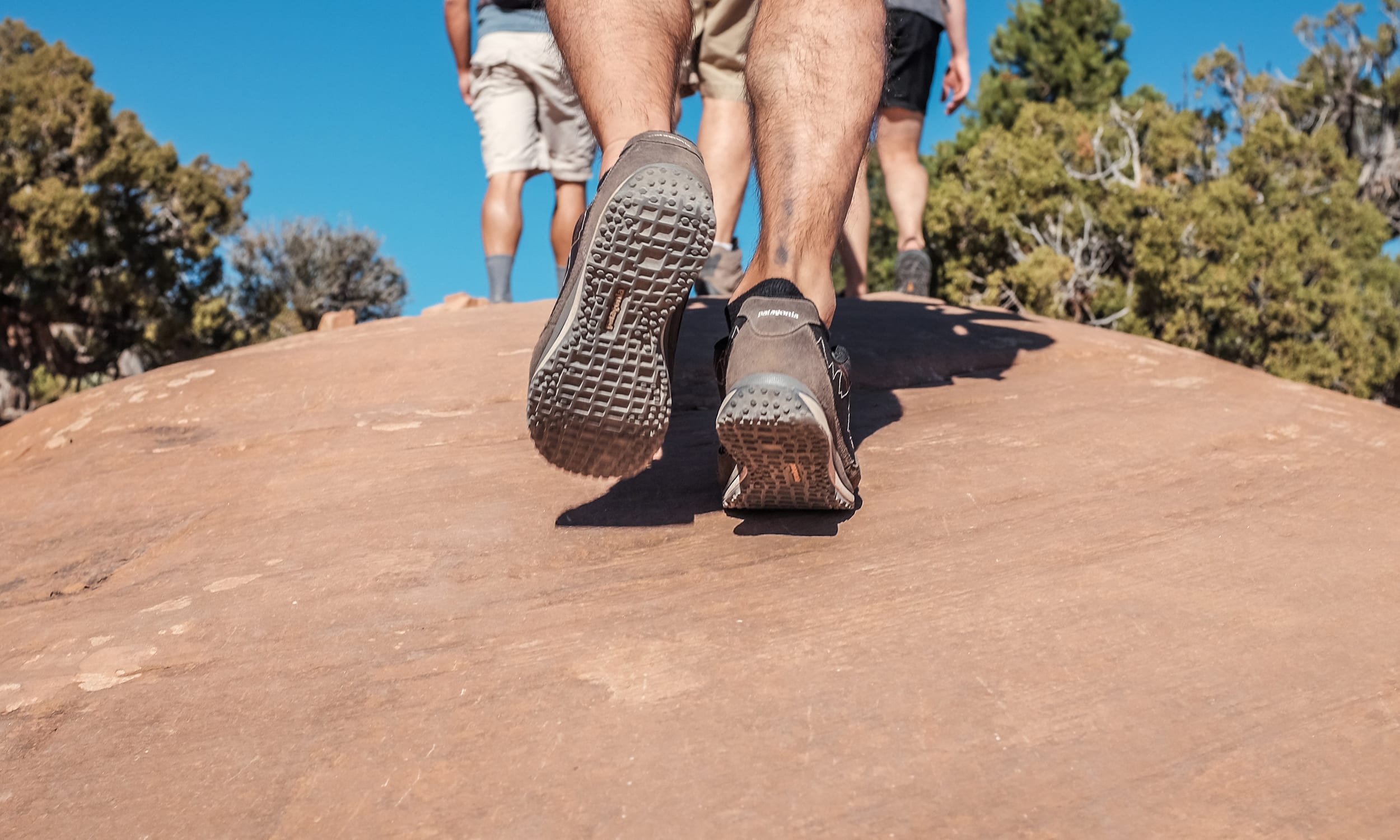 Plan: Create a List and Pack Two Days in Advance
When you're in a rush, it's easy to pack too much. Before every trip, jot down everything you'll need (we've got some destination packing lists to get you started) then put it all together 2-3 days before you leave. The day before, open your bag and take out a quarter of your items. Whatever you were on the fence about, ditch it.
To do this, it's helpful to pack your items outside of your luggage first — I'll create a little pile on a table or sofa — so you don't have to dig it all out again.
Limit Your "Just in Case" Items
As someone who has failed to communicate, "I NEED A BANDAID" in a foreign language multiple times, I definitely know the value in having some "just in case" items. Still, there's no need to prepare for every possible scenario, so limit (rather than eliminate) these things.
When it comes to first aid and medications, prepare for things likely to happen (i.e. a cut, sunburn, motion sickness, allergies) rather than every possible injury or sickness. Stick to the basics with your travel first aid kit. Then, apply the same rule of thumb for other items — do you really need that french press? Five different types of eyeshadow? A water purifier for a trip to Paris? Probably not.
Remember: You can always pick things up on the go. Unless it's a very specific medication or your favorite little black dress, 99% of the time, you'll be able to buy, or do without, any of these "just in case" items you leave at home.
Maximize the Usefulness of What You Bring
Keep an eye out for items that are more useful and versatile than others. For example, a solid t-shirt that matches all of your pants is better than three t-shirts that each match only one. Sneakers that double as hiking shoes are better than having a pair of hiking shoes and a pair of sneakers.
Try to reduce your electronics if you're bringing one for each function (i.e. a phone, kindle, camera, and laptop) and don't forget about all the freebies and amenities you'll have while in hotels. If all of your hotels come with a blow dryer, leave the travel blow dryer at home.
Choose is Compact, Foldable, or Travel Sized Items
If you can make something smaller, make it smaller. For everything on your packing list, see if there's a way to bring a more compact, collapsible, or travel-size version. For example:
For

toiletries

, you'll have to stick to 3 oz or less, but sometimes you don't even need that; a 1 oz bottle of perfume, for example, can last weeks

Get a

foldable water bottle

, like the Platypus

Swap your

bulky neck pillows

for an inflatable one

Go for

earbuds

instead of over-ear headphones

Try an

iPad Mini

with a

keyboard attachment

instead of a laptop

Not a professional photographer? Use your

iPhone instead of a large DSLR

Shrink bulky layers, like a coat, jeans, or sweater, with

vacuum seal bags

.
Every item you "shrink" could make the difference in getting your stuff from a medium-sized bag to a small one. So, I don't want to see you packing any full bottles of shampoo, you hear?
Tip: Makeup samples are great for travel.
Organize Your Bags with Packing Cubes
More fits in a bag if everything is well organized — trust me, my little brother as a teenager was proof of the opposite.
This is true for two reasons: First, you'll be more aware of what you're packing (oops! I have how many pairs of socks??) by grouping like items together. Second, you'll make the most of every inch of space available.
Packing cubes are an excellent way to organize the inside of your luggage, but simply making sure you fold or roll (versus haphazardly stuffing) your clothes is the biggest secret.
Oh, and while we're on the old folding vs. rolling clothes thing: No, you don't fit more clothes in a bag by rolling instead of folding. Rolling does, however, help you find things in your bag more easily.
Bonus: Try a Super-Pro Packing Tip, like "Disposable Packing"
Even if you're just learning how to pack a carry on as your only piece of luggage, challenge yourself — or work up to challenging yourself — to test out one of the pro packing tips we've talked about elsewhere in the Tortuga blog.
For example, instead of saving space for souvenirs, pack items you'll want to get rid of along the way (old clothes, toiletries, a book that you can leave behind at your hostel) to free up room. Shannon talks about this in her Disposable Packing List post.
Or, you could create a travel capsule wardrobe and go anywhere for however long… with just two outfits.
Want more ideas? Explore the full archive of packing tips and lists.
TL;DR
No one nails their carry on only packing list the first time around — it took me years to figure out a system that worked for my personal preferences. Just remember to test packing lists and tips, take notes on what worked, what you did and didn't use, or what you wish you'd had, and try again. Don't worry, you'll get there! To recap, below are the most essential steps for successfully packing in only a carry on:
Get a smaller bag

Pack for fewer days than you'll be traveling

Keep clothing simple and mix-and matchable

Shoes: Aim for 2-3 pairs

Pack two days in advance — then get rid of items

Limit your just in case items

Maximize the usefulness of what you bring

Make sure everything is compact, foldable, or travel size

Organize your bags with packing cubes 

Bonus: Try a super-pro packing tip, like disposable packing.
Want more like this?
Get weekly gear reviews, travel hacks, and packing tips sent straight to your inbox. As an added bonus, we'll send you a carry on packing list right away.