How to Pack a Duffle Bag for Travel
The Tortuga Promise
At Tortuga, our mission is to make travel easier. Our advice and recommendations are based on years of travel experience. We only recommend products that we use on our own travels.
Duffle bags are an ideal carry on luggage choice for certain trips and travelers.
There are times when duffle bags make the most sense as your carry on luggage. As examples, duffles work well with a backpack that's personal item-sized or in situations when you need to bypass last-minute, forced gate checks.
While they aren't hands-free like a travel backpack, they do have advantages. Unlike suitcases, duffles don't have wheels that could easily break. They also take up less space than a suitcase, both at home and in airplane luggage bins. Plus, if you already have a backpack you're using as your personal item or laptop bag, it's much easier to pair it with a duffle bag than trying to wear a second backpack on your front.
If you're bringing a duffle on your next adventure, read on to learn what to put in it and how to pack your duffle bag for travel.
Tortuga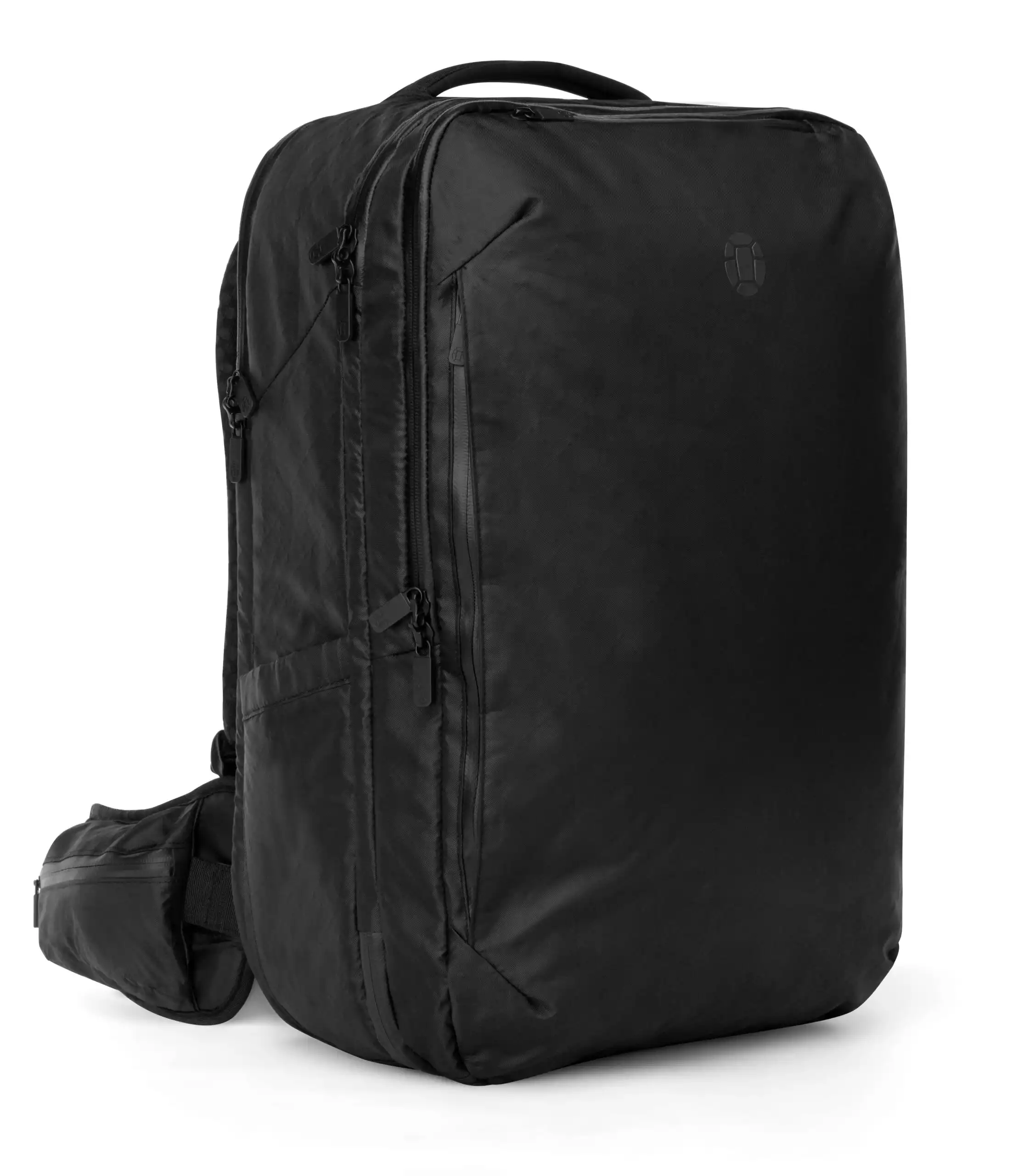 Can You Use a Duffle Bag as a Carry On?
Yes. As long as your duffle bag is within the airline's size requirements for carry on luggage, you can use a duffle bag as a carry on item. More on size requirements in the next section.
Size isn't the only consideration for choosing a good duffle bag for travel. You'll also want to make sure it's functional. For this, steer clear of gym or sports duffles that lack organizational components. A big, unstructured space is your enemy.
Instead, opt for a duffle that's specifically designed for travel, has a bit of structure to make packing easier, and comes with a cross-body strap for carrying it hands-free.
Carry On Duffle Bag Size
For most airlines and flights, a carry on duffle bag must be no larger than 22 x 14 x 9 inches or 45L. These dimensions tend to be more common for suitcases and backpacks.
Duffles are longest in one dimension with similar measurements in the other two dimensions. More common duffle bag dimensions would be closer to 22 x 11 x 9″ or 22 x 9 x 9″. These dimensions would be for a 29-36L duffle bag.
Avoid roller duffles, as they're heavier than a regular duffle. This is especially important if you have to abide by strict weight restrictions—particularly on budget airlines like RyanAir, TigerAir, EasyJet, Norwegian, or JetStar—and would rather use those extra two pounds for your camera, not your wheels.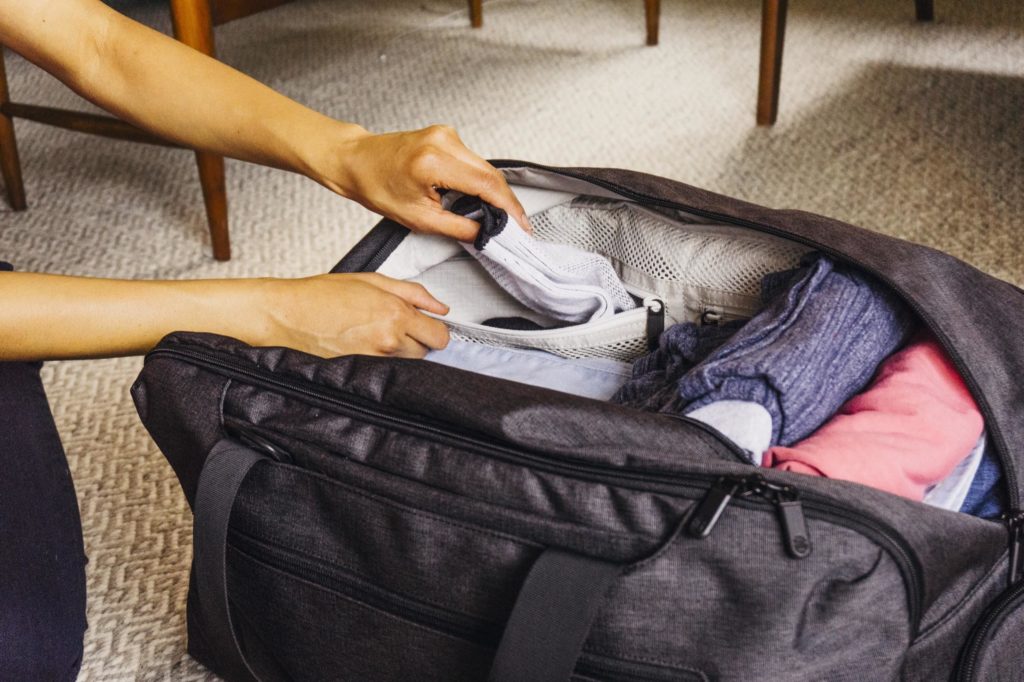 Duffle Bag Packing List
While you may adjust a few things in your packing list from trip to trip, generally the bulk of what we bring when we travel stays surprisingly consistent. After all, you'll always need a toothbrush.
So, to demonstrate the best way to pack a duffle bag for travel, I'll be using our definitive carry on packing list as an example of how to fit everything in your duffle bag.
Whether you're packing for a week-long trip to a cold weather destination or a long weekend somewhere warm, your packing list will resemble something like the following:
Clothing
Toiletries
Paperwork
Electronics
Smartphone with an international plan or unlocked for a local SIM
Chargers
Headphones
Travel adapter
Laptop or tablet
Kindle or e-reader (optional)
Other Gear
Pen
Notebook or journal
Book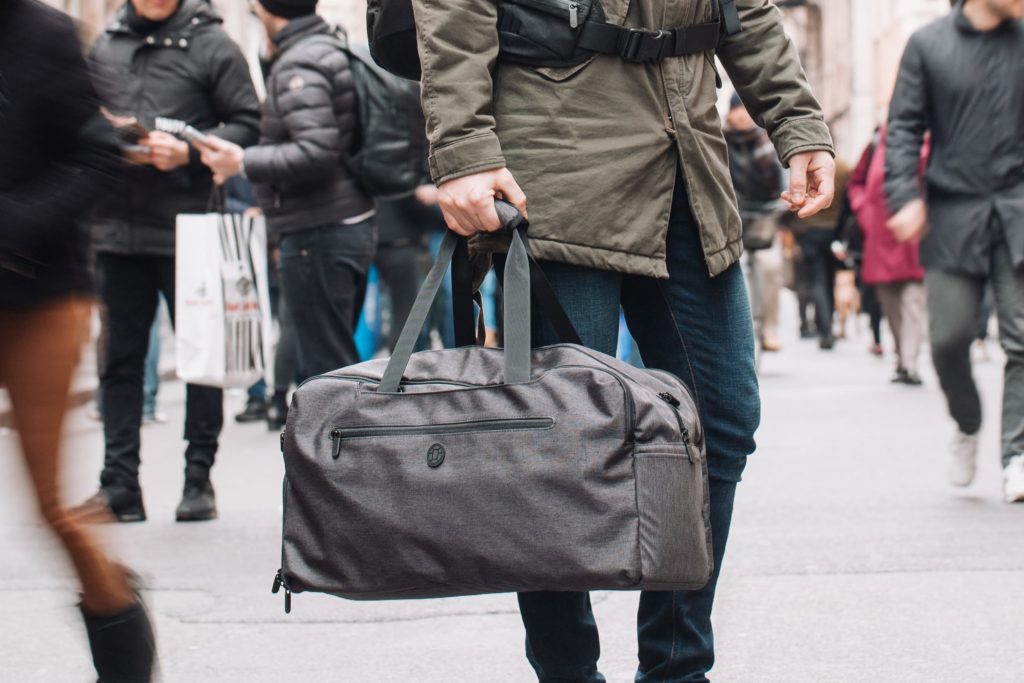 How to Pack a Duffle Bag for Travel
Now that you have your packing list, what's the best way to fit it all in your duffle bag? Use these tips to pack your duffle bag for any trip.
Roll Clothes And Use Packing Cubes
With duffle bags, it's too easy to stuff everything in your bag or let it all come unfolded the minute you have to rummage around for a new pair of socks. It's also harder to see everything you have in your duffle bag than in a suitcase or backpack.
To keep your clothes folded, organized, and easy to access, use packing cubes. Start by choosing a packing cube you can see into, then roll your clothes and stand them up (just like Marie Kondo recommends) so you can quickly see everything you have in a single cube.
Use multiple cubes to further organize your travel wardrobe, either by clothing type, dirty/clean, or any other way that makes sense to you. Personally, I like to sort my clothing by use case. Hiking and adventure clothes in one cube, casual outfits in another, and PJs and underwear in a third.
Once you have your packing cubes packed, put these into your duffle bag first to form a base.
Tortuga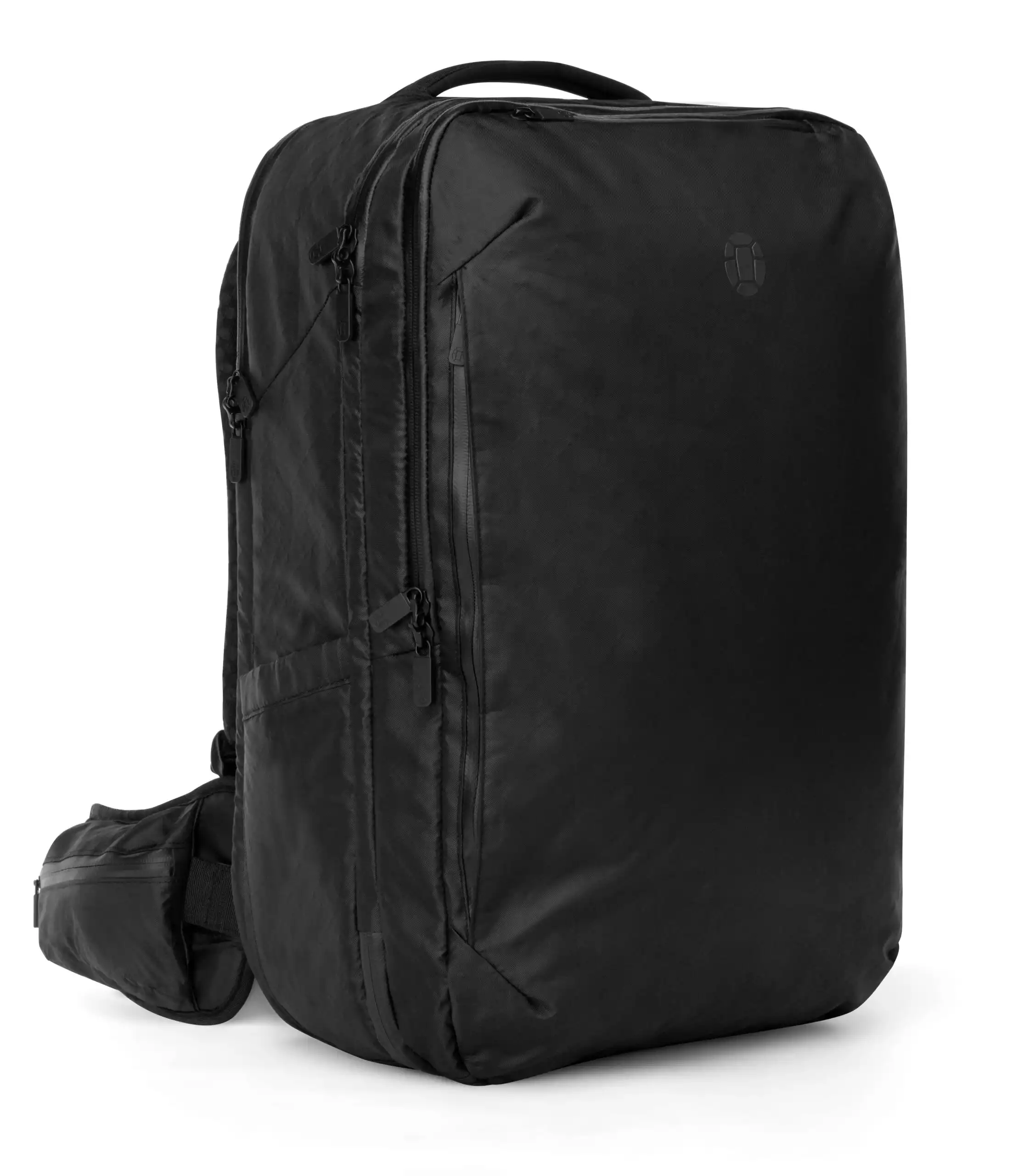 Place Shoes in a Separate Compartment
Let's face it: shoes get dirty. We don't want them mingling with our clean clothes, even if they aren't caked in mud. To pack your shoes (we suggest wearing one pair and packing one pair), place them in a separate compartment of your duffle bag from the rest of your items.
Some duffles designed for travel have a dedicated space for shoes. If your duffle does not, you can always use a shoe bag to create a separation. Then, place your shoes on the bottom of your bag, with your clothing packing cubes next to and/or on top of them.
Put Toiletries in Reusable Containers And in a Dedicated Bag
Next up: toiletries. Whether you're bringing it all or just a few items to supplement the free goodies at your hotel, make sure all of your liquids and gels are in containers no larger than 3.4 ounces. We recommend using a reusable container (the GoToob line is a Tortuga favorite) for these.
Next, pack them all in a single toiletry bag—it must be clear and quart-sized or smaller if you're going through airport security—and add them to the top of your bag. This way, they'll be easy to access should you need to take it out for TSA screening or grab something mid-trip.
Place Paperwork in an Outside Pocket
Next, place all of your important paperwork—passport, boarding pass, notebook, etc.—in an easy to access outer pocket. You'll want them easy to get to, but also not freely floating around the main compartment of your duffle, since these small items are easy to lose.
Some travel duffles will have organizational features that keep all of these small, yet important items in order (pen holder, small pockets, etc.). If yours doesn't, you can use a pouch or accessory bag (I like the fashion-forward ones by Topo designs ($15) to keep these items together and easy to reach for.
Put Laptops And Chargers in a Dedicated Sleeve
If you're traveling with a laptop, tablet, or Kindle, you'll next want to place these in a dedicated outside pocket. Does your duffle come with a laptop sleeve? Put your laptop or other large device into it and place your chargers alongside it.
If you do not have an outer pocket for your device, place it in a sleeve and add it on top of your clothes in the main compartment. This will help keep it from getting damaged if you, say, toss your bag down on the floor while collapsing in exhaustion after a 12-hour flight.
Organize Odds And Ends in Pockets or Accessory Bags
For any other odds and ends—especially those you won't need while in transit—layer these on top of your clothes in the main compartment. For small items, make use of small pockets in your duffle or an accessory bag to prevent them from floating around and getting lost.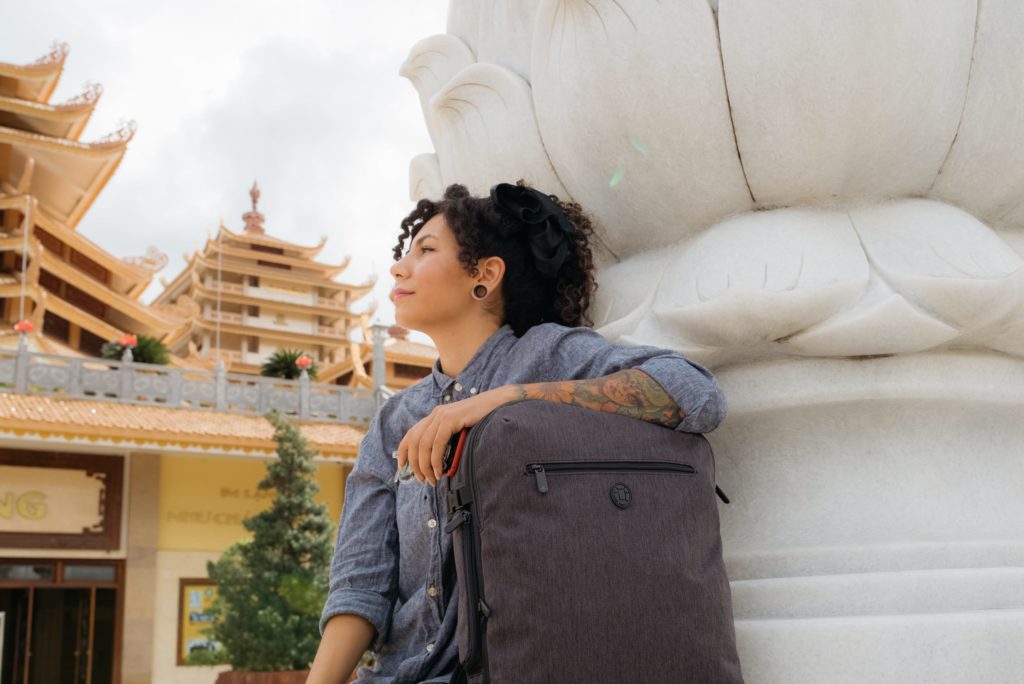 Bring a Personal Item With Your Duffle
Your duffle bag is your carry on item, which means you're still permitted to carry a personal item alongside it. If you're opting for a backpack as your personal item, aim for something around 20-26L. That size will be large enough to fit any additional travel essentials you're bringing (camera, water bottle, etc.) but small enough to fit under an airplane seat.
The Tortuga Laptop Backpack fits the bill. It's designed to fit under (most) airplane seats, comes with organizational features you'll want while traveling, and packs like a suitcase for easy access to all of your gear. If you're not traveling with a laptop, a simple daypack will do.