How to Pack a Personal Item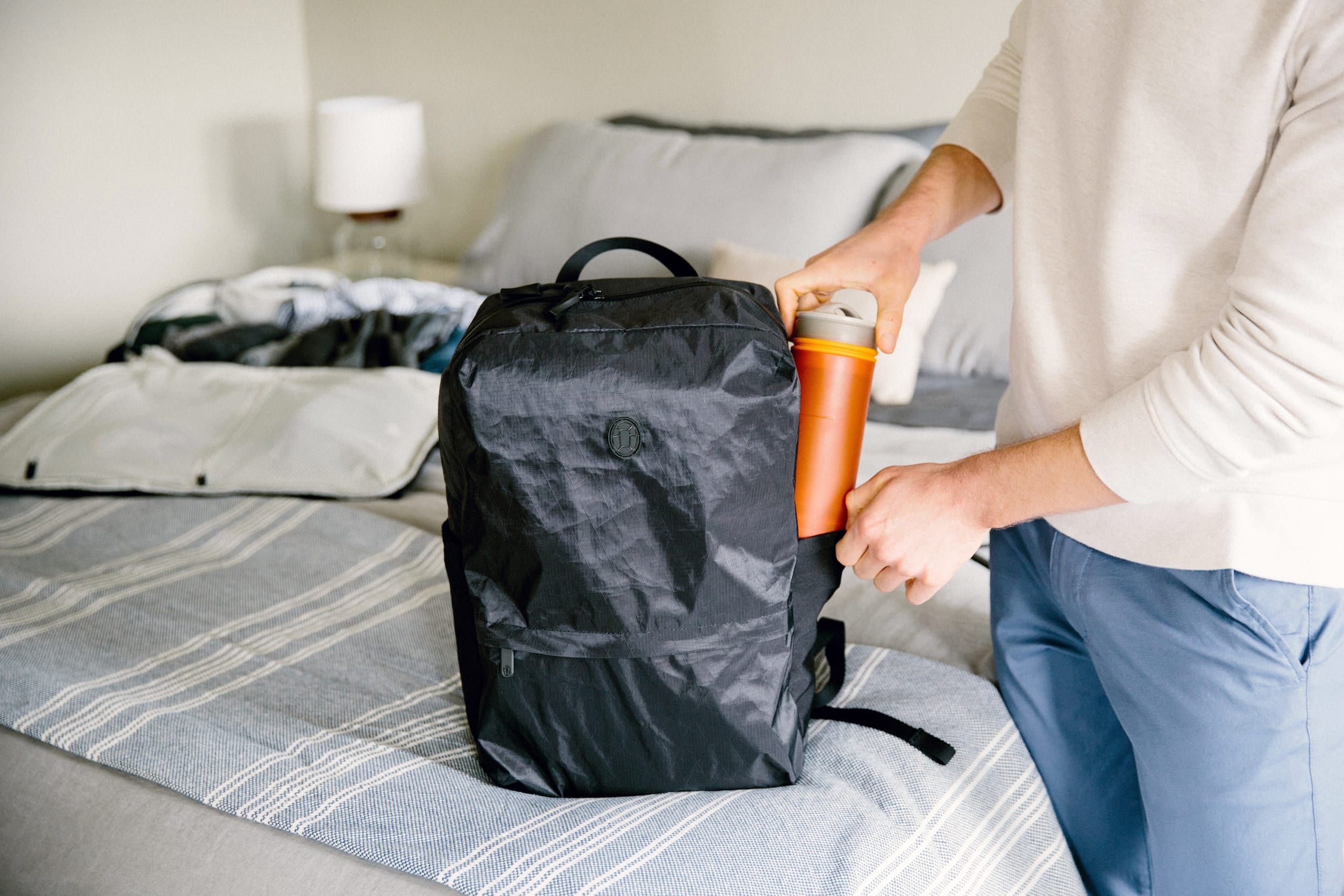 A personal item needs to carry our essentials. Plan to keep your health, technology, and legal must-haves by your side no matter. We'll teach you how to pack a personal item in
Although the specifics of what you carry in a personal item might change depending on your destination or activities, there are certain items you'll need on your personal item packing list regardless of the trip. Let us guide you through a personal item packing list below.
Personal Items List
Whether your adventure is by bus, truck, train, foot, camel, or plane, there are some items you should never leave home without. Regardless of what kind of traveler or packer you are, your must-haves should all fit into a small personal item that rarely leaves your side. Personal items that are 18 x 14 x 8 inches meet budget airlines' requirements, but be sure to check your specific carrier's rules.
These things are always in my personal item:
Wallet and ID
Passport
Travel and visa documents
Change of clothes (especially if you're checking luggage)
Medications (daily, necessary, allergy)
Headphones
Gum or mints
Sunglasses, prescription glasses, or contacts
Chapstick
Hair ties and headband
Antibacterial wipes
Baby wipes
Fuzzy socks and flip flops
Scarf, pashmina, or travel blanket
Makeup
Mini flashlight
Deodorant
Toothbrush
Tissues
Lacrosse or tennis ball (perfect to eliminate back pain in flight)
Liquids Bag
For the air travelers among us, the 3-1-1 rule is the rule of the day. Containers of no greater than 3.4 oz (100 ml) in a one-quart size clear bag is the standard TSA allowance. If it meets those requirements and fits in that bag, you're on your way to one less hassle at security. (There are exceptions for aside Epi-pens, medication, and baby formula/breast milk).
This is what's in my quart-sized ziplock bag when I fly:
Travel size bottle of sunscreen
Unscented antibacterial lotion
Travel size toothpaste
Unscented lotion
Cortisone, Benadryl, or anti-itch cream
Superglue
Eye drops (allergy or saline)
Travel size contact solution (for the husband)
Medical Supply Kit
Although there are heaps of prepackaged first aid kits available, I recommend getting a small sack or box and making your own as each journey might need adjustments.
If checking luggage or if your journey doesn't take you airborne, you can add a multi-tool. But be sure to be mindful of local laws and customs regarding these.
Pack essential medical supplies depending on your destination and activities. Remember that there's a big difference in the needs of a remote thru-hiker or backpacker versus those of an urban traveler or suburban day-tripper.
My first aid kit includes:
Pain reliever (Tylenol, Paracetemol, Ibuprofen)
Allergy meds (Benadryl, Claritin, Loratadine, other antihistamines)
Immodium/Loperamide
Neosporin or antiseptic cream
Epi-Pen (2)
Bandaids
Tums, Pepto Bismol, or antacid tablets
Safety pins
Athletic tape and gauze
Butterfly bandaids
Ace bandage
Technology
Most of us have a gadget or two that make their way into our packing repertoire. However, of course, the needs of business travelers are different from those of adventure-seekers not looking to take work on the road.
If you're traveling with your computer, it should be packed in your personal item. That personal item should be chosen with your delicate tech in mind. Always choose a bag with a designated computer sleeve, preferably padded. The Outbreaker Laptop Backpack is specifically designed for your mobile office set up and has enough room left over for both your in-flight essentials and a change of clothes.
Regardless of your needs, charge everything before you head out, back up your photos and work (whether on a portable hard drive or onto a cloud service like Dropbox), and always bring battery power.
Depending on travel circumstances, I try to keep my memory cards separate from my camera. That way, if the camera happens to disappear, at least the photos are preserved.

My personal item includes:
Laptop and charger
Smartphone and charger
Portable battery pack and connectors
Camera/lens, charger, batteries, memory cards (2), and an external hard drive
What to Pack For Overseas Adventures
If you're headed overseas, check the rules of the country you're headed to. And then check them again!
Some things won't need to be in your personal item (like visas or vaccinations), but your electronics will run out of battery quickly if you don't have the right tools necessary for your destination.
Double-check for:
Converters
Copies of the front page of your passport
Copies of your travel insurance and emergency numbers
Snacks
I'm a vegetarian with a nut allergy. So I always travel with airplane snacks I can eat. Whatever your dietary needs are, I recommend always traveling with something to munch on. Eat before the flight, be courteous of your fellow travelers, and always accept water when it's available.
Good neighbor rules for bringing your own food on flights include:
Nothing smelly or spicy (the odor hangs in that recirculated air for hours)
Nothing perishable (if it's fruit, vegetables, or jerky, expect to finish it in flight, or pitch it before you hit customs)
Nothing crumbly
If possible, refrain from nut-related snacks (those with airborne allergies will thank you)
Extras
If after packing the things that help keep you healthy, identify you, document your trip, connect you with the world, and keep you clothed, you'll still probably have a little room left over. This extra space is where your maybes and wants come into play.
My favorite extras include:
Pens, journal, and sharpie marker
Coloring book, crayons, and colored pencils
Books and magazines
Pillow and eye-mask
Noise-canceling headphones
Earplugs
Bathing suit (depending on destination)
Extra layers
Which Personal Item Should You Bring?
A small, packable daypack is ideal for the necessities if you plan to keep your laptop in your carry on bag. If you plan to use your laptop on the plane, opt for a personal item with a specifically designed laptop sleeve, like the Outbreaker Daypack. Backpacks only sometimes qualify as a personal item, so make sure to check your airline's rules before you travel.