How to Pack a Suit in a Carry On
The Tortuga Promise
At Tortuga, our mission is to make travel easier. Our advice and recommendations are based on years of travel experience. We only recommend products that we use on our own travels.
If you're like me, you're at the point in your life where weddings are taking up your weekends and work is taking up your weekdays. How should you dress in formal settings? How do you do it when you have to travel there?
Believe it or not, you can pack a suit in a carry on bag. I once packed a suit in my backpack, flew to London for three weeks, then flew back to the States for a wedding where I wore that same suit without ever ironing it.
Before we begin, I have one, overarching piece of advice. Do not overpack your carry on when you're trying to preserve the wrinkle-free integrity of your jacket, pants, and shirt. Even if you fold and pack everything correctly if any portion of the suit is crushed under pressure for long durations of time, you will get wrinkles. Don't take the risk. Leave the extras at home when you have to pack a suit.
Disclaimer: The following advice is for when you do not have time or the ability to iron, steam, or dry clean your suit.
Let's get to it.
Tortuga
How to Pack a Suit Jacket and Pants
Normally, we suggest wearing bulkier items on the plane instead of packing them. Plenty of people would recommend this for a suit too. However, wearing your suit during your flight will result in wrinkles. Placing it in the overhead bin is even riskier. In this case, we recommend packing the suit, even if it takes up a lot of space in your bag.
For your suit to arrive sharp and wrinkle-free, pack it properly in your bag. You have two options for how to pack your suit.
The Folding Method
The fold method is the most popular, proven approach and the one I used for my trip to London and back. Even Brooks Brothers recommends this method.
I used this "lining out" method where you tuck one of your jacket's shoulders into the other one.
Here's a second, similar method where the finished product looks ready to be displayed in a store. Watch through the end of the video for a bonus tip on using a plastic bag, with a bit of air in it, as a cushion. The air pocket provides a buffer and prevents your suit from getting smashed or wrinkled.
The Dry Cleaner Bag Method
If you don't have much else to pack in your carry on, or you're willing to sacrifice space for a nearly wrinkle-free suit coat and pants, the dry cleaner bag method is the simplest and most efficient method.
Very simply, keep your suit coat and pants in the plastic dry-cleaner bag, hung on a hanger, and fold the suit in half horizontally. This method will keep your folded jacket protected in your suitcase rather than leaving it unprotected in the overhead compartment. GQ has a good walkthrough complete with GIFs.
Using a dry cleaning bag is not an efficient use of space. If you have to travel for a longer period and carry more than just your suit, the fold method is the better option.
How to Pack a Dress Shirt
The shirt is arguably the trickiest thing to pack. The end of the video above shows one method that leaves your shirt perfectly folded and ready to be displayed at a department store.
If you need extra help, we have a whole separate article on how to do this well. To distill this article into its main points:
Fold, don't roll, your shirt
Lay the shirt on a flat surface and fold the arms into the middle, halfway up the sleeves
Fold in each side 3 inches and then fold the shirt in half from the bottom once, and again for a tighter fold
Shirts made of wrinkle-resistant fabrics like merino wool or polyester are better than non-iron materials that have a "spray on" chemical coating
Bonus Tip #1: I take out the collar stays (the plastic or metal pieces that go into the collar wings) to avoid bending them.
Bonus Tip #2: If you're packing more than one shirt, layer them facing opposite directions.
Tortuga
How to Pack a Waistcoat and Cumberbund
There's a time and a place for a three-piece suit, just as there are occasions that demand a cumberbund. Those are typically the occasions when packing a suit carries even more stress, since those events are more formal than business-related, suit-worthy occasions.
The good news is that neither of these items is complicated to pack.
Waistcoat: Make a fold along the vertical center back seam and then a horizontal fold (just two folds altogether).
Cumberbund: Roll it instead of folding it and stick it in a shoe.
How to Pack Dress Shoes
Truthfully, I think packing dress shoes is a risky thing to do and these are the only item of your suit outfit that I would wear on the plane. Pack your casual shoes instead. That way, you know your shoes will be in good condition when you land. Plus, cleaning your shoes is much easier than cleaning a full suit.
If you're going to pack your dress shoes, make sure they're stuffed so they don't collapse and crease. Stuffing them with dress socks, a rolled-up tie, or your cumberbund is helpful.
How to Pack Ties, Socks, Belts, and Accessories
A wrinkly tie or another accessory can ruin all the hard work you put into having a perfect-looking suit. You have to nail the details if you want to look great.
Packing accessories is straightforward. Roll your ties and belts. Roll or fold your socks, as you wish. Pack all of those in your shoes (if you packed them).
Keep your pocket square, cufflinks, suspenders, and any other accessories to your suit in a separate bag that keeps them together and easy to find.
Conclusion
Don't cram your suit into an overpacked bag if you're trying to avoid wrinkles. Spend a few minutes learning the advanced folding and packing methods from the videos above. Smooth out the wrinkles in your clothes then pack them. Take your time. By investing a few extra minutes in upfront work, you'll save yourself more work on the back end when you're supposed to be enjoying your trip.
Related Articles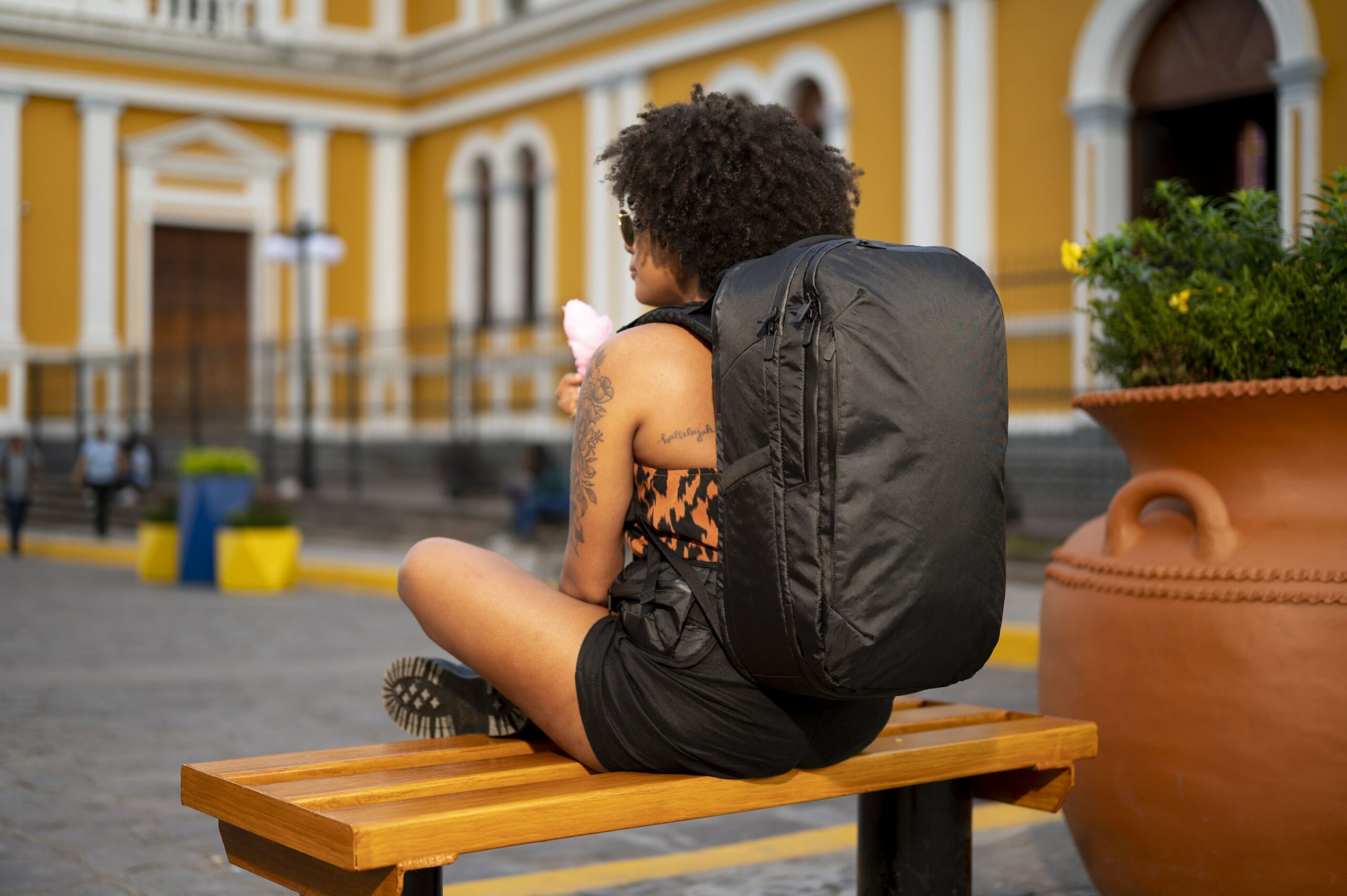 40L: Max International Carry On
Shop Now