Tips for Choosing the Best Travel Bra
The Tortuga Promise
At Tortuga, our mission is to make travel easier. Our advice and recommendations are based on years of travel experience. We only recommend products that we use on our own travels.
You only need two or three bras on your trip, depending on your cup size and level of activities planned. Pack these bras: T-shirt, Convertible & Sports bra
Let's talk about underwear.
Specifically, a piece of underwear that supports we women through thick and thin.
Over the highest mountains, through the sweatiest yoga sessions, in rainstorms, on beach days, at the office, and on adventures these protect and support our assets faithfully.
I'm talking about your bras, ladies.
Whether you're cultivating form or function, indulging your flirty side with crafty lace, your athletic side with rib-hugging elastic, or your gotta-sleep-now side, we've all got a bra for every activity.
And when you travel, you want a bra that makes your trip easier, more comfortable, and less nipply (if that's not your thing).
3 Must-Have Bras for Travel
If you're like most women traveling, you'll pack a minimum of two bras, wearing one bra and packing a spare. With that minimalist approach, you can wash one bra and, as it dries, you can wear the other.
Depending your girls' size, need for support, and your activities, you will probably need to travel with three bras:
Sports bra
T-shirt bra
Convertible bra
If you're engaging in less active adventures (or are an A-cup), you can probably get away without the sports bra.
Here's why you must pack these three bras: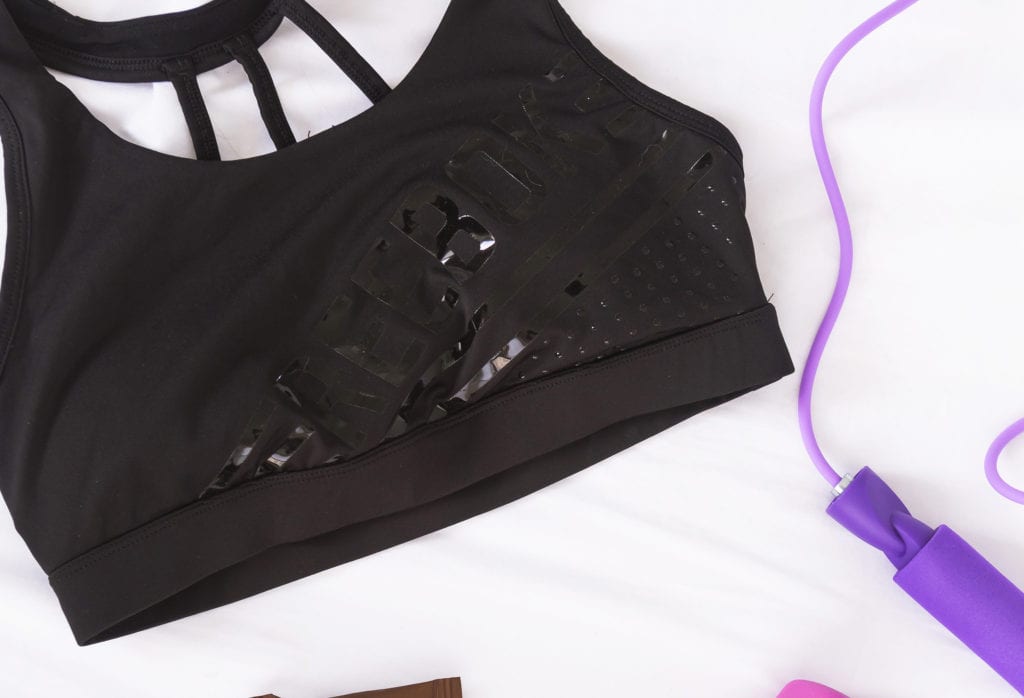 Sports Bra
Can't make it through a day without a good sweaty run or a hot yoga session? Pack a sports bra.
Need some extra support for your boobs on roads filled with potholes? Pack a sports bra.
This is the only time you'll ever hear me say this, so listen closely. Pack two sports bras if you answered yes to both of the questions above.
You can wear one for your next day's activities while the other bra is drying.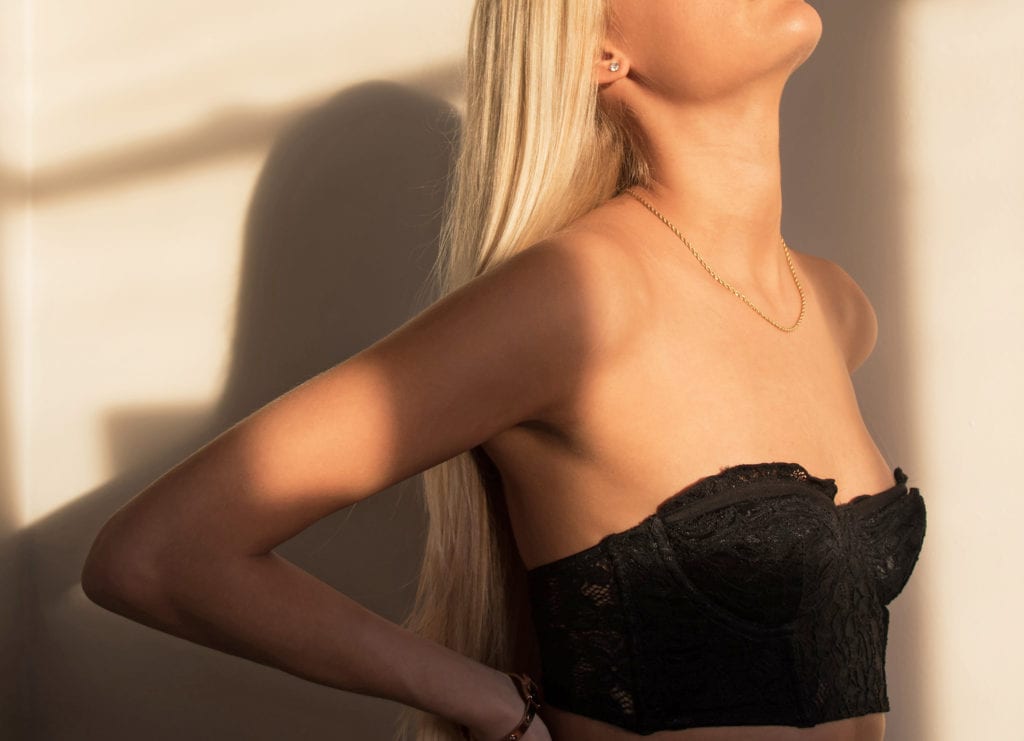 Convertible Bra
This is that magical bra with adjustable strap configurations that conforms to any shirt, dress, or halter-top.
Yes, even those strapless tops that you bought on a whim in Thailand. It's probably not the most comfortable bra you own, but it's the most versatile.
Pack a convertible bra and have the right bra for any shirt or dress situation.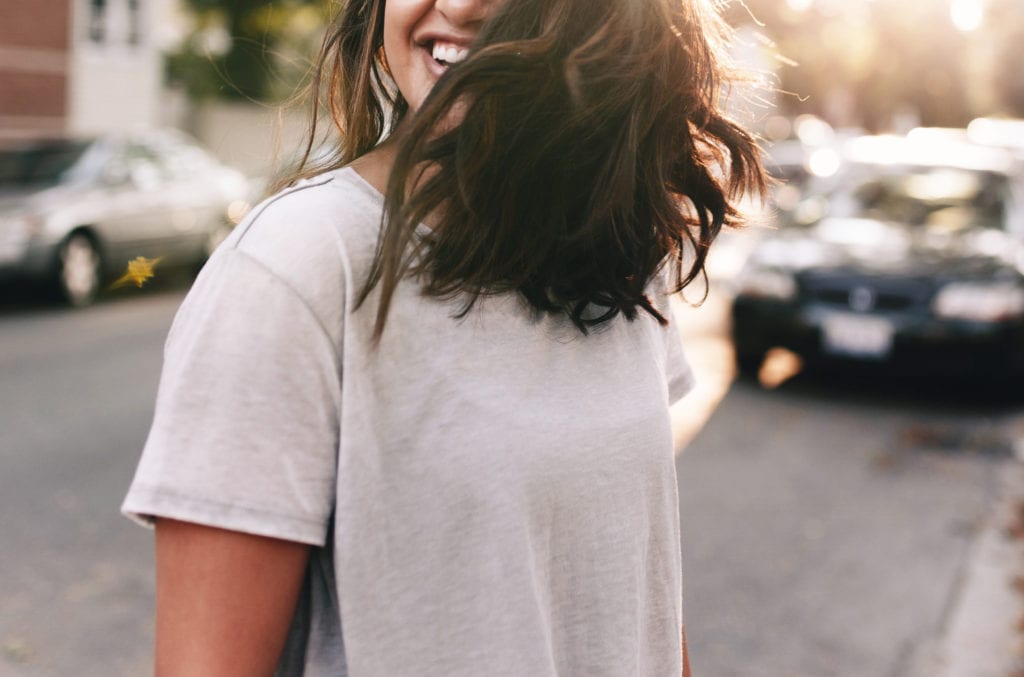 T-Shirt Bra: Underwire or Wireless?
Perhaps you've heard whispers of women setting off the machines at security checkpoints and being pawed down — sorry, patted down — due to the underwire in their bras.
Personally, I've never had this happen. And 90% of my bras have wire in them. But the case for going underwire-free is more than awkward gropings by airport personnel.
The real reason is comfort.
With a wire-free bra, you can sleep comfortably instead of feeling like you have to let down your hair, kick off your shoes, and untie your corset to relax. While traveling, comfort is key. And clothing is one of the few things that you have total control over when on the road.
Let's face it: Underwire isn't that comfortable when bedding down in a tiny, cramped airplane or bus seat, chasing after sleep.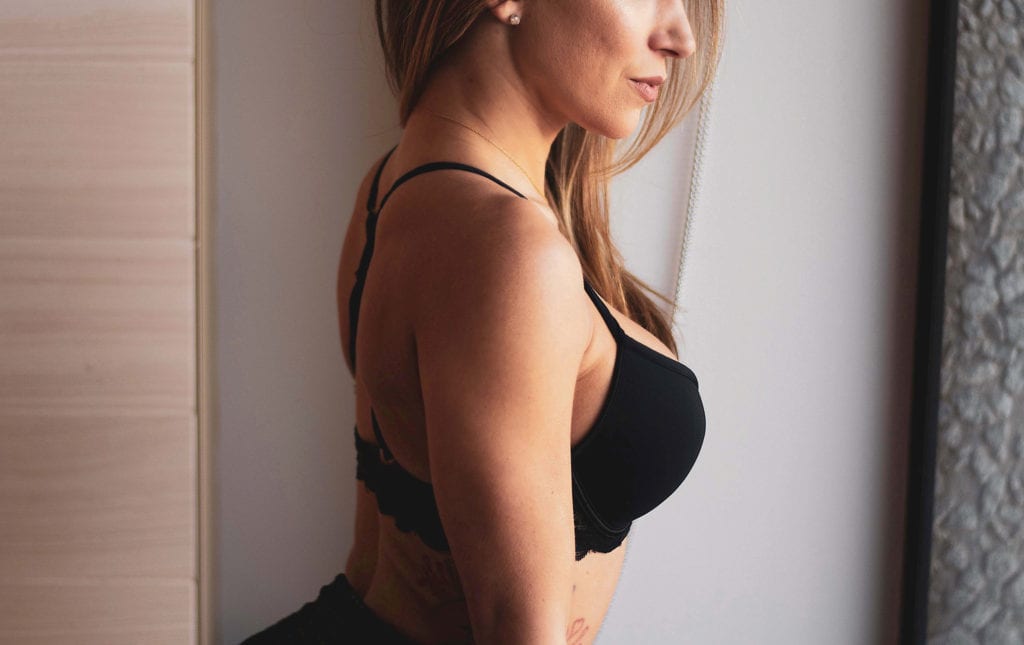 Choosing a Travel Bra
When you're shopping for (or packing) travel bras, you'll want:
Moisture-wicking: Modern materials for a quick-dry bra
Comfort: You'll be wearing this bra for long hours; it should be comfortable
Style: If you want a bra that will go with any outfit, pick a nude bra
Fit: Avoid the uni-boob or side-boob looks with a properly fitting bra
Whether you buy a bra there or not, treat yourself to a proper bra fitting at Victoria's Secret or some other brick and mortar bra store. This is one of those times that a professional fitting makes a world of difference. Once you really know your size and fit, it makes shopping, online and off, a whole lot easier.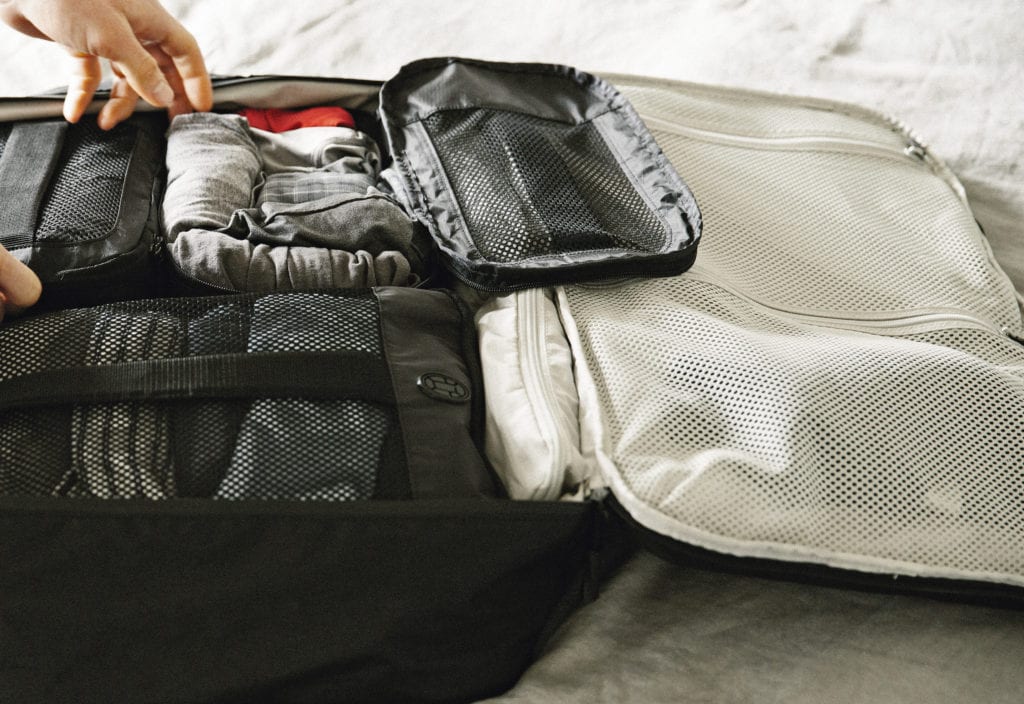 How to Pack Bras
Those nicely molded cups that make you feel perky also create a tricky packing situation. How do you pack a delicate bra that works so hard but is easily damaged or crushed?
Here are five options for packing your bras so they emerge safely from your bag. Choose the one that fits your personality and traveling style:
1. Tuck the Cups
Fold the bra in half: Twist in the bra's center and tuck one cup inside the other cup, so the two cups are nestled together. Put socks or underwear inside the cup to help keep their shape.
This is how I travel with my bras, and after thousands of miles, I have never arrived home with crushed cups.
Note: Packing a bra this way is a polarizing topic. You're either for it, or against it, according to a long forum on Flyer Talk.
Short version: If you love your lingerie and spend $50+ on a bra, you might not like the idea of twisting your bras this way. If this is you, check out the next packing method below.
2. Stack 'Em
Pile up your bras into one tidy stack. Tuck socks or underwear inside the twin cups to help keep their shape. This packing method is best for bras a C-cup and larger, or push-up bras with extra padding.
Think of how Victoria's Secret stacks their bras in a tidy line, each bra nestled into its partner.
3. Clam-Shell Tuck
Fold the bra in half so the cups are stacked on top of each other with an empty space between them, like a clam. Tuck socks or underwear in between the space between the cups.
4. Bra Travel Case
About the size of a toiletries bag, check out some products made specially to keep your bras from being crushed or ruined. Her Packing List recommends the Cup Case.
Pro tip: However you decide to pack your bras, put it in your suitcase with the cups down. This way, you can pack other clothing around the cups to avoid them being crushed.
5. Packing Cube or Ziplock Bag
Keep your spare bra safe and clean by tucking it into a packing cube or ziplock bag.
Keep some extra air in the ziplock bag as cushioning.
Or designate a packing cube as your lingerie "drawer." Slide your spare bra in with the cups down, and pack tights, socks, or underwear into those empty cups to help them keep their shapes.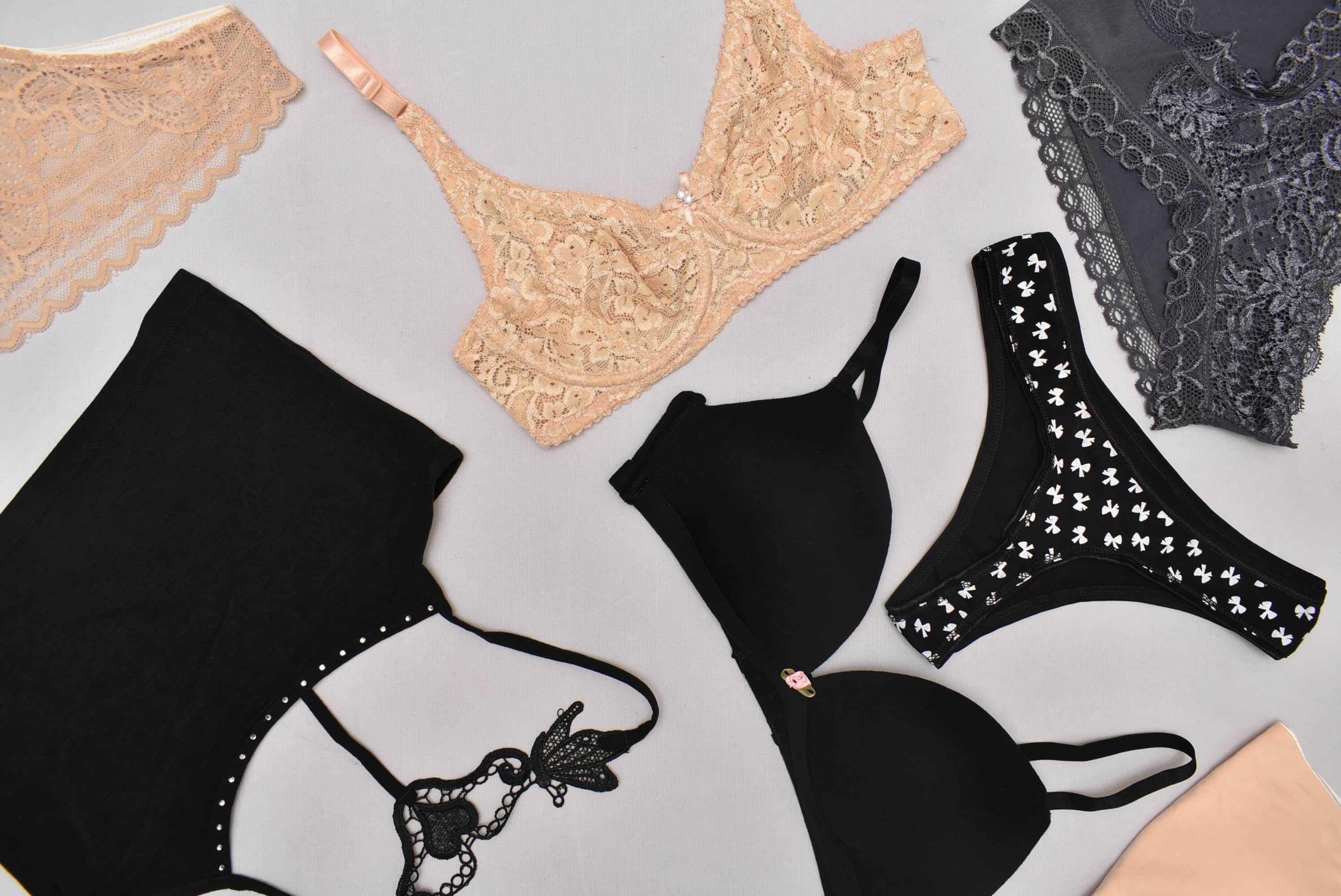 Best Secret Pocket Travel Bras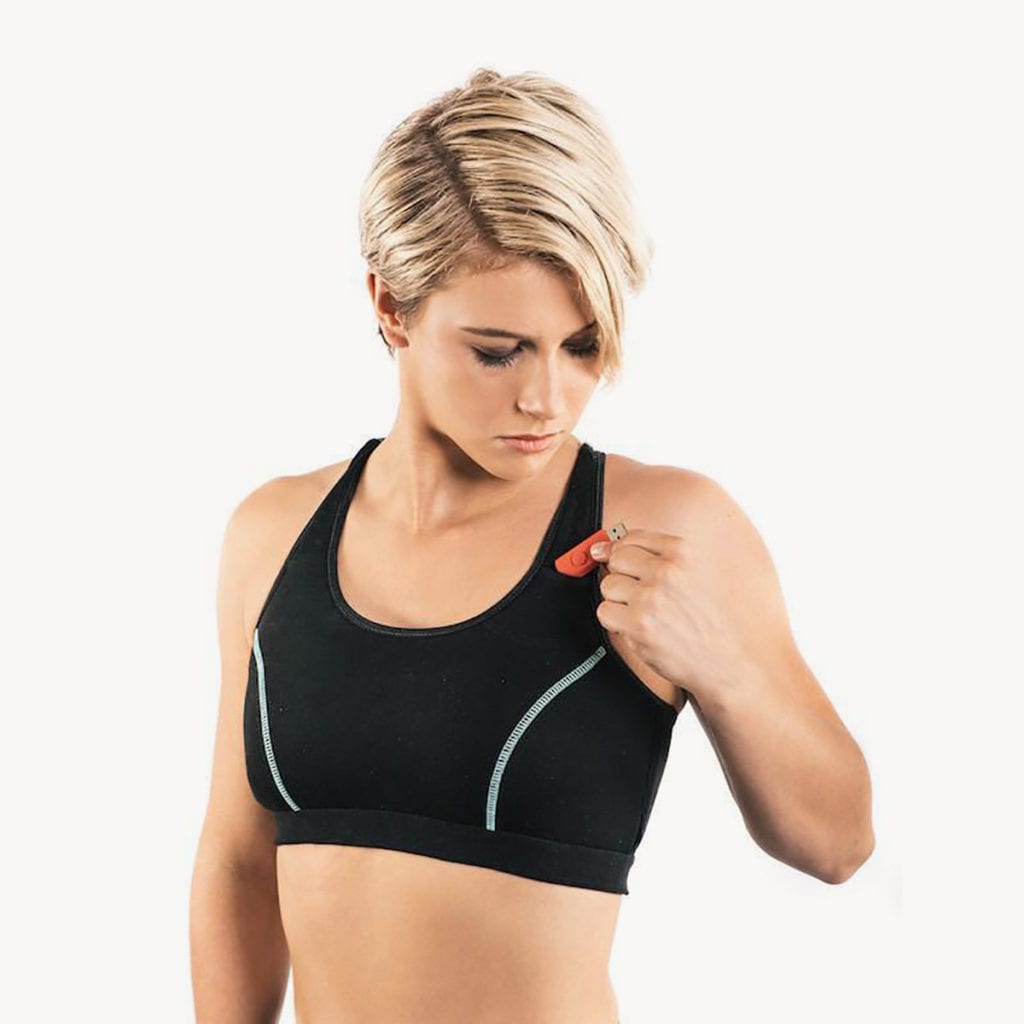 "I am super happy with the travel bra," says Tammy from Tammy & Chris on the Move.
The Travel Bra looks like a sports bra, but with hidden pockets for your most valuables. This bra stashes things like credit cards, extra cash, and passport… not just your boobs, like normal bras.
Made from breathable bamboo that is anti-microbacterial and anti-odor, this bra is underwire-free and made for comfort.
Her only complaint? The passport pocket dangling off the bra.
"[My] passport dangles around a bit if you wear a loose top on top of it, but if your top is tight, this won't happen."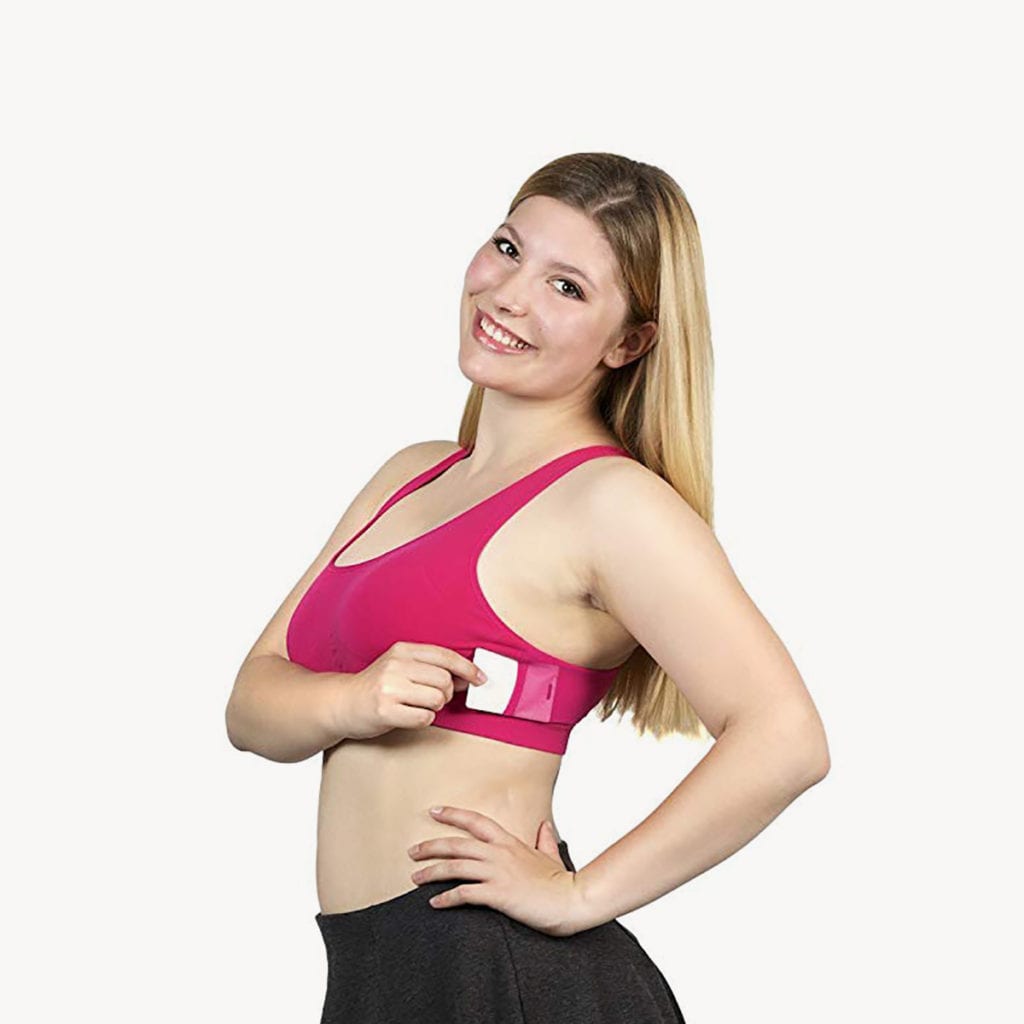 Ok, let's do the bad news first: this bra doesn't have much support. According to reviewers, the bra tends to ride up if you lift your arms.
And the pockets are too small to fit a credit card or passport.
Now for the good news: the bra is comfortable and lightweight. One reviewer wore it on her trip to Honduras and loved it.
Verdict? If you want a functional travel bra with hidden pockets, go for The Travel Bra. They know what they're doing. If budget is an issue, this one will probably get you through your trip.
Pro-Tip: Want a bra with secret pockets without investing in a travel-specific bra? You probably already have one. Any push-up bra with removable gel inserts can be used to hide tiny valuables, like your USB drive with copies of all of your important information and paperwork, or a little stash of money.
Just remove the gel pads and tuck other things inside! You're welcome.
Best Travel Bras (That Are Hiding In Your Dresser)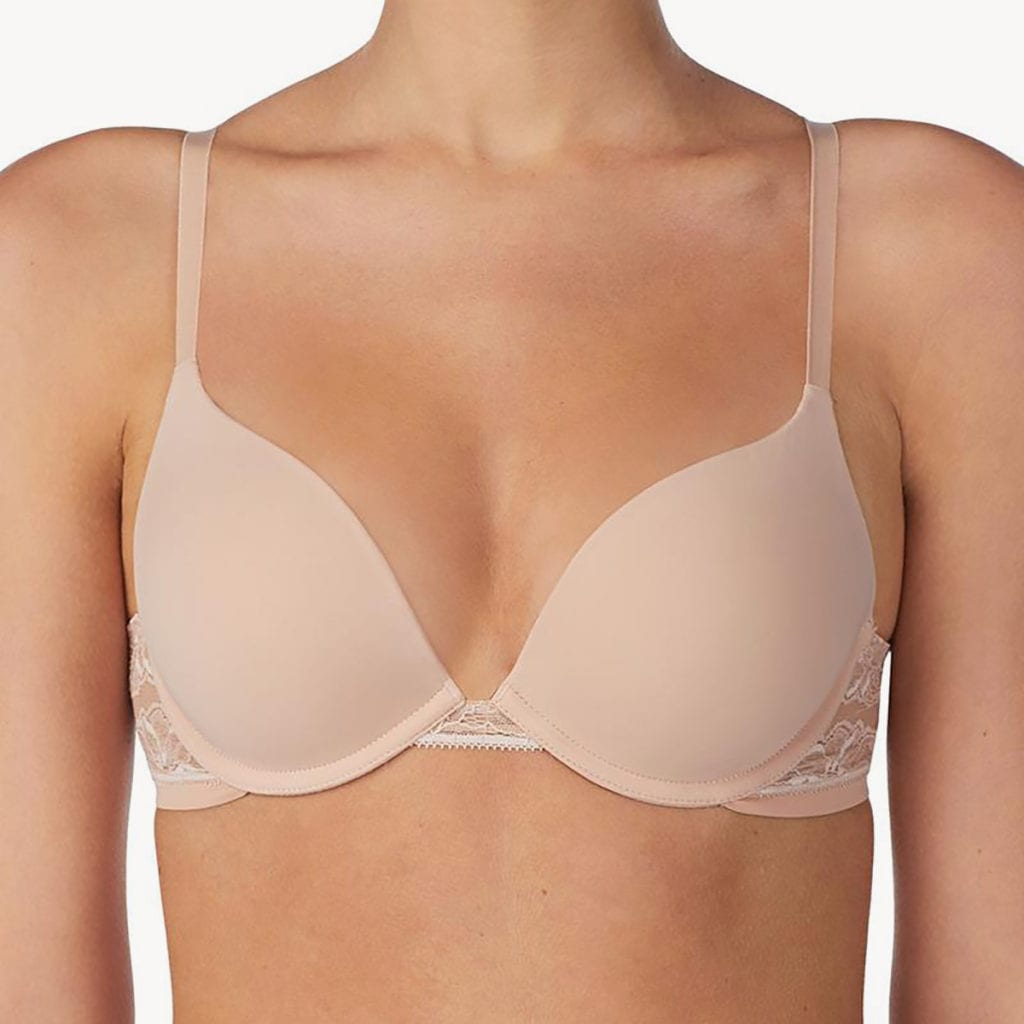 This is a solid everyday travel bra option, with a breathable mesh material and a great price point. Sounds like a match made in heaven for traveling through those humid climates when your clothing drowns in your sweat.
Bonus: smooth molded cups, a little push-up padding to aid what God gave ya, and available in a low plunge for your favorite v-neck blouse for going out.
Did I mention it's nearly invisible under clothing? Ah, perfection.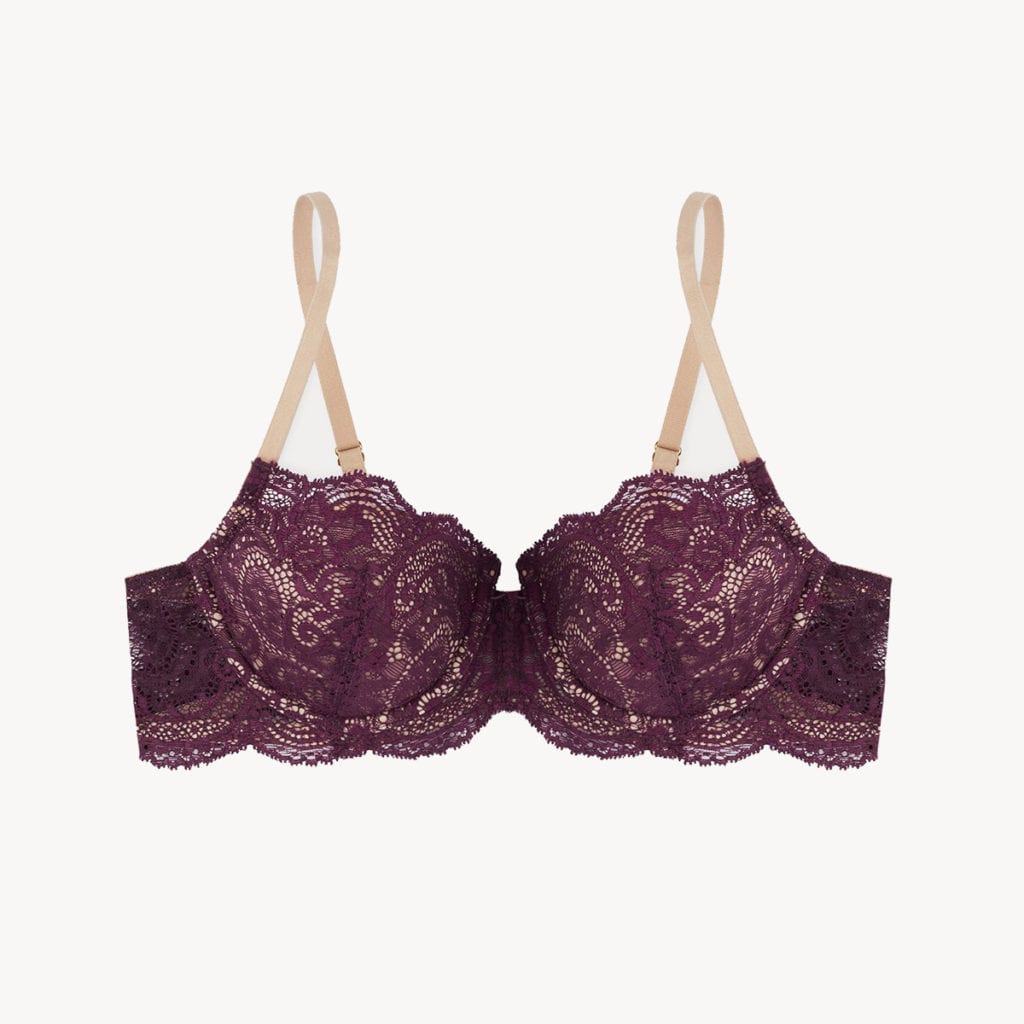 "Hang on," you might be thinking. "You're including a gorgeous lace balconette bra on a travel bra list? What are you thinking?"
I hear you. Lace itches. Not good for long flights or bus rides.
But not this lace bra. ThirdLove says, "It's as gorgeous as lingerie gets, but as comfortable as our T-Shirt Bra."
Hm, that's a high standard. And the reviews back it up:
"This is my favorite bra. Fits me perfectly. Difficult for big busted women to find sexy lace bras, and ThirdLove offers those of us a choice in lace bras."
"I love that when I want the support and also have a really pretty thing underneath, that can be done. Love this bra – it doesn't dig in on bands, and the lace holds up to washing. It is as supportive as other ThirdLove bras, and one of my favs."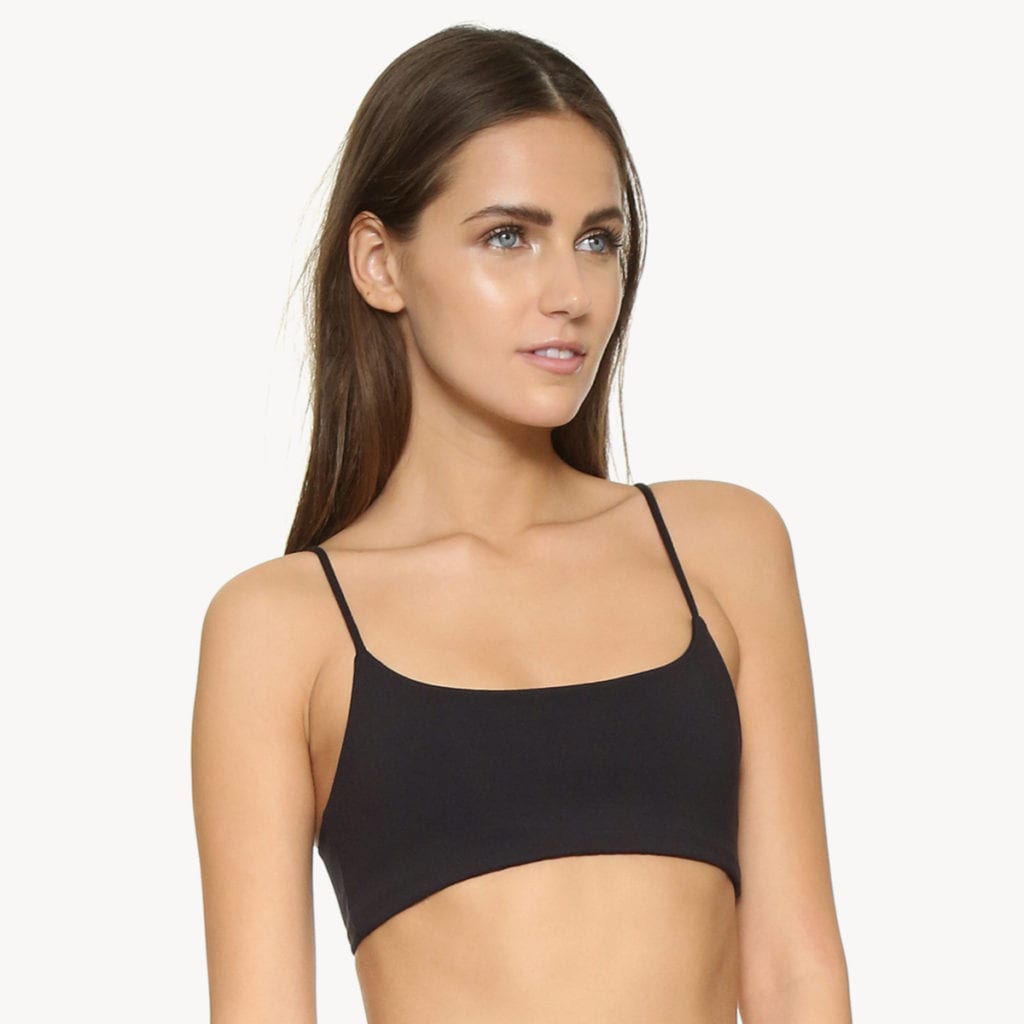 Faz travels between Singapore and Los Angeles a couple times each year, so she's had ample opportunity to road test bras. Her favorite is this bralette.
"It provides minimal support, but I'm not about to do burpees on a plane, so I want to be as comfortable as possible. It fits well and the fact that it's double layered makes sure you don't have unnecessary nipple action on the plane."
"What I like best is that there are no adjustable plastic bits that can dig into your skin and that the entire material is stretchy, as opposed to bras that are stretchy just at the straps and under the bust."
She recommends washing this bra by hand.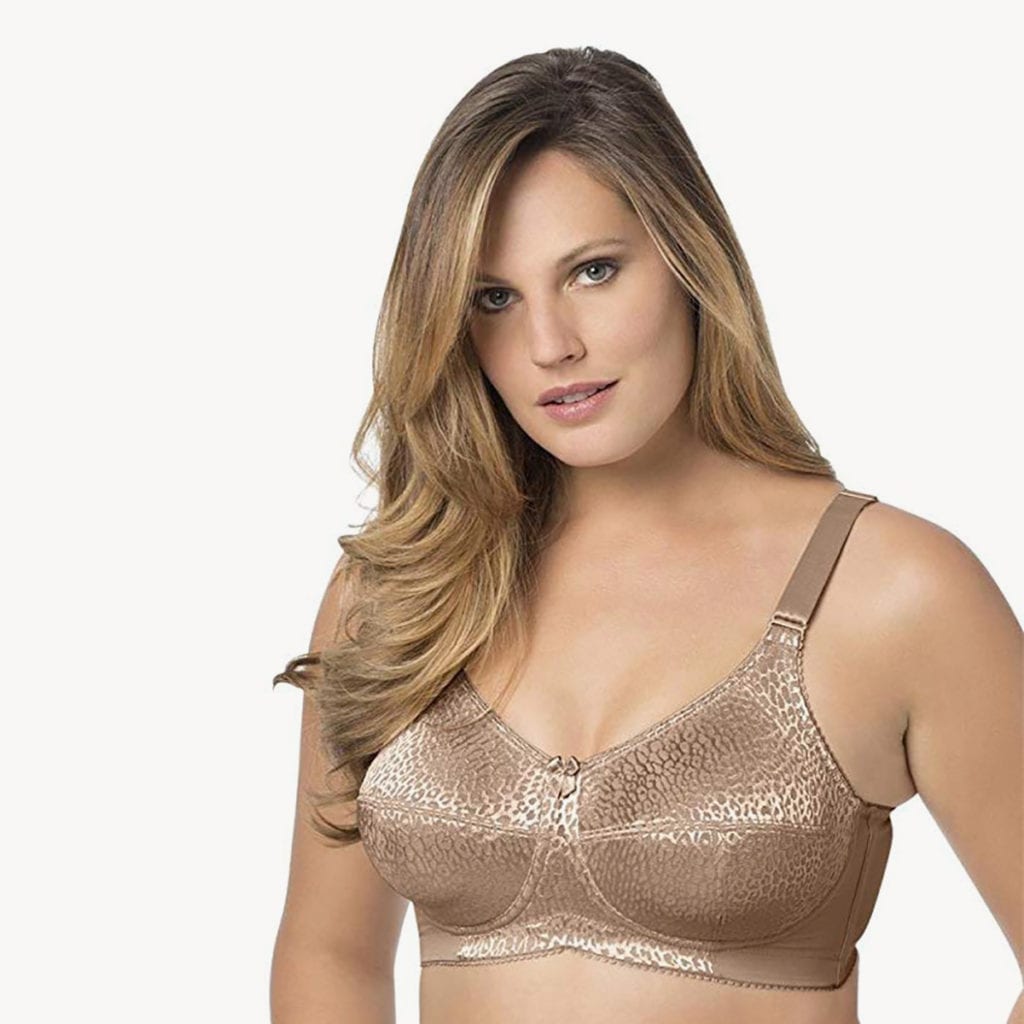 Perfect for fuller busts that need a little extra support without an underwire. Kimmay from Hurray Kimmay reviewed this bra:
"Super, super, super seamed support and firm band. OK for everyday? You bet! Traveling across the country? Of course! Sleeping? Mmmm it's not as soft as other styles, so I'd say mostly no."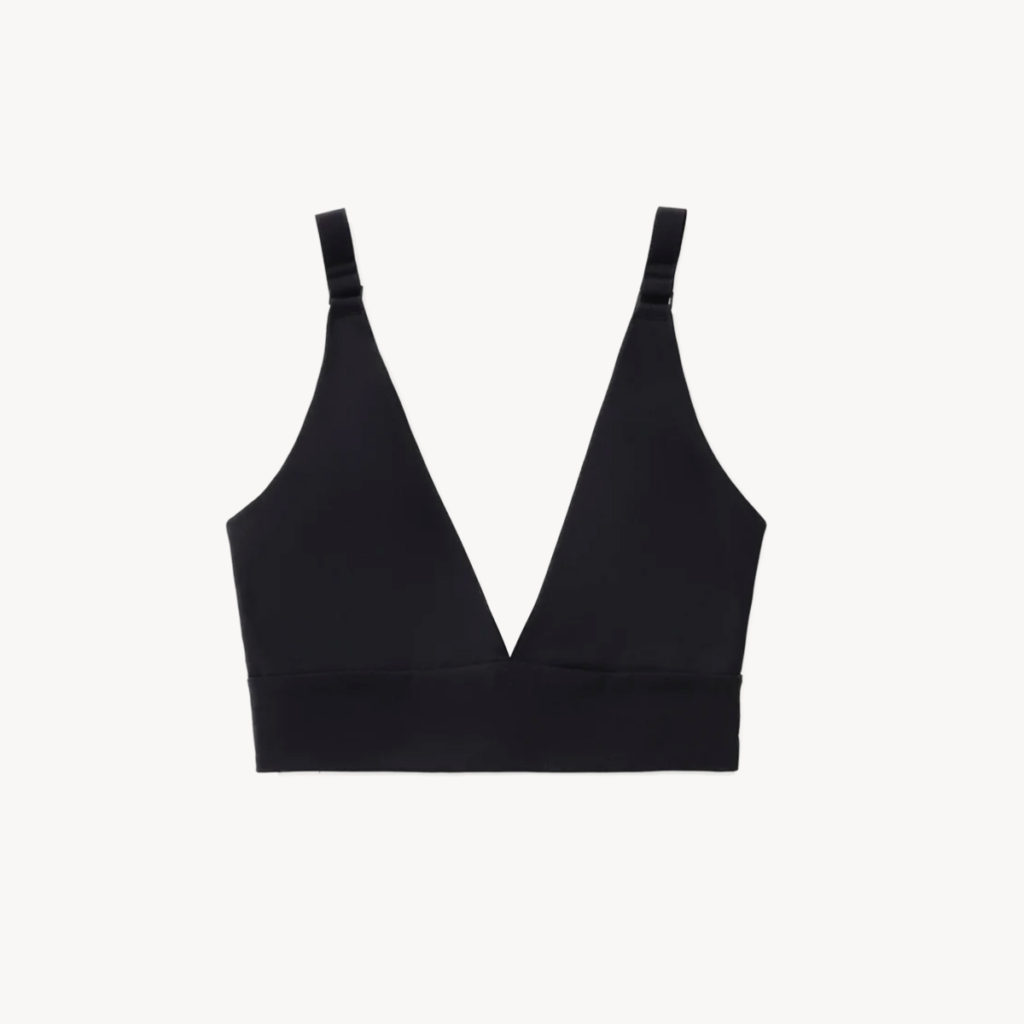 Angela, at Tortuga, says, "They're my favorite bras for travel. They're super lightweight, hardly take up any room, dry quickly, and can be worn with V-necks.
Normal movement doesn't cause the cups to move and my tatas stay covered. I don't have the same experience doing serious dancing or lying down, but they really get the job done in day-to-day circumstances. If I squeeze my arms together, bend over, whatever, no nips. It's great.
Also, the straps stay in place, the adjustment clasps don't need to be tightened throughout the day, and the band doesn't ride up when I raise my arms!
But based on the reviews on Everlane, everyone has a different experience so proceed with caution. It seems people with smaller cup sizes (A/B) have the most positive experience. Test it out at home before you commit and make sure you feel covered and supported in the way you expect."
Best Convertible Bras for Travel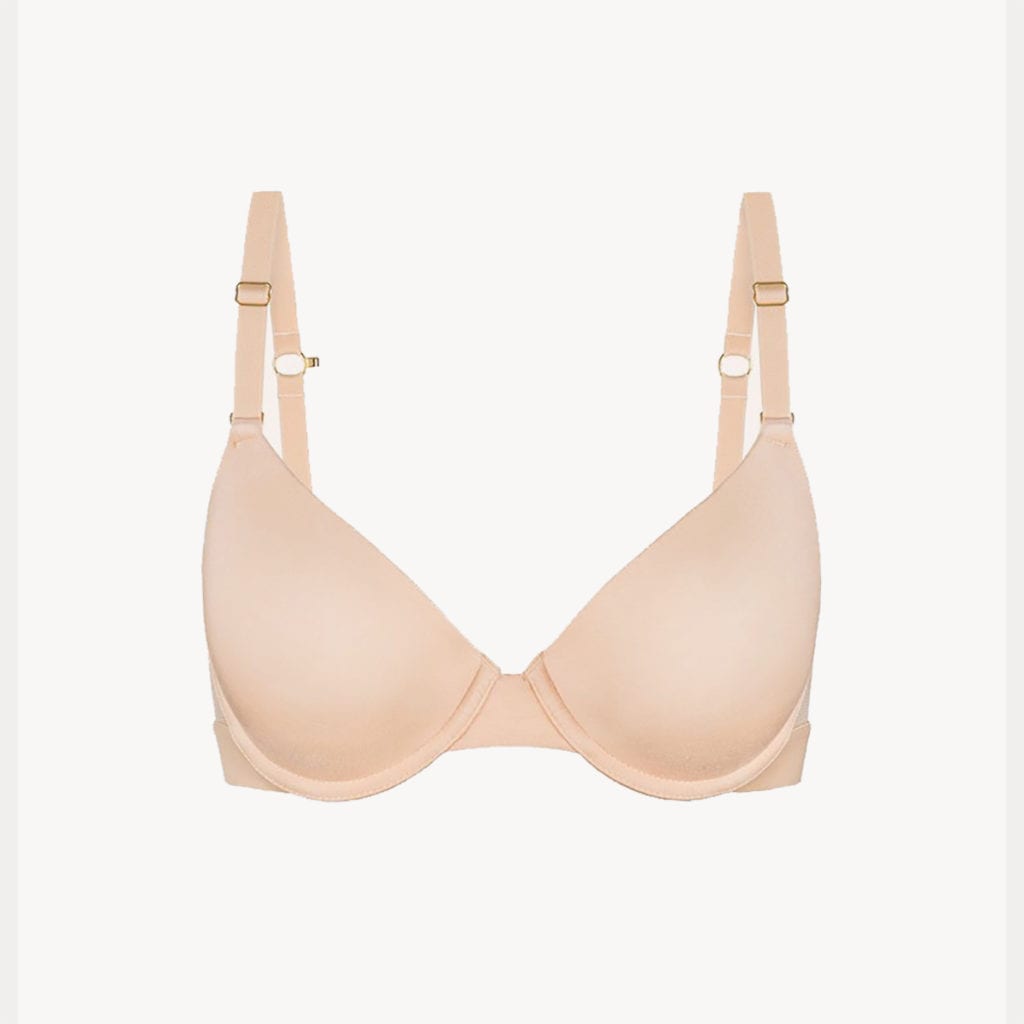 I adore my Lively t-shirt bra. In fact, I'm wearing it right now. Super soft fabric, no-wrinkle cups (the edges stay flat even after washing!), and front adjusting straps combine to make this a superhero bra.
Thanks to a simple J-hook in the back, you can take this bra from classic fit to racer-back like that. *snaps fingers*
I've tossed all my fancy, high-end bras in favor of more Lively bras.
Psst, this bra even comes in a oh-so-comfy wireless option that has all the sex appeal of an underwire bra.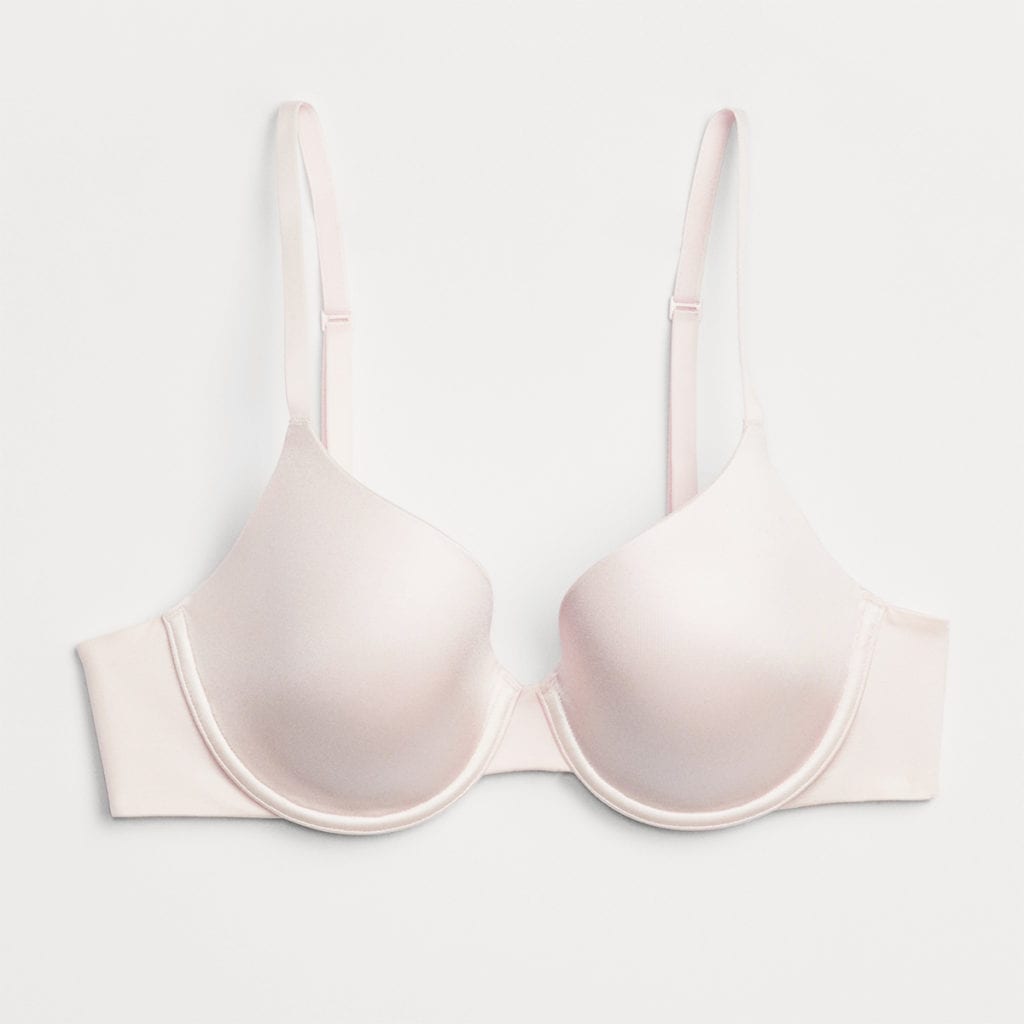 Slightly padded, molded cups. Versatile enough to wear under t-shirts or with a dress with a curved back. Convertible straps, so you can wear it with a v-neck or a racer-back.
And the most beloved feature as noted by the reviewers: underwire with pain-free support.
Best of all? This bra might already be hiding in your underwear drawer.
Meaning: you don't actually have to put yourself through the agony of bra shopping.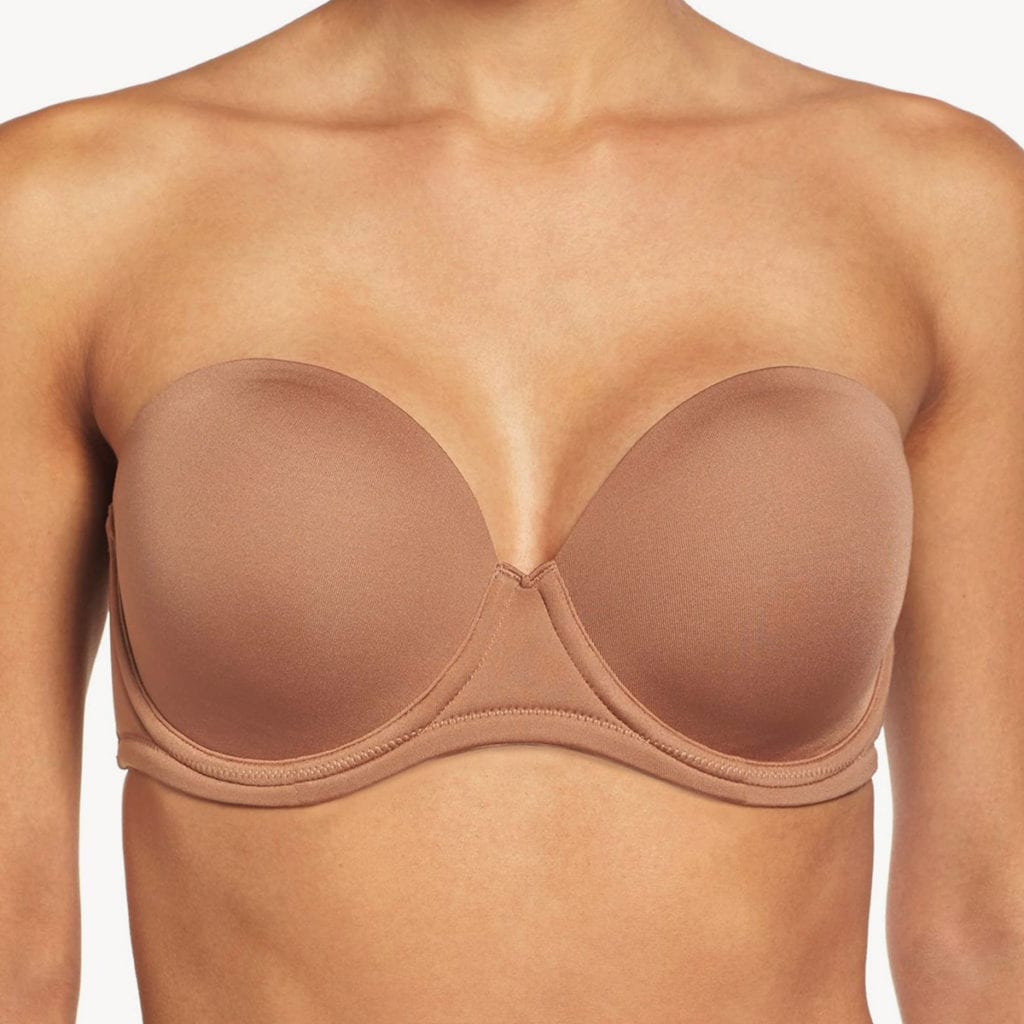 Smooth fabric delivers no show-through on this strapless bra. And yes, before you ask, it comes with removable straps that you can wear classic, halter-style or racer-back.
In other words: this bra might be your secret weapon on the road to wearing those sexy dresses and t-shirts on chill days.
Nordstrom's 1200+ reviews rate this strapless bra a spectacular 4.8 stars out of 5. Most notably, the reviewers rave about this bra's ability to "stay up," a strapless bra's #1 most-valued skill.
Best Sports Bras for Travel
Keep your girls strapped down tight — and feeling comfortable — even on the bumpiest of adventures with a good sports bra.
Pick one with a mesh backing to let your skin breathe during strenuous activities. Or, when you're in very humid climates.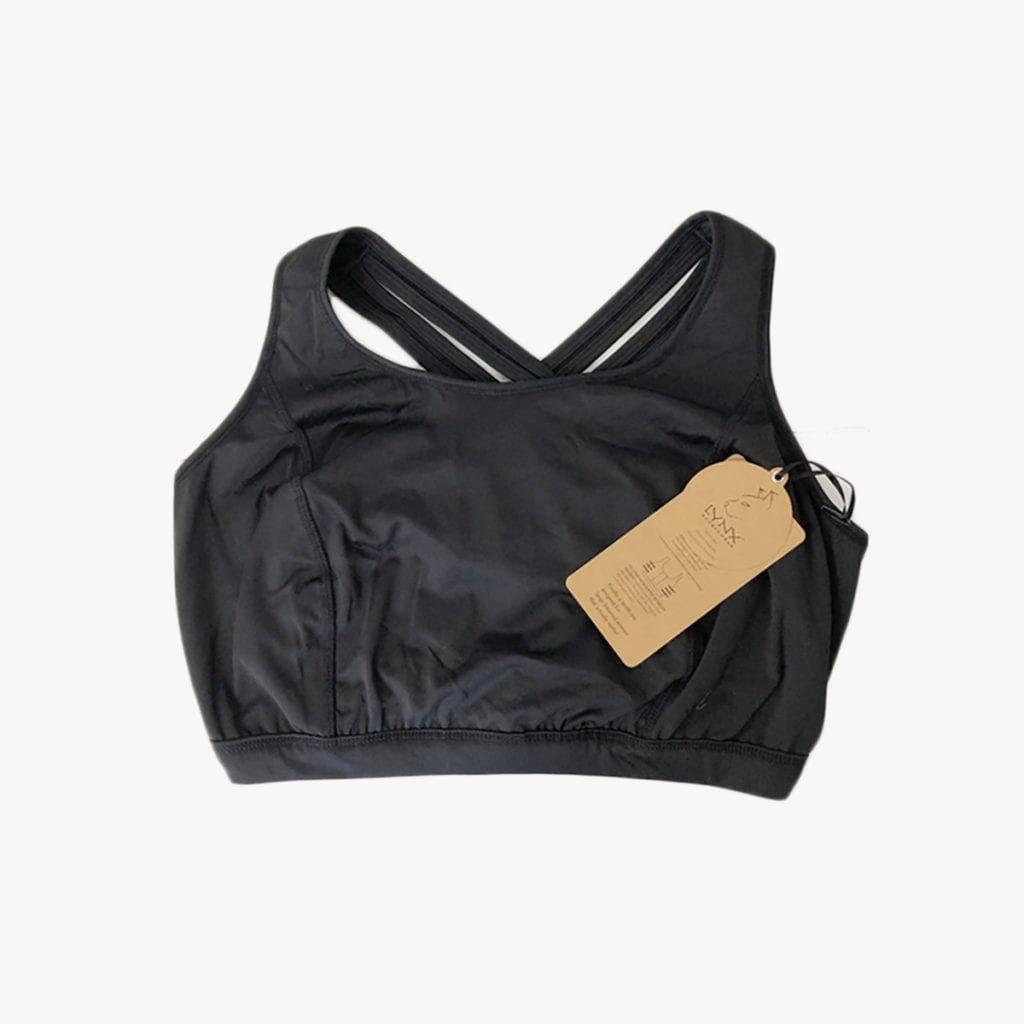 Holy moly, this bra takes its job, of keeping your girls stabilized with no bounce during workouts, seriously.
This sports bra was designed by a larger breasted athlete, so it knows its stuff. Thanks to its unique cross back design, all pressure is off your neck.
And, of course, it comes with the usual goodies: cooling mesh panels, max support for high-impact activities, dries quickly, and you have a full range of motion.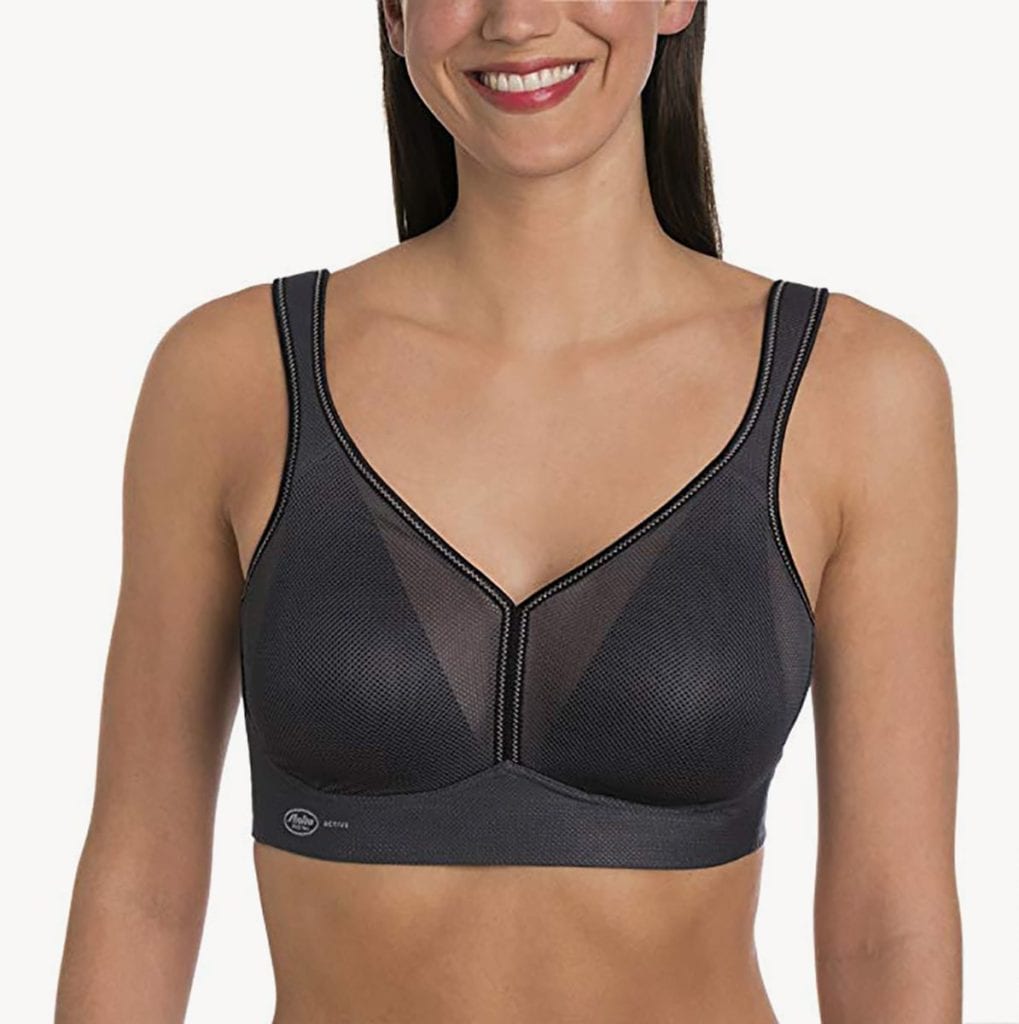 This sports bra is built to support you. Literally.
But it knows how to be there for you without stifling, thanks to two types of breathable mesh for ventilation.
Reviewers liked this bra, for the most part, but cautioned that if you're a D-cup or larger, you might get a lot of bounce with high-intensity exercise or cardio.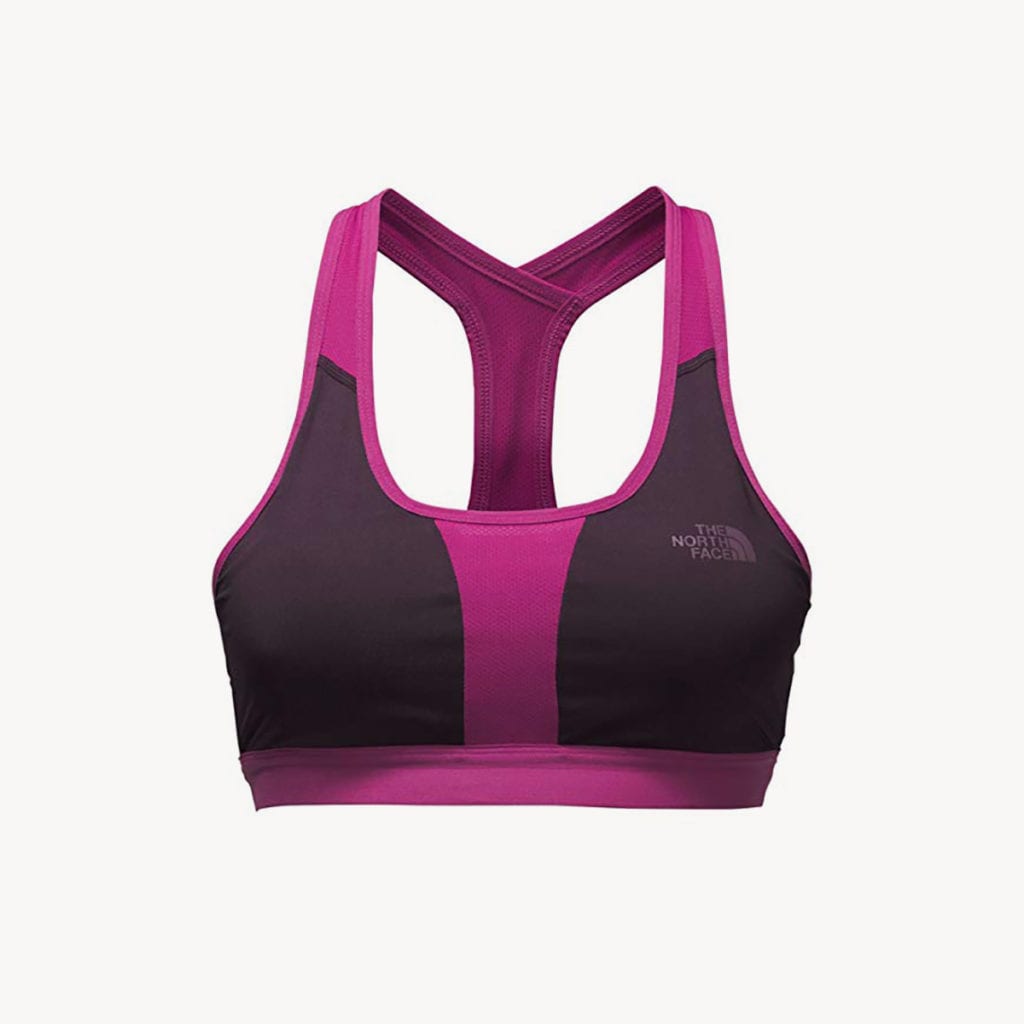 Raise your hand if you'd like your sports bra to have a hidden pocket to stash your Airbnb or hotel key?
Yep, me too.
Which is exactly what this sports bra has: a hidden front pocket big enough to fit your smartphone (thank goodness!) and your keys.
Plus, this bra is breathable, lightweight, quick-drying and supportive in all the sizes from A-D cups.
A great travel bra is like a travel backpack: It makes your travels easier by doing its job right. The first time.
You only need two or three bras on your trip, depending on your cup size and level of activities planned. Pack these bras:
Convertible
T-shirt
Sports bra
If you're in the market for a new bra try one of these:
Hidden Pocket Travel Bra: The Travel Bra keeps your valuables tucked in your bra, not a sweaty money belt.
Best Travel Bra You Already Own: for this category, you have two choices:
Best Convertible Bra: Hands down, go with the Lively All-Day T-Shirt Bra. It will not fail you, especially with its ability to switch from classic to racer-back.
Best Sports Bra: go with the North Face Sports Bra or the Lynx Cross Back, depending on your chest size.