How to Pack Dress Shirts Without Wrinkling
The Tortuga Promise
At Tortuga, our mission is to make travel easier. Our advice and recommendations are based on years of travel experience. We only recommend products that we use on our own travels.
One of the biggest challenges facing any traveler is how to pack dress shirts while keeping them wrinkle-free.
Whether you're headed to a destination wedding, a business meeting, or an upsacle restaurant, you might need to pack a dress shirt. A fancy shirt or two will easily fit in your carry on travel backpack. But if you don't know how to pack one without it becoming a wrinkled mess, you may as well leave it at home.
The good news is that there are ways to fold dress shirts for traveling. If you can't or don't want to master that level of packing, you can buy a wrinkle-free dress shirt.
We'll cover both options in this article.
How to Fold Dress Shirts for Travel
Here's how to pack a dress shirt without wrinkling it:
Button the shirt up to the top button.
Lay it facedown on a hard, flat surface like a table.
Spread it out, sleeves to the side.
Fold sleeves inward to the middle of the shirt (horizontal fold). This should be about halfway up the sleeve; repeat for the other side.
For extra wrinkle-resistance, put a dryer sheet here. The sheet will provide "interstitial suspension" so the fabric won't bunch up once you finish folding it. Also, your bag will smell great.
Fold in each side about 3 inches towards the middle of the shirt. If you're doing it right, you'll have a "V" pattern at the top of the back of your shirt.
Fold in half, from the bottom up once. Fold in half again for a tighter fold or if you really need the space.
Celebrate looking great.
Tortuga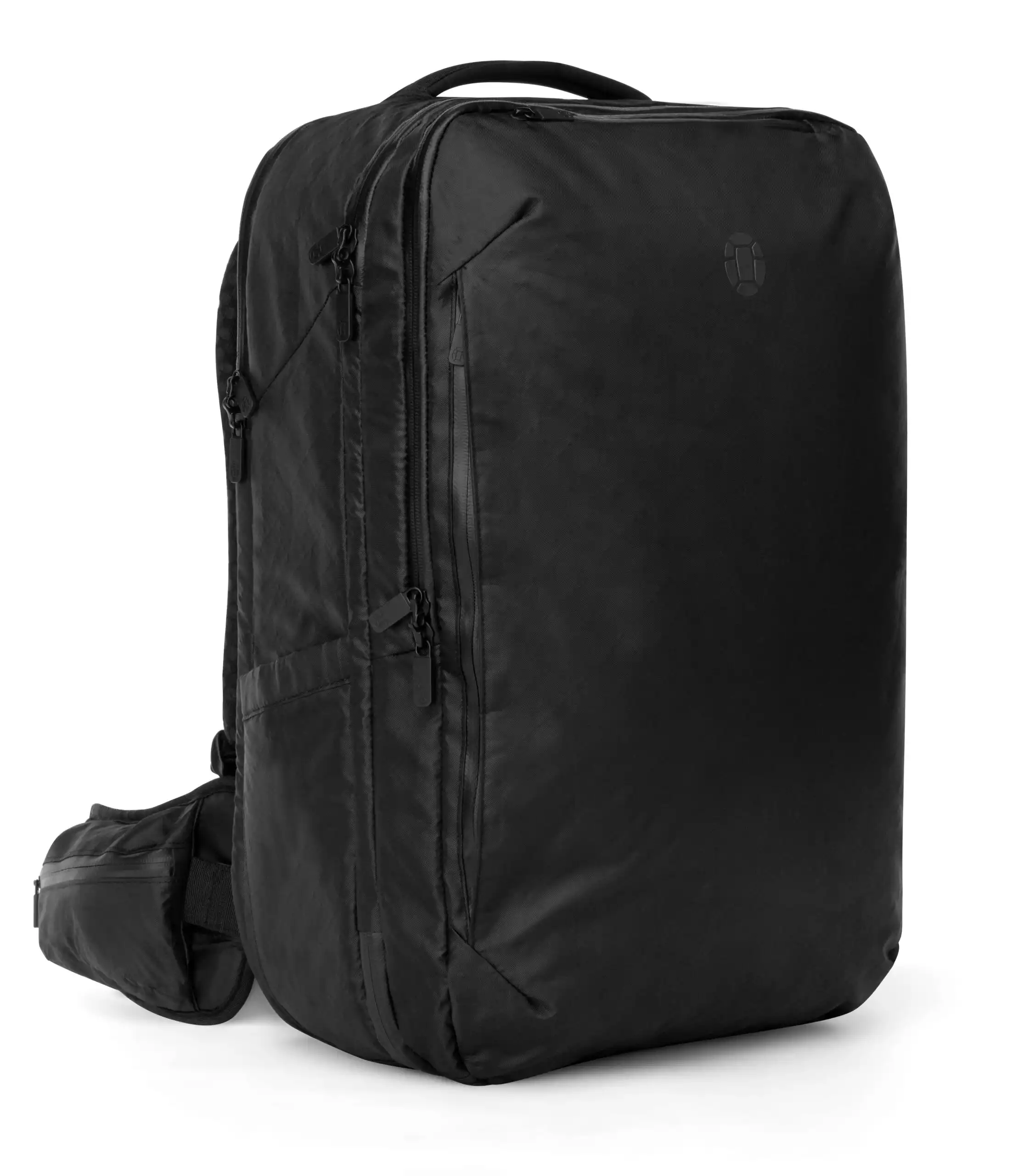 How to Pack Dress Shirts for Wrinkle-Free Travel
This method is how department stores fold dress shirts for display. I know because my first job was working in retail at PacSun. I've worked at several other chains since then. This method is the simplest way to tightly pack a dress shirt for travel.
There's no silver bullet for wrinkle-free packing. When you cram clothes into a small area and let them rub against each other, they get wrinkled. Even the most carefully packed bags settle over time, which means your clothes are going to crease and wrinkle. However, this "display" folding method keeps your dress shirts tight, which is really the best thing you can do because a well-folded dress shirt will hold its shape.
We recommend rolling most clothes when packing. Dress shirts are one of the exceptions.
Some business travelers swear by bundle packing, where you pack clothes around a central bundle. We find that method too complicated. Plus, your clothes are then packed in a solid block, so you can't pull out any one item if you need it.
The only foolproof way to pack a dress shirt without wrinkles is to buy a dress shirt that cannot wrinkle. Let's take a look at a few of the best wrinkle-free travel dress shirts.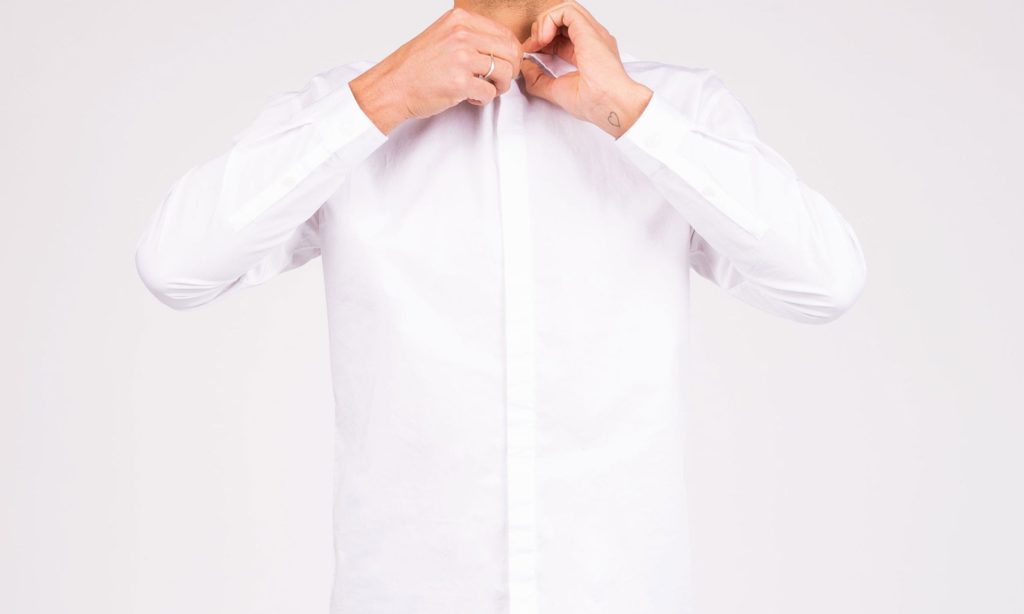 What to Look for in a Travel Dress Shirt
Many shirts claim to be "wrinkle-free," but the dress shirts that travel best tend to be made of synthetic fabrics or a blend of natural and synthetic fabrics.
Merino wool is the best natural, wrinkle-free option. Avoid cotton and linen as both are prone to extreme wrinkling.
For synthetics, look for nylon, lycra, or polyester.
Testing for Wrinkle Resistance
Not sure if the shirt fabric is wrinkle-free? Crush a corner of the shirt in your fist for thirty seconds. If it doesn't wrinkle, or if you can easily smooth it back out, you're in business.
Thinner Isn't Better
The reason your chunky wool sweater never wrinkles is that it's too thick.
If you try on enough wrinkle-resistant shirts, you'll notice that they're all a little thicker than you're used to. That's because thin shirts wrinkle more easily.
Higher thread count dress shirts are also more prone to wrinkling. While that paper-thin collared shirt might look awesome now, it's going to be full of wrinkles after your six-hour layover in Dallas. Try on several travel shirts to see how they fit, move, breathe, and whether they have the heft to repel wrinkles.
Wrinkle-Resistant vs. Non-Iron Dress Shirts
The final thing to consider before you buy a travel dress shirt is the debate between non-iron shirts vs. wrinkle-resistant shirts. They differ in how the shirts are treated to repel wrinkles.
Wrinkle-Resistant Dress Shirts
Wrinkle-resistant shirts usually look and feel like "regular" shirts because they rely on the qualities of the fabric (nylon, lycra, polyester) and the thickness of the weave to repel most wrinkles. Some companies apply chemical treatments to the fabric during the finishing process, but not all. Generally speaking, wrinkle-free shirts feel softer and breathe more.
Non-Iron Dress Shirts
Non-iron shirts, on the other hand, are typically made from fibers that are pre-treated with intense chemicals. One of the biggest issues is formaldehyde. Yeah, that formaldehyde. Non-iron shirts repel wrinkles better than wrinkle-resistant ones but at the expense of softness, shape, and breathability because of chemicals like formaldehyde. Think of non-iron shirts as regular shirts with wrinkle-free spray coating. They're stiffer, but that's why the wrinkles don't take.
However, not all non-iron shirts are made with harmful chemicals. Twillory uses SafeCotton to make formaldehyde-free shirts.
For me, wrinkles aren't a big enough deal to wear a potentially harmful chemical. You can make that call for yourself. If you absolutely can't have wrinkles, a non-iron shirt is for you. Or, you can just iron your shirt. If you crave a comfortable fit and natural look, wrinkle-resistant is more than good enough.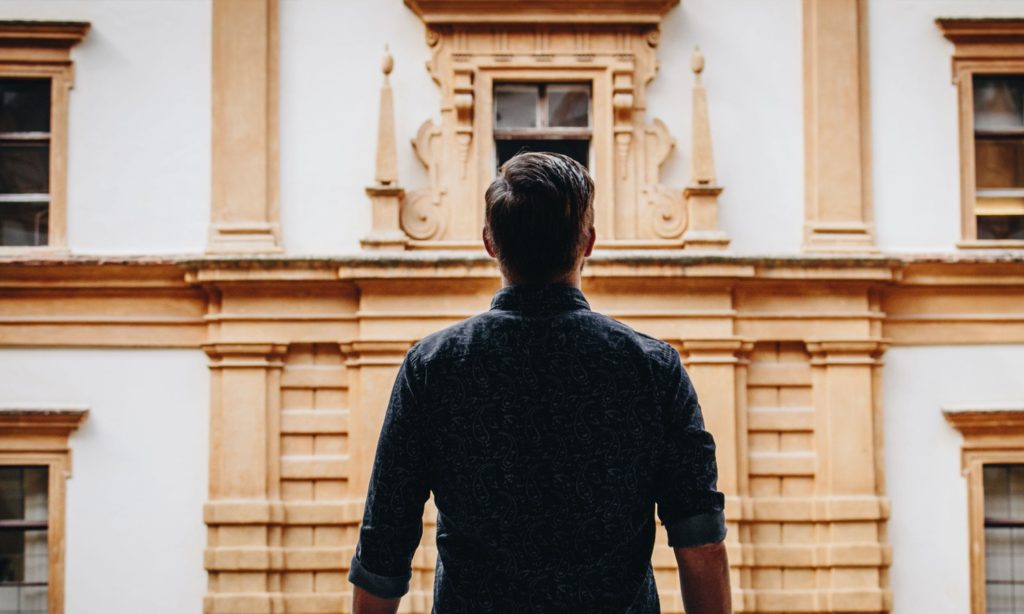 The Best Wrinkle-Free Dress Shirts for Travel
Bluffworks Dress Shirts ($98)
My favorite wrinkle-free shirts are Bluffworks' dress shirts. I'm a big Bluffworks fan and love their travel chinos. I like everything they make because their travel clothes don't feel like travel clothes. The Bluffworks dress shirt is something you'd wear at home too.
Made from 98% polyester (that's a good thing), it has lots of stretch, is breathable, and dries quickly. The best part is that it's machine washable.
Bluffworks' shirts are perfect for happy hour or the boardroom in any city you visit.
Twillory Non-Iron Dress Shirt ($99)
Made from SafeCotton (i.e., not treated with formaldehyde), Twillory non-iron dress shirts are some of the best wrinkle-resistant shirts on the market right now.
Made from two-ply cotton twill (more of that interstitial suspension), these shirts are soft, breathe, and feel great. If you need to stock up for a cross-country investment funding round, buy four and save $200.
Proper Cloth Hudson Wrinkle-Resistant Twill ($95)
While Proper Cloth does have a line of non-iron shirts (not for me), the Hudson Wrinkle-Resistant Travel Dress Shirt is a great middle-ground for business travelers. The light, wrinkle-resistant treatment keeps it looking crisp throughout the day, but you'll still want to pass an iron over it before the big meeting.
The Hudson is great for hotel travelers with access to an iron. This shirt is comfy, but it's not a great travel dress shirt for living out of your backpack weeks at a time.
Wool & Prince 210 Button Down Shirts ($138)
If you insist on all-natural and wrinkle-resistant, try Wool & Prince's 210 Button Down Shirts. These shirts are 100% merino wool which offers natural wrinkle (and odor) resistance. The 210 is Wool & Prince's "most durable, wrinkle resistant shirting fabric."
Tortuga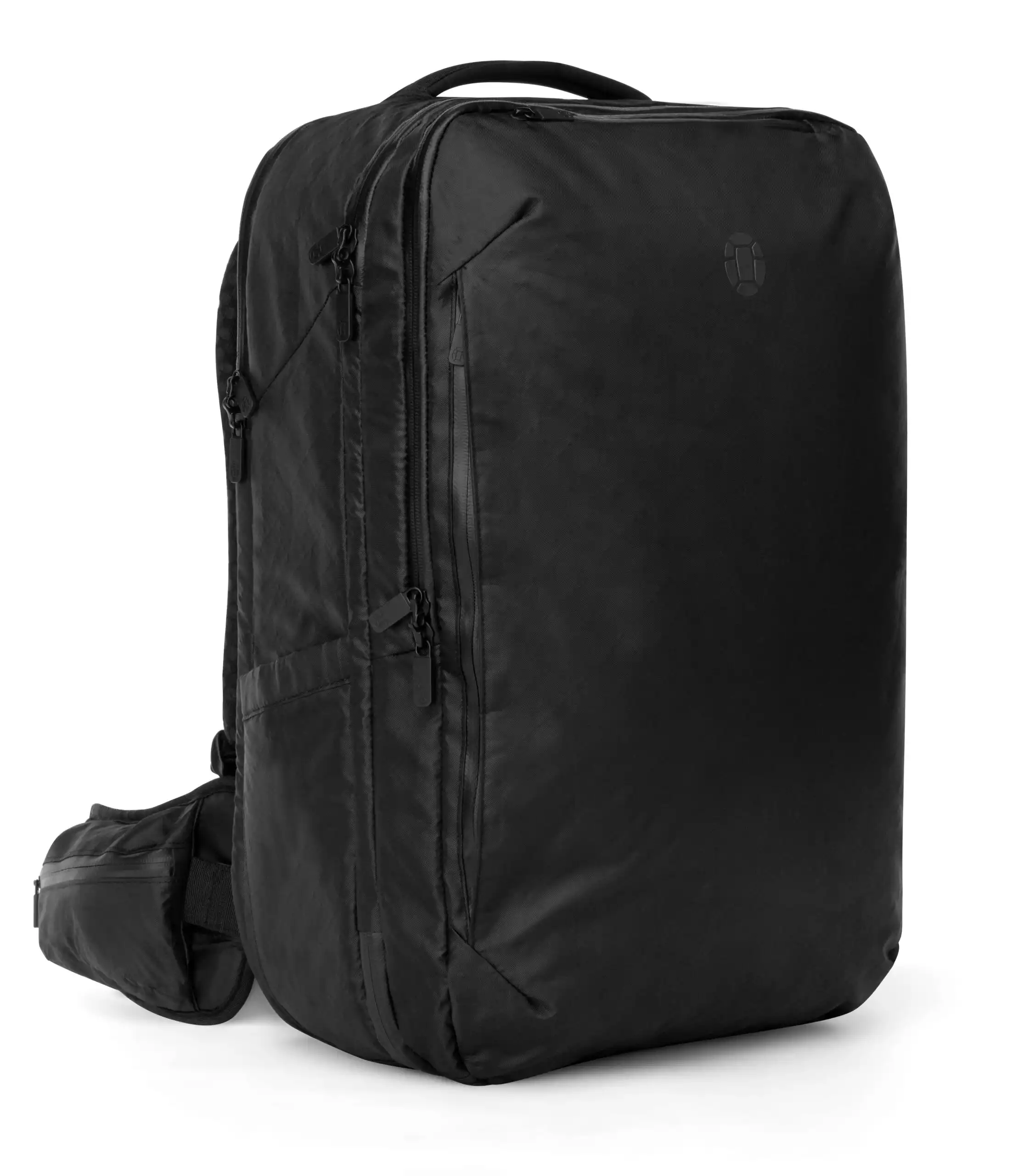 Conclusion
For maximum wrinkle-resistance, buy a wrinkle-resistant dress shirt and fold it according to the steps at the beginning of this post. Anything less means that you might be pulling out an iron at your hotel. While we prefer to travel wrinkle-free, having to quickly touch up a collar, cuff, or hemline isn't so bad.
Once your shirts are sorted, you can move on to a blazer and learn how to pack a suit in your carry on bag.