Learn how to bring the things you actually need for your trip (not anything extra), and maximize the space in your backpack for all your essentials. Here's how to pack for a trip.
Rolling vs. folding, compression bags vs. packing cubes, Marie Kondo "KonMari" minimalism vs. Guy Fieri excess—as the internet has made abundantly clear, there are many ways to pack for a trip. But every traveler is different, so what works for one person may not work for the next.
If you're a digital nomad setting up camp in an apartment for two months, you're going to pack differently than a traveler bouncing around Europe. Portability and organization are key if you're on the move, but maximizing space is more important for sedentary, long-haul packers.
No matter what kind of traveler you are or where you're going, here's how to pack for any trip, long or short, and a list of essentials you should be sure to bring.
Invest in the Right Travel Accessories and Luggage
Before you even start packing, make sure you have the right gear.
Packing Cubes or Compression Bags
Especially if you're traveling to multiple destinations, packing cubes are a must. A single large packing cube for cotton shirts and a smaller packing cube for underwear and socks will keep you organized and ready to repack at a moment's notice—even if you're hungover from the night before.
A compression bag, which is similar to a packing cube, will compress the air out of your clothing to reduce the size. They are especially good for bulky sweaters and knits. The best way to use a compression sack is to flat fold your knits and woolen clothing and compress away. The Eagle Creek Compression Bag comes in a few sizes and won't break the bank.
A Small Toiletry Bag
A Carry-On Sized Backpack
The larger your bag, the more you'll pack. To keep your packing list light and stick to the essentials, invest in luggage big enough to bring everything you need, but not so big it'll weigh you down.
For most trips, a 35L-45L bag, like the Outbreaker Backpack, will be more than enough space. For quick trips or light packers, a 26-30L bag—like the Outbreaker Laptop Backpack—might be a better size. All of these are small enough to carry on a plane—no checking required.
Quality Clothing
Being able to afford nice gear is a privilege, but it really does make packing for any trip easier when you invest in a few pieces of quality gear that can go the distance. Quality high-price gear often ends up paying for itself over the years, since you don't have to replace it as often. If you can't afford the latest and greatest, read the reviews and find a few pieces (used) that work for you.
Quality gear packs better, weighs less, wears better, and lasts longer. Get it if you can.
Create a Packing List for Your Trip
You'll generally bring the same stuff for every trip. Clothing tends to be the main thing that changes based on your destination or trip plans. No matter where you're going, here are somethings you should always include in your packing list:
Wallet and ID. If you're traveling internationally, that passport should be the first thing you reach for.
Phone, headphones, and charger. As long as you have your wallet and phone, you'll be OK.
Adaptor. If you're traveling internationally.
A daypack. Make sure you have a bag for roaming around town once you're at your destination.
Eye mask. REI makes a great padded eye mask with a little pocket above the bridge of your nose for storing ear plugs or even a sleeping pill for those really restless nights.
Ear plugs. You never know when you'll need them.
Toiletries. always bring your toothbrush, toothpaste, floss, deodorant, and razor. If you're not relying on your hotel for these, pack shampoo, conditioner, and soap.
Water bottle. A travel water bottle is a must for every trip.
Swimsuit. I don't care where you're going or why you're there. Work retreat in Uzbekistan? Bring a swimsuit.
Pair of lightweight shoes. Wear one pair of shoes and bring one extra, lightweight and easy to pack pair, like Toms or espadrilles.
A warm layer. Even if you're traveling to a warm-weather destination, it's a good idea to have a sweater for cold airplanes and AC-blasting restaurants.
6-12 items of clothing. For the rest of your packing list, limit yourself to 12 items of clothes (plus underwear) you can mix and match. For a 5-7 day trip, I stick to 10 items of clothing. If you're only gone for 2-3 days, limit yourself to 4-6 items. 2 tops, a dress, and a pair of pants = 3 outfits.
For every trip, stick to the essentials. Here are a few things you should not pack for your trip:
Liquid sunscreen. Buy it when you get there. Then use it. All of it.
Big ass coat. You just don't need a massive travel jacket. Get a small one and treat it like a day bag for city travel and flights.
That third pair of shoes. Two is plenty. But if you must, slip a pair of flip-flops in your backpack pocket and we won't say anything.
Hair dryer. Stop it.
Everything else you think you need "just in case."
Unless you're traveling into the deep wilderness, you'll be able to find, borrow, or buy any of those "just in case" items if the need arises.
Gather All of the Items on Your Packing List
Before you pack your backpack or suitcase, gather everything on your packing list. This way, you can check for redundancies (do I really need two black tank tops?) and spot anything that's missing (wait, where's my phone charger?).
This is also a good opportunity to see if there's anything in your pile that you can leave behind. Move these to a "maybe" pile and reconsider them after all your must-have items are packed and squared away.
Pick Out Your Travel Outfit
We're still not packing yet! Your next step is to pick out your airplane or travel outfit from your packing list.
Most people will try to wear their bulkiest items in transit, but you don't necessarily have to do this. Instead, focus on what will be comfortable and wear layers. If you're flying, shoes that are easy to slip on and off are ideal.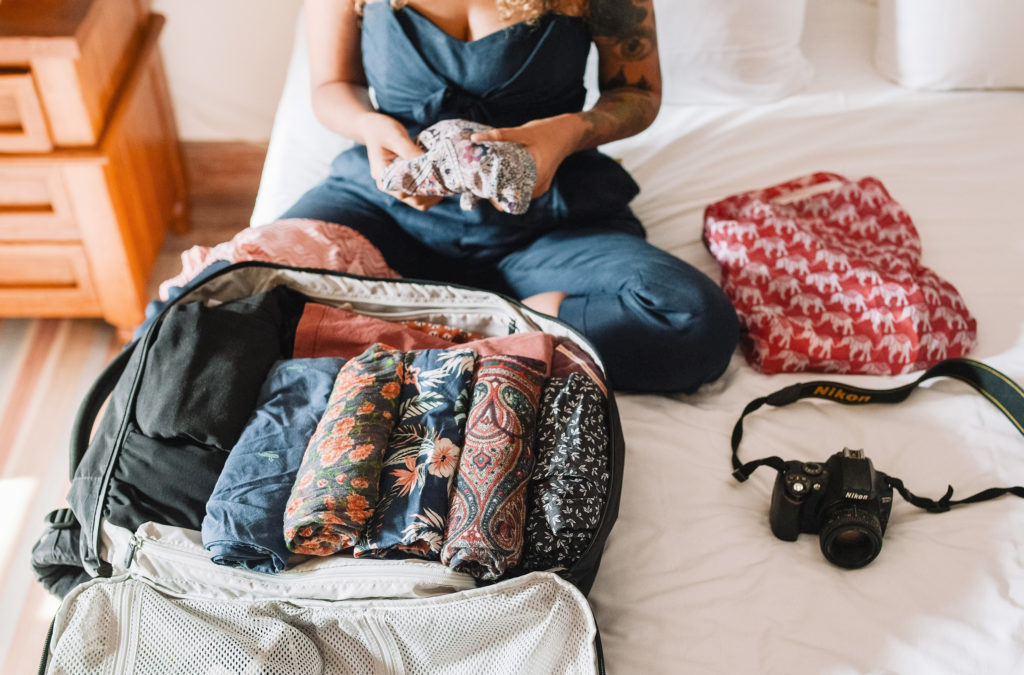 Roll Your Shirts, Shorts, and Underwear Using the KonMari Method
After you've got the gear, made your packing list, and gathered everything up, it's time to finally pack you backpack or suitcase.
Start by folding your shirts, shorts, underwear, and other small and wrinkle-resistant items using the KonMari folding method. It works for your packing cubes as well as your drawers and is surprisingly easy. You'll appreciate being able to see all your options in a glance without digging around.
Fold, Don't Roll, Your Jeans and Heavy Sweaters
Rolling up your jeans and heavy sweaters is a waste of space, even if you stuff them in a packing cube. You've just taken up a lot of space and not really gotten organized. Cubes are great for small, homogenous items (shirts, shorts, underwear). Bulkier items can stand alone in your bag, as long as they're folded neatly.
Embrace the KonMari folding method and vertically store your pants and bigger items so you can see everything at a glance when you open your bag, while still keeping it all tidy. It's the best of both worlds. Here's how to fold your pants for travel, the KonMari way:
"Soft, wrinkle-resistant materials like knits, wool, and cotton can all be rolled without much worry—just make sure you keep the roll tight, since loose rolling will result in wrinkles, regardless of the material. Starched garments like collared shirts and dressier items should always be folded. The combo should be enough to let you cram everything in without looking like a mess at your destination." – Andrew Tarantola, Gizmodo
You can fold sweaters like this:
Fold Button-Ups so They Won't Wrinkle (optional)
Need to bring a button-up shirt? If you're really trying to look sharp, but you're on the move either get a wrinkle-resistant shirt or learn the folding origami magic of double folding your shirts a la, Louis Vuitton.
When you fold button up shirts together, the interstitial suspension (yes, there's physics involved in next level packing tips) keeps the shirts from wrinkling. It also helps if you fold the collars down flat. Alternatively, you can keep your collars wrinkle free by stuffing a belt in the collar to reinforce it, but honestly, I'd rather wear my belt to keep my pants up. But hey, that's just me.
Put Everything in Your Bag
Pack shoes in a shoe bag, and stack them and your packing cubes in your bag first. Next, layer over your jeans and bulky sweaters.
If you're traveling with a lot of electronics, it's helpful to corral those in their own packing cube or bag. Put that and your toiletry bag in next, using the small spaces in your bag leftover after putting your larger items in.
Finally, put all of your in-transit essentials — like your water bottle, passport, and eye mask — in an easy to reach pocket or a separate, personal item (like your purse).
Packing well is all about staying organized. If you dump your backpack out every night to get your toothbrush and phone charger, that's not actually packing. That's just carrying a heavy backpack shaped garbage sack. Your backpack should help you enjoy the trip by making it easy to see each new destination with the right gear and zero hassle. So as you're packing, think about what you'll need access to and when — and organize accordingly.
Get a Free Carry on Packing List
Join our email list for more packing tips and gear guides.
When you sign up, we'll send you a free carry on packing list to get started.