Packing Toiletries And Makeup: Everything You Need to Know
Over the summer, my co-worker and friend Anna and I spent five days in Boston attending a conference. Boarding our flight from San Francisco early Monday morning, I was impressed by how lightly she had packed for the conference. That is, until we got to the hotel room, unpacked our travel backpacks, and I realized how much makeup and toiletries she had brought. A full bag for each, in fact. This was an opportunity to think about how to pack toiletries.
"I could totally reduce that," I thought. And so, last week, I did. It was a valuable experience that will teach you how to pack toiletries better.
Anna and I grabbed a couple of beers, a camera, and figured out how she could pack toiletries and makeup better. Read on to see how we made over her toiletry and makeup bags and learn a few tips for packing your toiletry bag better and making it lighter.
Packing Toiletries
Anna's Style
When it comes to packing, I find that toiletries are the most personal aspect of the packing list. Although some people may get away with just a toothbrush and a bottle of Dr. Bronner's, others wouldn't dare to leave home without toner, face cream, and a whole onslaught of products.
Anna falls somewhere in the middle. She describes herself as being "a total mom" in her packing because she wants to be prepared for every situation (around the office, she's our go-to person for a post-coffee-spill Tide stick). However, she also tries to only bring the basics in terms of toiletries and makeup.
Furthermore, she keeps an already-packed toiletry bag in her house at all times. "I always bring the same toiletries when I travel. I keep the bag packed and just throw it in my bag. The makeup I'll change up per trip," Anna said. "I always try to keep it organized and make a note of things that I run out of on my phone, so I can pick up a new one next time I'm at the store."
This is a great tip we can learn from Anna: always have a toiletry bag already packed and ready to go. It'll save you from the biggest headache of pre-trip packing. We'll talk about what should go into that toiletry bag below.
What's Inside Anna's Bag: Before
Before we dumped everything out on the table, Anna had one bag for her makeup and another bag for her other toiletries. Our goal was to get everything down to one bag. Here's what she had:
Makeup Bag
3 different types of eyeshadow
Foundation
Compact mirror (mostly used for checking hair)
Lip gloss
3 lipsticks
2 chapsticks (tinted and not tinted)
2 bronzers
4 different types of eyeliner
2 mascaras (clear and black)
Tweezers
Primer
Pencil sharpener
3 big brushes
Toiletry Bag
Brush
Comb
Contacts
Makeup remover
Baby wipes
Face moisturizer (with SPF 15)
Body lotion
Deodorant
Toothpaste
Toner
Toothbrush
Cleanser
Hair spray
Bobby pins
Band-aids
Emergen-C
Razor
Q-tips
Cotton balls
Nail clippers
Shower gel
Dr. Bronner's
Extra hair tie
Shampoo
Conditioner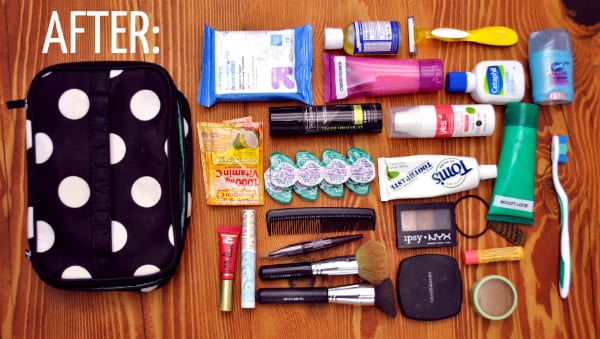 What's Inside Anna's Bag: After
Overall, Anna's toiletry and makeup bags are well packed. True to her nature, they're organized and have her prepared for every situation. She made good use of travel-sized items and one of her best space-saving tips was to "pack daily contacts instead of monthlies — that way, you don't have to bring contact solution."
However, her habit of keeping her toiletry kit always packed and using the same kit for every trip caused a few problems:
She was ready for a two week trip at any time. Some of the products could be smaller or taken out if she adjusted the kit to the trip she was taking.
There was some redundancy. "I'm not sure why I have body wash and Dr. Bronners!" Anna admitted once we had everything on the table. She also admitted that she didn't need two eyeshadow kits.
She kept things that she never really used. Though she made note of when she ran out of toothpaste and deodorant, she didn't make note of when she simply didn't use an item at all. "Those cotton balls are unnecessary," she said. "I don't use liquid makeup remover anymore."
To refine her toiletry and makeup bags, I asked Anna to go through her morning and evening routines. Each time she "used" an item, we moved it into our keep pile. After that activity, I asked her if there were any other items (specifically, makeup) that she doesn't use every day, but might want for fancy post-conference events. As a result, we were able to take out a lot.
Things to Remove:
Shampoo
Shower gel
Toner
Extra Emergen-C
Extra bobby pins
Brush
Cotton balls
Q-tips
Bandaids
Big comb (swapped out for mini comb)
Foundation
Extra lipstick
Extra eyeliner
Eyelash curler
2 eyeshadow boxes
The bigger eyeshadow brush
Bronzer
Tinted chapstick
Lastly, we took out the nail clippers and tweezers since Anna tends to take care of such activities before a short trip. (Me on the other hand, I use my tweezers every other day and wouldn't be able to do that. Again, toiletries are personal!).
We also removed the mirror because I pointed out Anna could use her iPhone in selfie mode to check the back of her hair instead.
How to Pack Toiletries
We were able to get Anna's toiletry list down by making use of some great travel toiletry hacks:
Go through your daily routine in your head and make note of each thing you use. Pack only that, and nothing else.
Look for items that have dual or triple purposes. We were able to take out the shampoo and body wash since she had a bottle of Dr. Bronner's.
Get rid of the "just in case" items that never get used.
Opt for higher quality makeup that reduced the need for "assisting" makeup (i.e. primer).
Use your iPhone in selfie mode as a mirror instead of bringing a compact. Most places you visit will have a mirror, anyway.
Pack daily instead of monthly contacts.
We also could have reduced her bag even further by:
Packing makeup/toiletry samples rather than the full product. Personally, I subscribe to Ipsy and love using the makeup samples they send me for travel.
Put the liquids in even smaller containers; especially since we were only packing for a five-day trip.
Use paper makeup instead of the normal, bulky stuff.
List of Toiletries
All this should go into a single toiletry bag:
Eyeshadow
Lip gloss
1 lipstick
1 chapstick
1 eyeliner
1 mascara
Pencil sharpener
1 brush and/or mini-comb
Contacts
Makeup remover
Baby wipes
Face moisturizer (with SPF 15)
Body lotion
Deodorant
Toothpaste
Toner
Toothbrush
Cleanser
Hair spray
Bobby pins
Razor
Nail clippers
Dr. Bronner's
Extra hair tie