This is a little embarrassing.
"What's embarrassing?" You ask.
To be writing a post about how to use packing cubes. 
Two years ago, I told Fred, Tortuga's co-founder: "I don't really see the point of packing cubes, honestly, and I'm even a bag freak. But packing cubes seem unnecessary."
Excuse me while I go wipe the you-know-nothing-Jon-Snow poop off my face.
Because, packing cubes are amazing.
As a former packing cubes hater, I'm here to tell you: if you're not using them, you're missing out on a huge time-saver and sanity superhero in your traveling.
Here's how to use packing cubes to streamline your trips and actually pack what you need vs. hauling extra crap on the road:
What's a Packing Cube?
Let's start with the basics: a packing cube is a smaller-than-your-travel-bag zippered case.
They fit neatly inside your larger pack and divide up that space into an easy-to-manage wardrobe.  
Packing cubes come in a variety of sizes from small 3×10" ones to larger coffee-table-book sized ones.
Think of a packing cube as a dresser drawer in your carry on. Each cube holds similar items to make packing — and finding stuff on the road — easier.
How to Pick the Best Packing Cubes
You want packing cubes with three features:
Made from stiff fabric

At least two handles on it

Mesh top
Stiff Fabric
Ultra-light packing cubes are made from flimsy material barely held together by a zipper — this is not what you're looking for.
Why do you need stiff fabric (like the kind we use in the Outbreaker packing cubes)?
Because you want a packing cube that's easy to pack.
Stiff fabric helps a packing cube hold its shape while you pack it. Trying to pack a cube made from flimsy material is like trying to shove bubbles into a beer bottle; a recipe for mental insanity.
Handles
Handles make it easy for you to grab your packing cube out of your bag. Or — if you're the type of packer who prefers to pull items from your bag via a small half-unzipped opening — tug items from your bag.
Handles make that possible, from two directions.
Mesh Top
A huge collection of wrapped presents looking alike, except for their size, is awesome to discover under a sparkling tree on Christmas morning.
Not as great when you unzip your carry on, and you're forced to open up every, single, darn packing cube to find clean socks.
The solution? A mesh top on each packing cube.
With a quick glance you know what's inside and you can see which packing cube has t-shirts when what you need is clean underwear.
Fit
The whole point of packing cubes is to maximize and organize the space usage in your bag. As you've already noticed, there are a ton of cheaply made, randomly sized packing cubes on the market. Do you know what they all have in common? They don't fit your bag correctly. 
That's why we made our packing cubes specifically to fit exactly the bags they were built for. Not only do the Outbreaker packing cubes fit the exact dimensions of the Outbreaker backpack, you can fit two layers of them into the 45L bag, so you don't waste an inch. The Setout packing cubes take perfect fit even further by rounding the edges of the cube becuase the perimeter of the Setout travel backpack is gently rounded. Attention to detail matters.
How to Use Packing Cubes: 101
Use packing cubes to keep the interior of your carry on organized.
Pack similar items together in one packing cube. For example, I use a small packing cube for my socks and underwear. In a slightly larger packing cube, I put all my shirts.
I've tried both. Rolling is better. 
When you roll your clothes before putting them into the cube, you'll be able to see what you've got. Curse less and adventure more on your trip; pack smart, not hard.
Here's why rolling is better: the mesh top (you did buy a packing cube with a mesh top, right?) makes your entire wardrobe visible in your packing cube.
When you roll your clothes, you see more items through the mesh top. Instead of one black t-shirt, you see a rainbow of t-shirts. Nothing gets hidden on the bottom.
Meaning you find the purple t-shirt you want in 3 seconds versus pawing through a stack of t-shirts, crumpling and unfolding them in the process.
Share One Carry On
Ever set out on a trip only to find lots of empty space jostling around in your carry on?
This happens to me when I go to warm weather destinations. If you're traveling with a significant other, try packing in one carry on… and put your relationship to the true test.
Use packing cubes to divvy up your carry on's interior space. I did this on a recent long weekend getaway to San Francisco. My husband, toddler son, and I packed in the Outbreaker. We each had a packing cube with our clothes in it.
If I can do this with a still-in-diapers toddler, you can, too.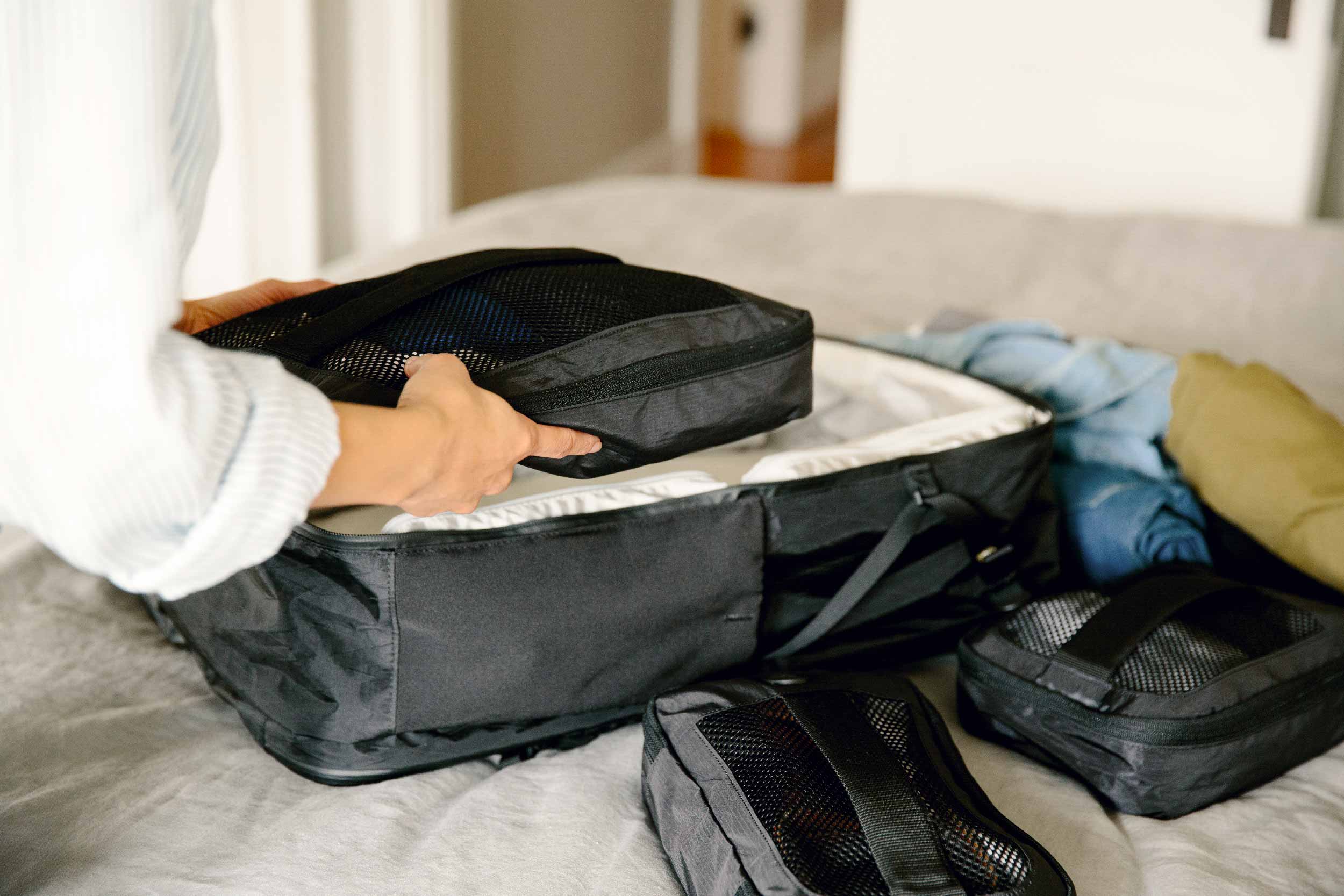 How to Use Packing Cubes: 201
Ready to go beyond the basics of packing with packing cubes? I'm talking about a galaxy-jump from rolled clothes to packing cubes as an essential part of your packing strategy.
What the heck does that mean?
It means using packing cubes inventively to make your travel easier. Use these tools to get more creative.
You might use a packing cube as a…
Traveling Home Office
If you're traveling with a carry on that doesn't have a zippered packing space, like the Setout Divide, you can use a regular packing cube to keep your gadgets in line.
In a packing cube, you could pack:
WiFi booster

Power cords for laptop + phone

Power strip

USB memory sticks

Wireless mouse

Anything else you need for your traveling office
Power Cord Charging Suite
Wrangle those unruly power cords into order by putting them in one packing cube.
Looking for your smartphone charger? Looking for your laptop power cord? Check your cords packing cube.
Micro Diaper Bag
Suspend your crazy thoughts for one minute and work this one out with me.
Enormous diaper bags containing a baby's entire wardrobe is a waste. Not to mention, when you're traveling with a carry on, space is at a premium.  
This is what you really need for baby's happiness:
4-5 diapers

Baby wipes

Pacifier (if your baby needs that)

2 plastic ziplock bags: for the super smelly diapers while you hunt down a trashcan

Snacks like fig bars, goldfish, or raisins to tide you over until food arrives

Mom

Dad

Sleep

Love
Everything else you feel tempted to throw in a diaper bag is excess.
My diaper bag is a packing cube measuring 3" x 10". I throw it into my handbag or daypack and off we go.  
Bathroom Bag
Use a packing cube for all those other bathroom necessities that don't go in your 3-1-1 quart bag. You know the ones I'm talking about: makeup, hair brush, toothbrush, floss, powder blush.
Destination Specific Packing Cubes
Okay, stop cocking a confused eyebrow at me.
This method of using a packing cube just means: when you pack for a winter destination, you pack different clothes than when you travel to a warm weather city. So divvy up your packing cubes based on your destination's weather.
Assign one packing cube for all cold weather destinations and pack only cold weather clothes in it, like:
Merino wool cardigan

Extra pair of travel pants

Two (not just one) long-sleeve shirts

A warm, cozy scarf

Hat that covers your ears

Mittens or gloves designed for warmth
In your warm weather destination packing cube, you'll pack clothes like:
Swimsuit cover up

Shorts + t-shirts

Flipflops or sandals

Light jacket for cooler nights

Light, odor-wicking socks
Before you jet off to a cool, or warm, destination, slip into your bag the packing cube with those clothes. Wham-bam, packed. Bonus: no mental cartwheels involved, because you're always packed and ready to go.  
Get Creative
What are similar items that wander off and give you headaches on the road? Put them in a packing cube.
TL;DR
A packing cube is like a dresser drawer for your carry on: it keeps similar items together and organized.
When you buy a packing cube, get one that's made from stiff fabric, has at least two handles on it, and a mesh top.
Use a packing cube to organize your carry on and keep similar items — like t-shirts, socks, underwear — in one spot. Or get a little crazy and use a packing cube as a:
Micro diaper bag

Traveling home office

Power cord wrangler

Bathroom bag

Mini capsule wardrobes based on warm or cool weather destinations
Want more like this?
Get weekly gear reviews, travel hacks, and packing tips sent straight to your inbox. As an added bonus, we'll send you a carry on packing list right away.