What to Pack for Iceland: Summer Packing List
Iceland is amazing in the summer. Pack in a carry on bag to stay mobile for all your adventures, and make sure you bring the right gear to keep you comfy enough for any hike, yet stylish enough for happy hour.
Iceland—home to absurd waterfalls, stunning glaciers, free hot pools, and epic fjords all within a day's drive of Reykjavik. Iceland is the perfect destination for a quick layover adventure or a week-long excursion into the rugged scenery—if you know how to pack.
Because, as fun as Iceland is during the summer (and it is awesome), it can also be cold, wet, windy, and expensive.
Packing the right clothing and gear so you're prepared if the weather turns nasty is important, because you can't just "pick something up" in Iceland if you need it; (did I already say it's super expensive?). Here's everything you need to pack for a summer trip to Iceland, and a few things you should definitely leave at home.
What to Pack for Iceland in the Summer
Merino T-Shirts
Outer layers are important for Iceland in the summer. More than likely, you'll spend your whole trip wearing a t-shirt, at least. Pack 3-4 merino wool t-shirts and you can save space and avoid doing laundry the whole time.
Merino helps regulate your temperature through a range of conditions and wicks away sweat while you're hiking so you don't stink when you grab a beer in town later that day. They also work as a great base layer for just about any activity while still looking stylish enough for socializing.
I like the merino t-shirts from Outlier, Wool & Prince, Unbound, and Western Rise. Find one with a chest pocket for that extra little bit of on-the-go storage which is surprisingly useful when you're trying to film waterfalls and fjords all day.
Bring Layers: Long Sleeve Shirt and/or Shirt-Jacket
Remember that, while Iceland gets a lot of sunlight during the summer (the sun doesn't set for three days during the summer solstice), it's not always warm.
When I was there a few years ago it I lucked into the coldest summer Iceland's had in 30 years, but you don't need a freak cold snap to experience some chilly nights.
Part of Iceland is above the Arctic Circle. So even though the midnight sun looks great on Instagram, you probably won't be sunbathing at 2 a.m.
Pack quality layers, like merino wool, and at least one long sleeve flannel shirt. My favorite option for Iceland in the summer is a mid-weight shirt-jacket or "shacket." Think flannel, but a little more durable with a nice liner.
I've been wearing the North Coast shirt jacket from Edgevale, for a while now, and it can handle most weather while still looking low key enough for a night out in one of the fantastic bars in Reykjavik.
Lightweight Sweater or Travel Hoodie
Try to avoid anything that looks too "techy" as you'll stick out like a sore thumb in Reykjavik. Minimalist hoodies, like the Unbound Compact Travel Hoodie are a great way to add a top layer without adding bulk to your bag, and the added hood can be great on a windy wet day.
Windbreaker or Outer Shell Jacket
Iceland can get cold. But that doesn't mean to panic and pack your bulkiest North Face jacket. Pack one lightweight windbreaker or a waterproof shell for any wet or windy days and you'll be good, especially if you packed some layers).
I wore a windbreaker most days just to lock in some body heat and shed some of the nearly constant wind. If you're going to get up early for the golden hour, pack something that'll keep you dry and cozy.
You can also opt for a Uniqlo style ultralight down jacket or something like the Bluffworks quilted travel vest, which works beautifully for both air travel days and trekking around the glaciers thanks to the wealth of pockets to stash your phone, wallet, and even a camera.
Stretchy, Rugged Travel Pants
Travel pants are perfectly suited to Iceland in the summer. Get a pair with a little stretch so you can wear them on a hike, but ones that don't look like you just stumbled in off the trail. Also, make sure you can cuff them comfortably if it gets a little warm.
Bluffworks Ascender travel chinos are one of my favorites, and work perfectly for Icelandic summer, as well as the ever popular Outlier Slim Dungarees. They basically look like ultra cool jeans but they're so stretchy you can rock climb in them.
Pack two good pairs of travel pants for Iceland in the summer and you're all set. Leave the thermal leggings at home. Travel pants are more than warm enough, even if you're camping.
A Good Hat
You need a good hat in Iceland, no matter the time of year. Iceland can get pretty windy, and we've already mentioned the roughly 20 hours of sunshine during June and July. If you're going to be out and about all day shooting photos and video, protect yourself from those UV rays with a stylish rugged trail hat.
Tillak makes a great trail hat that can stand up to tons of abuse while still looking pretty hip.
If caps aren't your thing, no worries. Bring a wool knit cap to keep your dome warm and provide just a little sun protection. It doesn't have to be fancy, it just has to be warm. All the locals rock the knit cap already, so blend in and stay warm at the same time. Also, don't think you can just "pick one up" when you get to Iceland. A wool cap at the gas station cost over $70.
Approach Shoes
I'm not a huge fan of hiking boots, and I still don't recommend them—even for Iceland. However, most people will want to get into some hiking or trekking, and even though it's easier to hike during the summer, a pair of Toms simply won't cut it in Iceland.
Approach shoes are kind of a hybrid trail shoe that rock climbers use to get to some of the more remote places where the real climbing happens. They're designed to be lightweight and nimble, yet still offer the rugged sole, surefooted grip, and toe box support you need to scramble up crags and over slippery trails to get that perfect shot.
They also look great, and not overly techy, especially once you pair them with some nice pants or jeans.
I'm a huge fan of the entire Scarpa approach shoe line up—from Geckos to Cruz. They make a range of options for rugged hikers to casual trekkers in both men and women's styles—often for less than $100 (from other retailers). Look at styles from a few years ago for great shoes at a steep discount.
Merino Socks
Take care of your feet. Pack 2-3 good pairs of merino wool socks and you'll be set for whatever.
An Eye Mask (& Ear Plugs)
If you're staying in a hostel, like the legendary Kex Hostel, you'll probably get a room with good blackout curtains to help you sleep. But that's not guaranteed.
Pack a good eye mask to make sure you can get some solid sleep when the sun is high in the sky. The midnight sun in Iceland really will mess you up if you can't get a few good hours of sleep each night.
If you're planning to camp, bring a dark-colored tent to block some of the sunlight. Oh, and remember how much fun you had at 2 am the first night you arrived? Yeah, everyone does that. Bring earplugs if you want to sleep, or better yet rock the Bedphones headphones and drown them out with a playlist or podcast.
A Swimsuit
You should always pack a swimsuit. Always. But Iceland is a particularly good example of why that's true because Iceland is littered with hot pools.
You can take a soak in one of the many affordable geothermal spas in and around Reykjavik, including the much-hyped Blue Lagoon (it's fine) on the way to/from the airport. But you can also find your own secret hot pool along the side of the road.
There are tons of hot pools just waiting for you, and most of the best ones will be a surprise. Make sure you're ready for a serendipitous dip with a swimsuit.
(Small) Quick Dry Towel
See above. You'll need it. Trust me.
Coffee Mug / Water Bottle
Iceland is more affordable than it was ten years ago. However, despite semi-affordable flights (R.I.P WowAir), Iceland is not a "budget" destination by any stretch of the imagination. That means that little things like a cup of coffee every morning can break the bank for some travelers.
Pack your own water bottle/coffee mug and you can save some cash and stay caffeinated enough to push through those crazy 4 a.m. sunrises. Iceland in the summer is a weird wonderful place, and you'll definitely want to make sure you've got your favorite beverage on hand to warm you up or keep you going when you're miles away from refreshment.
Power Converter
Save money and get yours before you land. Make sure it's one of the little round ones.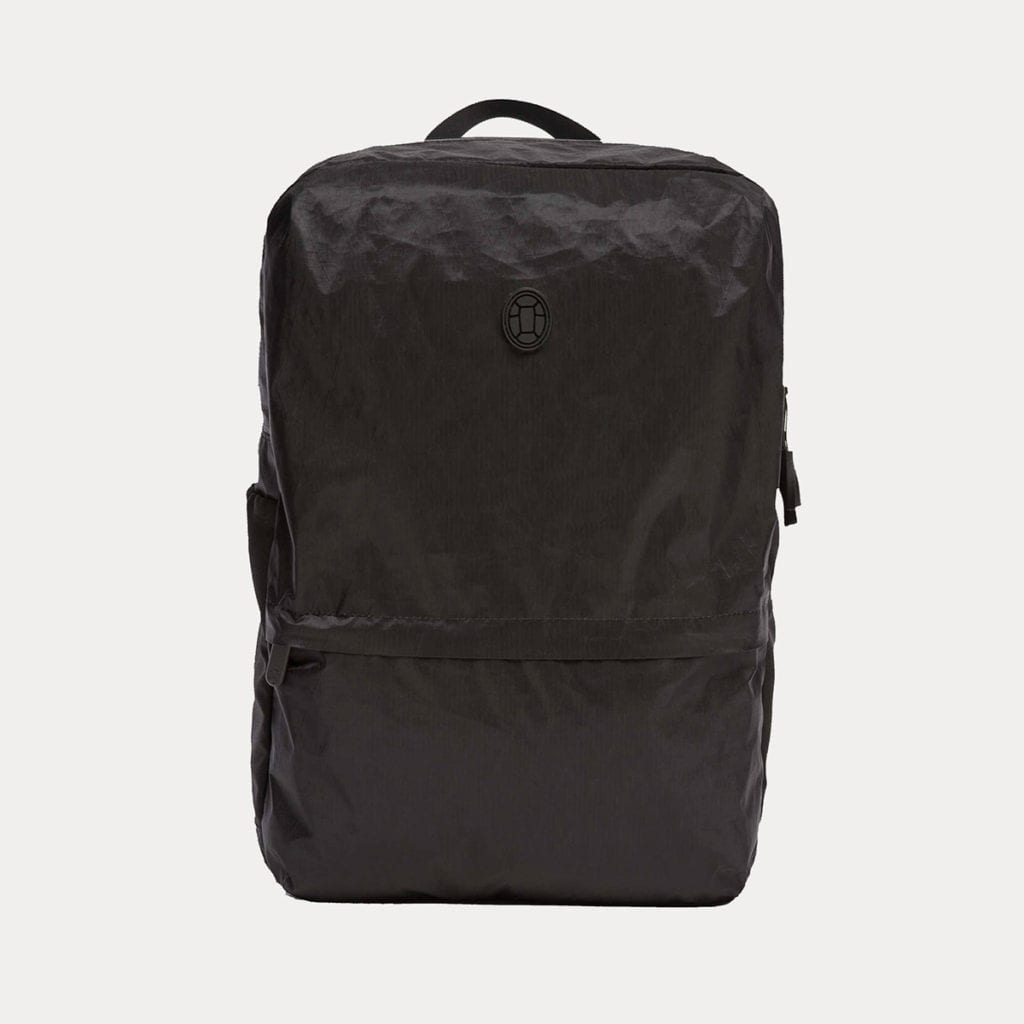 Outbreaker Daypack
You'll be on the move a lot during the summer in Iceland. So bring a daypack to keep your water, camera, jacket, and a few snacks on hand.
The Outbreaker Daypack packs flat so it won't take up any room in your carry on, yet it can fit all your stuff, including a laptop if you need to get some work done.
Outbreaker Backpack
The Outbreaker Backpack is just right for Iceland. You'll have plenty of room for all your layers and your swimsuit and towel for the hot springs, and of course that packable down jacket for staying warm during those early morning photo shoots, right?
Planning on bringing home a tin of "putrified shark" to horrify your friends? You'll have room for that, too.
Summer in Iceland: Things You Should Know
Iceland is Expensive: Pack What You Need
I saw a pair of winter gloves for $80 US, and blankets for well over $120 US. Don't plan on buying what you need when you land unless you're rolling in dough.
The Sun Shines, Literally, All the Time
22 hours of sunshine a day is fun, until you need to go to bed. Don't forget your eye mask.
Reykjavik is Fashionable as Hell
Prikid, Kaffibarrin, Ananas, Lebowski's, Bar 7, the list goes on. The bar and club scene in Reykjavik is painfully hip. Regardless where you go, Icelandic people look really good. Perfectly cut and coiffed hair (guys keep it high and tight, ladies rock a "half-bun" thing), patterned shirts buttoned all the way to the top. Designer boots and fresh to death sneakers—Icelanders are the most attractive/trendy people I've ever seen. Period.
If you want to strike up a conversation with a local (in person or on Tinder), don't look like you just rolled out of a tent. See my Dapper Dude Packing List for carry on compatible grooming options.
It Can Rain Whenever
A popular Icelandic saying is, "If you don't like the weather, just wait five minutes." Hopefully you're a glass half full kind of traveler.
Iceland is Windy: Wear Layers
Iceland's near total lack of trees means there is very little cover from the savage wind. Prepare for chilly nights with layers and bring a good shell jacket.
Iceland Summer Packing List
Packing for Iceland in a carry on bag is totally doable. Heck, it's actually the only way to travel. The Outbreaker Backpack is the perfect bag for this trip because of its maximum carry on size, which will allow plenty of space to pack a few extra layers for Iceland's fickle weather:
3 – 4 merino t-shirts
2 long sleeve shirts
2 travel pants
1 fleece / hoodie / or shirt jacket
1 shell jacket or windbreaker
1 wool knit cap
2-3 merino crew length socks
2-3 travel underwear
1 pair of approach shoes
What Not to Pack: Iceland in the Summer
Here are some things you really don't need to pack for Iceland in the summer.
A Headlamp
During June and July it's light enough to read a book at 2 am. Seriously, save the space in your bag for souvenirs.
A Lock
Every pool, hostel, campground provides their own locks for rental. Yours is heavy and won't fit.
Thermal Clothes
Yes, Iceland can get chilly in the summer, but it's not the end of the world. A few layers and a good hat will do you fine. Don't freak out and pack your winter gear. Just prepare a little and you're good.
A Money Belt
You don't need to stash your cash, because no one is going to steal from you in Iceland. I left my backpack in a tent completely unattended for four days in the Laugardalur campsite in Reykjavik. When I came back, everything was all still there.
I also lost my wallet at a super busy bar on Friday night. It had a few hundred dollars in it (dumb) my ID, debit card, credit card, etc. I freaked out and cancelled everything only to receive a Facebook message the next morning from someone saying they'd found my wallet and wanted to meet up to give it back. All the money, cards, etc, were still there.
I love Iceland.
Iceland is amazing in the summer. You can hike a glacier, take a dip in the Blue Lagoon, look at geysers, fjords, horses, sheep, and do it all at 10pm. Heck, you can even dive between the continental plates of North America and Europe. That's badass.
Pack in a carry on bag to stay mobile for all your adventures, and make sure you bring the right gear to keep you comfy enough for any hike, yet stylish enough for happy hour.
Go to Iceland. It's awesome. But prepared for anything, even in the summer.
The "Midnight Sun" doesn't mean it's hot
Fight the wind and the fjords with layers
Bring shoes that can handle the trail and the bar
Bring at least one nice change of clothes
Don't bring a headlamp or a lock. You're good on both