Popular for honeymoons and cruises, Jamaica is the perfect tropical vacation getaway. Pack light and enjoy the journey.
From the time I learned about the Caribbean, I wanted to visit. I first dipped my toes into the island waters as a kid on a cruise and then a second time with my parents on a school holiday. But the first time I went on a girls trip to Jamaica, we hit the beach, rocked the braids, hiked up a flowing waterfall, and left with memories of a joyful journey.
Jamaica is one of the largest islands in the Caribbean. Known for its potent rum and flavorful Blue Mountain coffee, the island of Jamaica has given the world the likes of Bob Marley, Usain Bolt, and jerk spices that set your taste buds on fire. With the language of patois, music everywhere, and flowing taps of Red Stripe beer – Jamaican invites vacation and honeymoon travel year 'round. Have you booked your ticket yet?
When to Visit Jamaica
Choose your Jamaican island time wisely. Although the weather and outlook are both typically sunny and tropical, it's best to plan your trip to avoid hurricane season. If that's impossible, definitely invest in travel insurance to cover any unforeseen weather problems.
Shoulder seasons are a great time to go to Jamaica. Crowds are a bit less, the cruises aren't as frequent, but the weather is still great and you're unlikely to be stuck in the hotel with rain or a hurricane.
Here's what you need to know about weather in Jamaica:
Typically 80 – 90 degrees Fahrenheit during the day
Cooler months: December – February
Warmest months: July/August
Rainiest months: May/June and October – December
Hurricane season: traditionally June – November
What to Pack for Jamaica
You know those items that fall into your 'I never leave home without them' category – pack these first.
Your personal items don't care where you're headed – they're always coming along for the ride. Passport and ID, the cash and cards in your wallet, the inhaler or meds that allow healthy peace of mind, and your insurance documents – these all make that first cut. The rest is negotiable.
Clothes to Pack for Jamaica
Your Jamaican adventure can take a variety of forms. For the most part, your island clothing options are your choice – but you might need to make some additions if you're honeymoon cruising the tropics, hanging at that high end resort, heading towards a bachelorette party in Negril, or attending an inter-generational all-inclusive in Montego Bay.
Keep fabrics light and airy, and remember that most places in Jamaica, casual is just fine.
Here's what to pack for Jamaica:
If you're a max packer, or plan to buy souvenirs to take home, pack in the Outbreaker 45L. At the maximum allowable size for carry on baggage on most flights, you'll have plenty of room to pack those always fun extras, or fit your basics and allow room for the tangible memories you want to bring home. Who doesn't like to do a little shopping in the tropics, right? As the reggae icon himself told us, 'don't worry – be happy'. 
If you like to pack a little lighter, or this is a quick trip to Jamaica, a 35L travel backpack might be perfect.
Other Essentials to Pack in Your Personal Item
Choose a personal item that is a daypack, purse, or small duffle that definitely fits fully below the seat in front of you on an airplane. Keep in mind that the dimensions for your personal item are smaller than the dimensions of your main carry on bag, so be sure to check with your individual airline to double check their regulations (do this at a time close to your flight – they can change). 
The Outbreaker Daypack, our go-to personal item, is the perfect beach day bags, cruise excursion bags, or a flexible catch all for your shopping excursion around the markets in town.
Wallet & ID
Passport/visas/travel documents (keep photos of them in your phone)
Change of clothes (especially if you're checking luggage)
Medications
Gum or mints
Sunglasses, prescription glasses, or contact lenses
Chapstick
Hair ties & headbands
Antibacterial wipes
Flip flops
Reusable water bottle
Scarf, pashmina, travel towel or travel blanket
Basic toiletries
Smartphone & charger
Portable battery pack & connectors
Camera & accessories (Or, just want to use your phone camera)
Lacrosse, tennis ball or any other therapeutic equipment necessary for in-flight muscle release (perfect to eliminate back pain in flight)
Toiletries to Pack for Jamaica
Unless you're choosing to purchase all toiletries upon arrival, if you're flying to Jamaica, you'll need a liquids bag. According to the TSA's 3-1-1 rule, every traveler is able to bring one quart sized plastic zip top bag in carry on luggage. Liquids and gels in that bag are limited to 3.4oz/100ml each. If you're decanting the products you use at home, contact lens cases hold the perfect amount of cleanser, moisturizer & foundation.
Epi-pens, medications and baby formula do not have to fit in this bag.
If you're staying at a resort give them a call prior to arrival – they might provide travelers with all toiletry necessities; and if cruising to your destination and not flying at all, skip this part and feel free to fill your luggage with whatever you fancy. Remember, it's Jamaica: for the most part, you can buy what you need when you get there.
Travel size bottle of sunscreen
Antibacterial lotion
Travel size toothpaste
Shampoo/conditioner (think eco-friendly or dry options for easy/alternative access)
Travel size bug spray (no aerosols in cabin)
Unscented Lotion (for dry skin patches in flight or after sunburn)
Cortisone, Benadryl, or anti-itch cream
Eye drops (allergy or saline)
Travel size contact solution (if necessary)
Makeup
Mini-First Aid Kit for Jamaica
You know all of the 'what if' scenarios that run amok in many of our busy minds? Of course, there's no way to actually cover all of them, but it is possible to pack a tiny first aid kit with a few things that might sustain you through cuts, scrapes or itchy mosquito bites, and mini-emergencies that could put a damper on your vacation.
Keep in mind, it's Jamaica, and unless you're visiting a remote destination (that's in the mountains and away from humans), you can pick up any first aid needs at a nearby drugstore or local market. Talk to the locals – for all things, they're your best guides.
Things to include in your mini-first aid kit for Jamaica:
Pain reliever
Allergy meds
After-sun gel/lotion
Imodium/Loperamide
Neosporin/Savlon or antiseptic cream
Mini eyeglass repair kit
Epi Pen if necessary
Bandaids, ace bandage, athletic tape & gauze
Tums, Pepto Bismol, or antacid tablets
Safety pins
Butterfly bandages
Essential oils (peppermint comes with me wherever I go – it helps my lungs breathe easy)
Extras to Pack for Jamaica
Each of us gets the opportunity to choose our own individual adventure. No two vacations will be exactly alike. Hitting the islands on a cruise excursion could mean something different than a girls weekend get together. It's possible you'll want a few extras to cover your particular outings. If you can get by without them – ditch them; you can always buy locally if when you land you still think, 'I can't live without it.'
If you have room, you might want to pack:
Pens, journal, & sharpie markers
Coloring books, crayons, & colored pencils (to ease the mind and pass the time)
Books, magazines, an e-reader or tablet with chargers
Pillow (if necessary) & ear plugs
Extra layers
Water shoes for those active waterfall escapades
Money belt
Cover up
Aloe vera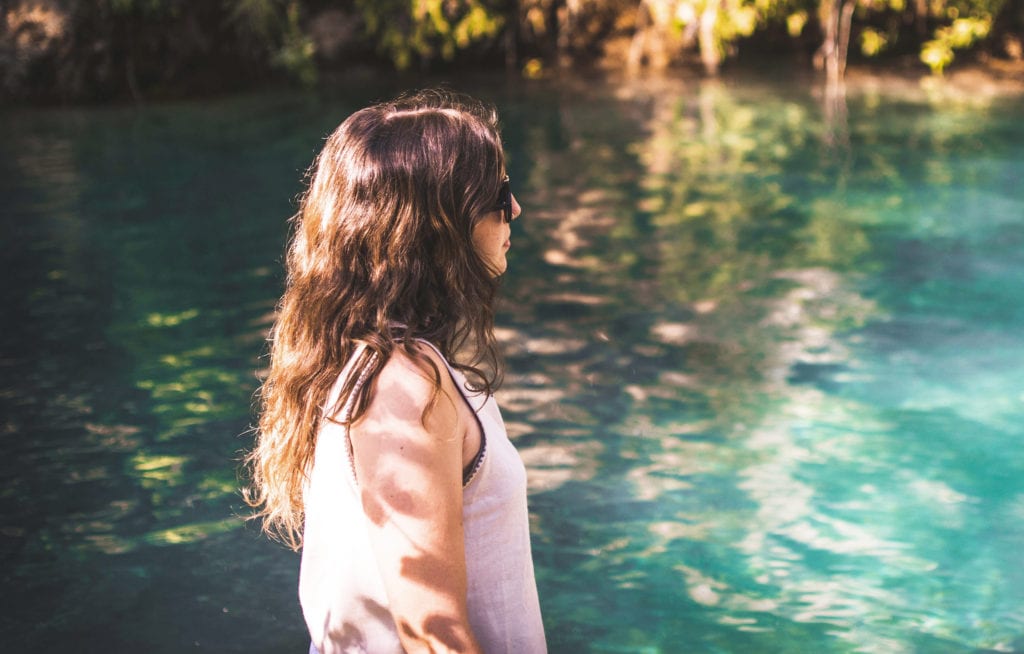 What Goes in Your Daypack for Jamaican Adventures
Throughout most of the year, Jamaica is hot, humid and sunny. And, as is the case with most tropical islands, there are times of the year when rain is a regular occurrence. The weather shifts mean you've got your daypack carefully packed with whatever you need to cover all of your bases.
If you're headed out on adventures, be sure to include:
Sunscreen (reef friendly is important)
After-sun or aloe gel
Hat
Sunglasses
Flip flops
Sarong or cover up for when you need to get less sun
Packable rain jacket
Dry change of clothes (with extra socks if shoes are on your feet)
Swimsuit/rash guard
What to See in Jamaica
Every visit to the island of Jamaica is a new one. You might consider checking out the sunsets at Seven Mile Beach, visit the falls at Dunns River, cruise the Blue Lagoon, or take in the flavours of Kingston. Perhaps you're collecting shells in Negril, participating in the joys of island life at Frenchman's Cove, or exploring the wonders of reggae.
Regardless of whether you're flying into one spot and out of another, cruising in, or lounging on the sand with your biggest decision being when to reapply that sunscreen, your trip will be one to remember.
Jamaica offers natural wonders, one of the most famous bob-sled teams, and is home to the author of the world's most significant spy (007). What do you want to see?
Seven Mile Beach (Negril): All you imagine a beach to be & more
Ocho Rios: Home to cruise ports, fun beaches & island life
Bob Marley Museum (Kingston): Where you go to enter the musical world of the great reggae artist 
Dunn's River Falls/Park: Climb the falls, enjoy the park & spend a joy-filled day at the beach
Reach Falls (Portland): Where water lovers & fans of natural adventures  go to enjoy
Blue Lagoon: Where fresh & salt-water meet & the water changes colors
Doctor's Cave Beach (Montego Bay): Intimate beach day setting & home to Montego Bay Marine Park 
Martha Brae River (Trelawny): Destination for the joys of bamboo rafting
Blue Mountains: Hike for the sights or tour the significant coffee plantations
Frenchman's Cove (Portland): Untouched by man & famous for it's bucolic image
Negril: Home to black cliffs, this fishing town is known for it's laid back lifestyle, beautiful Seven Mile Beach and Dunn's River Falls
Montego Bay: Most popular tourist destination in all of Jamaica & major cruise shipping port
Port Antonio: Unspoiled area known for its access to jungles, waterfalls & mountains
Kingston: Jamaica's capital city & the island's cultural epicenter
Jamaica is filled with Caribbean sunshine, spices, and beautiful beaches. Whether you're headed there to ditch the winter, are out for an adventure with family and friends, or seeking relaxation on a patch of sand – the land that celebrates the motto 'out of many, one people' will welcome you.
Pack the essentials
Choose your time to visit wisely – remember travel insurance
Bring what you need to remain healthy, safe, and alert
Don't forget bug spray, hat and sunscreen
Enjoy the journey