How to Travel with a Laptop in Your Carry On
The Tortuga Promise
At Tortuga, our mission is to make travel easier. Our advice and recommendations are based on years of travel experience. We only recommend products that we use on our own travels.
The fewer electronics you pack, the less you have to charge, carry, and organize. When it comes to traveling with a computer and accessories, less is more.
By now, everyone travels with some electronics whether that's just your phone, a tablet for watching movies on the plane, or a full-on mobile office. In this article, we'll cover what you're allowed to bring plus a recommended packing list.
Tortuga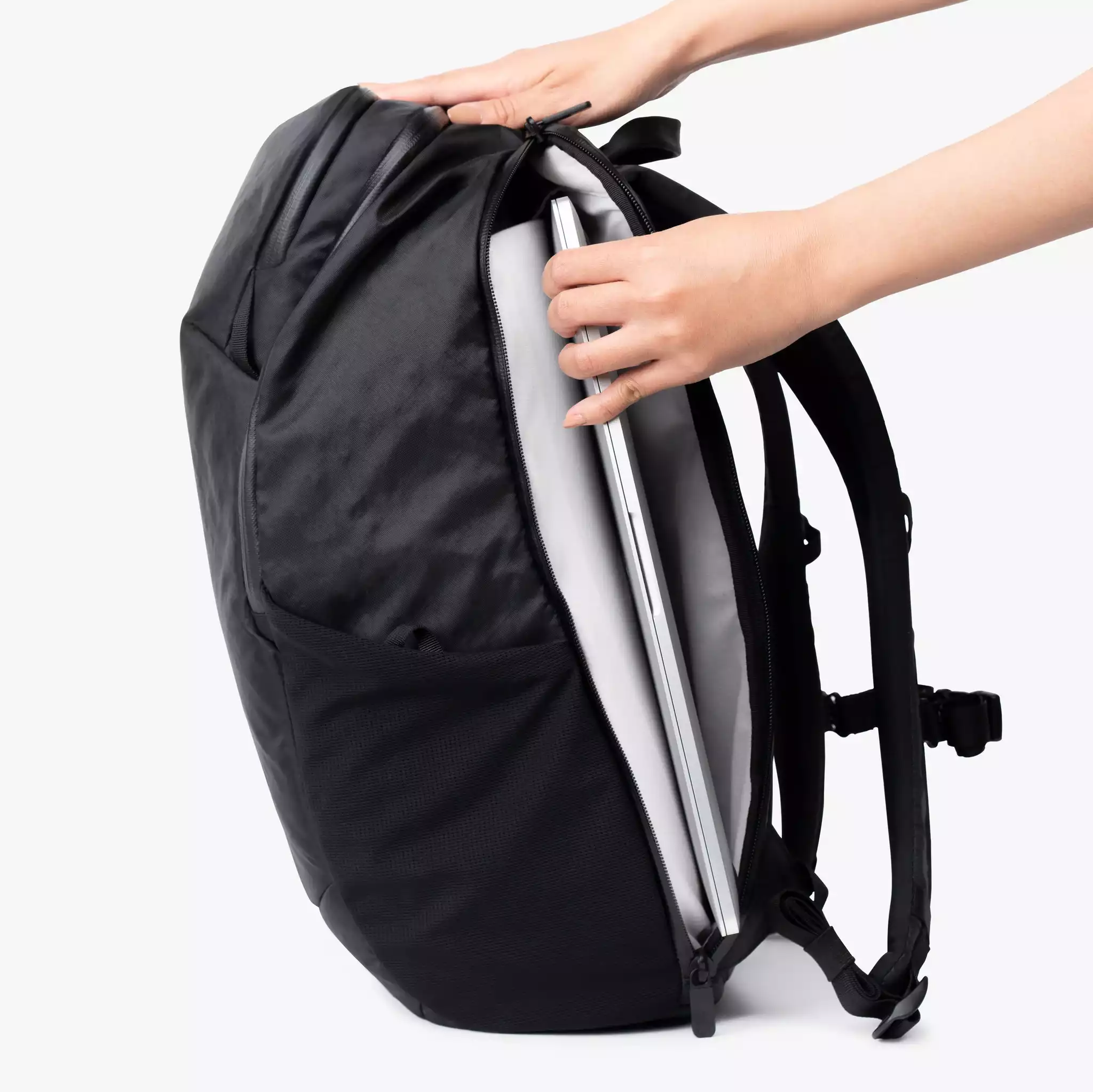 TSA Laptop Rules
Neither the TSA nor the airlines give much guidance on packing a computer.
You can pack a laptop or even a desktop computer in your carry on or checked bags. As advocates for packing light, we cannot endorse traveling with a desktop computer.
If you're traveling with a computer in your carry on bag, the TSA asks you to "remove the computer from your carry-on bag and place it in a separate bin for X-ray screening."
If, however, you have TSA PreCheck, you do not need to remove your laptop during security screening.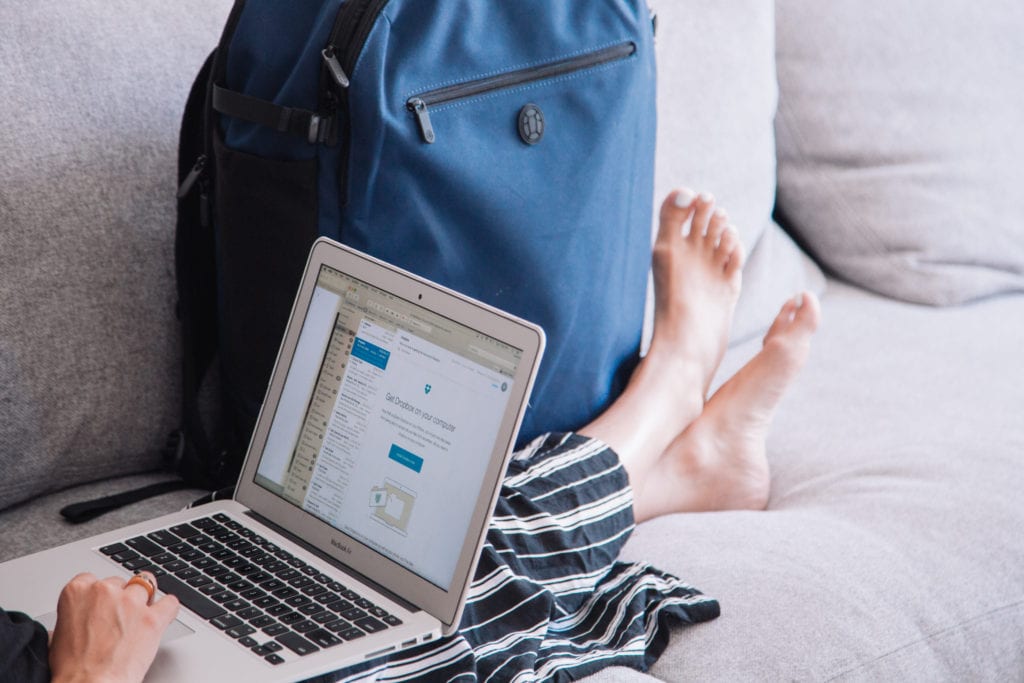 How to Pack a Laptop in a Carry On
If you've ever stuffed your bag to the brim and then remembered you have to pack your laptop, you know that there's a right way and a wrong way to pack your laptop. Here's how to do it right.
Don't Pack a Laptop in a Checked Bag
This might seem obvious, but it needs to be said. Checked luggage gets opened, scanned, searched, stacked, smashed, and tossed around. Your fragile, expensive laptop isn't built for that kind of abuse.
Don't leave your laptop to the baggage handlers. Their job is to get the bags onto the plane, not to handle your bag with extreme caution.
Pack Your Laptop First
The key to packing a laptop in a carry on is to pack your computer before you pack anything else. Pack your accessories first then pack your clothes in your main compartment. Packing in this order will prevent an overstuffed main compartment from pushing into the other pockets. By packing your laptop first, you won't have to wedge it in at the last minute.
Pack Your Chargers Separately
You don't have to remove the charger—just the actual computer—for security checkpoints. So don't pack your wall charger with your laptop. The charger is also bulky enough to create a bulge in most laptop pockets, which can put pressure on your laptop. Pack the charger separately to keep it out of the way. The less stuff you have near your laptop, the easier it will be to slide out quickly at security.
Get TSA Precheck
Register for TSA PreCheck as mentioned above and you won't have to take your laptop out of your carry on bag at the security screening.
PreCheck costs $85 for five years and $70 to renew for another five years. We recommend upgrading to Global Entry, which includes PreCheck, and allows for expedited reentry into the US when traveling abroad. Global Entry costs $100 for five years. Many travel-friendly credit cards will even reimburse you for the expense.
Pack in a Laptop Carry On
Make sure your bag is designed to carry and protect your laptop. A proper laptop-friendly carry on should have a padded laptop sleeve that ends above the bottom of the bag. The latter is important so that your computer doesn't hit the ground every time you put your bag down. A good laptop backpack will also have pockets for your charger, cords, and other accessories.
Tortuga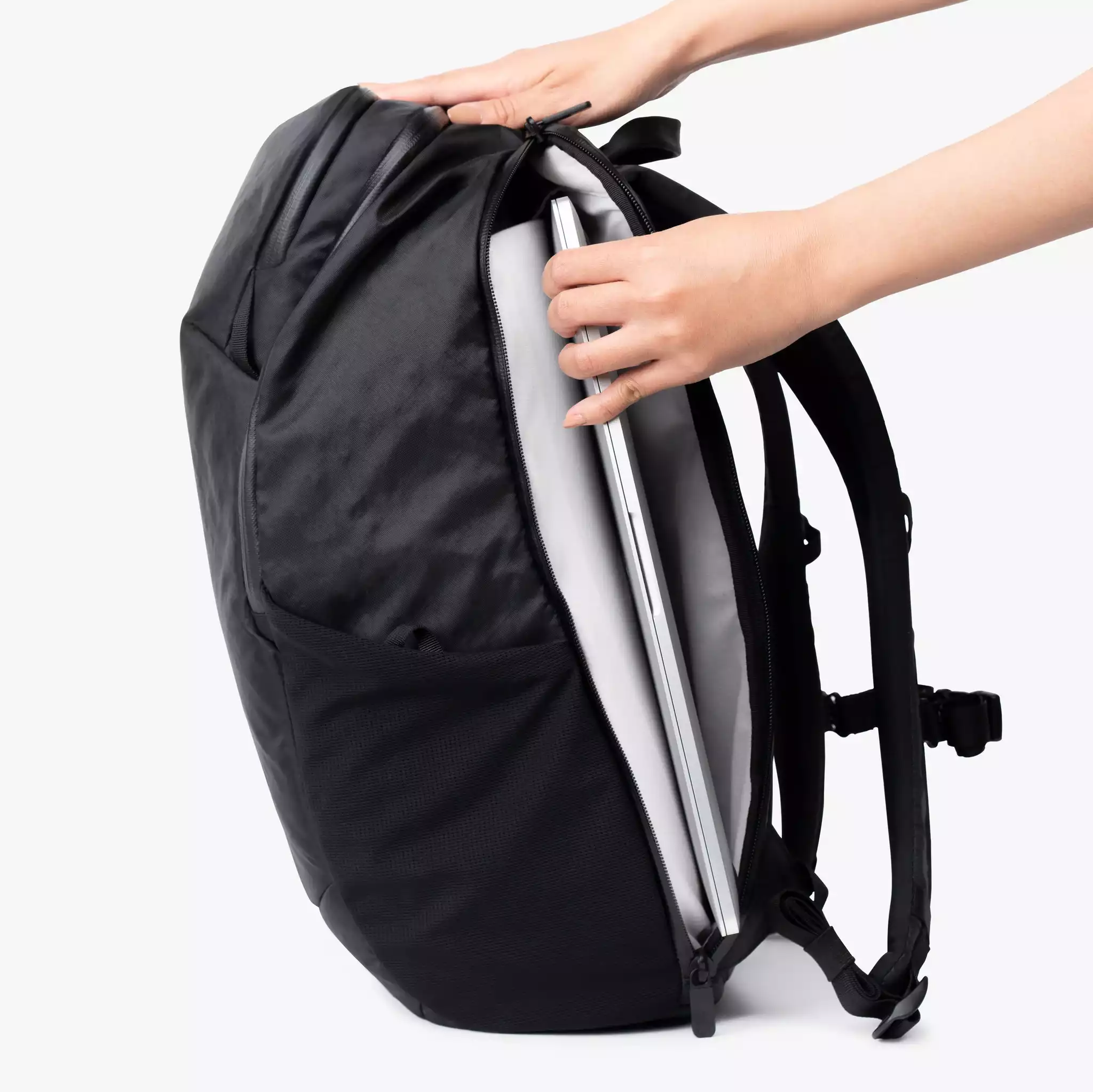 FAQ
Before we move on to a packing list for your electronics, let's cover a few frequently asked questions about flying with a computer.
Can you bring a laptop on a plane?
Yes, laptops are allowed on planes. That's exactly why we wrote this article.
Can you put a laptop in a checked bag?
Yes, but we recommend against packing your computer in your checked luggage. Keep your computer nearby, in your carry on or personal item for safekeeping.
Can you fly domestically with a laptop?
Yes, you can fly on domestic airlines and flights with a laptop.
Can you fly internationally with a laptop?
Yes, you can fly on international airlines and flights with a laptop.
Do you need to take out chargers for airport security?
No, you only need to take out laptops and tablets. Chargers, e-readers, phones, and other small items can remain in your bag.
What was the "laptop ban?"
The 2017 electronics ban was an order issued by the United States government in March 2017 banning electronics beyond the size of a mobile phone on carry-on luggage for direct flights departing from 10 major airports in the Middle East and traveling to the United States, and requiring airlines to enforce this ban…. US officials lifted the ban in July 2017, citing improved airport security.

Wikipedia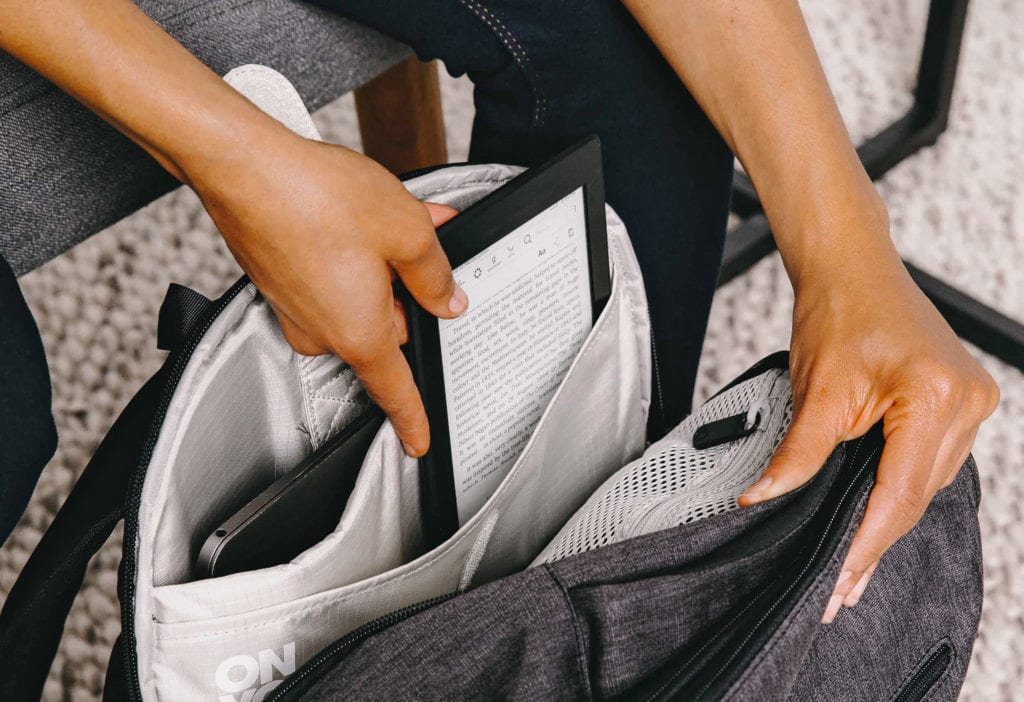 Laptop Carry On Packing List
If you're bringing your laptop on your next trip, here's everything you need to stay connected while still traveling in a carry on bag:
Even a full mobile office only includes five things. That's it. These five items are all you need to stay productive on any trip.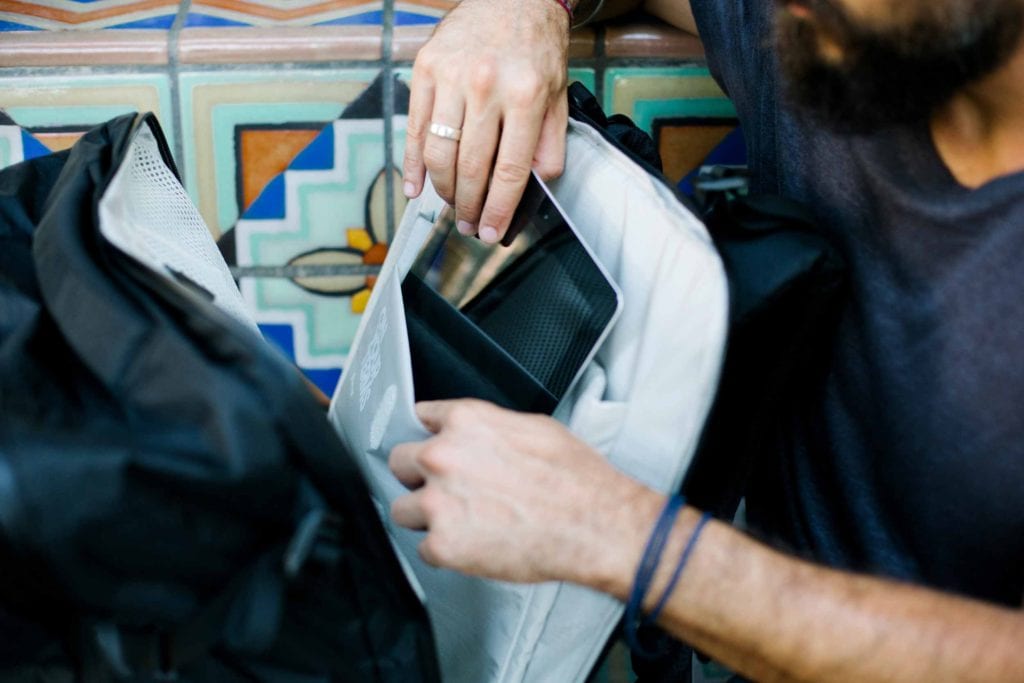 Travel Insurance: What's Covered?
If you do decide to travel with a laptop, a DSLR, Kindle, and other expensive gear, it's definitely worth getting travel insurance that covers you for loss, theft, or damage to your belongings on your trip. But not all travel insurance is the same.
Getting a high coverage limit for your belongings is a good start, but the important coverage to focus on is your per-article limit. This sneaky little term basically caps the maximum amount you can claim for any damaged item.
If you buy travel insurance coverage up to $3,000 (fairly standard) and your per article limit is $500 you can only claim $500 for a single item. So if your brand new computer gets ruined, you can only get $500 for it. The same goes for an expensive phone or camera.
If the per-item limit of your insurance is less than the value of your laptop and phone, get a different insurance plan. Opting for a higher per-article limit whenever possible instead of a higher total coverage limit will cover your computer or phone if they get lost, damaged, or stolen.
How to Travel Light with a Computer
For a lot of modern travelers, packing a laptop in their travel backpack is a given.
Organizing your gear, deciding which electronics you really need, and protecting everything are all important parts of traveling smarter. Knowing what to leave behind might be just as important as learning which travel-friendly tech accessories to pack.
Always pack your laptop first.
Invest in a smaller, but still powerful, charger to save space and weight.
Know your per-article limit when buying travel insurance for your tech gear.
Remember that you don't always have to pack a laptop for every trip, even work trips. A good smartphone is often the only tech gear you need.