How to Pack a Laptop in Your Carry On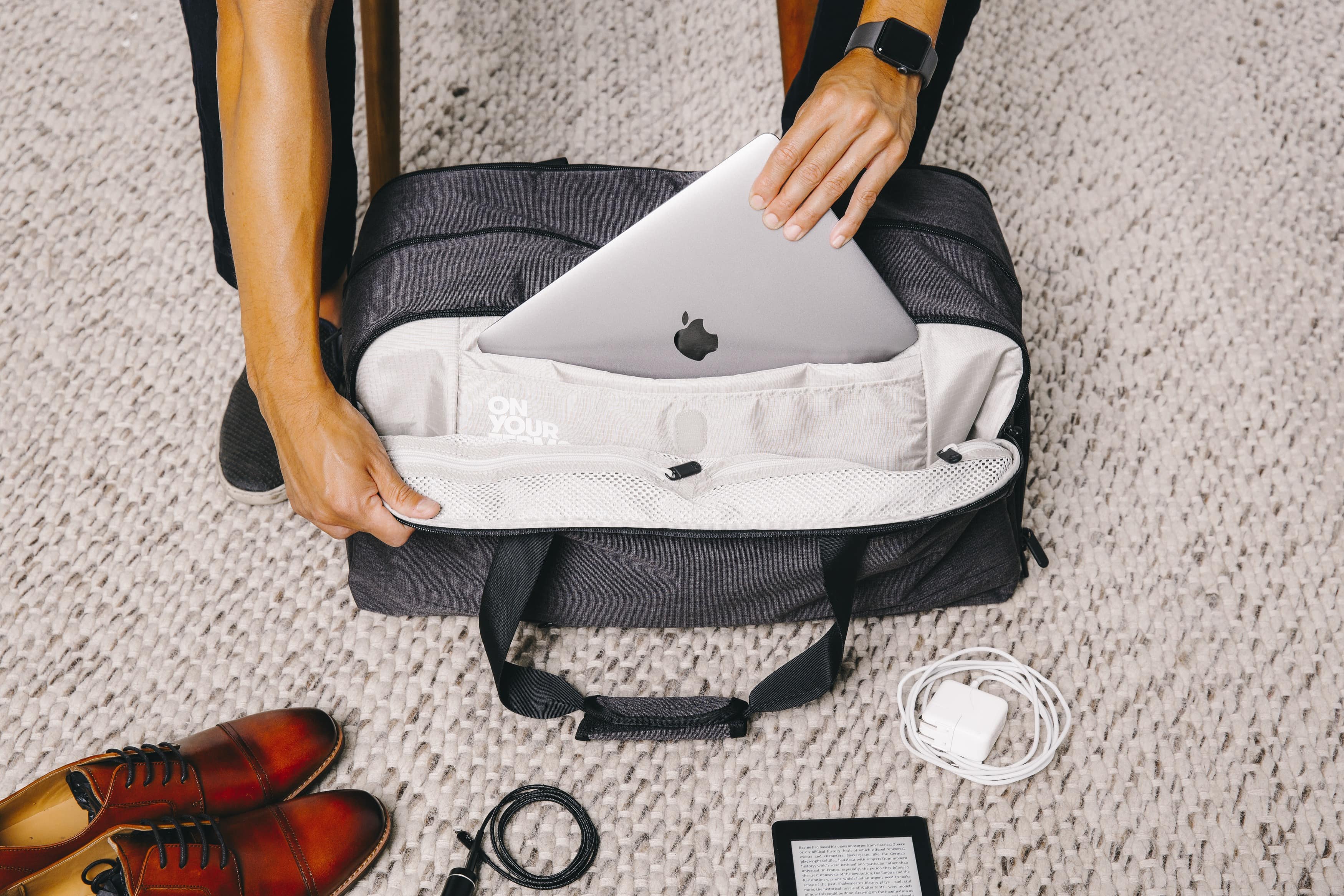 The fewer electronics you pack, the less you have to charge, carry, and organize, the more you can unplug from your computer and actually enjoy your trip. When it comes to travel electronics and accessories, less really is more.
It's 2019. Everyone travels with gadgets and gizmos aplenty. We pack "whosits and whatsits galore." Here's a common sense guide for everyday people traveling with your laptop, phone, and other thing-a-ma-bobs (even if you've got twenty).
This a list of, literally, every piece of gear (including your laptop) that you need to stay connected comfortably from anywhere in the world. Whether you're a blogger, a creator, or just need to check in at work from time to time, you can get a lot of stuff done on the go with this lightweight tech-friendly packing list.
We've even included a few of our favorite optional electronics and accessories for travelers who want to upgrade their remote electronics setup.

Carry On Friendly Electronics Packing List
If you're bringing your laptop on your next trip, here's everything you need to stay connected while still traveling in a carry on bag:
That's it. These seven items are all you really need to pack to stay connected and charged through any trip. And if you want, you can push it even further to really streamline the gear and electronics in your carry on bag to the bare essentials.
Ultra Minimalist Electronics Carry On Packing List
The secret to ultralight carry on travel is to get rid of as many bulky gadgets, chargers, batteries, and cables as you can. Electronics are heavier than you think, and all those cords, cables, and dongles add up quickly.
Even if you're doing a little work while you travel, all you really need is a phone, laptop, some cloud storage, and a few productivity apps (like the Google Suite and stuff like Asana and Slack). Toss in a pair of earbuds and a braided charging cable, and you're good to go with just these five items:
Phone
Laptop (leave the wall charger at home and sub in a GaN charger)
Braided charging cable
Bluetooth earbuds
The fewer electronics you pack, the less you have to charge, carry, and organize, and the more you can unplug from your computer and actually enjoy your trip. When it comes to travel electronics and accessories, less really is more.
How to Organize Your Gear: Chargers & Cords
Once you decide what to pack, it's important to keep all your tech gear organized, and safely stowed. You'll need to remove your laptop during airport security, so make sure everything doesn't come spilling out when it's your turn to grab a bin.
Here are some of the best ways to keep all your electronics safe, organized, and ready to go:
I've never liked big bulky hard shell cases and organizers—it kind of defeats the point of packing in a carry on. For me, the perfect organizer is small, well articulated, and shows me everything I need at a glance.
That's the Peak Design Travel Pouch. It's laid out like an old school file-a-fax (ask your parents), and the accordion-style organizer is surprisingly cool to use. After a few days you don't even need to look to know where all your cords and dongles live, and that's the whole point — effortless organization. This pouch is on the pricey side, but it's built for the long haul.

If you only have a few cables, a wall charger, memory cards, and maybe a mouse, this is a great minimalist electronics organizer.
Slim, well laid out, and just the right size to keep your gear packing list to the slim and trim essentials.

Jelly comb organizers (either the 3-layer or slimmer 2-layer version) are both a steal at under $20. If you want to pack all your cables, chargers, power bricks, portable batteries, memory cards, and more into one convenient easy to reach place; look no further.
Their organizers feature either a soft outer shell for easier packing, or a slightly rigid plastic inner shell to protect more sensitive items like portable hard drives and lenses. Either way, it's a great organizer (with features like velcro cable ties and easy to see through mesh organization pockets) that make getting what you need a breeze.
Easy Ways to Organize Your Cables and Cords
Amazon sells these flexible little reusable rubber twist ties. They're like garbage ties, but nicer, and will help keep everything organized and tidy in your carry on. A solid choice for any budget.

If gear ties are too cute or bulky, just use velcro straps. Avantree sells a 20 piece multipack of velcro ties for just $6. Just attach these to any cord or cable and tidy things up in seconds.

Built-In Clips (Free)
Most laptop charging cables have a little grip that helps keep cords together when you wind them up. It looks like a little Lego-style hand (like this "U") and bites down on the cable to stay organized. You might already have a great way to keep cables tidy without having to buy a thing.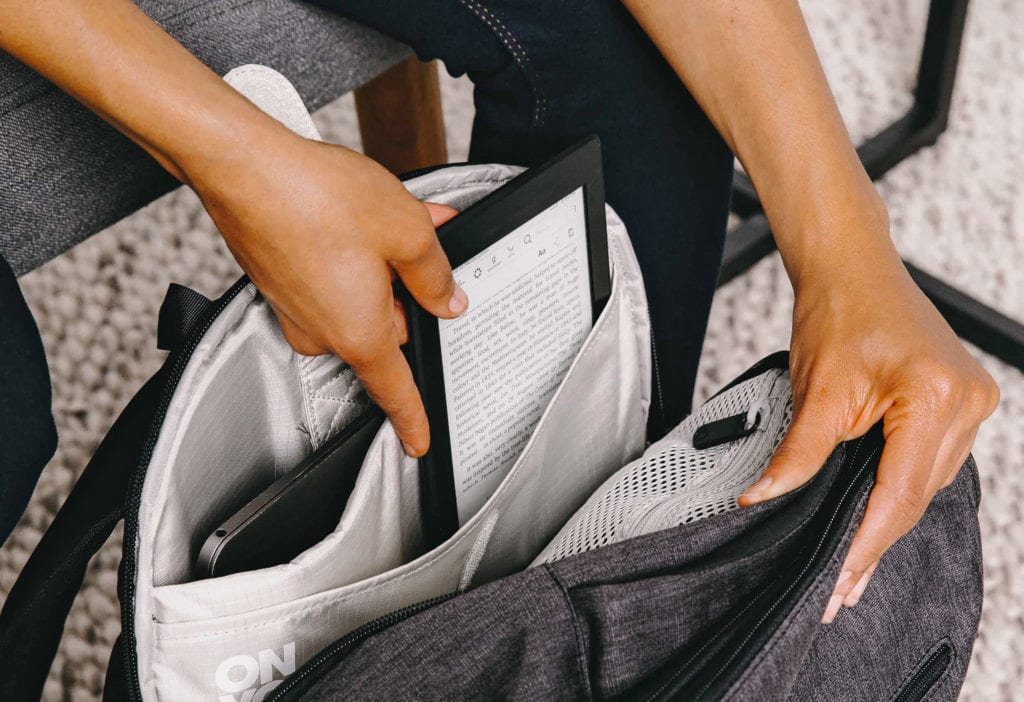 Other Tech Gear to Travel With
If you're sick of lugging around a heavy computer charger and snarled laptop cable get pumped about a new substance called gallium nitride (GaN). Gallium nitride chargers are 10x as efficient as older bulky silicon laptop wall chargers and they're about the size of a golf ball. Seriously.
Pack a gallium nitride wall charger for your laptop and you'll have a wall charger that can charge your phone and your computer. Plus, it won't overheat when you plug it in. So there's that. Lightweight, affordable, versatile, and powerful. The future is here, and it's made of GaN.

Don't forget to pack an adaptor for your laptop, especially one that can help you stay streamlined and organized.
Every laptop charger comes with a voltage converter built into the power brick, so you don't need an adaptor to convert voltage. However, you still need to be able to plug the prongs of your wall charger into the outlets when you land wherever you're going. That's what the adaptor is for.
I like a universal adaptor hub with two built-in USB ports because it always works. Also, a sturdy adaptor can actually hold the weight of your laptop charger when you plug it into funky outlets all over the world. Seriously. That's a thing.

If you bring a laptop on your next trip, make sure you actually want to use it by adding this simple, easy to use laptop stand that sticks to the bottom of your computer.
The stand snaps out in seconds and adjusts to two different angles to take stress off your wrists and neck. It's lightweight (just 3oz and 3mm thick) and simple to use. In fact, this stand is so well-designed you'll wonder why laptops don't just come with built-in stands.
If you're looking for another option, Team Tortuga uses Roost stands, they're also super compact and easy to use, with adjustable height.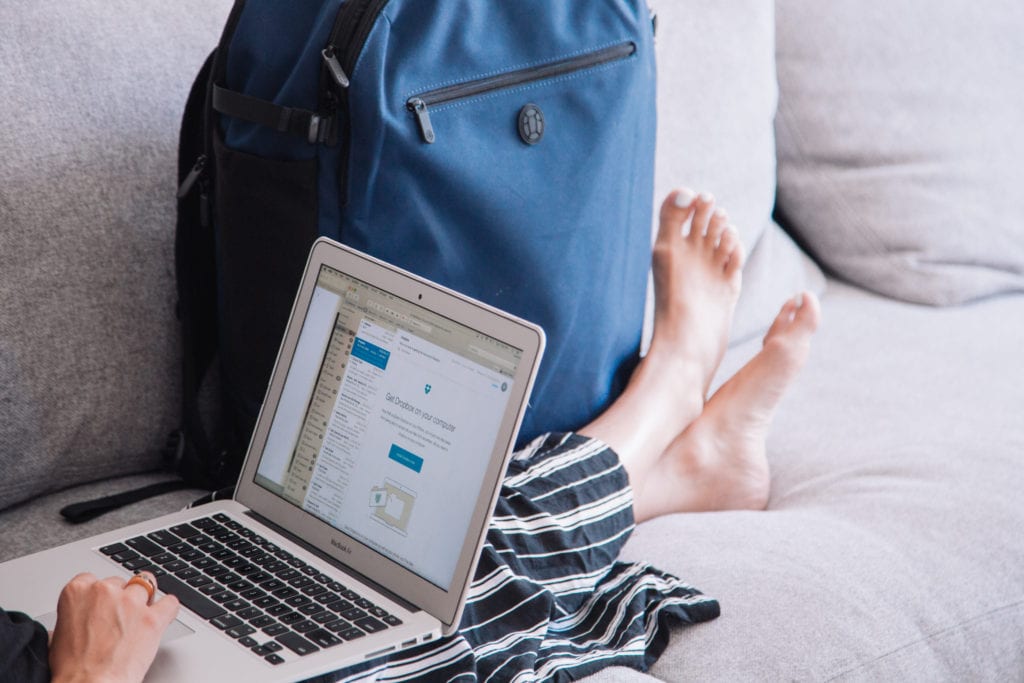 Best Laptop Sleeves and Cases
Yes, most backpacks come with a dedicated laptop pocket with lining and padding to protect your precious computer, but odds are you're gonna toss your laptop into a day bag and head to the cafe at some point. That's why you need a laptop sleeve.
A simple, thin laptop sleeve can save your computer from dings, dents, scrapes, and scratches that not only lower the resale value, but can harm your sweet moneymaker while you're on the road. Keep your laptop in a cozy sleeve and avoid costly and painful repairs while traveling.
Here are some of the best laptop sleeves for all sorts of carry on travelers:
I'm a sucker for simple, common sense design that works on the road. This laptop sleeve not only protects your laptop from bumps and bruises in transit, it helps keep a surprising amount of things handy and organized at the same time. And that's the dream.
The padded interior and "Corner Armor" are great for protecting your laptop, but the front pocket is the clincher. You can keep your power brick, charging cables, and even a slim mouse right there with your laptop so they're always ready to go. No extra bags or organizers, just everything you need right when you need to get work done.
Best Laptop Sleeve with an Exterior Pocket: Lacdo Laptop Sleeve ($13)
Another great budget laptop sleeve, the Lacdo sleeve is on this list because of the simple organization. The smaller exterior pocket is great for keeping a few items like memory cards, dongles, and adaptors on hand but still separate from larger heavier items. And the second larger stash pocket is great for keeping your power brick, wall charger, or even additional devices like a Kindle or tablet handy.
Solid and well-designed, this is a do-everything kind of laptop sleeve, and the organization combined with the soft lining make it a solid laptop accessory for casual and frequent travelers.

If all you need is a soft cover to keep your laptop safe from scrapes in your day bag, a simple felt laptop sleeve is a great budget option.
You can find a version of these on dozens of sites for as little as $3. Happy hunting.

Yes, these cases cost a few bucks, but if you're looking for a sleek, slim, secure sleeve to keep your laptop safe and sound, this is it. Not only is it impressive for on the go meetings, the lightweight yet durable exterior fabric and plush Woolnex lining are as premium as it gets.
If you're always on the go, upgrade to a truly grown up laptop sleeve.


Best Protection Laptop Sleeve: Thule Gauntlet 3.0 ($49)
The Thule Gauntlet 3.0 packs a sturdy laptop sleeve into a surprisingly small package that is pretty sure to keep your laptop safe from most everything you can throw at it.
Reinforced corners, rigid exterior panels, and a padded interior might even be a little over the top, but it's even designed so you can keep it in the case while you use it for extra protection. So that's cool.
How to Pack a Laptop in a Carry On Backpack
If you've ever stuffed your carry on to the brim and then remembered you have to pack your laptop, you know that there's a right (and a wrong way) to pack a laptop in a carry on bag.
Here's how to do it right:

Don't Ever Pack a Laptop in a Checked Bag
I know that's an obvious tip, but you never know. Checked luggage gets opened, scanned, searched, stacked, squished, and tossed around. Your fragile, expensive laptop isn't built for that kind of abuse.
Plus, the pressure in many checked luggage compartments is completely different than the main cabin, and that can wreak havoc on your sensitive electronics
Use a Thin Laptop Sleeve
Pack your laptop in a thin sleeve for extra protection. You want a sleeve that's thin enough to let you slide your laptop in and out of the laptop pocket without having to remove it from the padding
Pack Your Laptop First
The key to packing a laptop in a carry on is to pack your computer before you pack anything else. The larger rigid shape of the computer actually gives your bag a little structure, which can actually make packing the rest of your bag easier. Don't smoosh your laptop in at the last second
Secure Laptop Charger & Cables in a Separate Organizer
You don't have to remove the charger (just the actual computer) for most security checkpoints, so don't pack your wall charger with your laptop. The charger is also bulky enough to create a bulge in most laptop pockets, which can put pressure on your laptop. Pack the charger separately.
Get TSA Precheck
Register for TSA Precheck and guess what? You don't have to take your laptop out of your carry on bag at the security screening. I know. It's awesome.
Pack in a Proper Laptop Backpack
What's a "proper" laptop backpack? One made, specifically, to travel with a computer, not as an afterthought. Ditch the flimsy daypack with a cheap sleeve that and nowhere to store your cords.
Outbreaker Daypack
If you're looking for something lighter that you can pack flat inside your travel backpack and pull out when you arrive, the Outbreaker Daypack is perfect.
Made of tough wearing, waterproof sailcloth, with padded shoulder straps for comfort, it's a perfect lighter option for a day out and about with your laptop.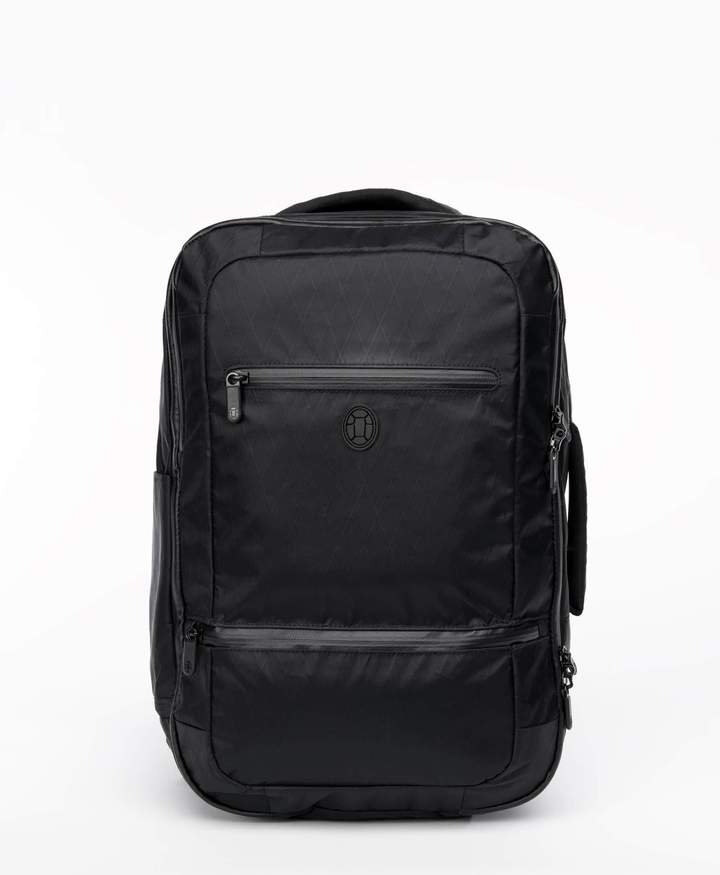 Outbreaker Laptop Backpack
The Outbreaker Laptop Backpack is a versatile secondary bag with considered details for air travelers.
Slide it under the seat of most airplanes and carry all your electronics, chargers, a change of clothes, and your in-flight essentials.
It's even got a pass through sleeve to fit the handle of your roller bag.
Laptop Alternatives: How to Travel Without a Computer and Still Get Things Done
The question still remains: Should you even travel with a laptop?
Smartphones are getting better every year, and while laptops are super useful tools to stay in touch with colleagues, write blogs or articles, and edit videos, they're not the only way to get work done and stay connected on the go. You can significantly lighten your packing list—and declutter your carry on luggage—by leaving the laptop at home on your next adventure.
Here are some lighter, less expensive tools to help you stay mobile and productive without a bulky laptop in your carry on bag:
Bluetooth Keyboard
If you want to blog on the go, all you really need is your phone and a good bluetooth keyboard.
Ditch the laptop and work via the cloud with Google Drive and Google Docs to sync all your documents in a safe convenient workspace you can access from anywhere. It even lets you create and edit documents when you're offline, and it'll update them when you get back to civilization (aka "WiFi").
I recommend the Nulaxy line of bluetooth keyboards since they include a magnetic folding "case/sleeve" that protects the keys and turns into a sturdy holder for your phone. Honestly, after a few days of using this, I didn't even notice that I was typing on my phone. I even tapped my laptop screen like a touch screen when I got back to my computer. A great way to cut weight and still get words on the page.
Cloud Storage & Google Photos
Leave your laptop and heavy portable hard drive at home and move all your writing, photos, and videos to the cloud. Download the Google Drive app and you're all set. And if you need more storage, you can upgrade to 100GB of storage from the 15GB free account for just $2/month.
Also, make sure you get the Google Photos app which lets you backup unlimited amounts of photos and videos for free. Google Photo even organizes your photos by date, location, and even keyword. You can search by keyword for that photo of your backyard bbq from eight years ago. It's amazing, and completely free.
iPad or Tablet
A laptop is not necessary to stay connected and productive on the go. Trade in your laptop for a tablet or iPad and include a Folio keyboard case for increased functionality and protection.
You'll still have to manage a few extra steps for most things like word processing and video editing, but if you're just looking to check your email and bang out the occasional reply, a tablet is a far superior travel device than a bulky computer—complete with dedicated charging brick, mouse, and other accessories.
A Really Good Phone
Today's flagship phones are getting absurdly good. Some phones have 12GB of RAM, 256GB of storage, fast charging, 4000mAh batteries, DSLR quality quad-lens cameras (with all that software processing power), 4K stabilized video, and the latest Bluetooth and WiFi connectivity speeds. That's probably more power than your old laptop from 2015.
With 5G on the horizon, there's not much of a reason to pack your laptop these days except for heavy word processing and video editing—and that's becoming less true every year.
Your phone is always on you and always connected—especially if you travel with an international phone plan, like T-Mobile One, you'll always be online and ready to get work done instead of spending your time looking for WiFi. That "always on" capability is a big advantage to working from your phone, and in some cases can be enough to tip the scales towards leaving your laptop behind.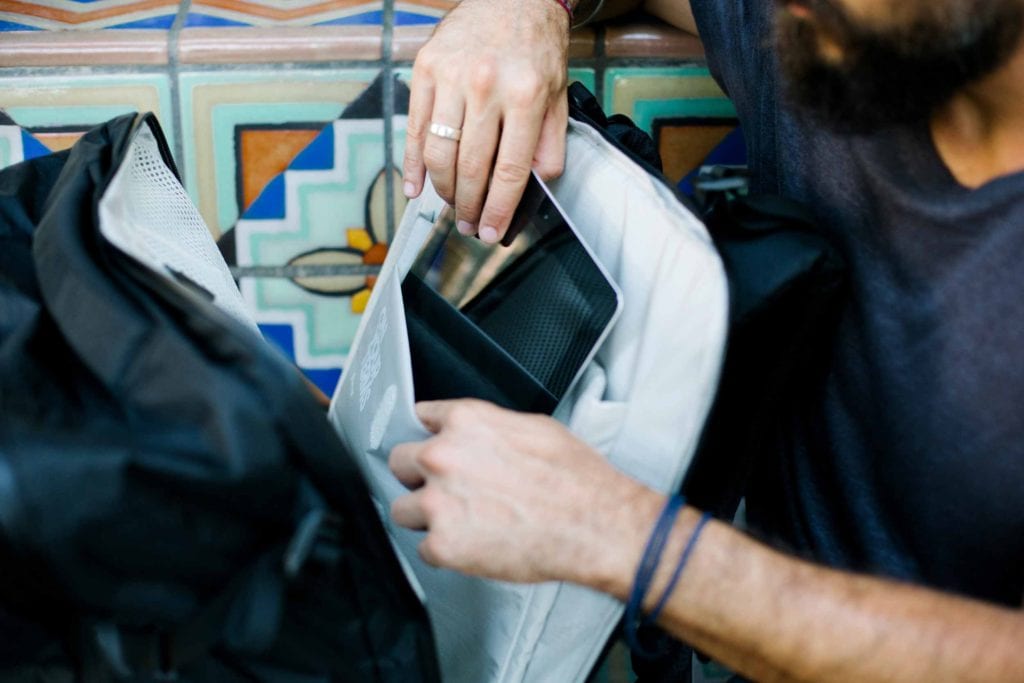 Travel Insurance: What is Covered?
If you do decide to travel with a laptop, a DSLR, Kindle, and other expensive gear, it's definitely worth getting travel insurance that covers you for loss, theft, or damage to your belongings on your trip. But not all travel insurance is the same.
Getting a high coverage limit for your belongings is a good start, but the important coverage to focus on is your per article limit. This sneaky little term basically caps the maximum amount you can claim for any damaged item.
If you buy travel insurance coverage up to $3,000 (fairly standard) and your per article limit is $500 you can only claim $500 for a single item. So if your 2019 Macbook gets ruined, you can only get $500 for it. The same goes for an expensive phone or camera.
If the per item limit of your insurance is less than the value of your laptop and phone, maybe find another travel insurance plan. Opting for a higher per article limit whenever possible instead of a higher total coverage limit will cover your computer or phone if they get lost, damaged, or stolen.
How to Travel Light with a Computer
For a lot of modern travelers, packing a laptop in their carry on bag is a given. However, there's more to traveling with your computer than finding a travel backpack that can fit your laptop.
Organizing your gear, deciding which electronics you really need, and protecting everything are all important parts of traveling smarter. And knowing what to leave behind might be just as important as learning which travel-friendly tech accessories to pack.
Laptop sleeves are cheap, lightweight, and totally worth it
Invest in a GaN wall charger and ditch the heavy laptop charger
Dual USB is everything
Always pack your laptop first
Know your per article limit when buying travel insurance for your tech gear
Remember that you don't always have to pack a laptop for every trip (even work trips)! A good smartphone is often the only tech gear you need