Las Vegas: The Complete Guide to the Strip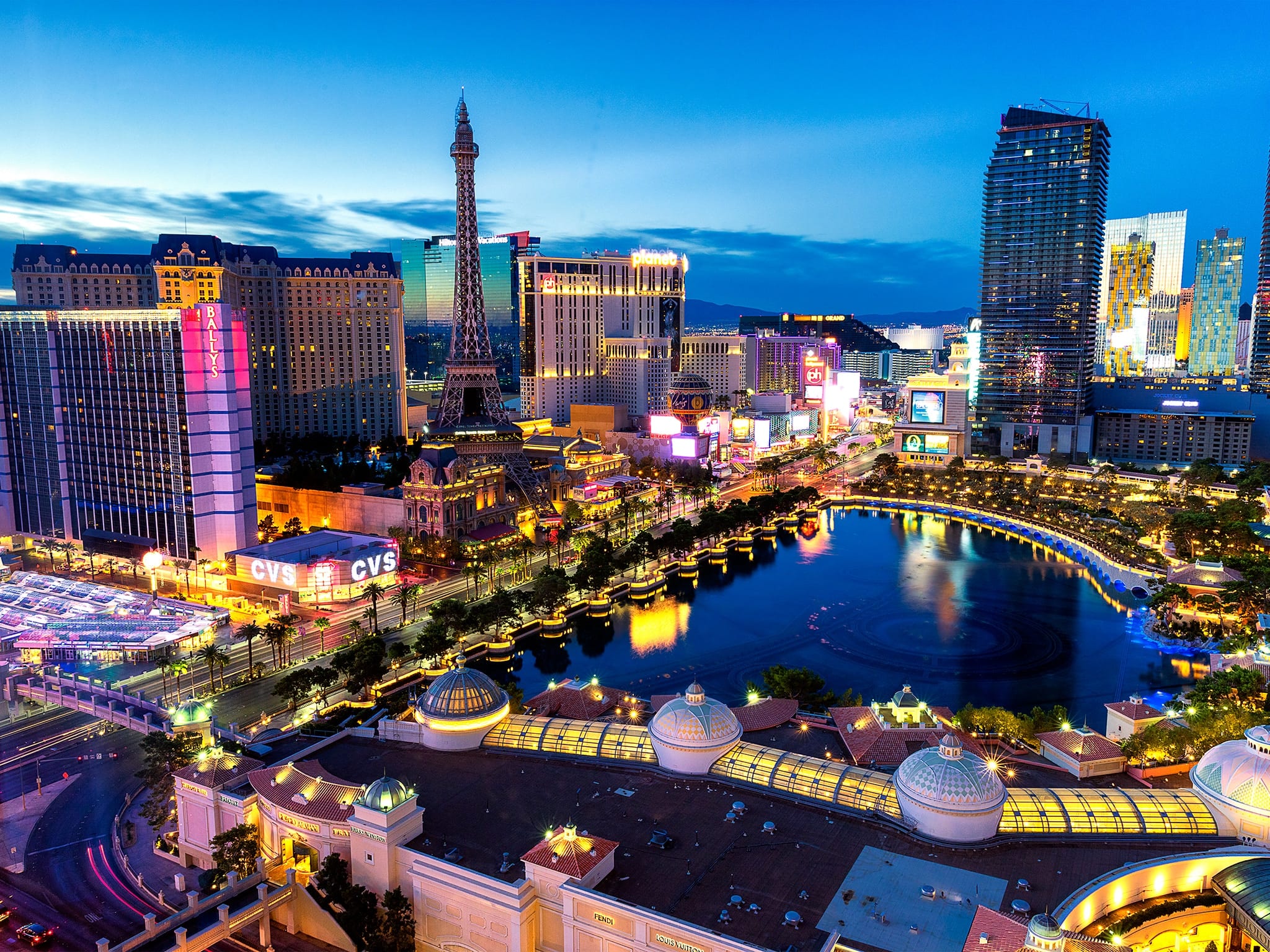 Vegas is a crazy wonderful place. Just don't stay too long or expect too much, and you'll have the time of your life. Pack light and in a travel backpack to maximize the fun and minimize luggage frustration.
Las Vegas. Sin City. Lady Luck. "What happens here stays here," and all the other tired cliches. Forget all that nonsense. Vegas is nothing like Ocean's 11, or the Hangover, unless you're super good-looking, in which case you can probably just skip this whole article. For the rest of us, Vegas is expensive, hot, weird, cruel, terrible, and awesome. It's a beautiful mess. But don't worry, you don't have to be Sinatra, or a mob insider, to have a great time in Vegas. Actually, if you want to have a good time, you should never, ever wear a fedora, so hopefully you've got that going for you.
To beat the odds in Vegas and have the trip of your life all you need is an eye for a good deal, a willingness to roll with the punches, and a sense of what experience you're after. Trust me—I've been to Las Vegas way too many times. So, no matter the occasion: 21st birthday, New Year's Eve, bachelor party, Halloween, spur of the moment road trip, or serious work convention—let's pack a carry on bag, travel light, stay flexible and get ready to have the time of your life in Las Vegas.
Choosing the Right Bag to Pack for Las Vegas
If you're headed to Las Vegas for a quick get away, resist the urge to pack a huge bag. Everything you need for a long weekend getaway to Sin City will fit in a bag that's 26-34L. That bag will fit neatly under the seat in front of you and be below the carry on size restrictions of the discount airlines that run cheap flights to Vegas.
Outbreaker Laptop Backpack $225
The Outbreaker Laptop Backpack is the perfect bag for a minimalist or long weekend getaway to Las Vegas.
At 27L, there's just enough room for a couple of days worth of close, your essential electronics, and toiletries.
This bag will let you move smoothly through your travel day and spend more time at the pool or roulette table than you do standing around the baggage carousel.
Setout Divide $179
If you need a little more space, pack in the Setout Divide. It expands from 26L all the way up to 34L.
As someone who likes to do a little shopping in the endless malls between the casinos, I enjoy having the ability to zip open the expansion section on the Setout Divide and pack that new Desigual dress for the trip home.
The Setout Divide is the perfect flexible carry on for a weekend trip and light packers.
What to Pack
Las Vegas Weather
While Las Vegas boasts some of the hottest temperatures of any major city in the US—the average high in July is 106F—it's not always the case. I just visited this January (2016) and the mercury never topped 55F the entire time. Pack accordingly. Beat the heat with:
3 tank tops (you'll sweat through them)
3 t-shirts (you'll sweat through them)
1 pair of shorts
1 pair of pants (jeans are fine)
1 swimsuit for relaxing by the pool (an absolute must)
1 pair of sunglasses to ward of the staggering sun
Sunscreen
Hat
Boat shoes (classy, comfortable, pool-side appropriate, and club dress code compatible)
In winter add: light jacket and at least one sturdy pair of pants and shoes
Nightlife (Dress Code)
Hopefully you're in Vegas for the nightlife. The Hoover Damn is cool and everything, but the clubs and bars in Vegas host some of the biggest DJs, celebrities, and bands in the world, so make sure you bring your A-game.
For Men
Every club strictly enforces a dress code that typically bans:
Sneakers
Sandals
Shorts
Jeans (sometimes, but why risk it?)
T-shirts
Torn clothes
FREAKING FEDORAS
If you look fresh to death in that new t-shirt you bought and want to show of your sweet triceps, just dress it up with a jacket or blazer while you're in line. The lines to get into clubs in Vegas are insane, and nothing will ruin your night faster than getting turned away at the door for wearing cargo shorts. Or a fedora. If you want to be a real baller, pack a suit in your carry on. It's not that hard. I also like to bring a three piece suit with a nice tie. Toss a tie clip in, and you're on your way to that Rat Pack night you've always dreamed of.
For Women
Typically the dress code for women is more relaxed and generally comes down to one simple question: Do you look good? Heels are preferred, as well as dresses, and skirts instead of pants. Shorts are a no-go, unless, again, you look good. Avoid flats and, apparently, wear the shiniest thing you own. I don't know when it started, but every single gal in Vegas looks like a disco ball. Go figure.
Pro Tip: The best people watching happens at dawn. Locals in lycra shorts jog past hungover buffoons in ripped suit jackets while exhausted Circus Circus employees shuffle home in smudged face paint. It's amazing. Stay awake (or rise early) if you can.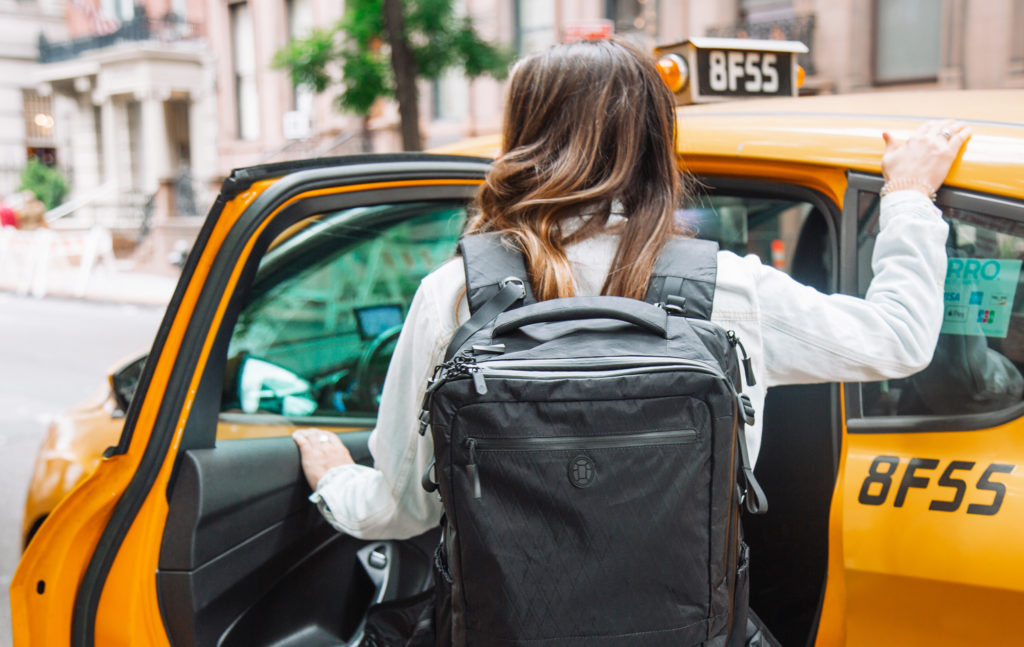 Getting Around
If you plan to walk the full length of the 4.2 mile Las Vegas strip in July, bring a camelback hydration backpack, or just buy lots of water. Like, a lot. Better yet… don't walk the Las Vegas strip in July. However, if you're feeling lucky (see what I did there) and opt to "hit the strip," you still have a few transportation options:
The Vegas Monorail
The monorail is good for getting from A to B on the strip… if A is your casino and B is another casino. There are only seven stops on the monorail line—MGM Grand, Bally's/Paris, Flamingo/Caesars Palace, Harrah's/The LINQ, Las Vegas Convention Center, Westgate Las Vegas, and the SLS Las Vegas Station—which isn't awful, but if you're not staying at any of these the monorail won't help too much. Cost:
$5 Single ride
$12 day pass
$22 two-day pass
$28 three day pass
The hours of operation are decent, everyday from 7am to 2 am (midnight on Mondays), with service til 3 am on the weekends. However, the monorail doesn't link to the airport. So that's a bummer.
Taxis
Cabs in Vegas are super weird. They're technically not allowed to idle on the busy strip (space is at a premium) so flagging down a cab NYC style is a no-go. Call for a cab ahead of time, or wait in the taxi line for the curbside attendants to get you one in front of pretty much every casino. But, honestly, we both know you're just gonna call an uber. Pro Tip: A cab to or from the airport typically costs about $20. The more you know…
Walk, If You Dare
I really do like walking the strip, strolling from neon sign to famous historical site, but making your way down the crowded sidewalks of Las Vegas can be exhausting. Aside from the oppressive summer heat, aggressive panhandlers, barkers, promoters, and "performers" can make the simple act of strolling a uncomfortable experience. Plus there are a rash of these new costumed people trying to take a photo with you for tips. It's getting crowded. Also, the busy cross streets require you to constantly traverse stairs and raised walkways turning what is already a long hike into a meandering labyrinth of casinos, shops, and restaurants. If that's what you're there to see, enjoy, but know that it's never a straight line from A to B in Vegas.
Accommodation
Las Vegas is bigger than you expect. The strip is sprawling, "off the strip" hipster joints are all the rage, and that doesn't even include downtown (actually north of the strip), or the miles and miles of suburbs that ring this desert paradise. There are a lot of places to stay. And even though Las Vegas has the second highest rate of foreclosed homes in the US (behind Atlantic City), and it's been hard hit by the financial collapse of 2008, Vegas is still growing. As of 2015 there are 31 legitimate casinos (29 with hotels) to choose from on famous Las Vegas Boulevard—a.k.a. "The Strip"—but that number quickly swells to nearly 100 if you expand your search out a few blocks. Add to that, a growing number of AirBnB listing, motels, and campsites, and you've got an overwhelming array of accommodation options that literally change price and availability every single night. Plus, there's always "State Line" if you're broke.
Timing is Everything
When I visited Vegas this January, I unwittingly arrived the same weekend as the Adult Entertainment Expo—the porn industry's largest convention. Oh, and it was J-Lo's opening night. And Trump was in town for a fundraiser. And they were shooting a scene for the new Jason Bourne movie and had shut down the entire strip (seriously). There wasn't a room for under $250—not even at Circus Circus. I actually had to push on to the Grand Canyon (4 hours away) and come back a few days later, but that stuff happens all time—often with multiple events piling up into a hotel accommodation nightmare. The whole point of visiting Vegas is to attend awesome stuff, but here are a few of the "less fun" events that draw massive crowds. If your hotel search only shows high prices, search to see if any of these events are coming to town:
CES (Consumer Electronics Fair)
New Year's Eve (woof)
The Rodeo Finals (a 10-day event)
Nascar Weekend (seriously)
ConExpo (a construction trade show)
Electric Daisy Carnival (an EDM show with superstar DJs)
Avoid Conventions
Here's the actual Las Vegas Convention Calendar. Use it to see if a particular weekend is packed, or relatively empty. I searched the week before and after my birthday—March 12th (wish me happy birthday!)—and found dozens of conventions, with the largest being the Nightclub and Bar Show (39,000 attendees). That's actually pretty low as far as Vegas conventions go, plus that sounds awesome, so I'd probably be ok booking around then.
Hotel Deals
Honestly, finding great deals is usually as easy as punching "Veg" into your browser and waiting for it to auto-complete to "Vegas hotel deals super cheap time of your life bro!" However, if you're really looking to crunch the numbers, here are a few more advanced tips:
Spend the Holidays in Vegas
December is a notoriously cheap time to visit Las Vegas, particularly just before Christmas. As long as you avoid the week before NYE and the Rodeo Finals, you can nab some epic yuletide deals.
Three-Day Weekends
Obviously, three-day weekends are going to be pricey. However, the days immediately following a long weekend are the perfect time to stay in a swanky hotel for a fraction of the normal price.
Beat the Heat
July and August are almost unbearably hot. Almost. If you can bear the heat, you'll find some "hot" deals (get it?). Again, check the convention schedule so you don't get burned (I did it again! I'm on fire! hey-oooo).
Stay Off the Strip
Staying just off the strip can yield some great deals without sacrificing much in the way of style. The Palms is one of the best party casinos in town, Hard Rock goes off (that's where the Adult Entertainment Expo was held). The Wyndham is a mellower option if you just want to chill, the rooftop bar at the Rio is worth a visit, and if you're just down to clown, stay at the, adults only, Rumor hotel (seriously, no kids allowed).
You Want the Strip?
What's that? Off the Strip won't do? You need to stay right where the action is? Alright. Prepare to pony up some dough, but if you're looking for that authentic Vegas experience that you've seen in the movies, the strip is your best bet. Here's a hyper speed rundown—in order—of all 29 hotel and casinos on the Las Vegas strip; from Mandalay Bay in the south (near McCarran Airport) to the Stratosphere Tower atop the official northern edge: