There are lots of ways to save money on a hotel room, but all require some sort of sacrifice: go in the off-season, stay outside the city center, share a bathroom. Now there's a new one: book at the last minute.
— Seth Kugel, the New York Times' Frugal Traveler
If you're flexible on where you stay and can tolerate a small amount of risk, you can save money on short hotel stays by booking the same day that you'll be checking in.
Rather than letting rooms go empty, hotels offer them at a discount through certain travel apps. Then the hotels make some money on the rooms without advertising the reduced price too widely and devaluing the rooms on busier days.
Last-minute booking apps are a win for travelers who can save money on rooms and find an excuse for impromptu trips. Plus, you won't have much competition. Skift reported that only 12% of US internet users have booked any kind of travel through an app.
From San Francisco, where I live, I could take an unplanned trip to wine country, head south along the coast to Monterey, go on a ski trip to Lake Tahoe, or just crash in Oakland after a concert if the subway has already closed.
The right app for you will depend on where you're headed, your preferred type of accommodation, and your budget. Below are 5 good but different options.
Have you ever booked a hotel at the last-minute? Share your experience in the comments.
Hotel Tonight: For the Biggest Discounts
Hotel Tonight is the biggest "name" in last-minute bookings in the US. Its app focuses exclusively on day-of bookings, although you can extend your stay for multiple nights at some hotels.
Every day at noon, Hotel Tonight reveals rooms at a curated shortlist of hotels in North America and Western Europe. Rooms are offered at discounts up to 70% and categorized by tier (basic, solid, luxe). You can see ratings and user photos before choosing a hotel. Booking one takes just a few taps.
On the day of writing this article, Hotel Tonight listed 11 hotels in San Francisco and 7 in Napa Valley. In SF, the discounts ranged from 8-52%. The average discount was 25%.
I've used Hotel Tonight before to book a cheap room for a night when I was between apartments while navigating SF's insane rental market. In the future, I'd like to test it out again to stay in a higher-end hotel without paying full price.
Hotel Tonight is the best choice if you want to quickly book a quality room. You will have fewer options than in other apps, but the choices are good and offered at steep discounts.
Download the Hotel Tonight app for free and use invite code "FPERROTTA" for $25 in hotel credit.
Booking.com: For Two Ways to Guarantee a Deal

This app is well known in the travel world. With great deals on all kinds of lodging, from apartments to room rentals, hostels, to five star hotels, you'll find what you're looking for here. But, did you know they also have a segment dedicated to last minute deals. Yep.
Within the app choose the "Secret Deals" option. On the website, choose "Find Deals" and then, "This Weekend."
Among the pluses to reserving with Booking.com are, that you don't pay until you get there and most hotels have free reservation change or cancellation up to 24 hours before arrival. This is a great site to use to make an early booking, and then when you find a deal last minute, you can cancel or change it without penalty. Another kind of "travel insurance."
Wondering what happened to Booking Now, their last minute hotel app? As of August 31, 2016 they're discontinuing it and rolling those features into the Booking.com app. Efficiency is a beautiful thing.
Hipmunk: For the Most Options
The flight and hotel meta-search site Hipmunk has established itself as a go-to in the last-minute booking market.
I love Hipmunk's website because of the smartly-sorted flight search results. Instead of sorting flights solely by price, Hipmunk sorts them by "agony" a combined measure of price, duration, and the number of stops. Rather than seeing a long list of options with the same departing flight, Hipmunk will show you the best combination and hide the alternatives. This way you can skim through a few good options, instead of pages and pages of nearly identical itineraries.

Hipmunk's app, like most meta-search apps, hasn't been differentiated enough from its website. Before adding last-minute deals, it was just Hipmunk's website on a smaller screen. I'd rather book my flights and hotels on my computer than on my phone.
Until now.
Hipmunk began offering last-minute deals because "more than half of hotel searches on Hipmunk's mobile app were by travelers looking for last-minute accommodations."
The Hipmunk app now offers three options on the main screen: Search Flights, Search Hotels, and Discover.
Choosing Hotels will take you to a default search page set to tonight. Use your current location and get list of rooms discounted for that night, or change the location and search for somewhere else. The app offers plenty of sorting and filtering options to help you decide. Choose the "Ecstasy" filter to find the perfect place based on lowest prices, highest ratings and best reviews. When I searched, I found 15 hotels discounted from 10-40%. Prices ranged from $109 to $381 offering good value for San Francisco and a range of prices for any taste.
Hipmunk gives you more options than Hotel Tonight but plenty of controls to help narrow them down.
Download Hipmunk's free app for iOS or Android.
Stayful: For the Best Deals on Boutique & Independent Hotels

You won't find the Mariott listed on this app, but you'll find dozens of smaller hotels and specialty places that might make your stay more "local," or more unique.
As a test of their "last minute" viability I typed in dates for this weekend (starting tomorrow) in NYC and they provided tons of options with immediate vacancies. As a bonus, they've got the boroughs listed; in NYC this is a huge help.
Stayful has "deals" negotiated with many hotels to get a rate below the best advertised rate online, which would have saved me about a hundred bucks, all told, off of the advertised rates for my hotel choice on Times Square this weekend.
If you like unique places, this is the last minute booking app for you.
Crooked Compass: For Those Who Want to Up The Game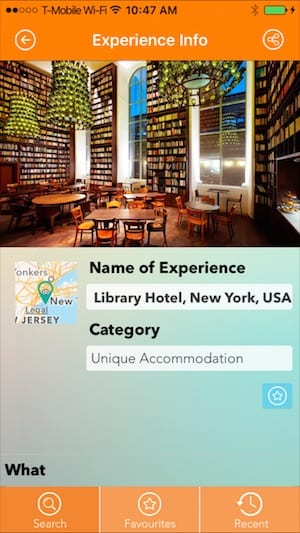 I will say up front that this app isn't particularly convenient for quickly booking last minute, or on the go, but it's a fantastic way to up your game. Often, we go with the low hanging fruit simply because it's available and it's easy. But what if there was something better?
Crooked Compass specializes in amazing experiences and sorts them into categories like, "Adrenaline, Eat Like a Local, and Weird." They also have a "Unique Accommodations" category. Sure, I could stay at the Pennsylvania, in NYC, this weekend, again. Or, I could snag one of the quick and nondescript places on one of the room liquidator apps. But with a quick check of Crooked Compass I note that there is a totally amazing looking Library Hotel in NYC.
The app doesn't let me check availability, but my smartphone does. Oh look, it's available and there are a range of room choices tomorrow night. Now I'm not only going to NYC on a whim this weekend, I'm staying somewhere Instagram worthy.

Sometimes, putting in a little extra effort makes the difference between an okay place to stay and incredible digs for your last minute escape.
TL;DR
With a few apps and a free WiFi connection, you can book a last-minute room if your plans change, if you want to take an unplanned trip, or if you're just willing to take a risk to save a few dollars.
Want more like this?
Get weekly gear reviews, travel hacks, and packing tips sent straight to your inbox. As an added bonus, we'll send you a carry on packing list right away.