Which Los Angeles Airport Should You Fly Into?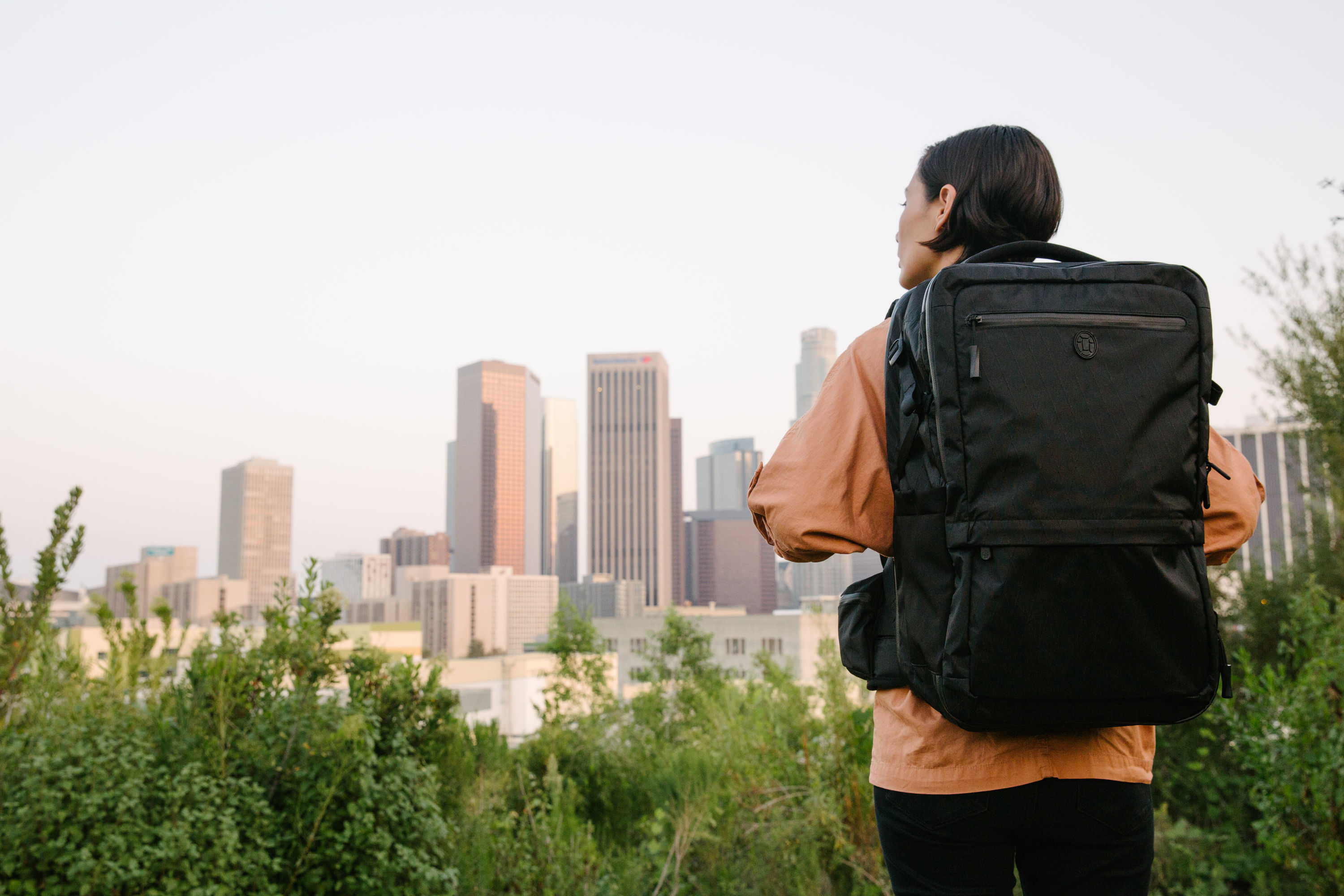 LAX isn't the only option for travelers headed to the southern west coast. The airport you choose depends on your final destination, the purpose of your trip, and the amount of flexibility you have. No matter how you arrive, a travel backpack makes your travel from airport to city easy and seamless.
Los Angeles' sprawling metropolis is actually made up of a lot of smaller surrounding areas stretching further into other parts of southern California. Santa Monica is a stone's throw away, but Anaheim and the magical mouse are a bit further distance. There are killer fish tacos in San Diego and you can hang on the Queen Mary in Long Beach. Sure, you can get to the deserts of Palm Springs and the mountains of Big Bear flying in and out of LAX, but other airport choices might be better options.
When looking at a map, all of these airports look pretty close together – but, talk to anyone who's ever set foot in southern California and they'll tell you that sometimes real time and Google maps distance 'supposed times' are not even in the same ballpark. On a good day, well, maybe at two in the morning on a Tuesday, it can take less than 2 hours to get from San Diego to LA. But during daylight hours and with traffic, that same distance might turn into a five hour tour.
Palm Springs is only a short ride away from San Diego and an awesome spot to explore, hike, take in the sights, and enjoy some relaxation – but the possible routes out of the airport are fewer than you might expect. There are a lot of airports that are less than 4 hours away from Los Angeles (including Las Vegas). The one you choose truly depends on your needs, budget, preferred airline and destination.
Southern California covers a lot of ground; so, for your visit to La La Land consider some of the other LA area airports (Burbank, Long Beach, John Wayne and Ontario) and a few a bit further away from the hotspots on Rodeo Drive.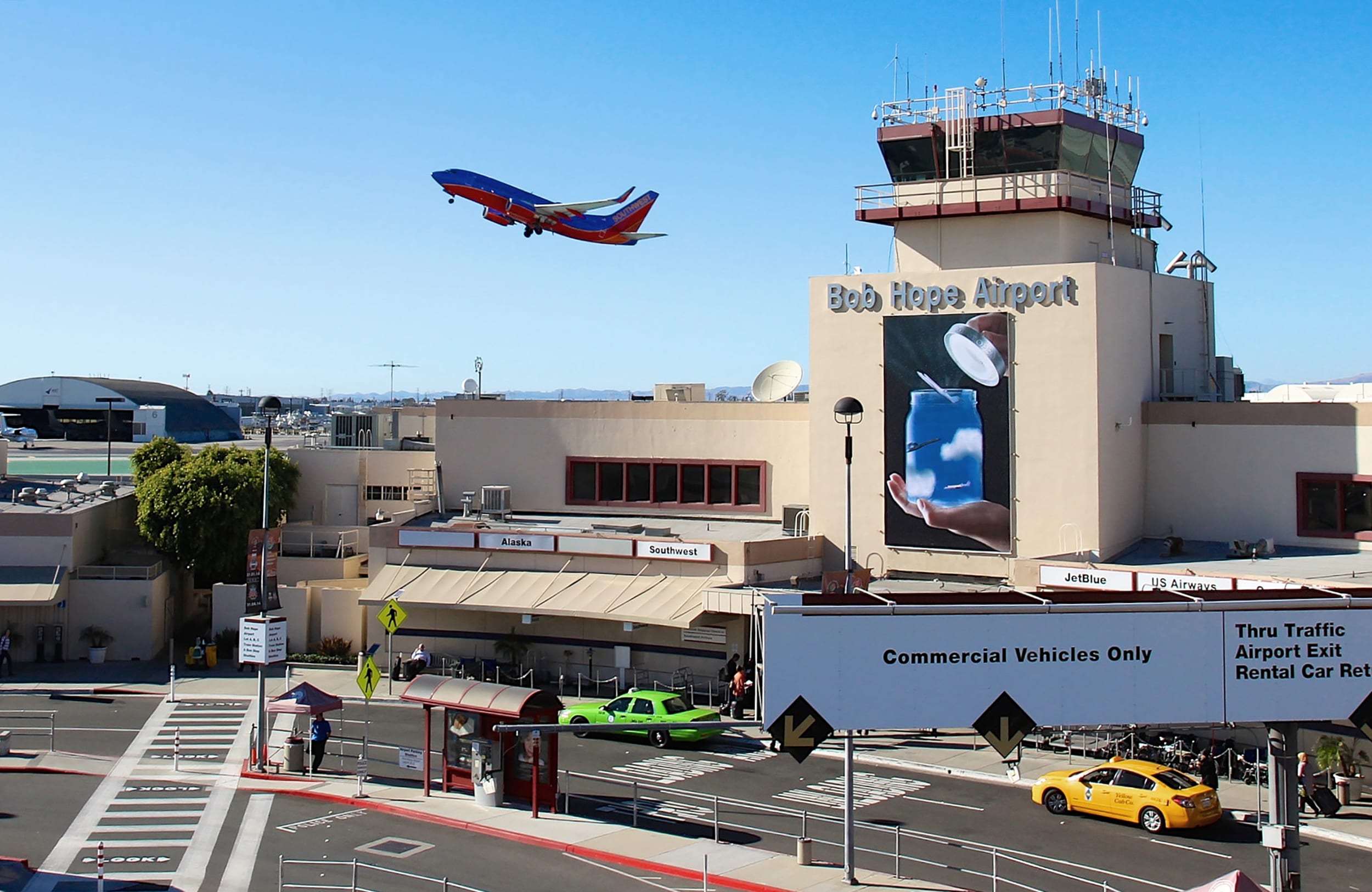 Hollywood/Burbank/Bob Hope Airport – (Burbank – BUR)
If your destination is Hollywood, this is your airport.
Serviced by six airlines (Alaska, American, Delta, JetBlue, Southwest and United), BUR has minimal food options but maximum connection to the world's most famous mouse. With easy transportation to Disneyland (via Amtrak Pacific Surfliner to the Anaheim stations or the Anaheim Resort Transit Route 15 bus) and the only LA area airport connections to Amtrak and Metrolink services, Bob Hope Airport could be the right one for you.
Only 10 miles (20+ minutes) to Hollywood, this domestic-only airport gets you the closest to the lights, camera and action of the big screen. With free wifi, flights to mostly west coast spots (although some airlines, like JetBlue, provide nonstop service to New York's JFK) and the greatest proximity to monster stars, Burbank removes the noise of LAX and replaces it with the sounds of the movies.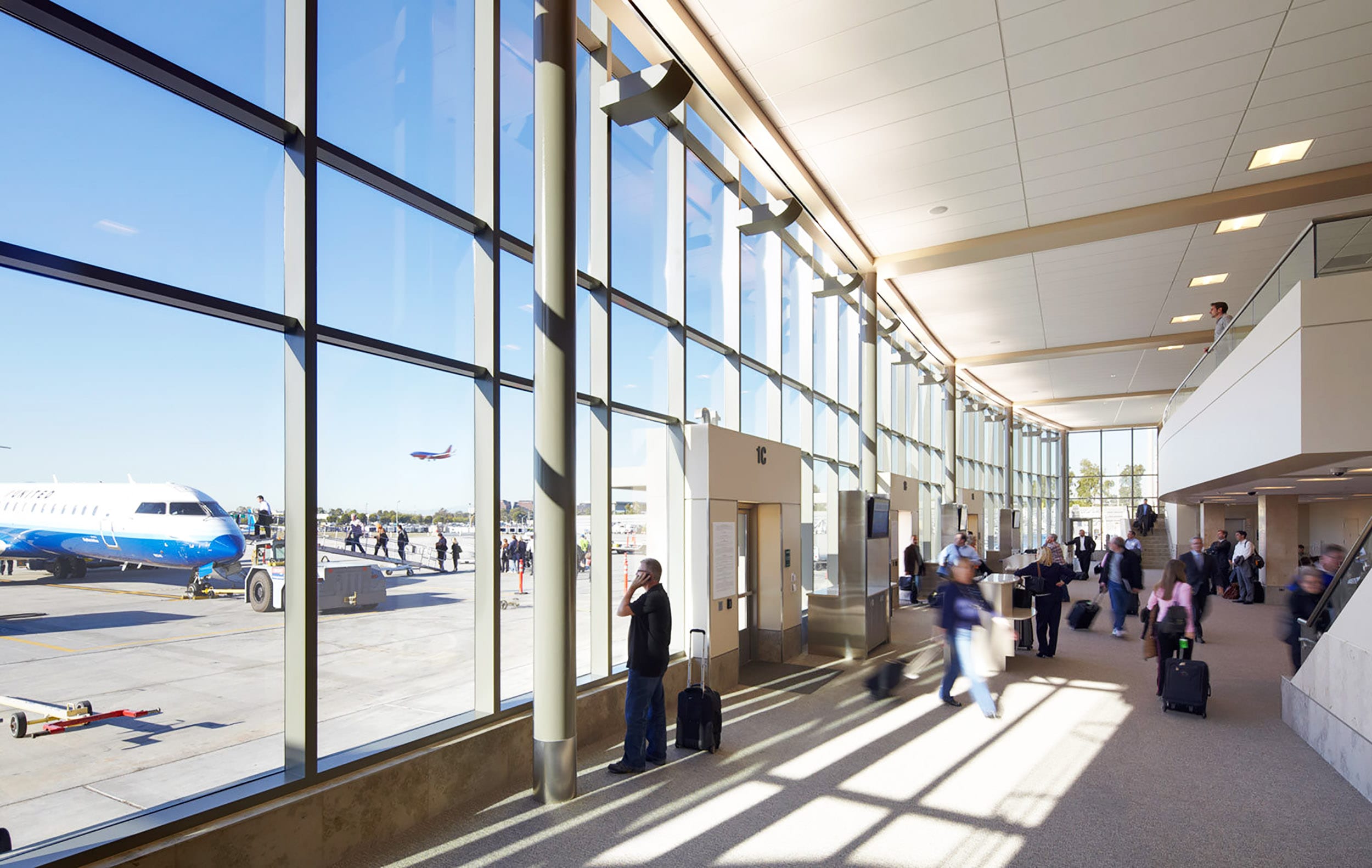 John Wayne Airport, Santa Ana Airport/Orange County Airport (Orange County – SNA)
If your destination is Orange County (Costa Mesa, Irving, Newport/Huntington Beach or Laguna), this is your airport.
Smaller in size, John Wayne Airport ditches the insanity of LAX and trades it for close proximity to the ocean's waves. Located 35 miles south of Los Angeles, this is the closest airport to Disneyland and is the busiest area airport after LAX.
Although there are limited international connections, Orange County Airport has many positive features, including tons of shopping, art exhibits, and comfy lounges. And there are convenient passenger shuttles to hotels around the area of Newport Beach – often considered the 'Hamptons of Hollywood'.
Orange County is serviced by airlines like Southwest, Delta, Alaska, United, American, WestJet and Frontier. Transportation options include the Disneyland Resort Express bus service (available for a nominal fee), public transport options like OCTA busses, IShuttle & Metrolink light rail (via shuttle), and of course taxis and ride shares aplenty. If you're taxiing to Disney, expect to pay upwards of $40.
Another thing to keep in mind, if you have friends further south in San Diego, is that this airport is closer for them to get to than LAX and a quick ride share allows you to meet in the middle for a beach day visit.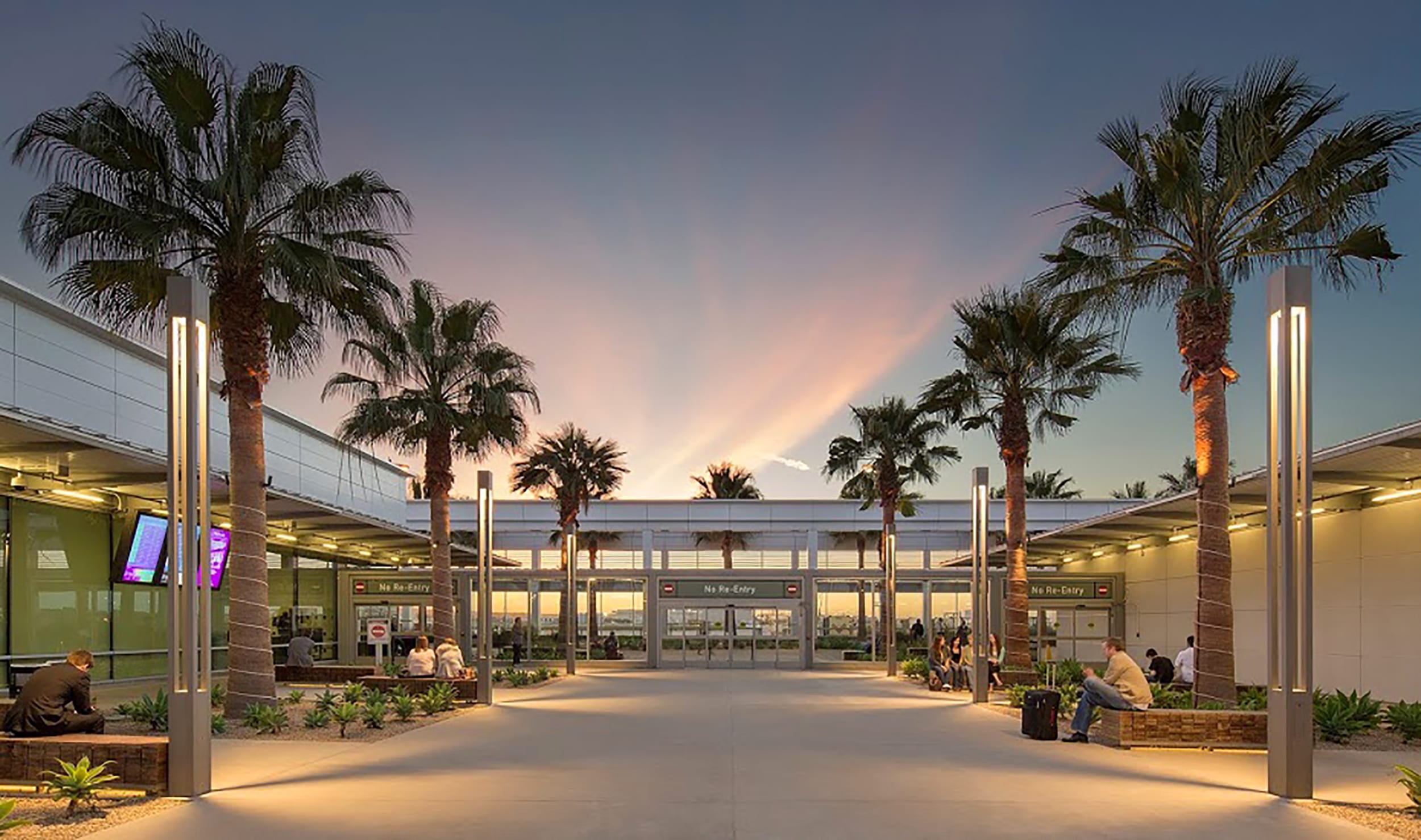 Long Beach Airport (Long Beach – LGB)
Money magazine listed Long Beach Airport among its top 5 airports in the nation for price, quality and time.
This airport has attained accolades as one of the most beautiful in the world and it's open air concourse design is the key to those honors. With a nod to the environment and the livable quality of life on the beach, this smaller airport provides a quality experience with shorter lines, decent food options, to a location not too far from both Knott's Berry Farm (by taxi $37) and Disneyland (by taxi $45).
Located 15 miles from the port of Los Angeles, this domestic only airport is serviced by carriers like American, Delta, JetBlue (flights direct to 13 cities), Southwest and its newest addition, Hawaiian Airlines.
LGB provides easy access to areas in Long Beach, downtown Los Angeles, and northern Orange County, and is an easier, less chaotic option than LAX. As for public transportation options, the services available are only through LB Transit and Metro Rail is accessible via a short taxi ride, but, if you're staying local, it's perfect.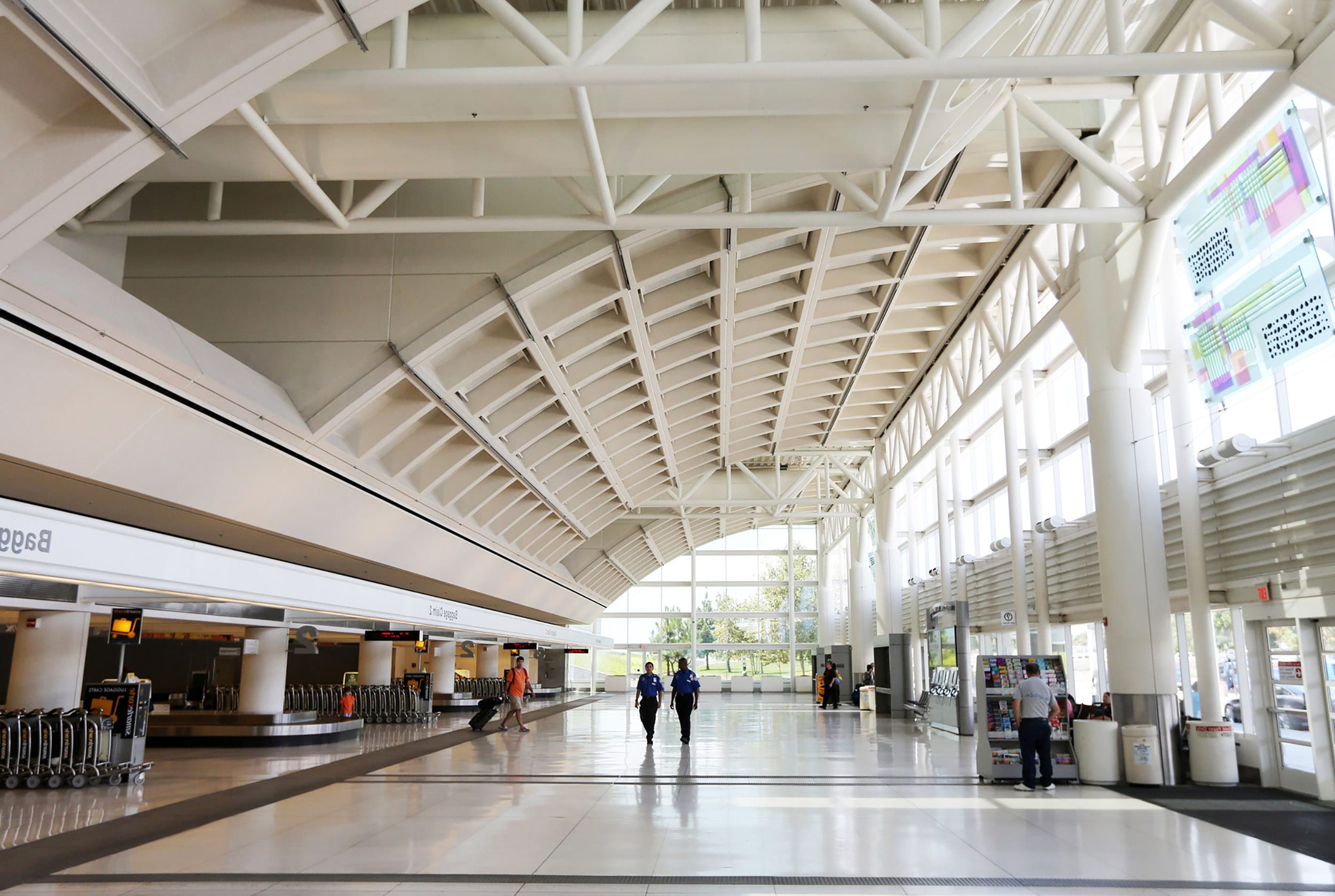 Ontario International Airport (San Bernardino County – ONT)
If you're headed to destinations within San Bernardino or Riverside Counties – this is your airport.
If you're flying in for a long weekend in Big Bear or are looking for another option to get you to Coachella, take a gander at Ontario International Airport. Yes, it's a southern California airport – but this isn't the option for you if your destination is Hollywood or the downtown mecca of Sunset Boulevard.
Offering mostly domestic flights (with a few others to Guadalajara, Mexico, and Taipei, Taiwan on Volaris and China Airlines), this airport is a perfect option for lakeside retreats. Although it doesn't put travelers anywhere near the amusement parks of the coastal region – if you're a race car fan, this is the spot to check out if you're headed to roaring, racing events at the Auto Club Speedway.
ONT's two terminals offer minimal amenities and a few food options. Ontario is a viable option for travelers who are looking for a less expensive flight and are willing to pay necessary travel fees to continue onto their local destination.
Located 46 miles from Hollywood, taxis are available (costly), ride shares are an option (it's harder to get an Uber in this location), and public transport as well as shuttles are available but they often run on specific schedules.
If your travels are taking you to Grauman's Chinese Theater and the lights of Universal Studios, the more westerly airport options will put you closer to your destination; but, if you're staying within the Riverside and San Bernardino regions it's a perfect airport option for you.
Travel Farther – Palm Springs & San Diego
If you fancy a drive along the coast or one that will take you through wind farms and deserts, there are other options out there. While Palm Springs and San Diego are a little further away from the sparkle of downtown Los Angeles, their locations (and free airport wifi) might just fit your needs.
Palm Springs International Airport (Palm Springs – PSP)
Serving as a military hub and providing mostly domestic routes (with a few destinations in Canada), this super small airport sits only five minutes from downtown Palm Springs.
Since many people flock to Palm Springs in the winter, most of the flights are seasonal in nature. Since this is not an airport you're likely to make a connection through, PSP manages the crowds with minimal airport lingering time and offers minimal amenities.
Over 100 miles apart, the journey from Palm Springs to Los Angeles traverses through varied scenery. If you're headed to destinations around Joshua Tree National Park, Palm Springs, Anza-Borrego or even the wine region of Temecula – Palm Springs International Airport might be the right one for you.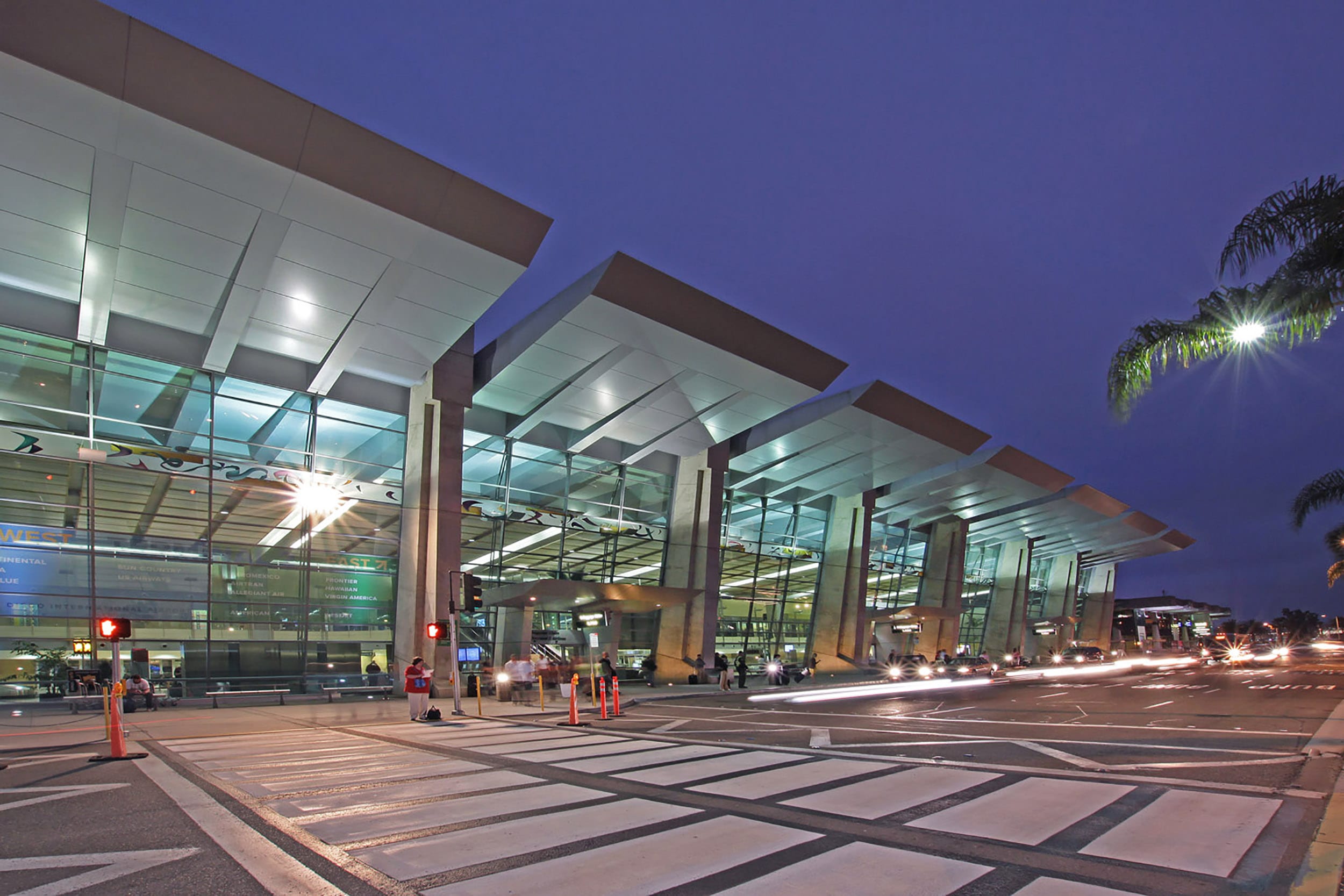 San Diego International Airport (San Diego – SAN)
Only 4 miles west of downtown San Diego, San Diego International Airport is known as one of the most passenger friendly airports in all of southern California.
The busiest single-runway commercial service airport in the nation is located in a town known for beer lovers and fans of fish tacos, surfing fiends, and outdoor enthusiasts; and, it's just over 100 miles from downtown Los Angeles.
With two terminals, plenty of amenities, therapy dogs, and one of the only airports in southern California with 'green concessions' (businesses committed to sustainability), San Diego airport is an excellent southern option.
This airport, in 'America's finest city', fits the bill for your travels if you're headed to San Diego, southern Orange County, or are looking to head further south into Mexico. Hire a rental car or grab a ride share and drive Highway 1/Pacific Coast Highway through the beach towns all the way up to LA. Or, slow travel with your eyes closed on the train (only a short Uber ride from the airport) all the way up north.
TL;DR
California is the 3rd largest state in the US – so there's an obvious need for more than one airport in its southern region. LAX might be the biggest, but is it the best option for your travel needs? Perhaps you're looking for a less expensive option, you like quieter choices, or your destination is actually closer to another airport outside Los Angeles. There are options!
Keep in mind…
Check all area airport options prior purchase
Check with your favored carrier to see where their best routes and least expensive options are for your desired destination
Keep an open mind – not all airports are the same
Check local forum sites to find out actual distances from airport to destination
Check transportation options on the ground – only a few have actual public transport reach
Be up for adventure – a new airport can always become your next favorite
Related Articles
35L: Max Int'l Carry On
Shop Now