The Best Merino Wool Clothing for Travel: Buyer's Guide
The Tortuga Promise
At Tortuga, our mission is to make travel easier. Our advice and recommendations are based on years of travel experience. We only recommend products that we use on our own travels.
Merino wool has been called "nature's performance fabric." A high-quality piece of merino wool clothing has the same—or even superior—benefits of technical apparel but is made from a natural fiber.
We consider merino wool one of the best fabrics for travel clothes because it works well across a range of temperatures, dries quickly, absorbs odors, and feels comfortable against the skin.
If you prefer natural fibers to synthetics, merino wool is a great choice for your travel wardrobe. Here at Tortuga, we've been merino wool fans for years. You'll often find it on our backs and in our bags. When we polled our Instagram followers, 74% said that they wear merino wool when they travel.
You might be wondering what the merino hype is about and whether it's worth its (often high) price point. We'll start this article with more background on wool and why it's great for travel. Then we'll highlight the best merino wool brands and clothing items so that you can avoid the downsides of merino and make sure you're getting good value for your money.
Tortuga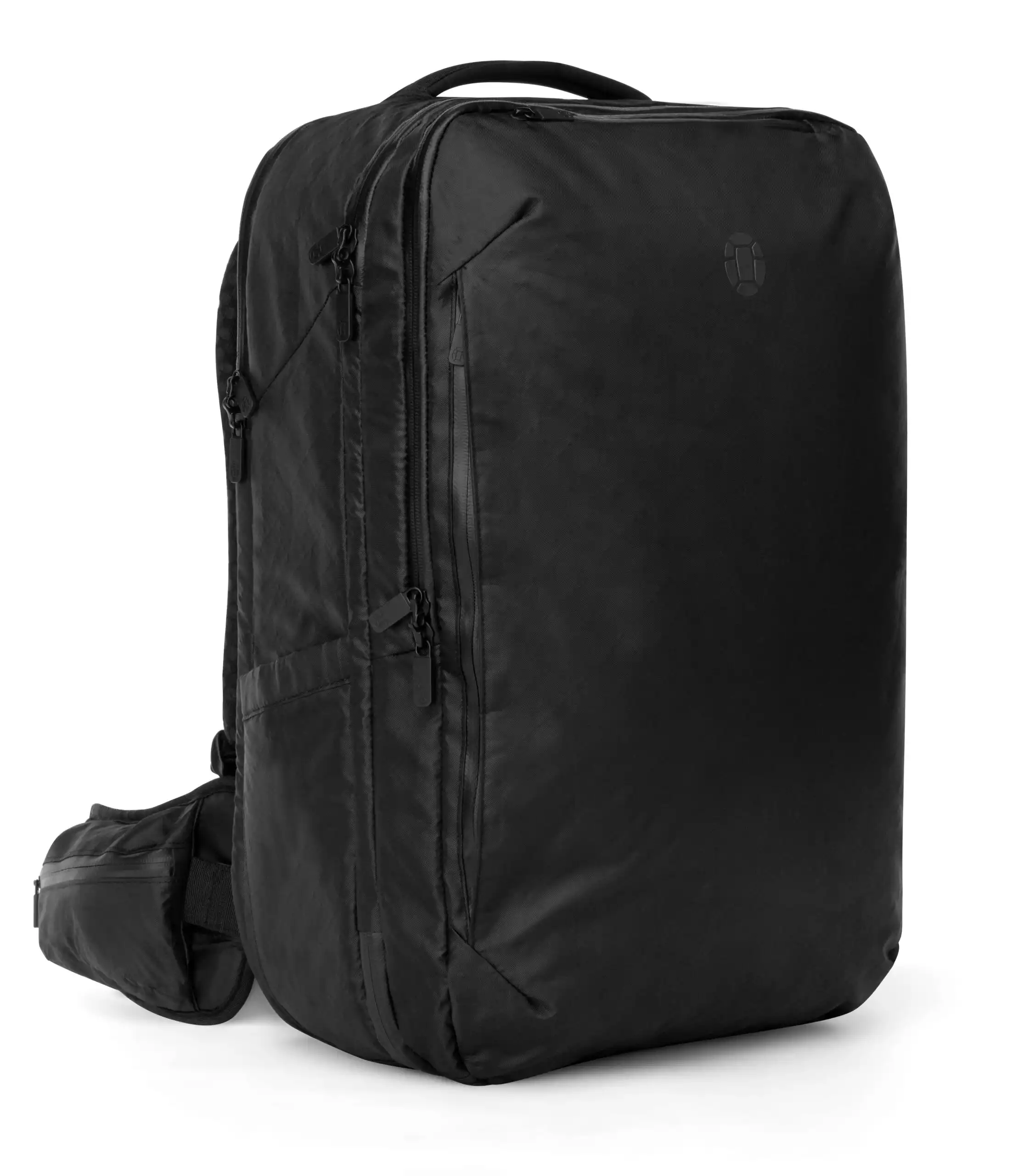 What is Merino Wool?
Where Does Merino Wool Come From?
Merino wool comes from Merino sheep. This breed of sheep originated in Spain in the twelfth century before being brought to Australia in 1797. Today most merino wool comes from sheep in Australia and New Zealand.
Wool is a broad term for any fabric made from the natural fibers that form the fleece of animals. Common types of wool come from a variety of animals, not just sheep. For example, all of the following fabrics are considered wool:
Alpaca (from alpacas)
Angora (from rabbits)
Camel hair (from camels)
Cashmere (from goats)
Mohair (from goats)
Qiviut (from musk oxen)
Vicuña (from vicuñas)
Other types of wool—lambswool, melton, and shetland wool—are all made from sheep's wool.
How is Merino Different from Other Wool?
Since merino wool comes from a specific breed of sheep, it's different from other wool.
Like other types of wool, merino is moisture-wicking, breathable, and adaptable to different temperatures. Across all varieties, wool tends to be warm and water-resistant.
But not all wool is the same. Melton wool is perfect for a thick, heavy peacoat but would make for a terrible t-shirt.
Merino wool fibers make for great shirts because they are much finer than "regular" wool varieties. The finer fibers are made into yarn which is made into a roll of fabric. That final, merino wool fabric is both lighter and softer than other wool.
The diameter of a merino wool fiber is generally less than 22 microns in diameter. One micron is equal to one millionth of a meter. Merino fibers are 22 millionths of a meter across. Luxury, "ultra fine" merino can be as small as 17.5 microns. A human hair, for comparison, is 50-100 microns, up to 6x the diameter of finer merinos.
Merino Wool for Travel
Merino wool is a great travel fabric because it's incredibly versatile. Every attribute that you need on the road happens to be a strength of merino wool.
Merino:
Resists odors
Wicks moisture
Dries (relatively) quickly
Stays comfortable in any temperature
Feels (relatively) soft to the touch
Doesn't wrinkle (much)
Is lightweight and easy to pack
Merino clothing is an investment, but you can easily get your money's worth on a trip. Your merino wool clothes will work across a range of temperatures and will manage moisture well.
You can wear merino multiple times between washes without it stinking. People never believe merino's anti-odor properties. They seem too good to be true.
Mac Bishop, the founder of Wool & Prince, wore the same merino wool button down for 100 days straight, without washing it, to prove how great merino's anti-odor properties are. Now 200+ men and 13 women have completed the same 100 day challenge.
When you do need to wash your wool, just do a quick hand wash in the sink, and let it dry overnight.
When I'm packing for a trip, even trips of a week or more, I never bring more than three pairs of merino wool socks. I know that I'll re-wear each pair at least two to three times and expect to wash them during the trip. You could travel indefinitely with one or two pairs of merino socks if you're willing to go really minimal.
Finally, merino is lightweight and easy to pack. Despite its packability, I never pack my merino shirts because I'm always wearing one as my travel day outfit.
Merino wool is called "nature's performance fabric" because it performs as well as most synthetic fabrics but is natural and sustainable.
Is Merino Wool Quick Dry?
Merino wool is naturally moisture-wicking and dries faster than cotton and other natural fabrics. However, merino won't dry as quickly as synthetics fabrics like polyester.
When traveling, you'll be able to wash your merino clothes at night and have a dry t-shirt or pair of socks by morning.
Merino wool's water-resistance comes from its "scale" structure which gives it a performance advantage over the smoother fibers of cotton, silk, linen, and polyester. The difference in scale between the broad wool and fine wool in the image is the difference between a rough wool sweater and a soft merino wool t-shirt.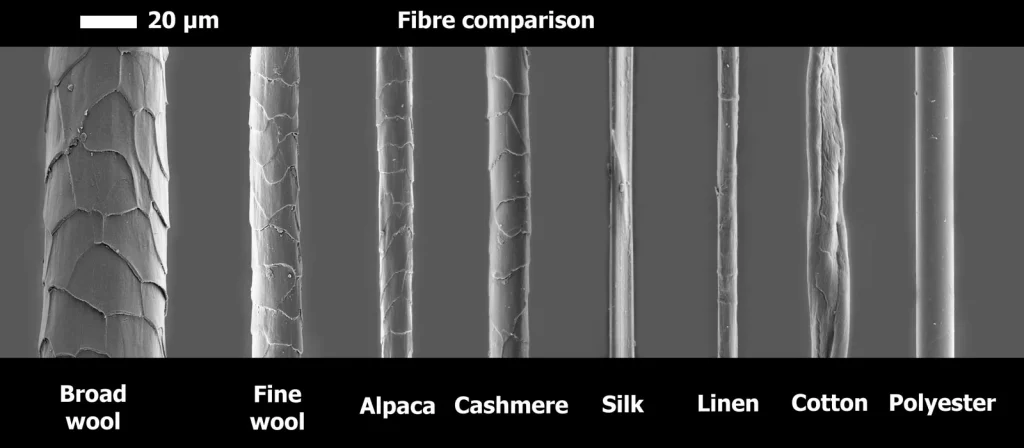 Is Merino Wool Warm?
Yes. Like other wools, merino is naturally temperature regulating.
Merino sheep can withstand temperatures ranging from -20 to +35 °C (-4 to +95° F).
Clothes made from merino wear well across a wide range of temperatures. Merino can be used as a base layer or outer layer in the winter or a t-shirt in the summer. The fabric comes in a range of weights, expressed in grams, so you can choose a heavier version if you need it for cold weather.
Are Merino Wool Clothes a Good Base Layer?
Yes. You can make almost any piece of clothing out of merino, but the fabric's strengths are most apparent in base layers like t-shirts, leggings, and socks.
One of wool's superpowers—merino or otherwise—is that it acts as a cooling, sweat-wicking fabric in hot weather and a warm, heat-retaining fabric in cold weather. Merino is a versatile layer for most climates. Merino, of course, is thinner and less bulky than other wools, making it an excellent option as a base layer for cold weather adventures.
You'll commonly find merino in outdoor clothing, but these qualities also make it ideal for travel. Whether you want clothes that can go days without washing or simply the perfect tee to take with you on a multi-climate trip, merino wool is up for the challenge.
To maximize versatility, look for a "lightweight" top around 170-200 grams. This weight of fabric will be the most versatile for a variety of climates and will be more durable than a featherweight merino layer.
Merino Wool vs Cotton
Merino can't compete with cotton on price. So why would you ever choose merino over cotton? Because merino dries faster, smells better (after wear), and is less wrinkly. Merino is an obvious winner over cotton for travel because it looks and smells great even after wearing it multiple times. Plus, it dries faster when you do wash it.
Merino Wool vs Polyester
Polyester, and other synthetics, were engineered to perform like the best natural fibers, including merino. Polyester dries faster, never wrinkles, and wicks moisture even better than merino. But merino is far superior in odor management. Synthetic fabrics hold on to odors even after a single wear. You can even buy special detergents and treatments for synthetics for this reason. You won't smell bad in merino, but you might stink in synthetics.
Additionally, merino wool is a natural, sustainable material. Merino sheep grow a new coat of wool every year. Polyester and other synthetics are made from petroleum.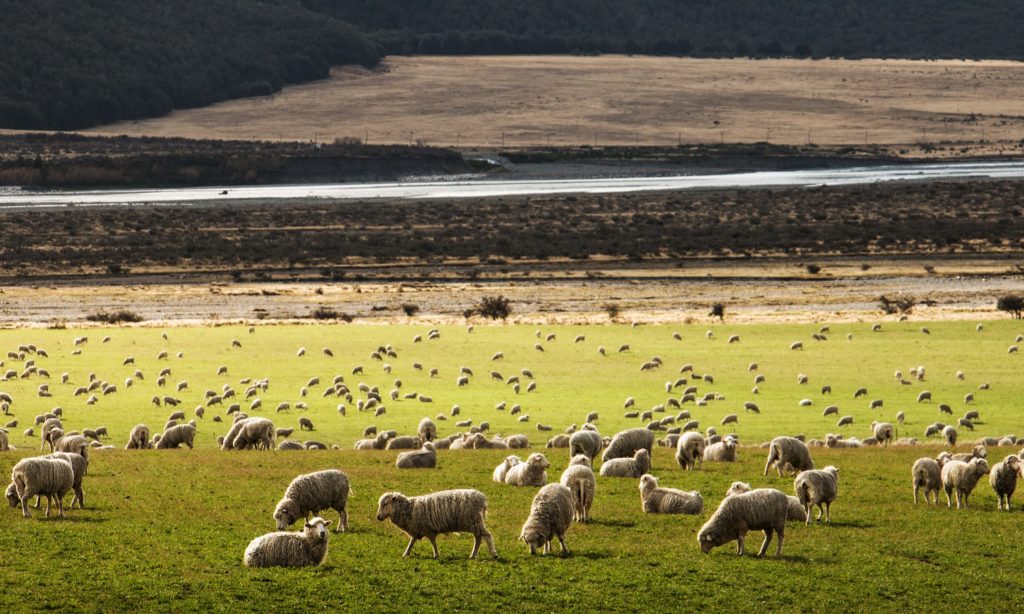 Disadvantages of Merino Wool
Now that we've covered what's so great about merino, let's quickly touch on the downsides of the fabric before discussing our favorite clothing items.
Price
Merino wool isn't cheap. One of our favorite brands, Outlier, sells a merino t-shirt for $120. Yes, one hundred and twenty dollars. Outlier is at the high end of prices, but even cheaper merino tees are $50 or more.
Making a garment with merino wool can use twice as much material compared to conventional wool. The fine fibers of merino require additional layering. We believe that the cost is justified for a natural, sustainable fabric like merino.
Merino wool is an investment. Don't try to replace your entire closet all at once. Add one high-value piece at a time. We'll cover the best quality and value brands below.
Durability
Two attributes justify the cost of "good" merino over cheap merino. The first is hand feel. Finer merino is more expensive but feels softer to the touch. The second is durability. We've tried cheap merino in the past. If you aren't extremely delicate with it, your expensive clothes will be full of holes. Depending on the item, I usually prioritize durability over softness because the former is such a risk with the wrong merino.
Like most fabrics, merino comes in different weights. Clothing made from a lighter weight merino will feel soft and more similar to a slightly coarse cotton jersey t-shirt than a sweater.
Pay for good quality wool or choose a cheaper synthetic. Cheap wool is the worst "value" you can find. You'll pay more and get less than a cheaper poly blend shirt.
Merino wool blends—discussed below—can offset some of the durability issues.
To prolong the lifespan of your wool, take good care of it. We'll cover how to wash merino wool clothing at the end of this article.
Is Merino Wool Itchy?
You might associate "wool" with "itchy" especially if you've ever owned a big, coarse wool sweater.
Merino wool is surprisingly soft for wool. Depending on the brand, your merino clothes will feel more like a cotton t-shirt than the wool sweater that you might be imagining. However, merino isn't as smooth as a slick polyester fabric and can still feel a bit scratchier than cotton.
Natural fibers are a better option for most people. If you're particularly sensitive to merino consider an outer layer for warmth rather than a "next to skin" base layer.
The finer the wool, the softer it will feel. However, finer wool is also less durable. The solution is a midweight wool or a blend.
Merino Wool Blends
Blending fibers can bring out the strengths of each while offsetting the respective weaknesses.
In socks, merino wool is often blended with lycra for elasticity and a snug fit. Clothing companies also blend merino with nylon or polyester for increased durability. A nylon blend is generally more durable but also more expensive than a polyester blend.
Blending in another material can improve merino's performance. For example, by spinning merino around a core of nylon fibers, you'll retain the benefits of having merino next to your skin but with improved durability from the nylon. Don't assume the blended material is just "filler" to cut corners and reduce costs.
Some of the best brands use merino blends to maximize performance. We'll cover those in the next section.
Tortuga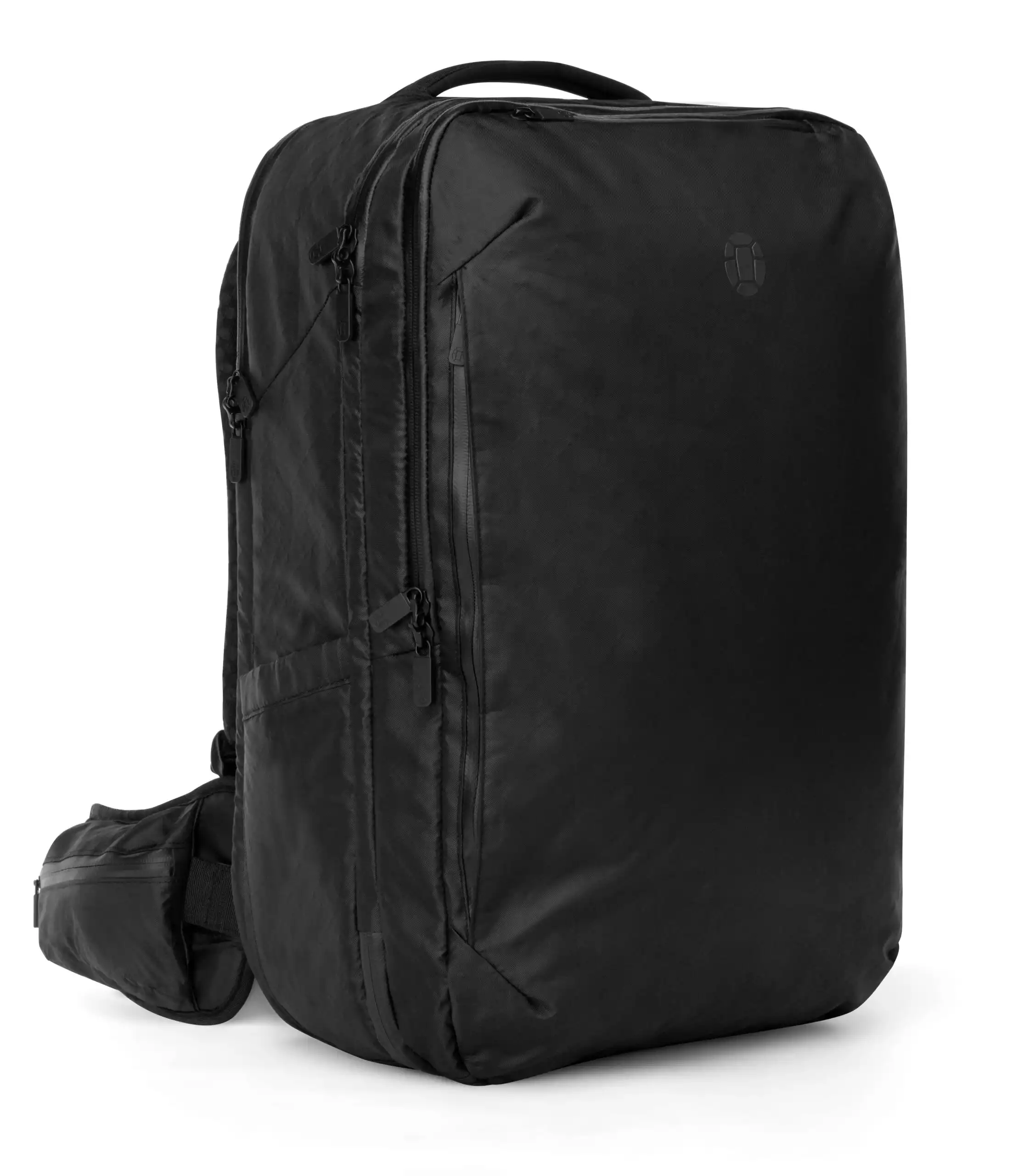 The Best Merino Wool Clothing
Not all merino is created equal. You'll find a mix of 100% merino and merino-wool blends on the market at a wide range of prices and quality. I know because I've tried a lot of brands. I've bought merino socks that lasted me for years. But I've also bought shirts that looked like Swiss cheese after just a few wears.
Sometime in the last few years, the number of merino brands and clothing items has exploded. Many aren't bringing anything new to the market. They've just figured out that you can change a lot of money for basics if they have "merino" in the name. Instead, we prefer to rely on the brands that have been around for years and proven themselves as well as the newer generation of brands bringing original ideas and high tech products to the market.
Merino Wool Socks
If you're new to merino wool, start with socks. That's how I got started.
Wool socks aren't cheap, but you will get good value for your money. The best merino wool socks can last for years.
Socks are a good starting point because you'll quickly see the benefits of merino: warmth and odor resistance. Seriously, smell your socks at the end of the day and see how long you can go before they smell and need washed. Give your socks a quick hand wash in the sink, let them dry overnight, and start the process over again the next day. I always pack socks with the assumption that I'll rewear them two to three times and wash them (on longer trips).
Darn Tough Socks
Darn Tough's Made in the USA, merino blend socks are the best I've found in years of testing. You'll find socks for men and women in a range of heights, underfoot cushioning, and fabric blends.
My preferred socks for fall and winter are the Hiker Micro Crew Midweight Hiking Socks for Men or Women ($24) made of a blend of wool, nylon, and spandex.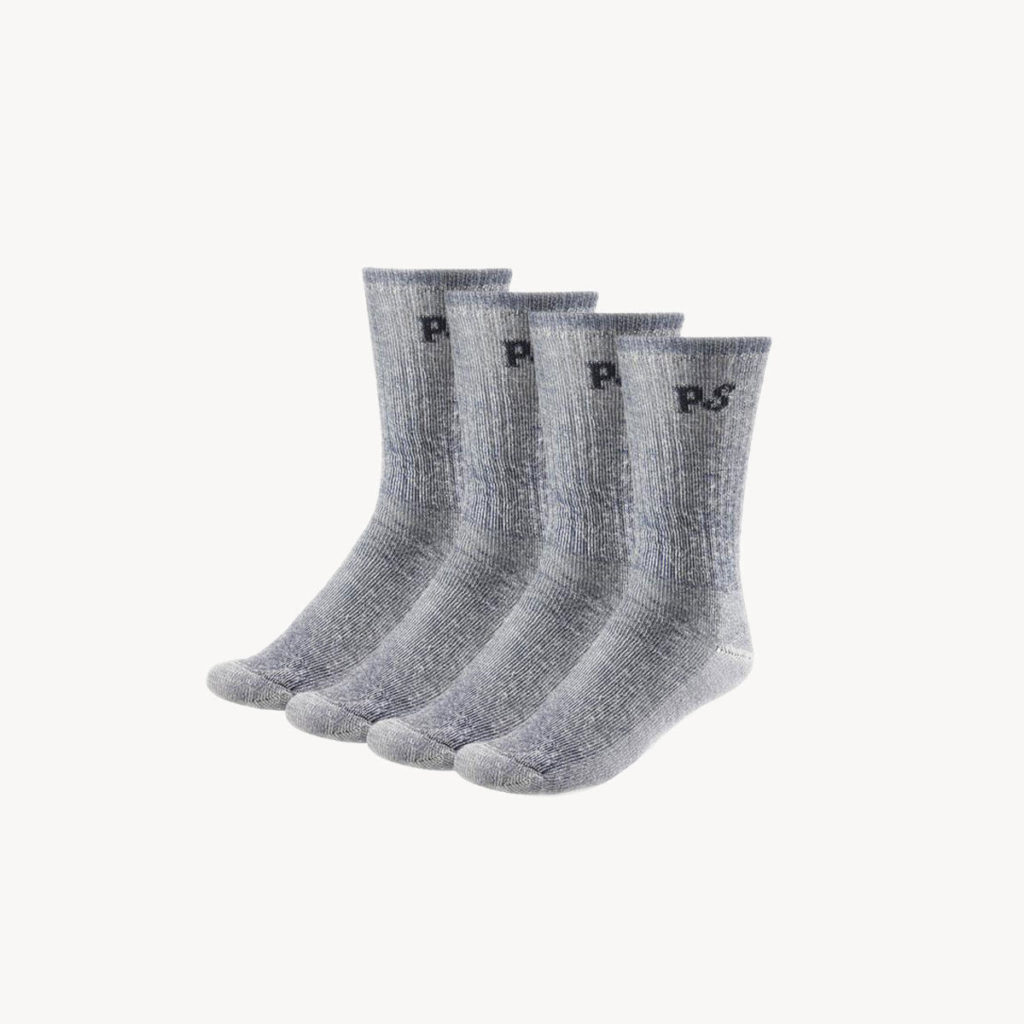 People Socks
People Socks don't have all the features or design options of fancier brands. But they perform about as well, last just as long, and are also made in the USA.
A pair of unisex People Socks will run you about $10, less than half what you'll pay competitors.
Read the full buyer's guide to travel socks.
Merino Wool Base Layers
You can make just about any clothing item out of merino wool. In addition to socks, wearing wool as a base layer is a great way to see the benefits especially when it comes to temperature regulation. You don't need to buy something labeled specifically as a base layer. That's often just a way to get you to spend more money on an ugly shirt.
Instead, buy basics that you can wear alone, in combination, or just as one of multiple layers in cold weather. You should feel just as happy wearing a merino tee on its own as under three layers.
We recommend packing to dress in layers. Wearing merino is a great way to pack less because it can be a warm fabric relative to its weight or thickness.
Merino Wool T-Shirts
After socks, tees should be your next base layer. While I've tested a lot of merino wool socks, I've tried even more t-shirts. Most have quickly snagged and become riddled with holes. The following are the brands that our team has found to stand up to repeat wears.
Men's Merino Wool T-Shirts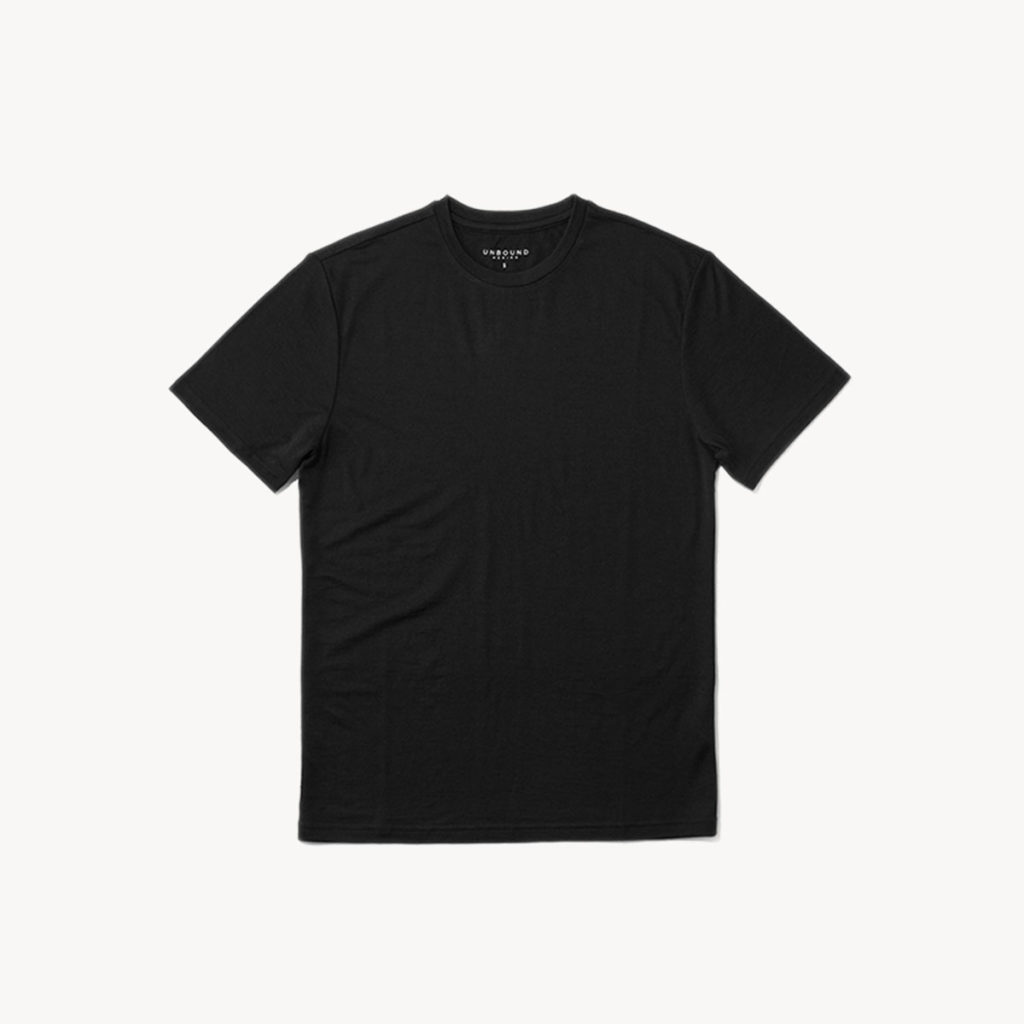 Unbound Merino T-Shirts
Unbound Merino has become my go-to for basics including short ($75) and long sleeve tees ($95). They've held up so far without any holes. As a bonus, they offer a nice stretch despite not including any spandex, which can wear out over time.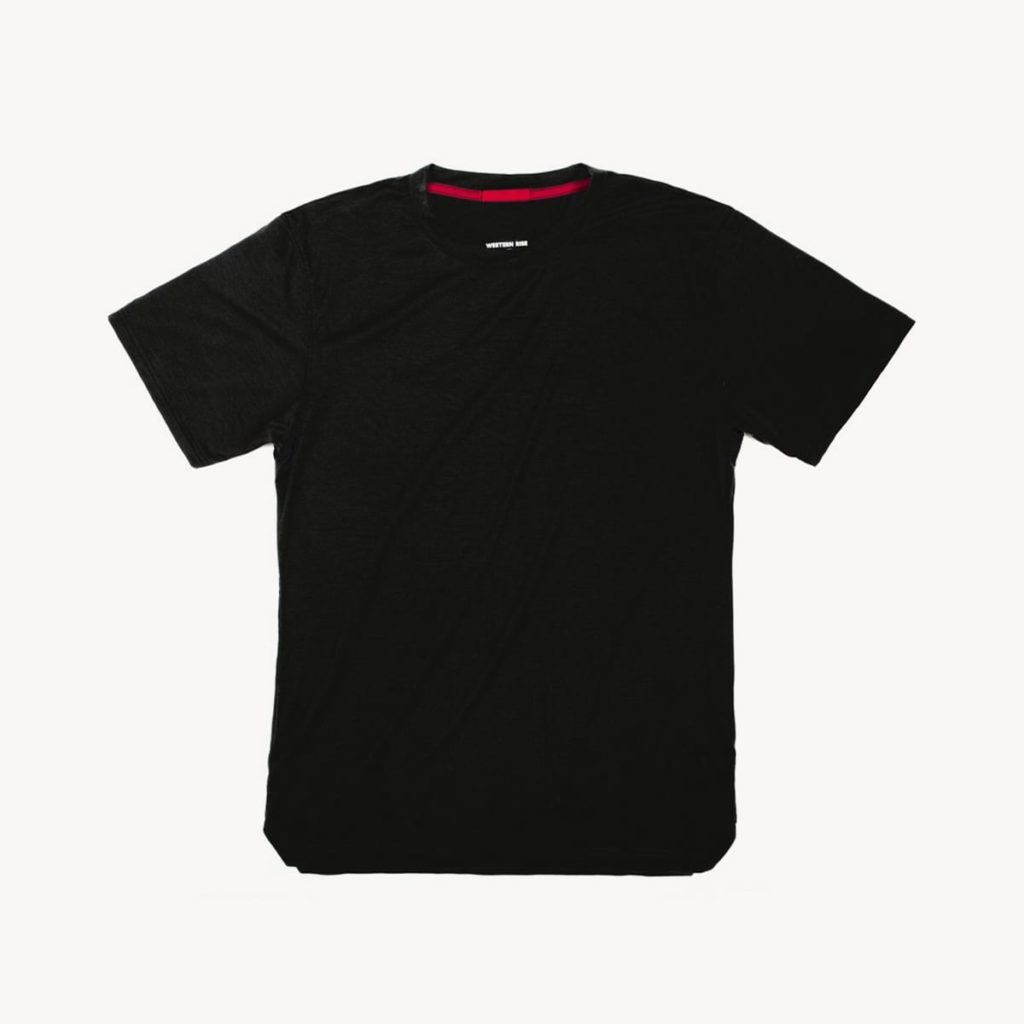 Western Rise StrongCore Merino Tee
Western Rise has some of the best technical fabrics on the market including its StrongCore Merino Jersey which is a "core-spun nylon Merino fiber for increased strength." The blend is made of 89% merino and 11% nylon for durability.
The StrongCore Merino Tee ($96) is the best showcase for this material.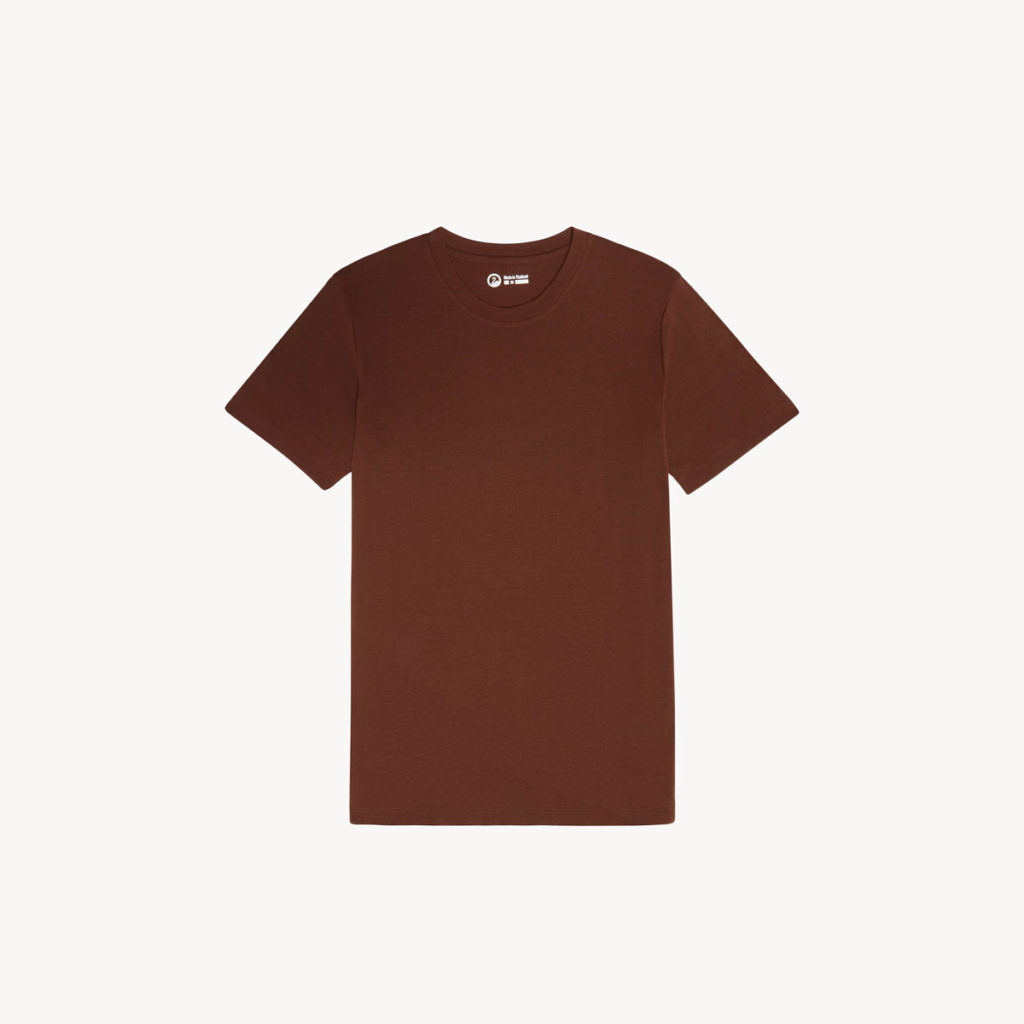 Outlier Ultrafine Merino T-Shirt
Here's the $120 t-shirt that we promised. While their prices are steep, Outlier delivers as a brand. Their Ultrafine Merino T-Shirt is made of 17.5 micron fibers for softness but weighs in at 195 gsm for greater durability and a better drape. Outlier's merino tee is the softest that we've found.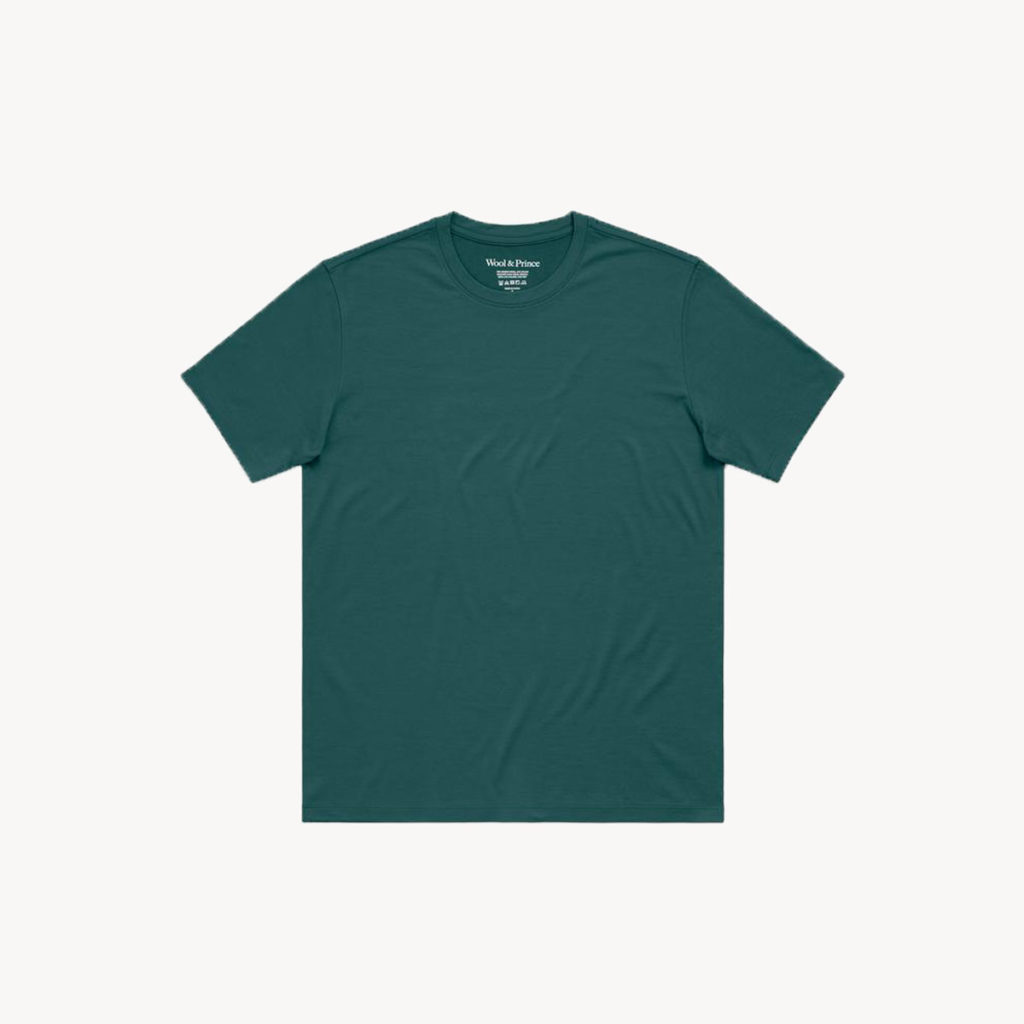 Wool & Prince 78/22 Crew Neck Tee
Wool & Prince sells a handful of tees in different weights and blends. We recommend their most popular: the 78/22 Crew Neck Tee, a 78% merino, 22% nylon blend that uses 17.5 micron fibers to strike the right balance of durability and softness.
Women's Merino Wool T-Shirts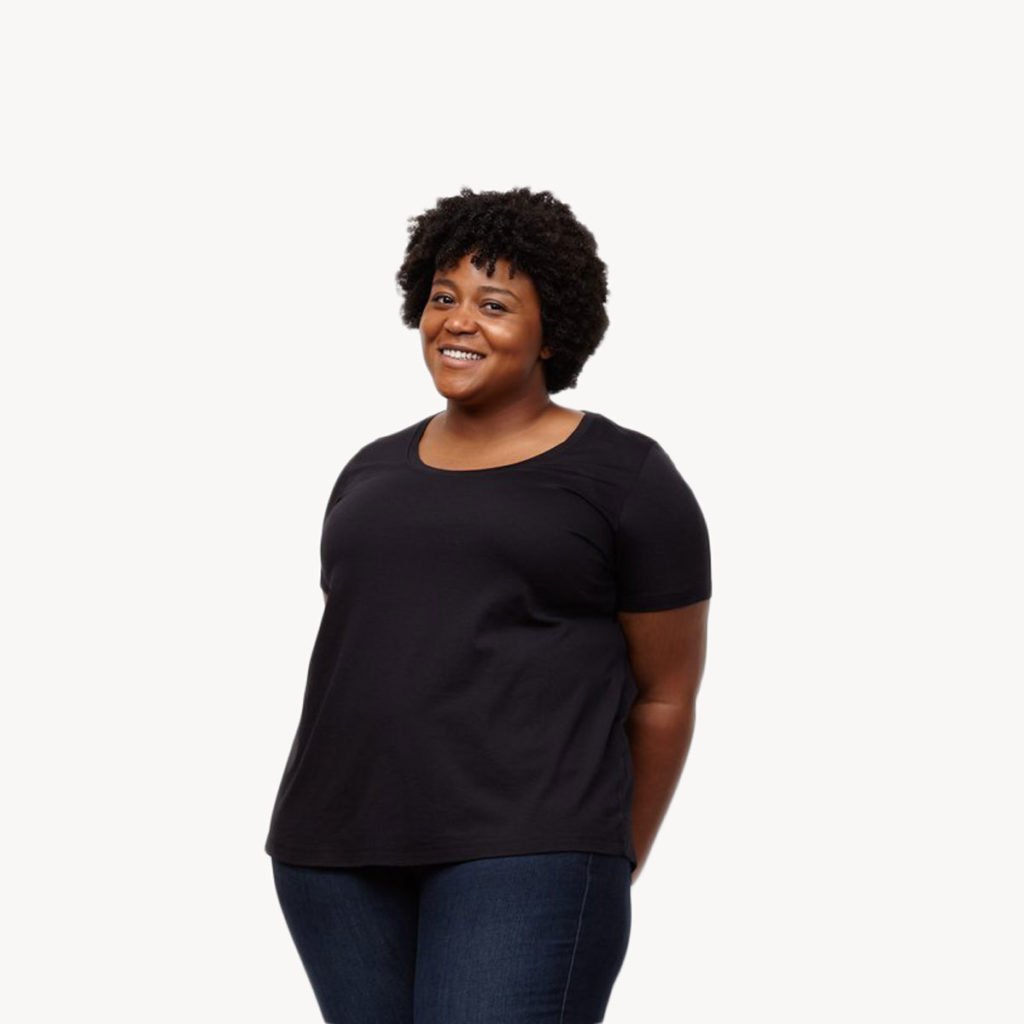 Wool& Stella Scoop Neck Tee
Wool& is the new-ish women's brand from the same people behind the menswear brand Wool & Prince. While Wool& started with a dress, which we'll get to below, they've also launched a basic t-shirt called the Stella Scoop Neck Tee ($78).
Woolly Ultralight Tank Top
Seattle-based Woolly makes high-quality merino clothes more accessible to those on a budget with their affordable basics. Everything is under $100 and some are even under $60.
The Women's Ultralight Tank Top ($40) is an affordable, easy-to-layer basic and a great addition to any warm weather travel wardrobe.
Read the full buyer's guide to travel t-shirts.
Merino Wool Leggings
Like a good t-shirt, leggings can be worn alone or as a base layer depending on the weather.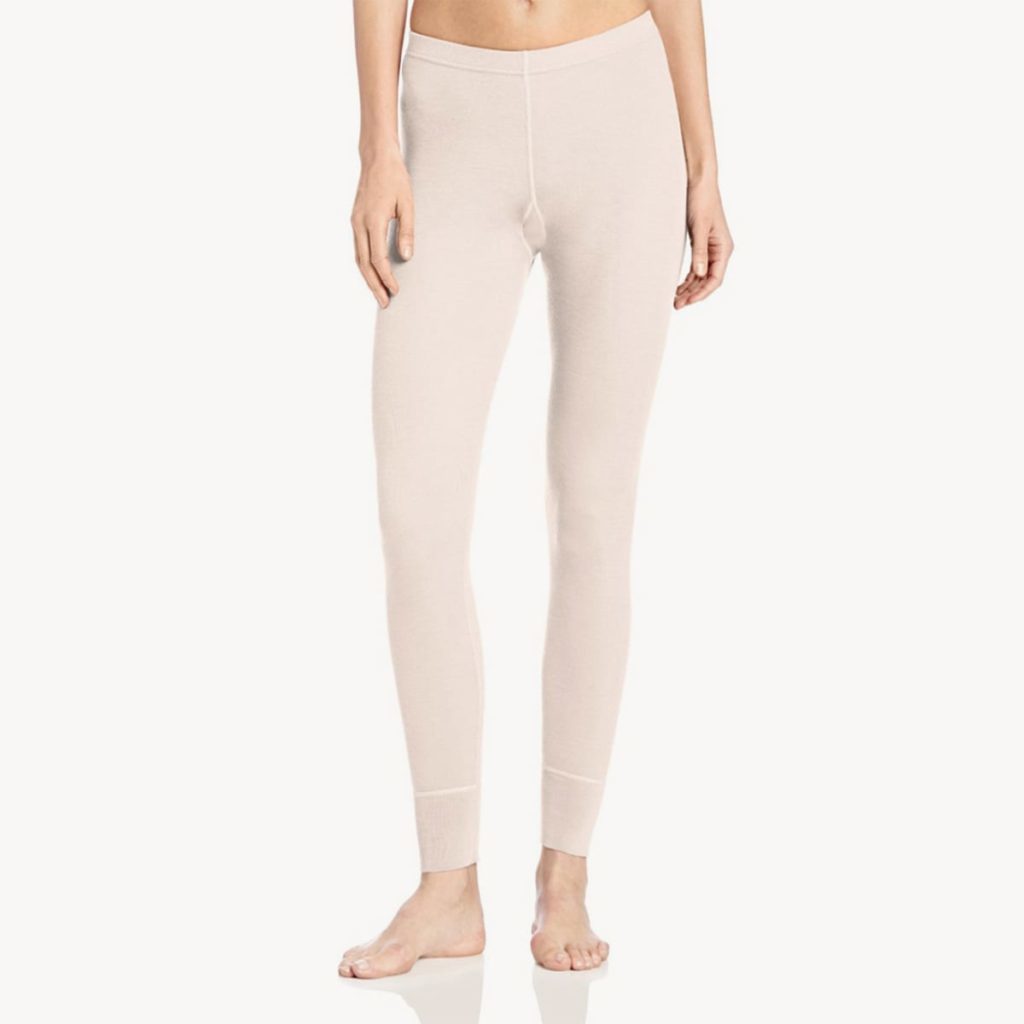 Minus33 Fanconia Women's Bottom
All of Minus33's outdoor-ready lines are sturdy, well-made, and fit well. The Midweight Franconia Women's Bottom ($75) are 100% merino wool with a fabric weight of 235 grams, which means they'll keep you warm on your cold weather travels.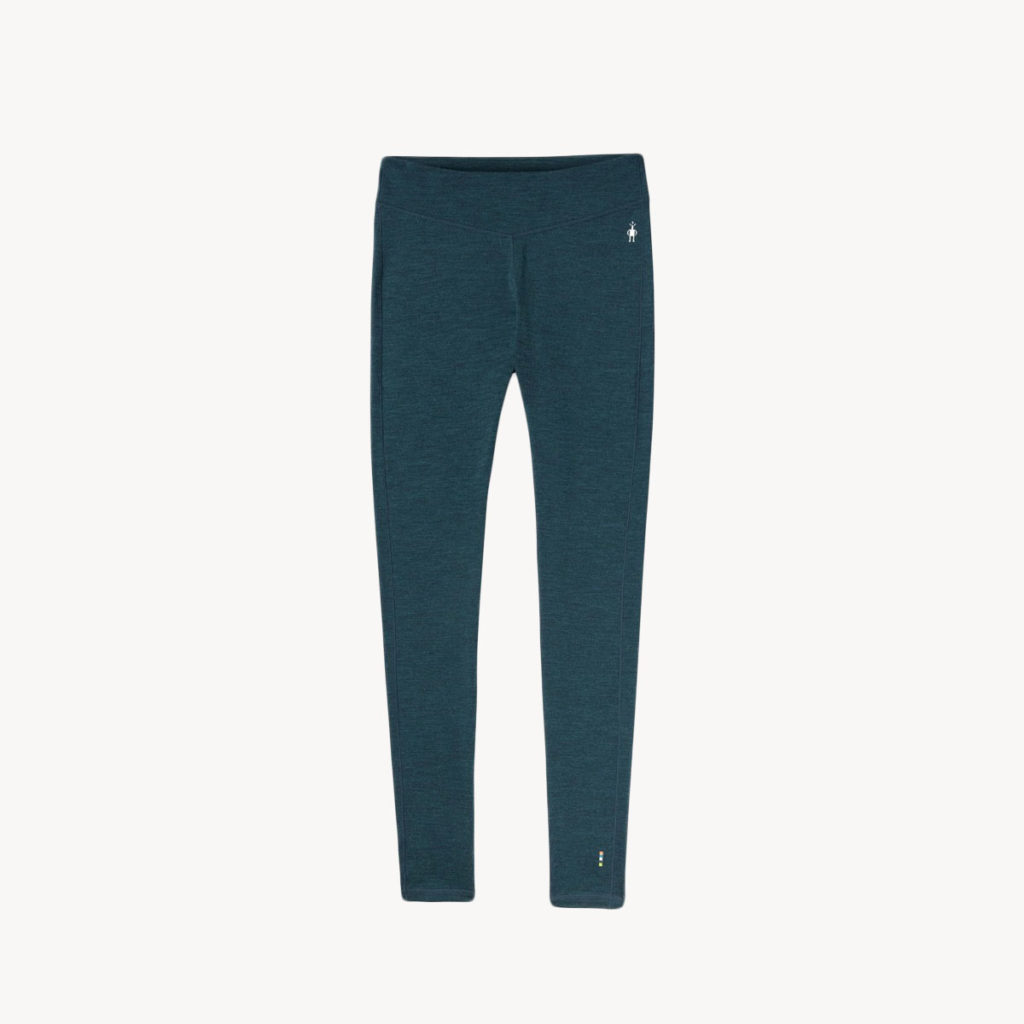 Smartwool Women's 250 Bottom
For a heavier weight option, try the Smartwool Women's Merino 250 Base Layer Bottom ($100).
Smartwool is one of the classic merino wool brands, so you can trust them. Their Merino 250 fabric "offers breathable warmth, moves sweat away from the body, and provides next-to-skin comfort in colder conditions."
Read the full buyer's guide to travel leggings.
Merino Wool Underwear
Yes, people wear wool underwear. If you're willing to try it, here are two boxer briefs for men to consider.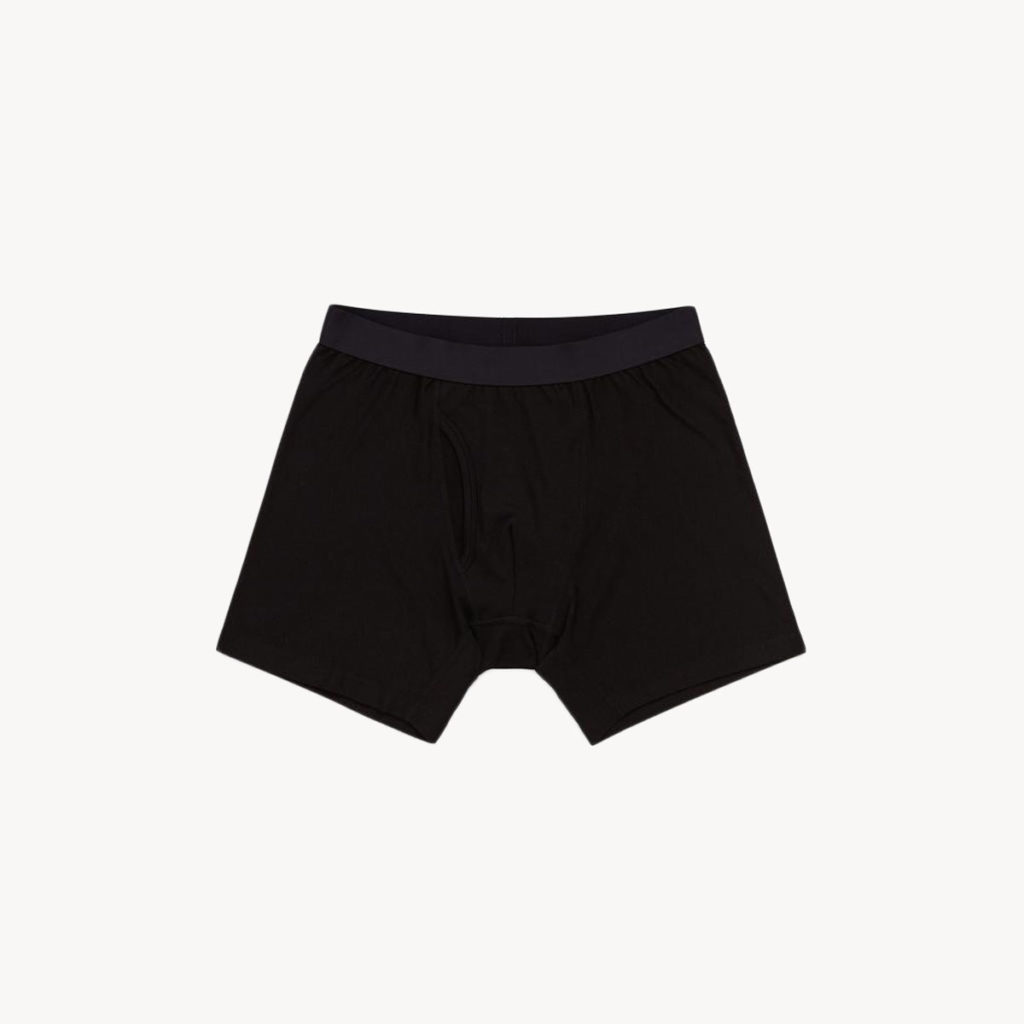 Wool & Prince Boxer Briefs
Developed with our friend and gear expert Eytan of Snark Nomad, Wool & Prince's Boxer Briefs ($42) feature nylon for durability and spandex for stretch.
Most notably, they're designed to stretch with your legs so that they never bunch up.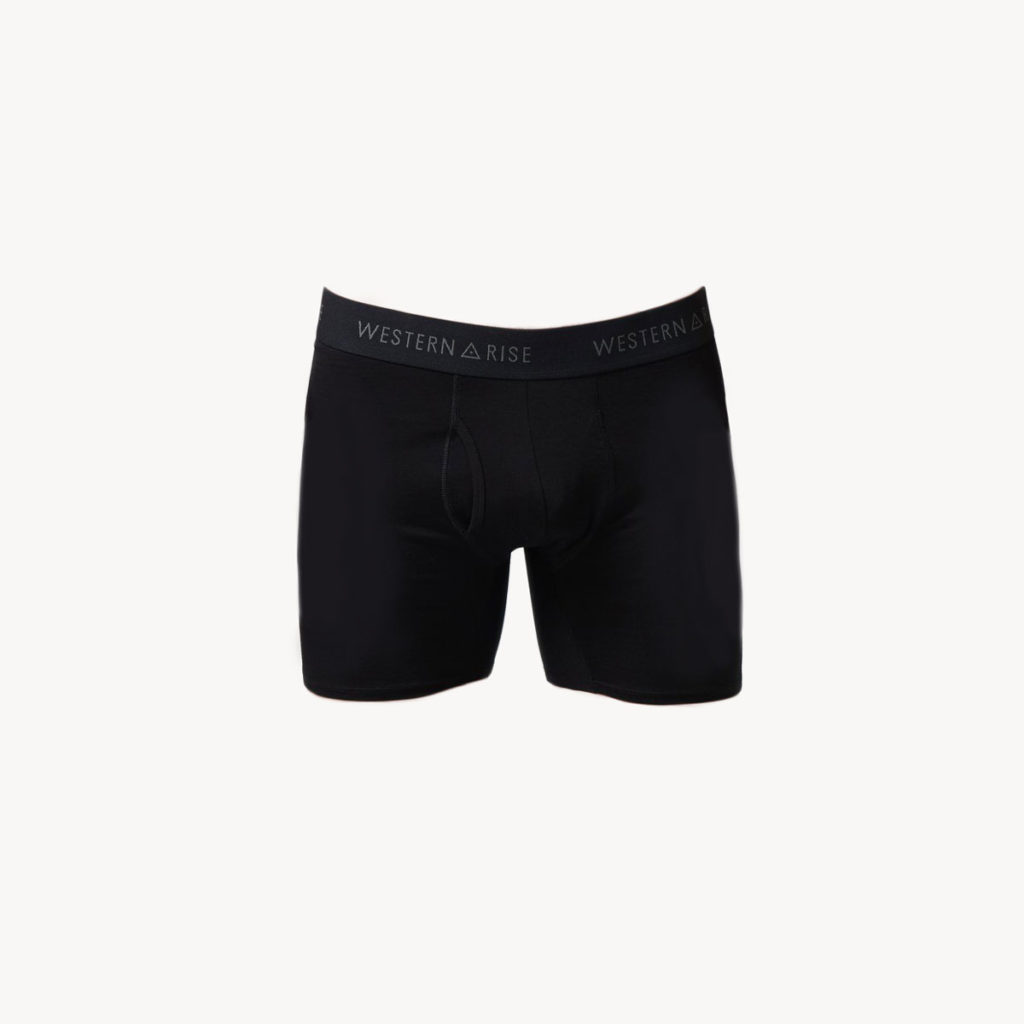 Western Rise StrongCore Merino Boxer Briefs
Western Rise also uses their StrongCore fabric in Boxer Briefs ($58). These underwear are a blend of merino wool, nylon, and elastane.
Read the full buyer's guide to travel underwear.
Merino Wool Hoodies
Hoodies are a perfect in-flight layer. They'll keep you warm and have useful pockets. A stylish hoodie will also double as your outer layer when you're at your destination. Upgrading to a merino wool hoodie will give a you good reason to finally stop wearing your ratty old college hoodie.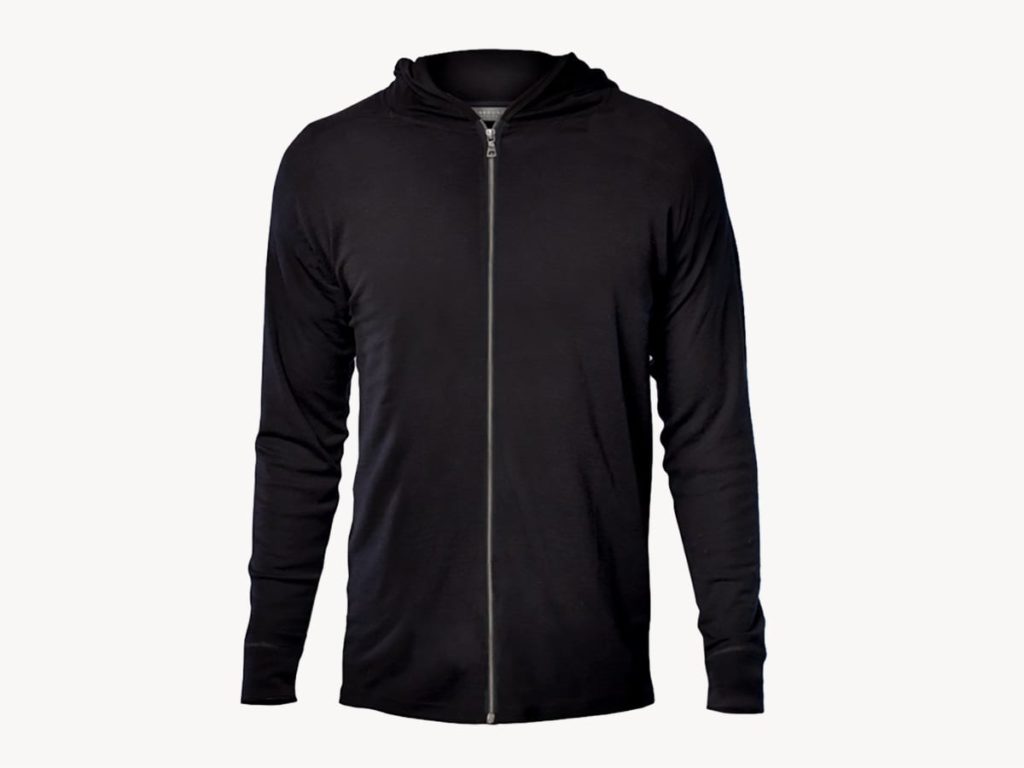 Unbound Merino Compact Travel Hoodie
The Unbound Compact Travel Hoodie ($165) packs down to the size of a t-shirt and can last for weeks without needing a wash.
A great travel hoodie isn't about tons of pockets and a bunch of gimmicky features (like some crowdfunded hoodies). The ideal travel hoodie packs down small, keeps you warm, and can last for weeks on the road. Superfine merino is even wrinkle-resistant, so you'll look great even when stepping off an eight-hour flight.
Performance is key for long-haul travelers who go on extended trips across multiple climates.
Read the full buyer's guide to travel hoodies.
Merino Wool Shirts
Most merino wool brands focus on basics like socks and tees. But high-quality wool has been used for years in dress clothes too. The best men's suits are made of wool, of course.
Now there's a new generation of technical apparel companies making wool button down shirts and dresses for work or casual wear.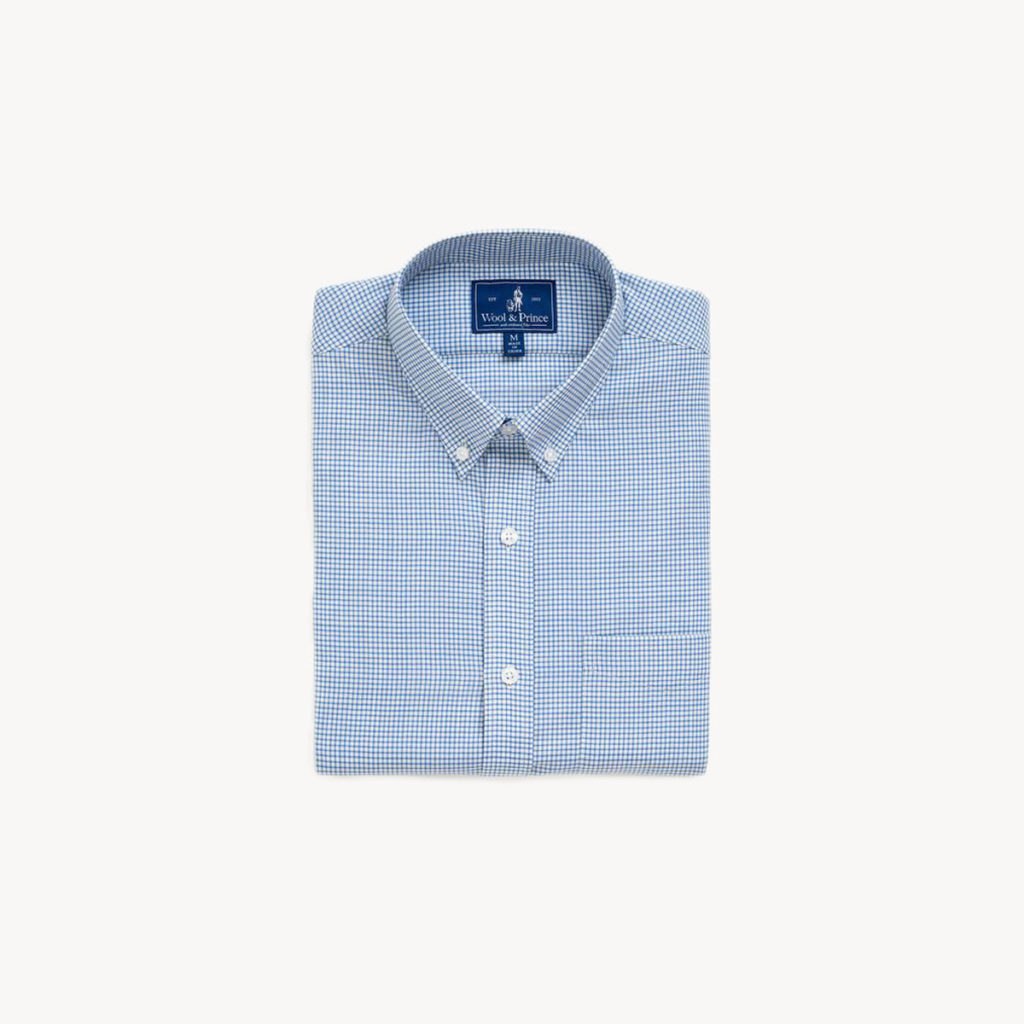 Wool & Prince Button-Down Shirts
Wool & Prince's Button-Down Shirts ($128-148) are my favorite merino dress shirts. They come in different weights, colors, and patterns depending on your style. The W&P button downs are perfect for work trips or weddings because they look good, smell great, and won't wrinkle, even if you're pulling one out of your backpack.
For summer, try their wool, linen blend shirts ($118-128).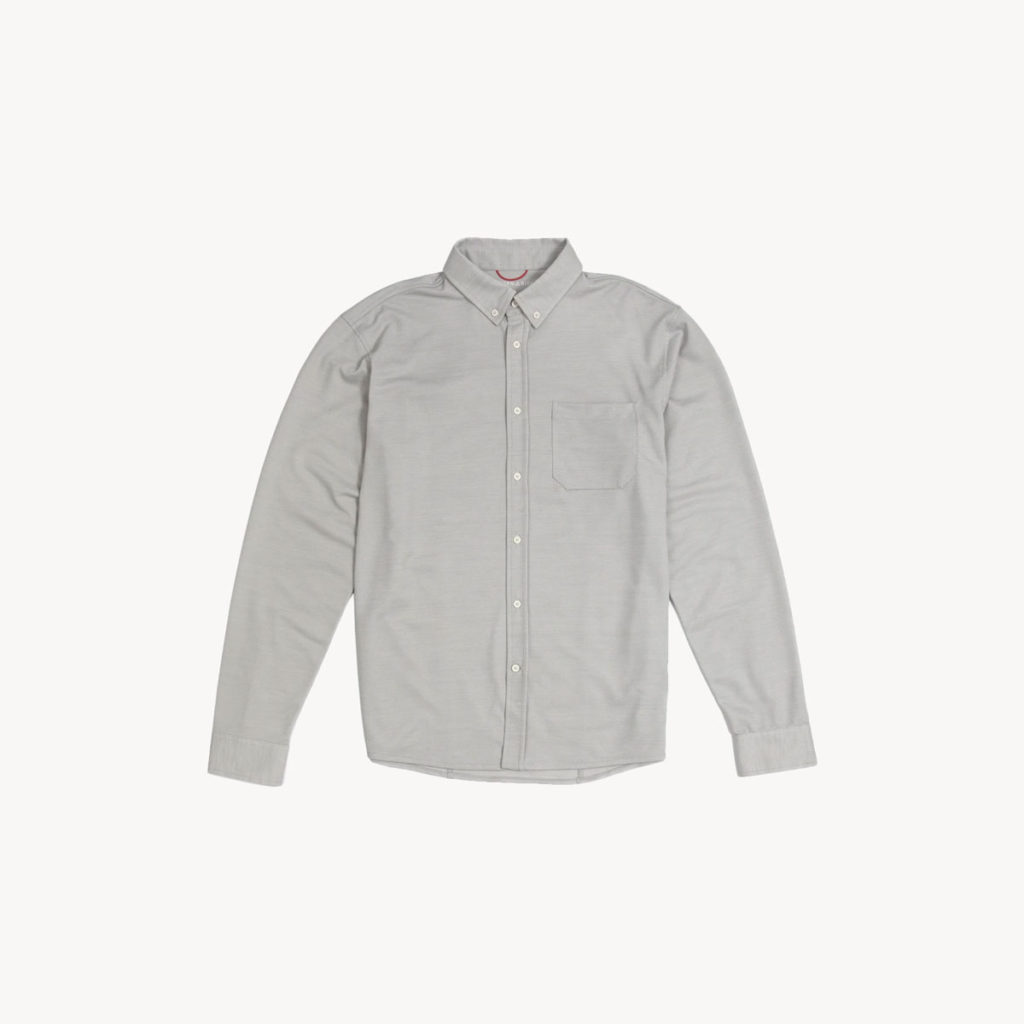 Western Rise Limitless Merino Button-Down
For something a bit more technical, Western Rise's Limitless Merino Button-Down ($129) blends 53% merino wool with 47% polyester for easy care and a four-way stretch.
I've found a bit of stretch to be handy in a dress shirt. When your shirt is tucked in, you'll have the full range of motion without having to worry about your shirt pulling up and either blousing out or becoming untucked.
Merino Wool Dresses
Wool& Rowena Swing Dress
Wool& is the sister brand to Wool & Prince which we already highlighted in the t-shirt section above. But Wool& started with a single product: the wear-it-anywhere Rowena Swing Dress ($138). You can dress it up or down and yes, it has pockets.
For button down shirts, visit the women's section of Wool & Prince.
Read the full buyer's guide to travel dresses.
Tortuga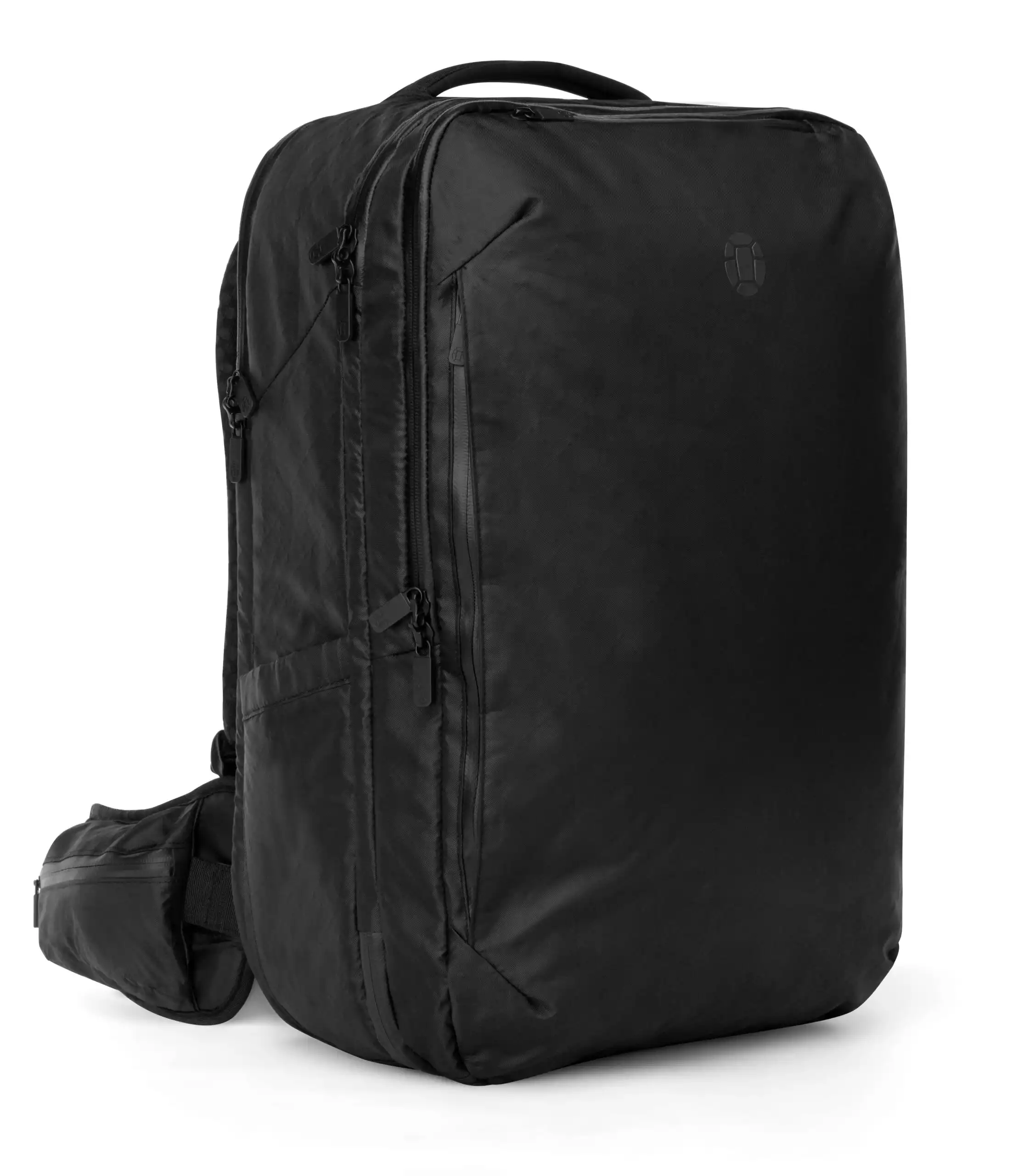 Merino Wool Brands
Now that we've covered our product picks, let's talk brands.
Our Instagram followers' favorite merino wool brands, in order of votes, were:
The following brands also received at least one vote:
We also recommend:
How to Wash Merino Wool
Check the care instructions on your garment first. The brands and products above are a mix of 100% merino wool and merino wool blends that are up to half polyester or nylon.
Treat merino gently. Even high-quality merino can be more delicate than synthetics or cotton. When merino is blended with polyester or nylon, the result is more durable and, therefore, easier to care for. But, in either case, you spent a lot of money on the clothes. Don't overwash them and, when you do wash them, do so gently.
Wash your merino wool in cold water or use the delicates setting on your machine.
Lay your clothes flat to dry. A short tumble dry, especially on low or no heat, can help work out some wrinkles. But don't leave your clothes in for long. Better to have to iron them than to have to replace them. On the road, hanging a merino piece near a steaming shower quickly gets out any wrinkles.
Fortunately, this level of care lends itself well to traveling. Hand washing merino will help to preserve it.
Do not send your expensive merino wool clothes to the wash and fold. Be careful laundering it in an industrial washing machine if you can't control the temperature and time on the machine.
When caring for merino, less is more.
Is Merino Wool Worth It?
Yes. I consider myself a minimalist and am always on the hunt for the best performing clothes, especially for my travel wardrobe.
I want to pack as little as possible in my backpack while still looking and feeling good. I want to re-wear clothes without looking like I'm re-wearing clothes. I want to carry less than everyone else while still dressing better than everyone else.
Merino wool clothing is one way to do that. Treat your merino as an investment. Save up. Buy the good stuff.
Related Articles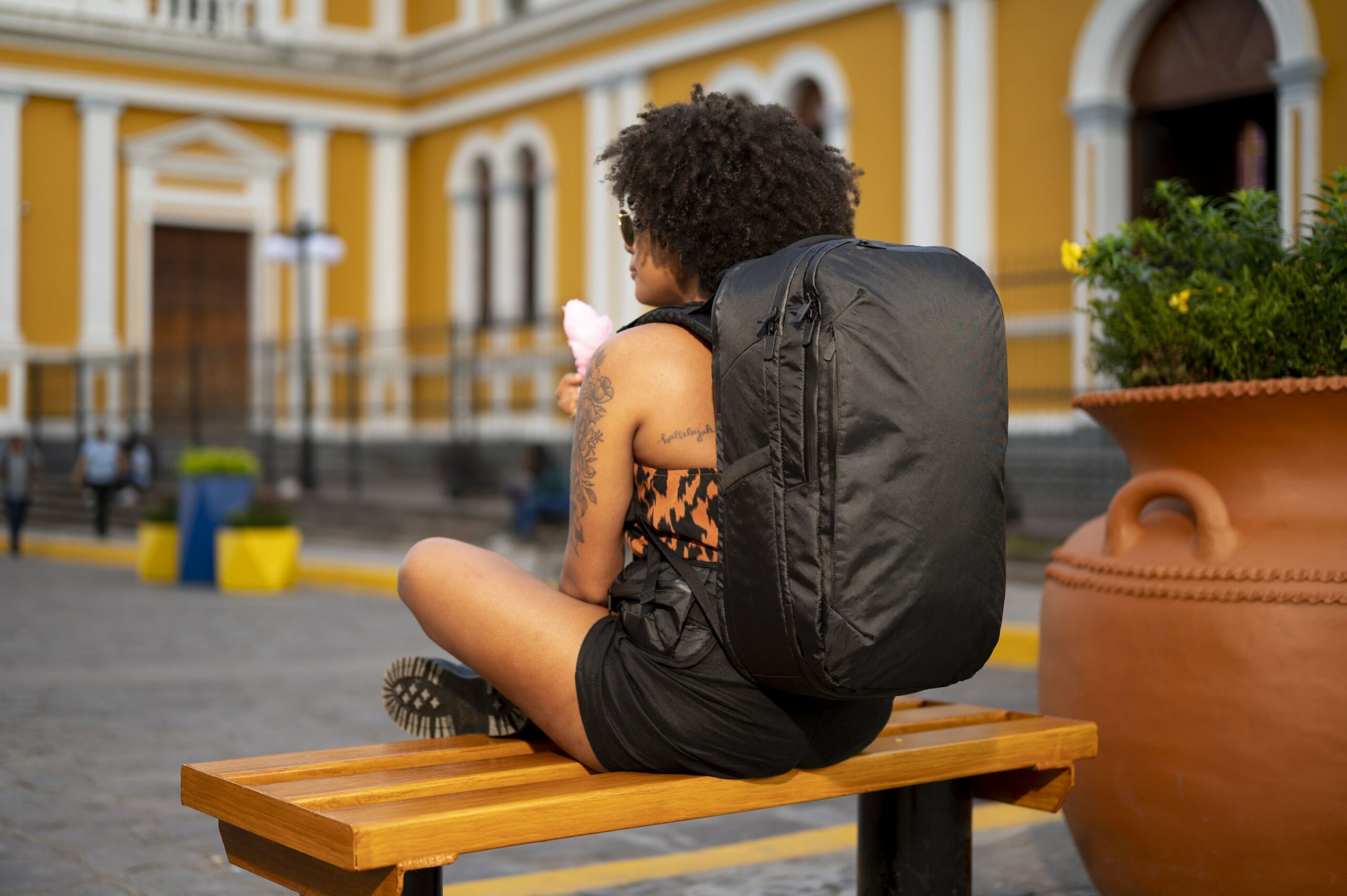 40L: Max International Carry On
Shop Now