Minaal Carry On vs Tortuga Travel Backpack
The Tortuga Promise
At Tortuga, our mission is to make travel easier. Our advice and recommendations are based on years of travel experience. We only recommend products that we use on our own travels.
Giving Space Back to Airlines
Airlines are very stingy with their carry on luggage space. Guidelines vary, but most airlines allow bags up to 45 linear inches (length + width + height). That size typically breaks down to 22 x 14 x 9." A bag that size will hold 45 liters of gear, with the right design.
However, The Minaal Carry On only holds 35 liters. Its design comes close to the maximum dimensions for a carry-on backpack, but is 1″ too shallow. The result is that it only holds 35L. The Minaal Carry On uses just 78% of the space allowed by the airlines, sacrificing more than 20% of the capacity you'd get with a Tortuga Tortuga Travel Backpack.
Why? Because of the "curse of curves." OneBag.com describes how two similarly-sized bags can have very different carrying capacities.
The Tortuga Travel Backpack has roughly the same dimensions as the Minaal but holds more stuff (40L). Although it's not a perfect rectangle, the Travel Backpack carry on backpack is closer to this ideal so that you can pack more stuff.
Of course, bigger isn't always better. But using the full carry on space that the airlines allow is simply good logic. If you don't need that much space, compress the Tortuga Travel Backpack using the side straps down to the size of a Minaal. Tortuga gives you the option of maximizing your carrying capacity and picking up some souvenirs on the road.
With the Tortuga Travel Backpack, you can pack as much stuff as you need without having to pay airline baggage fees. Making it the perfect combination of size and cost.
All Weight is On Your Shoulders
Regardless of how large your backpack is, it will feel heavy with only traditional shoulder straps. Fifteen to twenty pounds of gear can weigh heavily on your shoulders before walking very far.
The solution is to use a hip belt like the ones on hiking backpacks. Hip belts prevent shoulder, neck, and back pain, all of which must be avoided when traveling.
A good hip belt will transfer 80% of your pack's weight from your shoulders to your hips. From there, your powerful leg muscles can do the work, while sparing your weaker shoulder muscles. You'll instantly notice the difference in how heavy your pack feels when you tighten the hip belt. Just like magic.
With a properly fitted hip belt, your bag will go from dead weight on your shoulders to feeling like an extension of your body.
Minaal gives you the option of purchasing an additional "removable webbing hip stabiliser strap." This strap will hold your bag close to your body but won't take any weight off of your shoulders. As Carryology says, "The waist strap is … for stability only, as there is not enough back panel structure or enough waist-strap padding to support much load on your hips."
The weight-bearing hip belt did practically nothing aside from hold the bag closer to your body. They say that the weight distribution is great but I'm telling you after an hour of having my bag on, I just wanted to take it off because it hurt either my hips or my shoulders.
-Reddit user
The Tortuga Travel Backpack travel backpack has a heavily padded hip belt to make your load as light as possible. Brandon from the Yoga Nomads said:
The Tortuga's hip belt has the best padding I've seen in this class of backpacks.
Unlinke Tortuga's hip belt, Minaal charges extra for their hip strap. Minaal's costs $39 in addition to the bag, bringing your total cost to $338.
Excessive baggage fees were a big motivator for us to create the carry on-sized Tortuga Travel Backpack. Tortuga doesn't have any hidden fees for something as necessary as a good hip belt.
Checkpoint Unfriendly
The TSA allows travelers to leave their laptops inside their bags through security if the bag is designed with a separate, lie-flat laptop compartment. If you're carrying a Travel Backpack from Tortuga, you'll be able to breeze through security like the pro traveler you are by leaving your laptop inside your bag.
The Minaal Carry On doesn't have a lie-flat laptop compartment. Their customers still have to take their laptops out of their backpacks in a security line.
Fabric
Most backpacks use a high-denier nylon, which means a fabric with lots of threads woven tightly together. Minaal is no exception.
The Tortuga Travel Backpack takes it a step further. Instead of using one layer of tightly-woven fabric, we use four specialized layers of waterproof sailcloth for optimal performance.
Sailcloth is the most expensive fabric we considered for the Travel Backpack, and yet our backpack is still priced below Minaal's.
Read more about why sailcloth is a better fabric.
Organization
Minaal claims their internal pockets "hold, like, waaay more of your stuff." That's a little vague, especially considering the Tortuga Travel Backpack holds even more. Additionally, as Carryology says, "Unfortunately this primary zone is a little underwhelming, as there's no structure, and no load stabilization straps, so you'll need to use packing cubes or deal with tumbling contents."
With the Tortuga Travel Backpack, you really can bring everything you need without checking a bag. And keep it organized.
The Tortuga Travel Backpack is fitted with pockets for everything you travel with, so that you can stay organized in the airport and at your destination.
Which Bag is Right For You?
This is a decision for you to make. Minaal has made a nice-looking product. Seeing other companies making quality backpacks is a huge motivator for us.
We designed the Tortuga Travel Backpack for people who want to travel, even on long trips, without checking a bag. Throughout our travels, we've realized that travel doesn't have to be expensive. You can save money on your trip by using airline miles and staying at Airbnb apartments. You should also have an affordable luggage option. Travel isn't just for the wealthy.
When Fred and Jeremy, Tortuga's founders, took the trip to Eastern Europe that inspired us to start Tortuga, we were both broke 24-year-olds. Jeremy was a graduate student and Fred was an underpaid ad man. In the early stages of the recession, we found round trip tickets between California and Frankfurt for $520. From Frankfurt, to Prague, to Budapest, to Hvar, we traveled by train, stayed in hostels, and ate way too many doner kebabs.
The trip was far from lavish, but we had an amazing experience. That is what travel is all about. You should demand a carry on backpack that maximizes value and minimizes hidden fees.
If you like our approach, you can learn more about the Tortuga Travel Backpack here.
Related Articles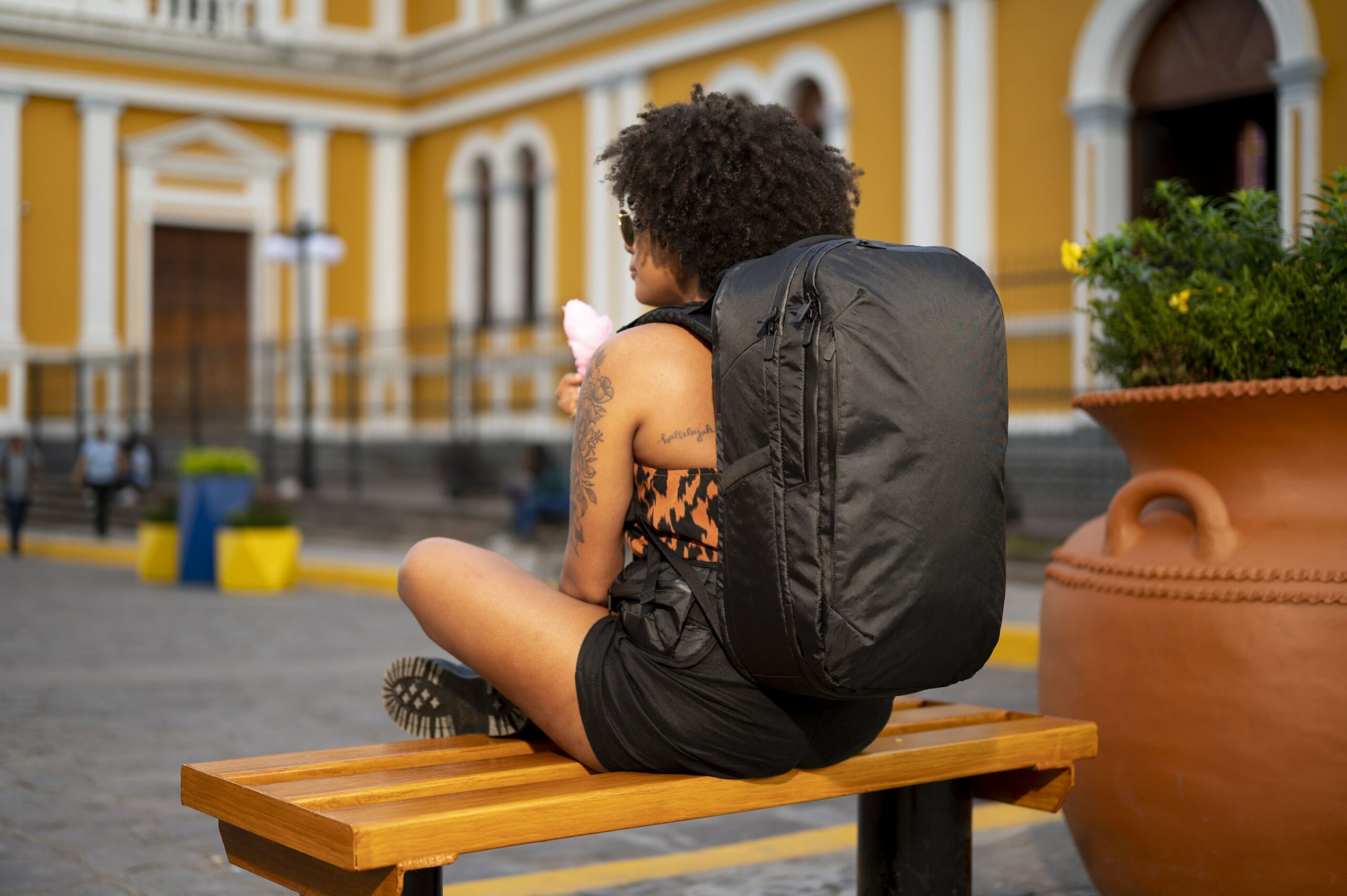 40L: Max International Carry On
Shop Now